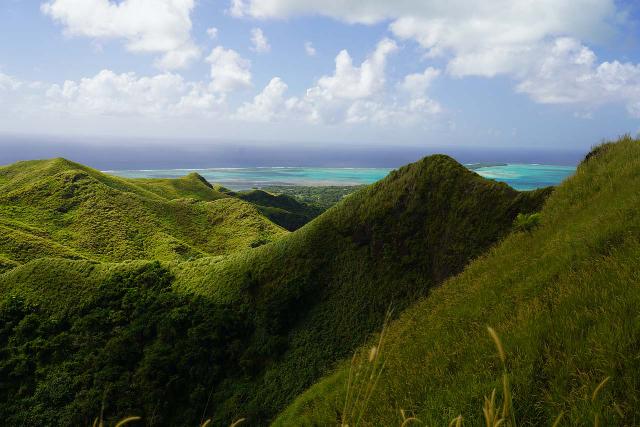 17-November 2022 to 25-November 2022:
I guess this got to a point where the pleasure versus pain equation was getting so heavily tipped towards the pain that I started to cross that fine line between enjoying a vacation versus going through a boonie-stomping boot camp.
The original plan of the trip was to go on these waterfall treks with Chris for 4 of the 6 full days we're here, but with tomorrow's cancellation, that ratio now turned to 50%, which I guess is more reasonable.
After all, we should be enjoying the trip just as much as working for our waterfalling experiences and not vice versa…
Days 0-1 (November 17-18, 2022 – Tumon Bay, Guam): "Nervous Anxieties"
It was about 4am when I awoke to my alarm, and 30 minutes later, Julie's alarm went off so both Julie and Tahia got up.
Tahia remembered that today was Mommy's birthday so she greeted her with a handwritten paper card wishing her a happy birthday.
However, it didn't take long before Julie was yelling at Tahia for not doing her errands and what she needed to do to get ready for our early flight to Guam by way of Honolulu, Hawaii.
In fact, Tahia was in tears when Julie wouldn't let her bring her "Buddy" (basically a stuffed animal with a battery compartment) due to bulk and weight reasons.
Anyways, we'd eventually leave the home at 5:15am, which was actually early than when I'd usually take to the metro, and the traffic was fairly smooth for the most part even though there were quite a few cars out and about on the freeways already.
We'd eventually get to the airport parking shuttle by around 5:40am but it would take some time before the shuttle would show up, and it wouldn't be until around 6:15am when we finally got to the baggage drop and ticketing area for United.
We gave the whole LAX fast lane security thing a go, but we had originally booked for 5:45am and there was no way that we'd make it by the 6:15am cutoff.
Nevertheless, we dropped off our bags and crossed our fingers hoping that we might get to sit together since United now charged $51 more for aisle seats so I had to sit alone in a different row between strangers.
Leave it to our domestic carriers to find ways to nickel-and-dime you, and it was yet another reason why I wasn't keen on doing this flight, which involved a 5.5-hour leg to Honolulu followed by a 6-hour leg to Guam – all through United.
Remembering my prior bad experience through United when going to Colorado Springs a few years ago (I believe it was in 2016), this was likely going to be a pretty miserable experience.
We had also heard that the plane wouldn't have WiFi and there was no in-flight entertainment.
Regardless, we got through the TSA security without a hitch though we were told the LAX fast lane was closed now (lot of good that was).
As we got through the person checking for boarding passes and ID, he noticed wished Julie a happy birthday (something Julie didn't expect and she even missed it at first until I told her).
Finally after getting through the chaos of security, by about 6:45am, we finally made it to the Gate 74 for our flight to Honolulu, which was quite a full flight (we shuddered to think how much more chaotic it would be tomorrow or later this weekend!).
We learned that the gate agents eagerly let us gate check our carry on luggages, which we took advantage of, and that they'd check it all the way through to Guam.
However, I wasn't keen on being in close proximity to some people who were clearly under the weather while unmasked (and it seemed like it was a pretty common thing on this flight).
Anyways, we'd eventually get onto the plane by around 8:55am, and after Julie and Tahia got seated as I put away the luggage, I saw that I was about to be sitting between two elderly people.
One guy asked if he wanted to trade with me though his aisle seat was another 7 rows back.
At first, I declined, but then I consulted with Julie and she was fine with it so I went ahead and took his offer.
When I got back to his former seat, I saw that there was another lady seated right behind me who looked to want to sit with her family, which was on the row I was about to get into.
Since she was also on an aisle seat and it was closer to the toilet, I went ahead and pulled the second move backwards so they could sit together while I now got the aisle seat one row further back.
So now I was 8 rows behind Julie and Tahia. It was going to be a pretty long flight, I reckoned.
It took a while for the flight to take off as the planed seemed to have taken forever to taxi, but eventually after around 9:15am, the flight took off (it was scheduled for 8:45am).
I managed to catch some shut-eye in the first couple of hours of the flight, but I had to make some pretty frequent trips to the restroom.
So the aisle seats definitely came in handy, and it was nice that I also had the option to go all the way to the back of the plane to use restrooms if the queue for the nearby restroom was too long or congested.
Eventually, as we got close to landing in Honolulu, Julie told me that there was an open seat next to Tahia so I could join them at the end of the flight (so I can grab our overhead packs for her).
In the end, when the plane landed and we de-planed at 12:30pm, it turned out that this flight worked out even though there were those anxious moments regarding sitting separately so United could nickel-and-dime its passengers.
However, Julie also told me that the crew wished her a happy birthday, and that they gave her a birthday snack pack, which was a nice touch.
I guess there are still pockets of United where the service is better than expected.
Anyways, we were glad to get off the plane because we were one of the few who were actually masked (double masked at that) while surrounded by people who were coughing, sniffling, and sneezing without masks.
I dunno what it is, but it just seems like more of us Americans are acting more and more like a**holes who are inconsiderate of people around them.
After getting into the Honolulu airport, we walked around looking for a suitable place to eat knowing that this might be our only meal for the day (it's lunner pretty much) since we wouldn't be arriving in Guam until about 7:15pm.
My thoughts kind of turned to my realization that on Saturday (literally the next day when we arrive in Guam), I then had to go on a guided 7-hour hike to Guam's tallest waterfall (Tak'hilo Falls) as well as the summit of Mt Sasalagua.
I was a bit nervous since I wasn't completely over my cold for a couple of weeks, and I worried that I might have caught another bug.
But such is the way of things sometimes, and I guess I'll be getting quite the crash course in jungle trekking in Guam full bore upon arrival.
Anyways, we ended up eating at this place in the airport called Le'ahi Market, which had tonkotsu ramens as well as kalua pork rice cabbage.
The Global Priority lounges looked like they were closed, and once again, this seemed like it was less and less of a benefit as time went on (making me question whether the whole Sapphire Reserve expenditure was really that worth it anymore).
Regarding the lunner, although the meal hit the spot, it was also quite pricey.
Regardless, by about 1:30pm, we finally made it to the Gate G4, which was where the Guam flight would be taking off from.
We'll see how the seating arrangement goes, but it didn't seem to be as contentious this time around compared to the Hawaii leg.
By about 2:45pm, we got seated on our Guam flight, which was said to be a 7-hour flight.
There was a little bit of contention when one of the stewardesses complained about us putting our day packs in the overhead bin instead of underneath our seats.
She was saying that we are causing a delay because rollers couldn't be put in the overhead bin (never mind us putting our stuff in the overhead bin directly over our seats).
She also said that we had gate checked our roller bags and she was kind of putting it back on the people who tried to put their roller bags on without gate checking (so why are we getting guff for doing the courteous thing instead of others?).
Julie wasn't having any of it, and that kind of created a bit of an awkward tension at first, but we eventually sorted things out by moving our packs more to the right and allowing a roller to squeeze in to the left of our stuff.
But the laptop bag had to go underneath Julie's seat.
And with that, we did the flight, which was a long one and there were definitely more families and kids on this flight so there were screaming babies and it was tricky to to get some shuteye (though our bodies were naturally doing that anyways).
I took some time to watch a bunch of Stanley Tucci shows about "Searching for Italy" or something like that, which was really a foodie show (and kind of an exhibition of "white privilege" though I really enjoyed imagining being there).
Of course, the way this guy experienced friends and family through regional cuisines in Italy was probably not going to be the way the average visitor is going to experience such places unless they had really deep pockets and a lot of time.
Anyways, that probably took us more than half of the flight (though admittedly I dozed off and had to replay some of it).
A surprising thing about this flight was that they also served complementary food (though it was just cold salad dishes) and I certainly loaded up on a lot of hot water since my nose kept running.
Imagine that, getting food on a domestic flight?!? Julie rationalized that perhaps this was treated more like an international flight so perhaps United had to try to at least compete with international carriers that would serve Guam.
Regardless, Julie recommended that I watch Top Gun Maverick because she saw it and thought it was pretty good.
If she says that about a "guy movie", then that certainly said something.
But I was also aware that this was the last movie that my late brother watched with my Dad and Uncle in the movie theater before passing away, and so I was worried about this being an emotional trigger.
I know my brother was always into these kinds of movies and the Marvel movies, which I was never into, but I figured I'll give this a shot.
Of course, the more important thing was Tommy's heart in that this was really more of an excuse to hang out with Dad and Uncle after Father's Day.
So I did watch the movie though I probably dozed off somewhere around the middle of the movie, but I regained consciousness when it got a little past the half-way point where apparently there were some nostalgia characters making appearances here (I never watched the first one, mind you).
Still, this movie was less about the dogfighting and more about "letting go" though I wasn't sure that really came across, but I appreciated at least that this wasn't as mindless as I had anticipated.
Anyways, the movie ended pretty much right before we landed at around 6:45pm (Friday night now), and it was pretty much dark by the time we finally deplaned.
We had to wait a bit because there was one person who had to get off the plane and get to the hospital (another unusual first though I hoped this wasn't a foreshadowing considering that I can't seem to shake this cold over the past two weeks).
Heck, Julie and I were worried that I must have caught another bug (at work? or eating out?), and with tomorrow's long hike, I was really worried about what a toll this would take on my body.
After de-planing and collecting our luggages (which took some time), we then collected the rental car while at the same time getting sim cards.
It wouldn't be until about 7:55pm we finally loaded up the rental car, set up the Nuvi (though we couldn't navigate since there were no navigable Garmin maps for Guam), and then we drove to a local market to get some much needed water in anticipation for tomorrow.
We actually bought about $38 worth of water and junk food (mostly chips and a couple of dried cuddlefish), and we didn't bother picking up fruits and ginger in our rush to get things done and go check in.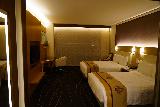 It wouldn't be until about 8:30pm (or 2:30am LA time) so we were definitely feeling the effects of jetlag as we really wanted to go to sleep.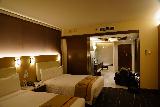 We thought we could go downstairs to check out the ABC store (this part felt like a slower version of Waikiki), but it turned out that my congestion seemed to have gotten worse as I was now sneezing and one side of my nose refused to work.
I also had a bit of trouble trying to get in contact with Chris (the guide accompanying me to the Sasalagua/Tak'hilo Falls hike tomorrow) since we changed to a new SIM card.
Regardless, I changed, showered, brushed, and I finally crashed some time before 10pm, though I don't really remember anything else that happened that night (though I did hope Chris got some of my messages).
That said, I went to bed with a bit of anxieties because not only was tomorrow's hike going to be uncomfortable and difficult, but my cold seemed to be getting worse again, and this was certainly not a good way to get started on this trip…
Day 2 (November 19, 2022 – Tumon Bay, Guam): "The Never Ending Trek"
It was about 4am when I awoke due to the jetlag, but the issue was that I was definitely congested, which didn't bode well for the upcoming challenging hike today.
Still, I took some time to take care of the photo organizing and to finish up on the blogging about yesterday's long haul flights.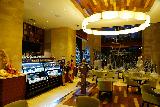 By about 6am, we went downstairs for a quick bite at the little bakery downstairs, where the pastries were surprisingly good.
Of course, this was like adding salt to the wound for me because I knew that I couldn't have most of the sweets due to my condition (unless I wanted to make it a lot worse).
Nevertheless, I did have a single bite of Julie's croissant, as that was the only way I could tell that it had the right texture (much like what we had in France).
I was a bit incredulous about this since I would have never imagined having great croissants in Guam.
Anyways, I had to have the quiche lorraine for my brekkie since that was probably the least sweetest thing that they had.
And so we had a nice little family time chatting it up with each other and having FaceTime calls overseas to Julie's brother and Julie's Mom, and do this while enjoying the brekkie while waiting for my guide to pick me up.
The whole time, I was thinking that it was just going to be me and my guide that were going to do this hike, but when they showed up at 7am, I saw that there was a woman that seemed to be joining us.
It turned out that she was the guide Chris' wife, and so I guess it wasn't just going to be Chris and I.
Well, Chris also went to make a couple of more stops, and that was when I realized that this was going to be a full-on group hike.
All participants were Korean and they all seemed to know each other (and spoke mostly Korean amongst themselves).
I learned that Chris organizes a hiking group, and this particular group that I was with happened to be that group, which does treks all over Guam every Saturday.
So it turned out that there were about 8 people in total in this group though I definitely felt like an outsider since I was the only non-Korean speaker.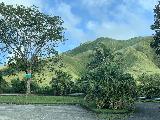 The drive towards the south of the island took a while (making me realize that if we were to drive on our own, it wouldn't be wise to go back to the hotel and then come back in order to make the logistics work out with Julie and Tahia).
Nevertheless, during the drive, Chris was pointing out to me some of the sights around Guam like the beach where Magellan landed, the Spanish Bridge, and some of the noteworthy the mountains along the way.
One of the mountains that Chris pointed out was only 460m above sea level, but because its base was in the Mariana Trench, this was said to even be higher than Mt Everest if we're talking about elevation changes (probably with the shortest run in that height).
Still, I figured these kinds of distinctions are all over technicalities, and I've seen these kinds of intricacies being utilized when it came to waterfall heights or things worthy of touting in the tourism literature concerning waterfalls.
Well eventually, we'd make it to the trailhead for Mt Sasalaguan at 8:30am.
We then promptly geared up and then engaged in a little bit of a warm-up calesthenics that was kind of a combination of yoga and stretching out.
And from there, we proceeded onto the hike, which was already going through a fairly thick grove of swordgrass (so it was a wise thing to bring gloves and wear long sleeves).
It didn't take long before the swordgrass interlude got thick and I even had to participate in a sort of Marco-Polo game where periodically people in front would say or shout something and the receiver would shout something back affirming their location.
After several minutes of already sweating it out while trying to keep the swordgrass from cutting up and exposed parts of the body not covered up by long-sleeves and long-pants, we eventually got to a clearing.
During this clearing, I had to sneak off to the side to do a nature call, but apparently my body still wasn't right and the liquid waste actually came out both ends.
It's not often that I can say I diarrhea'd in my pants, but with this being just the beginning of the hike and knowing how uncomfortable I was going to get, I just kept going as if nothing happened at all.
We then continued through another round of swordgrass before the terrain was a little less overgrown and we were going through interludes of climbing and then descending slippery slopes (also full of swordgrass) though we were generally going uphill towards Mt Sasalaguan.
Actually, the climbs were already taxing, and they became even more so as some of the climbs were brutally steep while involving trying not to slip and fall on the mud while also trying to grab at the swordgrass to pull ourselves up.
Indeed, this was already a brutally long climb, and I was trying to tell myself that it won't be too bad once we got to the summit of the mountain and have a picnic up there whlie trying to enjoy the views perhaps.
We took a few breaks – one at 9:25am (somewhere only about the half-way point on the way up to Mt Sasalaguan) and then another one at 10:45am (somewhere within the brutally steep climb), and then another at 10:45am (somewhere further up the steep and swordgrass-filled ascent).
By about 11:15am, we finally reached the summit of Mt Sasalaguan (though not before taking the wrong path and heading towards an abandoned tower before heading towards the actual shelter and lookout, which actually took even more out of me).
We spent quite a bit of time having a picnic lunch, where the Korean group brought lots of food, which consisted of kimbap, inari, boiled eggs, boiled potatoes, and some cut up apples.
It was really generous of them to provide me this food even though I didn't ask for it, and I didn't really need to eat the preserved dried cuddlefish and shrimp chips that I had brought, which were far less healthier by comparison.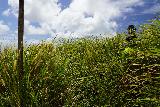 They also offered up some chocolate malts, which I was concerned about eating too much of since I was fighting a cold that seemed to be getting worse and I knew that sweet, sugary stuff wasn't the best for colds.
Regardless, we took our time with our picnic lunch and learning a little more about this group of either retired or nearly-retired Koreans and how they ended up in Guam.
Apparently, there were ties to the military since the US was stationed in South Korea as well as Guam, which I guess in hindsight shouldn't be surprising that the US military was pretty much the main industry on this island.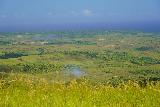 We also checked out the view while picnicking underneath the shade of a nearby tree, where we were kind of looking more to the southeast where the rain looked like it was moving along (though the wind didn't seem to let that system get over to us).
After around a half-hour, we then climbed to the top of a hill where there was a nice view looking towards the west with its reefs surrounding the island itself.
It was a view quite reminiscent of getting to the top (or nearby it) while seeing the turquoise reef surrounding the island really made me think of our time in Bora Bora a little over 20 years ago.
Once we had our fill of this lookout, we then resumed the hiking at around 12pm, where we then had to get through the next grove of swordgrass before the sharp grass became even taller and more persistent as we were descending off this mountain and towards a ridge.
We were aiming for a view of the Tak'holo Falls, which was said to be the tallest waterfall on Guam, and it took quite a bit of time scrambling through the swordgrass and slippery muddy slopes before the swordgrass finally started to clear up somewhat and afford us a nice view of the falls.
Actually, to our surprise, the waterfall was actually flowing (albeit not heavily), and it could be that this area saw some rain last night.
We then resumed the hiking though we'd see one possible lookout after another though the last of the waterfall photos I took was when we had to make the next climb through swordgrass.
Indeed, once we got over the next ridge, the swordgrass got even thicker and the muddy terrain below became even more treacherous.
With the swordgrass growing quite tall (even above my height), this stretch was the must brutal part of the whole hike despite generally going downhill.
By about 1:15pm, after summiting the next slope on the knife-like ridge opposite the Tak'hilo Falls, we took a much-needed break as I could already feel that my body was breaking down and I was already feeling the onset of exhaustion (or maybe even heat exhaustion?).
Nevertheless, when we continued on, the swordgrass wouldn't relent, and now it just seemed like we were swimming in a sea of swordgrass.
We would continue descending along the knife-like ridge while being surrounded by swordgrass, and it felt like forever before we'd finally start to get to some open areas atop other ridges.
By this time, I was really struggling, and some time at around 2:30pm, we took one of several breaks though this one was noteworthy because my left hamstring was cramping up.
The group would ask me periodically how I was doing, but now I was changing my answer to "struggling" instead of "okay for now" or something like that.
Anyways, some of the group members taped some salonpas-type pad on my cramping area while securing them with white medical tape.
At the same time, Chris had a bag of salt, which he told me to put in my mouth and then drink water so I could get some minerals back into my body.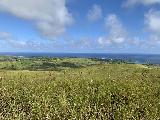 Well, whatever this solution was, it seemed to have done the trick because as we continued with the hike, my left leg didn't seem to cramp anymore.
However, with every uphill stretch (even despite the swordgrass groves becoming less frequent), we still had to rest at least 3 more times in this stretch of following the peaks of smaller mountains and ridges.
I guess if we steered a lower course directly back to the trailhead, we'd likely encounter more swordgrass and muddy spots.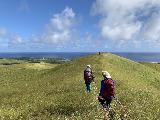 I'd eventually learn that this return course wouldn't go back to where we started, but instead, it would continue along a more open terrain though I watched my Gaia GPS track and was disheartened by how much longer we still had to go on this hike.
On another one of the breaks taken in this long stretch, one of the Korean hikers suggested that I get my trekking poles out and that I surrender my camera bag since they knew my Sony mirrorless was heavy.
Still, using the trekking poles was a good idea because at least I could be more sure of my steps (especially where it's slippery and muddy).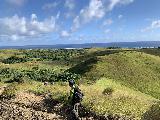 And in another one of the stops we made so I could take a break, Chris insisted that I surrender my day pack so I would stand a better chance of making it to the end without passing out.
Nevertheless, the hike was so long and there were still more ups and downs that it really felt like this hike would never end, especially in my tired state.
And to add more insult to injury, we'd eventually descend towards someone's home, where we had to go through one last grove of swordgrass and mud before finally making it the road thereby ending our walking at 4:15pm.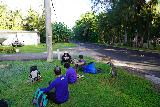 At that point, I immediately unslung my pack and collapsed as I laid down trying to alleviate my exhaustion.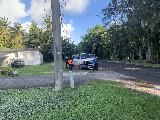 It wouldn't be until about 20 minutes later when Chris showed up with the tour van (after having hitchhiked back to the trailhead), and finally I would be able to change out of my boots and into my Chacos.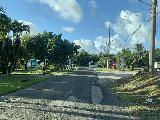 Anyways, on the drive home, I was having that exhaustion feeling that I had when I had completed Hanakoa Falls back in December 2006.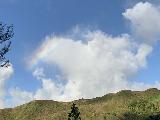 I remembered fighting bouts of headache and even the onset of nausea, and I was worried that I might have messed something up physically as a result of this feeling I was getting at this point.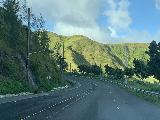 By about 5:50pm, I was finally dropped off at the Dusit Thani, where I paid Chris for today, and then I went back up to the room eager to clean up not only body but also my boots and trekking poles.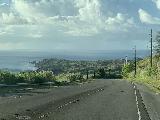 After all, I had learned that some of the mud on there could very well be pig poop.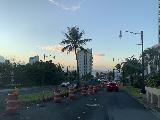 By about 6:30pm, we headed back out of the room and walked towards some Japanese restaurant within the mall here.
And while I got some badly needed soup in the form of a tan tan men (dan dan mian in Chinese probably), tonkotsu ramen, Tahia's mini-shoyu ramen, and some chicken karage.
While the ramen and hot water was much needed to help fight off my cold, the dishes themselves were disappointing except for the chicken karage.
There was also a very loud group of people chatting (more like yelling) and laughing up a storm (which probably didn't bode well for my need to recover from exhaustion).
Regardless, we were done with this brief interlude before returning to our room so I could brush and floss before finally crashing for the night…
Day 3 (November 20, 2022 – Tumon Bay, Guam): "Subverted Expectations"
It was 6am when I awoke without an alarm though I knew straight away that I was still congested (and in fact, I was probably worse off than yesterday).
I had actually awoken earlier on in the night when Tahia apparently tried to sneak in some Roblox time on my computer until all those flashing lights on the screen probably aroused me and caused me to intervene and lock the computer before going back to sleep.
At that time, I went ahead and got cleaned up and tried to get caught up on stuff that I didn't get around to doing yesterday given my state of exhaustion.
That said, I only managed to get so far before I had to get dressed and head to the car with Julie and Tahia as we had some kind of a river cruise to do.
Going into this trip, I kind of poo poo'd the idea of doing a river cruise thinking it might be a tacky thing, but Julie was all about diversifying a trip with doing other types of excursions besides waterfalls.
And so we went ahead and did the booking (before the trip), and eventually by about 8:35am, we all went to the parking garage and into the car to make the drive to the far southeastern part of the island.
The drive was pretty light since it was Sunday morning, and we actually took a different road across towards the Valey of the Latte River Cruise area, which Julie used GoogleMaps to navigate since the Nuvi didn't have any Garmin maps that covered Guam.
If there was anything that might convince me to finally ditch the Nuvi, then this might be it.
That said, I knew that there would still be places where lack of cell coverage would still render that option useless (though such places apparently are fewer and farther between).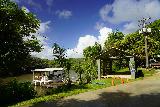 Anyways, the drive was pretty uneventful and we were kind of enjoying the nice scenery along the coast as we made our way south, and eventually by about 9:15am, we arrived at the entrance to the Valley of the Latte (still about 45 minutes before our cruise).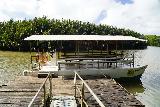 There was a guy directing us to park in a nice shaded spot right across from him, and he greeted us as we got out of the car.
He was a talkative guy, and upon learning that we were from Los Angeles, he told us that he used to live in La Habra Heights before moving to Guam.
He says that he still sees his mother in Whittier every so often so he was well aware of the geography of Los Angeles and where we lived at.
There was another family that showed up a few minutes later, and we were all chatting with who turned out to be the captain of the cruise who called himself Captain Andy.
The other family turned out to be neighbors of Andy as they had apparently moved to Guam from Walnut Creek (so there was definitely a heavy California presence today).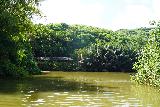 They had three generations with them, and I think some of them visited from Florida (though the adolescents in that group both seemed to be under the weather like me).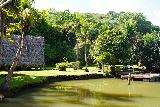 As more people pulled in, he encouraged us to pick a spot on the boat, and so we went ahead and got a spot on the front right corner, where there was a nice gentle breeze on the river.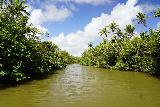 Eventually, the rest of the tour participants got onto the cruise and we were off right at 10am.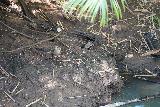 The entire tour was essentially 4 different parties, with the additional participants being a couple of parties of 2 who come from Seoul, South Korea (again reinforcing the observation that there are indeed many Koreans visiting or even living in Guam).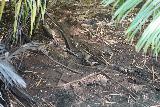 On the early part of the boat ride, we learned that we were on the Ugum River, which was the same river as the Talofofo Falls though it wasn't on the Talofofo River.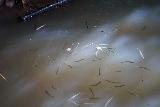 He did say that the Talofofo River was the longest in Guam, and apparently we went along the Talofofo River arm after reaching a confluence in the river.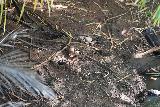 The river narrowed considerably as we went up that leg, and we made a couple of short stops to feed bread to first feed large crabs along the banks of the river there as well as some tiny long-nosed fish getting the rest of the bread that made it into the river.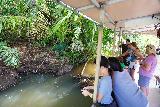 Then, as we went further up the right arm of the river (which I believe was Talofofo), we got to a very thick area of overgrowth where we did a second round of feeding fish and noticing some pretty big catfish.
Apparently Captain Andy said that it might have been possible to go further up the river had it been higher, but apparently it hadn't been raining as heavily over the past couple of weeks.
Upon turning the boat around, we then cruised back to the confluence before going into what seemed to be the longer (but shallower?) arm which was the Ugum River, and this was the arm where the Talofofo Falls was on.
Captain Andy said that it took 3 hours for people to wade their way up to the falls from here, but they never did it again (as we were well aware that there was an easier and more developed way to visit it).
We didn't get too far into this leg of the river, but we did get far enough for Andy to show us how flash floods had wiped out what was once a pineapple plantation though they were now replaced with watermelons and banana trees.
So I guess he had quite an extensive property near the mouth of the Ugum River.
The flash floods also apparently caused bamboo to wash into the river and cause some piles, which I'd imagine would turn into obstacles for his craft from time to time.
Anyways, after turning around at another thick and narrow part of the river, we then headed back towards an inland dock where we saw a big thatched roof shelter as well as some interesting latte stones (pronounced "lottee" and not "laht-tay").
The stones were apparently built balanced rocks that might have been sort of the Chamorro equivalent of what you might see on Eastern Island without the elaborate faces on those stone statues.
Just as we were about to dock, we were greeted by a Chamorro guy in traditional waist covering blowing a conche horn or something, and then he said something to us in the Chamorro language before Andy translated it for us.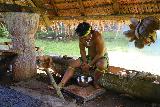 The Chamorro person, whose name was Adam, then guided us on a path with stepping squares from the dock to the hut where there was already some fire and smoke burning there to keep the mosquitoes away.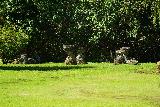 That was so the muddiness of the terrain wouldn't be as troublesome as this area saw some rain last night.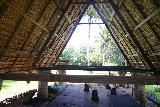 Once inside the hut, we sat and watched a coconut husking demonstration from Adam who went on to tell us of the uses of the husks, how to open the coconut itself, and a couple of people got to sample the coconut juice (Julie got to since it was her birthday a few days ago).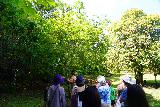 And then we all got to try the coconut shavings, which was actually a lot sweeter and tastier than I would have imagined since we were used to young coconut being the more edible and tastier variety.
Having watched Naked and Afraid as well as having gone on many trips to the islands of the South Pacific, we were well aware of the many uses of coconut, and apparently the Chamorro consider coconut trees the tree of life.
After the demonstration, we then walked across a muddy path towards some trees, where some starfruits were growing, then we went over to another few more trees to see things like breadfruit as well as noni were also grown.
Then, we walked closer to a trio of latte stones fronting a tall tree as well as some cliffs before getting closer to a larger circle of latte stones.
From there, we then followed Adam along a path leading us along the base of a cliff alongside what looked to be a freshwater spring bubbling out of the ground and streaming towards an eating area at a shelter.
That was where we then got to wash some mud off our shoes while also washing our hands before having a seat in the open air shelter for some Chamorro lunch.
It was basically BBQ chicken that you could dip in some kind of soy sauce with vinegar and chopped garlic accompanied with some coleslaw, a mound of reddish rice with a spicy kick to it, and some kind of coconut jelly dessert.
It pretty much hit the spot, and it was a nice meal though Julie introduced me to some Chamorro sausage leftovers this morning, and I was kind of looking forward to having something like that in this meal.
I guess we'll have to pursue that on another day on this trip.
When the lunch was over, we then gathered around Adam for a firemaking demonstration.
In this demonstration, the firemaking was with a slot notched inside some hibiscus wood, and he had to go rub the wood with a shorter stick back and forth until it was hot enough to generate coals.
It was actually quite a struggle for Adam to do this in front of us though he did say that he could usually do this in a couple of minutes.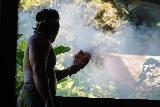 It actually took one of the locals named Francis to give it a go, and after he couldn't do it, Adam quickly came in afterwards and finally generated a coal.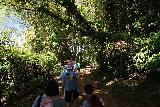 I'd imagine that it's easier to have multiple people working on this (like how the Masai people had a team of guys taking turns doing the hand drill to quickly make the fire).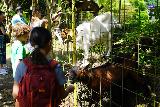 Anyways, the coal was then put onto the coconut husk acting as the tinder bundle, and then he waved it enough times to finally form a flame before chucking it into the river.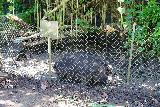 From there, we then walked along a jeep road past some more trees before getting to a clearing where there was another Chamorro local giving free rides to volunteers wanting to ride the caribou (this one was named Yap, which was one of the neighboring islands).
The guy had a sense of humor and you can tell he did this many times in getting the girls to wave as if they were beauty queens as they rode the caribou, and then when he took the "best picture", it turned out to be a selfie of himself!
Anyways, when that was done, we then walked over a different dock where we rode the familiar boat by Captain Andy though we did briefly go in the opposite direction in search of someone's rainjacket who had apparently lost it.
That turned up empty handed and we eventually made our way back to the boat dock where we parked our cars to end our nice excursion that certainly exceeded my expectations.
By about 1:20pm, we drove off and proceeded to head over to the Talofofo Falls since today was a Sunday, and we were quite close to the waterfall itself.
By 1:35pm, we made it to the Talofofo Falls Resort Park car park, where there was fortunately some shaded spots that we took advantage of.
We wasted no time re-applying DEET and then headed over to the ticket booth where we paid $10 per adult and $6 for Tahia (who just made it underneath the child age threshold).
Then, we proceeded to follow the yellow line on the ground, which was kind of a self-guided tour as it led us past some kind of strangely-placed amusement park (though none of those rides seemed to be working) before getting over to a cable car.
Once inside the cable car station, we waited our turn to go onto vessel and then hover over what appeared to be a hidden upper tier of Talofofo Falls as well as the so-called "Falls 1".
It was a pretty neat view though it was hard to capture as the cable car didn't have enough big openings to take a proper video or picture of it (as the windows were quite fogged up or had some bubbling tint on them).
At the lower station, we then got off and we had an option of which way to go since there was apparently a loop track that we could take to experience both the Falls 1 and Falls 2 of the Talofofo Falls.
At first, we decided to go upstream a bit past a suspension bridge and towards the shaded part of the attractive Falls 1, which was a wide waterfall with a satisfying drop that I'd imagine was about 5m (definitely less than 10m) or so.
We were kind of looking against the early afternoon sun so the lighting was the greatest until some clouds got in the way to even up the lighting a bit.
We then went across the suspension bridge and up the sunnier side of the banks for more looks at the Falls 1 against the sun (which was actually quite hot when it was out).
And then Julie and Tahia decided to walk back across the suspension bridge and do the whole loop in a clockwise manner.
After having my fill of the falls, I decided to follow them in a similar manner, as we made our way back towards the cable car station, and then we descended some steps alongside the drop of Falls 2.
This lower drop was more of a sloping cascaded variety, but it was still wide and quite attractive.
The path weaved in between some bamboo stalks before getting into a shelter where I managed to get a more direct look at the falls against the sun.
Once I had my fill of that spot, I then went across another suspension bridge before going up some steps towards another sheltered area right across from the Guam History Museum.
I didn't see Julie and Tahia so I went ahead into the museum first, which turned out to be a lot of self-interpretive displays (though not much in the way of signs for each display).
At least the interior was air conditioned which felt quite good against the humidity of the outside.
The displays kind of walked us through the subsistence living of Chamorros before going into colonization, and then into the World War II years, where the last displays showed Japanese soldiers committing suicide rather than surrendering to defend their honor.
The very last display showed an American next to an American flag, which I guess meant that the US was in charge of this island now.
Once I got out of the museum, I then saw Julie and Tahia who apparently went down to the Yokoi Cave, which was another 300m down a spur path.
They decided to do the museum while I went down to the cave myself, which was along a narrower but well-developed path.
There were quite a few people heading back up so I had to step aside to let these people pass.
But eventually I got down past some non-functioning monorail track before getting to the shelter and some replica of the Yokoi Cave next to a Buddhist shrine.
The actual cave itself was a short distance closer to the Ugum Rier where there was a hole in the ground with some ladder that went into it.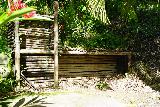 Now given the close proximity of this hole next to the river, I was a little cynical about whether this was the actual location of the Yokoi Cave (which was where a Japanese soldier stayed until 28 years after the end of WWII since he didn't know the war had ended).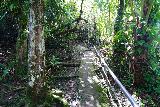 After all, if the hole was this close to the river, I'd imagine typhoons and flash flooding over the years would inundate the hole with water making the place unsafe to live.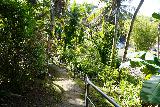 I wondered if the actual hole itself might have been further inland somewhere (probably reclaimed by Mother Nature by now) since that would be more realistic in terms of being able to live within for nearly 3 decades.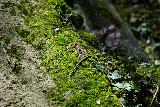 Still, it was interesting to see how he resourcefully used bamboo to act as both the ladder as well as the sturdy frame of his hole, and the fact that he put up with this for 28 years says something about his will to survive!
Anyways, once I had my fill of this hole, I then went back up to rejoin Julie and Tahia where we briefly chatted with Chris about the plans for tomorrow.
Chris was especially concerned about my well-being after having struggled so much with the Sasalaguan and Tak'hilo Falls hike yesterday, but today was a cakewalk compared to that marathon.
Anyways, I told him that I was now fighting a cough, but that shouldn't stop us from doing tomorrow's excursion, which we intended to add Tarzan Falls before doing the Upper Sigua Falls and Alutom Falls.
We'd have to coordinate such that I'd drive and follow Chris to park the car in a supervised spot, and then we can do the easy ("beginner") hike together before he escorts Julie and Tahia back to the car so they go back to the resort.
And then for the second half, I'd do the more moderate excursion, which was originally the plan to do it for just this half-day anyways.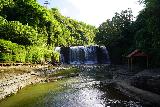 I knew that this might be the only waterfall that Julie and Tahia would do with us, which was why I suggested it to Chris as I was now fully aware of how quickly the hikes here can get difficult and dangerous.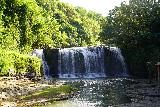 Anyways, after concluding our call, we then went back across the upper suspension bridge before the Falls 1 of Talofofo Falls, and then we got back to the cable car to get one last go at the waterfall from the air.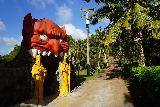 Once we got back to the upper station, we then followed the yellow path, which led us down to what looked to be the Ghost Cave.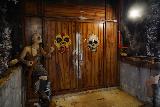 It had that funhouse entrance, and it got dark pretty quick on the inside, which actually spooked Tahia so much that she didn't want to go through with it.
So Julie and I went through and Tahia was waiting for us on the outside apparently.
It was actually kind of a kitschy and fun way to navigate through the dimly-lit corridors and after a while, I could tell where the chambers were that were supposed to frighten you.
I guess the falls that might have powered the cable car also might have powered the mechanics behind some of the displays.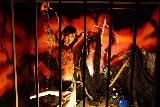 Anyways, perhaps the most interesting of the rooms was a cylindrical chamber where the walls rotated and it kind of made it seem to the mind as if the platform was tilting sideways.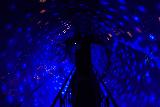 I saw something like this at the Hall of Mirrors, and it seemed to be like a classic Twilight Zone mind trip that even used to be on the tram ride at Universal Studios Hollywood many decades ago.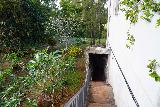 Once Julie and I finally got out of the cave, which actually seemed like a pretty long funhouse (like something you might experience at Knott's Scary Farm without the people hiding out actively trying to spook you), we then actually had to go back through the Cable Car station.
Only then did we go back down the steps and back onto the main path, where we then started to head back to the entrance.
However, along the way, I noticed the entrance to the Love Land area, which was for adults only, and I already surmised that this might be a sort of phallic museum not unlike what we experienced in Tongli in China.
I went in there alone as Julie had to keep Tahia company (actually in hindsight, it was kind of sketch that Tahia opted to stay by herself outside of the Ghost Cave while Julie and I went through), and I pretty much made a quick tour of the area.
One couple down there saw me wielding a camera and said to me "I bet you're not going to take pictures", and actually I told them that I was gonna do it regardless, haha.
Indeed, there were plenty of statues doing some interesting positions that I'd imagine might be inspiring for those seeking to do some crazy kamasutra maneuvers just to make things a bit more interesting and fun in the bedroom I suppose.
I didn't spend too much time here, especially since I think I'm getting to that creepy age where trying to do most of these maneuvers with my wife might lead to injury.
Still, to have this NC-17 rated part of the park nearby some amusement park with a funhouse kind of made this a really strange mix for a waterfall excursion.
I did recall Chris' wife telling me yesterday that in Korea, they really develop the trails (because it's big money), which was something I was aware of since I saw similar things being done in Taiwan and China, and even in Japan as well as Thailand.
But in Guam, most of the trails were undeveloped, and I'd imagine Talofofo Falls was probably developed under the spirit of trying to really tame Nature and making it more inviting for people to visit who have money to spend.
And with that we returned to the car at 3:40pm, and then we proceeded to drive back towards Tumon Bay though Julie was in the mood for some Korean food seeing how disappointing the Japanese food was yesterday as well as how much Korean influence was here.
She eventually wanted to go to a place called Mi Dahm, which wasn't open until 5pm, but we figured we'd be pretty close to opening time by the time we'd get there, and sure enough, it was 4:40pm when we arrived.
After Julie picked up a delicious Infusion cupcake (which had a custard in its icing; though I wouldn't know since I was sick and couldn't take that sugar rush), we then finally went into the restaurant right when they opened.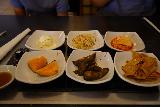 We ended up getting a suntubu (tofu soup with some clams and shrimp), a simple beef short rib soup, and a kalbi that was already grilled.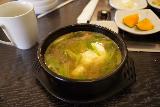 While having the hot soups helped with my seemingly worsening cough and congestion, the kalbi was a little on the tougher side, which I'd imagine had to do with the beef supply here.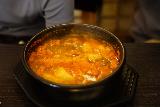 Compared to some of the Korean joints back at home, it didn't compare, but if this was the best you can do on Guam according to Yelp, then at least we got something as authentic and as decent as we could find way out in the middle of the Western Pacific.
By 6:05pm, we were back in the car, and then we drove back towards a 7-day Supermarket, which was very busy with locals by 6:10pm.
We did this so we could pick up some ginger root and some fruits just to help me manage my cold symptoms a bit more.
And after getting done with the grocery run, we then got back to our room at the Dusit Thani to end off our day by about 6:40pm.
We pretty much spent the remainder of the evening cleaning up while I was drinking hot tea (and Tahia was watching Nerd of the Rings videos for some Tolkien Lore) before we would all crash for the night clearly still a bit jetlagged by this time of the evening.
I can't recall when we'd fall asleep, but it was probably around 9:30pm or so, which was quite early for me though I wonder if I should always be sleeping this early since I do wake up at 4:30am every morning to go to work.
And so ended this surprisingly pleasant family day, which totally subverted my expectations, but tomorrow, it would be time to do another excursion with Chris, but this time with the family knowing that Tarzan Falls should be doable by everyone…
Day 4 (November 21, 2022 – Tumon Bay, Guam): "Another Change Of Plans"
It was 3:55am when I awoke without an alarm, which caused Julie to urge me to go back to sleep and get better (but I just didn't have the urge to sleep).
So I spent some time getting caught up on some much-needed blogging and photo organizing for the past couple of days.
By about 6:30am, we went down to the lobby area for some pastries again, which was becoming quite the morning ritual for us on this trip considering how good they were (at least something approaching the quality of what you might see in France).
We wound up spending probably over $40 USD worth of pastries and coffee, and so by about 7am, we got back to the room.
We still had some time for me to drink up some hot tea and try to fit in some more photo processing before going back down to the lobby at 7:55am to meet Chris.
As Julie and Tahia were in the lobby waiting for him, I went upstairs to get the car so we can follow him to the museum, where we'd then carpool in his van to get to the Tarzan Falls Trailhead.
By the time I got down to the van parking area, Julie and Tahia got in the car with me and we proceeded to follow Chris who was leading the way.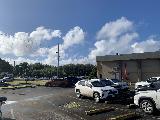 The drive was surprisingly longer than expected, but by about 8:30am, we arrived at the War in the Pacific Museum, which was an opportunity for Julie and Tahia to check out the museum after the Tarzan Falls hike.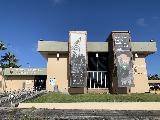 We took some time to use the potty at the Infusion next door (since the museum was closed), and then we got into Chris' van and headed up to the Tarzan Falls Trailhead.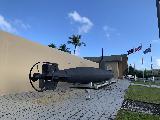 There was pretty heavy traffic going into the neighboring base, where it seemed like almost all of Guam was employed here given how many cars were waiting to get in at this time.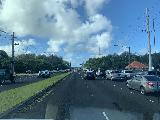 However, we were turning left onto the Cross Island Road to get up to the Tarzan Falls car park, which we ultimately got to at 8:55am.
During the drive up there, we told Chris that we had gone to Talofofo Falls yesterday, and he relayed to us how the Japanese treated the Yokoi soldier as a war hero.
That said, the reality of the situation was that back in those days, the soldiers were given orders to commit suicide and die with honor instead of surrendering.
And in this soldier's case, he perhaps disobeyed the orders and didn't do that deed, and instead opted to hide in the jungle for a period of at least 28 years (or about 28 years after the end of the 2nd world war).
Chris also mentioned that there were other Japanese soldiers scattered throughout other islands in the Mariana Chain.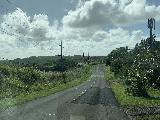 He said that he once led a group of Japanese tourists who were told that he was the war hero as told by the Japanese government, but Chris didn't say anything to rain on that parade (regarding this soldier's "insubordination").
Nevertheless, for someone to survive in the jungles of Guam for that long figuring out how to get food, water, and shelter for himself, was no small feat.
In fact, Chris said that when he was discovered by a Chamorro hunter, the Yokoi soldier could only mumble as a result of the mental trauma of being in isolation for so long.
Having seen the show Alone, it already takes a mental toll on people being in isolation for just a few months let alone nearly 3 decades!
I guess that's a testament to the Yokoi soldier's will to survive, and in that sense, I figured he should be honored as a hero even if he might have disobeyed the emperor's orders.
When we spoke a bit longer about the Yokoi soldier, Chris also confirmed to me that the actual cave itself wasn't as close to the river as what was displayed there (which wouldn't have made sense given the possibility of flash flooding).
Regardless, Chris did mention that the Yokoi Soldier eventually went to Hawaii to live out the rest of his days though Julie swore that she had read that he lived out his life in Japan.
I guess when it comes to who controls the narrative of history, it generally goes to those who have the means of controlling the dissemanation of information.
And usually, that story is told by the rich and/or powerful who have the ability to tell such stories.
For example, it could be the government (like absolute regimes such as China, Russia, etc.), the media (who may be bought out by dirty fossil fuel money like the Murdoch media empire, which includes Fox News), or a combination (like the pro-Jewish media versus say Al-Jazeera).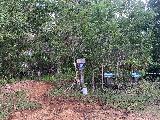 Indeed, it's hard to tell what's fact from fabrication, and it's why critical thinking is extremely important now more than ever.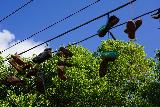 I do get the feeling that the number of true critical thinkers seem to be succumbing to the wave of the gullible and uneducated prone to buying the misinformation through the socials and biased media (often weaponized by dirty money as well as state sanctioned bots and trolls).
Anyways, after gearing up, the family and Chris went ahead and followed him past a gate that went on a road leading towards a wind turbine (surprisingly not using the trail that started behind the Tarzan Falls sign).
When we got towards a corner of the fenced area surrounding the wind turbine, I saw that there was a taped trail leading off to the right, but Chris went left keeping around the fence.
I suspected that the trail (which looked more obvious even if it was unsigned) was leading to the Tarzan Pools, which was something that Chris confirmed with me later on in the hike.
As we went around another corner of the fencing enclosing the wind turbine, we then saw a more obvious jeep trail proceeding into the jungle.
This was a wider path that seemed pretty obvious to follow, and I could see that it was far easier to proceed compared with the prior hike a couple of days ago going up to Mt Sasalaguan.
Indeed, the path may have been easy to follow, but the issue was that there was quite a bit of muddiness on the road, which made for making the shoes muddier and more slippery.
Along the way, there were a few descending spots that made for tricky footing, and we had to do a double take on a couple of occasions, but we managed.
We also got nice views across the center of the island from our trail towards the Leo Palace Resort as well as some neighboring radar domes.
The further down the trail we went, the more we noticed false trails, which were easily misleading considering that there was practically no signage throughout.
And as we encountered even more of these false trails (some of which looked wider than the ones we took), I was glad that I communicated with Chris a couple of days ago to do this hike with Julie and Tahia.
Because the other waterfalls would be a no go for them.
Nevertheless, Chris considered this waterfall to be a "beginner" waterfall, but it really seemed more like something more intermediate when taken in consideration against all the other waterfalls that we've seen around the world.
After another steep and somewhat slippery descent, we'd eventually make it to some small segmented waterfall just upstream from the very brink of the Tarzan Falls.
From up here, the rocks looked slippery, and it definitely looked like a long way down from up here to the bottom of the falls.
We wound up taking a quick break here at around 9:50am, where Julie and Tahia stayed by the packs, while Chris and I descended a steep wall besides one of the smaller notch waterfalls between the upper tiers and the brink of the main drop.
We then scrambled over to that very brink of the main drop for some people shots though I was kind of hoping that Chris might help me film or at least take a picture of me at the brink looking down at the falls.
Alas, he's a quick mover, and he was already out and about on the way back up to Julie and Tahia.
Anyways, once I rejoined them, we then continued with the descent which went away from the steepest parts of the cliff and descended a fairly well-used path though it got steeper and muddier.
It eventually got down to where every step taken was pretty much in muck, and we'd have to navigate a few meters of this trying to use trees to hold onto (some of which had thorns so it was good we had gloves on).
We also tried to choose our steps such that if there were rocks or roots to step onto, then that might keep our boots from sinking deeper into the muck (I could see why Chris tends to put on gaiters).
Anyways, finally by about 10:20am, we made it down to the very hot and sunny base of Tarzan Falls.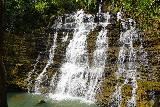 The footing down here was quite rocky and slippery, and it took some time to take some people shots while unslinging the pack to take the weight off.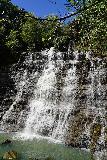 It kind of felt cooler down here due to whatever spray went our way, but I don't think we waded close enough to get the full benefit of the mist.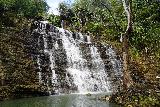 Speaking of being close to the falls, the falls was quite in-your-face from before the creek so I eventually decided to cross the creek and join Chris in the shaded part almost on the other side.
I used a trekking pole to carefully take steps across some rocks (some of which were super slippery and submerged) and took advantage of the waterproofness of my boots before getting into the shade where Chris was sitting.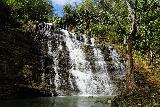 And that was where I perhaps took my best shots and videos of the Tarzan Falls.
Eventually, we had our fill of this bottom of the Tarzan Falls (not bothering to prolong this hike to pursue any of the lower tiers of the Tarzan Falls), and we'd regain our packs.
At this point, it was time to go back up the way we came, which meant we had to get back through the muck and then make the steep and slippery climb back up the same way we had gone down.
It was definitely hot and sweaty on the way back up mostly because the wind was blocked by the topology of the jeep trail, which sat within the ravine.
We'd then had to go back across the brink of the falls and then go back up the wider jeep trail until we finally got past the worst of the slippery parts of the climb where we finally felt the nice gentle breeze again.
Finally, we got back up to the flatter part of the trail where we then approached the fencing by the wind turbine, and then we went right along the fencing where Chris pointed out some things to us.
Among them were pig tracks in the mud, a morning glory flower (that only blooms in morning before closing up again by noon), the "Avatar" fern that closes to the touch, a "cross" flower, and a Shasta Daisy (which Chris called sunny-side-up).
By about 11:15am, we finally returned to the Tarzan Falls Trailhead, which ended the hiking excursion for Julie and Tahia.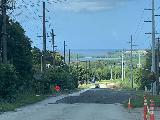 We then promptly headed back to the War in the Pacific Museum where we had parked the car, and by 11:35am, we dropped off Julie and Tahia so they could enjoy the museum before driving back to Tumon Bay on their own.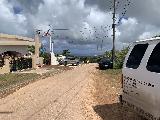 Chris then proceeded to drive me up to Mt Alutom vicinity where we would start the next part of the day, which was the originally planned hike to take in Alutom Falls, Upper Sigua Falls, and Maguagua Falls.
We got up there at 11:50am, where we parked in a grassy area right across from some homes that Chris said were owned by lawyers and doctors or other wealthy people who took up these lands for the views.
But apparently, they also made these places less welcoming for the hiking except for the public easements, which I guess that still allowed people to do hikes in the area.
So after gearing up, Chris and I followed a rough 4wd track that rose up from the homes and then onto a muddy jeep track that apparently followed some power lines towards some kind of radio tower right atop Mt Alutom.
It was bright and sunny at the time so this part of the hike was quite hot, but the path we were on (while flat) did have some sections of really muddy puddles (with one big one that forced us to plow into and hold onto the swordgrass).
By about 12:10pm, we got to an overview just beneath the radio tower atop Mt Alutom, where we could survey the island to the east and to the south.
To the east, we could see the Leo Palace Resort, where Chris pointed out the approximate location of the Lower Sigua Falls.
As we looked further to the south, we could vaguely make out the wind turbine where the start of the Tarzan Falls hike was.
And looking even further in the distance, we could see the top of Mt Sasalaguan, which I still shake my head that we had done on my first full day in Guam.
Looking down into the ravine, we could see where there must have been a stream given the increasing density of the vegetation, and that was where we were heading down into.
We also saw that there was a Caucasian couple making their way back up the very trail that we were about to descend.
After a brief chat with the couple when they made it back up (both of whom were a hot and sweaty mess), the guy did say for us to stay safe (and boy did that ring true given how hard the hikes are here).
Then, when Chris and I were pretty much done with our power lunch (consisting of hard-boiled egg and some store-bought Spanish rolls), we then proceeded to make the steep descent down Mt Alutom down to the waterfalls.
The path was quite full of loose gravel and pebbles, but it also featured some reddish dirt as well.
We also had to go through some mild groves of swordgrass, but I was still able to get by without needing to wear my climbing gloves.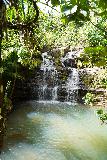 But then as we got down towards the bottom, the vegetation got thicker, and we then made a brief jaunt to our right, which ultimately got us to the first waterfall, which was the Alutom Falls.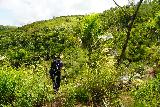 This waterfall wasn't big (maybe 5m tops), but it was in a quaint little cove with a pool that looked fairly deep, but Chris said it wasn't deep enough for a swim.
We spent a couple of minutes documenting this spot before Chris then continued on in a more downstream direction.
The trail eventually descended towards the brink of an even taller waterfall, which turned out to be the Upper Sigua Falls.
Chris crossed the creek and then I stood atop the falls, where Chris took a photo of me standing atop the brink.
Anyways, I followed him down the steep rope-aided descent, which as I feared was slippery and steep as heck.
The descent kept going on forever, and I really had to watch my step and try to go backwards while holding onto the rope at times (glad that I wore my climbing gloves).
At some point, Chris and I got down to what seemed like the bottom of the Upper Sigua Falls, but it was a bit of an awkward look towards the entirety of the waterfall.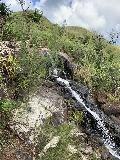 So we went a little further down closer to the creek where the topology of the cliffs kind of blocked the uppermost twisting section of the falls.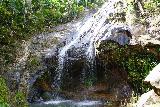 And down by the middle of the creek was where Chris and I sat on some rocks and took some pictures of the double-barreled tall waterfall in a bit of a profile view with the uppermost parts of the falls being obstructed from view.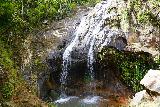 Once we had our fill of this spot, I thought that we were going to head back up, but Chris actually continued to go downhill along the creek, where there were some more steep rope-aided descents until the very bottom.
Down there, I encountered what seemed like a seemingly impossible scramble to not slip and fall as it was very steep and very wet.
Chris was already down there waiting for me, and as I descended while holding onto the rope, even as I went backwards, the boots slipped out from under me and I was pretty much hanging onto the rope with my right side hitting the rocky ground.
I immediately told Chris I was fine, but since I was already in a weird position, I pretty much just slid down the rest of the way with a bit of an elbow bruise that felt a little pain to the touch.
Anyways, we got down here at 1:20pm, and from this vantage point, there was a lower waterfall with a hint of the base of the upper waterfall further upstream.
It was a nice viewpoint, but I wondered if it was worth the slip and fall that I just took.
Once we had our fill of this spot, we then had to make the arduous vertical climb back up, and sure enough, the climb back up was quite the struggle.
Along the rope-aided descent (now ascent), there were a couple of spots where I was really struggling to get up as I pretty much had to do a pull-up with my backpack on my back.
In one part, I really struggled trying to catch a foothold onto anything while pulling myself up.
Chris even tried to offer a hand to pull me up, but all we could muster was me getting just high enough to get my knees on the ground and crawl onto safety before the potential to slip back down.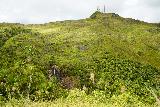 This climb persisted for what seemed like forever, but it was only until about 1:45pm that Chris and I took a rest where we could look back down at the top part of the Upper Sigua Falls with the towers atop Alutom in the background.
At this time, upon seeing my struggles with this climb, Chris insisted on taking my Sony camera so I'd weigh a bit less, and we continued the final bit of the climb until finally getting up to some 4wd track.
During this time, it was starting to pour rain, so I got Chris to help me take out the included rain poncho of my pack to at least keep my pack from getting drenched.
Then, we walked the 4wd jeep track along this ridge as it generally ascended until we got to another spot where we took another break.
At that point, the weather let up, and I was able to stow the poncho part in the outer mesh while I also stowed my gloves away thinking that I might not need them for a while.
I also drank the last of my cold water in my stainless steel bottle, and it was a good thing that Chris gave me an additional plastic bottled water (since he said you only needed 1 of my stainless steel bottles).
He told me that I should ration my water for the climb back out, and I heeded that warning since running out of water on this hike could be fatal.
So we continued on with the hike as we cut across some trail that went through one brief interlude of swordgrass before we encountered a junction where we re-encountered a 4wd jeep track with a bunch of piled rock cairns and some circle of stones pattern on the ground.
Then, we approached some rocks arranged in an arrow pointing towards the path leading down to the Maguagua Falls, and as fatigued as I was at this point already, we had to continue on.
Sure enough after a brief time on flat terrain, the track then made another steep descent on somewhat muddy red dirt and wet red rocks before getting down to a pipe that Chris set that he had set up so he could secure a rope there.
We then used that rope to aid ourselves down the steepest part of the descent, but then we got down to a part where the descent became both steep and lacked a rope that he said he had placed but was no longer there.
Boy was I not looking forward to the climb back out of this hike!
Regardless, the descent eventually reached the creek, where I realized that we were once again at the top of the waterfall.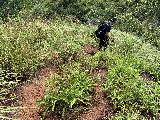 Chris initially crossed the creek (a tricky and slippery rock hop), and when I finally did the same, I then lost a visual on him.
I wasn't sure if he took off (perhaps frustrated that sometimes I wasn't keeping up with him), or if I just missed him.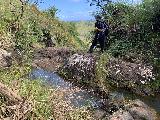 Either way, I found myself standing at the brink of the Upper Sigua Falls and I had thought that he took a really dicey steep rocky scramble to the right side of the falls.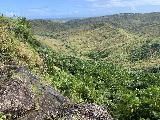 I looked down and knew there was no way I was going to do that so after taking pictures and panoramas, I went ahead and did a Marco Polo-like call out for Chris.
When I heard him, I was relieved to hear his voice somewhere to my right that was higher than where I was.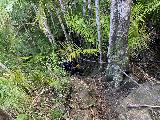 I eventually backtracked and then saw an easy-to-miss path where Chris was standing, and from there, I followed him and resumed the hike to get down to the bottom of the Upper Sigua Falls.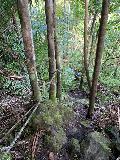 After a brief interlude through some shrubs and swordgrass, we then got to a slippery and steep rope-aided descent, where Chris did make one slip and fall.
I thought to myself if he slipped and fell, then what chance did I have of getting down in one piece?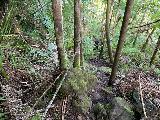 Nevertheless, I continued down this other rope-aided descent, which didn't seem all that different from the one at the Upper Sigua Falls (though Chris assured me that this wasn't as steep).
Indeed, it still wasn't an easy descent, and I swore it was every bit as dangerous and as steep as before, but by about 2:40pm, we finally made it down to the base of the Maguagua Falls.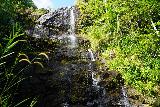 Down here, I realized that the waterfall itself was really just the top part, but there was another drop just downstream of us.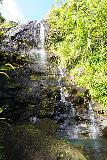 Chris told me that one of these days, he was going to go down there, but at least I took solace in the fact that it wasn't going to be today.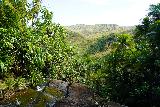 So we chilled out here once more as we had an apple, another hard-boiled egg, and the last of his Spanish rolls, while he was talking to his wife on the cell.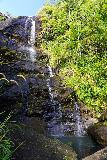 This bought me some time to try to summon as much energy as I could muster knowing that it was going to be a brutal ascent from this point forward.
And in the silence of chilling out here, we did notice a couple of splashes, where Chris thought there might be an eel here, but we also saw a fairly large freshwater prawn, which he went ahead and tossed the last of his roll to help feed it.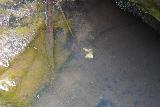 I did notice some pain on my left pinky toe, and I suspected that there was a blister forming there that might have started from the suicidal hike to Mt Sasalaguan and Tak'hilo Falls.
I guess that weighed on my mind about whether I could do both of the remaining planned hikes with Chris on this trip – the first one to San Carlos Falls tomorrow while the last one was a hard one to Lower Sinisa Falls, Lower Sigua Falls, and Little Sigua Falls.
Finally after having our fill of this spot in front of Maguagua Falls, we then made the steep ascent back up.
As expected, it was not an easy climb, but at least I wasn't crawling on my hands and knees on this ascent, and we managed to avoid doing that by finding an alternate path to the left of a sheer rock wall in the hairiest stretch.
By about 3:15pm, we finally ascended up the rope-aided part, where Chris then offered me his other trekking pole to push off from, and after getting back across the top of Maguagua Falls, we then made another long ascent before finally getting back to the 4wd track and the rock cairns.
From there, we then pretty much followed a series of 4wd tracks (with many false paths going this way and that; all of which were unsigned), and it wouldn't be until around 3:40pm when we got to another spot to take a breather.
When we were done with this break, we then continued up more 4wd tracks looking like they were causing ephemeral washes or creeks as rain would cut deeper into these "roads" and form chasms or at least "slot canyons".
Again, there were false paths this way and that, but as I saw the power lines getting closer and closer, I knew that it wouldn't be much longer before making it back to the road that we started from at the outset.
Indeed, I was glad that Chris was guiding me and I wasn't doing this alone, but I was once again fatigued though not nearly as overwhelmed as I was on the Mt Sasalaguan and Tak'hilo Falls hike two days ago.
By 4pm, Chris and I finally made it back to the van, where we took some time to load up the van, drinking more water, and giving myself some time to take off my shoes and put on Chacos.
Anyways, Chris drove me back to Tumon Bay, and for most of the drive, we didn't say much as I suspected that even Chris was getting pretty tired.
He said that he should have napped on Sunday, but he was busy with church stuff so I sensed that doing San Carlos Falls tomorrow in this state might be a stretch.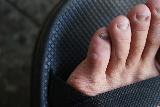 When Chris dropped me off at the Dusit Thani at 4:40pm, I paid him for today, and we parted under the assumption that we were doing San Carlos Falls tomorrow (which I was very worried about given my difficulties with the Guam boonie stomping to this point).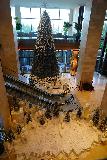 By the time that I finally made it back to the room, both Julie and Tahia immediately reacted and said that I looked as if I had come back from a warzone.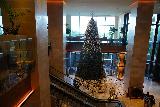 I was limping (due to the blisters), my eye felt like it was burning (turned out there was an infected swordgrass cut up on my eyelid), and there were other blisters on my thighs in addition to my left pinky toe as well as a large cut on my right underarm and a painful right elbow.
So straight away, I took time to shower and get cleaned up, and then we finally headed out to the garage at 5:20pm so we could have some Vietnamese pho for dinner.
Seeing the bad state that I was in, Julie took over the driving, and when Julie forgot to get the car keys, she had to go back upstairs to get them.
It was during that time, that I also let Chris know that tomorrow we should use that as a rest day (punting San Carlos Falls for the day after and perhaps nixing the Lower Sigua, et. al. hike).
I guess this got to a point where the pleasure versus pain equation was getting so heavily tipped towards the pain that I started to cross that fine line between enjoying a vacation versus going through a boonie-stomping boot camp.
The original plan of the trip was to go on these waterfall treks with Chris for 4 of the 6 full days we're here, but with tomorrow's cancellation, that ratio now turned to 50%, which I guess is more reasonable.
After all, we should be enjoying the trip just as much as working for our waterfalling experiences and not vice versa.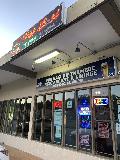 Anyways, we got to this place called Pho Basi, which was actually a bit of a 10-minute drive or so from Tumon Bay, and it was kind of like a hole-in-the-wall.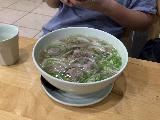 We wound up getting a couple of different pho bowls and Tahia got a shrimp fried rice, and at least the pho turned out to be legitimately authentic, which surprised us (as Guam food had not been as high quality as what we had been used to at home).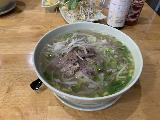 We ultimately left fully stuffed (or at least I was since I had to eat Tahia's unfinished shrimp fried rice), and eventually we'd get back to our room at 7:10pm.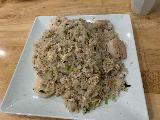 I had almost lost the room key, but Tahia managed to find it wedged in the passenger seat luckily, and ultimately I couldn't really finish the blogging and stuff for the rest of this night.
So we just crashed and looked forward to a less hectic day tomorrow…
Day 5 (November 22, 2022 – Tumon Bay, Guam): "Recovery Day"
It was 6:15am when I awoke to daylight (no alarm) as there was no sense of urgency to get anything done so early in the morning.
Unfortunately, my congestion was still around so it wasn't as if the extra rest did anything noticeable in terms of improving whatever this cold was that I haven't been able to shake for at least 3 weeks now.
So we dilly-dallied for a bit until we decided to take this opportunity to try the breakfast buffet at the resort, which we had avoided up to this point (considering how their bakery goods down at the lobby was so good).
Nevertheless, we went ahead and did this and got down there at 6:45am hoping that we might be the inevitable rush.
When we got there, we were in an attractive dining area where we could see Tumon Bay on three sides though all of the dining tables along the farthest end of the hall were occupied.
Still, we went ahead and got busy loading up on western stuff until we realized that they had an Asian section complete with congee, curry, kimchee, and some stir-fry stuff.
Of course, there was also an omelette bar, a pastry and bread area, a fresh fruit area, and even a charcuterie board area that only had cheese (no cured meats).
Heck, they even had some sambal, which totally reminded me of a Balinese breakfast buffet at one of the resorts there in Kuta though I think the one here at Dusit Thani wasn't as varied nor as good as the one we had in Kuta.
Regardless, after a few helpings of all the goodies on offer here, we left the place stuffed at around 8am.
And when we got up from our seats, we saw that the dining hall was now practically fully occupied and there was even a queue to get seated.
And when we tried to go up the elevators, it seemed like every time the doors opened, there were loads of people getting out eager to get their go at breakfast.
Well, about 10 minutes later, we were back in the room, where we tried to decide what to do for the rest of the day.
We had toyed with the idea of just chilling out at the resort or snorkeling in Tumon Bay itself, but I thought maybe we could use this opportunity to drive around the island.
At the very minimum, Julie wanted to at least see Two Lover's Point, which was a popular lookout spot just north of Tumon Bay.
We even toyed with the idea of going to Ritidian Point though she was getting conflicting information about whether the place was open or not (since it was only accessed through the military base, which meant it was up to the military to allow access or not).
Anyways, we ultimately decided to do the sightseeing drive, where we got out of our room by 10:15am and then got to the car about 10 minutes later.
From there, we droec off as we headed towards the Puntan Dos Amantes (which was what the signs were saying), and we ultimately got there at about 10:35am.
It was already busy and the day was already hot, and so we loitered about paying the $3 per person to get past the gift shop and up the observation area.
There were loads of heart-shaped locks around the area, and the views towards Tumon Bay were somewhat against the sun (it might be a better afternoon spot, I'd imagine).
Nevertheless, the reefs down below were quite colorful, and the vertical cliffs on either side of this lookout were impressive as well.
After getting our fill of the picture taking here, we then got back to the gift shop where both Julie and Tahia picked up some souvenirs that they found to be attractive enough to be taking home.
By about 11:25am, we headed back on the road again, and after giving up on the idea of going to Ritidian Point today, we instead headed south and desired to drive around the entire southern side of Guam.
At first we followed the familiar roads that we took to get all the way down to the Valley of the Latte as well as the turnoff for the Talofofo Falls that we did a couple of days ago, but then we continued further to the south as we passed through the town of Inarajan (or Inalahan).
After getting through the town past the 76 gas station and past the church there, we then looked for anything that might resemble the starting point for the Waterfall Valley.
I knew that there was an out-and-back hike for the first waterfall, which was called Malojloj Falls, and that there was a second excursion to get down to the next 4 waterfalls.
However, Julie had read the trip reports of some people who got lost and that there were some terrifying drop offs on the lower waterfalls, that she really didn't want me doing this on my own.
So I decided in my mind to pursue just the Malojloj Falls, and when we noticed somewhat of a faint opening by a blue ribbon behind some power pole, I figured that this must be the spot.
Thus, we stopped the car here at about 12:20pm, and then I took some time to change in hiking boots while also gearing up along with gloves just in case since I figured there'd be swordgrass.
Anyways, I then proceeded to walk up the path, which turned out to be a rough 4wd jeep road that was a bit muddy in stretches between tall swordgrass, and then the path started to round a mound thereby revealing some expansive views.
Looking ahead, I could see that there were some faint trails among the tall grass that I should follow, and I ultimately got to more blue ribbons defining a track that descended into the ravine containing the stream responsible for the waterfalls of Waterfall Valley.
At first, I was carefully going down this decline among the somewhat muddy path while also feeding every step on my left foot fully aware that there was a pair of blisters on that pinky toe.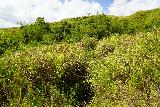 But I trudged on as the vegetation got thicker, and I ultimately had to get through a thicker grove of swordgrass, and then I encountered a big banana-spider-looking spider on a web right above the narrow path I was on.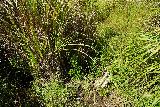 I tried to break the web hoping it would leave, but the web was way stickier than I had hoped so I ultimately broke just enough of the web to try to duck underneath it hoping it wouldn't hitch a ride on my pack.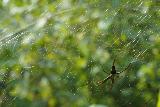 Once I got past that obstacle, I then saw a really steep and muddy descent through the swordgrass, but fortunately I saw a blue ribbon pointing me towards three sticks of bamboo going over some small gully.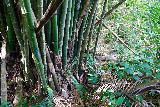 But upon stepping on the bamboo, I heard cracking, and I figured it was old and ready to give at any moment so I dared not step onto the middle of it.
After getting past this obstacle, then the path descended more towards another tall bamboo tree with some fallen branches, and then finally I made it to the Malojloj Falls, which sat opposite a rather dirty-looking murky pool.
As I documented this place (forgetting to take a vertical Instareel video for it), there were swarms of mosquitoes all over me.
So I tried to do my business the best I could before retreating back up as I'd imagine even with all the DEET on me, some might have bit me either through my clothing or through the DEET anyways!
By now, I was quite the hot and sweaty mess (possibly washing off some of the DEET that I had just applied), and now I had to climb back up through the very decline that I had just descended.
Sure enough the orb spider-looking thingy was still there, and now I had to duck under it once again without incident.
Then, I had to climb up through the muddy and grassy path as the sun made a re-emergence and made it quite hot and uncomfortable with each step I made on the ascent.
By about 1:10pm, I made it back to the car, which relieved Julie and Tahia though I told them that I had forgotten to take an Instareel of the falls so I guess I can't really share it on the phone.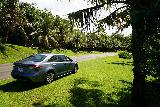 Nevertheless, I changed into Chacos again, and then we drove off to continue the route around the southern end of Guam.
Along the way, we made a spontaneous stop at the Merizo Bell Tower, which was interesting (Julie actually appreciated the red heart framing the ocean).
Opposite the bell tower was some kind of catholic church.
Funny how when we pulled over here at 1:35pm, there was only one other car just chilling there, but when we were done, almost all the handful of spots were taken up (I guess the lemmings effect was still here).
So we continued the drive as we swung around the south and got up to some Chamorro war memorial lookout at 1:55pm.
It was a little muddy here, and there were dark clouds looming overhead practically conspiring to dump its load on us (fortunately it didn't).
Then, we resumed the drive, which eventually hooked up with the Marine Corps Drive (remembering Chris' storytelling of this road's nomenclature where mispronouncing corps. made it sound like corpse so this road went through several name changes).
Regardless, we continued the drive further north until finally returning to the Dusit Thani at 2:50pm (this time getting a parking spot on the same level as the lobby area).
From there, we chilled out in our room for a bit (enjoying the nice afternoon views of the reef and bay below us), and then by about 4:20pm, we decided to go out for dinner.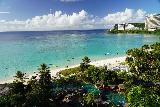 Initially Julie wanted to go to some ramen place called Fuji-ichiban and so we walked about 15 minutes in that direction with all the intention of doing it.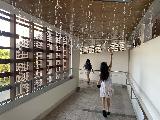 Along the way, we saw that several businesses looked like they had closed shop, and we wondered if the pandemic affected tourism so much that pockets of Tumon Bay seemed like a ghost town.
During the walk, my stomach wasn't feeling so well, and I wondered if there was some food poisoning going on, or if my infected wounds might be doing something ill, or if I might have contracted something from mosquito bites.
Again, something to worry but not really something I can do anything about at the moment.
Anyhow, when we passed by this Thai place called Ban Thai, Julie ultimately decided to just go there instead of crossing the street for the Fuji-ichiban Japanese Restaurant (which we might punt till tomorrow to see if we could have a better ramen experience than the Saturday night).
So we got there about 4:45pm, and we ultimately had ourselves a pretty satisfying meal of Tahia's pad thai, Julie's larb, my Thom Yum Goong, and a chicken satay with coconut on it.
Indeed this place hit the spot, and then after finishing our meal at 5:40pm, we crossed the street to scope out the Japanese place to see if indeed we should come there tomorrow night.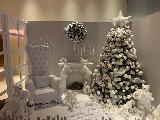 The place sure looked authentically Japanese, and the place wasn't too busy (we had read about long queues) though it wasn't empty either.
And so that probably tilted the decision towards doing that tomorrow night to have at least one good Japanese experience on Guam.
So we walked back and by about 6:10pm, we finally made it back to our room to crash for the night knowing that tomorrow will be my last boot camp test on Guam…
Day 6 (November 23, 2022 – Tumon Bay, Guam): "The Last Boonie Stomp Test"
It was 5:30am when I awoke to the alarm, where I took care of whatever remaining business that was left from blogging about yesterday or doing photo processing stuff.
Julie and Tahia then got up as we all headed down to the lobby for the croissants and quiches and stuff, which was like our daily routine.
As we were down there, we saw there was a Caucasian guy (one of the few in the resort) who was working, and Julie straight up asked him if he was the chef or baker who came up with the excellent croissants.
It turned out that it wasn't the case, but there was someone who had passed away who was trained in France, and he trained the staff quite well who have carried on that legacy.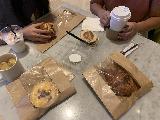 Indeed, the Caucasian guy said that the best croissants on the island are right here, and that was a modest statement because this stuff was way better than the stuff we'd get in LA (and rivals that of what we got throughout France)!
Eventually, the meal was done and Julie and Tahia went to the convenience stores after opening at around 7:30am leaving me alone in the lobby to wait for Chris who'd pick me up at the scheduled 8am for San Carlos Falls hike.
As I was waiting, I was surprised to see a familiar face as one of the Korean guys I had met during the brutal Mt Sasalaguan and Tak'hilo Falls loop hike showed up to the lobby with hiking gear.
He brought his wife along, and we shook hands though not a whole lot was said between us because they didn't speak English and I didn't speak Korean.
Still, I took a photo for them in front of the X-mas tree and decorations, and I realized that today's hike wasn't going to be just me and Chris.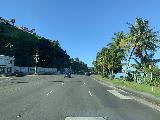 When Chris showed up a little after 8am, we all got into the van and headed along the coast towards Tumuning, where Chris went to a shopping area where we saw that Su (Chris' brother) was gearing up by his parked van there.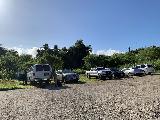 And so indeed, it was going to be the 5 of us going on this San Carlos Falls hike, and it was one of those more the merrier deals like last Saturday's hike.
By about 8:30am, we got to the parking area for the San Carlos Falls near Nimitz Hill, which was surprisingly full of parked cars.
There had to have been at least more than a half-dozen cars and lots of people gearing up and getting ready, and of all the hikes that I had done so for on Guam, this had to have been by far the busiest one.
Still, there wasn't any signage suggesting that this was the starting point for San Carlos Falls, which led me to conclude that these folks here were all military folks who already knew how to get to the falls just like Chris.
So after gearing up as usual, we then went ahead and walked down the road towards the first unpaved jeep track on our left.
From there, we got through a short 4wd track interlude before making another left onto another 4wd track with some muddy puddles and patches while Chris was pointing out some vegetation to the non-speaking Korean tourists.
The group was going at a pretty fast clip as I was lagging behind taking pictures as I went while also trying not to slip and fall along the way.
We then followed this 4wd track before making a right at another unsigned 4wd track junction (again reinforcing the notion that you really have to do where you're going on these hikes in Guam), where we then went on an even muddier track lined by power poles.
After this interlude, we then reached some construction site where some workers appeared to be digging some kind of ditch or trench for some pipelines.
This was where we rejoined some partially-paved road, and we went left along this road underneath some other power poles for a bit before reaching a makeshift bridge spanning the man-made ditch.
This then led us onto yet another track that ended up being also partially paved, and this eventually took us towards a line of larger steel power pylons.
After getting to the very end of the pavement beneath one of the power pylons, we then followed a trampled grassy path as the vegetation didn't quite get thick yet (so I still didn't need to put on my gloves yet).
We then continued on the generally grassy path following some blue ribbons while also getting through mostly shallow grass with a few muddy interludes of swordgrass patches that weren't too bad so far.
The path generally proceeded in a downhill direction with a handful of climbs, and along the way, we could see the radio towers to our right, which was the top of Mt Alutom (where Chris and I did a combination loop hike there).
We still proceeded to walk through among the ridges and hills through ever increasing thickness of tall grasses (while noticing some easy-to-be-misled false trails) as we'd eventually get up to a hill where Chris pointed out a hard-to-see Batan Falls at 9:15am.
That waterfall was apparently only visible when there's more rain and higher flow (which would probably make this hike more miserable), and I'd imagine the vegetation around it also conspired to keep it hidden.
We weren't going to pursue that waterfall though Chris and Su said that they've gone there before when it was pouring rain here, and they couldn't see ahead of them except down.
Anyways, from this ridge, we then descended moderately steeply towards a ravine backed by what looked to be a large grove of palm trees.
I know Su reinforced the poor soil of Guam except for pockets like this, especially near the watercourses, where the soil might be deeper and less rockier.
So it was at this point that I finally put on the climbing gloves, and it couldn't have been any sooner because then came time to descent some really muddy paths while holding onto rope.
Like before, some parts were quite steep, but there were definitely spots that were quite sloshy and messy.
I guess having done this twice before, I learned that going backwards in the steepest parts gave me perhaps the best leverage though finding the next step was a little more challenging and slower.
But when we finally got down to the bottom of this rope-aided descent, we found ourselves on the Lonfit River right above some cascade with a seemingly deep pool beneath.
This certainly didn't match the description in the book where it said to descend alongside San Carlos Falls and then work our way downstream to the San Carlos Swim Hole, but I wondered if this was that swim hole and we went in the opposite direction.
Anyways, we chilled out at this spot for a bit at 9:40am, while we noticed lots of black moving dots (turned out they looked like tadpoles) in the shallower parts of the Lonfit River above the cascade.
I didn't dare to jump into the pool here though Su did say that you could from where we were standing.
After having our water break and having our fill of this spot, we then crossed the river and went towards a rope, where we used it to cling onto the far steep side of the cascade to get below it.
Then, we worked our way towards the base of the plunge pool opposite the cascade where we could get a nice frontal look at it before proceeding on.
Indeed from there, we then followed the banks of the Lonfit River crossing it a few times (without needing to wade), and trying not to slip and fall since we were traversing wet bedrock and muddy embankments.
It went on for quite a bit though the paths appeared to be well-used, had some strategically-placed rope, and had some strategically-placed colored ribbons.
In one stretch, we encountered a small group of hikers going in the opposite direction, and I'd imagine that was the first of the military folks that we saw back at the trailhead.
I had wondered where they went, and I wondered if they were on the way back from the way that we came.
The river hiking continued for a bit until by 10:15am, we approached the base of the San Carlos Falls, which was said to have a 40ft drop.
Well, when you're greeted with this nice plunging waterfall with a clear swimming hole in front of it, who really cares whether this was the biggest waterfall or not?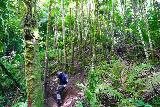 Anyways, there was quite a large group of people swimming before the San Carlos Falls, and there were even more military folks descending a rope-aided decline alongside the falls.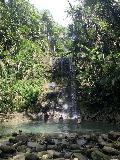 Chris said that we were going to go up that way, and that was when it hit me that we had gone in the opposite direction of what the Best Tracks on Guam book had described.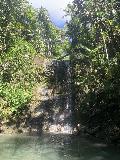 Upon overhearing me saying something about this place being the busiest that I had seen at a waterfall a Guam that involved some degree of trekking, one of the servicemen there said that the military was off today.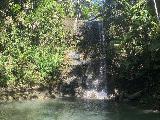 So today was actually a different set of circumstances, and that was why perhaps this falls was busier than normal – so consider it an outlier.
Indeed, we chilled out at this waterfall while the servicemen had their fill of this spot, took their group pictures, and then continued downstream perhaps towards the San Carlos Swim Hole that we had been at earlier.
After spending time to take my pictures and videos (and having a group picture taken by Su), I then went ahead and took off my shirt and tied it around a tree.
I kept my GoPro on to capture the whole experience, and then I scrambled over to a part where there were lots of fish at the edge of the plunge pool, where I found a rock to sit on, take off the boots and socks, and then scramble towards the plunge pool itself barefoot.
I decided to keep the pants on since they were already soaking wet with sweat so what's a little getting wet from the freshwater of the Lonfit River?
Indeed, once I dipped into the pool, it felt so refreshingly cool that I was enjoying myself swimming while looking up at the waterfall making its plunge.
Chris told me to swim towards the waterfall, which I obliged, and then when I got close to there to pose for a photo, Chris then told me to scramble underneath the waterfall and get a shower.
I went ahead and did that and let the water pound onto me while I assumed he was taking a picture of me as I did this.
Once I was done doing that, I then pretty much did a poor-man's backstroke as I kept my gaze on the waterfall the whole time as I was swimming back across the plunge pool.
By the time I got near the banks, I felt a punch to my chest, and I realized that one of the fish must have bumped into me or tried to take a nibble of my left chest.
Anyways, when I got out of the plunge pool, I then joined the Korean group for a lunch as I was drying off naturally, and we had boiled eggs, Korean pear, apples, and some dried ramen noodles with some kind of salty seasoning on it (for electrolytes).
After having the satisfying lunch and water break, I then put on my boots and socks (both damp so I wondered if they've lost their waterproofability at this point since they were old knowing that they might get trashed on this trip), and then I put on my damp shirt.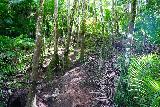 Then, I geared up, and we all proceeded to head up the steep rope-aided incline by about 11am.
As expected, this hill was just as muddy and steep (and slippery), but I just took my time while the rest of the group was way up ahead.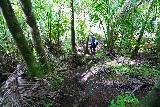 Su made sure to stay behind me to get me through the most difficult parts, but I guess with this being my third time in 5 days, I was starting to get the hang of finding my footing and making slow and deliberate movements.
After this initial climb up out of the incline adjacent to San Carlos Falls, we then found ourselves back on the Lonfit River but now right above the brink of the San Carlos Falls.
I went ahead and took some videos and pictures from the very brink of the falls before we scrambled upstream along the Lonfit River.
The footing here was quite slick even though it was flat, but we managed to get to the base of yet another very steep climb though Chris said that had we kept going upstream on the river, we'd eventually get up to the Batan Falls.
So now we had to go through a second round of steep climbing and slow, deliberate movements while hanging onto rope, and ultimately by about 11:30am, we finally got up past the roped portion and were back on the normal grass-lined trail.
We continued to ascend until we got to a shaded spot for another water break while Su helped me to get my trekking poles out so I could push up off of them since we still had more uphill to go.
Once again, Chris and the pair of Korean tourists forged ahead while Su and I stayed back as we were shooting the breeze about hiking in other parts of the world (seeing how Guam's mentality of hiking and trail conditions were quite different from what I was used to).
I also learned more about Su being in the toy manufacturing business, where he's going back to the States in January where there's a toy conference in Vegas.
It was interesting to hear that they're already setting up for Halloween 9 months beforehand, and they'd even project for Christmas though times are tough these days because of China's COVID-zero policies that pretty much shut down manufacturing around the world.
Finally by about 12:30pm, we made it back to the car, where Chris' van was now only one of two cars left.
So I guess the servicemen went in the opposite direction of us, and finished well before us.
And after changing out of our shoes and unslinging our packs, we all got in the van and proceeded to head back to our respective cars and resorts.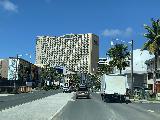 Eventually, by about 1:05pm, the Korean tourist couple and myself were dropped off at the Dusit Thani, and we waved back at Chris who headed out, knowing that this was going to be the last time I'd be seeing everyone on this trip.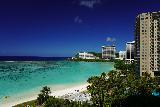 I was glad that today's hiking wasn't as brutal as the other ones that I had been on, and it actually felt like it was the most enjoyable thanks to the dip that I took, and also the power of having many people around which made things feel more festive.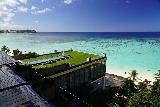 When I got back to the room, Julie and Tahia had their usual reaction of my clothes being dirtied up, but this time I wasn't as beat up and exhausted as in the prior two boonie stomps.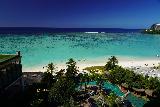 I guess I got back just in time for Julie to want to check out some local Chamorro food, and we targeted some place called The Cafeteria.
So we headed to the car at 1:20pm, and then we proceeded to drive off hopefully in time to catch a lunch without it being too late (knowing that we also wanted to have a ramen dinner that's not too late).
We then drove off and followed Julie's routing, but it started to take us on some weird boonie streets, and we then drove into some warehouse row (not far from the airport), where it took us on some weird alleyway.
We happened to chance upon a guy whom we asked about The Cafeteria, and he said that that placed had been closed down, and so that was probably why this chase was being fruitless.
So as an alternate, we found this other place called the Chamorro Island BBQ, which was further south, but we had to fight through quite a bit of heavy traffic on Marine Corps. Drive.
And so it wouldn't be until about 1:55pm when we got to the car park near the Chamorro Island BBQ.
We then walked around into an interesting little "hut" where the walls were all marked up by visitors who sharpied the walls, and there was like the World Cup being televised.
Anyways, we ultimately got a couple of different combos (one with ribs and chicken, another with kalbi and chicken skewers, and a chicken keleguen as we didn't want to chance it with a raw shrimp keleguen).
While the food was kind of ordinary (the Spanish rice wasn't as spiced as the one we had at the Valley of the Latte Tour), we at least got to satisfy what eating locally was like.
Then, we walked around the complex a little bit, which turned out to be some kind of Chamorro Village with a tower, a big quad area, and the owner of the BBQ encouraged us to check out the night market here.
I dunno if we'd be making it back here to search for parking, but she did encourage Tahia to scribble our own sharpie scrawling on a part of the wall.
Anyways, by about 2:50pm, we got back in the car pretty fully stuffed and now having to fight traffic on the way back to Tumon Bay.
We did make a stopover at a Kmart along the way at 3:05pm so we could pick up some epsom salt since Julie was getting some histamine reactions (something we hadn't really done all trip long).
And then by about 3:30pm, we were back at the Dusit Thani to pretty much chill out in the room until dinner.
By about 5:25pm, we left the room to go to the Fuji-ichiban Ramen place, but the elevators were unusually slow (we actually had to queue to go up instead of down in order to get moving after sitting there for about 10 minutes).
Then, we finally got to the street level to walk to the ramen place, and we'd eventually get there at 5:55pm.
We got seated straight away, got like 3 tonkotsu ramens, a fried rice, and a gyoza. Tahia's kid's combo came with a chicken karaage and some other small yakitori ball or something like that.
Anyways, when we were done with dinner, we were fully stuffed, mostly because the rice portion was way big.
There was something missing from our meal, and we realized that they didn't put any of those red gingers on the rice nor in our ramen, but other than that, it at least was a way better and more authentic experience than what we had inside the mall at the Dusit Thani.
And with that, we left the restaurant at 6:40pm and made it back to the room at 7:05pm to finally settle in for the night.
Of course, I wasn't feeling so great for the rest of the night, and I presumed that it might have had something to do with a bit of MSG overload as I was feeling headache and my stomach wasn't feeling so great.
So I guess that was a lesson in trying not to eat too much.
Anyways, we had tonight to look forward to for sleeping in as much as we could knowing that the last of my boonie stomps were over, but we did have some kind of pre-booked snorkel tour to partake in, which started at 9am and ended at 1pm.
So tomorrow (Thanksgiving Day) was under Julie's control, and this time, I'm just along for the ride…
Day 7 (November 24, 2022 – Tumon Bay, Guam): "The Angry Chamorro"
It was about 5am when I awoke to the alarm, which gave me some time to get all caught up on yesterday's happenings, which I didn't get a chance to do since I wasn't feeling too great after dinner.
I actually wasn't feeling all that great either on this morning, but I went ahead and did what I needed to do with the blogging, and I ultimately completed it by around 6:50am, which was right when we went downstairs for the familiar pastry brekkie.
Once again, we got croissants, a veggie quiche, an egg McMuffin, a nutella brioche, and a pain au chocolat.
And like before, it hit the spot.
Indeed, even though we were ordering like $30-$40 worth of pastries for brekkie, it was still better than stuffing ourselves with nearly $80 worth of breakfast buffet consisting of subpar food.
By about 7:20am, we were back in the room to get what was necessary for our snorkel tour though Julie wasn't particularly encouraged by the high surf warnings that were popping up on her phone.
Anyways, by about 8:15am, we went down to the car, and proceeded to drive out of the lot to some holiday light traffic.
The drive went down a ways to the south before we made a right and then headed out to some kind of jetty or peninsula that ultimately got us to the Guam Ocean Adventures location.
We showed up and parked at the Guam Ocean Adventures spot at 8:40am, where we then introduced ourselves to what appeared to be the proprietor and his son (Takumi).
We went ahead and put on sunscreen while also leaving most of our stuff behind as we opted instead to use the gear that they provided.
There were also another pair of Korean women doing a tour with Guam Ocean Adventures, but they did a scuba dive while we were just doing a snorkel.
So Takumi guided us as we walked along the beach towards the part of the bay we were in away from people, but there was apparently one Chamorro guy who told us not to go any further because apparently they had lines set up.
So we went back the other way and then started going into the water towards the edge of the sandbar and reef, where there appeared to be most of the fish.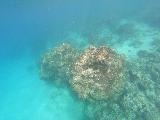 We pretty much drifted around this edge of the reef seeing that there were indeed plenty of coral as well as some fish, but with the threatening clouds to the east, it seemed to mute the sun oftentimes.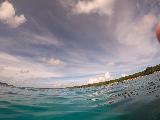 And so we just made the most of it while drifting ever further to the south along the edge of the reef looking for other fish sightings.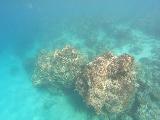 At one point, when I started to see some kind of crate looking thing at the bottom of the bay, I heard someone (the same Chamorro guy) yelling in our direction, "Hey, get the f*ck out of there!"
I wasn't sure if he was talking to us, but I guess he was, though it wasn't clear to me what his issue was since we were so far away that there was no way we'd be tangling his lines.
He kept yelling in our direction, and at some point, the father proprietor was down by the beach trying to see what was going on.
It sounded like this guy was looking for a fight, and even his own family was imploring him not to by saying, "Harry, stop it!" or something like that.
I don't think the proprietor wanted any trouble, but I got the sense that this guy was looking for trouble as he was clearly being territorial.
I thought to myself that this was a public beach, but apparently this guy must have had some sense of entitlement claiming that the majority of the bay was his, and somehow we'd be messing with his fishing.
Anyways, rather than to stir up any more trouble, we just drifted back in the other direction, and at some point, apparently Takumi and Tahia saw a turtle.
Julie mentioned something about that, but neither of us saw it, and by the time we caught up with them, the turtle was nowhere to be found.
Another unusual thing we saw was that someone was spearfishing where we were snorkeling, which seemed rather unusual.
It seemed like a bit of a free-for-all as far as any rules and regulations concerning protecting the wildlife and shared usage in this area.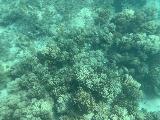 Anyways, we pretty much then drifted as far to the north as we could before Takumi mentioned that the visibility wasn't as great anymore, so then we made one more loop (back in the direction of the "forbidden angry Chamorro zone") before looping back.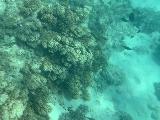 By this time, I badly needed to pee, and I was getting a headache (something that always happens to me when snorkeling).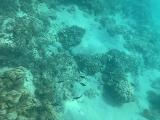 I kept thinking to myself that if there was yet another hour to go for the snorkeling, that was way more than enough time.
Unfortunately, it was around this time that the GoPro appeared to have died, and I suspected that it was its waterproofing that was failing once again (this would be the second time that this happened).
It was a good thing that I had gotten all of my filming done up until this point, and that we saved the snorkeling for last.
So that was added motivation to return to end the snorkeling.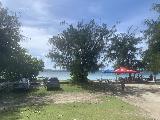 Eventually, we got back to the Guam Ocean Adventures tables, where we got out of the reef shoes, rinsed off, and engaged in more conversation with both Takumi and his dad (who were also returning from the Korean ladies' scuba diving excursion).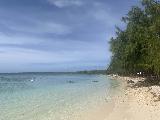 It was a pleasant talk getting to know what life was like in Guam as well as some places to eat local Chamorro stuff.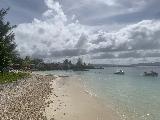 Takumi actually encouraged us to eat at Pika's Cafe (contrasting the disappointing experience that Julie and Tahia had at the Little Pika's Cafe closer to the Tumon Bay).
So that sounded like a good idea though I wasn't sure we'd be doing a loco moco there like he was suggesting.
The father seemed to be really appreciative of the fact that we were Americans visiting Guam since not many Americans come out this way (opting instead to go no farther than Hawaii).
And with that, we wished each other a happy Thanksgiving, and by about 11:15am, we got back in our car and proceeded to drive back towards the resort in search of Pika's Cafe.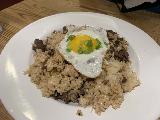 Eventually, after getting through some holiday light traffic, we got to Pika's Cafe at 11:50am, where there was plenty of parking, but once we got inside the restaurant, there were actually two other parties waiting to get seated before us.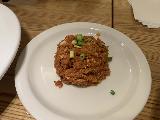 Indeed, this place was pretty busy, and we were really looking forward to finally having some decent local Chamorro fare.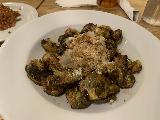 When we eventually got seated after about 10 minutes or so, we proceeded to order their signature Tinalatak burger, brussel sprouts (with bonito as sort of an added Japanese-influence touch), and fried rice with bulgogi and kimchee along with a Chamorro sausage on the side.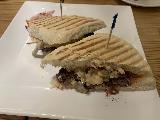 After eating the food, it was very good – we liked everything, but especially the Tinalatak burger.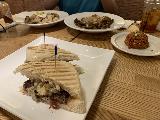 In fact, Tahia ate half of it, and Julie and I only got to split the remaining half, and I really wanted a second one, but Julie didn't want me to overeat.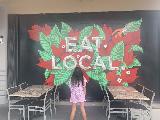 That was a bummer because I knew we wouldn't have another one of these burgers back at home, and I don't know when we'll be back in Guam.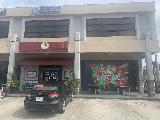 Regardless, we were served by this guy Chamorro guy named Ryan, who was really nice, and he too seemed really appreciative that us Americans were actually visiting Guam.
The usual line of questioning would be whether we're visiting relatives or friends here, but nope, we were just tourists, and that got us engaged in some pretty cool banter.
Indeed, aside from the angry Chamorro episode during our snorkeling tour, we really appreciated how laid back Guam was.
Perhaps the hiking was a bit full-on for me, but this really did feel off-the-beaten path, which was exactly what we were aiming for when we decided to go to Guam in the first place.
Sure, it wasn't cheap (the airfare was probably triple that of a direct round-trip flight to Honolulu), but you can't beat the experience overall (i.e. the less hectic feel thanks to the fewer people on the island).
I don't know how much of this had to do with the lack of Japanese tourists traveling abroad and the lack of other tourists due to the high value of the American dollar, so indeed these were unusual times.
Nevertheless, after our satisfying meal, we got back to our resort at 1:15pm, which was just in time for some heavy overcast skies which contrasted the beautiful day that we had yesterday.
Anyways, we spent the remainder of the afternoon getting packed and organized since we had to fly out early morning.
With our dinner reservations at the resort not until 7:30pm, we had plenty of time to get relaxed, take epsom salt baths, and pretty much just chill out and enjoy our time in Tumon Bay for one last time.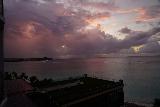 By about 7pm, we had gotten tired of waiting around so we decided to go downstairs and see if they could seat us earlier than our scheduled time.
Sure enough, they did, and we proceeded to get seated straight away and ordered quite a splurgy meal that consisted of escargot and foie gras as appetizers.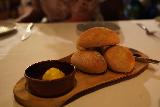 Then, for the mains, we got Tahia an uni pasta that was topped with a pair of jumbo sea scallops.
Julie got 6g of Japanese Wagyu Beef, which was absolutely legit as it was as soft as we've ever had, and she even claimed that it was better than the Kobe beef that we've had in Kobe back on our first trip to Japan in 2009.
I also got a ribeye steak, which was I think about 18g or so, and it was quite big even though it was less than half the price of the 6oz of Wagyu (at $150 USD).
For dessert, Julie got the Gran Marnier Souffle while Tahia and I wanted to share the S'mores except the latter didn't come out because they were missing an ingredient.
When they brought out a substitute dessert on the house (some kind of "tiramisu"), that was when we realized that they hadn't made the S'mores yet, and so we asked if they could just cancel that order since Tahia was getting tired.
By 8:45pm, we finally got back to the room as we were all pretty much at our bedtimes knowing that we had to get up at 4am in order to catch our 7:30am flight tomorrow morning.
It was going to be brutal, but with today's splurge, it was time to call this trip a wrap, and hopefully our return journey will occur without too much dramas…
Day 8 (November 25, 2022 – Los Angeles, California): "Hectic Return All Around"
It was 4am when we awoke to the alarm, which was kind of a shame that we had to get up this early as we were just getting accustomed to Guam time, but now we had to go home today.
Anyways, this alarm pretty much started a hectic day of lots of travel logistics to take care of.
First off, we had to wrap up the packing as we had to wait for wet clothes to dry overnight, and now (damp or not), we had to just pack them.
I was still feeling a little congested as I couldn't shake off this cold that I've had for 3 weeks now.
So I tried to finish off the rest of the ginger root infused hot water that I've been consuming all week long in Guam.
Eventually by about 4:50am, we got out of our room, went to the reception to settle the bill, and then got to the car.
Then, we made the short drive to the airport, where we then returned the rental car (but didn't bother getting the receipt because the line was so long with arrivals; in hindsight, I should have asked for an email of the receipt).
Then, we proceeded to go through the usual drill of checking in Julie's big luggage for $55, and then we proceeded to go to security as well as customs.
It wasn't until about 6:10am when we were finally at our gate, and then we went ahead and gate checked our remaining two roller bags knowing that we'd rather have the leg room.
Besides, we had to collect luggages before continuing on with the HNL to LAX leg anyways.
Ultimately by about 7:05am, we boarded our flight from Guam to Honolulu, which was a surprisingly full flight as apparently lots of people were flying out on Black Friday (unlike last year when we left from Honolulu on this day and it was pretty quiet).
The flight pretty much went off uneventfully, and I managed to watch some movies to pass the time since this flight had in-flight entertainment.
So I wound up watching the Straight Outta Compton as well as the old Top Gun, and I tried to watch the parts of Top Gun Maverick that I had slept through on the inbound flight to Guam.
Ultimately by about 7:05pm (the day before we took off!), our flight landed in Honolulu, and then we had to go through another gauntlet of tasks to do.
First, we had to de-plane and then hike to the baggage claim, where we waited for our luggages, which took a while.
Next, once we had our luggages, we then had to hike towards the United baggage drop kiosks, which seemed to be on the other side of the airport.
Then, once that was done, we had to hike to Security Checkpoint 3, which was back in the other direction for a ways.
So it wasn't until about 7:45pm when we finally made it back past the security, but then we had to hike almost the entire U-shaped length of the Daniel K Inouye Airport to get all the way to the G gate.
Unfortunately, all the eateries looked to be closed, and this included the Le'ahi Market (so no hot ramen noodles this time around).
Eventually some time after 8pm, we then made it to gate G4, which was familiar because this was the same gate that we had departed for Guam, but now we're using it to depart for LAX.
We managed to sneak in a Facetime call with my parents, who were just cleaning up from their Thanksgiving night dinner.
As much as we wanted to join them, the timing just didn't work out for us on this year, and it looked like we'd have to finish off the turkey tomorrow because Mom said the turkey wasn't ready in time for dinnertime.
Anyways, it was a non-ideal way to spend our Thanksgiving night at home, but at least we did manage to splurge for Thanksgiving dinner at the Dusit Thani in Guam.
And on a year where things went terribly wrong in the middle of it, hopefully things are looking up again as we look forward to returning home and spending quality time with the rest of the family once again after another rewarding and eye-opening trip…
This was a surprisingly full flight when we finally got on some time at around 10pm as apparently we weren't the only people nuts enough to fly out on the night of Thanksgiving.
Fortunately for us, the seating worked out (so they changed it when we got to Honolulu and let us sit together for once despite the game of chicken they're playing with any family of larger than 2), and we managed to get some shut-eye for about 3 hours.
Unfortunately for us, the dramas didn't end there when we got to Los Angeles (one of the things I never really look forward to when we land in LAX given how backwards our airport is run).
Indeed, by the time we got to LAX at 5:30am, it took some time for us to de-plane since we sat in the back of the plane.
But then, we had to hike all the way to the baggage claim, wait for our luggages to come out (good thing they all showed up), and then we waited for about a half-hour (by around 6:45am) for our particular LAX shuttle to show up.
And then… we were finally able to drive home and get there by 7:30am, where Tahia couldn't wait to set up the Christmas tree (and perhaps break some LED lights in her haste), and then we slept (perhaps worsening our inevitable jetlag)…
Visitor Comments:
Got something you'd like to share or say to keep the conversation going? Feel free to leave a comment below...
No users have replied to the content on this page