Day 35: STICKER SHOCK
We woke up at 4:45am all groggy and could've used another hour or so of sleep. But with our 8:25am international flight to Tokyo with the Beijing airport being an estimated 40 minutes or so away, we couldn't take any chances.
Both Julie and I felt a little better than yesterday regarding our cold/flu symptoms. Perhaps it was the relatively cleaner Beijing air and cleanup of public facilities (such as the lack of indoor cigarette smoke), which was something totally unexpected (and rather ironic considering we expected Beijing to have the worst of these things).
After meeting up with the taxi at 5:30am, we made it to the airport barely by 6am seeing some weird red morning sun through some dark haze that we couldn't tell if it was pollution or sand from the Gobi Desert.
We were at the airport with plenty of time to spare and made it to boarding at 7:55am for our Japan Airlines flight without any issues.
In fact, the lack of issues didn't escape Julie's attention. Perhaps it was because boarding was done in an orderly line as opposed to the utter chaos of all the Chinese boarding procedures (or lack thereof). It was kind of funny how different the Japanese courtesy was versus the Chinese.
Throughout the flight to Tokyo, we were busy devouring all the literature we brought on this trip trying to arm ourselves with as much information as possible especially regarding money issues, transport, and language. And that language part was going to be real tricky since neither of us spoke nor read/wrote Japanese.
Indeed, we're totally on our own in Japan (mostly due to cost reasons) where we were mostly escorted in China. So we were quite anxious since we're very unsure whether we'll be able to execute on some of the logistics of this part of the trip.
At 1:10pm, we picked up our luggage at the Narita Airport Terminal 2 and walked around looking for decent exchange rates. We found 4 different ones and they ranged from 91.37 yen per USD to 91.90 yen per USD. Needless to say, we were getting killed with these exchange rates since in the past, we knew it was relatively easy to fetch at least 100 yen per USD. The LP Book published in 2007 had the exchange rate at around 125 yen per USD!
We also spent quite a bit of time validating our JR Pass. Eventually, we'd catch a 2:18pm train that showed up exactly on time. And this train went for around 1.5 hours to Shinjuku in Western Tokyo where we were supposed to be staying.
After getting a little bit lost in the Shinjuku Station and looking around for an English-speaking information center, we finally made it to our hotel a couple of blocks away from the train station at 4:15pm.
Once we got settled, we went back into town for a little exploring. We had the equivalent of a $22 USD dinner over a couple of small plates of pasta. We knew things would be expensive here, and this was just something to warm us up to the sticker shock.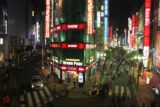 Afterwards, we did a little grocery shopping where we saw even more crazy prices like 3000 yen durians, 900 yen cherries, and even 600 yen oranges. We ended up buying some bottled water in preparation for tomorrow at less than 300 yen.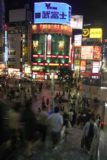 We also saw a chemist where we could finally see if we could get a Rescue Heart medicine for Grandma (who asked that we pick one up for her prior to the trip). Unfortunately, those prices ranged from a shocking 17,000 yen to a crazy 20,000 yen! I don't think Grandma paid those prices for her package back in LA, but then again, maybe she did and we didn't know about it. We'll have to correspond with the parents to get more answers.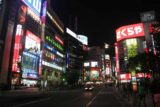 By the time we were done grocery shopping, it was dark. That was when Shinjuku really looked like a city that has come to life. People were walking in droves all well-dressed looking like they had just got off work and were ready to play.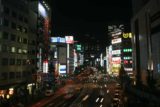 The bright lights of towering buildings towered over the throngs of pedestrians filling the narrow streets between them.
Indeed, this was why Julie chose to stay in the action of Shinjuku and now we were part of it.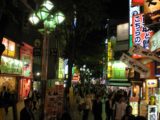 Sure we didn't partake in any Pachinko games or do any karaoke, and we didn't buy anything except for some 500 yen globe grapes off the street. Everything else seemed to be very expensive and we were evaluating which restaurants to try without breaking the bank tomorrow.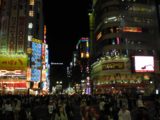 By 8:15pm, we were back at our hotel. Totally tired, we got cleaned up and were relieved that we no longer had to brush our teeth with bottled water. We expected to have an early start tomorrow for some of the freshest sushi in the world at the Tsukiji Fish Market… and I was determined to have breakfast sushi!
Visitor Comments:
Got something you'd like to share or say to keep the conversation going? Feel free to leave a comment below...
No users have replied to the content on this page