Day 36: TASTE OF TOKYO
I awoke at 5am and Julie reluctantly awoke about 20 minutes later.
I was anticipating the sushi at the Tsukiji Fish Market this morning. We were anticipating seeing the actual fish auction take place (guide books report 5am to 8am) while having the freshest sushi you can possibly have short of fishing out the stuff yourself.
So at 6am, we made our attempt while learning the Tokyo subway system on the spot. It was a good thing the ticket machines had English translations and most of the signs were in English. So actually using the Metro was sort of a breeze (though recognizing some of the Chinese words in the Japanese kanji writing system didn't hurt either).
It wasn't until about 7am when we got off the Tsukiji-shijo Station where signs led us to some warehouse area full of fork lifts, trolleys, and trucks.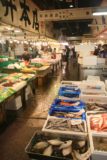 Upon entering the warehouse area, we weren't totally sure if we went into the right place. But we just kept on going (sometimes crossing busy streets full of the motorized trolleys) until we finally saw an area full of white lights and white boxes full of fish.
That was when we saw some massively large tunas, octopuses, squids, armies of smaller fish (some still trying to breathe), and salmon among others.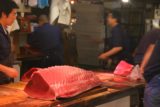 Apparently, we missed the loud auctions so after taking photos, we tried to walk out of the working area, but the market kept going on and on. It was certainly one huge place. Now we could easily see why some 90% of the world's fish for sushi are sold here.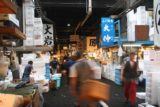 In fact, after seeing the scale of the fishing (maybe overfishing) done here, I felt quite bad about our love for eating sushi. Yet it's something real hard to give up as it's something we're quite used to having back at home.
Eventually, we found one of the side eateries just outside the working fish market area where we sat in on a small sushi joint for our morning helping. There, we had tuna, toro, amaebi, hamachi, uni, and more.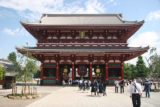 There was definitely quantity in the sushi and they were fresh, but not very tender. Julie and I had to agree that it didn't live up to expectations as we did have better ones thousands of miles away back at home. I guess this gave us a better appreciation of why some sushi joints charge so much for their sushi because you tend to get the best choice cuts where this place probably got the leftovers after the choice cuts were bought and sent to more upscale sushi dives around the world.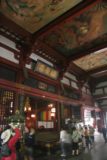 A little after 8:30am, we left the Tsukiji Market and headed back to the subway. Nearly 50 minutes later, we made it to the Sensho-ji, which was one of Tokyo's more impressive temples.
It was a compact attraction of only a handful of old-looking buildings. There were heaps of school kids there (were they on a field trip?) as well as many foreign tourists.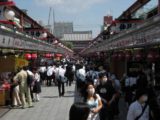 We took some time there taking photos and trying to reproduce some of the photos in Julie's DK guide.
As we were making our way out of the Senso-ji area, we noticed there was some commotion around a pair of traditionally-dressed women who looked real young and attractive.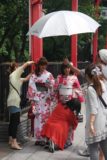 Apparently, they were being made up and filmed about something. We weren't sure exactly why.
In fact, those women being made up looked like they could've been foreigners or perhaps someone of mixed blood. They didn't look much like our pre-conceived vision of what traditionally-dressed Japanese women might look like.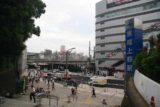 Anyways, an hour later, we headed back to the subway for Ueno Park.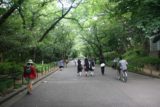 Ueno Park was a quieter little park in the middle of Tokyo's concrete jungle. I guess it was kind of like Central Park, but perhaps not quite as big as New York's version.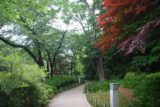 The attractions in the park weren't really impressive in our minds, and the old shrine here (Toshogu Shrine I think) was substituted with a facade as it looked like it was under restoration.
Still, the walk in the park was relaxing. We even enjoyed one local who was rock n' rolling on a traditional Japanese banjo. Quite cool.
Just before noon, we were back in the subway. This time though, we took the JR Yamanote line since we had already paid for the JR Pass and our out-of-pocket subway expenses were adding up.
Our first stop was the Akihabara Electronic City. There, we checked out a camera shop as well as a sex shop. We didn't buy anything, especially since the Nikons I was interested seemed to want to set me back over a hundred thousand yen or more. Since we didn't really research which Nikon camera to get, it was hard to gauge whether we'd get a decent deal here. So we passed.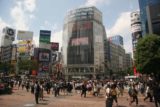 Soon thereafter, we took the JR Yamanote Line towards Shibuya. There, we saw a very busy and happening area in a very Times Square-like way. This place seemed even more happening than Shinjuku as it was full of well-dressed businessmen and women towered over by bright and flashing buildings. Some of them had large TV screens with volume.
It was fun checking this part out and we could only imagine how bright and glitzy this place would be at night.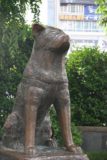 Another thing that caught our attention was a statue of a dog just outside the train station here at Shibuya. It turned out that this statue was in commemoration of a loyal dog who would always come to this station despite his owner dying. And I guess it kind of struck a cord with the Japanese mindset because loyalty and respect were very big culturally here.
At 1:40pm, we took the JR Yamanote Line to Harajuku. If it wasn't for Gwen Stefani and her Harajuku Girl Tour (a few years back and just before she had her first child), we probably wouldn't have considered visiting this part of Tokyo.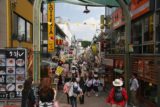 But we were glad we did as Takeshita Street was yet another busy walking street full of shops flanking the street. Now it wasn't quite as busy as Shibuya, but this place had more of a youthful energy to it as most of the people strolling these streets were young kids and young adults.
By 2:45pm, we were back at the hotel room totally exhausted from this full day of touring.
But at least we think we got a pretty good taste of Tokyo and we were ready for the next leg of our travel where we hope to see the first waterfall of the Japan portion of this trip.
Visitor Comments:
Got something you'd like to share or say to keep the conversation going? Feel free to leave a comment below...
No users have replied to the content on this page