Day 37: GETTING WHAT WE ASKED FOR
We didn't leave our hotel until some time after 6am. This was the first time we had to figure out how to follow the long distance train and bus schedules in order to get to our accommodation and in order to get to our first waterfall in this country.
In other words, this was our first big test on logistics in a country in which we neither speak nor read the local language and in which English is not spoken by most locals.
After getting to the Shinjuku Station, which we were quite familiar with at this point, we boarded the JR Yamanote Line, which went in a circle around Tokyo. The idea was to take this line to Tokyo, but it stopped very frequently and it wasn't easy fitting into a crowded train with our luggage.
After the fact, we saw on some maps that taking the JR Chuo line would've linked us to Tokyo directly. So we just sucked up this little bit of a delay (by taking the Yamanote line instead of the Chuo Line) and got to the really busy Tokyo Station at a little after 7am.
I was hoping to get to Sendai and then Akiu Onsen early in the day to absorb any further delays or unexpected mishaps along the way. So all the express trains to Sendai from Tokyo that left before 7am were missed. The next shinkansen (bullet) train we could take was 7:36am. And we had plenty of time to wait in line, get our reserved seats with our JR Pass, and then wait on the train deck for the arrival of the train itself.
At this point, I was pretty amazed at how we were able to get this far on this trip without having a guide or our own car hire or taxi. All of it was using public transportation and I can't imagine doing this at home or in most other places we've been to around the world. Indeed, Japan is demonstrating its prowess in progressive thinking and public transportation. I only wish other countries follow suit as I'm sure it'd make us more efficient and thus put us closer to a more environmentally friendly (and hence sustainable) society.
Our shinkansen showed up a few minutes before the departure time. That was when we saw all the seats inside get turned around (I guess it's now going the other way), and when we were finally allowed in.
There wasn't a whole lot of space to put our luggage in the main area so I hijacked one of the door vestibules where there was a little closet capable of holding both of our big luggages.
Afterwards, we found our assigned seat and just chilled for the next couple of hours.
And sure enough, the train departed at exactly 7:36am.
After going through some three or four brief stops, the train then really started to zoom at its more famed speeds of I'm guessing well over 300km/h. The ride was quite smooth so I ended up being lulled to sleep.
When I was awake, I did peek outside the windows to see that we left the urban jungle of Tokyo for the greener mountains and rice fields as we headed into Northern Honshu.
At 9:17am, we arrived at the Sendai Station where we grabbed our heavy baggage and headed downstairs (on an escalator) to speak to the information desk on how to find the bus we're supposed to take to get to Akiu Onsen (site of our accommodation for the night).
After getting our answer, we headed downstairs even further (on an elevator) to the terminal for bus line 8. At that point, we purchased our ticket (for 1560 yen for 2 people) and waited for our bus to show up.
Now mind you, we weren't sure which bus we were supposed to take, and the first bus that stopped in front of us was the wrong one. We knew this because as Julie got on the bus to ask the driver, the lady in the ticket booth ran out and tried to get Julie off the bus before it took off!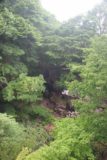 After a quick lunch at the hotel, we took a short walk in the Rairaikyo Gorge right behind the hotel. We didn't have a whole lot of time so we got a quick taster of the mini Nature walk before we walked down to visitor center again.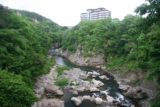 I'm sure we could've waited at the nearest stop to our hotel, but we felt better going to the visitor center so we could have our questions answered if something came up. In fact, they even told us that our bus fare would be 590 yen per person to Akiu Otaki from the visitor center. That was good to know so we could prepare the exact change.
Under the pressure of disembarking the bus and not able to understand Japanese, it'd be hard to figure out what we would have to be paying if we weren't armed with this information. Apparently, we still didn't quite understand the numerical board in the front of the bus, which I'm sure had the list of bus fares.
Well, the bus did show up a little after 1:32pm and we got on no problem.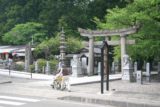 Once on the bus, we worried about when to get off the bus. Especially with the fresh memory of overshooting our hotel by 2 stops earlier this morning, we didn't want to make that kind of mistake in a place that's getting more and more remote like the Akiu Otaki.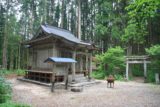 But eventually at around 2pm, we arrived at the fairly obvious Akiu Otaki stop. Actually, there was a pretty big archway with a sign in kanji (borrowed Chinese characters) for the waterfall. And since I at least recognized the first two characters (one of the characters looked like "autumn"), we knew for sure we were at the right place.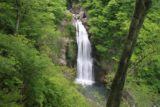 At that point, we could see there were already quite a few people here. They were mostly Japanese tourists, but right off the bat we sensed this place already had a certain calm to it.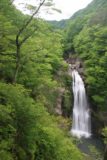 That was when we got our first glimpse of a satisfying waterfall! So we walked through the archway and then towards some shrine with incense burning in front of it. The path to the waterfall continued down some gentle stairs as it ultimately stopped at an overlook.
This 55m falls allayed my fears that we came at the wrong time as it was flowing pretty well.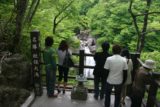 But with another 1.5 hours before our next bus departure, what were we going to do with all this time? After all, we couldn't stay at this overlook for that long could we?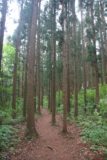 So after getting all our mandatory snaps, we saw a path leading off to the right. But there was a sign in Japanese and we weren't sure if it was a closure sign or a warning sign or what. In any case, there wasn't a barricade or anything so we just walked past the sign.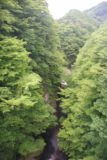 We were instantly put on a path that meandered beneath tall trees. The path eventually got to a sidewalk on the road we just took on the bus to get here. Then the path crossed a bridge over the gorge where we could see a piece of Akiu Otaki.
There were more signs in Japanese beyond the bridge including a bear sign (which kind of freaked Julie out).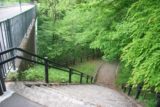 We took the path that went down the steps and onto a pretty gentle flat path with obstructed (not photographable) views of Akiu Otaki. And before long, we were stopped by a gate.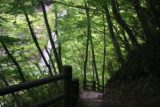 We eventually decided not to hop the gate, and I guess the visitor center clerk wasn't kidding about us not being able to get to the bottom of the waterfall, which was what this path was for.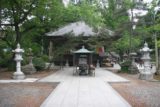 Back at the bear signs, we could see that there was a photograph of the trouble spot behind the closure spot. Indeed, the photograph showed a wooden walking path was over a rockslide prone area in which the foundation had already slid down the cliff and there was technically nothing holding up the now-fragile wooden plank.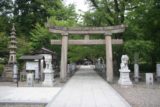 It was a bummer that we couldn't experience this waterfall in a different way, but that's life sometimes. So we got back to the bus stop at around 3pm and moped around for another half hour before the bus showed up at its scheduled time of around 3:38pm.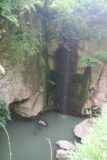 From there, we took the bus back to the visitor center arriving at around 4:15pm and then walked in the direction of our hotel. But instead of walking along the street back to the hotel, we detoured into the Rairaikyo Gorge below us.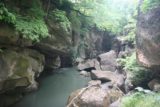 There, we followed a very quiet walking path which hugged a cliff with views of the river below us, some steep cliff walls flanking the river, and a few tiny waterfalls with signposts identifying the names of them.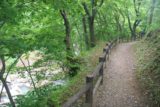 The tiny waterfalls weren't anything significant despite them being identified with signposts. In fact, I'd hardly count them as waterfalls. As I write this, I'm debating whether to include them in our Japan writeup for the waterfalls that we visited in the region.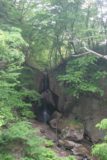 It wasn't long before we took a stairway back up to the entrance of the Akiu Grand Hotel.
After this very pleasant little stroll, we were back in our hotel at 4:40pm where we finally got the keys to our room, recovered our luggage, and got settled.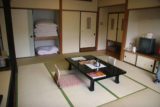 Our room looked like a spacious and very traditional Japanese room. Bamboo floor mats were on an elevated platform with a coffee table low enough where you had to kneel or sit down Indian style on the floor itself to use that table.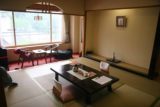 Now this room kinda had the feel of what I envisioned how a ryokan would be (not that I'd know or anything) and perhaps now I could begin to understand why this place costed the equivalent of over $300 USD per night.
At 5pm, we put on our little kimono bath robes and headed down to the basement to try to bathe in the famous onsen (hot spa).
It turned out that we were supposed to bathe in there naked and they had separate facilities for males and females. That meant Julie and I couldn't enjoy each others' company and we didn't spent more than 15 minutes down there as it quickly got a little lonely (especially since neither of us spoke Japanese) and the hot water was a little overwhelming to stay in there for too long.
It was quite an experience and one we'd never done before. I wondered what other onsen experiences would be like later in this trip though?
And with that, we had a buffet dinner (included with our room rate) which was surprisingly good (especially the sushi and sashimi as well as the desserts of tiramisu and cream puffs).
And eventually we settled down to get cleaned up and sleep to try to enjoy this little bit of Japan for the rest of this night. I recalled before dozing off, we had the television on and noticed there was some baseball that was on. I didn't recognize anyone, but there was one guy that got our attention because his name was unusual in that it didn't seem Japanese – Yu Darvish.
I wondered whether he'd follow in the footsteps of another pitcher, Hideo Nomo, or even position players like Hideki Matsui or Ichiro Suzuki, and go over to the states to play Major League Baseball…