Day 38: THE RELATIONSHIP TESTER
Our time in Akiu was brief, but it was enough to get into an onsen as well as visit one of Japan's famous three waterfalls (at least as far as LP was concerned).
But after having the included breakfast buffet, we were out of the Akiu Grand Hotel and waited with our luggage at the bus stop for the return ride to the Sendai Station. We managed to catch the 7:57am bus, and we were the first ones on so we picked a pair of seats that were out of the way of the main passage to the exit and fare payment area.
By 9:23am, we arrived at the Sendai Station, walked to the JR Ticket Office and got our tickets with our JR Passes, and were right on the platform in time for the 9:26am train bound for Utsunomiya. So far the proceedings have been uneventful and relatively smooth in contrast to yesterday.
We got to the Utsonomiya Station at a little after 10:30am and looked around this station for the next place to go to catch the Nikko Line.
But we were kind of lost in the station and weren't sure where to go. And that was when a Japanese guy got our attention and told us to hurry to a corridor we overlooked. We had to hurry because apparently we were almost out of time for the departure of the train that was currently there.
So we got down the escalator and Julie ran for the train that was about to leave. I was lagging behind with the two big luggages. But I barely got onto the train just as the door closed.
Phew, that was a close call!
We weren't sure when the next Nikko train would leave but I guess we got lucky with the timing and were bound for Nikko now. I guess it was a good sign that inside the train, we saw a few signs in English and some foreigners as well. One of the signs said "Nikko is Nippon."
We weren't sure what that meant, but it seemed kind of catchy.
At 11:40am, we got to the Nikko Station. But after not knowing where we needed to be, one Caucasian foreigner (who happened to be American) noticed we needed help and asked us what we were trying to do.
We told him we wanted to buy a bus pass and get to the Turtle Inn in Nikko. Even though this guy said he spoke a little Japanese and it was tough to get by without knowing the language, we didn't need Japanese in this exchange. For he told us we had to get to the Tobu-Nikko Station run by a different company, which was another few minutes walk up the street. And it was there that they had an info center and bus ticket pass office.
So that set us on our way and we at least bought the Nikko Pass (apparently good for unlimited 2-day bus rides throughout Nikko town and up to the Yumoto Onsen). We also noticed an attractive waterfall called Kirifuri no-taki in one of the brochures, but this particular bus wasn't part of the pass and would have to be paid on our own.
So with all the ticketing taken care of, we waited at one of three obvious bus stops right in front of the ticketing and info office for Tobu-Nikko Station. And the first bus that arrived was for the World Heritage Area.
It wasn't easy getting onto the bus for the World Heritage Area. Even though this bus left every 7-15 minutes (whereas the other 2 longer distance buses left every 30 minutes to an hour or so), it was a bit crowded and very inconvenient to bring our luggage on board.
Ultimately, we got off at the Sogokaikanmae Stop. And from there, we had to figure out how to get to the Turtle Annex Inn.
It was at this point that Julie and I argued about which way we should go. I was looking to get onto an angled street at the nearby triangular intersection, but Julie insisted that we go up the larger street and somehow find our way to the river from there.
I knew she was wrong on this one from the outset, but we were a little bit at each other throats at this point and there was no way I was going to win this argument.
Anyways, I was still lugging the luggage up and down hills and not surprisingly getting lost.
Sure following Julie's lead put us on this 1/2-hour detour to nowhere and I'm sure losing the time wasn't a big deal to her. But I was losing my energy pulling 20kg of luggage each on either hand up and down hills on uneven surfaces.
It started raining when we finally found the Turtle Inn (not the Annex). And it was at that point that I knew we had to cross the bridge and walk a little further to the Turtle Inn Annex where we were staying.
So by 12:45pm, we were finally in our room; luggage all wet and all.
We immediately got settled and got our rain gear so we could do a little bit of temple visiting today. We figured to make tomorrow the waterfalling day, and with all the literature we saw on the train and train stations, we sensed that Nikko might be a place for a waterfall bonanza.
So we ended up walking the roads we were supposed to be on to get here in the first place on the way back to the Sogokaikanmae stop. But by seeing how not-so-obvious these roads we took were and how the all-Japanese signs seemed to give no indication of where this accommodation was, even if we were to follow my lead, I wasn't sure whether we'd still get lost or not.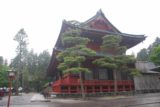 I guess this Turtle Annex place was like a relationship tester as I can easily envision couples getting into fights (as we almost did) finding this place. Later, it turned out that we saw other foreigners at the Turtle Inn Annex who also didn't seem to have happy faces either…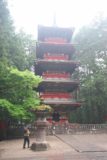 In any case, we continued walking up some steps ultimately arriving at the Rinnoji Temple. After buying some combination ticket and weaving through some crowds of school kids and large tour groups, we ultimately made our way over to the Toshogu Shrine.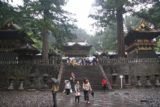 It was raining harder and harder as we walked to it and photography wasn't easy.
But eventually, the rain started to have a little mercy on us and we got to visit the attraction the way we were supposed to.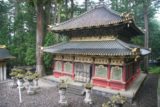 So we took our time essentially blending in with the crowds pretty much doing what they were doing – playing the role of gawking tourists. Clearly, the Nikko temples here were quite famous and popular given the amount of activity here (including that of foreigners).
And even though it was busy here, we still felt it was nowhere near as chaotic nor noisy as what we had to deal with in all the major attractions in China. Maybe it was the absense of the megaphones here.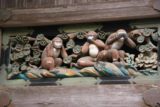 The Toshogu Shrine was the main one in this complex of ornate temples, shrines, and mausoleums. We even got to see the sacred stable which had a bunch of monkey carvings lining the base of its roof. Of course the most famous carving was the "hear no evil, speak no evil, see no evil" one.
As we walked throughout the busy complex, it was tough for us to get a handle on what the main buildings were here.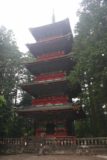 So we wandered and wandered while avoiding umbrellas and crowds. It was still raining a little so it made photographing things without waterspots getting on the lens a bit difficult.
But for the most part, it was mostly walking and gawking. We didn't pay extra to see some famous cat carving, which was supposedly just as famous and iconic as the three monkeys.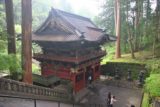 After seeing the shrine, we walked over to the Taiyuin Mausoleum which also had its share of carvings and ornate buildings. It was interesting that each gate here was watched on both sides by devil-looking statues.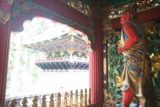 It was easy to get templed out at this point so afterwards, we walked south towards the Nishisando stop. On the way there, we started to look for restaurants for a little bit of a lunch-dinner combo. After all, we hadn't eaten since breakfast and even then we didn't eat very much there.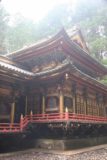 Eventually at 3:50pm, we settled on this place called Hippari dako, which apparently gave pretty good bang for the buck. So we took the bus from the Nishisando stop towards the Shinkyo stop. There, we walked back towards the famous Shinkyo Bridge and took photos there before seeking out the restaurant.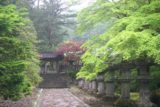 The small restaurant was littered with cards and other things (like bank notes, old passes, photos, etc.) left behind on the walls and ceilings. Clearly many foreigners have come here before. Must be the Lonely Planet review.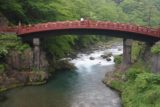 After the filling and reasonably priced lunner, we quickly walked to the Shinkyo Bridge. There we took a few more photographs of the famous red arched bridge from the main road. I suppose we could've walked on the bridge itself for a fee, but we passed on that.
By a little after 5pm, we showed up at the Turtle Inn and did a little bit of internetting on their lobby computers. And by 6pm, we were back at the Turtle Inn Annex to soak in the extremely hot private onsen. That was relaxing except the heat in there almost made me faint. But at least Julie got to accompany me there and we didn't have to be naked apparently (though I did suspect we were supposed to be in there naked per Japanese onsen manners).
And so ended a day that started off chaotic but now seemed relaxing. Seems like the relaxing part comes easily when you're in the countryside. And this is one of the main reasons why we go visit waterfalls since they're usually closer to Nature while being in a more laid back atmosphere like we're in now.