Day 39: WATERFALL BONANZA
We awoke to sunny skies at a little after 5am. I got up so early because I previewed the bus schedule and saw that you could get to Chuzenji-ko before 7am. Plus, I was anxious about today as it could be a big waterfalling day seeing a minimum of 3 and possibly more. But of course, Julie was reluctant to get there that early and so we ended up leaving on a Chuzenji-ko bus at 6:35am from the Sogokaikanmae stop.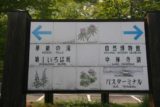 Again, we were a little nervous about getting off at the correct stop, but we took a stab at getting off at the main Chuzenji-ko stop knowing that it's only a few minutes walk to Kegon-no-taki, the highlight waterfall of Nikko.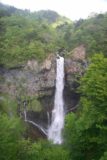 At around 7:45am, we were at the overlook for Kegon-no-taki. There, we took numerous photos and occupied ourselves as the elevator for frontal, lower views of the falls didn't open until 8am.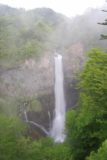 There were a handful of other Japanese tourists at the overlook platform as well so clearly we weren't the only ones thinking the same thing. The falls vacillated between being fogged over and being bright and sunny. That made photography a little bit tricky.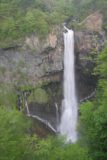 This 97m falls (65m plunge) appeared to be draining the natural lake Chuzenji-ko, which was formed some 15,000 years ago by the Mt Nantai eruption. Thus, this is a rare year-round waterfall.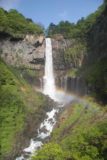 At 8am sharp, we boarded the manned elevator with the same handful of Japanese tourists who shared the overlook platform with us. And after walking through the long corridor, we got onto the lower viewing platforms greeted by a bright morning sun and a lovely rainbow forming at the base of the Kegon Waterfall.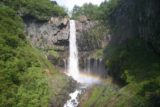 It was a little bit of light mist at this viewing deck so every so often, I had to wipe the lens with a sponge. But ultimately, we got the photos we wanted and considered this particular waterfall the best one we've seen so far and easily on par with some of the nice Chinese ones we had seen earlier on the trip.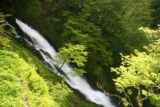 On the rear of the platform, we saw another hard-to-photograph waterfall called Nehan-no-taki (or Nehan Waterfall), but this one cascaded its way down to the same river downstream from Kegon-no-taki, and it was hard to capture it satisfactorily.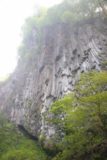 At 8:20am, we rushed our way back to the elevator knowing that the next bus to Yumoto Onsen leaves at around 8:34am. We still had quite a few paces to walk, and these types of buses don't leave all that often. So the timing had to be right.
As we were in the corridor headed to the elevator, we saw an army of school kids going the other way. I guess we barely beat the rush to the Kegon-no-taki, and it was a wise decision to knock off this lovely waterfall first before doing the rest today.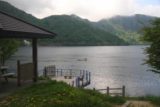 We managed to catch the 8:34am bus and took it all the way to the Yumoto Onsen. Unfortunatey, we realized after the fact that it was an additional 2km from the very top of Yutaki, the next waterfall we were after. Indeed, there was a stop right at the Yutaki waterfall, but we assumed the Yumoto Onsen area would be close to the falls like Kegon-no-taki was to Chuzenji-ko stop.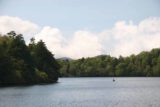 So this miscalculation cost us a 9:29am bus ride further south to Ryuzu-no-taki, the third waterfall of the day.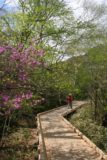 Anyways, given our little faux pas, we had no choice but to walk the trail skirting the Yunoko Lake. Actually, it wasn't a bad alternative considering it was a rather calm and pleasant lake with serenity and tranquility all around.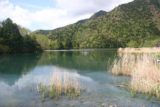 The walk was on a boardwalk so we wouldn't risk trampling in muddy patches or inadvertently hit upon a hot spring or other thin section of the earth's crust. Speaking of which, there was quite a bit of that sulfury smell so for certain there must've been some geothermal activity going on here.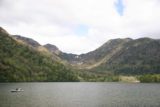 In fact, it wasn't all surprising that the lake's name contained the word "yu", which I believe meant soup.
Anyways, it wasn't until 9:30am when we showed up to the top of Yutaki. We could see that from up here, this waterfall was pretty significant. It also seemed like the sun was on its way to break through the morning clouds.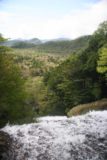 Ten minutes later, we were at the base of Yutaki, and there we saw a very crowded viewing platform with multiple tour groups of school kids. So we found some space to take photos of the interesting-shaped cascade with a split towards its bottom.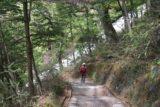 The sun's light on this waterfall wavered between making the falls very bright and being hidden behind clouds. And it wasn't all that often the sun was behind clouds so the nice evenly lit waterfall pics were few and far between.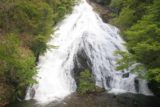 By 10:10am, we were at the Yutaki bus stop. On the way up to the waiting area, I couldn't help but notice a sign at the car park describing the Yutaki Waterfall noting, "…you will no doubt appreciate the feminine qualities of the waterfall…" That cracked me up.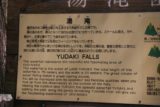 This waterfall was fed by Yunoko Lake and I'd bet it also flows year-round the way Kegon-no-taki does.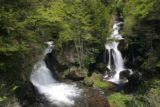 A few minutes later, we stoped at the Ryuzu-no-taki. Here, there was a lot of people on the viewing deck flanked by shops and cafes. And a lot of those people just so happened to be Japanese tourists toting expensive cameras like Canon and Nikon DSLRs with L-series lenses as well as tripods. And this wasn't just an elderly males' hobby. Nope, there were also women doing the same thing.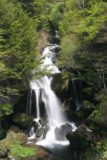 I guess when you come from a country that makes these precision cameras, it's easy to get into being a photo buff.
Anyways, we took what photos we could of this impressive double cascade with some purple flowers blooming around them. We also took a quick break sharing a hot udon bowl to hold us over. And by 11am, we were just about done with this place and waited by the bus stop again.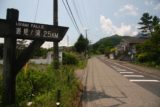 From here, the bus we caught (I think it was 11:19am) took a little bit of time getting all the way back into Nikko Town where we got off at the Uraminotaki stop. And we started walking along a small residential road embarking on the 2.5km one-way hike in the heat of high noon (well 12:15pm to be exact).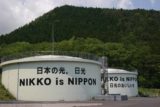 I know there wasn't a whole lot of literature about this waterfall prior to our trip, and we didn't really consider doing it until we saw it in one of our tourist brochures. Supposedly the Urami-no-taki was one of the 3 big waterfalls in Nikko according to the tourist association.
I'm sure if the bus went all the way to the trailhead instead of leaving you over 2km from it, then it'd also be pretty popular.
But alas, it is what it is and we sweated our way going mostly uphill along the road as some cars passed by us. One elderly Japanese guy reaffirmed that we were going the right way when he passed us by as he was walking pretty fast.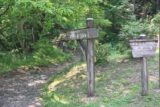 Finally at 1:05pm, we were on officially off the pavement and onto a more normal trail. But we still had 0.5km to go from here and immediately in front of us were a bunch of stairs.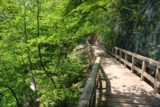 We could hear the cascading river in the ravine to our left even from the last 0.5km of the road. And as we got further along the trail, we could start to see other waterfalls that could've easily been construed as Urami-no-taki, but the foliage blocked their views.
Finally at 1:25pm, we were at the Urami-no-taki viewing area. It wasn't as impressive as we had thought, but the falls was no slouch. Actually, it was more like a main plunge (maybe about 50ft or so) along with smaller cascades and falls around it. I'm sure if the falls were pumping during heavy rain or perhaps just after the rainy season in the Summer, this would be quite a scene.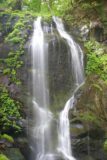 There was no way I could capture all the waterfalls viewable from the deck in one go.
Another group of Japanese tourists joined us at the platform. Eventually we conversed with the male in the group, and after the usual questions (once he understood we didn't understand Japanese) about where we're from and whether we've visited Japan before (which we didn't), he wondered why we were interested in seeing this waterfall.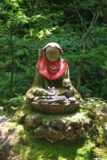 That was because he said only Japanese know about this waterfall. We told him we like waterfalls, but with the communication difficulties I'm sure we couldn't go into more on the subject.
When we left the falls, we realized that it was barely 2pm. After looking at the bus schedules, we had to catch the 2:14pm bus in order to be back at the Tobu-Nikko Station in time to catch the 2D bus to Kirifuri Falls, which left at 2:46pm. The next bus to Kirifuri Highlands wouldn't be until 3:51pm, and we didn't want to wait that long.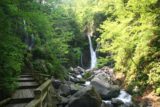 We still had over 2km to go in the 15 minutes or less so we ran and power walked our way back to the bus stop. And we made it with a couple minutes to spare.
By 2:30pm, we were at the Tobu-Nikko Bus Station as scheduled. And we had plenty of time to wait for the 2:46pm bus for the Kirifuri Highlands. But it was too bad this bus line didn't count towards our Nikko Free Pass, which let us get on and off whenever we wanted from Nikko Town to Yumoto Onsen for 2 days at a pretty reasonable (considering how expensive a-la-carte bus rides are turning out to be here) 3000 yen per person.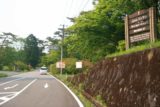 It was about 2:53pm when we arrived at the Kirifuri-no-taki bus stop and walked towards the viewing deck (with a little bit of trouble figuring out which road to walk along).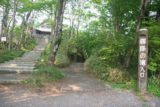 And by 3:10pm, we were at the overlook platform for the impressively tall Kirifuri Falls. This was one of those look but don't touch waterfalls as it was far away and always obstructed by foliage in some way shape or form. The best viewing position offered views of the lower tier of the multi-tiered falls, but the uppermost tier was quite obstructed.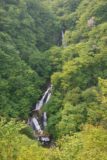 In any case, Julie wasn't all that impressed and she thought we wasted money on the transport on this one (600 yen total for the both of us).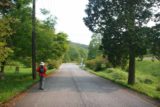 Now we had to make it quick to catch the 3:24pm bus back to Nikko Town. The next bus wasn't until 4pm. And despite my desires to walk the downhill 4km back to town and save another 600 yen on the bus fare, Julie would have none of it. So we managed to get back to the bus stop with a minute to spare.
As we hopped on the bus, the bus driver pointed me to a machine with a ticket to take. On it said the number 4. Immediately, I realized that that meant our bus fare corresponds with the "4" on the fare grid, which flashes numbers as the bus goes from stop to stop.
Ahh! Now, we finally figured out how the bus fare system works and how much we're supposed to pay when we leave the bus…
At 3:35pm, we were back at the familiar Tobu-Nikko Station. We did a little walking around before we finally had ourselves a lunner at a sushi place not too far from the Tobu-Nikko Station. We also picked up some elusive Calpis Water (formerly Calpico Water we think) from a couple of convenience stores since hardly any of the vending machines seemed to carry them.
The sushi dinner was delicious, but very quiet. The experience kind of reminded us of the Tsukiji Restaurant in Gardena, especially regarding the Toro Bowl which was toro sashimi on a bed of rice with strips of seawood paper on it. It was kind of the way the toro bowl used to be done before I noticed a change (where they put in pickled cucumbers and sprouts with seemingly less toro instead of the seaweed strips) on a recent visit a year or two ago.
Anyhow, it was good and fresh and even trumped our Tsukiji Fish Market sushi experience. Perhaps we visited the wrong joint at the fish market? But how could we have known since we couldn't speak the language let alone read it?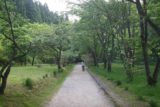 At 5:55pm, we finally made it back to the Turtle Inn Annex after a quick internetting at the parent Turtle Inn building. About 10 minutes later, we walked to the Kanamagafuchi Abyss where there was the Bake Jizo, which was a series of Buddha head statues all lined up facing the Daikawara River. We didn't know about this at all until we stumbled upon a brochure with it on the cover.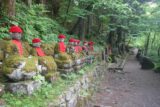 It was a very serene scene, and actually it was a bit eerie with the fading light of the day and only the sounds of the mini cascades and rapids splashing below. Each statue seemed to be wearing red headbands with a red bib it seemed. Some had offerings.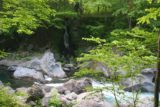 Somehow I could also imagine some kind of supernatural juju going on if you let the mind play tricks on you. Since all of these statues were kind of looking towards the river and there seemed to be that strangely otherworldly tingle when we were here.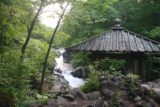 I actually dared to venture further where I found another row of Buddha statues beyond a little pagoda. But there were a couple of Japanese youngsters there reading, and I decided not to bother them taking photos of the river from there.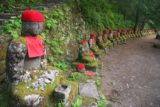 Given how quiet and eerie this place was, we wondered how many tourists bother to venture out this way. I did seem kind of out-of-the-way from the World Heritage shrines in the main part of Nikko. After all, our accommodation wasn't the easiest place to find and it almost got Julie and I in a bit of a tiff with each other.
So perhaps it was fortunately situated to create that perfect mix of eerie silence, Nature, and that Japanese touch with the pagodas and the statues here.
So I basically checked out these Buddhas before rejoining Julie back at the hotel.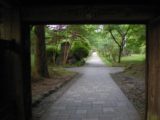 That was when we finally went for another round of soaking in the private onsen here. Hey, mind as well use it since we're paying for a 300 yen per person per night "tax" regardless of whether you use it or not… Besides, it was a great way to cap off the day experiencing this waterfall bonanza, getting good exercise, and good sushi to boot…
When we left the onsen, we bumped into the receptionist showing a couple of new foreign guests around the property. The foreigners didn't seem to have a happy look on their faces and I joked with Julie afterwards that they probably got lost finding this place like we did. Like I said, this place was a relationship tester…