Day 41: THE NOT RECOMMENDED EXCURSION
It was about 5:30am when we woke up. The first thing we did was to open the window and take a look at Mt Fuji. And it seemed that Fuji was showing itself once again. Too bad our views from here were of power lines crisscrossing throughout our view. Plus, I could already see some clouds starting to build up and hover closer to the summit of Fujisan.
At 7am, we went to the ticket office to try to buy a ticket bound for the Shiraito-no-taki iriguchi (entrance). But the ticket lady made us realize that I made a booboo on my planning to catch a 7:05 bus. That particular time slot wasn't available until June 4th when Fuji's climbing season begins. The next bus wasn't until 9:40am and the retro buses for the northern lakes region didn't start until 9am. We bought the ticket for the 9:40am bus to Shiraito Falls anyways.
So that left us with a couple hours of doing nothing. As we left the station, we could see Fuji's summit was already partially blocked by clouds. Fuji's fickle nature sure makes it tough to figure out how to plan out your day especially if you're seeking those iconic views of the conical mountain towering over lakes.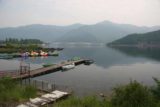 We eventually decided to walk towards the northeastern end of Lake Kawaguchiko not too far from a bridge crossing the lake. During this walk, we also bought some munchies from a Watson's convenience store where they offered up some delicious nori and inari as well as other cold sushi rolls. Best of all, they took credit cards so that didn't hurt our cash on hand.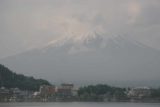 We continued strolling around the eastern shores of Lake Kawaguchiko. We didn't start to get views of Mt Fuji until we got closer to some real expensive hotels facing the lake and the view of Mt Fuji. If it weren't for all the development around this area, I'm sure this scenery and the experience in this "National Park" would be outstanding instead of just good.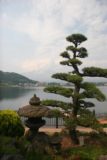 Still, we were out strolling while most of the town was either still asleep or going to work. So that made for a relaxing experience even though Fuji wasn't in its most photographable form due to the haze.
By the time we got back to our hotel at 9:20am, we picked up my tripod, dropped off some unwanted weight, and exchanged money next door as we were already running out of cash.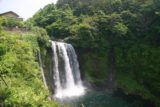 The money exchange took longer than expected but fortunately, we managed to catch the 9:40am bus for Shiraito-no-taki iriguchi in time. Plus, we felt we made the right call seeing Fujisan when we did because now it was really clouded over.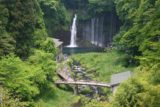 By 10:35am, we made it to the Shiraito-no-taki bus stop. From there, we took our time strolling around the area, which was lined with shops and cafes. Obviously, this area gets a lot of visitation from Japanese tourists, but we couldn't really see any other foreign visitors. We took our time since the next bus back to Kawaguchiko Station wasn't until 1:25pm.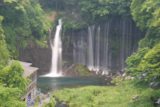 At 11am, we followed some loud crashing water noise towards an overlook of Otodome Falls. This overlook was actually right in front of some shops. The falls itself was quite nice as it dropped in a fairly thick, almost segmented plunge. I think it's gotta be at least 25m tall. And even though this waterfall was impressive, it wasn't necessarily the main falls of the area.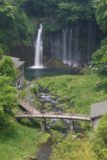 By 11:25am, we caught an overlook of the Shiraito Falls in the distance. This one definitely was the main attraction as it was a very wide weeping kind of waterfall with a main plunge on its leftmost extreme. There were quite a few paces down stairs to get in front of the falls and we could see some large kiddie groups already down there.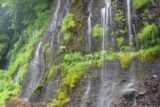 Already our waterfalling day was turning out to be a success, and we were sure glad that we visited these falls despite the visitor center telling us yesterday that this was not recommended due to cost, distance, and time.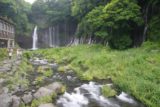 We spent plenty of time down here taking whatever shots we could from whatever angles we found possible. The falls were simply too wide to meaningfully try to capture its grandeur in one shot.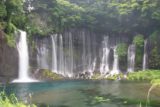 The sun was busy shining and hiding behind clouds building up in the area. The sun provided color in the clear water as well as bright green foliage. But the clouds made the light even and friendlier for the long exposures that this falls just begs for.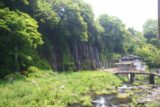 By 12:30pm, I was done with photographing Shiraito-no-taki and proceeded to go up the stairs back to the shops. By ten minutes later, I couldn't help but take more shots of Otodome Falls especially since the sun was mostly behind clouds and I finally got some even lighting for this one.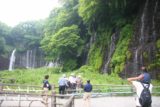 I could've easily been here longer to take more photos, but more of the school kid groups started showing up. That was my cue to go. I guess Japanese love their kiddie groups at tourist attractions. Plus, I guess there's no better teacher for kids than to be out there seeing the sights and learning about them in person.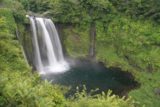 We started waiting for the bus at 12:45pm. It seemed like a pretty long wait for the 1:25pm bus since this particular stop had no seats nor any shade.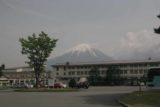 Anyways, the bus showed up pretty much on time and we napped our way through most of the bus ride back to Kawaguchiko until Julie woke me up and pointed to a Mt Fuji that was clear!
I took what photos that I could from the bus (not the best place to take Fuji photos). It sure seemed that we were either on the train or on the bus or in the hotel when Fuji decided to show itself. This gave us the idea to try one of the retro buses for a more reasonable perspective of Mt Fuji.
By 2:30pm, we were back at Kawaguchiko Station. Unfortunately, here at the northeastern face of the mountain, it seemed that Fuji was back to its hazy self again. But we only figured this out after we wasted our money on a retro bus going to the north shore of Lake Kawaguchiko.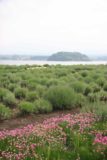 By 3:15pm, we stopped at the Natural Living Center. And sure enough, the view here was terrible as you could barely make out Mt Fuji from the sky. In hindsight, we should've taken the green line retro bus to Lake Saiko where there seemed to be less haze. Instead, we took the red line and chased those "famous" views.
It sure seemed that whenever we paid for something to see Mt Fuji, the views were not satisfactory. Once again, Fuji's fickleness made us regret paying money for nothing.
Anyways, we waited for the next bus some half-hour later. The weather brought a little more insult to injury as it decided to become windy and a bit chilly. When we did catch the 3:54pm bus, we got off near the Art Museum where there was some kind of houto (traditional Japanese noodle famous in this area) joint.
After that, we took the next bus back to Kawaguchiko Station where we unwound this day at the hostel. During the ride back, we could see Fuji's haze appeared to be mostly from rain! It didn't rain in town, but it started to make us wonder if rain is in the forecast tomorrow and the next few days as we head further into the Japan Alps.
Visitor Comments:
Got something you'd like to share or say to keep the conversation going? Feel free to leave a comment below...
No users have replied to the content on this page