Day 14: "NO ONE GOES HERE"
At 6:30am, we woke up. It wasn't easy doing this because we really enjoyed our room at the Panjim Peoples. However, we knew that we had a very long drive ahead of us so we made sure that we would leave Panaji at 8am as the driver (named Lokesh) wanted.
After our quick 7:30am, we checked out and were out at 8am as anticipated. Some mozzies were already inside Lokesh's car so we were busy swatting at them as he was busy driving around town trying to figure out how to get back to the main highway.
Obviously Lokesh didn't know this area too well, but we can understand since he came all the way from Bangalore deep in the Karnataka state.
As we were driving south, we could see that many of the townships in South Goa retained that Portugese flavor.
And by 10am, we were still in Goa. Lots of cows were on the road and there were numerous instances where we had to pass slow moving lorries and buses. All this conspired to slow us down, but by now, we were used to the idea that you can't go as fast on India's roads as we're used to in developed countries like Australia or back home in the States.
The road gradually got rougher the further south we went. Clearly it seemed Goa was a better off state (financially and infrastructure-wise) than Karnataka.
At 10:10am, we finally made it to the Karnataka state border. After paying the taxes, the driver proceeded another 10 minutes more and then pulled over at some roadside cafe. There, we took a restroom break while he was having some much needed tea.
Not surprisingly, the restrooms were filthy. We knew we weren't going to have anything substantial to eat for lunch today so we bought some oranges as well as some rather expensive (Rs 220) cashew nuts for the road.
At 10:30am, we were back on the road.
As we were continuing further south, we could clearly see that we were entering some very lush forests and we were still within sight of the ocean. We were approaching the port of Karwar where apparently there was a lot of activity going on regarding the exporting of mined goods like iron ore and manganese.
At first, when the driver told us about Karwar's importance to the area, we thought it was interesting info. But little did we know how much it'd affect our trip until 11:15am when we were stuck in a traffic jam.
The cause?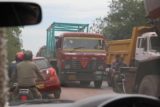 There was a whole line of trucks going in both directions. The narrow roads made it difficult for both sides of traffic to go by each other. The north-bound lorries and trucks were parked because they were waiting to dump their cargo onto some of the shipping containers at the Karwar Port. And there simply wasn't enough of them to ship out what had been mined and stored on the trucks.
So while the north-bound side was clogged, that left bi-directional traffic to try to squeeze into the one remaining lane. And it got to a point where oversized trucks had to get through and no one moved when there was no space to pass.
There wasn't even a traffic cop or anyone at the time willing to play traffic cop.
So with this downtime, Julie and I came to a few of realizations.
First, India is still going through some growing pains regarding the transport of its goods and people. Clearly the infrastructure wasn't in place to handle the pace of mining and exporting here.
Second, I started to wonder about what's happening to the Nature of India with the pace of mining that's going on in Karnataka. Something didn't seem right even though we were still surrounded by a lot of greenery.
Third, Julie realized that American car companies are doomed because they can't (or refuse) to make money with small cars (opting instead to keep us hooked to SUVs and trucks). And in developing countries like India, big fat cars have a hard time getting around, and it's the smaller, more mobile cars that are more useful. That's why in India (as well as the rest of the world), cars tend to be smaller.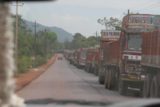 It wasn't until 11:25am when we were finally moving again and broke out of our little thought exercises. This is something you'd never see in the news back at home, yet such observations mean a lot in terms of learning about what's really going on in the world.
As we continued to move about, there continued to be pockets of congestion where immobilized lorries were stuck in the middle of lanes thereby forcing bi-direction traffic to compensate. It just seemed like the road rules in India were as close to chaos as you could get.
As we were going into more twisty mountain roads, we noticed that slow-moving trucks and lorries would indicate to us when to pass or not based on the driver's arm motions out the window. All it took was a honk from Lokesh to ping the driver to respond. It was kind of interesting to see since here was a case where horns served a useful purpose instead of the antagonism we tend to associate with them.
At 12:25pm, we finally got to the Magod Falls turnoff.
From there, it was another 16km to the falls. And as we proceeded on this mostly paved road, I noticed that all the signs were completely in Hindi now. So this prompted me to ask the driver whether foreign tourists come here (kind of half-expecting to hear "no").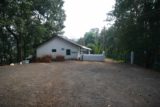 The driver said in his broken English, "No. Only locals. You're the first foreign tourist to come here. This is the first time in my career that I took foreign tourist to see waterfalls here. No one goes here."
At 12:45pm, we made it to the Magod Falls car park. There, after paying the admission and camera fees, we proceeded to walk to the overlook of the falls. At the nearest railings, we looked down at the falls, which was flowing pretty well.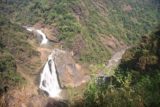 This caused Julie to say, "This is the best one so far."
Indeed, the overlooks provided top down views of the two-step cascading waterfall into the deep ravine below. There were walkways and stairs following the rim of the canyon opposite the falls providing views from various angles (some spots were difficult to see the bottom of the falls).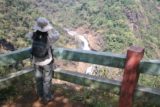 Even though I didn't think we exerted ourselves too much taking photos here, I was sweating bullets. The heat and humidity crept up on me as I was taking photos as my shirt was drenched and my brows were dripping with sweat as I peered into the viewfinder of my camera.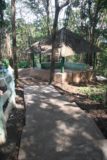 All the signs here were in Hindi except for the trees, which had latin names like Tectona Grandis and Terminala Paniculata. So I had no idea how tall this waterfall was or anything else of interest that we might learn about the falls.
At 1:20pm, we were back at the car. Since our driver had never been here before, he took this opportunity to take photos of the falls with his camera phone.
It took a while for the sweat to dry, but eventually it did by the time we were passing through the town of Yellapur. From there, Lokesh asked some locals where Unchalli Falls as well as Sathodi Falls was since they were on our itinerary.
Eventually, a forest ranger on a scooter both pointed the way and led us to the correct turnoff. It was signposted so it wasn't like the help was necessary, but it was nice of him nonetheless.
A sign at the turnoff indicated that it was 25km further. Clearly, it was nontrivial to get to the falls.
So we continued onwards. We were making fairly good progress until we reached a fork. After taking the right fork, our driver asked a local where the falls was. And fortunately for us, he told us we took the wrong fork. So we turned around and ultimately went the right way.
The drive seemed like it took forever, but eventually at 2:10pm, we got to an area where a local asked us to pay the fee for Sathodi.
Then, we continued on. With about 5km left to go, the road became unsealed. Ordinarily, you'd think 5km (or 3 miles) is not too bad, but considering that this road quickly became bumpy and rocky (not to mention steep and muddy in some spots), the drive seemed like it would never end.
The driver was probably not used to such roads as he was cursing and shaking his head with each kilometer he went. But upon passing by and asking a few locals, we knew we were going the right way.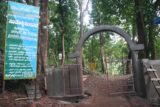 It wasn't until 2:45pm that we finally made it to the car park for the falls (much to the relief of Lokesh). There was a Swift (a common tiny car in India) as well as a big bus parked here with lots of Indian locals standing around socializing.
Naturally being the only non-Indians here, we got stared at, which kind of made it a little awkward for us (kind of like when we were the only mzungus in rural Africa).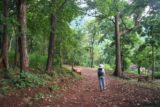 After passing through another gate, we were on a trail in a very lush forest. The thing was that it was eerily quiet and we could see that this area bordered some lake. We don't normally see waterfalls near lakes like this so it made me wonder whether the falls were running or not.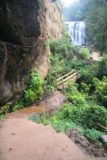 So we proceeded onwards in the heat and humidity. Enough of the sun was blocked by dark clouds to make it look rather dark this afternoon.
After about a kilometer of walking while saying hi ("Namaskaar") to some of the locals walking the other way, we finally started to hear the rumble of falling water in the distance.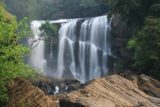 Continuing further, we finally made it to Sathodi Falls. There were quite a few young couples here, making me wonder whether this was a romantic spot or something. I engaged in conversation with a couple of the folks here in limited English. Nothing deep. Just divulged to them that we came from the States and that we were seeing Jog Falls tomorrow.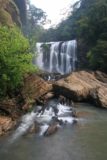 The falls itself had a squarish shape that reminded us a lot of Marokopa Falls in New Zealand.
We couldn't get very satisfying views closer to the falls because of the fallen rocks and high water preventing any further progress safely. And given the humidity, the rocks were slippery.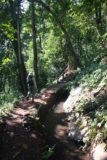 So we took what photos and movies we could of this falls. I'm guessing it's probably 25 or 30m tall. Then, we quickly headed back knowing that we wanted to reach Sirsi (town where our accommodation of the night is located) before nightfall.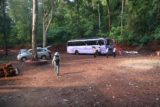 So at 3:25pm, we were back in the car. Once again, we were sweating bullets and it took a while for our shirts to dry.
We learned from the driver that the bus was full of college students. That would explain why there was so much youth there and why many of them were couples.
It was interesting that the falls drains into a lake, which I suspect was man-made due to the presence of high-voltage power lines in the area.
At 4:15pm, we were back on the main road. And after a couple minutes more of passing through Yellapur again, Lokesh asked a local which way to Sirsi, got his answer, and we were off. It was another 50km to get to Sirsi.
The drive there was mostly sealed although winding. There were a handful of cars we saw going the other way. It seemed like there were more cows on the road than cars.
It seemed like the driver didn't mind the lack of traffic and the speed with which he could drive (something I'm sure he doesn't get to do much of elsewhere).
At 4:35pm, it was raining. I thought it was very odd since we were under the impression that the monsoon ended in September. But upon asking Lokesh, he said that the monsoon may last until December 15 in some of these parts. So I guess it's not as unsual as we thought.
At 5:15pm, after asking several locals in town where the Shivani Hotel was, we finally made it. And so ended a very long day of driving.
Obviously, we wouldn't be able to make it to Unchalli Falls today. But the signposts on the road saying it was 38km away suggested that it was a significant falls. But our itinerary mentioned that it's a 3.1mi walk (one-way?) to the falls, and I suspected that we may not have enough time to do it tomorrow with Jog Falls, nor did the driver know that it might take several hours to even get to Unchalli Falls.
In any case, after having a brief vegetarian dinner in town (and being stared at since foreigners don't come here I guess), we were driven back to the hotel where we could finally get settled.
We immediately got to looking at my research notes, which had some conflicting information about whether Unchalli Falls required a long hike of 3.1 miles (each way or round trip? We weren't sure) or just 0.5km. In any case, we anticipated spending at least some 3 hours at Jog Falls (to get to the bottom), and with an 8:30am start tomorrow, it seemed like we wouldn't have time to do Unchalli Falls. Besides, Julie wasn't looking forward to more hiking with the mosquitoes as well as the heat and humidity.br>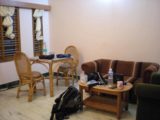 So it was decided, we'd have to let the driver know that we're going to skip Unchalli Falls. Hopefully, we can make that clear because the communication in English was a bit difficult.
Meanwhile, we finally got to seeing how our room was like once the logistics was out of the way.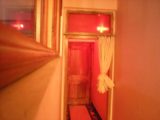 Our room was quite spacious, though the red light by the front door was kind of eerie. The bathroom looked filthy and the hot water didn't seem like it was working. Well, this was kind of what we expected in a place like Sirsi (and not in a place like Goa) so it would have to do for tonight.
So it was a cold shower for me, and a reluctant one for Julie.
We wondered about Murudeshwar tomorrow night, but we'll worry about it when we get there…