Day 15: THE JOG-UNCHALLI DILEMMA
At 7am we awoke to sounds. The walls at the Shivani Hotel weren't very soundproof as they tended to echo voices and noises from downstairs as well as neighboring rooms.
The night wasn't terribly restful because the blanket cover was filthy and there were no sheets to shield yourself from the cover itself. Meanwhile, we kept the fan running to keep the mosquitoes at bay. All told, it was a little cold under the minimal, filthy cover. Plus, we had the back of our minds on the potential for bed bugs.
At 8:20am, we brought our stuff downstairs early and saw our driver. So we quickly loaded up the car and were ready to go. We told Lokesh of our intention to visit Jog Falls first as we were afraid of the potentially long day required for visiting Unchalli Falls.
And Lokesh bought into the plan.
So after a brief breakfast stop at the same place we had dinner last night, we were on our way at 8:40am.
The drive southwards meandered along some rural roads and small towns. It was funny how the signs were either non-existent or they were totally worn out (probably from monsoon rains) and illegible. So Lokesh had to ask locals frequently when he wasn't sure whether he took the correct path at each fork or intersection.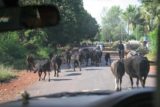 The rural roads also featured many cows.
There were definitely more cows in this part of India than in the north. So we figured this area was probably more Hindu since cows are sacred in that religion. I'd bet that the whole vegetarian movement started from the fact that Hindus don't eat cow meat and only harvest their milk.
Sometimes it seemed like the cows knew this fact as some of them reluctantly left the road when we approached. Even some cows were sitting in the middle of the road.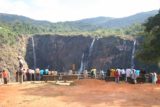 It wasn't until 9:55am when we finally arrived at the Jog Falls car park. It was quite busy here, and Lokesh was quick to point out that today was Sunday and many of the locals like to spend their weekends here.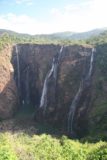 With this being perhaps India's most famous waterfall, we were eagerly anticipating our visit. However, our excitement was also tempered by the recognition that we knew the falls might not be as impressive as hoped just outside the monsoon due a hydroelectric dam further upstream limiting the flow of water to the falls.
In any case, we made our move and saw the sea of people at the nearest overlook.
So I moved several paces to the right with a more quieter and direct view of the four waterfalls that made up Jog Falls (Raja [King], Roar, Rocket, and Rani [Queen]).
I guess our plan to visit Jog Falls first didn't really pay off because the morning light casted a nasty shadow and contrast to the bright scene around the falls. This made photography difficult. Clearly, this was really more of a midday or afternoon waterfall. Besides, the four falls were not as impressive as we had hoped.
Julie still thought it was impressive (possibly still better than Detian Waterfall in China) despite its compromised state. I, however, wasn't all that impressed (maybe my expectations were too high given the amount of literature and love given to these falls on the internet). So given these factors, we weren't about to spend more time and money (by going down to the base of the falls) than we needed here.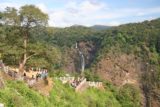 The diminished flow of the falls kind of reminded me of Barron Falls in Australia. But the multiple waterfalls spilling into the same ravine reminded me of Voringsfossen in Norway.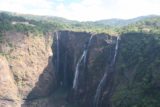 So we got our fill of the falls from the overlooks and got back to the car at 10:30am. The driver recognized that there wasn't a whole lot of water (obviously he had seen these falls in a more fuller state). But when we openly suspected a hydro facility (due to the power lines nearby), the driver denied this thinking it was just a weak monsoon year. I guess we kind of rained on his Jog Falls parade.
In any case, with the early departure from Jog Falls, we had our mind made up to go for Unchalli Falls – long hike and all.
At first, I thought this was going to be a very quick drive as it didn't take but a few minutes to return to the town of Siddapur, and then turn left at a well-signposted turnoff for Unchalli Falls. The sign indicated it was only 5km from the turnoff so I figured we'd be out and about hiking real soon.
But the driver kept on going. And after 10km, I asked him if we missed it because of what that sign said. So as he proceeded, he'd stop and ask locals about Unchalli Falls, and the local would keep telling him to keep going. So obviously the locals knew something that was contrary to that sign.
Further along the drive, Lokesh asked another local about the falls. This one was a bus driver who was outside his bus.
And when he mentioned that there was a new road to the falls and that the walk to the falls was only 1km round trip, I began to realize why there was conflicting information in my research about the falls.
Apparently, the old trail required 3.1 miles each way from some town called Heggarani. That was probably where the old 5km sign at the turnoff was referring to.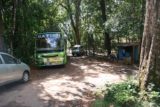 But the new road was the one responsible for the 0.5km each way walk. And that was good news to us because we didn't feel like soaking our clothes with our sweat in the heat and humidity.
It wasn't until about 11:50am that we finally made it to the Unchalli Falls trailhead. There was a bus parked here as well as a few passenger cars. It turned out that this car park was 38km from that sign that said the falls was only 5km away.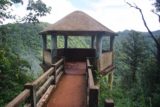 I was also battling a bout of diarrhea at this point so I was totally looking for a restroom, but as luck would have it, there was none by the trailhead.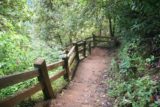 So we quickly made our way down the steep, partially muddy walking road as it curved a couple of times before reaching a busy waiting area with benches. It was busy because a large group of Indians were there. And naturally with us being the non-Indians here, we were being looked at.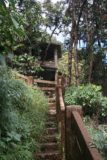 After breaking the ice and greeting these folks with "Namaskaar", we received smiles of pleasant surprise and were immediately asked questions like "Where are you from?" and "What is your name?". None of the conversations were long due to the limited English, but it was nice to engage the locals nonetheless.
It turned out that this large group from the bus was actually a yoga group from Shimoga (apparently somewhere not far from Bangalore some 370km away).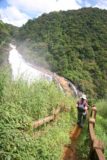 In any case, we could hear the falls tumbling pretty loudly nearby so we proceeded to the nearest overlook platform. And from there, we looked down and saw the unusually-shaped waterfall (almost similar in shape to Vidfoss in Norway). The bottom of the falls couldn't be seen from this vantage point, but we were excited nonetheless at the flow of this falls, which was far more satisfying than Jog Falls though it's arguable whether this was better than the Indian classic.
We continued walking down the stairs, past another platform where it looked like some construction work was being done, and finally to the end of the walkway. Here, there was an exposed, unsheltered viewpoint where you could look directly at the falls and even see some of its base.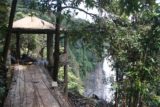 A beautiful rainbow appeared to the lower left of the falls providing nice color and kept us glued to this falls for some time (even with my stomach aching uncomfortably with the runs).
When we got our fill of this falls from this vantage point, Julie headed back to the car to fetch some toilet paper due to my condition. Meanwhile, I lingered a little longer to take a few more photos as the sun was playing hide and seek with the clouds (thereby making the rainbow appear and disappear sporadically).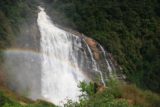 Then, I started walking back up the stairs when the workers suggested I check out the platform that they were working on.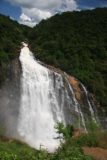 Gladly obliging, as I walked to the wet platform (trying not to trip on the metal rods and concrete slabs yet to be placed), I gazed at the falls and was elated as this was probably just as good a view as the very bottom viewpoint.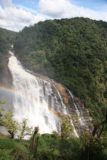 So once again I was trying to capture the falls in every way I could imagine but with and without rainbow. I was forgetting for the moment that my stomach and bladder was pushing hard. And when I had my fill of this overlook, then I finally headed back up the stairs to that once-busy area with benches (and what looked to be a basic toilet facility almost out of sight).
And before I could fully inspect where I should be doing my business, my body wasn't waiting for me so I just went to the nearest one with an open door and immediately squatted over the latrine.
It wasn't pleasant as I knew mosquitoes were buzzing around me and I didn't have DEET applied where the sun doesn't shine. Plus, the runny waste products excreted from my upset stomach didn't help matters either.
When I finally had time to process my surroundings, I began to realize that there appeared to be what I hoped was dirt that my hiking boots were embedded in. But I knew from the smell that it was probably human dung! Ewww!!!
Anyways, Julie finally showed up with the toilet paper and I spent a good deal of time cleaning up myself but not before mozzies got a few good bites out of me.
It was futile to clean the boots at this point so I just hiked with Julie back up the steep muddy road to the awaiting Lokesh at the car. And once we got back into the car, we could finally get a little relief from the humidity as we were totally drenched in sweat again.
The car had a little bit of dung smell, and I'm sure it was from my boots.
We left at 1:10pm. The driver was going to take us to Bene Hole Falls at first. But I thought seeing both Jog and Unchalli today was a big enough success for the day, especially since we originally came into today thinking we had a terrible dilemma as we could only visit one or the other. So after seeing both of the big ones today, I tolk Lokesh that I was interested in catching sunset at Murudeshwar (where we were staying for tonight) and wanted to skip Bene Hole Falls.
I'm not sure if I'd regret this decision later on, but we needed a little bit of down time after two straight days of long driving.
In any case, we basked in our accomplishment and were able to look around at our surroundings and process the fact that our experience in Karnataka state were some of the most peaceful (relatively speaking) and naturesque as we had in the country. And when we shared our sentiment with Lokesh, he too was glad to be in these parts away from the "horrible traffic" in Bangalore (where he was from).
I'd bet that when we told us that we were the first clients of his to visit this area for waterfalls, he must've thought we were mad. But now after seeing some of the most tranquil parts of India, I'm sure maybe he too has converted and started to see why waterfalling is a worthwhile activity.
Sure, Karnataka has yielded some of the dumpiest accommodations on this trip along with my contact with crap, but it was probably one of the better regions we've been to in India once you've acclimated to the way things are in this country. Now if only more people can see the light.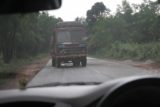 During the drive back, we noticed the road heading southwest as we tried to leave the inner parts of the Western Ghats were rough in places. So that got us into a conversation with Lokesh about road conditions in India.
We compared what we had observed to our experiences in Zambia and Uganda, and we told Lokesh that we thought African roads were worse.
But then Lokesh countered by saying that the stretch between Murudeshwar and Mangalore (where we're headed) was in very bad shape, and that we were about to get a massage.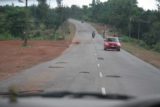 And all this talk about bad roads due to neglect led to some talk about politics and corruption. Apparently, he thought some areas of India (like the badly potholed roads) are neglected by government officials until election time when their votes matter.
We could sense some resentment as he lamented the nepotism in governmental positions, the bribes they take, and how the poor stay poor and the rich stay rich. He's of the opinion that India will still be a developing country 50 years from now, and that he stopped voting as he didn't want to give any more candidates (which he suspected are crooks) his vote.
I guess some things are pretty much a recurring theme no matter where in the world you go. But I have to believe India's got some serious issues that haven't really been addressed (from women harassment, to overpopulation, to pollution that we think is worse than China, to the everpresent litter everywhere, and of course the tremendous disparity between rich and poor). In fact, when we toured Mumbai and Goa, we could see how governors got mansions while the same area has people living on the pavement in slums (perhaps the biggest slum being the Dharavi in Mumbai or Bombay).
It was noteworthy that Lokesh's views contrasted with Akhilesh's views. Maybe some of the more well-off people in North India see things differently than a middle-class wage earner in South India. And personally, I'm more apt to believe Lokesh's story though there is some truth to Akhilesh's sentiment as well.
At 3:20pm, we crossed the Sharavati Bridge which spanned an inlet of the Arabian Sea.
And after that bridge, we noticed the potholes started to show up and get bigger and bigger the further south we went. I guess Lokesh wasn't kidding about the roads getting worse and neglected.
It was also starting to rain heavily so some of the potholes developed pools and it was hard to tell how deep some of them got.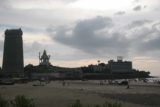 At 3:55pm, we finally made it to the Naveen Beach Resort in Murudeshwar. There was a big Shiva statue and temple building next to it all facing a pretty attractive beach. But it was too bad there were vehicles driving and parked on that beach with litter everywhere (we even saw some locals tossing rubbish directly in the ocean!) and cows even feeding on that litter!
There were also crowds of people out and about on the steamy beach as well as around the Shiva statue. Well, at least the rain stopped.
But our minds for now was to check into our room and get cleaned up. I also had to get the crap off my hiking boots, which was a disgusting job. But since I was already deep in dung earlier in the day, what's a few more touches with the nasty stuff?
When I Lokesh noticed I was busy washing my boots at a water spigot near his car, he inquired what I was doing.
"I'm washing sh*t off my boots," I said, squeamishly as my fingers were in the grooves of the boots where water by itself couldn't get the stuff off.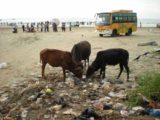 He nodded and said, "I smelled something in the car." I guess that explained it.
It wasn't until 5:15pm when we were finally ready to go out for a walk on the beach and pay a visit to the Shiva statue.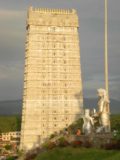 While we were hoping for a pleasant stroll, we quickly realized that this was nearly impossible as we were the only non-Indians amongst the hundreds (maybe thousands) of people here, and that everyone was staring at us. On top of that, we'd be approached by touts asking if we wanted water taxis or photos for purchase.
We were also bombarded with the familiar questions of "Which country?" or "What is your name?" Or requests for "country coin" upon learning we were from the States.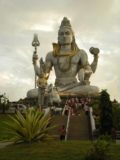 Not exactly peaceful, but we did our best to enjoy the scene, engage the locals, and try to ignore some of the occasional racist remarks of "Ching chong chang…" It was also a little awkward to be the subject of other people's photographs (without permission) as I guess they'd never seen ethnically Chinese people in these parts. Perhaps now we have a sense of how celebrities must feel being photographed all the time (though we're not seeking the limelight in this case).
Well, we did visit the Shiva temple, which was quite attractive. Perhaps we could come back tomorrow morning when it's quieter. I suspect today was busy because it was a Sunday.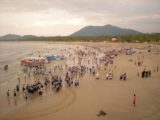 Afterwards, we went to the Naveen Beach Restaurant for more vegetarian fare. Though we were getting sick of dhosas, samosas, and puris at this point. And all that starch couldn't have been good for us. I think it wasn't since Khem Villas in Ranthambhore National Park did we have a pretty healthy vegetarian meal of cooked vegetables that were organically grown and fresh.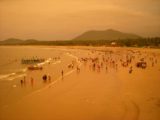 And as we were eating at Naveen Beach Restaurant, we noticed that the setting sun refracted by the clouds casted a strange sepia tone to the scene below us. We also noticed that people playing in the water kept their clothes on. This was something we noticed in some of the Bollywood music videos as well where people were drenched in waterfalls or oceans fully clothed. Must be part of the conservative nature of Indians where showing too much skin is frowned upon.
When we were done eating, we saw our driver who was gazing at the last rays of the sun. And when we looked back, we saw an array of orange, pink, red, and purple cast against the clouds on the other side of the peninsula. It wasn't photographable from where we were at, but it was certainly beautiful.
And at 6:25pm, we were finally back in our air-conditioned room away from the stifling heat and the incessant stares from just about everyone there.