Day 16: "KERALA IS DEFINITELY NOT KARNATAKA!"
At 7:30am, we woke up knowing that we weren't going to leave Murudeshwar until around noon due to our late departing flight from Mangalore to Cochin at 7:40pm. We didn't know why we got such a late flight, but we had to make do with the cards we were dealt.
Last night, it was raining pretty hard accompanied by lots of thunder. I wondered if this was still monsoon season and if this was also the case in Kerala as well, which was the next state we were to visit beginning the end of today.
So with all that moisture, this morning turned out to be unsurprisingly steamy.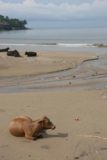 We had our breakfast at a little after 9am after getting most of our stuff all packed and almost ready to go. The breakfast selection wasn't much and all we had for the morning were three pieces of idlys (small round white starchy pancakes), which we soaked in some kind of sambar. It wasn't much, but it held us over.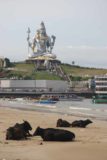 At 9:45am, we decided to give another go at going for a walk on the beach at Murudeshwar as well as paying Shiva another visit. We figured it shouldn't be as chaotic as it was yesterday when all the locals were here to celebrate their Sunday rest day I suppose.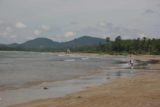 Well, the walk started innocently enough as we were busy checking out cows on the beach (and trying to avoid their dung in the sand). There were even a couple chickens clucking on the beach as well. We also checked out some of the litter strewn all over the beach as well as some guy openly taking a dump right onto the beach.
We were a bit dismayed at how little respect the locals seem to have for their beaches.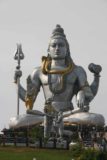 As we got closer to the attractions, the touts were dutifully at it again asking us if we wanted the water taxi or have pictures taken of us. At least the adults were a little more respectful about it as one "no" was enough to keep them off us, but the kids were annoyingly persistent and wouldn't take "no" for an answer.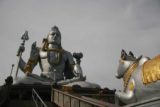 We also got stared at again as there were more locals here than anticipated as well (though not as much as yesterday).
When we got to the stairs beneath the Shiva, we ran into our driver Lokesh. He too was busy taking photos with his camera phone and enjoying the scene.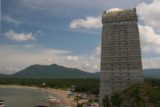 Meanwhile, we went up the stairs to take more photos with the late morning light while trying to ignore the touts.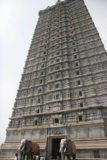 During this visit, we did notice there was a trio of Caucasians (I believe they were British) who were also paying a visit to Shiva. I guess we weren't the only foreigners here, but then again, we were the only ethnically Chinese ones here, and I guess it was such a novelty that locals would indiscriminantly snap photos of us without asking. Now we know what it feels like to be a celebrity getting snapped by the paparazzi though it wasn't like we wanted the limelight nor went looking for the attention.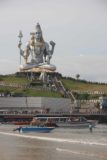 There was a pretty nice breeze on the back side of the giant Shiva, which felt kind of nice as the hot, muggy air already made us drenched in sweat even though it wasn't as if we were exerting ourselves.
When we were done visiting the Shiva, we then decided to go to the adjacent temple building. But the children touts made the few paces of walking just to get there difficult.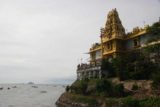 In any case, we got to check out the towering structure fronted by two elephant statues. We didn't go inside though.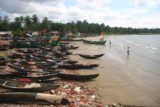 At 10:35am, we were back at the hotel. So much for the quieter experience we were looking for.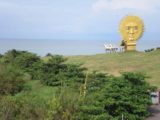 While we were doing some last minute packing and organizing, Julie took another look at her e-tickets, and realized that our flight was at 6:30pm instead of 7:40pm! Unfortunately, Lokesh didn't know this and so we quickly got our stuff together and lugged our belongings over to his car. But Lokesh wasn't by his car.
Julie eventually left the keys at the reception and had them help call Lokesh. From that, Lokesh (who was at the temple) came back in a few minutes.
Even though his itinerary and our itinerary had the later time, the e-ticket is what we were supposed to go by so we had to make a move to get out of Murudeshwar now if Lokesh was right about the road to Mangalore being crappy, and the 150km drive requiring some 5 hours.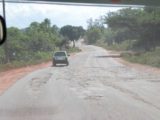 After getting through the crowded market at Murudeshwar town, we were back on the road where sure enough the roads were quite full of potholes.
"Now this is more like Africa," Julie said.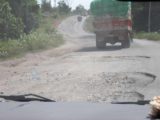 And sure enough, we found ourselves driving on the wrong side of the road to avoid potholes (while the cars going the opposite direction did the same). Plenty of places were pretty much 20-30km/h speeds. And all the crappy road conditions got the conversation with Lokesh and us into some politics and even an explanation of why he has slept in the car each of the nights he has been driving us.
It turned out that he was only getting paid Rs 175 per day (that's just less than $4 USD/day). Clearly we thought this was gross underpayment, and we began to understand why tipping is very much appreciated (as it is usually the case when employees are underpaid and the cost is passed to the customer as tipping).
And this also got me wondering about why many of American jobs go overseas because there's no way workers in a developed country compete with overpopulation and poverty where there's always someone willing to be exploited and work for less. And India certainly fits the bill for cheap labor after seeing the great disparity in rich and poor during our trip.
At 2:15pm, Lokesh made a quick stop in Udupi where he suggested this place that made decent fish curry. He felt we had to at least try Karanatakan fish curry at a "reasonable" price before we left the state (after learning we'd only been eating starchy vegetarian snacks like dosas, samosas, and puris).
The food turned out to be delicious and quite satisfying after going nearly three straight days of only sweets and snacks as well as fruits and nuts that we'd buy off street vendors.
Even though Lokesh thought this place was clean, Julie and I noticed a cockroch scurrying on the ground about half the size of the waiter's shoe. It wasn't a real comforting thought to know the critters were openly in the restaurant, but then again, we knew we weren't exactly in one of the richer areas of India.
At 3pm, we continued our drive.
And at 4:20pm, we finally arrived at the humble Mangalore airport, which involved quite a bit of driving through back roads with Lokesh asking the locals whenever he wasn't sure whether he made a correct turn at an intersection or fork.
And with that, we thanked Lokesh and checked into the airport.
We were surprised to get free internet here of all places since we hadn't checked our internet in probably about a week.
The rest of our time in Karnataka was pretty uneventful. Even our plane started moving at 6:40pm, which was more or less on time! This was the first domestic flight since our Jaipur-Delhi flight early on in the trip that was on time! Quite unusual for us indeed!
We ended up at the Cochin Airport at 7:35pm. And after picking up our bags, we met up with the local rep who then hooked us up with our driver, Dennis. And by 8pm, we were off driving to Athirapilly, which was where we were supposed to stay for the night.
Night driving wasn't the most desirable thing to be doing in India, but we did notice that the towns here seemed much cleaner and less prone to large slums than what we'd seen in much of India up to this point.
As we were headed up the hills on the winding mountainous roads, we noticed there was a large male deer with huge antlers on the road. Fortunately, this occurred at a straightaway where Dennis slowed down with plenty of time to spare so the deer in the headlights could stop being dazed and finish crossing the road.
This was one of my concerns with driving in the dark in the presence of deer, especially in light of my deer incident in Utah, which happened during the day time!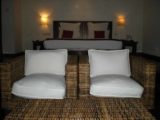 At 9:15pm, we arrived at the resort. When we checked into our room, we noticed there was a partial view of the falls through the darkness. We could also hear the falls thundering as Kerala had received some heavy rains under the influence of Cyclone Phyan. And the locals confirmed that monsoons this late in the year were very unusual and clearly blamed Global Warming for it.
As for the room and resort itself, I couldn't contain my laughter as it was totally posh and resorty, and it was completely unlike the dumps we had been staying at for the past two nights in Karnataka state. All this prompted me to say, "Kerala is definitely not Karnataka!" And this certainly made us feel a little better about the last few days we're having in India…