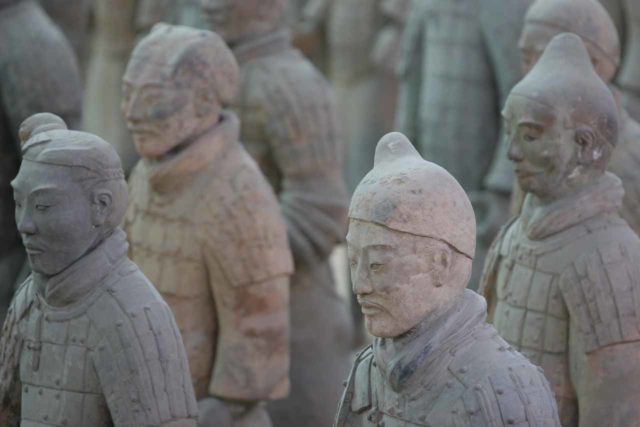 3-May 2009 to 6-May 2009:
In any case, we still got to see our waterfall!
However, we felt bad for the poor driver who was in the car since 6am – over 15 hours. He said he had never been out this far before and the longest he had driven in any one stretch of time in his 25 years on the job was 1.5 hours. So the 6 hours or so of straight driving was a total marathon I'm sure…
Day 17: A HAPPENING PLACE
After the tense moments while in the air en route to Xi'an, we picked up our bags and proceeded to meet our daoyou (tour guide) for this leg of the trip who refers to himself as Jiao. And like Alex at Jiuzhaigou, he seemed to have a pretty good command of English that bettered that of most of the guides we've met before him. Maybe it's because of the number of English-speaking tourists that visit the world-reknowned Xi'an…
Anyways, we drove for an hour to get into the downtown city center of Xi'an where the Melody Hotel was. Once we got settled (again it took a little bit of time trying to accommodate a non-smoking room where they merely spray the room to hide the smokey smell), Jiao learned that I was sick and actually walked us to a nearby chemist where we picked up a couple of Chinese cough remedies. We were looking to buy something with codine like Robitussin or some cough drops, but the Chinese medicine will have to do…
At around 6pm, we had ourselves a ramen dinner that was next door to our hotel. I guess we were a little sick of Chinese food and opted to try this pseudo-Japanese place for tonight.
And as we suspected, it was more of a Chinese-ified restaurant pretending to be a Japanese restaurant. We didn't expect anything different, but I guess we just had to see it to believe it and test our hunches.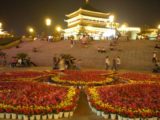 At around 7:30pm, with me suffering from a bout of bronchitis and Julie looking like she was coming down with something, we headed back into the busy and happening streets of Xi'an in search of the Muslim Quarter. We figured we mind as well seize the moment and join in on the happening city, which certainly came to life as the sun went down.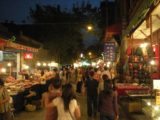 It didn't take long before we found it right behind the Drum Tower. And boy was this place a happening night market scene very reminiscent of the night markets we visited in Chiang Mai, Thailand. Except this was the Chinese version and it was certainly quite happening…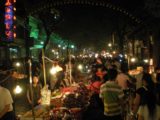 We had fun soaking in the atmosphere and even buying a pair of small treats.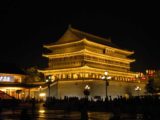 Of course, our goal was originally to go to the supermarket and find some water and possibly some western cough concoctions. We eventually found one a little before 9pm at one of the lower levels of the subway area right beneath the Bell Tower in the center of town. There, we finally bought our water as well as some snacks in anticipation of our long daytrip to the Hukou Waterfall.
At 9:15pm, we were back at the Melody Hotel to try to rest our tired bodies and hope it can fight off whatever bug we caught in the last couple of days…
Day 18: THE SPIRIT OF THE NATION
At around 6am, we got up and did what we had to do to prepare for our long day. My bronchitis felt better than yesterday, but I wondered if it was the meds that kept the symptoms (but not the overall onslaught of germs) at bay.
It was about 7:40am when we left the Melody Hotel. Jiao coerced us to move the Hukou Waterfall excursion time back a couple of hours (instead of 5:30am) so we could have breakfast at the hotel's rather late 7am start time before heading off.
Early starts are nothing new to us. We even prefer it since we knew traffic could be minimized and generally the early bird gets the worm as Mom would say. But maybe Jiao and the driver knew something we didn't. So if they're not in so much of a hurry for such a long day (predicted total of 10 hours of driving for the day to be exact), maybe we needn't worry about getting such an early start either.
In any case, as we had feared, we were stuck in a traffic jam right off the bat. There was some subway construction that was long overdue further choking the already saturated city streets. Jiao told us that there were previous attempts to have mass transit in Xi'an city, but there were worries about further destroying any invaluable archaeological treasures in the process. But now, they're at a point where they're paying for the gridlock now for better public transport later. It's an issue that simply couldn't wait any longer.
I wonder when LA (and California in general) gets to this point before actually doing something about the problem in earnest?
And all that means it took us until 8:25am to finally get out of the ancient city walls surrounding the city center via the North Gate. There was still a little more sluggish traffic as we had to get out of the outer sections of the city.
I kept thinking to myself that this was the reason why I'd prefer to miss breakfast and leave early than leave later and put up with these variable delays. But there's nothing we can do about it now.
Then the drive continued onwards in earnest as we proceeded north out of the city. But just as we thought we were getting some momentum, we were stuck in yet another traffic jam at around 10:50am. But this time, there was some construction going on and nobody was moving.
It wasn't until 11:15am when we started moving again. It sure seemed like this out-and-back marathon day to Hukou Waterfall was full of delays, and I was beginning to wonder if we'd even get there.
It wasn't until 12pm when we junctioned with G309 ("G" standing for gaosu or "expressway"). Except this wasn't really much of an expressway as this was merely a two-lane road (one in each direction) with plenty of twists and turns. And even though it was still another 108km from here to the waterfall, I figured we'd get there later rather than sooner.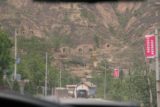 Throughout the drive, we conversed with Jiao about all sorts of things just to pass the time. He did mention this experience was more about the countryside, and certainly we saw a bunch of cave dwellings (some still in use) as well as some dusty towns and farms along the way. This was something you don't hear a lot about outside the country.
I did think the cave dwellings was a definite eco-friendly solution as it stays cool when the weather's hot and warm when it's cold. No electricity or gas is needed for this. But it's too bad many of them are moving into modernized homes that are more resource intensive thereby straining the earth's resources (and growing China's footprint) even further.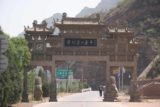 The environment of this side of the Shaanxi Province seemed to be much drier and more akin to what we might expect to see in the deserts of the American Southwest. It was quite different from the subtropical and tropical environments (and even alpine in the case of Jiuzhaigou and Huanglong) seen earlier in this trip.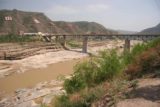 Anyways, it wasn't until 2:15pm when we finally arrived at the entrance to the Hukou Waterfall area.
Shortly thereafter, we got to the car park and proceeded to take the obligatory photos. Though the strong desert winds were kicking up lots of sand and that was cause for concern of my Canon zoom lens which hates sand.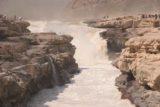 Anyways, we could see the Yellow River (the 2nd longest in China) had that muddy brown color that was very reminiscent of the Colorado River back in the States. It looked like the river could change in size rapidly during flood, and what we were seeing was something similar to perhaps average or a little below average flow. Jiao said the flooding period is around August.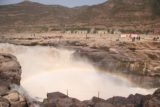 No surprise there as it seemed Summer rains in China are prevalent throughout the country no matter which lattitude we were at. Though in this particular case, it's probably the desert monsoons similar to the deserts of the American Southwest.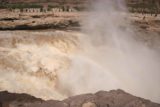 The waterfall was a powerful one. It lacked major height and wasn't all that wide. But it was named Hukou ("teapot") Waterfall because the width of the river narrows into a chute much like the way steam from a pot of hot water turbulently leaves the teapot from its narrow snout. But given the power of the falls, lots of mist was wafting up and the sun happened to be in the right position for us to see rainbows.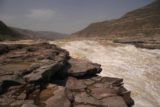 Jiao also mentioned to us that this particular waterfall was different from the other ones we had seen on our China trip already in that it was more about the power of the falls (which we expected). But he described the power of the falls as being like the "spirit of the nation" behind the falling water…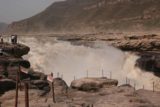 Unfortunately, we were only able to see one side of the falls – the Shaanxi Province side as opposed to the Shanxi Province side. And it was too bad we couldn't get across because the nearby bridge was under construction and the next one was too far away. With an upcoming 6-hour drive back to Xi'an (as opposed to the predicted 5 hours), it just wasn't going to happen.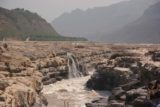 The Shanxi side also had lower overlooks and seemed to have more direct views of the falls.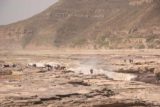 Furthermore, the lower overlooks on our side looked like it was closed. So we just spent a little under an hour here and left at 3:15pm.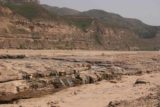 The drive back was mostly uneventful (sights wise) and went much faster than before since there weren't any more construction delays. We did have one slight delay as some workers doing work in a gorge had to set off some explosives to loosen the earth (and we happened to be there to both hear and feel that thump from the explosion).
Unfortunately, my lungs and throat did feel like they were getting a little worse what with all the dryness of the environment here and having drunk all of the water we brought. The meds also seemed to be wearing off and I was already at the limit of what I should be taking in a day so I was holding off until right before bedtime so I could sleep.
It wasn't until 9:15pm when we finaly got back to the Melody Hotel in central Xi'an. It turned out that we spent around 12 hours or so on the road for 1 hour of the waterfall.
In hindsight, a day trip out to Hukou Waterfall from Xi'an was probably a stretch and was probably a better bet using Taiyuan in Shanxi Province as a base (though from looking at a map, that city is also far away from the falls). In any case, we still got to see our waterfall!
However, we felt bad for the poor driver who was in the car since 6am – over 15 hours. He said he had never been out this far before and the longest he had driven in any one stretch of time in his 25 years on the job was 1.5 hours. So the 6 hours or so of straight driving was a total marathon I'm sure.
The evening concluded with a late dinner at some nearby Korean restaurant. Again, we were a little tired of Chinese food and it was our first meal since brekkie.
But once again, this pseudo-Korean food was nothing more than Chinese food pretending to be Korean. It just goes to show you that we ought to stick with what the Chinese do best – Chinese food! I guess we're just too spoiled with the diversity in LA. The homogeneity here really makes us realize how good we have it back at home.
At least, the soup kinda soothed my bronchitis. And the sleep eventually came albeit uneasily…
Day 19: ONE OF EMPEROR QIN'S LEGACIES
Compared with yesterday's super long excursion to see the water roar like the spirit of the nation on the Yellow River, today was a cakewalk.
We got up at 7am for some breakfast. Again, my bronchitis-afflicted lungs felt pretty much like yesterday morning. It was fair, but we'd have to see how the day progressed.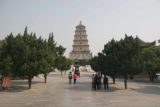 We met up with Jiao at 9am and proceeded to go to the Big Wild Goose Pagoda towards the south of town. There, we walked around the complex and appreciated the leaning tower nature of this building. In fact, the more we think about it, this one is even older than the more famous Leaning Tower of Pisa in Italy. Julie saw that one with her mom a few years ago, but she contended the Italian version had a more pronounced lean.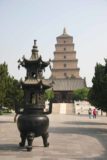 Jiao says the underground water table was momentarily depleted which caused a more severe lean in the tower. When this was realized, some water policies were changed and the water table now is more or less recovering thereby alleviating the lean somewhat.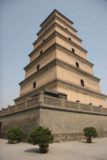 We left the pagoda at 10:15am. Next up, we drove to the eastern outskirts for a Terracota Soldiers Factory visit (where we knew we were getting the sell put on us) and then a lunch afterwards.
We didn't buy anything from the factory, but we saw many other foreigners here so obviously it was standard procedure for tours to come here to try to earn the guides some commission.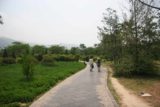 The lunch was in a real huge banquet hall. At first we were about to be seated in the "Chinese" banquet area before Jiao gave the escorting lady a hard time about this mistake. Actually, we probably wouldn't have minded, but I guess the tour guides were really making sure we stayed with the "Western" side of things. In any case, it was buffet style and there was a lot of food.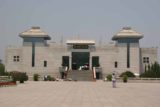 Finally at 1pm, we arrived at the Terracota Warriors Museum – the moment we'd been waiting for and the very reason for coming to this part of China. Not surprisingly, there were throngs of other tourists here as well.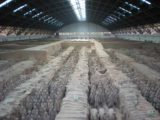 In fact, this place exhibited more of an international flavor as we'd seen all sorts of people from all over the world. This contrasted wildly with places like Guiyang, Nanning, Jiuzhaigou, and Huanglong where the quantity of waiguoren (foreigners) was far fewer.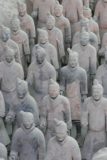 We hadn't seen this type of diversity in visitors since our visit to Guilin as well as Hong Kong. Though the crowds definitely didn't make this neither a peaceful nor contemplative visit.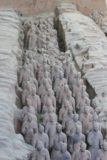 Anyways, we strolled about the large complex seeing several pits containing the famous warriors. It was really Pit 1 that had shown most of the restored warriors in formations. Towards the back of the pit, you could see the parts that weren't restored.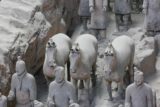 Pit 1 primarily consisted of foot soldiers as well as the odd horses. The horses looked as if they were breathing hard as they were lugging a chariot that's not there anymore (probably because it was made of wood and has since eroded after these few thousand years).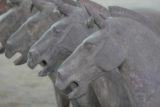 The amount of detail in each of these pieces was utterly mind boggling considering how many pieces were here and how many more weren't excavated yet as evidenced by the many mounds still yet to be dug up.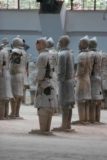 Other pits and platforms in area 1 had shown other Terracota Soldiers pieced together from shards. Still, other pits were still mostly mounds that have yet to be excavated which shows just how extensive this bit of Emperor Qin's legacy really was.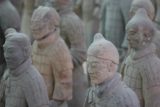 Emperor Qin, by the way, was the first emperor of China to unify the country and started the first dynasty. His legacy was not only this ancient wonder of the world, but the Great Wall was also started under his watch. Even the name "China" is believed to be derived from "Qin."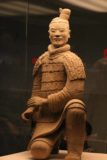 But given his rise to power, he apparently must've made lots of enemies because it's been said that these Terracota Soldiers were supposed to protect him in the afterlife.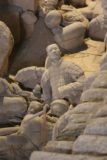 So we took what photos we could and eventually got to the point of saturation (we're not exactly history buffs so we can't see ourselves spending all day here). Still, we were impressed and quite glad we got to see why this is such a source of pride for the Chinese people.
Our tour concluded at around 3:10pm.
We managed to have a bit of a siesta during the drive back (I think my lungs needed this).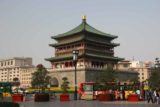 At 4:45pm, we were back at the hotel for a little bit more time to unwind before getting back into the nightlife as we kind of missed out on it last night…
So at 6:45pm, we were back in the pedestrian-heavy streets of the city. This time, we made a beeline for some restaurant that specializes in broths (pau mo) right next door to the dumpling house. It was recommended by Jiao as something to try since pretty much only locals eat here. He did warn us that service sucks though.
Anyways, it was a good thing Jiao helped to write down what we should get since we wouldn't be able to read the menu. So with that paper in hand, we headed into that restaurant, got our seats, and then was approached by a waitress.
In a comical moment that might be out of a Bill and Silent Bob sketch, Julie just handed the waitress the paper without saying a word, and the waitress read aloud what we were going to have while taking the order. That was simple enough…
Next thing we knew, we each got a bowl with two round breads. I guess the round breads were what the guide said we should be breaking apart a piece at a time for about a half-hour. We didn't think we'd take that long, but when the waitress saw what we were doing, she told us our pieces were too big. At that point, it became abundantly clear why this would take forever.
It was kind of strange doing this and we were trying to figure out how this benefits the broth taste or texture. Anyways, we stopped questioning the why momentarily and just went with it. When in Rome, do as the Romans do, as they say.
Eventually, Julie got her beef broth and I got my mutton broth. It was a bit strange, but I personally liked my lamb broth which the lamb taste was pervasive throughout. Julie hated her broth and it started to sour her mood. Throughout the meal, she was already talking about a second dinner.
Anyways, we left the restaurant at 8pm. One customer satisfied, the other one bitter.
We then walked around the town's Big East Street in search of a Wal-Mart. We figured they might have some more familiar western medicine to replenish our diminished supply of Thera-flu or perhaps some kind of codine concoction that we could actually read.
Well, it turned out that this Wal-Mart was terribly elusive. It wasn't until we had some guidance from a random young lady street vendor (who also took the opportunity to ask where we were from) that we finally saw the busy American-based megastore somewhere in the southwest of town.
During our search, we could tell this was primarily dominant Chinese area unlike the more international flavor of the Big West Street or the Big South Street (as Jiao noted) as well as the Muslim Quarter.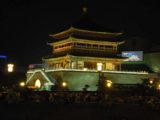 We ended up walking past asbestos-choked construction zones, stumbled upon a movie theater, a street market, lots of young Chinese looking like they're ready for a night on the town (it's only Tuesday), a prostitute, and the occasional rare sighting of a foreigner.
After all that trouble of finding the Wal-Mart, we didn't find the type of meds we were looking for. Instead, we ended up buying water, mouth wash, and a durian to help Julie's craving as well as to help out her hunger lingering from her disappointing meal.
The Wal-Mart didn't sell any meds (let alone Western ones) but we were referred to a nearby chemist which sold nothing but Chinese meds. Since we couldn't fully comprehend what the lady tried to explain to us since we probably weren't effective at communicating our specific needs, we didn't get any of the Eastern-only meds that were there.
So after all that, we eventually walked back to the hotel, ultimately getting there at 9:30pm. Without any more meds to knock me out to sleep, I hoped I'd be able to sleep this night…
Day 20: A WALK IN THE PARK
Our flight out of Xi'an wouldn't be until somewhere around 11pm tonight. For some reason, Zhangjiajie flights are this late so we had to adapt accordingly.
All this resulted in a really slow morning where we didn't even leave the hotel until 10:25am. Fortunately for us, Jiao negotiated an extended stay with the hotel so we didn't have to check out until 2pm.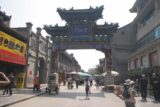 So with that, we headed towards the southern end of town. There, we were caught off guard by a pretty charming-looking market area just to the east of the Big South Road Gate nearby the southern walls of Xi'an's city center. Greeting us was this archway with Tang Dynasty style roofings so prevalent as a distinctly Chinese style and something you see in just about every Chinatown in the States and perhaps around the world.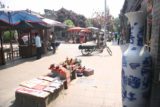 The market was lined with street vendors and a bunch of smaller boutique shops displaying calligraphy, Chinese landscape art, porcelains, etc. Fortunately, there was some shade so that provided a little relief from the pretty hot sun.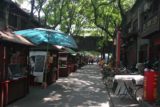 There wasn't a whole lot of activity amongst these street vendors so the atmosphere wasn't quite there. I'd imagine things would really start picking up towards the mid-afternoon time period.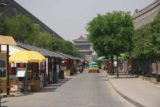 As we walked further east towards the end of town, we decided to cross through one of the city wall archways onto the outside of the walls.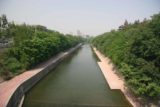 There, we stood on a bridge and saw the moat surrounding the walls. That was when we started to understand a little bit of the context in which the main city center of Xi'an was located in. Apparently, this moat surrounded the main part of the city and there were also city walls flanking the river (though it was mostly concealed by bush from where we were looking at it) to further fortify the once great city.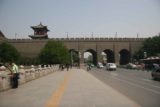 After taking photos from here, we decided to walk through a park between the moat and the walls. We enjoyed this quiet little stroll where some elderly people were exercising (much like grandma used to do every morning at the local park) and were amused by the safe sex signs with their illustrations.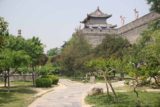 We then returned to the Big South Street where we went back through the city wall archway there and then headed back towards the city center where we found a quick Dim Sum Lunch place.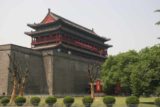 By 12:45pm, we were back at the Melody Hotel where we took a quick siesta before meeting our 2pm extended checkout time.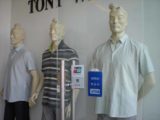 That was when we left our luggage at the hotel lobby and went looking for an internet bar. Of course after asking the receptionist in Chinese, she said something like "ti ba."
I wasn't sure what this was so I had her write it down. It read, "T8."
OK, well that was simple enough. "T and the Chinese word for 8 (ba)."
But we still weren't sure where to find this place even though she said it was right across the street.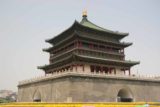 So we walked to the northwest side of the old city center with the Bell Tower as the landmark and then looked around fruitlessly. It wasn't until we were about to give up when Julie noticed T8 in huge font on top of one of the buildings…
So we went in, had a little bit of difficulty at first conversing with the lady at the desk about how to pay and use the card given to us (in Chinese, what else?), and then we finally got on the machines and went about our business trying to kill some time running errands before meeting with our guide at 3:30pm.
Anyways, it was probably the fastest internet connection we've had to date. So that made running our errands a breeze. And when we had to pay for the nearly hour of use that both Julie and I used in parallel? Only 4 yuan (roughly some 60 cents).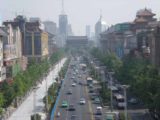 When we met up with Jiao at 3:30pm, he proceeded to take us on some tours to the Bell Tower and Drum Tower. In each place, we took photos and watched some interesting music performances using authentically old and very Chinese instruments.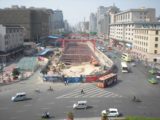 Then, we took another stroll through the Muslim Quarter where we ended going to this Mosque. Jiao said he had never found this mosque prior to being a guide, and after following him here, it seemed painfully obvious that it was well hidden. After all, you had to take one of the side streets then a really narrow alley street lined with shops to even get here.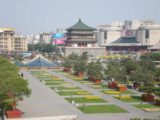 Once inside, it was quite an oasis to see old-school temples with some turbined Chinese doing their thing. There were also tours with foreigners here so clearly it's well travelled. It was just too bad that Julie's camera battery was drained at this point. I didn't bother lugging the big Canon around on this part of the trip thinking Julie's camera could've taken care of the photo responsibilities. A bit of a miscalculation on my part.
At around 5:45pm, we had dinner nearby at some Dumpling House. But this wasn't your ordinary hole-in-the-wall dumpling place you might expect like say somewhere in Alhambra. No, this one actually presented us with several different dumplings with different (sometimes weird) stuffings and spices.
It was quite a treat. We had no trouble finishing off our food and learned a little about how else dumplings can be made.
It was about 7pm when we concluded dinner and then headed back to the hotel. There, we picked up our luggage and got into the car where the driver was waiting.
In our sticky states (from the accumulated sweat throughout the day), it wasn't going to be a comfortable plane ride to Zhangjiajie later on at 10:20pm today. Still, it was unusual to have such a late evening flight anyways, and we had concerns it'd be cancelled if not enough people showed up.
We were at the airport a little after 8:30pm and had plenty of time to just read and chill out. We bid our farewells to Jiao and were ready to embark on the next leg of our journey.
We were a bit worried that at around 9pm, the crew showed up to the departure gate and there were still only two or three other people besides us waiting for this flight.
Fortunately when 10pm rolled around, we were on a fairly full flight as a whole tour group showed up at the last minute. While in the air, we experienced a little turbulence and the landing was a bit rough. But more will be said in the next installment…
Visitor Comments:
Got something you'd like to share or say to keep the conversation going? Feel free to leave a comment below...
No users have replied to the content on this page