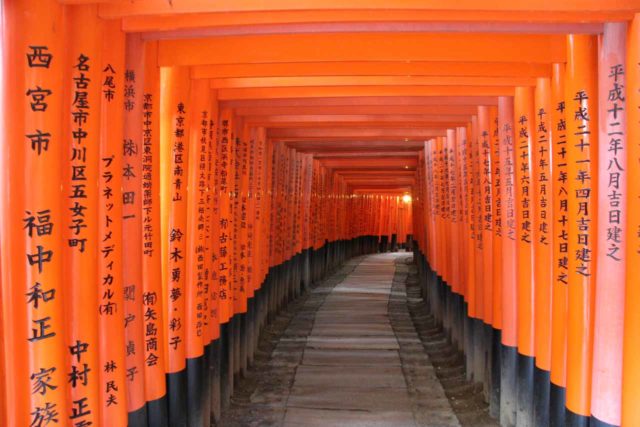 28-May 2009 to 4-June 2009:
But at least they weren't kidding about this bus being "express" as it pretty much skipped every stop along the way except for a stop at Terada, which we arrived at 4:25pm. As we waited for this train to leave, I looked at the monitor in front of our train and saw some nine stops or so 'til the end. For an hour-long train ride, there's no way there could be nine more stops so my doubts that kept nagging at me finally became action. So eventually with my worrying, Julie asked some employee on the train, "Toyama?"
Then the guy pointed at that other train waiting to leave as well.
Oh man, we had better get our stuff and run…
Day 42: MATSUMOTOOOOOH! MATSUMOTOOOOOH! MATSUMOTOOOOOH!
We awoke at 6am to some fairly moderate to heavy rain. One look out the window and it was clear there was absolutely no way Mt Fuji could be visible. Heck, I could barely see where the bottom of the mountain begins beneath the low clouds. It was definitely a good thing we saw the fickle mountain when we did in the last two days. Plus, we were quite glad the train station was right across the street from our hostel.
Even with that said, we made it to the station at 6:45am, and as fast as I could run across the street and the mostly empty terminal area, our luggages and bags still got a bit wet.
The bus we rode on was scheduled to leave at 7am and arrive at the West Shinjuku Terminal at 8:45am.
For the most part, the ride was uneventful and I managed to get in a few z's. The skies looked like they weren't letting up throughout the drive.
By 8:45am, we were still on the road because we were stuck in traffic. Even though the bus is still the best option for getting to Mt Fuji's northern face, it just shows you that you're subject to delays like this when you're not on the ultra-precise trains. However the trains to and from Fuji don't seem to save you any time nor are they covered by our JR Pass, which we found out the hard way on the way to Kawaguchiko a couple of days ago.
It wasn't until 9:05am when we got to the West Shinjuku Bus Terminal area.
From there, I waited for Julie at the JR Info and Gate with all our bags and luggages. She was out trying to run a couple of errands (i.e. getting more Japanese yen and looking for a chemist to pick up some Zhong Xin [Rescue Heart] since Mom gave us a new directive via email to pick up smaller bottles if possible).
When Julie got back to me at around 9:40am, she managed to get some more yen, but the chemist at the Takashimaya Times Square was closed until 10am. So we'll have to get the Zhong Xin somewhere else.
We managed to catch the 10am limited express train from Shinjuku to Matsumoto. It was about a 2.5-hour train ride so both of us caught more z's as we left the greater Tokyo area for the mountains of the Nagano Prefecture.
We got to the Matsumoto Station at the scheduled 12:31pm. The first thing we heard that caught our attention as we left the train was some announcement over the PA speaker saying, "Matsumotoooooo! Matsumotoooooo! Matsumotoooooo!" It was kind of a quirky introduction to this place that we really didn't know a whole lot about except for the Mastumoto-jo (Castle), which we intended to visit today.
After a bit of moving our luggage around and finding our hotel (which was just a minute or so walk across the street from the station again), we managed to check in early at 12:55pm. The skies were sprinkling with somewhat big drops, but it wasn't bad enough to warrant an umbrella (not that we could use it with all our luggage we were toting).
The room we checked into at the Matsumoto Tokyo City Inn was back to the western style cramped room like we had back in Tokyo. Also making a comeback was the nice bidet toilet that actually sprays water upwards to wash your privates after you've excreted waste. The bidet mechanism even heats up the toilet seat.
It wasn't until around 1:40pm that we headed back down to the ground floor where we found a chemist that actually carried the Zhong Xin (Rescue Heart). Turned out that they charged significantly less yen than the cheapest chemist in Tokyo (by about 4000 yen for the big box). So we didn't hesitate to pick up three small bottles at around 8800 yen. It was kind of comical that everything the clerk told Julie was in Japanese yet the gestures did enough to help us along with this transaction.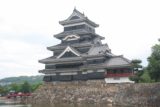 Next, we headed to the train station to go to the information desk for some timetables about tomorrow's bus to the Norikura Highlands where we wanted to see at least three waterfalls. We managed to get our answers and a few literature for reference. And from there, we headed back into town en route to the Matsumoto Castle.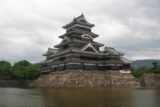 We made it to the Matsumoto-jo at around 2:20pm under very cloudy skies with light rain. Once we caught sight of the impressive wooden castle, we immediately started taking lots of photographs.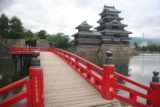 After paying the admission to get into the actual complex itself, we walked into the wooden castle where we had to remove our shoes and follow some signs inside that guided you pretty much to every nook and cranny of the castle.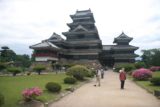 The interior of the castle had lots of very steep and hard wooden steps. We had to be careful about bumping our heads on some of the wooden beams overhanging kind of low. My foot and knees were also taking a pounding walking on the hard wooden surfaces of the castle.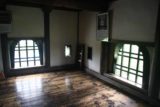 The route inside the castle essentially had use snake our way to take in pretty much almost all of the castle. While some parts looked like they piqued our curiosity (but they were closed off), for the most part, we pretty much saw the whole thing. It was definitely worth the price of admission!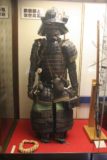 Indeed, it was quite an interesting self-tour as we gazed at the various vantage points above ground where archers would usually shoot invaders as well as a large firearms collection, an old samurai armor, and even a Blair-witch-like "goddess" at the very top of the main tower.
By 3:10pm, we were back in our shoes and left the Matsumoto-jo. We stuck around the exterior of the castle reinvigorated after thoroughly enjoying the interior of the castle. Now we had a newfound appreciation for what we were seeing from the outside across the moat again.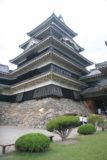 The chilled out a little bit at the manicured garden while looking up at the wooden castle. Then, we walked back outside the moat area.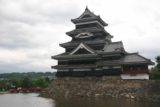 It was time for another late lunner. This time, Julie was intent on looking for some soba place listed on Lonely Planet somewhere near this narrow-streeted commercial area called Nakamachi-dori.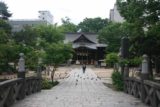 Well we aimlessly walked around the modern Nakamachi-dori looking for Julie's soba place. Turned out to be fruitless as we couldn't find it and I started to question the wisdom of going through so much trouble for some words in an LP guidebook. But I guess in Julie's eyes, if it's in LP, it must be good.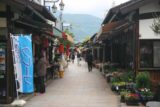 Eventually, we headed to some tourist information office on the way back to the Matsumoto-jo. That was when the clerk there told Julie that the place she sought was closed as they're only open for lunch. But she did recommend another soba place in a hard-to-find spot another couple of blocks down some side streets. So we went there and finally got seated at around 4:25pm.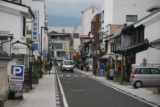 Inside this particular restaurant, they had wax models of the food they served so that made it easy for us to figure out what we wanted to order. We ended up getting a couple different soba noodle dishes as well as a try at the basashi (raw horse meat). Pretty good stuff though this place didn't take credit card so that hurt our cash reserves.
When we left the restaurant at 5pm, it was now starting to get very cold and windy. Since I neglected to bring my jumper, we hastily walked back to the hotel area where we did some last minute shopping for tomorrow's takeaway lunch and breakfast. By now, that has kind of been the way we kept ourselves held over until we got a more serious lunner or real dinner at the end of the day. Besides, it was kind of cheap (though you have to question how healthy our takeaways are considering how much preservatives they have so they can keep at room temperature).
And so ended this first day in the mountainous Nagano Prefecture. Even though our experience has been that logistical days like this tended to be stressful, this one was fairly stress free. We'll see what tomorrow brings (especially if the weather remains foul) as we were going to attempt something that wasn't in our guidebooks…
Day 43: ONE OUT OF THREE
Today was the in-between day where we didn't have to check out of our accommodation until tomorrow morning. So I figured we had a whole day to visit the Norikura Highlands and see three waterfalls while hoping to get some bonus alpine scenery along the way. The weather outside looked like it had rained last night and the forecast called for 60% chance today. So that was the primary worry about today. Other than that, we expected to have a relatively relaxed day.
We left the hotel at 6am to go across the street to the Matsumoto Station. There, we bought a round-trip ticket from Matsumoto to the Shirahone Onsen (in the Norikura Highlands) thinking we'd get a discount for the 3400 yen round-trip fare while being able to hop off and on the buses at the desired waterfalls along the way.
So with the 2 tickets in hand (6800 yen total), we proceeded to wait for the 6:20am local train (non JR) to the Shin-shimashima Station. It was funny when a train arrived from a different track that they were greeted with the familiar chant over the PA of "Mastumotoooooo! Matsumotoooooo! Mastumotoooooo!" I guess it was standard procedure for those passengers coming all the way from Shinjuku to get here.
By 6:20am, we were on the train and made it uneventfully to the Shin-shimashima Station by 7:02am. Our bus schedule said there's supposed to be a 7:12am bus bound for the National Vacation Village. And when we asked which bus we're supposed to take, the first thing that was said when we showed our tickets was that we have a ticket only valid for the 8am bus (to Shirahone Onsen Spa).
If we waited until 8am (what with their infrequent buses in this area), it would be extremely difficult to see all three waterfalls we wanted to see in the Norikura Highlands (Bandoroko-no-taki, Zengorou-daki, and Sanbon-daki). We were a little perplexed as to why it seemed there wasn't a bus leaving at 7:12am as the schedule indicated, and why only the 8am bus was valid for us. That got us to start to doubt the bus schedule that the information center in the Matsumoto Station gave to us.
So when we explained that we wanted to go to the Bandoroko Waterfall first, then the other 2 waterfalls later, and finally returning to Matsumoto at the end of the day, they tried to tell us that it would be impossible to do it in one day. That really got us worried about the validity of the bus schedule we had in our hand.
Eventually, when we asked if we could take the 7:12am bus to Bandoroko Waterfall and then catch another bus 45 minutes later to go further into Norikura, we were taken to the ticket booth where they took away our round-trip tickets and gave us back only 2800 yen.
This seemed kind of odd as the math didn't seem to add up. We paid 6800 yen, rode the train (680 yen x 2 = 1360 yen), and have 2 bus tickets in hand (1150 yenx 2 = 2300 yen), all for a grand total of 3660 yen in services rendered so far. But that left a difference of 3140 yen and we didn't even have our return tickets. They also only gave us back 2800 yen so it seemed like we were being shortchanged somehow.
Anyways, the bus had to leave and we got on hoping we can try to sort things out when we return to the Shin-shimashima Station later today. But already due to this misunderstanding, the whole bus ride up there was spent looking at our map and schedule wondering how today was going to work out.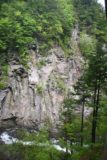 Eventually, we realized that the Shirahone Onsen path veered off to the northeast from the Kanko Visitor Center. The other 2 waterfalls besides Bandoroko went southwest and apparently our bus schedule didn't even cover it. So in hindsight, we shouldn't have bought the round-trip ticket (and just bought tickets a-la-carte as we went) as the Japanese workers had in their minds that we were going all the way to the onsen, when in fact we were only seeing the waterfalls before returning. That was our gaffe and it seemed to change our plans for today dramatically.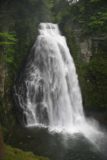 Eventually at 8am, we were dropped off at the Oh-taki mae stop which was right in front of the car park for Bandoroko-no-taki. From there, we walked down some slippery concrete steps towards a very misty overlook platform for the impressive 40m Bandoroko Waterfall.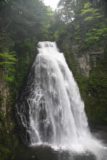 During the walk, Julie was upset with me for apparently not properly planning out the logistics of this day. We were also in damage control mode as seeing the other two waterfalls today seemed less and less likely (and more and more costly as well). We were also preoccupied with how to get our money back or at least get back our return ticket to Matsumoto by rail.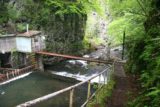 So if we were to abandon the two other falls today and catch a bus back to Shin-shimashima Station, we saw that there would be a 10:12am bus that would return from the Bandoroko stop a couple of steps west of the Oh-taki mae stop.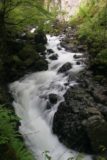 Anyways, that left us with a couple of hours to check out this particular waterfall and do an unexpected walk along the river up to the Bandoroko stop further west.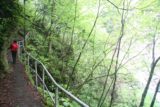 While the walk was pleasant, we were a little concerned about how things have unexpectedly backfired for us on this day. Instead of seeing three waterfalls on a full day at the Norikura Highlands, we had to settle for just one.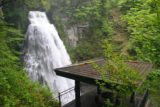 We didn't spend a whole lot of time at the Bandoroko Waterfall because it was extremely difficult to take the long exposure photos I wanted to take with all that mist wafting up into the viewing area. Every single one of my long exposure shots had waterspots on them no matter how hard I tried to cover the lens and expose it just in time for taking a photo.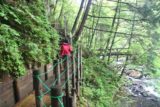 We actually followed the path further downhill downstream from the falls just to see where it led, but after a few minutes, we saw it led to some hydro facility with no better view (actually none at all) of the Bandoroko Waterfall upstream.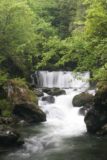 So we walked back uphill towards the car park and then veered back towards the river for a little riverside walk passing by a pair of small waterfalls.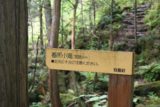 There were signs totally in Japanese along the way, and unfortunately, we couldn't figure out what they were saying. I'm sure there were something informative that was being said, but the best we could do was to take guesses at the meaning from recognizing the kanji characters that also happened to be characters recognized from traditional Chinese characters.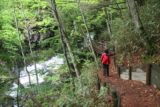 I guess English-speaking tourists simply don't come out this way so there was probably no need for such tourist infrastructure. Same for the personnel who also didn't speak any English here.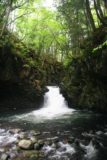 By 9:35am, we made it to the Bandoroko Stop. But we still had over 35 minutes of doing nothing so we ate some preserved sushi rolls and nori for a little bit of a power breakfast.
We saw some signs indicating that it was another 2.9km from our stop to the Kanko Visitor Center where there was an info office (where I suspected we could get more answers as well as info on a transfer bus). But we'd have to walk there if we were to salvage a chance at seeing the other 2 waterfalls today.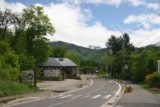 Julie would have none of it!
So we waited and waited and finally the bus showed up about 6 minutes late.
There, we boarded a crowded bus with only one pair of seats empty, which one of the employees showed to us before we gave up on finding seats. Then, when the bus was moving, we paid the 2300 yen fare for the both of us to return to Shin-shimashima Station. So that officially made our expenditures at 3660 yen + 2300 yen = 5960 yen. And we still had to somehow get back to Matsumoto thinking our rail passes were already paid for in that 3400 yen/person round-trip ticket we bought back in Matsumoto.
When we arrived at the station at 11am, we went straight to the ticket office and tried to show our receipt for the 2 3400 yen round-trip tickets to recover the tickets they took from us. But the lady at the window refused, took our receipts, and said we still owed 1360 yen for the rail tickets back to Matsumoto.
Worried that we were being ripped off, that got Julie really hysterical and all of the sudden she was yelling at the lady for taking our receipt for the 2 3400 yen tickets and not giving it back to us.
There was a lot of back and forth as neither of us could understand each other through the language barrier, and she kept referring to this 170 per person charge that we had no idea what it was. The lady even used her Japanese to English translator to show us that we were being "bothersome."
And in the heat of the moment, I couldn't help but get a chuckle out of her way of using her translator (though strangely not using it for more useful means like explaining what we're being charged for).
There was a guy behind us who knew a little bit of English who tried to help us. But I think what we got from him was that the 170 yen per person charge had to do with some kind of service charge for changing our ticket.
In the end, we finally figured out that if we did everything a-la-carte, we would've owed 7660 yen for the out-and-back trip to Bandokoro Waterfall from Matsumoto. But since we had that extra 340 yen charge for some "service fee," it ended up being 8000 yen. Indeed, it was a far cry from the 6800 yen we thought we paid for the bus rides and rail, and in hindsight, it would've worked had we known to stick with the 8am bus to get there and then the same bus we took back that came from Shirahone Onsen.
Of course with all the language difficulties, we had to find this out the hard way and chalk this up to another lesson learned about trying to save money when apparently there was no such thing as a hop-on-hop-off bus service for the Norikura Highlands. Thus, this waterfall was a very expensive one at that (probably $90 USD for the two of us) and not very good bang for the buck. I'm sure the logistical charges would've been even more had we gone for the other two waterfalls.
So of the three waterfalls we tried for, we got just one. We paid lots of money, but at least the debacle is over. I'm sure hiring a car just from Matsumoto (assuming one exists) would've been easier. Then, we could've taken the buses where private cars aren't allowed. Cost wise, it's probably a wash, but at least you're not slaved to the very infrequent bus schedules serving this area from Shin-shimashima Station let alone Matsumoto.
At 12pm, we were mercifully back in Matsumoto. No PA greeting for this line as we arrived.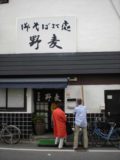 We later decided to walk over to the LP recommended Nomugi for some authentic soba. After finding this very-difficult-to-find place, we could tell right away that this place simply does the soba in some weaved basket with some dipping sauce and spices along with a Japanese appetizer. It was actually pretty affordable, and I had to admit that LP was spot on with this very simple place. As a matter of fact, there were so few tables that there was a queue waiting for us as well as a few other people to finish their food after we were seated.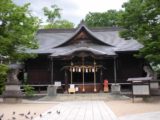 After the pretty satisfying lunch, we then did some more aimless meandering about the Nakamachi-dori Street. This time, we just killed time checking out some shrine that turned out to be more extensive than what we initially thought yesterday when it wasn't open.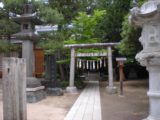 Now, we not only saw the front facade of the shrine, but we were also walking about through the complex seeing how there were more decorations, statues, pillars, and other things that kind of got us to be curious.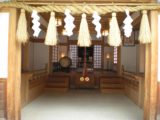 Once again, we weren't versed in Japanese so we couldn't read any of the inscriptions or signs. I'm sure that could've helped us understand at least what the significance of this area was all about. And it further affirmed my hunch that not a whole lot of English-speaking tourists go out this way.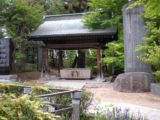 At 2:30pm, we made it back to our hotel after some more aimless meandering through some shops and some shrine just north of the river near the Nakamachi-dori Street.
From that point, we pretty much were done with sightseeing and plotted how the rest of our Japan trip will work out logistically as today's experience taught us how costly it could be if we don't have it all worked out beforehand (no matter how much we think we had it all down).
Day 44: CLOSE CALL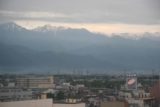 At 5:40am we were already wide awake. Given our anxieties about the weather, we took a sneak peek at the view outside and were quite surprised to see some of the snow-topped mountains in the distance. Still, I knew this doesn't necessarily have any bearing on how the weather will be at Shomyo Falls, which was the main waterfall goal of today.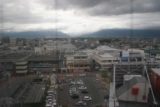 Still, we couldn't mess around as there were lots of logistics to execute to even enable our visit to the falls, which was said to be Japan's highest permanent waterfall. It also happens to stand next to an even taller seasonal waterfall that could very well be the tallest in the country.
Julie managed to talk me out of going forward with the Kurobe-Tateyama Trans-Alpine Route from our side of the Japan Alps (in the Nagano Prefecture) to the Tateyama side (in the Toyama Prefecture). That was an excursion that involved various forms of transport from cable cars to trains to buses to even the old fashioned human powered feet. It was supposed to pass by various alpine scenery, a massive hydro scheme at Kurobe Dam, some thermal pools, and even a bus route between giant snow walls towering over the bus itself!
But the weather was forecasted to be foul (70% chance of rain) and the logistics of having our luggage forwarded to Toyama (with the extra cost and chance of losing our luggage) was a bit too much for Julie to take. Besides, I kind of felt that this route had a little bit too much human intervention and probably wouldn't be the Natural experience I had hoped for so I didn't really push back real hard on Julie's reservations.
In any case, we had to catch a 6:20am train to Nagano, then connect on an 8:12am train to Naoetsu, and finally catch a 10:10am train to Toyama. From there, we'd have to find our hotel, leave our luggage there, then scramble back to the train station and take a non-JR line to Tateyama hopefully by 12:19pm. Then, we'd have to take a 2pm bus to the trailhead of Shomyo Falls followed by a 3:25pm return bus back to the Tateyama Station. And finally take this train back at 4:17pm back to Toyama where we can finally check in and call it a day.
Needless to say, it was all about logistics today, and it was a good thing our JR Pass covered the bulk of the travel.
So by 8:12am, we had already left Matsumotooo and arrived at the Nagano Station where we in turn caught a train bound for Naoetsu on the Shin-etsu Line. The ride between Matsumoto and Nagano yielded some fine (but not photographable) views of the snowy mountains to the west and the Nagano basin to the east. This was all possible because it seemed the weather was holding up better than expected.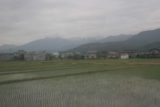 By 10:10am, we were on the train to Toyama as scheduled (boy, the Japanese trains are reliable).
However, due to language problems with the ticket officer at the Naoetsu Station, we were unable to secure a reserved seat. So we ended up sitting in car 6, which just happened to be a smoking-allowed car. It felt like China all over again.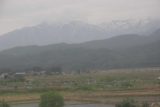 Eventually after 20 minutes, we finally found a pair of seats across the aisle from each other that were vacant in car 7, which was non-smoking. Still, we could smell the smoke despite the smoking prohibition. The rest of the cars were reserved seats, and that was perhaps a lesson in trying harder to communicate with the employees here (i.e. try using the phrase book next time).
During this train ride, we managed to get some views of the Japan Sea to the north of us. It was kind of a nice change of scenery since the majority of our trip in Japan thus far had been landlocked. But none of the views were photographable from the train. Also, the weather looked like a mixed bag of threatening skies and rain in the distance.
At 11:35am, we had already arrived at the Toyama Station and walked into the hotel just a minute's walk or two across the street. Since it was too early to check in, we left our luggage at the reception and quickly made our way back down to the Toyama Station in search of the line that would take us to Tateyama.
Eventually, we were told to go to the Dentetsu-Toyama Line where we could buy a ticket from the non-JR company. The cost here was 1170 yen per person each way.
By 12:19pm, we were on the train for Tateyama as scheduled. Everything was in Japanese kanji (I guess not too many foreigners here), but we were still able to recognize some of the characters that were Chinese characters. Especially important was that we recognized the kanji for Tateyama and Toyama (both had the Chinese "shan" character since "yama" means mountain).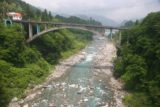 Ultimately, we arrived at the Tateyama Station at 1:19pm as scheduled (like I said, these Japanese trains are quite reliable). The ride was pretty scenic once we got close to the Tateyama Station as we entered a pretty forested area passing by a cemetery by the train tracks and some noticeable signs of logging (pretty well hidden throughout our time here until now), and river-altering by either hydro or quarrying.
The train even slowed down at an arched bridge high above a gorge where we snapped a few photos of the clear river running beneath another arched bridge just upstream.
At the Tateyama Station,we bought our bus ticket for Shomyo Falls. We also met a Taiwanese-Japanese worker at the info center who immediately spoke to us in Mandarin as if she knew we were Chinese. Even though it wasn't English, it was still kind of nice to have an intelligible conversation with someone in these parts in a language we can understand.
This lady was quite nice to us as she shared with us that mostly Taiwanese and people from Hong Kong come to these parts. She also wondered why we didn't do the TransAlpine Route though we did tell her we were out of time (though as explained earlier, it was much more than that).
Wondering how she was so fluent in Japanese, we asked and she said that she had been living in Japan for 18 years and was married to a Japanese man. She said there were also just 2 English-speaking people on staff here since there aren't many Japanese who can speak English (and boy do we know that!).
We still had some time before the bus arrived so we got ourselves some soft serve ice cream. Good thing this one didn't taste like fungus like the place not far from the Cable Car in Fuji-Kawaguchiko earlier in the week. Things did seem a little cheaper here, but we weren't hungry enough for ramen or other things on offer.
When it came time to board the 2pm bus, she passed us a pair of fans with Toyama ads on them. And we were off to the falls.
But our 40 minutes of waiting at the station worried me because I knew the weather tended to deteriorate as the afternoon wore on (experience has told us that). Sure enough, the skies got darker, and when the bus went onto the road that followed the river further upstream, we could see a major misty squall in the valley we were headed into.
Not good.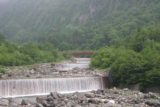 Not long after, the bus' windshield indicated that rain was coming down. So my fears were coming true and the falls might be clouded over by low-lying rain clouds. All that time and effort might be for a subpar waterfalling experience. I guess that's the problem with tall waterfalls.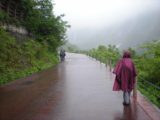 At around 2:20pm, we were at the rainy start of the Shomyo Falls walk and bus stop. We quickly donned our ponchos and headed right into the rain knowing that the return bus wasn't until 3:25pm and we still had about 20-30 minutes of walking just to get to the viewing area of Shomyo-daki.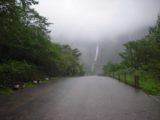 The rain continued to pour on hard. I really wished at this point we had worn our waterproof pants because our legs were getting drenched. Even our pockets started to get wet and that consequently wetted my notebook, wallet, and keys. I'm sure the other bag of snacks and info was also getting a little wet.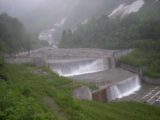 Making matters worse was that it really looked like the falls up ahead (couldn't tell at the time whether it was Shomyo or Hannoki) were half covered in clouds.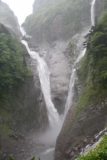 By 2:35pm, we had arrived at the Shomyo Falls viewing area. Still raining hard, I was pleasantly surprised that both waterfalls weren't obstructed by clouds! Sure it was difficult to take a photo, but at least we can start with Julie's point-and-shoot since the tiny lens was a smaller target to accumulate drops of water and ruin photographs.
The view from the bridge yielded nice paired up views of both Shomyo-daki and Hannoki-daki together along with the plunge pool beneath. But the wind and mist generated by the topography along with the foul weather made me try for other viewing angles first.
Past the bridge, we had to go up some wet and slippery steps to get to the shelter finally. The view from up here still required getting out of the canopy and into the rain. But from up here, you could see more of Shomyo Falls and less of Hannoki Falls.
Eventually, Julie and I tried to use our ponchos to shelter our cameras from the rain as we took photos. I don't know how fruitful that effort was, but we did manage to take some decent shots.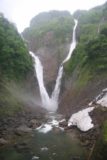 Julie eventually headed back first, but that was when I started to notice the weather starting to improve a little. So I lingered longer to take more photos while employing some crude techniques to get shots despite the windblown mist going right for the camera lens.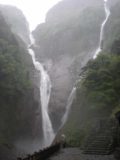 By the time my watch said 3:11pm, I had to pry myself away from the bridge and run back. It's funny how the weather improves just as it was time to leave. If not for the bad weather, I'd rate this waterfall up there with one of Asia's best for sure.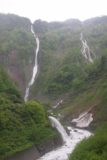 I continued to run downhill on the slippery paved path to the bus stop. I did stop a couple of times for other views of Hannoki Falls (Shomyo Falls is hidden from view until you get right up to the bridge). And by 3:20pm, I was back at the bus stop reunited with Julie who I'm sure was a little worried I might not make it back in time.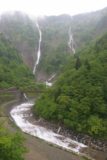 At 3:42pm, we were back in the Tateyama Station. But there was a bit of confusion as to what train we're supposed to take.
That was because my Hyperdia.com research indicated that we're supposed to take a 4:17pm train back to Toyama. But people were going to the 3:50pm train, which was about to leave. This train never showed up on my research and I had my doubts about this train since the schedules generally don't lie.
Still, we bought our 1170 yen/person tickets but we also had to pay an additional 400 yen for "express." There goes that mysterious "express" charge again that seems to show up spontaneously on these non-JR lines.
Julie asked the ticket-officer if this was indeed the train for Toyama and he said yes.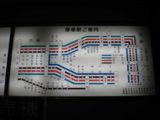 Still, as we boarded the train and started moving, I couldn't help but notice that none of the kanji characters on the screen in the front of the train indicated Toyama. Something just didn't seem right.
But at least they weren't kidding about this bus being "express" as it pretty much skipped every stop along the way except for a stop at Terada, which we arrived at 4:25pm. As we waited for this train to leave, I looked at the monitor in front of our train and saw some nine stops or so 'til the end. For an hour-long train ride, there's no way there could be nine more stops so my doubts that kept nagging at me finally became action. So eventually with my worrying, Julie asked some employee on the train, "Toyama?"
Then the guy pointed at that other train waiting to leave as well.
Oh man, we had better get our stuff and run. So that we did.
The Japanese guy noticed this and signaled to the engineers on the other side of the station to wait.
It was a good thing he did that because as we were about half-way to that train, the doors closed and it was starting to move. But it stopped just in time for us to open the doors and get in. And one look inside that train showed the kanji characters for Toyama. Now that's more like it!
And what a close call! Who knew where that other train would've taken us?
Again, it just seemed like drama follows us around on these private lines. And surely it's not easy when no one speaks English and we don't understand Japanese.
There was a Cantonese couple on that other train who noticed us running for the correct train. I'm not sure if they were also headed to Toyama, but when our train moved, they didn't. So I don't know if they were screwed or not since they too seemed to have difficulty comprehending Japanese.
Mercifully, we were back in the familiar Toyama Station at 4:35pm. I guess this never showed up on my Hyperdia research because it involved a connection. But again with all the Japanese spoken by the employee who probably indicated we were supposed to connect, it all flew right by us since we didn't understand a word he was saying at the time.
Anyways, we finally checked into our hotel room at 4:55pm, recovered our luggage, and were gaining more confidence communicating with the Japanese who were patient enough to let us fumble through our phrasebook (I think the electronic voice one that Julie bought was a total waste of time and money). And finally, we let our wet clothes, ponchos, and other drenched goods start drying out.
And after a little ramen noodle dinner with gyoza and some supplementary rice along with a snack of pressed fish on rice, and some cream puff dessert (all at the train station, which seemed well stocked with food places), we returned to the room where we could finally call it a day.
But no rest for the weary as we planned to get up early and catch an early train to Kyoto so we might have a little more time to sneak in a side trip to Nara before exploring Kyoto in earnest…
Day 45: THE CITY'S PET DEER POPULATION
We awoke at 5am knowing that we wanted to get to Kyoto as soon as possible. But greeting us were the sounds of hard rain hitting the hotel window so we knew that we had to make a run for the train station across the street as soon as we leave.
And we ended up at the train station an hour later without too much wetness on our belongings.
We were aiming for the 6:12am train to Kyoto and sure enough it showed up on time as usual.
The next 3 hours were spent trying to get caught up on sleep since the shinkansen trains were incredibly fast and smooth. So smooth that it's easy to get lulled to sleep.
When we arrived in Kyoto at the scheduled 9:11am, the rain seemed to have let up though the clouds overhead remained dark.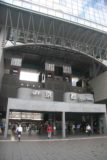 It didn't take long for us to locate the Hotel Club Hokke where we dropped off our luggage. And then we returned to the modern and upscale Kyoto Station where it was kind of interesting seeing a whole lot of foreigners again (something that was quite noticeably absent when we toured both the Nagano and Toyama Prefectures). Then, we wasted no time getting on the platform for the Nara Line.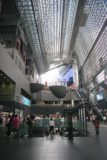 It turned out that there was a commuter line at 9:49am which was a half-hour sooner than the 10:19am departure on Hyperdia.com. But I wasn't worried about this being the wrong train like the experience in Tateyama yesterday as this one clearly showed it was headed to Nara on the Nara Line.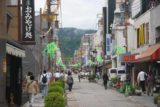 At 10:40am, we arrived in Nara. Then, we walked for several minutes towards the Nara Park. There, we strolled around looking for the 3-story pagoda and then the 5-story pagoda. Along the way, there were plenty of deer looking like they were chasing people with deer crackers to feed them.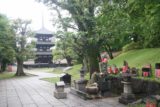 It was kind of an unusual scene since we're used to seeing wild deer. But it was becoming obvious that these deer are almost like the city's pet deer population – totally domesticated.
At 12pm, we made it to the Todai-ji after a pretty long walk from the 5-story pagoda.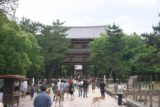 We passed through the Nandai-mon gate at the south end of the castle, we could see straight away that this castle was quite impressive and reminiscent of the experience we had visiting the Toshogu Shrine in Nikko.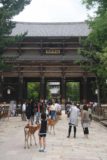 Interspersed amongst the foot traffic were plenty of deer looking for handouts. As a matter of fact, it seemed like some of the vendors were selling the stuff so tourists could go ahead and give them the handouts while walking along these paths.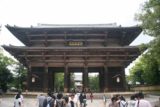 Of course, just like the Nikko experience, this place was visited by hordes of people and it was quite impossible to get those photos you see in the guidebooks or photo galleries where no people were in sight.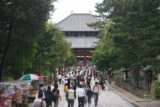 The castle was an impressively massive wooden structure. Inside it was a giant Buddha and on the perimeter of the interior were other statues as well as a miniature model of what the Nara complex was supposed to look like.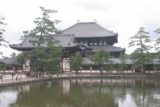 Once back outside the greater Todai-ji interior, we took more photos of the lawn area fronting the massive wooden structure. There were other parts that looked like it had no people, but that was because barricades prevented further entry into those quieter zones.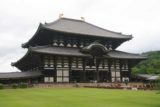 It took a while to visit this park since the walking distance was nontrivial. I wasn't sure if it was me or not, but it certainly seemed much busier outside the Todai-ji area than earlier this morning.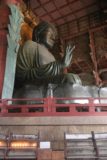 Anyways, it was around lunch time and we noticed crowds of people lined up in tiny Japanese restaurants sprinkled throughout this parklike area. Since we felt like there was more touring to do, I wasn't sure about waiting in any of those lines to eat lunch.
Back at the 5-story pagoda, we noticed an interesting juxtaposition (again with the aid of Julie's DK book) of some building before the pagoda itself. The weather was gray so it wasn't as photogenic or colorful as in the book, but we snapped photos and moved on.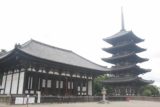 So before we knew it, we had ourselves a little curry lunch on the way back to the JR Nara Station. And by 1:55pm, we were at the station waiting for the 2:09pm Nara Line for Kyoto.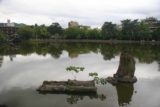 We were hoping to get to the Nijo Castle before its 4pm closing today so it wasn't exactly peaceful moments as we were hoping to visit this today and free up some time to see more of Kyoto tomorrow.
At 3pm, we were back in Kyoto. It was strange that the skies were quite sunny and clear now, especially given how rainy and overcast it was throughout this morning. But the clock was ticking and we had to figure out how to get to the Nijo-jo from here now.
We ended up taking a JR train to the Nijo Station and then taking the subway for one stop to the Nijo-jo-mae stop. From there, we ran to the entrance of the castle and went straight for the 5-roomed palace since they had a hard closing time of 4:20pm (about 25 minutes to go).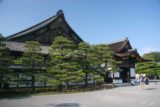 After taking off our shoes, we checked out this elaborate mostly one-story castle with its nightingale floors. We could totally appreciate why they were called nightingale floors because with each step on them, it squeaked and chirped like nightingales. Apparently, it was by design so the shogun would know when anyone was coming and there'd be no surprises.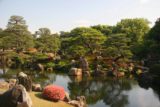 They didn't allow any photographs inside, which was kind of a bummer. But it was understandable since many of the walls contained ornate decorations and paintings that'd be damaged by the camera's flash (and I'm sure the staff can't trust everyone to turn off their flash when taking photos).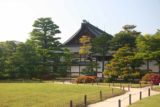 We then left the jo and put on our shoes so we could take a stroll through an elaborate and beautiful garden going around the north side. There was also a pretty nice observation area where we could kind of get a comprehensive view of the castles we had just stepped inside.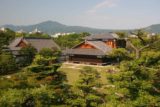 At 4:30pm, we were outside the inner moat area. Then, we walked through more gardens on our way back to the front gate where we heard a recorded announcement repeatedly urging visitors to make their way to the gates as they were closing. We tried to balance savoring our experience here without shortchanging ourselves yet at the same time not getting locked in here so it was an exercise in haste and leisure at the same time.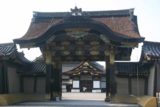 Next, we took the subway back to the Nijo Station and then a JR commuter train back to the Kyoto Station. Soon thereafter, we caught a connecting train to Inari on the familiar Nara Line getting there at 5:45pm.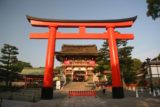 This was where we walked to the Fushimi Shrine where we got to walk through various torii tunnels offering up a rather eerie yet really cool experience (not to mention crazy photos). I always jokingly referred to these torii gates as Julie's "hallway."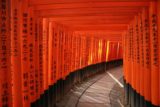 I also managed to pick up a pair of mosquito bites (something I hadn't gotten while we've been in Japan), but they weren't too irritating and before the night was over, they were pretty much gone.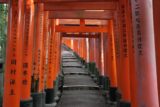 With the daylight fading and the area getting increasingly darker, this place seemed to take on a more eerie atmosphere than before (when I thought it was starting to get eerie already).
Perhaps there were some graves nearby or something. Whatever it was, it didn't really feel like a place to be out at night though I'm sure it would've been perfectly fine (except they do have closing time here).
It was getting dark so we headed back to the train station. But we had to make haste and run because the 6:21pm train back to Kyoto had just showed up and the next one wasn't for another half hour. We were still on the wrong side of the platform so us (and a few other Japanese visitors) ran for it.
Fortunately, we made it before the train took off.
By 6:50pm, we were finally back at the hotel and checked into our room. And so ended a very long and exhausting day that started in Toyama, went out-and-back to Nara, and ended up out-and-about in Kyoto. Now, we can let our feet breathe a bit while hopefully allowing for a more laid back day in Kyoto tomorrow.
Day 46: GEISHAS AND SHRINES
Even though we had intended to get up at 6am, it wasn't until an hour later when we awoke. I guess we must've been really tired from yesterday.
By 8am, we had finally left the hotel room to start our day of touring Kyoto.
After a little bit of trying to figure out which bus to take and where to line up, we retreated to the nearby ticket counter and bought our very reasonable 500 yen per person day pass of the city.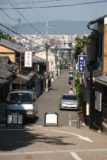 By 8:30am, we took the 206 bus to Gojozaka and began a walk of Gion as recommended by Lonely Planet.
Initially, we had a little trouble getting oriented (because Julie didn't have her north-south correct), but eventually there were enough landmarks to get us on the right road.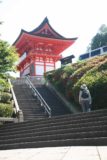 This walk pretty much involved going up some uphill street leading up to some stairs that went right up to some Unesco World Heritage Temple called the Kiyomizu-dera.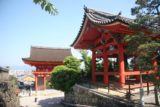 This temple had the usual fancy wooden buildings with praying areas and some stands selling trinkets. However, it also offered up some nice views of Kyoto.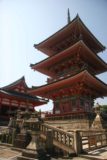 Much of the grounds seemed to be under construction or restoration, but for the most part we could see the vast majority of the grounds. It was too bad that some of the temple views were right against the sun at this time of day though.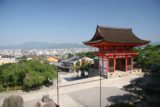 We were hoping to get decent views of Kyoto city juxtaposed with Kiyomizu structures, but the city looked flat behind foreground-dominating foliage. It was scenic, but probably not all that photogenic, I reckoned.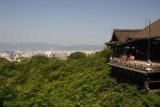 At 9:25am, we left the temple and continued down a street lined with rows of shops. Japanese people have been so polite on our trip that it kind of made us feel a little bit bad about turning down requests to shop in the many shops lining this street.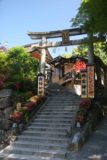 Back in China, I guess the rudeness and aggression there made it easier to turn down hawkers. But in Japan, it was different.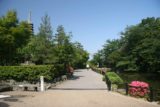 Then, we turned right and went down some steps into a seemingly quieter part of town. We had read that we weren't supposed to have a misstep or a fall on these steps because that would bring bad luck. So we carefully made our descent on this series of steps.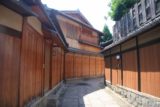 Once we made it to another quiet but main street amongst residences, we went to one unassuming side street that led to Ishibei-koji, which was basically a narrow walkway lined with wooden-walled residences. It wasn't anything gaudy or touristy nor was it even signposted, but we could easily envision traditional Japanese people living in these quarters.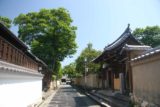 After our brief out-and-back jaunt into Ishibei-koji, we continued along a long straight street that was still quiet and had a few temples and museums along the way, but we resisted the temptation to go off track.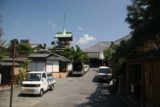 Following the LP guide here was like following some locals' directions to use local landmarks instead of street names. But then again, street names in Japan weren't all that helpful anyways as they don't seem to follow any of the Western conventions we're used to.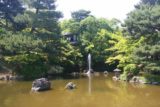 A little later, we walked into a park with the seemingly ubiquitous but no less scenic Japanese garden complete with arched bridge, ponds, and light purple flowers among the surrounding foliage.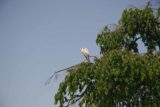 This park was also supposed to have the famous giant willow tree, but it was obvious we were a month too late as the cherry blossoms that make this tree famous were nowhere to be seen. Thus, the tree looked kinda of dead this time of year.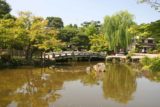 There was a little bit of waiting around for each other (as we both were momentarily separated and lost in our own meanderings). So I pretty much stayed put by the dead cherry blossom tree until Julie came back.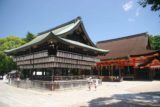 At about 10:35am, we deviated from the LP walking tour and headed out of the park through the Yasaka-jinja, another shrine area. Now, we were following DK (the other guide).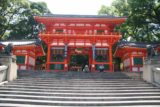 At this point, we re-entered the urban mess in search of the old Gion area for more hints of the old Kyoto along with geisha sightings.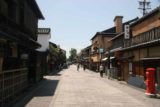 After a couple blocks of walking through some real busy streets, we found a street that seemed to be it. However, we couldn't be totally sure because there were taxis and private cars imposing their presence on the otherwise charming street.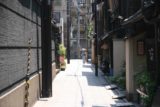 A few steps further in the street seemed to have confirmed that we found the street we were looking for. Though we couldn't totally be sure.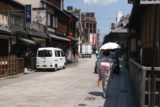 Fronting it was some red-shaped building that we assumed was the old tea house. Further along, we could see charmingly narrow side streets with a few of them with traditionally dressed Japanese women shielding themselves under dainty umbrellas tending to their own business as they walked in their unmistakable wooden sandals with white, toe-creased socks on.
It was too bad they let vehicles in these streets because this would've really been a truly charming part of the Gion District of Kyoto. You could never really confidently walk in the middle of the stoned street and envision the old Kyoto.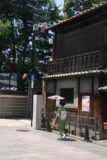 I guess on the flip side, we did see what we thought was a geisha or two with their unmistakable hair but we weren't sure about the painted white painted face. It seemed they knew they were being photographed or at least stalked by tourists wanted to get a photograph of them as they hastily made their way to wherever they had to go. It didn't seem like they wanted to be photograph subjects of random tourists here and there.
Towards the end of the street, we saw something called the Gion Corner, which was basically a building housing some geisha shows while educating the public a little more about the lifestyle. Since those shows didn't start until 6pm, we really didn't have any further reason to linger.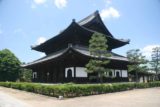 At the very end of the street, there was what I think was the Kennin-ji. It was basically yet another wooden temple or shrine. I think I was getting templed out at this point, as it's so easy to do in Japan.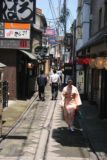 At 11:45am, we had already left this Old Gion part of town and continued to the Ponto-cho.
Now we had read this place comes alive at night time when geishas are out tending to appointments and the bars and night lanterns come alive, but this narrow lane was still interesting at the height of day. A couple of traditionally dressed Japanese women walked this street when we were there.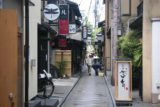 The only thing that got me a little nervous were the overhanging power lines right above this narrow street.
While in the Ponto-cho, Julie wasn't quite sure where we needed to be to take a bus to the Kinkakuji Temple. But then a Japanese guy, who was also touring Kyoto on his day off, basically offered to lead us to the proper bus stop. That was real nice of him.
One thing that stood out about this guy was that he seemed to be pretty good at speaking English. He admitted that the vast majority of Japanese people don't know English at all or very little of it. We weren't quite sure how he picked it up since he was a factory mechanic. But it was pleasant to share a little knowledge about ourselves and about our experiences while he educated us about life in Japan as we made our way to the bus stop.
And by 12:05pm, we were waiting for the 205 bus to Kinkakuji. At that point, the Japanese guy and his wife graciously left us and were back to touring.
At 1pm, we were at the Kinkakuji, which was the golden shrine that was another one of Julie's must-see attractions in Kyoto.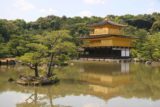 And after setting eyes on this temple, I had to admit that this one really stood out because of its gold exterior. It wasn't just another one of those dime-a-dozen temples that added to our temple saturation. The pond and garden fronting the temple also added to the beauty of the scene.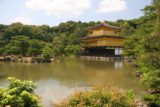 The walking route took us past the temple and then into a garden before exiting nearby a praying area with some nearby stands for selling crafts and foodstuffs.
At 1:55pm, we were waiting for the 205 bus to get back to the Kyoto Station. Clearly tired from our busy two days of touring, it was enough to call it a day even though I'm sure we could've used our bus pass further to see a couple more temples, shrines, and pagodas spread throughout Kyoto. But I think we had enough at this point.
At 3pm, we were back at the hotel. The nap on the crowded bus was welcome. And the rest of the afternoon was spent internetting and pretty much taking a breather.
Day 47: WATERFALLING UNDER DURESS
We were back to an early start as we awoke at 5am and got to the Kyoto Station across the street at 6am.
After a little bit of confusion with the JR Ticket Office regarding reserved seats and whether we wanted to the take the Nozomi (Super Express Bullet Trains not covered by our JR Pass) to Shin-Osaka (and why would we want to do this?), we decided to just take the local commuter line at 6:09am getting to Shin-Osaka 31 minutes later. There was a quicker 6:22am train getting there by 6:48am, but we figured the sooner local one is good enough.
The key was to get to the earliest train from Shin-Osaka to Kii-Katsuura all the way on the southeast end of the remote Kii-hanto (or Kii Peninsula). That one started at 7:35am and would arrive at 11:35am.
Anyways, we donned our masks (the H1N1 outbreak in Japan started in Osaka so we tried to take whatever precautions necessary), and were at Shin-Osaka Station by 6:40am as scheduled. As usual, the trains almost never deviate from their scheduled departure and arrival times, which by now was totally consistent with what we observed to the Japanese appeal for sticking to the rules and playing by the book. We can now easily envision why Japanese discipline allowed them to make very high quality products, and their rail networks and functionality is something I can only wish we can aspire to back in the States.
After a quick breakfast on the go of more preserved sushi at the Shin-Osaka Station while securing our reserved seats for the long haul to Kii-Katsuura, we were on the 7:35am train and proceeded to try to get caught up on sleep.
At around 10:15am when the train stopped at Shirahama, Julie woke me up and pointed out to me that bus transfers are required here. I had expressed interest for this part of the trip to perhaps soak in the beachside onsen here, but with how infrequent the trains go by this way, this inconvenience of having to take the bus kind of sealed the fate of this excursion. Plus, we'd have the additional logistical nightmare of dealing with our luggage.
We did think it was kind of strange to see Japanese tourists in Hawaiian flowered shirts though. Clearly, we had entered into what appeared to be as close to a tropical vacation spot this side of the Pacific if they didn't want to go to Hawaii.
The rest of the train ride involved looking out the window and seeing the Pacific Ocean as it crashes against rocky shores, and in some cases, come pretty close to the train tracks sitting right above some retaining walls. I think this was probably the first time we had seen Pacific Ocean since we flew in from Beijing (that is if you don't count the Sea of Japan as part of the Pacific).
We also noticed how green the hills were around here. It definitely appeared like it was a little more tropical that what we were used to seeing in Honshu. But this also made me worry about whether the Nachi Waterfall (the very reason for coming all the way out here) would be performing since the rains don't come in full force until mid June and July plus I don't think this area gets snow to lock the water up until mid to late Spring.
In any case, it was 11:35am when we arrived at the train station, which was right on time as usual. But this train station was a bit old school as there were stairs but no elevators. So I had to do my best strong man imitation by carrying our heavy luggages up and down the stairs in the noticeably subtropical heat.
We headed to the information kiosk where some English was spoken by the two guys at the desk. They gave us the bus schedule for Nachi-no-taki as well as the boat schedule to get to the Hotel Urashima, where we were staying.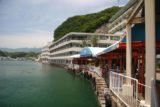 At 11:55am, we caught a boat shuttle to Urashima after a bit of a 5-minute walk (more like a run) from the station while rolling our luggage. The boat ride was a couple of minutes, and when we got off and into the Hotel Urashima property, we immediately felt like we had just stepped onto a resort.
After getting the formalities done with the reception while leaving our luggage behind, we had to wait for the 12:45pm boat to get back onto the pier on the main part of Kii-Katsuura town. That left us with a half-hour of doing nothing so we had ourselves a quick sushi over rice bowl lunch at a very reasonable 1680 yen for the two of us. The rest of the resort seemed kind of dead as none of the shops, restaurants, nor spas were open at this time.
At 12:45pm, we got on the boat and back onto the pier. Upon studying the boat schedule, we saw that there was no service from 3pm to 7pm! The last run was at 2:50pm!
I had hoped to leave the waterfall at around 3pm, which would've allowed us plenty of time to enjoy the sights. But now it seemed like the clock was ticking as we were either going to be back at the resort at around 3pm or else at dinner time at 7pm!>
It was utterly inconvenient since we had a very narrow time window to catch the 1pm bus to the Nachi Waterfall (24 minutes later), explore the sight and the nearby temple in less than 50 minutes, and then catch the 2:16pm bus back to the Kii-Katsuura Station (another 24 minute bus ride) where we had to make a mad dash to the boat dock to catch the 2:50pm boat back to Hotel Urashima.
I thought about postponing visiting the waterfall for tomorrow morning, but there was no boat service between 8am and 10am, and the last boat went back to the pier until 7:35am, which was only 35 minutes after breakfast started.
Who on earth thought of these utterly useless times for the boat schedule?!?!
In any case, we couldn't do a whole lot about this and tried to work with what we got. And we're sure the Japanese go by the book as usual and won't make an exception for us.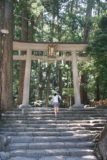 So anyways, everything was pretty much on schedule. We caught the 1pm bus, paid close attention to the kanji for the "falls front" which is how I could translate the kanji into the broken Chinese characters that I recognized, got off at exactly 1:24pm, and raced past the stone torii at the falls stop and down the steps to the frontal (but partially blocked) view of the falls with a little incense altar before it.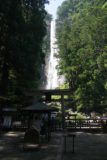 Actually, we could see part of the falls on the bus ride up, and we could see it had healthy flow so my fears of whether this falls would perform or not was unfounded.
My original intent to stop at the Daimonzaka (something to do with Big Gate) and then walk 800m up the tree-lined arcade that Lonely Planet recommended. But that was totally out of the question. There was simply no time for it.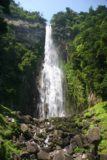 It didn't take long for us to realize that to get better views of the front of the falls from here, we had to pay 300 yen per person to up to a viewing platform. So we paid, quickly got up to the platform, and saw the falls in its full glory from the bottom.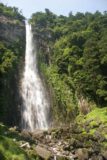 It was utterly breathtaking, but we couldn't linger here for long for the clock was still ticking, and we had to find the temple further up the hill for that classic shot of the falls juxtaposed with a orange pagoda.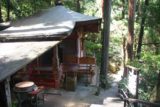 So we wasted no time leaving the platform, walking by some small shrine, going up the steps and back out the torii to the bus stop. From there, we had to walk up several stairs (fortunately most of it was shaded) until we eventually got to some attractive shrine.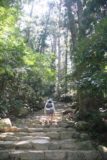 In hindsight, perhaps we could've stayed on the bus and got off right at the shrine so we only had to walk downhill to the front-of-the-falls stop. But again, hindsight's 20/20, and under the pressure of the moment, we weren't sure how connected (or disconnected) the falls and the temples were.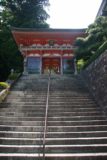 Anyways, we couldn't cry over spilled milk and had to deal with our decisions. The clock was still ticking and we had to be as efficient as possible lest we wait another 3-4 hours for the next boat ride back to the Hotel Urashima.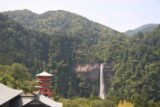 >Anyhow, we couldn't linger and enjoy these shrines and temples up here. So while Julie took a few shrine shots, I continued to march down the road (didn't notice any bus stops up here), found some stairs, and it was from here that I took some shots of the pagoda with the falls. I wasn't sure how I did with my composition, but with the clock ticking, I did my best under duress.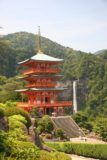 At the bottom of the stairs, I saw that the pagoda would definitely yield even better shots of the waterfall as it was above the tree-line. So when Julie was done taking her photos at the top, she joined me at the pagoda where we paid the 200 yen per person admission and hastily made our way to the viewing decks.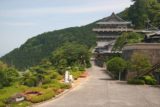 The top floor had some chain-linked mesh to prevent someone from falling over. Fortunately, there was a hole where you could see and photograph the falls.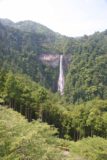 The stairs on the way up had lots of portraits of that classic shot of Nachi-no-taki with the pagoda. I don't think I was able to blindly produce anywhere near the quality that they had, but then again, I was rushed and I didn't know what were the best positions.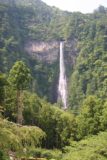 We left the pagoda at a little after 2pm. It was a good thing the lady showed us a hand drawn sign of where the bus stop was relative to this pagoda. It turned out to be that exact same bus stop where we got off.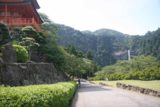 So with barely 10-15 minutes to catch the bus or be stranded for 4 hours at the boating dock back at Kii-Katsuura, we made a mad dash back down the steps and right back to the stop at the front of the falls.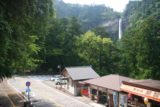 We managed to get there at precisely 2:12pm. Still cursing the crappy boat schedule that caused this most rushed waterfall visit ever, we did find some solace in that we did see the falls the way we wanted to for the most part. And if we make it back to Hotel Urashima in time, we're clearly going to drown our sorrows and soreness in the many onsens they have on site there.
Sure enough, the bus showed up at 2:16pm and Julie hi-fived me as we sat down and got started on our 24-minute bus ride back to Kii-Katsuura Station. We were the only ones on this bus (the rest of the tourists seemed to be Japenese tourists on some organized tour or drove here in their own private vehicle). But I warned Julie that the clock is still ticking as we still had to make a mad dash back to the boat pier before it takes off at 2:50pm.
By about 2:42pm, we quickly paid our 1200 yen (for the both of us) fare and ran to the boat dock. And at 2:46pm, we joined the line of other Japanese tourists waiting to get on the boat that was already docked and managed to get right in.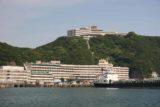 We made it! It was only then that I hi-fived Julie once again, but this time with greater relief and a sense that we fulfilled the very reason for coming all this way.
And indeed, the 133m plunging Nachi-no-taki was every bit as advertised. It probably even surpassed Kegon-no-taki in splendor and even the Shomyo/Hannoki daki combo in the Japan Alps.
Heck, since we were kind of in a tiff with each other this morning over very trivial nagging issues that somehow blew up into little arguments as things didn't go our way, our moods got a much needed improvement. Once again, all it took was a decent waterfall experience to provide that bit of healing.
At 3:05pm, we finally checked into our room, which was one of their cheaper Western style rooms. No view, but it was more than adequate for our needs. They had even more expensive rooms that were in traditional Japanese tatami style like we had back in Akiu Onsen, Nikko, and Kawaguchiko (and hadn't had since). But we were already spending on the order of over $300 USD for this one night which did include dinner and breakfast plus complementary onsens.
So we briefly showered off our sweat, changed into our kimonos, and marched right for the Bokido onsen, which was the sea cave spring that this place was known for.
It was quite a nice experience soaking in the set of pools here with an open-air cave looking right at the churning seas. Sure it's probably got a little more man-modified aspects than I would've liked, but it's not often you get to soak in hot water in a giant cave with a view of the ocean.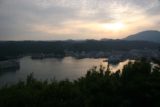 The only gripes (besides being buck naked again) were that I couldn't share the experience with Julie as it was separated by gender (understandably).
After allowing ourselves to soak for about 20 minutes here, we left together and headed up a real long series of escalators to the 32nd floor, which was perched atop a bluff. This was the famous long escalator that the writers of LP thought would've put them on the other side of Mt Everest.
Anyways, we found another onsen up here with a really nice view of Kii-Katsuura town as well as the inlet fronting the town flanked by rocky cliffs. We allowed ourselves some 10 minutes in here because this wasn't an open-air onsen and the heat could've easily overwhelmed us and made us (especially me) pass out.
After this onsen, we hopped over to a third one. But it took a while to get to it as it was way on the eastern side of the property. At this time, we saw loads of other tourists start showing up with their luggages while others were marching to onsens in their kimonos. After finally finding this third onsen, which was supposed to be another sea cave one, Julie thought it wasn't any good upon her inspection as this one didn't have views of the ocean.
So it was back to Bokido onsen.
But we knew right away when we returned to this onsen that it'd be more crowded as there were more people waiting outside the gender-separated areas. And sure enough, when we were back in the naked section, lots of other nude guys were soaking already. Julie said she saw the same thing on the women's side.
So we left the Bokido onsen at a little after 5:30pm. Clearly the second time around wasn't as good as the first. Perhaps we got there shortly after the cleaning was finished and not everyone was checked in yet on the first go around. That was why that first experience was so good.
Back at the room, we changed back into more normal clothes and went for a walk on the cliffside garden at the very top of the property at 6pm.
With the fading light and everyone downstairs soaking in an onsen or having the first tier of dinner, we had the garden and temple area up here pretty much to ourselves.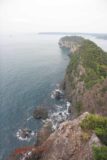 It was eerily quiet, but I was really looking forward to seeing a path to a cliffside cave that we observed from a clay model on the way to one of the onsens during our onsen hop.
But not surprisingly, it was closed (as it seemed like everything was on this trip).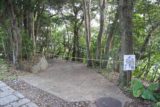 Julie did get a scare when we saw an angry mongoose (or ferret? I couldn't tell) growling at us. Knowing that it could give us rabies, we continued to walk through the toriis and towards some quiet temple.
Afterwards, we headed further out onto an overlook right at the edge of the bluff where we could see mindblowing views of the Pacific as well as parts of the inlet leading to Kii-Katsuura. We could even make out some tiny lighthouses or beacons perched atop some isolated islands.
We went back to the 36th floor area where there were some rooftop platforms allowing us to get views back to Kii-Katsuura above the treeline as we as back out to the Pacific Ocean.
On the far side where we entered the hotel and exited again onto another platform, we could see more islands, a seemingly unused onsen or pool (probably closed) along with a very intriguing sea arch near it.
It was too bad the sun had pretty much set by now, but we were quite happy to have milked the Urashima experience to the best of our abilities given the circumstances. I thought we played our cards right by catching the earliest train out this way and catching the earliest buses that enabled us to both see the falls (albeit rushed) and soak in the onsens, which was the real claim to fame of this property.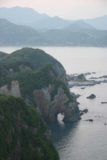 Indeed it was a resort and quite unlike anything we'd done in Japan up until this point (besides the Akiu Onsen experience, which was like this but on a far smaller and more intimate scale).
When all was said and done, it was 7pm and time for the buffet dinner to revel in the accomplishments of our busy day today, ponder some of the homesickness that is kicking in (and already is full-blown in Julie's case), thinking about the upcoming Hokkaido leg of the trip where we're self driving on our own, and discussing things about Japanese culture that we had observed up to this point.
The food was OK, but at least the sushi was fresh, and it was probably the most we had eaten since the Akiu Onsen buffet since Japan's not cheap and we were still vigilant in watching our cash supply.
Day 48: ENTERING THE CITY ONCE AGAIN
We awoke at 6am and got packed to the best of our abilities before the 7am breakfast. Since the walking distance and elevators/escalators were slow to even reach the breakfast banquet hall, we knew time was short before the 7:35am boat back to Kii-Katsuura. If we missed that boat, we'd have to wait until 10am for the next departure.
I know I said this before, and I don't know who thought of these schedules, but they're ridiculous!
In any case, we had our breakfast, made a mad dash for our room to recover our luggages, and then made a mad dash back downstairs to check out and then catch that damned boat!
When we got to the boat dock, it was exactly 7:35am and the boat was about to take off. In fact, it started moving away from the dock when we showed up. Fortunately, they told us to get to the other dock a few paces away and they'd meet us there. And from there, we boarded the boat with our luggage while both of us were drenched in sweat.
At 7:52am, we made it to the Kii-Katsuura Station where I briefly soaked my feet in the lukewarm "onsen" by the bus stop. There were lots of mosquitoes there, but it also seemed like the warm water was a death trap for them as many of them were drowned in the pool.
At 8:53am, we got the scheduled train for Shin-Osaka. Eventually, we arrived there at around 12:49pm, and shortly thereafter, we caught a commuter line for Osaka.
After a bit of walking around finding our way through the Osaka Station and then through town finding our hotel, we were finally able to check in at 1:40pm.
We did notice quite a few employees that were sick, and with the H1N1 outbreak in Japan originating in Osaka, we tried to be vigilant with our face masks and making liberal use of the free alco-wipes at the bottom floor of the building.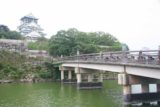 A little after we got settled, we immediately headed back out on the town in search of the Osaka-jo (castle). We'd eventually get to the front of the main tower at some time just before 3pm.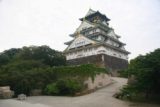 When we saw that the entrance fee was 600 yen per person (for something that was recently rebuilt in 1938 and thus looking very modern), we decided to pass on it and save it for some food while in Osaka or for the Himeji-jo, which we planned to visit tomorrow.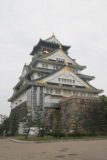 So we basically wandered around the perimeter of the premises taking photos and just soaking in the relatively quiet atmosphere of the park.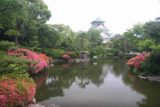 Perhaps the most photogenic part of the Osaka-jo complex was a garden area with a view of the Osaka Castle itself. Given the colorful foliage along with the calm and reflective pond there, we spent most of our time in this garden.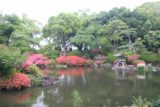 And for the photos we got of this place, I thought we didn't do that bad considering we didn't have to pay extra for the tour inside the castle. I had recalled that the reviews of the castle interior weren't that good anyways, especially compared to the Nijo Castle and the Matsumoto Castle that we had done so far.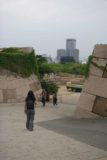 We returned to the room at 5pm so Julie could fetch her jacket. And immediately thereafter, we took the subway for the Namba Station where we went walking in the Dontonburi Arcade at 5:45pm.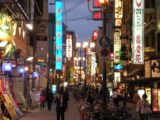 It took a while to get out of the Namba Station for the Dontonburi Arcade as we were learning quickly that much of Osaka happens underground. At least we got some real Beard Papa's down here, and in case you didn't know, Beard Papa's originated from Japan.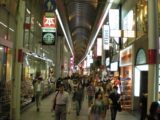 It was a little early to be checking out the scenery here since the place really comes to life at night and there was still plenty of daylight. So we went to some grilling place (Korean BBQ style) while bringing in some really fresh crab sushi bought from Douroku.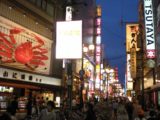 We were stuffed at the end, and when we left the restaurant, there was still a little bit of daylight at around 7:30pm. But we took our photos, soaked in the atmosphere of the busy streets with Neon lights flashing everywhere, and eventually called it a day as we headed back to the subway station bound for the hotel.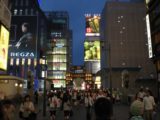 Something we noticed while awaiting our subway ride back to our room was that we saw subway cars that only allowed boarding for women only. Apparently, gropers were an issue, especially in the crowded rush hour, and I guess this was one way to protect women against this.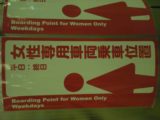 And at 8:15am, we returned to our room. Sure we couldn't spent more time basking in Osaka's nightlife, but after consecutive days of over 4 hours of train rides sandwiching some serious rushing just to deal with the Hotel Urashima's ridiculous boat schedule, we were tired and looking to recover and get psyched for our last full day in Honshu tomorrow…
Day 49: A SURPRISINGLY BUSY DAY
We decided to sleep in this morning thinking there wouldn't be a whole lot to do today. The only goal was to see the Himeiji Castle, but we didn't plan on doing anything else while in Kobe, where we were staying tonight. This was also our last full day in Honshu before we shift gears and go to Hokkaido looking for a more naturesque experience.
So we didn't get up until a little after 6:30am but we managed to leave the hotel in Osaka at 7:10am to face the rush hour (or at least the start of it).
We managed to catch one of the rapid express trains from Osaka to Sannomiya Station in the heart of Kobe. Our hotel happened to be right in the train station so it was pretty painless to at least leave our bags at the hotel lobby by 8:05am.
Unfortunately, Julie wasn't feeling too well and her cipro prescription ran out. So we actually had to scramble around the area looking for a way to refill her prescription. This wasn't easy to do considering we aren't proficient in Japanese and the vast majority of the locals have little or no command of English.
So after scrambling around the train station, we managed to find the information center who in turn led us to a hospital, which also happened to be just upstairs. Once we got there, they were able to refill Julie's cipro (well actually something similar but not quite the same), and finally we could begin our day.
The phrasebook definitely came in handy as well as the free internet at the hotel lobby where we managed to figure out how to write ciproflaxin as well as some of Julie's symptoms in kanji.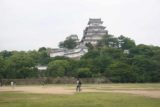 At 9:54am, we were on the super rapid train to Himeji. It only had four stops on the way to Himeji, and we noticed the Kinkyo Bridge, which was said to be the world's longest suspension bridge (LP gave us the heads up on this one). Not real photographable given the speed of the train and all the foreground obstacles, but interesting nonetheless.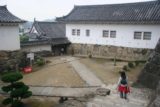 At 10:34am, we arrived at the Himeji Station. From there, we walked directly north towards the imposing Himeji Castle. We could already see the fortress from the station so that kind of beckoned us even more.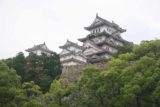 Under the overcast skies, it looked like it wanted to rain, but it didn't deliver so far.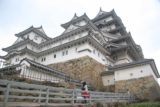 After paying the admission fee to get in, we took the obligatory frontal photos of the castle towering over the immediate area. Then, we headed right for the main tower area where once again we were required to take off our shoes.
The interior of this castle was noticeably larger than the Matsumoto Castle so that made things a little easier in terms of getting around. The wooden floors and steep stairs were still a little jarring on the feet and knees, but the views from the top floor (6th floor) were very impressive.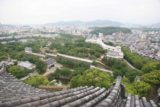 Some of the battlements reaching out into the hills below us kind of reminded us a little bit of some of the views of the Great Wall of China. Sure it wasn't as massive as the Chinese attraction, but it somehow reminded me of it when viewing the courtyards and castle walls from up here.
Besides that, there were a bunch of displays of weapons, scrolls, and other artifacts from the shogun era, which could easily occupy anyone interested for hours on end. We didn't put in quite that much scrutiny, but our visit was still educational nonetheless.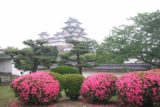 At 12:05pm, we put our shoes back on and left the main tower of the Himeji Castle. At this point, we concluded that this castle was definitely the most impressive of all the castles we'd seen in Japan. However, I was also a little templed and castled out.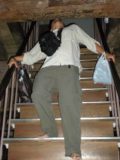 We next decided to check out what was called the West Bailey. It was basically a long corridor connecting numerous rooms that were apparently inhabited by women. In fact, this area was known as the Women's Quarters. Once again, we had to remove our shoes to explore its halls.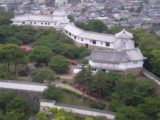 Some of the rooms had very nice views of the main tower of the Himeji-jo.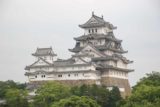 When we were done visiting the West Bailey, we returned to a garden area, which was in typical Japanese style with sculpted bush with flowers blooming while some parts were populated with bonzai trees. The only thing missing was a pond and/or an arched bridge.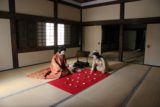 We did hear some buzzing under some very large trees in the garden. Disconcerting signs warn to watch out for hornets. I recalled seeing in National Geographic how nasty just one hornet can be so I can imagine how deadly a whole swarm of them can get. No need to linger beneath these trees.
At 12:45pm, we were pretty much done seeing the Himeji Castle. 15 minutes later, we walked back towards the station where we stopped by a small udon restaurant. And after this hearty meal, we returned to the JR Station and headed back to Sannomiya Station.
By 2:50pm, we were finally checked in to our hotel room in Kobe.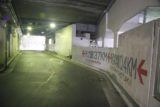 After a little bit of rest and getting settled, we had some time leftover to do a little exploring. And as we mulled over whether to do a harborside walk, we stumbed upon some text in the DK guidebook that indicated Nunobiki Falls was near the Shin-Kobe Station, which was just one subway stop away from our stop.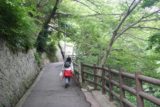 And at 3:45pm we had arrived at the Shin-Kobe Station having already made up our minds about how we were going to spend the rest of the afternoon.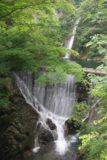 At first, we had a little trouble navigating through the station trying to figure out where the Nunobiki-no-taki trail started. When we saw what appeared to be a riverside walkway beneath the train station, Julie was worried about getting mugged in here.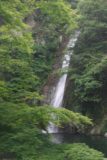 Well, a policeman happened to show up and Julie asked for directions about the trail. Turned out that we did indeed have to go underneath the station and right onto the concrete walkway on the other side. I think the presence of the cop also allayed some of Julie's reservations about proceeding.
From there, we then had to figure out which of the many forking paths to proceed to the waterfalls. Fortunately, we recognized the kanji for "no-taki" and that kind of helped us along as we navigated through this urban park.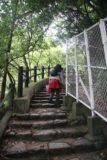 As we walked further up the path, more and more green dominated the scene. It was kind of unusual to see so much green next to an urban city like Kobe.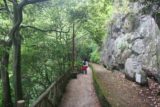 At 4pm, we reached the first Nunobiki Falls. This particular one had the view of the main tier partially obstructed by foliage. The lower tier was man-modified. It was attractive but not a jaw-dropper.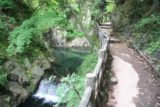 Ten minutes later, we noticed the second of the Nunobiki Falls. Unfortunately, the view of this was pretty much blocked by foliage. We had to go up quite a few stairs to get to this point.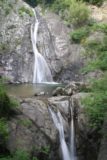 Five minutes later, we reached the 3rd and 4th falls, which were visible from the same spot.
This one was quite nice (especially by Southern California standards). The uppermost tier was tall as it fell down a large rock face exposed to the sky. It was hard to capture all of both waterfall tiers in one shot due to the sheer height.
At this point, Julie decided to stay behind at this waterfall when I expressed interest in continuing to go up more steps to the observation deck.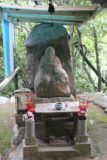 At 4:35pm, I managed to get to the observation deck where there was a pleasant view of Kobe. There was the sound of a helicopter kind of dominating the noise of the area and lots of foliage kept this from being a really commanding view. Still, it was worth the extra effort to get up here and quite a few other people must've thought so too as I had to share the deck with a handful of other people.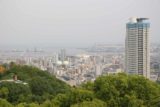 I did a little more exploring beyond the observation deck, but the river only presented more minor cascades. It eventually led to some hydro facility, which I didn't bother getting to.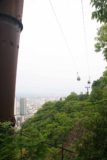 Another path seemed to get directly underneath some cable car lines and pylons. So after seeing that, it wasn't worth any more effort, and I returned to Julie at 5pm.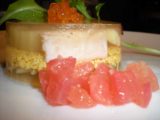 From there, we headed back downhill to the Shin-Kobe Station where we then proceeded to the Crown Plaza area to splurge on Kobe Beef at a restaurant called Wakoku.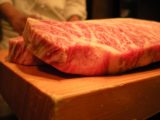 One look at the menu made it clear that the prices have increased since the Lonely Planet review of it. But we weren't going to be denied Kobe Beef in Kobe.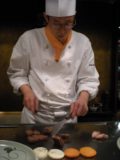 And sure enough, the meat was divine! It might've been a little fatty, but it was very good and the chef kind of made suggestions about which pieces and foods go with what sauces.
For sure we're not going to have this much Kobe Beef in one sitting again (250g) as any further splurges for the world's most expensive meat back at home is sure to be only a bite or two.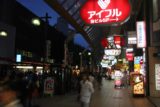 At 7:05pm, we were back at the Sannomiya Station where we noticed immediately outside the train station that there was a happening scene. So we walked around these city streets full of young people and working class people taking a break from their long workday.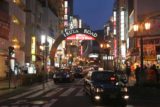 As we were meandering along to get the flavor of the Kobe night life or after work life, we probably went about as far as the Higashimon Street, which was another brightly-lit shopping arcade that we briefly checked out.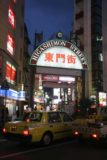 At 8pm, we finally called it a day returning to our hotel. It was a surprisingly busy day considering only Himeji-jo was the main goal of the day. But as our last full day in Honshu comes to a close, we look forward to going to Hokkaido for a little bit of a different experience.
However, still balancing that anticipation with a homesickness knowing that there are only 7 days left on this trip was something to contend with…
Visitor Comments:
Got something you'd like to share or say to keep the conversation going? Feel free to leave a comment below...
No users have replied to the content on this page