Day 42: MATSUMOTOOOOOH! MATSUMOTOOOOOH! MATSUMOTOOOOOH!
We awoke at 6am to some fairly moderate to heavy rain. One look out the window and it was clear there was absolutely no way Mt Fuji could be visible. Heck, I could barely see where the bottom of the mountain begins beneath the low clouds. It was definitely a good thing we saw the fickle mountain when we did in the last two days. Plus, we were quite glad the train station was right across the street from our hostel.
Even with that said, we made it to the station at 6:45am, and as fast as I could run across the street and the mostly empty terminal area, our luggages and bags still got a bit wet.
The bus we rode on was scheduled to leave at 7am and arrive at the West Shinjuku Terminal at 8:45am.
For the most part, the ride was uneventful and I managed to get in a few z's. The skies looked like they weren't letting up throughout the drive.
By 8:45am, we were still on the road because we were stuck in traffic. Even though the bus is still the best option for getting to Mt Fuji's northern face, it just shows you that you're subject to delays like this when you're not on the ultra-precise trains. However the trains to and from Fuji don't seem to save you any time nor are they covered by our JR Pass, which we found out the hard way on the way to Kawaguchiko a couple of days ago.
It wasn't until 9:05am when we got to the West Shinjuku Bus Terminal area.
From there, I waited for Julie at the JR Info and Gate with all our bags and luggages. She was out trying to run a couple of errands (i.e. getting more Japanese yen and looking for a chemist to pick up some Zhong Xin [Rescue Heart] since Mom gave us a new directive via email to pick up smaller bottles if possible).
When Julie got back to me at around 9:40am, she managed to get some more yen, but the chemist at the Takashimaya Times Square was closed until 10am. So we'll have to get the Zhong Xin somewhere else.
We managed to catch the 10am limited express train from Shinjuku to Matsumoto. It was about a 2.5-hour train ride so both of us caught more z's as we left the greater Tokyo area for the mountains of the Nagano Prefecture.
We got to the Matsumoto Station at the scheduled 12:31pm. The first thing we heard that caught our attention as we left the train was some announcement over the PA speaker saying, "Matsumotoooooo! Matsumotoooooo! Matsumotoooooo!" It was kind of a quirky introduction to this place that we really didn't know a whole lot about except for the Mastumoto-jo (Castle), which we intended to visit today.
After a bit of moving our luggage around and finding our hotel (which was just a minute or so walk across the street from the station again), we managed to check in early at 12:55pm. The skies were sprinkling with somewhat big drops, but it wasn't bad enough to warrant an umbrella (not that we could use it with all our luggage we were toting).
The room we checked into at the Matsumoto Tokyo City Inn was back to the western style cramped room like we had back in Tokyo. Also making a comeback was the nice bidet toilet that actually sprays water upwards to wash your privates after you've excreted waste. The bidet mechanism even heats up the toilet seat.
It wasn't until around 1:40pm that we headed back down to the ground floor where we found a chemist that actually carried the Zhong Xin (Rescue Heart). Turned out that they charged significantly less yen than the cheapest chemist in Tokyo (by about 4000 yen for the big box). So we didn't hesitate to pick up three small bottles at around 8800 yen. It was kind of comical that everything the clerk told Julie was in Japanese yet the gestures did enough to help us along with this transaction.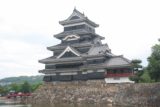 Next, we headed to the train station to go to the information desk for some timetables about tomorrow's bus to the Norikura Highlands where we wanted to see at least three waterfalls. We managed to get our answers and a few literature for reference. And from there, we headed back into town en route to the Matsumoto Castle.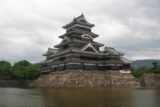 We made it to the Matsumoto-jo at around 2:20pm under very cloudy skies with light rain. Once we caught sight of the impressive wooden castle, we immediately started taking lots of photographs.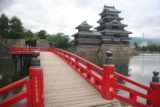 After paying the admission to get into the actual complex itself, we walked into the wooden castle where we had to remove our shoes and follow some signs inside that guided you pretty much to every nook and cranny of the castle.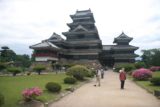 The interior of the castle had lots of very steep and hard wooden steps. We had to be careful about bumping our heads on some of the wooden beams overhanging kind of low. My foot and knees were also taking a pounding walking on the hard wooden surfaces of the castle.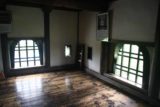 The route inside the castle essentially had use snake our way to take in pretty much almost all of the castle. While some parts looked like they piqued our curiosity (but they were closed off), for the most part, we pretty much saw the whole thing. It was definitely worth the price of admission!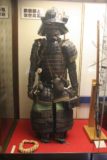 Indeed, it was quite an interesting self-tour as we gazed at the various vantage points above ground where archers would usually shoot invaders as well as a large firearms collection, an old samurai armor, and even a Blair-witch-like "goddess" at the very top of the main tower.
By 3:10pm, we were back in our shoes and left the Matsumoto-jo. We stuck around the exterior of the castle reinvigorated after thoroughly enjoying the interior of the castle. Now we had a newfound appreciation for what we were seeing from the outside across the moat again.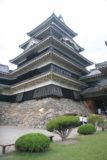 The chilled out a little bit at the manicured garden while looking up at the wooden castle. Then, we walked back outside the moat area.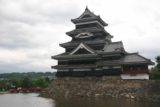 It was time for another late lunner. This time, Julie was intent on looking for some soba place listed on Lonely Planet somewhere near this narrow-streeted commercial area called Nakamachi-dori.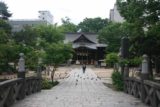 Well we aimlessly walked around the modern Nakamachi-dori looking for Julie's soba place. Turned out to be fruitless as we couldn't find it and I started to question the wisdom of going through so much trouble for some words in an LP guidebook. But I guess in Julie's eyes, if it's in LP, it must be good.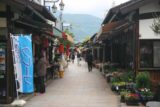 Eventually, we headed to some tourist information office on the way back to the Matsumoto-jo. That was when the clerk there told Julie that the place she sought was closed as they're only open for lunch. But she did recommend another soba place in a hard-to-find spot another couple of blocks down some side streets. So we went there and finally got seated at around 4:25pm.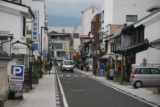 Inside this particular restaurant, they had wax models of the food they served so that made it easy for us to figure out what we wanted to order. We ended up getting a couple different soba noodle dishes as well as a try at the basashi (raw horse meat). Pretty good stuff though this place didn't take credit card so that hurt our cash reserves.
When we left the restaurant at 5pm, it was now starting to get very cold and windy. Since I neglected to bring my jumper, we hastily walked back to the hotel area where we did some last minute shopping for tomorrow's takeaway lunch and breakfast. By now, that has kind of been the way we kept ourselves held over until we got a more serious lunner or real dinner at the end of the day. Besides, it was kind of cheap (though you have to question how healthy our takeaways are considering how much preservatives they have so they can keep at room temperature).
And so ended this first day in the mountainous Nagano Prefecture. Even though our experience has been that logistical days like this tended to be stressful, this one was fairly stress free. We'll see what tomorrow brings (especially if the weather remains foul) as we were going to attempt something that wasn't in our guidebooks…