Day 43: ONE OUT OF THREE
Today was the in-between day where we didn't have to check out of our accommodation until tomorrow morning. So I figured we had a whole day to visit the Norikura Highlands and see three waterfalls while hoping to get some bonus alpine scenery along the way. The weather outside looked like it had rained last night and the forecast called for 60% chance today. So that was the primary worry about today. Other than that, we expected to have a relatively relaxed day.
We left the hotel at 6am to go across the street to the Matsumoto Station. There, we bought a round-trip ticket from Matsumoto to the Shirahone Onsen (in the Norikura Highlands) thinking we'd get a discount for the 3400 yen round-trip fare while being able to hop off and on the buses at the desired waterfalls along the way.
So with the 2 tickets in hand (6800 yen total), we proceeded to wait for the 6:20am local train (non JR) to the Shin-shimashima Station. It was funny when a train arrived from a different track that they were greeted with the familiar chant over the PA of "Mastumotoooooo! Matsumotoooooo! Mastumotoooooo!" I guess it was standard procedure for those passengers coming all the way from Shinjuku to get here.
By 6:20am, we were on the train and made it uneventfully to the Shin-shimashima Station by 7:02am. Our bus schedule said there's supposed to be a 7:12am bus bound for the National Vacation Village. And when we asked which bus we're supposed to take, the first thing that was said when we showed our tickets was that we have a ticket only valid for the 8am bus (to Shirahone Onsen Spa).
If we waited until 8am (what with their infrequent buses in this area), it would be extremely difficult to see all three waterfalls we wanted to see in the Norikura Highlands (Bandoroko-no-taki, Zengorou-daki, and Sanbon-daki). We were a little perplexed as to why it seemed there wasn't a bus leaving at 7:12am as the schedule indicated, and why only the 8am bus was valid for us. That got us to start to doubt the bus schedule that the information center in the Matsumoto Station gave to us.
So when we explained that we wanted to go to the Bandoroko Waterfall first, then the other 2 waterfalls later, and finally returning to Matsumoto at the end of the day, they tried to tell us that it would be impossible to do it in one day. That really got us worried about the validity of the bus schedule we had in our hand.
Eventually, when we asked if we could take the 7:12am bus to Bandoroko Waterfall and then catch another bus 45 minutes later to go further into Norikura, we were taken to the ticket booth where they took away our round-trip tickets and gave us back only 2800 yen.
This seemed kind of odd as the math didn't seem to add up. We paid 6800 yen, rode the train (680 yen x 2 = 1360 yen), and have 2 bus tickets in hand (1150 yenx 2 = 2300 yen), all for a grand total of 3660 yen in services rendered so far. But that left a difference of 3140 yen and we didn't even have our return tickets. They also only gave us back 2800 yen so it seemed like we were being shortchanged somehow.
Anyways, the bus had to leave and we got on hoping we can try to sort things out when we return to the Shin-shimashima Station later today. But already due to this misunderstanding, the whole bus ride up there was spent looking at our map and schedule wondering how today was going to work out.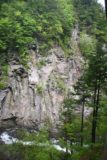 Eventually, we realized that the Shirahone Onsen path veered off to the northeast from the Kanko Visitor Center. The other 2 waterfalls besides Bandoroko went southwest and apparently our bus schedule didn't even cover it. So in hindsight, we shouldn't have bought the round-trip ticket (and just bought tickets a-la-carte as we went) as the Japanese workers had in their minds that we were going all the way to the onsen, when in fact we were only seeing the waterfalls before returning. That was our gaffe and it seemed to change our plans for today dramatically.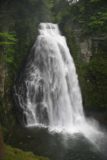 Eventually at 8am, we were dropped off at the Oh-taki mae stop which was right in front of the car park for Bandoroko-no-taki. From there, we walked down some slippery concrete steps towards a very misty overlook platform for the impressive 40m Bandoroko Waterfall.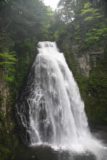 During the walk, Julie was upset with me for apparently not properly planning out the logistics of this day. We were also in damage control mode as seeing the other two waterfalls today seemed less and less likely (and more and more costly as well). We were also preoccupied with how to get our money back or at least get back our return ticket to Matsumoto by rail.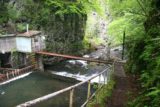 So if we were to abandon the two other falls today and catch a bus back to Shin-shimashima Station, we saw that there would be a 10:12am bus that would return from the Bandoroko stop a couple of steps west of the Oh-taki mae stop.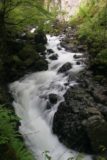 Anyways, that left us with a couple of hours to check out this particular waterfall and do an unexpected walk along the river up to the Bandoroko stop further west.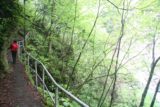 While the walk was pleasant, we were a little concerned about how things have unexpectedly backfired for us on this day. Instead of seeing three waterfalls on a full day at the Norikura Highlands, we had to settle for just one.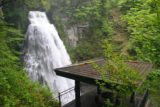 We didn't spend a whole lot of time at the Bandoroko Waterfall because it was extremely difficult to take the long exposure photos I wanted to take with all that mist wafting up into the viewing area. Every single one of my long exposure shots had waterspots on them no matter how hard I tried to cover the lens and expose it just in time for taking a photo.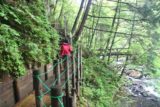 We actually followed the path further downhill downstream from the falls just to see where it led, but after a few minutes, we saw it led to some hydro facility with no better view (actually none at all) of the Bandoroko Waterfall upstream.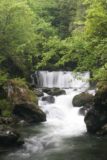 So we walked back uphill towards the car park and then veered back towards the river for a little riverside walk passing by a pair of small waterfalls.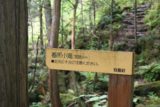 There were signs totally in Japanese along the way, and unfortunately, we couldn't figure out what they were saying. I'm sure there were something informative that was being said, but the best we could do was to take guesses at the meaning from recognizing the kanji characters that also happened to be characters recognized from traditional Chinese characters.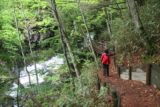 I guess English-speaking tourists simply don't come out this way so there was probably no need for such tourist infrastructure. Same for the personnel who also didn't speak any English here.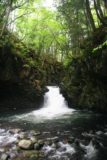 By 9:35am, we made it to the Bandoroko Stop. But we still had over 35 minutes of doing nothing so we ate some preserved sushi rolls and nori for a little bit of a power breakfast.
We saw some signs indicating that it was another 2.9km from our stop to the Kanko Visitor Center where there was an info office (where I suspected we could get more answers as well as info on a transfer bus). But we'd have to walk there if we were to salvage a chance at seeing the other 2 waterfalls today.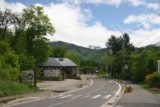 Julie would have none of it!
So we waited and waited and finally the bus showed up about 6 minutes late.
There, we boarded a crowded bus with only one pair of seats empty, which one of the employees showed to us before we gave up on finding seats. Then, when the bus was moving, we paid the 2300 yen fare for the both of us to return to Shin-shimashima Station. So that officially made our expenditures at 3660 yen + 2300 yen = 5960 yen. And we still had to somehow get back to Matsumoto thinking our rail passes were already paid for in that 3400 yen/person round-trip ticket we bought back in Matsumoto.
When we arrived at the station at 11am, we went straight to the ticket office and tried to show our receipt for the 2 3400 yen round-trip tickets to recover the tickets they took from us. But the lady at the window refused, took our receipts, and said we still owed 1360 yen for the rail tickets back to Matsumoto.
Worried that we were being ripped off, that got Julie really hysterical and all of the sudden she was yelling at the lady for taking our receipt for the 2 3400 yen tickets and not giving it back to us.
There was a lot of back and forth as neither of us could understand each other through the language barrier, and she kept referring to this 170 per person charge that we had no idea what it was. The lady even used her Japanese to English translator to show us that we were being "bothersome."
And in the heat of the moment, I couldn't help but get a chuckle out of her way of using her translator (though strangely not using it for more useful means like explaining what we're being charged for).
There was a guy behind us who knew a little bit of English who tried to help us. But I think what we got from him was that the 170 yen per person charge had to do with some kind of service charge for changing our ticket.
In the end, we finally figured out that if we did everything a-la-carte, we would've owed 7660 yen for the out-and-back trip to Bandokoro Waterfall from Matsumoto. But since we had that extra 340 yen charge for some "service fee," it ended up being 8000 yen. Indeed, it was a far cry from the 6800 yen we thought we paid for the bus rides and rail, and in hindsight, it would've worked had we known to stick with the 8am bus to get there and then the same bus we took back that came from Shirahone Onsen.
Of course with all the language difficulties, we had to find this out the hard way and chalk this up to another lesson learned about trying to save money when apparently there was no such thing as a hop-on-hop-off bus service for the Norikura Highlands. Thus, this waterfall was a very expensive one at that (probably $90 USD for the two of us) and not very good bang for the buck. I'm sure the logistical charges would've been even more had we gone for the other two waterfalls.
So of the three waterfalls we tried for, we got just one. We paid lots of money, but at least the debacle is over. I'm sure hiring a car just from Matsumoto (assuming one exists) would've been easier. Then, we could've taken the buses where private cars aren't allowed. Cost wise, it's probably a wash, but at least you're not slaved to the very infrequent bus schedules serving this area from Shin-shimashima Station let alone Matsumoto.
At 12pm, we were mercifully back in Matsumoto. No PA greeting for this line as we arrived.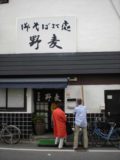 We later decided to walk over to the LP recommended Nomugi for some authentic soba. After finding this very-difficult-to-find place, we could tell right away that this place simply does the soba in some weaved basket with some dipping sauce and spices along with a Japanese appetizer. It was actually pretty affordable, and I had to admit that LP was spot on with this very simple place. As a matter of fact, there were so few tables that there was a queue waiting for us as well as a few other people to finish their food after we were seated.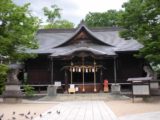 After the pretty satisfying lunch, we then did some more aimless meandering about the Nakamachi-dori Street. This time, we just killed time checking out some shrine that turned out to be more extensive than what we initially thought yesterday when it wasn't open.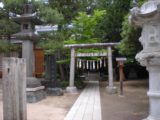 Now, we not only saw the front facade of the shrine, but we were also walking about through the complex seeing how there were more decorations, statues, pillars, and other things that kind of got us to be curious.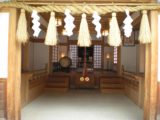 Once again, we weren't versed in Japanese so we couldn't read any of the inscriptions or signs. I'm sure that could've helped us understand at least what the significance of this area was all about. And it further affirmed my hunch that not a whole lot of English-speaking tourists go out this way.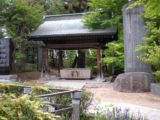 At 2:30pm, we made it back to our hotel after some more aimless meandering through some shops and some shrine just north of the river near the Nakamachi-dori Street.
From that point, we pretty much were done with sightseeing and plotted how the rest of our Japan trip will work out logistically as today's experience taught us how costly it could be if we don't have it all worked out beforehand (no matter how much we think we had it all down).