Day 44: CLOSE CALL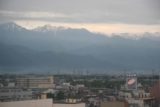 At 5:40am we were already wide awake. Given our anxieties about the weather, we took a sneak peek at the view outside and were quite surprised to see some of the snow-topped mountains in the distance. Still, I knew this doesn't necessarily have any bearing on how the weather will be at Shomyo Falls, which was the main waterfall goal of today.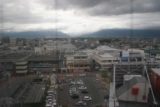 Still, we couldn't mess around as there were lots of logistics to execute to even enable our visit to the falls, which was said to be Japan's highest permanent waterfall. It also happens to stand next to an even taller seasonal waterfall that could very well be the tallest in the country.
Julie managed to talk me out of going forward with the Kurobe-Tateyama Trans-Alpine Route from our side of the Japan Alps (in the Nagano Prefecture) to the Tateyama side (in the Toyama Prefecture). That was an excursion that involved various forms of transport from cable cars to trains to buses to even the old fashioned human powered feet. It was supposed to pass by various alpine scenery, a massive hydro scheme at Kurobe Dam, some thermal pools, and even a bus route between giant snow walls towering over the bus itself!
But the weather was forecasted to be foul (70% chance of rain) and the logistics of having our luggage forwarded to Toyama (with the extra cost and chance of losing our luggage) was a bit too much for Julie to take. Besides, I kind of felt that this route had a little bit too much human intervention and probably wouldn't be the Natural experience I had hoped for so I didn't really push back real hard on Julie's reservations.
In any case, we had to catch a 6:20am train to Nagano, then connect on an 8:12am train to Naoetsu, and finally catch a 10:10am train to Toyama. From there, we'd have to find our hotel, leave our luggage there, then scramble back to the train station and take a non-JR line to Tateyama hopefully by 12:19pm. Then, we'd have to take a 2pm bus to the trailhead of Shomyo Falls followed by a 3:25pm return bus back to the Tateyama Station. And finally take this train back at 4:17pm back to Toyama where we can finally check in and call it a day.
Needless to say, it was all about logistics today, and it was a good thing our JR Pass covered the bulk of the travel.
So by 8:12am, we had already left Matsumotooo and arrived at the Nagano Station where we in turn caught a train bound for Naoetsu on the Shin-etsu Line. The ride between Matsumoto and Nagano yielded some fine (but not photographable) views of the snowy mountains to the west and the Nagano basin to the east. This was all possible because it seemed the weather was holding up better than expected.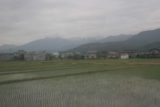 By 10:10am, we were on the train to Toyama as scheduled (boy, the Japanese trains are reliable).
However, due to language problems with the ticket officer at the Naoetsu Station, we were unable to secure a reserved seat. So we ended up sitting in car 6, which just happened to be a smoking-allowed car. It felt like China all over again.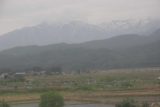 Eventually after 20 minutes, we finally found a pair of seats across the aisle from each other that were vacant in car 7, which was non-smoking. Still, we could smell the smoke despite the smoking prohibition. The rest of the cars were reserved seats, and that was perhaps a lesson in trying harder to communicate with the employees here (i.e. try using the phrase book next time).
During this train ride, we managed to get some views of the Japan Sea to the north of us. It was kind of a nice change of scenery since the majority of our trip in Japan thus far had been landlocked. But none of the views were photographable from the train. Also, the weather looked like a mixed bag of threatening skies and rain in the distance.
At 11:35am, we had already arrived at the Toyama Station and walked into the hotel just a minute's walk or two across the street. Since it was too early to check in, we left our luggage at the reception and quickly made our way back down to the Toyama Station in search of the line that would take us to Tateyama.
Eventually, we were told to go to the Dentetsu-Toyama Line where we could buy a ticket from the non-JR company. The cost here was 1170 yen per person each way.
By 12:19pm, we were on the train for Tateyama as scheduled. Everything was in Japanese kanji (I guess not too many foreigners here), but we were still able to recognize some of the characters that were Chinese characters. Especially important was that we recognized the kanji for Tateyama and Toyama (both had the Chinese "shan" character since "yama" means mountain).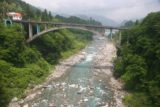 Ultimately, we arrived at the Tateyama Station at 1:19pm as scheduled (like I said, these Japanese trains are quite reliable). The ride was pretty scenic once we got close to the Tateyama Station as we entered a pretty forested area passing by a cemetery by the train tracks and some noticeable signs of logging (pretty well hidden throughout our time here until now), and river-altering by either hydro or quarrying.
The train even slowed down at an arched bridge high above a gorge where we snapped a few photos of the clear river running beneath another arched bridge just upstream.
At the Tateyama Station,we bought our bus ticket for Shomyo Falls. We also met a Taiwanese-Japanese worker at the info center who immediately spoke to us in Mandarin as if she knew we were Chinese. Even though it wasn't English, it was still kind of nice to have an intelligible conversation with someone in these parts in a language we can understand.
This lady was quite nice to us as she shared with us that mostly Taiwanese and people from Hong Kong come to these parts. She also wondered why we didn't do the TransAlpine Route though we did tell her we were out of time (though as explained earlier, it was much more than that).
Wondering how she was so fluent in Japanese, we asked and she said that she had been living in Japan for 18 years and was married to a Japanese man. She said there were also just 2 English-speaking people on staff here since there aren't many Japanese who can speak English (and boy do we know that!).
We still had some time before the bus arrived so we got ourselves some soft serve ice cream. Good thing this one didn't taste like fungus like the place not far from the Cable Car in Fuji-Kawaguchiko earlier in the week. Things did seem a little cheaper here, but we weren't hungry enough for ramen or other things on offer.
When it came time to board the 2pm bus, she passed us a pair of fans with Toyama ads on them. And we were off to the falls.
But our 40 minutes of waiting at the station worried me because I knew the weather tended to deteriorate as the afternoon wore on (experience has told us that). Sure enough, the skies got darker, and when the bus went onto the road that followed the river further upstream, we could see a major misty squall in the valley we were headed into.
Not good.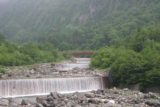 Not long after, the bus' windshield indicated that rain was coming down. So my fears were coming true and the falls might be clouded over by low-lying rain clouds. All that time and effort might be for a subpar waterfalling experience. I guess that's the problem with tall waterfalls.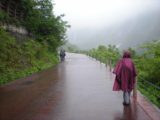 At around 2:20pm, we were at the rainy start of the Shomyo Falls walk and bus stop. We quickly donned our ponchos and headed right into the rain knowing that the return bus wasn't until 3:25pm and we still had about 20-30 minutes of walking just to get to the viewing area of Shomyo-daki.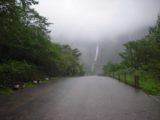 The rain continued to pour on hard. I really wished at this point we had worn our waterproof pants because our legs were getting drenched. Even our pockets started to get wet and that consequently wetted my notebook, wallet, and keys. I'm sure the other bag of snacks and info was also getting a little wet.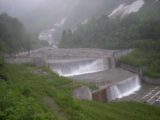 Making matters worse was that it really looked like the falls up ahead (couldn't tell at the time whether it was Shomyo or Hannoki) were half covered in clouds.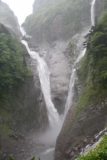 By 2:35pm, we had arrived at the Shomyo Falls viewing area. Still raining hard, I was pleasantly surprised that both waterfalls weren't obstructed by clouds! Sure it was difficult to take a photo, but at least we can start with Julie's point-and-shoot since the tiny lens was a smaller target to accumulate drops of water and ruin photographs.
The view from the bridge yielded nice paired up views of both Shomyo-daki and Hannoki-daki together along with the plunge pool beneath. But the wind and mist generated by the topography along with the foul weather made me try for other viewing angles first.
Past the bridge, we had to go up some wet and slippery steps to get to the shelter finally. The view from up here still required getting out of the canopy and into the rain. But from up here, you could see more of Shomyo Falls and less of Hannoki Falls.
Eventually, Julie and I tried to use our ponchos to shelter our cameras from the rain as we took photos. I don't know how fruitful that effort was, but we did manage to take some decent shots.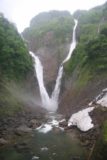 Julie eventually headed back first, but that was when I started to notice the weather starting to improve a little. So I lingered longer to take more photos while employing some crude techniques to get shots despite the windblown mist going right for the camera lens.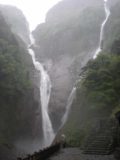 By the time my watch said 3:11pm, I had to pry myself away from the bridge and run back. It's funny how the weather improves just as it was time to leave. If not for the bad weather, I'd rate this waterfall up there with one of Asia's best for sure.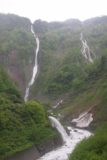 I continued to run downhill on the slippery paved path to the bus stop. I did stop a couple of times for other views of Hannoki Falls (Shomyo Falls is hidden from view until you get right up to the bridge). And by 3:20pm, I was back at the bus stop reunited with Julie who I'm sure was a little worried I might not make it back in time.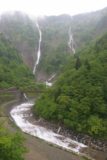 At 3:42pm, we were back in the Tateyama Station. But there was a bit of confusion as to what train we're supposed to take.
That was because my Hyperdia.com research indicated that we're supposed to take a 4:17pm train back to Toyama. But people were going to the 3:50pm train, which was about to leave. This train never showed up on my research and I had my doubts about this train since the schedules generally don't lie.
Still, we bought our 1170 yen/person tickets but we also had to pay an additional 400 yen for "express." There goes that mysterious "express" charge again that seems to show up spontaneously on these non-JR lines.
Julie asked the ticket-officer if this was indeed the train for Toyama and he said yes.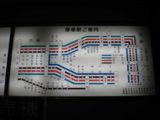 Still, as we boarded the train and started moving, I couldn't help but notice that none of the kanji characters on the screen in the front of the train indicated Toyama. Something just didn't seem right.
But at least they weren't kidding about this bus being "express" as it pretty much skipped every stop along the way except for a stop at Terada, which we arrived at 4:25pm. As we waited for this train to leave, I looked at the monitor in front of our train and saw some nine stops or so 'til the end. For an hour-long train ride, there's no way there could be nine more stops so my doubts that kept nagging at me finally became action. So eventually with my worrying, Julie asked some employee on the train, "Toyama?"
Then the guy pointed at that other train waiting to leave as well.
Oh man, we had better get our stuff and run. So that we did.
The Japanese guy noticed this and signaled to the engineers on the other side of the station to wait.
It was a good thing he did that because as we were about half-way to that train, the doors closed and it was starting to move. But it stopped just in time for us to open the doors and get in. And one look inside that train showed the kanji characters for Toyama. Now that's more like it!
And what a close call! Who knew where that other train would've taken us?
Again, it just seemed like drama follows us around on these private lines. And surely it's not easy when no one speaks English and we don't understand Japanese.
There was a Cantonese couple on that other train who noticed us running for the correct train. I'm not sure if they were also headed to Toyama, but when our train moved, they didn't. So I don't know if they were screwed or not since they too seemed to have difficulty comprehending Japanese.
Mercifully, we were back in the familiar Toyama Station at 4:35pm. I guess this never showed up on my Hyperdia research because it involved a connection. But again with all the Japanese spoken by the employee who probably indicated we were supposed to connect, it all flew right by us since we didn't understand a word he was saying at the time.
Anyways, we finally checked into our hotel room at 4:55pm, recovered our luggage, and were gaining more confidence communicating with the Japanese who were patient enough to let us fumble through our phrasebook (I think the electronic voice one that Julie bought was a total waste of time and money). And finally, we let our wet clothes, ponchos, and other drenched goods start drying out.
And after a little ramen noodle dinner with gyoza and some supplementary rice along with a snack of pressed fish on rice, and some cream puff dessert (all at the train station, which seemed well stocked with food places), we returned to the room where we could finally call it a day.
But no rest for the weary as we planned to get up early and catch an early train to Kyoto so we might have a little more time to sneak in a side trip to Nara before exploring Kyoto in earnest…
Visitor Comments:
Got something you'd like to share or say to keep the conversation going? Feel free to leave a comment below...
No users have replied to the content on this page