Day 45: THE CITY'S PET DEER POPULATION
We awoke at 5am knowing that we wanted to get to Kyoto as soon as possible. But greeting us were the sounds of hard rain hitting the hotel window so we knew that we had to make a run for the train station across the street as soon as we leave.
And we ended up at the train station an hour later without too much wetness on our belongings.
We were aiming for the 6:12am train to Kyoto and sure enough it showed up on time as usual.
The next 3 hours were spent trying to get caught up on sleep since the shinkansen trains were incredibly fast and smooth. So smooth that it's easy to get lulled to sleep.
When we arrived in Kyoto at the scheduled 9:11am, the rain seemed to have let up though the clouds overhead remained dark.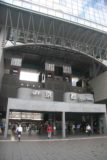 It didn't take long for us to locate the Hotel Club Hokke where we dropped off our luggage. And then we returned to the modern and upscale Kyoto Station where it was kind of interesting seeing a whole lot of foreigners again (something that was quite noticeably absent when we toured both the Nagano and Toyama Prefectures). Then, we wasted no time getting on the platform for the Nara Line.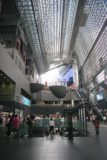 It turned out that there was a commuter line at 9:49am which was a half-hour sooner than the 10:19am departure on Hyperdia.com. But I wasn't worried about this being the wrong train like the experience in Tateyama yesterday as this one clearly showed it was headed to Nara on the Nara Line.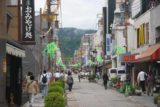 At 10:40am, we arrived in Nara. Then, we walked for several minutes towards the Nara Park. There, we strolled around looking for the 3-story pagoda and then the 5-story pagoda. Along the way, there were plenty of deer looking like they were chasing people with deer crackers to feed them.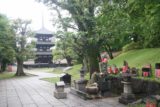 It was kind of an unusual scene since we're used to seeing wild deer. But it was becoming obvious that these deer are almost like the city's pet deer population – totally domesticated.
At 12pm, we made it to the Todai-ji after a pretty long walk from the 5-story pagoda.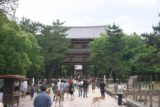 We passed through the Nandai-mon gate at the south end of the castle, we could see straight away that this castle was quite impressive and reminiscent of the experience we had visiting the Toshogu Shrine in Nikko.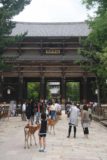 Interspersed amongst the foot traffic were plenty of deer looking for handouts. As a matter of fact, it seemed like some of the vendors were selling the stuff so tourists could go ahead and give them the handouts while walking along these paths.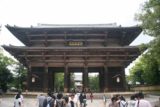 Of course, just like the Nikko experience, this place was visited by hordes of people and it was quite impossible to get those photos you see in the guidebooks or photo galleries where no people were in sight.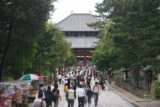 The castle was an impressively massive wooden structure. Inside it was a giant Buddha and on the perimeter of the interior were other statues as well as a miniature model of what the Nara complex was supposed to look like.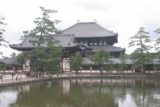 Once back outside the greater Todai-ji interior, we took more photos of the lawn area fronting the massive wooden structure. There were other parts that looked like it had no people, but that was because barricades prevented further entry into those quieter zones.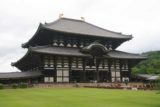 It took a while to visit this park since the walking distance was nontrivial. I wasn't sure if it was me or not, but it certainly seemed much busier outside the Todai-ji area than earlier this morning.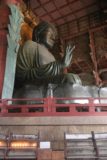 Anyways, it was around lunch time and we noticed crowds of people lined up in tiny Japanese restaurants sprinkled throughout this parklike area. Since we felt like there was more touring to do, I wasn't sure about waiting in any of those lines to eat lunch.
Back at the 5-story pagoda, we noticed an interesting juxtaposition (again with the aid of Julie's DK book) of some building before the pagoda itself. The weather was gray so it wasn't as photogenic or colorful as in the book, but we snapped photos and moved on.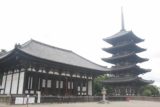 So before we knew it, we had ourselves a little curry lunch on the way back to the JR Nara Station. And by 1:55pm, we were at the station waiting for the 2:09pm Nara Line for Kyoto.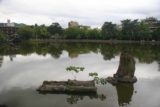 We were hoping to get to the Nijo Castle before its 4pm closing today so it wasn't exactly peaceful moments as we were hoping to visit this today and free up some time to see more of Kyoto tomorrow.
At 3pm, we were back in Kyoto. It was strange that the skies were quite sunny and clear now, especially given how rainy and overcast it was throughout this morning. But the clock was ticking and we had to figure out how to get to the Nijo-jo from here now.
We ended up taking a JR train to the Nijo Station and then taking the subway for one stop to the Nijo-jo-mae stop. From there, we ran to the entrance of the castle and went straight for the 5-roomed palace since they had a hard closing time of 4:20pm (about 25 minutes to go).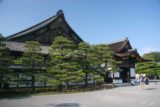 After taking off our shoes, we checked out this elaborate mostly one-story castle with its nightingale floors. We could totally appreciate why they were called nightingale floors because with each step on them, it squeaked and chirped like nightingales. Apparently, it was by design so the shogun would know when anyone was coming and there'd be no surprises.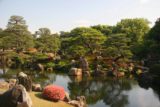 They didn't allow any photographs inside, which was kind of a bummer. But it was understandable since many of the walls contained ornate decorations and paintings that'd be damaged by the camera's flash (and I'm sure the staff can't trust everyone to turn off their flash when taking photos).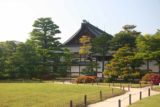 We then left the jo and put on our shoes so we could take a stroll through an elaborate and beautiful garden going around the north side. There was also a pretty nice observation area where we could kind of get a comprehensive view of the castles we had just stepped inside.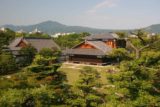 At 4:30pm, we were outside the inner moat area. Then, we walked through more gardens on our way back to the front gate where we heard a recorded announcement repeatedly urging visitors to make their way to the gates as they were closing. We tried to balance savoring our experience here without shortchanging ourselves yet at the same time not getting locked in here so it was an exercise in haste and leisure at the same time.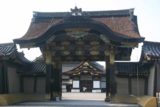 Next, we took the subway back to the Nijo Station and then a JR commuter train back to the Kyoto Station. Soon thereafter, we caught a connecting train to Inari on the familiar Nara Line getting there at 5:45pm.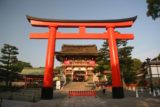 This was where we walked to the Fushimi Shrine where we got to walk through various torii tunnels offering up a rather eerie yet really cool experience (not to mention crazy photos). I always jokingly referred to these torii gates as Julie's "hallway."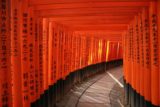 I also managed to pick up a pair of mosquito bites (something I hadn't gotten while we've been in Japan), but they weren't too irritating and before the night was over, they were pretty much gone.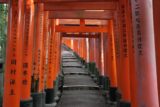 With the daylight fading and the area getting increasingly darker, this place seemed to take on a more eerie atmosphere than before (when I thought it was starting to get eerie already).
Perhaps there were some graves nearby or something. Whatever it was, it didn't really feel like a place to be out at night though I'm sure it would've been perfectly fine (except they do have closing time here).
It was getting dark so we headed back to the train station. But we had to make haste and run because the 6:21pm train back to Kyoto had just showed up and the next one wasn't for another half hour. We were still on the wrong side of the platform so us (and a few other Japanese visitors) ran for it.
Fortunately, we made it before the train took off.
By 6:50pm, we were finally back at the hotel and checked into our room. And so ended a very long and exhausting day that started in Toyama, went out-and-back to Nara, and ended up out-and-about in Kyoto. Now, we can let our feet breathe a bit while hopefully allowing for a more laid back day in Kyoto tomorrow.