Day 46: GEISHAS AND SHRINES
Even though we had intended to get up at 6am, it wasn't until an hour later when we awoke. I guess we must've been really tired from yesterday.
By 8am, we had finally left the hotel room to start our day of touring Kyoto.
After a little bit of trying to figure out which bus to take and where to line up, we retreated to the nearby ticket counter and bought our very reasonable 500 yen per person day pass of the city.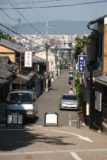 By 8:30am, we took the 206 bus to Gojozaka and began a walk of Gion as recommended by Lonely Planet.
Initially, we had a little trouble getting oriented (because Julie didn't have her north-south correct), but eventually there were enough landmarks to get us on the right road.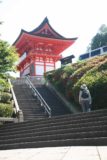 This walk pretty much involved going up some uphill street leading up to some stairs that went right up to some Unesco World Heritage Temple called the Kiyomizu-dera.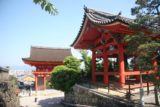 This temple had the usual fancy wooden buildings with praying areas and some stands selling trinkets. However, it also offered up some nice views of Kyoto.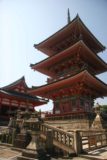 Much of the grounds seemed to be under construction or restoration, but for the most part we could see the vast majority of the grounds. It was too bad that some of the temple views were right against the sun at this time of day though.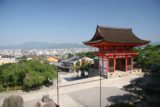 We were hoping to get decent views of Kyoto city juxtaposed with Kiyomizu structures, but the city looked flat behind foreground-dominating foliage. It was scenic, but probably not all that photogenic, I reckoned.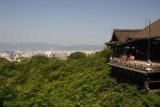 At 9:25am, we left the temple and continued down a street lined with rows of shops. Japanese people have been so polite on our trip that it kind of made us feel a little bit bad about turning down requests to shop in the many shops lining this street.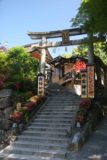 Back in China, I guess the rudeness and aggression there made it easier to turn down hawkers. But in Japan, it was different.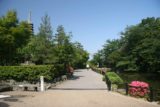 Then, we turned right and went down some steps into a seemingly quieter part of town. We had read that we weren't supposed to have a misstep or a fall on these steps because that would bring bad luck. So we carefully made our descent on this series of steps.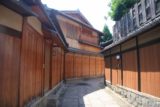 Once we made it to another quiet but main street amongst residences, we went to one unassuming side street that led to Ishibei-koji, which was basically a narrow walkway lined with wooden-walled residences. It wasn't anything gaudy or touristy nor was it even signposted, but we could easily envision traditional Japanese people living in these quarters.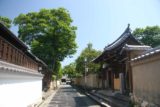 After our brief out-and-back jaunt into Ishibei-koji, we continued along a long straight street that was still quiet and had a few temples and museums along the way, but we resisted the temptation to go off track.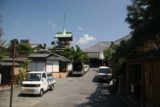 Following the LP guide here was like following some locals' directions to use local landmarks instead of street names. But then again, street names in Japan weren't all that helpful anyways as they don't seem to follow any of the Western conventions we're used to.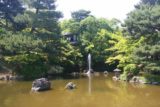 A little later, we walked into a park with the seemingly ubiquitous but no less scenic Japanese garden complete with arched bridge, ponds, and light purple flowers among the surrounding foliage.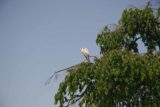 This park was also supposed to have the famous giant willow tree, but it was obvious we were a month too late as the cherry blossoms that make this tree famous were nowhere to be seen. Thus, the tree looked kinda of dead this time of year.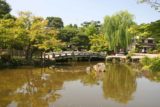 There was a little bit of waiting around for each other (as we both were momentarily separated and lost in our own meanderings). So I pretty much stayed put by the dead cherry blossom tree until Julie came back.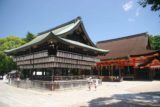 At about 10:35am, we deviated from the LP walking tour and headed out of the park through the Yasaka-jinja, another shrine area. Now, we were following DK (the other guide).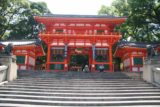 At this point, we re-entered the urban mess in search of the old Gion area for more hints of the old Kyoto along with geisha sightings.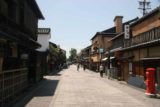 After a couple blocks of walking through some real busy streets, we found a street that seemed to be it. However, we couldn't be totally sure because there were taxis and private cars imposing their presence on the otherwise charming street.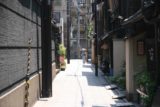 A few steps further in the street seemed to have confirmed that we found the street we were looking for. Though we couldn't totally be sure.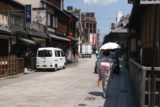 Fronting it was some red-shaped building that we assumed was the old tea house. Further along, we could see charmingly narrow side streets with a few of them with traditionally dressed Japanese women shielding themselves under dainty umbrellas tending to their own business as they walked in their unmistakable wooden sandals with white, toe-creased socks on.
It was too bad they let vehicles in these streets because this would've really been a truly charming part of the Gion District of Kyoto. You could never really confidently walk in the middle of the stoned street and envision the old Kyoto.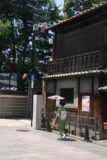 I guess on the flip side, we did see what we thought was a geisha or two with their unmistakable hair but we weren't sure about the painted white painted face. It seemed they knew they were being photographed or at least stalked by tourists wanted to get a photograph of them as they hastily made their way to wherever they had to go. It didn't seem like they wanted to be photograph subjects of random tourists here and there.
Towards the end of the street, we saw something called the Gion Corner, which was basically a building housing some geisha shows while educating the public a little more about the lifestyle. Since those shows didn't start until 6pm, we really didn't have any further reason to linger.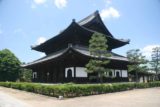 At the very end of the street, there was what I think was the Kennin-ji. It was basically yet another wooden temple or shrine. I think I was getting templed out at this point, as it's so easy to do in Japan.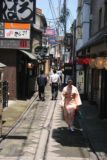 At 11:45am, we had already left this Old Gion part of town and continued to the Ponto-cho.
Now we had read this place comes alive at night time when geishas are out tending to appointments and the bars and night lanterns come alive, but this narrow lane was still interesting at the height of day. A couple of traditionally dressed Japanese women walked this street when we were there.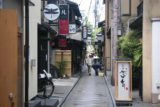 The only thing that got me a little nervous were the overhanging power lines right above this narrow street.
While in the Ponto-cho, Julie wasn't quite sure where we needed to be to take a bus to the Kinkakuji Temple. But then a Japanese guy, who was also touring Kyoto on his day off, basically offered to lead us to the proper bus stop. That was real nice of him.
One thing that stood out about this guy was that he seemed to be pretty good at speaking English. He admitted that the vast majority of Japanese people don't know English at all or very little of it. We weren't quite sure how he picked it up since he was a factory mechanic. But it was pleasant to share a little knowledge about ourselves and about our experiences while he educated us about life in Japan as we made our way to the bus stop.
And by 12:05pm, we were waiting for the 205 bus to Kinkakuji. At that point, the Japanese guy and his wife graciously left us and were back to touring.
At 1pm, we were at the Kinkakuji, which was the golden shrine that was another one of Julie's must-see attractions in Kyoto.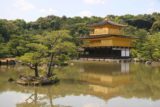 And after setting eyes on this temple, I had to admit that this one really stood out because of its gold exterior. It wasn't just another one of those dime-a-dozen temples that added to our temple saturation. The pond and garden fronting the temple also added to the beauty of the scene.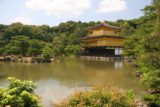 The walking route took us past the temple and then into a garden before exiting nearby a praying area with some nearby stands for selling crafts and foodstuffs.
At 1:55pm, we were waiting for the 205 bus to get back to the Kyoto Station. Clearly tired from our busy two days of touring, it was enough to call it a day even though I'm sure we could've used our bus pass further to see a couple more temples, shrines, and pagodas spread throughout Kyoto. But I think we had enough at this point.
At 3pm, we were back at the hotel. The nap on the crowded bus was welcome. And the rest of the afternoon was spent internetting and pretty much taking a breather.