Day 47: WATERFALLING UNDER DURESS
We were back to an early start as we awoke at 5am and got to the Kyoto Station across the street at 6am.
After a little bit of confusion with the JR Ticket Office regarding reserved seats and whether we wanted to the take the Nozomi (Super Express Bullet Trains not covered by our JR Pass) to Shin-Osaka (and why would we want to do this?), we decided to just take the local commuter line at 6:09am getting to Shin-Osaka 31 minutes later. There was a quicker 6:22am train getting there by 6:48am, but we figured the sooner local one is good enough.
The key was to get to the earliest train from Shin-Osaka to Kii-Katsuura all the way on the southeast end of the remote Kii-hanto (or Kii Peninsula). That one started at 7:35am and would arrive at 11:35am.
Anyways, we donned our masks (the H1N1 outbreak in Japan started in Osaka so we tried to take whatever precautions necessary), and were at Shin-Osaka Station by 6:40am as scheduled. As usual, the trains almost never deviate from their scheduled departure and arrival times, which by now was totally consistent with what we observed to the Japanese appeal for sticking to the rules and playing by the book. We can now easily envision why Japanese discipline allowed them to make very high quality products, and their rail networks and functionality is something I can only wish we can aspire to back in the States.
After a quick breakfast on the go of more preserved sushi at the Shin-Osaka Station while securing our reserved seats for the long haul to Kii-Katsuura, we were on the 7:35am train and proceeded to try to get caught up on sleep.
At around 10:15am when the train stopped at Shirahama, Julie woke me up and pointed out to me that bus transfers are required here. I had expressed interest for this part of the trip to perhaps soak in the beachside onsen here, but with how infrequent the trains go by this way, this inconvenience of having to take the bus kind of sealed the fate of this excursion. Plus, we'd have the additional logistical nightmare of dealing with our luggage.
We did think it was kind of strange to see Japanese tourists in Hawaiian flowered shirts though. Clearly, we had entered into what appeared to be as close to a tropical vacation spot this side of the Pacific if they didn't want to go to Hawaii.
The rest of the train ride involved looking out the window and seeing the Pacific Ocean as it crashes against rocky shores, and in some cases, come pretty close to the train tracks sitting right above some retaining walls. I think this was probably the first time we had seen Pacific Ocean since we flew in from Beijing (that is if you don't count the Sea of Japan as part of the Pacific).
We also noticed how green the hills were around here. It definitely appeared like it was a little more tropical that what we were used to seeing in Honshu. But this also made me worry about whether the Nachi Waterfall (the very reason for coming all the way out here) would be performing since the rains don't come in full force until mid June and July plus I don't think this area gets snow to lock the water up until mid to late Spring.
In any case, it was 11:35am when we arrived at the train station, which was right on time as usual. But this train station was a bit old school as there were stairs but no elevators. So I had to do my best strong man imitation by carrying our heavy luggages up and down the stairs in the noticeably subtropical heat.
We headed to the information kiosk where some English was spoken by the two guys at the desk. They gave us the bus schedule for Nachi-no-taki as well as the boat schedule to get to the Hotel Urashima, where we were staying.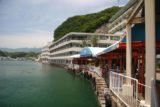 At 11:55am, we caught a boat shuttle to Urashima after a bit of a 5-minute walk (more like a run) from the station while rolling our luggage. The boat ride was a couple of minutes, and when we got off and into the Hotel Urashima property, we immediately felt like we had just stepped onto a resort.
After getting the formalities done with the reception while leaving our luggage behind, we had to wait for the 12:45pm boat to get back onto the pier on the main part of Kii-Katsuura town. That left us with a half-hour of doing nothing so we had ourselves a quick sushi over rice bowl lunch at a very reasonable 1680 yen for the two of us. The rest of the resort seemed kind of dead as none of the shops, restaurants, nor spas were open at this time.
At 12:45pm, we got on the boat and back onto the pier. Upon studying the boat schedule, we saw that there was no service from 3pm to 7pm! The last run was at 2:50pm!
I had hoped to leave the waterfall at around 3pm, which would've allowed us plenty of time to enjoy the sights. But now it seemed like the clock was ticking as we were either going to be back at the resort at around 3pm or else at dinner time at 7pm!>
It was utterly inconvenient since we had a very narrow time window to catch the 1pm bus to the Nachi Waterfall (24 minutes later), explore the sight and the nearby temple in less than 50 minutes, and then catch the 2:16pm bus back to the Kii-Katsuura Station (another 24 minute bus ride) where we had to make a mad dash to the boat dock to catch the 2:50pm boat back to Hotel Urashima.
I thought about postponing visiting the waterfall for tomorrow morning, but there was no boat service between 8am and 10am, and the last boat went back to the pier until 7:35am, which was only 35 minutes after breakfast started.
Who on earth thought of these utterly useless times for the boat schedule?!?!
In any case, we couldn't do a whole lot about this and tried to work with what we got. And we're sure the Japanese go by the book as usual and won't make an exception for us.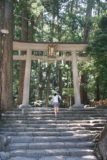 So anyways, everything was pretty much on schedule. We caught the 1pm bus, paid close attention to the kanji for the "falls front" which is how I could translate the kanji into the broken Chinese characters that I recognized, got off at exactly 1:24pm, and raced past the stone torii at the falls stop and down the steps to the frontal (but partially blocked) view of the falls with a little incense altar before it.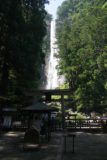 Actually, we could see part of the falls on the bus ride up, and we could see it had healthy flow so my fears of whether this falls would perform or not was unfounded.
My original intent to stop at the Daimonzaka (something to do with Big Gate) and then walk 800m up the tree-lined arcade that Lonely Planet recommended. But that was totally out of the question. There was simply no time for it.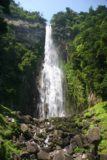 It didn't take long for us to realize that to get better views of the front of the falls from here, we had to pay 300 yen per person to up to a viewing platform. So we paid, quickly got up to the platform, and saw the falls in its full glory from the bottom.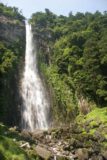 It was utterly breathtaking, but we couldn't linger here for long for the clock was still ticking, and we had to find the temple further up the hill for that classic shot of the falls juxtaposed with a orange pagoda.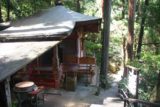 So we wasted no time leaving the platform, walking by some small shrine, going up the steps and back out the torii to the bus stop. From there, we had to walk up several stairs (fortunately most of it was shaded) until we eventually got to some attractive shrine.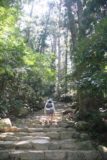 In hindsight, perhaps we could've stayed on the bus and got off right at the shrine so we only had to walk downhill to the front-of-the-falls stop. But again, hindsight's 20/20, and under the pressure of the moment, we weren't sure how connected (or disconnected) the falls and the temples were.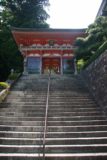 Anyways, we couldn't cry over spilled milk and had to deal with our decisions. The clock was still ticking and we had to be as efficient as possible lest we wait another 3-4 hours for the next boat ride back to the Hotel Urashima.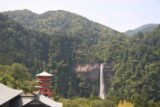 >Anyhow, we couldn't linger and enjoy these shrines and temples up here. So while Julie took a few shrine shots, I continued to march down the road (didn't notice any bus stops up here), found some stairs, and it was from here that I took some shots of the pagoda with the falls. I wasn't sure how I did with my composition, but with the clock ticking, I did my best under duress.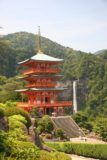 At the bottom of the stairs, I saw that the pagoda would definitely yield even better shots of the waterfall as it was above the tree-line. So when Julie was done taking her photos at the top, she joined me at the pagoda where we paid the 200 yen per person admission and hastily made our way to the viewing decks.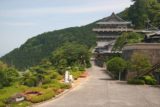 The top floor had some chain-linked mesh to prevent someone from falling over. Fortunately, there was a hole where you could see and photograph the falls.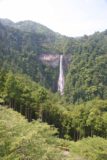 The stairs on the way up had lots of portraits of that classic shot of Nachi-no-taki with the pagoda. I don't think I was able to blindly produce anywhere near the quality that they had, but then again, I was rushed and I didn't know what were the best positions.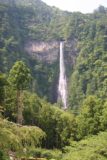 We left the pagoda at a little after 2pm. It was a good thing the lady showed us a hand drawn sign of where the bus stop was relative to this pagoda. It turned out to be that exact same bus stop where we got off.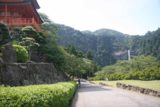 So with barely 10-15 minutes to catch the bus or be stranded for 4 hours at the boating dock back at Kii-Katsuura, we made a mad dash back down the steps and right back to the stop at the front of the falls.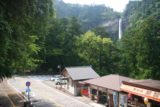 We managed to get there at precisely 2:12pm. Still cursing the crappy boat schedule that caused this most rushed waterfall visit ever, we did find some solace in that we did see the falls the way we wanted to for the most part. And if we make it back to Hotel Urashima in time, we're clearly going to drown our sorrows and soreness in the many onsens they have on site there.
Sure enough, the bus showed up at 2:16pm and Julie hi-fived me as we sat down and got started on our 24-minute bus ride back to Kii-Katsuura Station. We were the only ones on this bus (the rest of the tourists seemed to be Japenese tourists on some organized tour or drove here in their own private vehicle). But I warned Julie that the clock is still ticking as we still had to make a mad dash back to the boat pier before it takes off at 2:50pm.
By about 2:42pm, we quickly paid our 1200 yen (for the both of us) fare and ran to the boat dock. And at 2:46pm, we joined the line of other Japanese tourists waiting to get on the boat that was already docked and managed to get right in.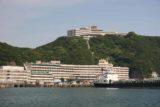 We made it! It was only then that I hi-fived Julie once again, but this time with greater relief and a sense that we fulfilled the very reason for coming all this way.
And indeed, the 133m plunging Nachi-no-taki was every bit as advertised. It probably even surpassed Kegon-no-taki in splendor and even the Shomyo/Hannoki daki combo in the Japan Alps.
Heck, since we were kind of in a tiff with each other this morning over very trivial nagging issues that somehow blew up into little arguments as things didn't go our way, our moods got a much needed improvement. Once again, all it took was a decent waterfall experience to provide that bit of healing.
At 3:05pm, we finally checked into our room, which was one of their cheaper Western style rooms. No view, but it was more than adequate for our needs. They had even more expensive rooms that were in traditional Japanese tatami style like we had back in Akiu Onsen, Nikko, and Kawaguchiko (and hadn't had since). But we were already spending on the order of over $300 USD for this one night which did include dinner and breakfast plus complementary onsens.
So we briefly showered off our sweat, changed into our kimonos, and marched right for the Bokido onsen, which was the sea cave spring that this place was known for.
It was quite a nice experience soaking in the set of pools here with an open-air cave looking right at the churning seas. Sure it's probably got a little more man-modified aspects than I would've liked, but it's not often you get to soak in hot water in a giant cave with a view of the ocean.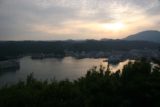 The only gripes (besides being buck naked again) were that I couldn't share the experience with Julie as it was separated by gender (understandably).
After allowing ourselves to soak for about 20 minutes here, we left together and headed up a real long series of escalators to the 32nd floor, which was perched atop a bluff. This was the famous long escalator that the writers of LP thought would've put them on the other side of Mt Everest.
Anyways, we found another onsen up here with a really nice view of Kii-Katsuura town as well as the inlet fronting the town flanked by rocky cliffs. We allowed ourselves some 10 minutes in here because this wasn't an open-air onsen and the heat could've easily overwhelmed us and made us (especially me) pass out.
After this onsen, we hopped over to a third one. But it took a while to get to it as it was way on the eastern side of the property. At this time, we saw loads of other tourists start showing up with their luggages while others were marching to onsens in their kimonos. After finally finding this third onsen, which was supposed to be another sea cave one, Julie thought it wasn't any good upon her inspection as this one didn't have views of the ocean.
So it was back to Bokido onsen.
But we knew right away when we returned to this onsen that it'd be more crowded as there were more people waiting outside the gender-separated areas. And sure enough, when we were back in the naked section, lots of other nude guys were soaking already. Julie said she saw the same thing on the women's side.
So we left the Bokido onsen at a little after 5:30pm. Clearly the second time around wasn't as good as the first. Perhaps we got there shortly after the cleaning was finished and not everyone was checked in yet on the first go around. That was why that first experience was so good.
Back at the room, we changed back into more normal clothes and went for a walk on the cliffside garden at the very top of the property at 6pm.
With the fading light and everyone downstairs soaking in an onsen or having the first tier of dinner, we had the garden and temple area up here pretty much to ourselves.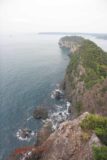 It was eerily quiet, but I was really looking forward to seeing a path to a cliffside cave that we observed from a clay model on the way to one of the onsens during our onsen hop.
But not surprisingly, it was closed (as it seemed like everything was on this trip).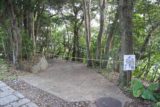 Julie did get a scare when we saw an angry mongoose (or ferret? I couldn't tell) growling at us. Knowing that it could give us rabies, we continued to walk through the toriis and towards some quiet temple.
Afterwards, we headed further out onto an overlook right at the edge of the bluff where we could see mindblowing views of the Pacific as well as parts of the inlet leading to Kii-Katsuura. We could even make out some tiny lighthouses or beacons perched atop some isolated islands.
We went back to the 36th floor area where there were some rooftop platforms allowing us to get views back to Kii-Katsuura above the treeline as we as back out to the Pacific Ocean.
On the far side where we entered the hotel and exited again onto another platform, we could see more islands, a seemingly unused onsen or pool (probably closed) along with a very intriguing sea arch near it.
It was too bad the sun had pretty much set by now, but we were quite happy to have milked the Urashima experience to the best of our abilities given the circumstances. I thought we played our cards right by catching the earliest train out this way and catching the earliest buses that enabled us to both see the falls (albeit rushed) and soak in the onsens, which was the real claim to fame of this property.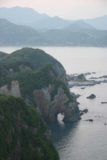 Indeed it was a resort and quite unlike anything we'd done in Japan up until this point (besides the Akiu Onsen experience, which was like this but on a far smaller and more intimate scale).
When all was said and done, it was 7pm and time for the buffet dinner to revel in the accomplishments of our busy day today, ponder some of the homesickness that is kicking in (and already is full-blown in Julie's case), thinking about the upcoming Hokkaido leg of the trip where we're self driving on our own, and discussing things about Japanese culture that we had observed up to this point.
The food was OK, but at least the sushi was fresh, and it was probably the most we had eaten since the Akiu Onsen buffet since Japan's not cheap and we were still vigilant in watching our cash supply.
Visitor Comments:
Got something you'd like to share or say to keep the conversation going? Feel free to leave a comment below...
No users have replied to the content on this page