Day 48: ENTERING THE CITY ONCE AGAIN
We awoke at 6am and got packed to the best of our abilities before the 7am breakfast. Since the walking distance and elevators/escalators were slow to even reach the breakfast banquet hall, we knew time was short before the 7:35am boat back to Kii-Katsuura. If we missed that boat, we'd have to wait until 10am for the next departure.
I know I said this before, and I don't know who thought of these schedules, but they're ridiculous!
In any case, we had our breakfast, made a mad dash for our room to recover our luggages, and then made a mad dash back downstairs to check out and then catch that damned boat!
When we got to the boat dock, it was exactly 7:35am and the boat was about to take off. In fact, it started moving away from the dock when we showed up. Fortunately, they told us to get to the other dock a few paces away and they'd meet us there. And from there, we boarded the boat with our luggage while both of us were drenched in sweat.
At 7:52am, we made it to the Kii-Katsuura Station where I briefly soaked my feet in the lukewarm "onsen" by the bus stop. There were lots of mosquitoes there, but it also seemed like the warm water was a death trap for them as many of them were drowned in the pool.
At 8:53am, we got the scheduled train for Shin-Osaka. Eventually, we arrived there at around 12:49pm, and shortly thereafter, we caught a commuter line for Osaka.
After a bit of walking around finding our way through the Osaka Station and then through town finding our hotel, we were finally able to check in at 1:40pm.
We did notice quite a few employees that were sick, and with the H1N1 outbreak in Japan originating in Osaka, we tried to be vigilant with our face masks and making liberal use of the free alco-wipes at the bottom floor of the building.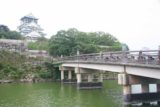 A little after we got settled, we immediately headed back out on the town in search of the Osaka-jo (castle). We'd eventually get to the front of the main tower at some time just before 3pm.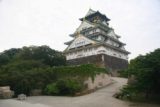 When we saw that the entrance fee was 600 yen per person (for something that was recently rebuilt in 1938 and thus looking very modern), we decided to pass on it and save it for some food while in Osaka or for the Himeji-jo, which we planned to visit tomorrow.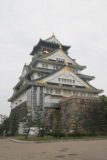 So we basically wandered around the perimeter of the premises taking photos and just soaking in the relatively quiet atmosphere of the park.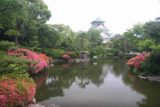 Perhaps the most photogenic part of the Osaka-jo complex was a garden area with a view of the Osaka Castle itself. Given the colorful foliage along with the calm and reflective pond there, we spent most of our time in this garden.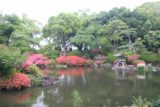 And for the photos we got of this place, I thought we didn't do that bad considering we didn't have to pay extra for the tour inside the castle. I had recalled that the reviews of the castle interior weren't that good anyways, especially compared to the Nijo Castle and the Matsumoto Castle that we had done so far.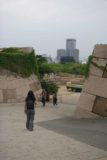 We returned to the room at 5pm so Julie could fetch her jacket. And immediately thereafter, we took the subway for the Namba Station where we went walking in the Dontonburi Arcade at 5:45pm.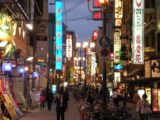 It took a while to get out of the Namba Station for the Dontonburi Arcade as we were learning quickly that much of Osaka happens underground. At least we got some real Beard Papa's down here, and in case you didn't know, Beard Papa's originated from Japan.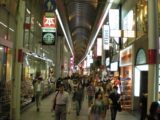 It was a little early to be checking out the scenery here since the place really comes to life at night and there was still plenty of daylight. So we went to some grilling place (Korean BBQ style) while bringing in some really fresh crab sushi bought from Douroku.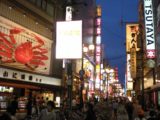 We were stuffed at the end, and when we left the restaurant, there was still a little bit of daylight at around 7:30pm. But we took our photos, soaked in the atmosphere of the busy streets with Neon lights flashing everywhere, and eventually called it a day as we headed back to the subway station bound for the hotel.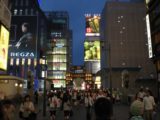 Something we noticed while awaiting our subway ride back to our room was that we saw subway cars that only allowed boarding for women only. Apparently, gropers were an issue, especially in the crowded rush hour, and I guess this was one way to protect women against this.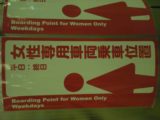 And at 8:15am, we returned to our room. Sure we couldn't spent more time basking in Osaka's nightlife, but after consecutive days of over 4 hours of train rides sandwiching some serious rushing just to deal with the Hotel Urashima's ridiculous boat schedule, we were tired and looking to recover and get psyched for our last full day in Honshu tomorrow…
Visitor Comments:
Got something you'd like to share or say to keep the conversation going? Feel free to leave a comment below...
No users have replied to the content on this page