Day 49: A SURPRISINGLY BUSY DAY
We decided to sleep in this morning thinking there wouldn't be a whole lot to do today. The only goal was to see the Himeiji Castle, but we didn't plan on doing anything else while in Kobe, where we were staying tonight. This was also our last full day in Honshu before we shift gears and go to Hokkaido looking for a more naturesque experience.
So we didn't get up until a little after 6:30am but we managed to leave the hotel in Osaka at 7:10am to face the rush hour (or at least the start of it).
We managed to catch one of the rapid express trains from Osaka to Sannomiya Station in the heart of Kobe. Our hotel happened to be right in the train station so it was pretty painless to at least leave our bags at the hotel lobby by 8:05am.
Unfortunately, Julie wasn't feeling too well and her cipro prescription ran out. So we actually had to scramble around the area looking for a way to refill her prescription. This wasn't easy to do considering we aren't proficient in Japanese and the vast majority of the locals have little or no command of English.
So after scrambling around the train station, we managed to find the information center who in turn led us to a hospital, which also happened to be just upstairs. Once we got there, they were able to refill Julie's cipro (well actually something similar but not quite the same), and finally we could begin our day.
The phrasebook definitely came in handy as well as the free internet at the hotel lobby where we managed to figure out how to write ciproflaxin as well as some of Julie's symptoms in kanji.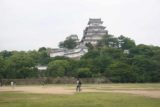 At 9:54am, we were on the super rapid train to Himeji. It only had four stops on the way to Himeji, and we noticed the Kinkyo Bridge, which was said to be the world's longest suspension bridge (LP gave us the heads up on this one). Not real photographable given the speed of the train and all the foreground obstacles, but interesting nonetheless.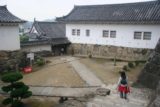 At 10:34am, we arrived at the Himeji Station. From there, we walked directly north towards the imposing Himeji Castle. We could already see the fortress from the station so that kind of beckoned us even more.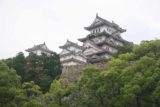 Under the overcast skies, it looked like it wanted to rain, but it didn't deliver so far.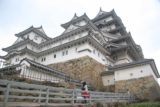 After paying the admission fee to get in, we took the obligatory frontal photos of the castle towering over the immediate area. Then, we headed right for the main tower area where once again we were required to take off our shoes.
The interior of this castle was noticeably larger than the Matsumoto Castle so that made things a little easier in terms of getting around. The wooden floors and steep stairs were still a little jarring on the feet and knees, but the views from the top floor (6th floor) were very impressive.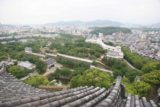 Some of the battlements reaching out into the hills below us kind of reminded us a little bit of some of the views of the Great Wall of China. Sure it wasn't as massive as the Chinese attraction, but it somehow reminded me of it when viewing the courtyards and castle walls from up here.
Besides that, there were a bunch of displays of weapons, scrolls, and other artifacts from the shogun era, which could easily occupy anyone interested for hours on end. We didn't put in quite that much scrutiny, but our visit was still educational nonetheless.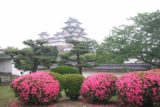 At 12:05pm, we put our shoes back on and left the main tower of the Himeji Castle. At this point, we concluded that this castle was definitely the most impressive of all the castles we'd seen in Japan. However, I was also a little templed and castled out.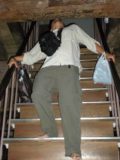 We next decided to check out what was called the West Bailey. It was basically a long corridor connecting numerous rooms that were apparently inhabited by women. In fact, this area was known as the Women's Quarters. Once again, we had to remove our shoes to explore its halls.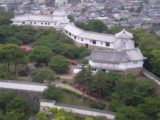 Some of the rooms had very nice views of the main tower of the Himeji-jo.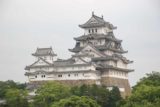 When we were done visiting the West Bailey, we returned to a garden area, which was in typical Japanese style with sculpted bush with flowers blooming while some parts were populated with bonzai trees. The only thing missing was a pond and/or an arched bridge.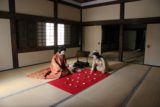 We did hear some buzzing under some very large trees in the garden. Disconcerting signs warn to watch out for hornets. I recalled seeing in National Geographic how nasty just one hornet can be so I can imagine how deadly a whole swarm of them can get. No need to linger beneath these trees.
At 12:45pm, we were pretty much done seeing the Himeji Castle. 15 minutes later, we walked back towards the station where we stopped by a small udon restaurant. And after this hearty meal, we returned to the JR Station and headed back to Sannomiya Station.
By 2:50pm, we were finally checked in to our hotel room in Kobe.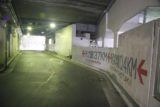 After a little bit of rest and getting settled, we had some time leftover to do a little exploring. And as we mulled over whether to do a harborside walk, we stumbed upon some text in the DK guidebook that indicated Nunobiki Falls was near the Shin-Kobe Station, which was just one subway stop away from our stop.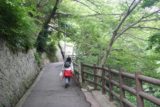 And at 3:45pm we had arrived at the Shin-Kobe Station having already made up our minds about how we were going to spend the rest of the afternoon.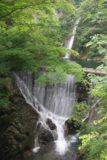 At first, we had a little trouble navigating through the station trying to figure out where the Nunobiki-no-taki trail started. When we saw what appeared to be a riverside walkway beneath the train station, Julie was worried about getting mugged in here.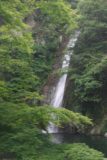 Well, a policeman happened to show up and Julie asked for directions about the trail. Turned out that we did indeed have to go underneath the station and right onto the concrete walkway on the other side. I think the presence of the cop also allayed some of Julie's reservations about proceeding.
From there, we then had to figure out which of the many forking paths to proceed to the waterfalls. Fortunately, we recognized the kanji for "no-taki" and that kind of helped us along as we navigated through this urban park.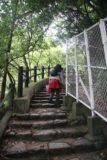 As we walked further up the path, more and more green dominated the scene. It was kind of unusual to see so much green next to an urban city like Kobe.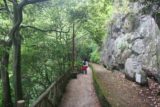 At 4pm, we reached the first Nunobiki Falls. This particular one had the view of the main tier partially obstructed by foliage. The lower tier was man-modified. It was attractive but not a jaw-dropper.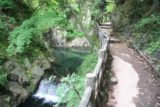 Ten minutes later, we noticed the second of the Nunobiki Falls. Unfortunately, the view of this was pretty much blocked by foliage. We had to go up quite a few stairs to get to this point.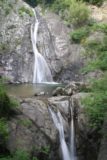 Five minutes later, we reached the 3rd and 4th falls, which were visible from the same spot.
This one was quite nice (especially by Southern California standards). The uppermost tier was tall as it fell down a large rock face exposed to the sky. It was hard to capture all of both waterfall tiers in one shot due to the sheer height.
At this point, Julie decided to stay behind at this waterfall when I expressed interest in continuing to go up more steps to the observation deck.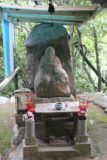 At 4:35pm, I managed to get to the observation deck where there was a pleasant view of Kobe. There was the sound of a helicopter kind of dominating the noise of the area and lots of foliage kept this from being a really commanding view. Still, it was worth the extra effort to get up here and quite a few other people must've thought so too as I had to share the deck with a handful of other people.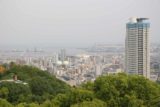 I did a little more exploring beyond the observation deck, but the river only presented more minor cascades. It eventually led to some hydro facility, which I didn't bother getting to.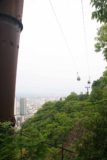 Another path seemed to get directly underneath some cable car lines and pylons. So after seeing that, it wasn't worth any more effort, and I returned to Julie at 5pm.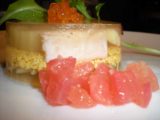 From there, we headed back downhill to the Shin-Kobe Station where we then proceeded to the Crown Plaza area to splurge on Kobe Beef at a restaurant called Wakoku.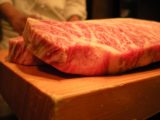 One look at the menu made it clear that the prices have increased since the Lonely Planet review of it. But we weren't going to be denied Kobe Beef in Kobe.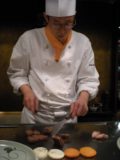 And sure enough, the meat was divine! It might've been a little fatty, but it was very good and the chef kind of made suggestions about which pieces and foods go with what sauces.
For sure we're not going to have this much Kobe Beef in one sitting again (250g) as any further splurges for the world's most expensive meat back at home is sure to be only a bite or two.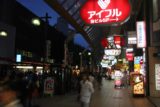 At 7:05pm, we were back at the Sannomiya Station where we noticed immediately outside the train station that there was a happening scene. So we walked around these city streets full of young people and working class people taking a break from their long workday.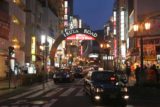 As we were meandering along to get the flavor of the Kobe night life or after work life, we probably went about as far as the Higashimon Street, which was another brightly-lit shopping arcade that we briefly checked out.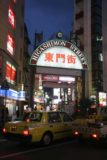 At 8pm, we finally called it a day returning to our hotel. It was a surprisingly busy day considering only Himeji-jo was the main goal of the day. But as our last full day in Honshu comes to a close, we look forward to going to Hokkaido for a little bit of a different experience.
However, still balancing that anticipation with a homesickness knowing that there are only 7 days left on this trip was something to contend with…