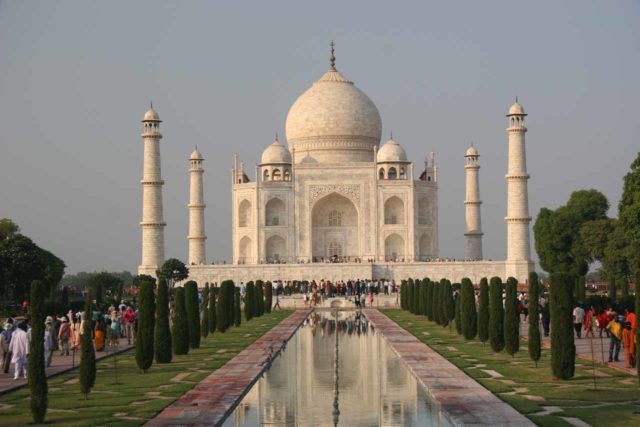 1-November 2009 to 8-November 2009:
…I guess Julie and I were a bit tired from the early morning wake-up and consequent safari and food coma so we dozed off.
But suddenly at 12:15pm, Subhash slammed on the brakes, waking both of us up.
When the vehicle stopped, I noticed a little boy lying beside the road.
Subhash seemed like he was in shock as he sat silent, and then got out of the car. From that point, he was swarmed by villagers (one of them hitting him repeatedly). And it was then that I started to compute what had happened….
Days 1-3: WASTED TIME AND BODY
It was Sunday morning when I was finished with my 6th consecutive night of working the 3rd shift. The upside-down sleep schedule wreaked havoc on my body, and I was worried as hell about getting sick before this trip.
But it was finally 6am (no help from the extra hour worked thanks to daylight savings at 2am earlier in the evening). So as tired as I was, I eagerly hopped into the car, said my farewells to the fellow coworkers taking over, and headed straight for home.
Once I got home about a half-hour later, I got right to taking a much-needed shower as well as a good brushing and flossing. As I was waiting for Julie to finish packing her belongings, I was vacillating between full fledged sleep and groggy consciousness.
At around 9:15am, I summoned just enough awareness to get our stuff into the car and drove back to LAX in what must've been some of the sleepiest miles I'd ever driven.
By around 11am, we were done with checking our bags through TSA and securing our boarding passes. We snuck in a last minute meal of overpriced airport food. We also managed to meet up with my parents who happened to be flying to China shortly after our departure to India.
By about 12:45pm, we bid my parents farewell and proceeded to go through the crowded gate area and onto the plane. The plane wouldn't take off for another hour, making us worry about possibly missing one of our connections later on today. But in any case, we finally took off some time near 1:45pm, which was later than the scheduled 1:10pm departure.
I managed to get some necessary Zs (finally!) while on the 11-hour flight so that made much of the flight go by pretty fast. But when I awoke for good momentarily, the plane seemed to be rocking as we were in the midst of some serious turbulence that never seemed to end. When things calmed down, I managed to squeeze in a movie of G.I. Joe, which I thought was pathethic.
Anyways regarding the turbulence, I don't know what it is about being close to Japan, but this brought back flashbacks of a particularly turbulent flight we had on the way to Hokkaido from Kobe where the plane suddenly banked to the right then suddenly to the left; when some panic ensued as well as a few worried screams. Anyways, we thankfully landed in Narita for a brief stop before continuing on to Singapore for our next connection. It was around 6pm Japan time (1:18am PST) when we landed.
The next leg started a bit delayed at around 8pm. Again, we were worried about missing our Singapore to Delhi flight connection since we only had roughly 55 minutes to pull off the connection. But this delay really got us worried.
So the next 7 hour flight was also quite turbulent as well as lacking in piece of mind. I once again managed to get some more Zs, and we uneventfully landed in Singapore at barely 1:45am Singapore time. That left us less than 40 minutes to catch our scheduled 2:25am flight to Delhi. But thankfully, the Singapore Airlines crew coordinated this tight bit of scheduling and carted many of us quickly to the appropriate gate with supposedly our checked baggage transiting in parallel as well.
By around 2:45am, the 5-hour flight to Delhi took off. By now, both Julie and I were wide awake. So we watched some movies, including part of an interesting Bollywood movie called "Kambakkht Ishq (Damned Love)." It was a mix of musical, drama, romantic comedy, and some kitschy Indian themes quite unlike anything I'd ever seen before. It's cheezy, escapist, funky, sexy, and comical all at the same time. Too bad we couldn't finish when we landed, but I took a mental note to watch it on the way back if it's still available. Besides, that mantra of "Om, Mangalam. Mangalam" and the accompanying music afterwards still rang in my head.
We landed at 5:50am Delhi time (3:50pm PST) so we probably spent over 26 hours from the LA airport to the Delhi airport. We met up with our tour rep and along with our driver, we were whisked away through a not-yet-awake Delhi city towards our hotel somewhere near Old Delhi.
By about 7:10am, we were at the Taj Oberoi Hotel. Apparently, it was too early to check in and we learned that this place wasn't very conveniently located to do any walking on our own. So we spent the next couple of hours just reading and killing time.
I wasn't very happy about this "waste" day, which wasn't on our original plans. But we went with our travel agents' suggestion thinking he might know something we didn't. Yet it turned out that we spent an extra night and lots of wasted valuable time doing nothing. On top of that, I was stewing about not being able to do Simlipal National Park later in the week apparently due to Maoist activity that put our security at risk. Yet during my 3rd shift at work, I had read that the park would open on November 6th this year, and our original itinerary had us arriving on November 7th.
So I was bumming big time about missing out on Barehipani and Joranda Falls (two major waterfalls in Simlipal NP along with a chance at seeing a wild tiger) on this trip. Moreover, I was also stewing about not being able to do Bandhavgarh National Park for the best chance at seeing a tiger. Perhaps that travel agent didn't want to make more calls and cancellations so we ended up with this substandard itinerary after unforseen changes made after we already surrendered the money. But then again, maybe I was being unfairly critical and probably a little cranky since it had been over a week since I had slept normally.
In any case, this was one of those moments where I longed for the freedom and convenience of independent trips you get from more developed countries.
By 9:40am, we were finally able to check into our room. From that point, we took some much needed showers and tended to our oral hygene. We weren't sure what we were going to do for the rest of the day, but at least we didn't have to loiter in the lobby any longer!
While in our room, Akhilesh (our Delhi tour company rep) called us and informed us that for an additional cost of Rs 2000, our driver Subhash could taxi us around town to places like the Khan Market, Humayun's Tomb, a lunch spot, a dinner spot, and some other buildings and museums of interest.
I personally felt this added cost shouldn't have taken place had the itinerary been done right, but it was too late at this point. While my sentiments were probably unfairly harsh, I couldn't help but feel that this had all the makings of getting hustled on this first day.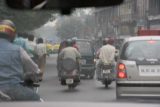 Anyways, at around 12:15pm, Subhash picked us up from the hotel. From there, we proceeded to drive through the crazy traffic to get to our lunch spot which was at this place called Vedas.
While stopped at one of the intersections, our first encounter with a child beggar occurred. Having seen Slumdog Millionaire, we knew some of the hustler games being played on unsuspecting tourists, so while this little girl holding a baby in her arms was hitting the window on Julie's side and repeating "Hello," we ignored them. And upon seeing her begging wasn't getting anywhere, she pounded the window one last time in disgust as she left.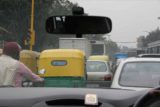 At around 1:15pm, we finally made it to Vedas. The traffic was pretty crazy as Subhash had to weave through bikes, rickshaws, tuk tuks, pedestrians, scooters, cars, buses, etc. all with no respect to any sort of rules or order it seemed. Julie and I thought this traffic was worse than China and Egypt, and that was saying something!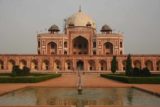 At 2pm, we were done eating our Northern Indian food at Vedas and then headed over to the Khan Market. Julie expected a bazaar kind of experience, but the Khan Market was really nothing more than a collection of shops in a particularly ordinary area of Delhi. So we didn't linger for long except to buy a couple liters of water.
At 3pm, we arrived at Humayun's Tomb. This was probably the highlight of today as we strolled through some impressive structures that were said to be Mughal-influenced, and were probably the first examples of Persian styles in Indian architecture as well as being known as the pre-cursor to the Taj Mahal.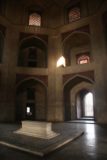 We were easily in photo-taking mode as we strolled the grounds. We also weren't the only foreigners in these parts so we weren't the only ones being stared at like we were in the car weaving through the chaotic Delhi traffic.
At 5pm, we were done with the Humayun's Tomb and loitered around the Arts and Crafts Museum. There were a lot of works on display here, but both Julie and I were a little tired from the day and perhaps jetlag was catching up to us. So we were half sleepwalking through the grounds though we were quite impressed with the works on display when we managed to remain conscious. And by about 5:10pm, we left since the museum was closing shop even though there was still a whole section of the museum we didn't get to see.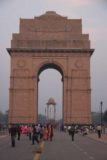 About 5 minutes later, Subhash drove us to the chaotic scene in front of the India Gate. This big gate structure was reminiscent to Julie of the L'Arc de Triumph at the Champs d'Elysees in Paris. So Subhash generously stopped the car where lots of other cars and rickshaws were stopped, and we walked closer to the gate to get some nice photos while trying to ignore the sheisters and touts.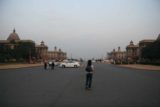 By about 6pm, we were done making a quick look at the neighboring governmental buildings, which looked very grand and was quite reminiscent of Canberra based on its grandeur. But with police preventing visitors from stopping, we didn't get to take as many photos of this place as we would've liked.
Not long after, we arrived at the ITC Taj Mahal Hotel. There, we were supposed to have a meal at Bukhara, which Akhilesh seemed eager for us to try out.
But the restaurant wouldn't open until 7pm, and by the time we were finally seated, both of us were shocked by the prices of the food. I'm glad neither of us were hungry because we paid something like Rs 1500 (between $30-$40 USD) for some kind of veggie dish, Rs 190 for a roti bread, and some Rs 395 for bottled water with gas. We were out of there by 8pm having spent over Rs 2300 for what amounted to something that would've been an appetizer in any other Indian restaurant; and the food wasn't anything extraordinary.
What a total rip off.
So after rejoining Subhash at a little after 7:45pm, the rest of the drive was a blur filled with honking horns as he weaved through traffic and Julie and I succumbed to sleep. By 9:10pm, we finally returned to the hotel from the brutal Indian traffic, and we proceeded to head right to our room to crash for the night.
Day 4: TOURING OLD DELHI
Julie awoke before I did at around 6:30am. And when I awoke, I learned that some kind of plastic flap holding the battery down on Julie's Nikon Coolpix camera was broke. That wasn't a good thing, and it didn't look like it was fixable. But it did appear that the camera was still getting electricity from the battery so I guess as long as contact was being made between the battery and camera (regardless of how precarious the arrangement was), we'd still be fine using her camera. We'll see whether we're screwed with taking movies or not because of this little bit of calamity.
At 9:30am, we met up with Akhilesh as well as got introduced to Dolly, our guide for today. At first, we thought they were a half-hour late, but we learned that we were 30 minutes ahead (I guess India had some strange times on the order of half-hour like it was for the Northern Territory of Australia). In any case, our clocks were now straightened out.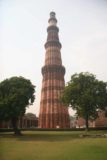 So after getting our travel docs, we proceeded to head out towards the Qutb Minar, which was some kind of very tall pillar.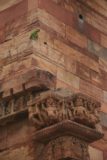 We had to weave through the nasty Delhi traffic again but at least we had lots of conversations with Dolly, who entertained us with some history of some of the historical buildings we drove past as well as got into some politics from both the Indian perspective as well as regarding the politics of the US.
By about 10:45am, we arrived at the Qutb Minar. There, we walked amongst the impressive (some partially restored) ruins.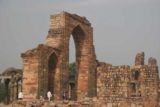 There was quite a bit of intricate detail in the ruins surrounding the tall tower that I'd imagine was the Qutb Minar itself. And the level of intricacy and attention to detail certainly made it feel like we were walking through some of the ancient ruins of Egypt's Nile Valley.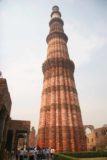 In any case, the obvious centerpiece was the very tall pillar. It didn't seem like the tower itself could be climbed, but then again, maybe we just didn't consider it. I'm sure if it was possible to climb it by going up stairs or something, then it would've been crowded and probably would've costed some money. Who knew whether it would be worth it or not.
Anyways as we were strolling about the complex, we also noticed some interesting-looking parrots as well as a good deal of foreigners so we knew this was a pretty popular spot in Delhi.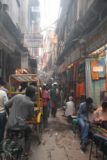 At 11:10am, we left the Qutb Minar and by 12:15pm, we arrived at some chaotic area that turned out to be the beginnings of the Chandni Chowk bazaar, which was backed by the Jama Masjid mosque. Dolly got us to ride the bicycle rickshaws through the bazaar, which was quite an adventure in itself as the weight of Julie and I must've really made the bike rider in front of us work pretty hard.
On top of that, he had to weave through the congestion of other rickshaws, scooters, and pedestrian traffic all squeezing through narrow alleyways barely 6 or 7ft across.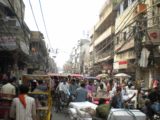 You'd think for a pedestrian zone you wouldn't get the same kind of traffic as the busy streets of Delhi, but boy were we wrong! Still, this bazaar area had an overwhelming number of shops and people all crowded beneath tangles of electric power lines looking precariously like any one of them could break and electrocute unlucky bystanders below.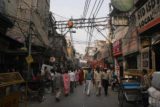 The rickshaw ride itself lasted nearly an hour even though probably a third of the time was spent stuck in traffic.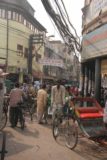 At 1pm, we got off the rickshaws and followed Dolly into the bazaar towards the Karim's Restaurant. This was a place that wasn't on our official itinerary, but it served great Mughlai food. And all three of us were fed for a price that amounted to less than $10 USD! That was certainly better than blowing off this amount on just sparking water at Bukhara last night!
In any case, Dolly told us that she was concerned about guiding us here thinking that it would be embarrassing to show us. But we assured her that this was part of the atmosphere of visiting Delhi. Besides, the food had to have been one of the best, if not THE best, Indian food we've had so far.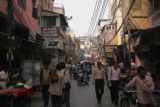 The rotis were both thin yet substantial enough to pick up things with. The curry dishes were simply devine. The butter chicken was awesome. If this was what Mughlai food was supposed to be like, we definitely wanted to have more of it on this trip. And we'd have to ask ourselves why there wasn't such a thing back at the Little Indian in Artesia or none that we know of in the rest of Southern California!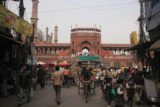 After stuffing ourselves at Karim's, we entered the Jama Masjid at 1:40pm. There, we had to take off our shoes and walk amidst the dust and bird crap strewn over the sacred mosque grounds. We also had to pay an additional Rs 200 just to take photos within the complex, and they made Julie wear some robe (which apparently it was the same for other women as well).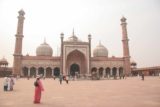 The massive square fronting the bazaar was a large open space so for sure our feet were going to get dirty as we strolled through here shoeless. The mosque itself was so grand that we had to be on the other side of the square to adequately capture it in a single photo. We didn't take the time to go inside, however.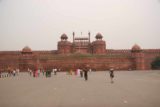 About 15 minutes later, we were done taking photos and strolling about the mosque. Not long thereafter, Subhash drove us to the outside of the Red Fort. Since Dolly mentioned that this place was similar to the one we'll see in Agra, we didn't linger here for too long.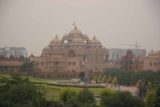 So we drove some more and ended up at the Akshardham Temple at 2:40pm for the last bit of touring during for the day. The only shot of the temple we were able to get was from far away near a highway. Once we got through the stringent security, the only thing in our possession was our wallet and keys (no photographs allowed within the premises).
It was too bad we couldn't take photos of this temple, because it was indeed very impressive and ornate. The temple itself seemed like it was surrounded by a shallow moat. Lots of people were here as well (seemingly mostly local people) checking out the scene. But Dolly took us towards some boat ride, where we relaxed and went through a very Pirates of the Caribbean-like presentation through displays of Indian history.
In fact, this boat ride and the accompanying narrative contradicted much of the established assumptions about who invented what. I guess if you bought was was told here, you could attribute many matters pertaining to math, astronomy, medicine, chess, massage, printing, yoga, etc. to the Indians, and that its culture was possibly even more ancient than the Chinese.
After the boat ride, Dolly walked us around the perimeter of the Akshardham Temple and we eventually rejoined Subash at 4:05pm. From there, we were driven to some handicraft shop to conclude the day getting the sell on put on us.
Even with the hard selling, we eventually settled on some kind of wooden box as a souvenir. It wasn't cheap, but I guess Julie had plans to add this to our collection of trinkets to kind of remind ourselves of where we had been and the kind of arts and crafts that we were able to take home.
At 5pm, we were done getting the sell on (and helping Dolly earn a little more in commissions, I'm sure), and then we headed back to the hotel. And finally at 5:40pm, we were back in our room and ended up crashing for the evening to get caught up on some rest while refraining from any more spending this evening.
Day 5: IT'S ALL ABOUT LOVE
The day began with a bit of a rude awakening as Julie and I were woken up by sounds of groaning and gasping from next door. It was 3am in the morning and it was quite obvious that our neighbors were having sex. Without going into too much graphic detail, it seemed like our neighbors were enjoying themselves as we could audibly tell that the woman had climaxed.
When they were done, they proceeded to turn on their TV (fairly loudly), which made it a little more challenging to fall back asleep. But eventually, we would fall back asleep though it certainly wasn't immediately after our rude awakening.
At 7am, we awoke and finished up with our packing before having a brekkie. But this time, we figured out that there was an alternate menu in lieu of the standard Western buffet.
Where was this yesterday? I guess we never noticed.
Nonetheless, we had ourselves a masala dosa as well as uttarpam. Wish we had tried the other Indian stuff for breakfast yesterday.
At around 8:45am, we met up with Subhash and proceeded to take off from our hotel. Now, we were to embark on a long drive south to Agra. But the hectic Delhi traffic didn't let go of us very easily as it took another hour just to get out of the city limits.
It seemed like the haphazard traffic really got bad whenever there was an intersection. So you can imagine just how often we'd have to stop, wait, squeeze into any open spaces (however slight) amongst a combo of rickshaws, pedestrians, trucks, automobiles, tractors, and even camels before continuing on again.
The chaos of the roads was all due to the lack of respect of lanes and driving etiquette (at least compared to those we were used to back at home). We observed similar driving behavior in China and thought that was the worst we had seen. But India seemed to be on another level of organized chaos.
We wondered about the endurance of Subhash after having to weave through Delhi traffic for the last couple of days and now he had to deal with traffic on the way to Agra. But he seemed to manage just fine.
At 11:30am, we arrived at some rest stop in Uttar Pradesh state where lots of other tourists were dropped off as well. On the way, it seemed like Subhash had to pay taxes whenever he crossed interstate boundaries. Of course when he had to get out of the car and pay the fees, that allowed the touts to swarm the car and try to sell us stuff while refusing to take "no" for an answer.
At least the roads seemed to be a little more cleared up by now so our average speed was probably exceeding 60 km/h finally.
After having a quick lunch, we left at 12:10pm and continued onwards towards Agra.
One thing we noticed while out in these rural regions was that the haze that was so prevalent over Delhi was missing. We guessed it was a smaller concentration of pollution, which was why the sun was shining brighter here.
At 1:45pm, we got close to the city limits of Agra. There, Subash pointed out an impressive monument called the Sikandra Fort. We briefly stopped for photos at this fort before continuing on.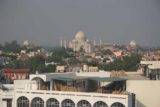 At 2:20pm, we made it through more honking and traffic jams, and eventually got to the Gateway Hotel Agra. There, we checked into our room, which had a view of the Taj Mahal in the distance. Then, we briefly rested before we were on our way back out the door at around 3:15pm.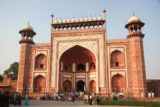 Once downstairs, we met our guide for the area named Kavetha. Barely 10 minutes later, we got to the car park area for the Taj Mahal before we rode an electric tram closer to the monument. From there, we walked past the East Gate trying to ignore the touts while listening to Kavetha as well as taking photos.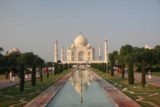 Security was pretty tight at the Taj Mahal so we had left most of our stuff with Subhash before getting within the monument limits. All we had now were our cameras and a little bit of cash.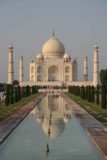 The Taj Mahal complex was extremely crowded. It was on the order of what we had seen in China's attractions like the Forbidden City. Thus, it was hard to get peaceful photographs of the classic marble structure fronted by symmetric reflecting pools.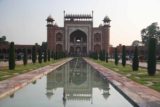 Still, with the late afternoon sun refracted by the ubiquitous haze, it was pretty easy to take a pretty decent photo of the marble monument with people providing the scale as to the size and grandeur of this labor of love.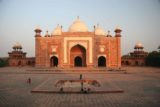 Kavetha told us of the story of how the Taj Mahal was built and why. To make a long story short, it was basically the dying wish of Shah Jahan's third wife (Mumtaz Mahal) who was about to die after giving birth to their 14th child.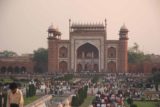 Shah Jahan's third wife was a commoner who married into royalty (very rare at the time) yet it was her who was the prince's favorite as she possessed uncanny street smarts and strong will perhaps as a result of her more common upbringing.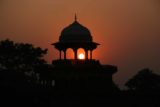 So when she was dying, she told Shah Jahan to build something that would stand the test of time to symbolize their love for each other. And eventually, a Turkish architect came up with the design that the prince liked (after rejecting countless other attempts by others), and that was how the Taj Mahal came to be from a dream into a reality.
In fact, after the Shah Jahan's usurping sons deemed their father too insane as he mourned over the death of his wife, Shah Jahan would stare at the Taj Mahal every day for eight years straight while under house arrest at the Agra Fort across the river.
While most monuments had a more turbulent and cruel history regarding war, slavery, or religion, this particular monument was unique in that it was built out of love.
We walked around the complex taking what photos that we could despite the crowds.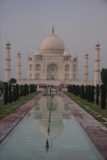 It seemed like the marbled building casted different colors and had different intensities of glow as the sun was setting. Set against the hazy blue and then orangish-pink backdrop, it was easy to see why other people were so enchanted by this that they voted it one of the seven new man-made wonders of the world.
Not bad for something built over 400 years ago that's still standing as a result of a labor of love and a dream that embodied that love.
And by 5:50pm after the sun had already set, we were back at the awaiting Subash.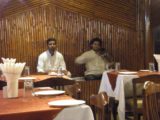 After making a brief stop at some of the marble works from people descended from the workers of the Taj Mahal itself, we then ate at the Only Restaurant, which seemed to consist of all foreign diners and no Indian ones. The only Indian people here were staffers and a pair of performers beating on traditional instruments.
Still, we had pretty filling food, though over $20 per meal seemed kind of on the high side, but perhaps that was a consequence of eating at a restaurant in a well-touristed spot like the Taj Mahal.
At 7:40pm, we made it back to the hotel, where it was time to wind down from the day's activities. Though this time, the rooms seemed to have a little better soundproofing so we don't expect another love making session to wake us up unexpectedly. Despite this, today truly did seem like it was all about love…
Day 6: IST
We awoke at 6:30am. The blowing horns and hectic traffic right outside our hotel kind of made it easy to get up this early.
Upon gazing outside our window, we could see that the Taj Mahal was shrouded in morning haze.
In any case, we wasted no time getting our stuff packed and trying to pack some essentials in our day gear knowing that we might not have our main luggages for the evening since Subhash was going to drive them to us while we were supposed to take a train ride from Bharatpur to somewhere near Ranthambore National Park.
While Julie was getting ready for the day, I was busy watching some Indian news on NDTV because some news regarding Maoists caught my attention. It was only through this news did I begin to fully understand the danger and seriousness of Maoist insurgencies, and I guess it was through this news did I better appreciate the move to not force the trip to Simlipal National Park (or even Chitrakote Falls in Chattisgarh state, which was nixed the moment our tour operator saw our original itinerary).
You definitely don't see this stuff on the news outside of India. And I guess this is the first time ever for us where parts of our waterfalling excursions were affected by insurgencies.
I'm sure there are two sides to every story, and I'm betting that the tribal communities supporting Maoist and Naxalite insurgencies among others were probably wronged or neglected in some way shape or form by the central government (and thus want to separate and become independent in much the same way Bangladesh [formerly Pakistan East] and Pakistan did).
Anyways, I guessed that the train ride was so the tour operators didn't want us to go along for the bumpy ride by road as we were told the road between Bharatpur (where the train station was) and Ranthambhore was in bad shape. From that standpoint, I guess they really wanted to make sure our journey to Ranthambore was comfortable.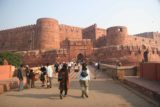 By 8:40am, we left the hotel and headed for the Agra Fort. And five minutes later, we were there.
Many of the same people we saw at the hotel for breakfast were also present at the Agra Fort.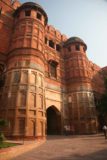 So we proceeded to walk past the touts and go through a grand entrance area that easily reminded me of an Indian version of a medieval castle. From there, Kavetha took us on a tour of the Agra Fort where its grandeur was immediately apparent.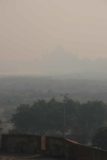 In fact, this place wasn't as militaristic as the name suggests or as the current occupancy by the Indian Army would indicate. It was full of ornate rooms and hallways many of which had the attention to detail that was apparent at the Taj Mahal.
There was also a large garden area as well as some marbled rooms with columns. From some of the views out towards the river, we could see the ghostly Taj Mahal appearing like an apparition out of the morning mist.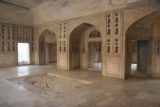 Now it was pretty easy to envision Shah Jahan staring towards the Taj Mahal for eight years straight while under house arrest in mourning of his third wife.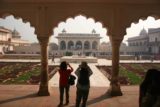 Given the grandeur of the Agra Fort, I often wondered how much resources were poured into this at the expense of commoners, and why royalty has a tendency to build grand things like this to keep to themselves and cut themselves off from the outside world. We saw cases of this in other monuments and castles around the world (e.g. the Forbidden City in Beijing) and it seems like this is a commonly occurring theme.
By 9:45am, we left the Agra Fort.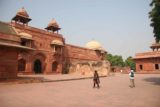 Given how packed our itinerary was along with the unpredictable traffic of Agra, Kavetha convinced us to skip the Baby Taj Mahal and head straight for the Fatehpur Sikri way on the outskirts of Agra.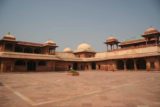 So by 10:40am, we made it to the Fatehpur Sikri, which was much faster than Kavetha expected. She thought Subash was a good driver because she expected this drive to take at least 90 minutes.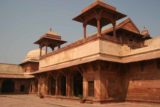 Fatehpur Sikri was another giant red fortress that seemed to have lots of courtyards, ornate rooms and buildings, and columnar corridors. It was known as the Ghost City, which Kavetha explained that this place was abandoned not long after it was built.
That was because the leader (Emperor Akhbar) had to attend to other issues in Ladakh (in what was now Pakistan) while spending time in Agra when times were more peaceful (all the while forgetting about Fatehpur Sikri).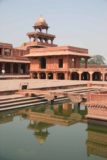 It was amazing how much infrastructure went into this complex only to be neglected over the years.
At 12:10pm, we were done seeing the Fatehpur Sikri and then headed over to some decked out heritage hotel for lunch at 12:45pm. It turned out that lots of other tourists ate over here, too, so I figured this place must've done the smart thing and have some deals with tour companies to bring their clients here.
Even though we were done eating at 1:30pm, our train wasn't supposed to leave until 3:40pm. So with all this time to kill, we spent the next hour checking up on email and trying to get reconnected with the rest of the world for the time being.
At 2:50pm, we left for the train station and about twenty minutes later, we arrived at the Bharatpur Junction Railway Station.
There, we got our necessities and bid Subash a safe journey as we were to rendezvous at our accommodation for the night. Whether he gets there this evening or tomorrow morning was uncertain.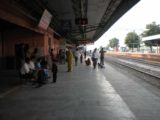 The train station was a humble place full of locals sitting around (some of them laying on the ground) either waiting for their train to show up or just loitering around. We met up with a local representative while engaged in some conversations with Julie and I to keep us busy.
He seemed to love to talk about Hollywood as well as Bollywood so this helped to pass the time.
At first, we conversed in an upper class waiting room for women. But when we learned that our train was a half-hour late, we slowly made our way to the open waiting area where we walked past the locals waiting area and joined the groups of tourists also scheduled to board this train. The local rep told us that Indian trains tend to operate on IST or Indian Stretchable Time.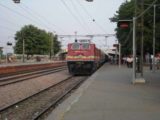 There, our rep conversed with us some more while some of the locals gravitated towards us and stared at us. We weren't sure if they had intentions to pickpocket or anything as we found it strange to be stared at like this while other tourists seemed to be left alone.
In any case, the train finally showed up at around 4:45pm. It was an hour late. Again, the rep reminded us about IST.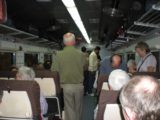 At that point, we thanked our rep for keeping us company and now we had to board the train and squeeze our way towards our assigned seats. This wasn't easy to do as the aisle was narrow and people with their bags were moving in both directions. It seemed like forever before I was finally able to make it to my seat. Since Julie wasn't carrying any bags, she made it there much earlier than I did.
Now for the next 2.5 hours, we'd be on our way to our next destination.
When we originally planned this trip, we were supposed to have made our way back to Delhi by now in anticipation of a flight to Calcutta (Kolkata) for an eventual visit to Simlipal National Park in Orissa State in Eastern India. Unfortunately, Maoist rebel activity put a halt to those plans and we ended up with this alternate plan to go to Ranthambore in the hopes of seeing tigers. I guess Bandhavgarh National Park wasn't going to happen due to the complications of rescheduling the front part of the trip.
So in any case, we were on this unexpected train ride. At least this train ride was considerably more comfortable and less chaotic than the Chinese ones. Plus, it gave me time to tend to some chores regarding dumping photos onto our portable devices as well as compose this blog entry.
We arrived at the train station shortly after 7pm. There, we met up with another tour operator representative, and he prompty whisked us away from the airport to the Khem Villas Cottages.
By about 7:45pm, we arrived at our very safari-like resort. Walking around this complex brought me back to our safariing in Africa last year.
From there, we wound down our day, had to take cold showers (hot water easily ran out), and had to deal with intermittent power outages since I believe they're on generator power. With our wake-up call at 5:45am, we had better get rested up so we could partake in some safariing tomorrow with some high hopes of seeing a tiger in the wild, at last!
Day 7: LADY OF THE LAKE
Anticipating a 6:45am departure for the early morning safari, we awoke at 5:45am. And with great anticipation (and hoping that I was proven wrong as I expressed to Julie that we probably wouldn't be seeing any tigers here), we awaited with dozens of other tourists at the reception area of the Khem Villas.
Groups at a time were being whisked away onto their safaris. But by 7:15am, Julie and I and a foursome of Brits were still waiting.
Finally at 7:25am, our jeep arrived.
At that point, the Brits introduced themselves to us as Andrew, Clive, Diana, and Judith. It was pretty cozy on the jeep, which seemed pretty low-lying and nothing like the behemoths we had ridden on in our Tanzanian safari with Salim.
So we proceeded along our bumpy ride into what was known as zone 4 of Ranthambore National Park. The Brits told us that they had already seen a tiger (C17 I believe) yesterday. So I was a bit worried that the karma would tell us that maybe we might not be so lucky on this time around.
At around 8:15am, we were rounding a corner then approaching an opening within an old wall. Up ahead were numerous jeeps and canters facing us.
As we approached, the folks facing us were frantically telling us to stop moving!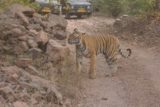 Apparently, there was something very big nearby and no one wanted it to be scared away by us.
So as our driver was backing up, a female royal bengal tiger was slowly making her way across the road!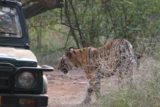 The moment was so big yet so fleeting, and I snapped as many photos as I could before she disappeared into the bush. Since I was the only one with a DSLR camera, I was able to get some shots of the tiger. The point-and-shoot cameras were simply too slow to capture the moment.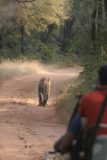 We soon joined the caravan of vehicles as the guides noticed the trajectory of the tiger. And it wasn't much longer before the tiger was spotted again. This time, they anticipated the tiger was going to cross the road again somewhere behind us!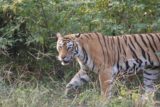 And just as the guide called it, the tiger showed up again. This time, she was very close to the jeep right behind us. And as the tiger slowly made her way past that jeep and followed the road past a fork, all the jeeps and canters quickly tried to follow the tiger.
Eventually, the tiger went back into the bush again, but as our jeep was in broadside view of a particular opening, that was when I probably got my best shots of the tiger.
And after a few more fleeting seconds, the tiger slowly made her way back into the bush and eventually sat somewhere that no one could see her.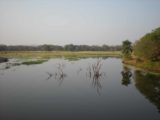 And with that, the whole jeep was in a happy mood. We got our tiger, the Brits got their second straight day of a tiger sighting, and our guide and driver were ecstatic that they got to see the largest tiger in the park so close. In fact, they said they had never seen this tiger this close up before, and it was a real special sighting because she was the oldest tiger in the park and she was dubbed the Lady of the Lake since she ruled most of zone 4, which had a little bit of a "lake."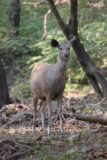 I guess given our extraordinary luck, we now felt that we had finally seen the best of the big cats in the world. The tiger was the lone big cat we didn't get to see, and those Siberian Tigers in Haerbin, China didn't count since they were in a caged enclosure and they weren't wild (at least they weren't allowed to be wild as they were routinely fed farm animals based on additional expenditures made by customers).
Still with that being said, the tiger was a little smaller than we had anticipated since we knew that tigers were the biggest of the big cats, and we had seen lions in Africa bigger than the Lady of the Lake. Who knows? Maybe there are larger ones in Bandhavgarh National Park or other tiger reserves in India.
The tiger commotion ended at around 8:35am. From this point forward, the safari was all icing on the cake. And it consisted of sightings of sambar deer, black spotted deer, wild peacocks, parrots, monkeys, wild boar, an owl, herrons, and cormorants.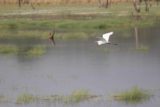 By 10am, we were done with the safari. And by 10:25am, we were finally back at the Khem Villas for our much-awaited breakfast. There, we met the daughter-in-law of the original founder of Ranthambore National Park, and upon hearing of our Lady of the Lake sighting, she echoed the guides' sentiment that we were very lucky indeed at having spotted the oldest tiger in the park.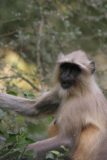 After the breakfast, we'd have another three hours to get caught up on sleep (for Julie at least). I used this time to continue blogging and labeling the photos we had just taken.
At 1:30pm, we went for lunch. I began to notice that all the food we'd been served had been vegetarian and probably organically grown right here on the premises. The sustainability principles being practiced were certainly being appreciated by myself as well as Julie. For it wasn't common to see wildlife game parks practicing what is being preached in terms of keeping the ecosystem healthy. But as far as we were concerned, these folks were certainly doing their part.
After we were done having the delicious lunch of pasta, potatoes, spinach and basil leaves, and some kind of cabbage with Indian beans, we were back out on another safari at 2:30pm. We ended up with the same guide but different driver and jeep. And we were once again touring with the friendly Brits who had joined us earlier this morning.
So with the pressure of tiger spotting off, we mentally tried to psyche ourselves up for other wildlife sightings like the sloth bear or leopard. If we saw any tigers, that'd be a bonus as well.
Initially, as we were about to re-enter the park, we noticed some turtles in a watering hole near a man-made dam. Further up the road, we saw the Ranthambore Fort in the distance, which was impressively perched high atop a mountain in the distance.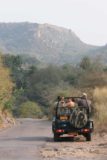 Then, we proceeded to go on a safari in zone 1. This particular zone was more hilly and more densely vegetated. It started off with a handful of banyan trees then passed by a few interesting rock formations.
Early on in the safari, there was a coordinated effort to try to anticipate a tiger's move to a watering hole after hearing distress calls from peacocks and other birds. But after going through a detour to a dead-end with a pool near another man-made dam, it appeared that the tiger had already came and left as evidenced by some paw prints near the pool and the dispersion of algae where the tiger probably had her drink.
The safari continued onwards through more hilly terrain and lots of rough sections. It was certainly a bumpier ride than this morning.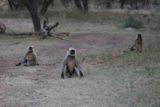 And after two hours of trying to spot sloth bears, leopards, and tigers to no avail, we ended up at some rest stop with a bunch of monkeys sitting around. It was around 4:30pm at the time and we had to relieve ourselves (of our bloated bladders) amongst the presence of these monkeys.
We had to get out of the park by 5:30pm or risk getting fined and/or closed in by gates. But upon hearing a distress call by a spotted deer, our guide had us take one more detour in search of a tiger sighting to salvage this afternoon safari.
But after 15 minutes of trying to spot the tiger, all we could see was that a trio of spotted deer were looking in a particular direction, but that direction was away from the road. So in the end, we had to bolt out of the area and make haste back towards the entrance before closure.
For the next hour, we bounced along the bumpy roads eventually getting to the gate at about 3 minutes past 5:30pm. I don't think any fines were in order, and the ranger there told us that zone 4 had performed once again with the Lady of the Lake making yet another appearance for the afternoon safaris in that area. This time, she was by a watering hole.
By 6pm, we were back at the Khem Villas. It was time to shower and try to get all that dust off of us. And even though our afternoon session came up dry in terms of any prized sightings, we at least got to see the Lady of the Lake this morning and knew that any other sightings was icing on the cake.
Day 8: THE UNEXPECTED
We awoke sometime around 4:30am as the wind apparently made something in the room move and make noise. Julie had trouble falling back asleep so for all intents and purposes, the day pretty much began at that point.
At around 6:30am, a Khem Villas staff member knocked on our door. And when we answered, he said our jeep was already here waiting for us. Considering that our jeep didn't show up until after 7:15am yesterday, this took us by surprise.
So we quickly got dressed and headed out to the lobby area. And by 6:45am, we were joined by the Brits sans Diana, who was already safaried out, and we were on our way.
We had a different guide and driver and we headed into zone 2 of Ranthambhore National Park.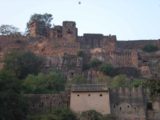 And for the next three hours or so, we were driving around this scenic zone which offered opportunities to look at the Ranthambhore Fort perched high up on the neighboring cliffs. This zone also featured a mixture of a canyon, grasslands, forests, and rocky hills.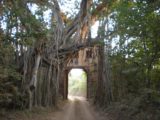 Early in the safari, there was a lot of anticipation for a tiger sighting as a sambar deer and some birds made consistent alarm calls (a natural way of telling if there's a tiger nearby). But unfortunately, the terrain in the ravine from which the sounds came from was very dense with vegetation. So we continued on with the safari.
And thus the rest of the safari went pretty much uneventfully.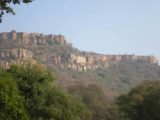 When we returned to the ravine area, it was reported that one jeep saw that tiger cross the road. But that was it. Based on that information, other jeeps (including ours) and canters tried to position ourselves for another tiger sighting, but it wasn't successful.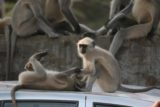 I guess based on this safari and yesterday afternoons, we could really appreciate the difficulty of even having a tiger sighting. We were really lucky to have the kind of sighting that we had yesterday morning! The locals weren't kidding when they said we were very lucky.
At 10am, we had left zone 2 and exited Ranthambhore National Park. But up ahead on the road out of the park, there were a few vehicles stopped and blocking traffic. And as we approached, we learned that there was a leopard that had just crossed the road!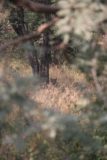 And sure enough, as we looked into the gaps in the foliage, we caught a glimpse of a well-camouflaged leopard within. My telephoto shot of its upper torso above the tall grass under a tree was the only evidence of our sighting. This of course prompted the other tour participants to exchange emails with me to send them photos.
So today's prized sighting didn't happen in the park itself. I guess sometimes you just don't know what to expect when it comes to these things.
At 10:25am, we were back at the Khem Villas. And after getting our stuff fully packed, we finally had our breakfast, and then we rejoined Subhash at 11:15am when we left the Khem Villas.
The drive was destined for Jaipur, which was supposed to be about 3.5 hours. I guess Julie and I were a bit tired from the early morning wake-up and consequent safari and food coma so we dozed off.
But suddenly at 12:15pm, Subhash slammed on the brakes, waking both of us up.
When the vehicle stopped, I noticed a little boy lying beside the road.
Subhash seemed like he was in shock as he sat silent, and then got out of the car. From that point, he was swarmed by villagers (one of them hitting him repeatedly). And it was then that I started to compute what had happened.
I could see Subhash was frantically trying to explain to the locals (in Hindi) that the boy dashed out in front of the road, and that this accident wasn't an act of neglect.
Eventually, a couple of villagers picked up the boy, bandaged his head (which had a pretty large and bloody open wound) and tried to wipe his bloody face as his nose was bleeding profusely. The boy was crying as the villagers crowded into the front passenger seat with the boy. And Subhash quickly drove us back to Ranthambhore in search of a hospital.
During the frantic drive back to Ranthambhore, the boy was coughing a little bit, but then he eventually stopped coughing, and we couldn't tell if he was conscious.
The next 35 minutes seemed much longer, but eventually we made it back to town at 12:50pm. The local clinic at this part of town couldn't help the boy so we all continued further into town.
After five more minutes, we were back at the main clinic, which also happened to be the clinic that the son of the conservationist who founded Ranthambhore National Park worked at. I thought this was a bit ironic considering that Judith told me during today's safari that they toured this clinic a few days ago.
Subhash was still distraught as I'm sure he was concerned about the demands of the villagers for compensation for the boy's health care and even after-health care. I felt bad for Subhash because driving in India is not easy (you have to be aggressive or else you won't be able to move) yet it could very well be that it wasn't Subhash's fault as the boy could've dashed out in front of the car. At least the boy was still alive, and perhaps it was Subhash's quick reaction that allowed the boy to live rather than become roadkill.
In any case, Subhash was going to remain at the hospital to see through this situation. Another driver ended up picking us up along with our belongings.
Before getting in the other car, Julie and I took a look at the front of the car and didn't see anything noticeable that suggested a collision.
So we thanked Subhash for driving us around for the last 6 or 7 days and by 1:15pm, we were off again.
Now, we were once again headed to Jaipur.
This driver took us on a different route than Subhash took. During this rather bumpy drive, it seemed that we took some narrow back roads through lots of agricultural lands, several humble rural towns, and within sight of a couple of historic looking forts.
I wondered how many tourists are driven out this way because we seemed to get consistently stared at by locals riding on the backs of trucks, lorries, rickshaws, or tractors. We were also getting stared at by villagers seeing us pass by.
Some of the kids even threw stuff (or at least gestured that way) at our vehicle. I wasn't sure what to make of it, but we could clearly see the hard life that folks out here must have as some people were bone thin while the lands out there looked very dry due to the weak monsoon this year.
Perhaps this detour told a story that most of us don't hear about regarding the pressures of just surviving in India in the face of overpopulation, a huge disparity between rich and poor, and climate change threatening to turn an already challenged majority into climate refugees.
Finally by 3pm, we were back on the major highway (I think it was called the Tonk Road) due north for Jaipur. And although the road was smoother, it wasn't any bit easier to drive as many cargo vehicles slowed traffic and even clogged it in many places.
It seemed we were driving into oncoming traffic just as often as we were on the left side of the road.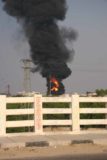 As we finally got close to the city of Jaipur, we noticed an out-of-control fire burning from an oil refinery. Who knows how much pollution the thick black smoke coming out from one of the tanks was pouring out?
Still, on a crazy day like today where the unexpected seems to find us someway somehow, it seemed rather fitting that this calamity was witnessed by us. There always seemed to be drama on our trips no matter where we go…
By 4:15pm we were at the Jaipur Airport. It turned out we were early as we met the rep from this area. He told us that if it weren't for the accident, we could've had time to see Jaipur's most famous sights within 2 hours. But as it turned out, we were an hour early for the 5:30pm check-in and 6:30pm departure.
So we just killed time talking to the rep and having a little bit of a snack while finishing off our bottled waters. And ultimately, we'd be on our flight on time (actually it took off early) though it seemed rather sparsely filled.
And on this 45-minute flight, we got some decent masala dosa and chocolate cake for the flight snack. That pretty much eliminated the need for a late dinner in Delhi.
By 7:15pm, we arrived at the airport, got our bags, met our reps, and loaded up the car (including help from a porter who imposed his help even though we never asked for it, and then he asked for a tip).
During the drive to our hotel, Akhilesh (the Delhi rep) called us and Julie spoke with him. From this, we learned that the boy was going to be ok. We weren't sure what's going to happen with Subhash, but we hoped he'd be ok from this too. Meanwhile, we had assurances that the tour company has a well-connected representative in the Ranthambhore area and will try to use his influence to work out a solution to the boy's health care without making Subhash or the travel company go broke over it.
By 8pm, we were at the Radisson Hotel by the airport. Security was tight at the hotel (no doubt as a result from the 26-11 attacks in Mumbai last year), but eventually we were checked into our room and could finally call it an end to this day that was full of the unexpected…
Visitor Comments:
Got something you'd like to share or say to keep the conversation going? Feel free to leave a comment below...
No users have replied to the content on this page