Days 1-3: WASTED TIME AND BODY
It was Sunday morning when I was finished with my 6th consecutive night of working the 3rd shift. The upside-down sleep schedule wreaked havoc on my body, and I was worried as hell about getting sick before this trip.
But it was finally 6am (no help from the extra hour worked thanks to daylight savings at 2am earlier in the evening). So as tired as I was, I eagerly hopped into the car, said my farewells to the fellow coworkers taking over, and headed straight for home.
Once I got home about a half-hour later, I got right to taking a much-needed shower as well as a good brushing and flossing. As I was waiting for Julie to finish packing her belongings, I was vacillating between full fledged sleep and groggy consciousness.
At around 9:15am, I summoned just enough awareness to get our stuff into the car and drove back to LAX in what must've been some of the sleepiest miles I'd ever driven.
By around 11am, we were done with checking our bags through TSA and securing our boarding passes. We snuck in a last minute meal of overpriced airport food. We also managed to meet up with my parents who happened to be flying to China shortly after our departure to India.
By about 12:45pm, we bid my parents farewell and proceeded to go through the crowded gate area and onto the plane. The plane wouldn't take off for another hour, making us worry about possibly missing one of our connections later on today. But in any case, we finally took off some time near 1:45pm, which was later than the scheduled 1:10pm departure.
I managed to get some necessary Zs (finally!) while on the 11-hour flight so that made much of the flight go by pretty fast. But when I awoke for good momentarily, the plane seemed to be rocking as we were in the midst of some serious turbulence that never seemed to end. When things calmed down, I managed to squeeze in a movie of G.I. Joe, which I thought was pathethic.
Anyways regarding the turbulence, I don't know what it is about being close to Japan, but this brought back flashbacks of a particularly turbulent flight we had on the way to Hokkaido from Kobe where the plane suddenly banked to the right then suddenly to the left; when some panic ensued as well as a few worried screams. Anyways, we thankfully landed in Narita for a brief stop before continuing on to Singapore for our next connection. It was around 6pm Japan time (1:18am PST) when we landed.
The next leg started a bit delayed at around 8pm. Again, we were worried about missing our Singapore to Delhi flight connection since we only had roughly 55 minutes to pull off the connection. But this delay really got us worried.
So the next 7 hour flight was also quite turbulent as well as lacking in piece of mind. I once again managed to get some more Zs, and we uneventfully landed in Singapore at barely 1:45am Singapore time. That left us less than 40 minutes to catch our scheduled 2:25am flight to Delhi. But thankfully, the Singapore Airlines crew coordinated this tight bit of scheduling and carted many of us quickly to the appropriate gate with supposedly our checked baggage transiting in parallel as well.
By around 2:45am, the 5-hour flight to Delhi took off. By now, both Julie and I were wide awake. So we watched some movies, including part of an interesting Bollywood movie called "Kambakkht Ishq (Damned Love)." It was a mix of musical, drama, romantic comedy, and some kitschy Indian themes quite unlike anything I'd ever seen before. It's cheezy, escapist, funky, sexy, and comical all at the same time. Too bad we couldn't finish when we landed, but I took a mental note to watch it on the way back if it's still available. Besides, that mantra of "Om, Mangalam. Mangalam" and the accompanying music afterwards still rang in my head.
We landed at 5:50am Delhi time (3:50pm PST) so we probably spent over 26 hours from the LA airport to the Delhi airport. We met up with our tour rep and along with our driver, we were whisked away through a not-yet-awake Delhi city towards our hotel somewhere near Old Delhi.
By about 7:10am, we were at the Taj Oberoi Hotel. Apparently, it was too early to check in and we learned that this place wasn't very conveniently located to do any walking on our own. So we spent the next couple of hours just reading and killing time.
I wasn't very happy about this "waste" day, which wasn't on our original plans. But we went with our travel agents' suggestion thinking he might know something we didn't. Yet it turned out that we spent an extra night and lots of wasted valuable time doing nothing. On top of that, I was stewing about not being able to do Simlipal National Park later in the week apparently due to Maoist activity that put our security at risk. Yet during my 3rd shift at work, I had read that the park would open on November 6th this year, and our original itinerary had us arriving on November 7th.
So I was bumming big time about missing out on Barehipani and Joranda Falls (two major waterfalls in Simlipal NP along with a chance at seeing a wild tiger) on this trip. Moreover, I was also stewing about not being able to do Bandhavgarh National Park for the best chance at seeing a tiger. Perhaps that travel agent didn't want to make more calls and cancellations so we ended up with this substandard itinerary after unforseen changes made after we already surrendered the money. But then again, maybe I was being unfairly critical and probably a little cranky since it had been over a week since I had slept normally.
In any case, this was one of those moments where I longed for the freedom and convenience of independent trips you get from more developed countries.
By 9:40am, we were finally able to check into our room. From that point, we took some much needed showers and tended to our oral hygene. We weren't sure what we were going to do for the rest of the day, but at least we didn't have to loiter in the lobby any longer!
While in our room, Akhilesh (our Delhi tour company rep) called us and informed us that for an additional cost of Rs 2000, our driver Subhash could taxi us around town to places like the Khan Market, Humayun's Tomb, a lunch spot, a dinner spot, and some other buildings and museums of interest.
I personally felt this added cost shouldn't have taken place had the itinerary been done right, but it was too late at this point. While my sentiments were probably unfairly harsh, I couldn't help but feel that this had all the makings of getting hustled on this first day.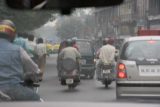 Anyways, at around 12:15pm, Subhash picked us up from the hotel. From there, we proceeded to drive through the crazy traffic to get to our lunch spot which was at this place called Vedas.
While stopped at one of the intersections, our first encounter with a child beggar occurred. Having seen Slumdog Millionaire, we knew some of the hustler games being played on unsuspecting tourists, so while this little girl holding a baby in her arms was hitting the window on Julie's side and repeating "Hello," we ignored them. And upon seeing her begging wasn't getting anywhere, she pounded the window one last time in disgust as she left.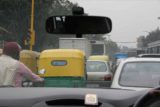 At around 1:15pm, we finally made it to Vedas. The traffic was pretty crazy as Subhash had to weave through bikes, rickshaws, tuk tuks, pedestrians, scooters, cars, buses, etc. all with no respect to any sort of rules or order it seemed. Julie and I thought this traffic was worse than China and Egypt, and that was saying something!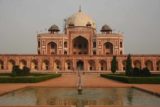 At 2pm, we were done eating our Northern Indian food at Vedas and then headed over to the Khan Market. Julie expected a bazaar kind of experience, but the Khan Market was really nothing more than a collection of shops in a particularly ordinary area of Delhi. So we didn't linger for long except to buy a couple liters of water.
At 3pm, we arrived at Humayun's Tomb. This was probably the highlight of today as we strolled through some impressive structures that were said to be Mughal-influenced, and were probably the first examples of Persian styles in Indian architecture as well as being known as the pre-cursor to the Taj Mahal.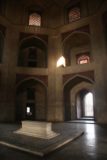 We were easily in photo-taking mode as we strolled the grounds. We also weren't the only foreigners in these parts so we weren't the only ones being stared at like we were in the car weaving through the chaotic Delhi traffic.
At 5pm, we were done with the Humayun's Tomb and loitered around the Arts and Crafts Museum. There were a lot of works on display here, but both Julie and I were a little tired from the day and perhaps jetlag was catching up to us. So we were half sleepwalking through the grounds though we were quite impressed with the works on display when we managed to remain conscious. And by about 5:10pm, we left since the museum was closing shop even though there was still a whole section of the museum we didn't get to see.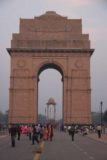 About 5 minutes later, Subhash drove us to the chaotic scene in front of the India Gate. This big gate structure was reminiscent to Julie of the L'Arc de Triumph at the Champs d'Elysees in Paris. So Subhash generously stopped the car where lots of other cars and rickshaws were stopped, and we walked closer to the gate to get some nice photos while trying to ignore the sheisters and touts.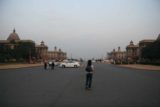 By about 6pm, we were done making a quick look at the neighboring governmental buildings, which looked very grand and was quite reminiscent of Canberra based on its grandeur. But with police preventing visitors from stopping, we didn't get to take as many photos of this place as we would've liked.
Not long after, we arrived at the ITC Taj Mahal Hotel. There, we were supposed to have a meal at Bukhara, which Akhilesh seemed eager for us to try out.
But the restaurant wouldn't open until 7pm, and by the time we were finally seated, both of us were shocked by the prices of the food. I'm glad neither of us were hungry because we paid something like Rs 1500 (between $30-$40 USD) for some kind of veggie dish, Rs 190 for a roti bread, and some Rs 395 for bottled water with gas. We were out of there by 8pm having spent over Rs 2300 for what amounted to something that would've been an appetizer in any other Indian restaurant; and the food wasn't anything extraordinary.
What a total rip off.
So after rejoining Subhash at a little after 7:45pm, the rest of the drive was a blur filled with honking horns as he weaved through traffic and Julie and I succumbed to sleep. By 9:10pm, we finally returned to the hotel from the brutal Indian traffic, and we proceeded to head right to our room to crash for the night.
Visitor Comments:
Got something you'd like to share or say to keep the conversation going? Feel free to leave a comment below...
No users have replied to the content on this page