Day 4: TOURING OLD DELHI
Julie awoke before I did at around 6:30am. And when I awoke, I learned that some kind of plastic flap holding the battery down on Julie's Nikon Coolpix camera was broke. That wasn't a good thing, and it didn't look like it was fixable. But it did appear that the camera was still getting electricity from the battery so I guess as long as contact was being made between the battery and camera (regardless of how precarious the arrangement was), we'd still be fine using her camera. We'll see whether we're screwed with taking movies or not because of this little bit of calamity.
At 9:30am, we met up with Akhilesh as well as got introduced to Dolly, our guide for today. At first, we thought they were a half-hour late, but we learned that we were 30 minutes ahead (I guess India had some strange times on the order of half-hour like it was for the Northern Territory of Australia). In any case, our clocks were now straightened out.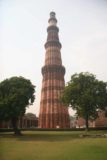 So after getting our travel docs, we proceeded to head out towards the Qutb Minar, which was some kind of very tall pillar.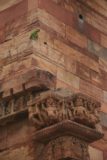 We had to weave through the nasty Delhi traffic again but at least we had lots of conversations with Dolly, who entertained us with some history of some of the historical buildings we drove past as well as got into some politics from both the Indian perspective as well as regarding the politics of the US.
By about 10:45am, we arrived at the Qutb Minar. There, we walked amongst the impressive (some partially restored) ruins.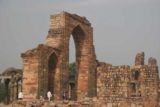 There was quite a bit of intricate detail in the ruins surrounding the tall tower that I'd imagine was the Qutb Minar itself. And the level of intricacy and attention to detail certainly made it feel like we were walking through some of the ancient ruins of Egypt's Nile Valley.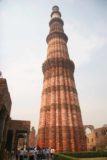 In any case, the obvious centerpiece was the very tall pillar. It didn't seem like the tower itself could be climbed, but then again, maybe we just didn't consider it. I'm sure if it was possible to climb it by going up stairs or something, then it would've been crowded and probably would've costed some money. Who knew whether it would be worth it or not.
Anyways as we were strolling about the complex, we also noticed some interesting-looking parrots as well as a good deal of foreigners so we knew this was a pretty popular spot in Delhi.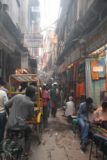 At 11:10am, we left the Qutb Minar and by 12:15pm, we arrived at some chaotic area that turned out to be the beginnings of the Chandni Chowk bazaar, which was backed by the Jama Masjid mosque. Dolly got us to ride the bicycle rickshaws through the bazaar, which was quite an adventure in itself as the weight of Julie and I must've really made the bike rider in front of us work pretty hard.
On top of that, he had to weave through the congestion of other rickshaws, scooters, and pedestrian traffic all squeezing through narrow alleyways barely 6 or 7ft across.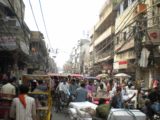 You'd think for a pedestrian zone you wouldn't get the same kind of traffic as the busy streets of Delhi, but boy were we wrong! Still, this bazaar area had an overwhelming number of shops and people all crowded beneath tangles of electric power lines looking precariously like any one of them could break and electrocute unlucky bystanders below.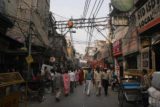 The rickshaw ride itself lasted nearly an hour even though probably a third of the time was spent stuck in traffic.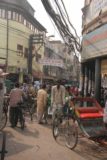 At 1pm, we got off the rickshaws and followed Dolly into the bazaar towards the Karim's Restaurant. This was a place that wasn't on our official itinerary, but it served great Mughlai food. And all three of us were fed for a price that amounted to less than $10 USD! That was certainly better than blowing off this amount on just sparking water at Bukhara last night!
In any case, Dolly told us that she was concerned about guiding us here thinking that it would be embarrassing to show us. But we assured her that this was part of the atmosphere of visiting Delhi. Besides, the food had to have been one of the best, if not THE best, Indian food we've had so far.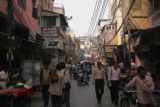 The rotis were both thin yet substantial enough to pick up things with. The curry dishes were simply devine. The butter chicken was awesome. If this was what Mughlai food was supposed to be like, we definitely wanted to have more of it on this trip. And we'd have to ask ourselves why there wasn't such a thing back at the Little Indian in Artesia or none that we know of in the rest of Southern California!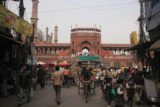 After stuffing ourselves at Karim's, we entered the Jama Masjid at 1:40pm. There, we had to take off our shoes and walk amidst the dust and bird crap strewn over the sacred mosque grounds. We also had to pay an additional Rs 200 just to take photos within the complex, and they made Julie wear some robe (which apparently it was the same for other women as well).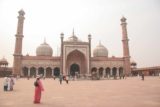 The massive square fronting the bazaar was a large open space so for sure our feet were going to get dirty as we strolled through here shoeless. The mosque itself was so grand that we had to be on the other side of the square to adequately capture it in a single photo. We didn't take the time to go inside, however.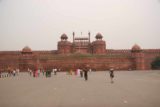 About 15 minutes later, we were done taking photos and strolling about the mosque. Not long thereafter, Subhash drove us to the outside of the Red Fort. Since Dolly mentioned that this place was similar to the one we'll see in Agra, we didn't linger here for too long.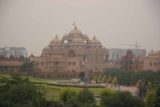 So we drove some more and ended up at the Akshardham Temple at 2:40pm for the last bit of touring during for the day. The only shot of the temple we were able to get was from far away near a highway. Once we got through the stringent security, the only thing in our possession was our wallet and keys (no photographs allowed within the premises).
It was too bad we couldn't take photos of this temple, because it was indeed very impressive and ornate. The temple itself seemed like it was surrounded by a shallow moat. Lots of people were here as well (seemingly mostly local people) checking out the scene. But Dolly took us towards some boat ride, where we relaxed and went through a very Pirates of the Caribbean-like presentation through displays of Indian history.
In fact, this boat ride and the accompanying narrative contradicted much of the established assumptions about who invented what. I guess if you bought was was told here, you could attribute many matters pertaining to math, astronomy, medicine, chess, massage, printing, yoga, etc. to the Indians, and that its culture was possibly even more ancient than the Chinese.
After the boat ride, Dolly walked us around the perimeter of the Akshardham Temple and we eventually rejoined Subash at 4:05pm. From there, we were driven to some handicraft shop to conclude the day getting the sell on put on us.
Even with the hard selling, we eventually settled on some kind of wooden box as a souvenir. It wasn't cheap, but I guess Julie had plans to add this to our collection of trinkets to kind of remind ourselves of where we had been and the kind of arts and crafts that we were able to take home.
At 5pm, we were done getting the sell on (and helping Dolly earn a little more in commissions, I'm sure), and then we headed back to the hotel. And finally at 5:40pm, we were back in our room and ended up crashing for the evening to get caught up on some rest while refraining from any more spending this evening.
Visitor Comments:
Got something you'd like to share or say to keep the conversation going? Feel free to leave a comment below...
No users have replied to the content on this page