Day 5: IT'S ALL ABOUT LOVE
The day began with a bit of a rude awakening as Julie and I were woken up by sounds of groaning and gasping from next door. It was 3am in the morning and it was quite obvious that our neighbors were having sex. Without going into too much graphic detail, it seemed like our neighbors were enjoying themselves as we could audibly tell that the woman had climaxed.
When they were done, they proceeded to turn on their TV (fairly loudly), which made it a little more challenging to fall back asleep. But eventually, we would fall back asleep though it certainly wasn't immediately after our rude awakening.
At 7am, we awoke and finished up with our packing before having a brekkie. But this time, we figured out that there was an alternate menu in lieu of the standard Western buffet.
Where was this yesterday? I guess we never noticed.
Nonetheless, we had ourselves a masala dosa as well as uttarpam. Wish we had tried the other Indian stuff for breakfast yesterday.
At around 8:45am, we met up with Subhash and proceeded to take off from our hotel. Now, we were to embark on a long drive south to Agra. But the hectic Delhi traffic didn't let go of us very easily as it took another hour just to get out of the city limits.
It seemed like the haphazard traffic really got bad whenever there was an intersection. So you can imagine just how often we'd have to stop, wait, squeeze into any open spaces (however slight) amongst a combo of rickshaws, pedestrians, trucks, automobiles, tractors, and even camels before continuing on again.
The chaos of the roads was all due to the lack of respect of lanes and driving etiquette (at least compared to those we were used to back at home). We observed similar driving behavior in China and thought that was the worst we had seen. But India seemed to be on another level of organized chaos.
We wondered about the endurance of Subhash after having to weave through Delhi traffic for the last couple of days and now he had to deal with traffic on the way to Agra. But he seemed to manage just fine.
At 11:30am, we arrived at some rest stop in Uttar Pradesh state where lots of other tourists were dropped off as well. On the way, it seemed like Subhash had to pay taxes whenever he crossed interstate boundaries. Of course when he had to get out of the car and pay the fees, that allowed the touts to swarm the car and try to sell us stuff while refusing to take "no" for an answer.
At least the roads seemed to be a little more cleared up by now so our average speed was probably exceeding 60 km/h finally.
After having a quick lunch, we left at 12:10pm and continued onwards towards Agra.
One thing we noticed while out in these rural regions was that the haze that was so prevalent over Delhi was missing. We guessed it was a smaller concentration of pollution, which was why the sun was shining brighter here.
At 1:45pm, we got close to the city limits of Agra. There, Subash pointed out an impressive monument called the Sikandra Fort. We briefly stopped for photos at this fort before continuing on.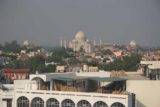 At 2:20pm, we made it through more honking and traffic jams, and eventually got to the Gateway Hotel Agra. There, we checked into our room, which had a view of the Taj Mahal in the distance. Then, we briefly rested before we were on our way back out the door at around 3:15pm.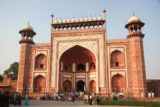 Once downstairs, we met our guide for the area named Kavetha. Barely 10 minutes later, we got to the car park area for the Taj Mahal before we rode an electric tram closer to the monument. From there, we walked past the East Gate trying to ignore the touts while listening to Kavetha as well as taking photos.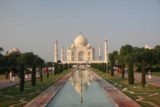 Security was pretty tight at the Taj Mahal so we had left most of our stuff with Subhash before getting within the monument limits. All we had now were our cameras and a little bit of cash.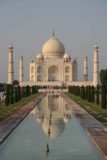 The Taj Mahal complex was extremely crowded. It was on the order of what we had seen in China's attractions like the Forbidden City. Thus, it was hard to get peaceful photographs of the classic marble structure fronted by symmetric reflecting pools.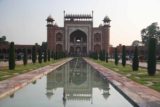 Still, with the late afternoon sun refracted by the ubiquitous haze, it was pretty easy to take a pretty decent photo of the marble monument with people providing the scale as to the size and grandeur of this labor of love.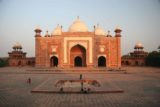 Kavetha told us of the story of how the Taj Mahal was built and why. To make a long story short, it was basically the dying wish of Shah Jahan's third wife (Mumtaz Mahal) who was about to die after giving birth to their 14th child.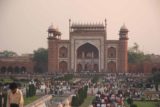 Shah Jahan's third wife was a commoner who married into royalty (very rare at the time) yet it was her who was the prince's favorite as she possessed uncanny street smarts and strong will perhaps as a result of her more common upbringing.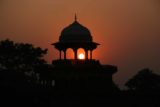 So when she was dying, she told Shah Jahan to build something that would stand the test of time to symbolize their love for each other. And eventually, a Turkish architect came up with the design that the prince liked (after rejecting countless other attempts by others), and that was how the Taj Mahal came to be from a dream into a reality.
In fact, after the Shah Jahan's usurping sons deemed their father too insane as he mourned over the death of his wife, Shah Jahan would stare at the Taj Mahal every day for eight years straight while under house arrest at the Agra Fort across the river.
While most monuments had a more turbulent and cruel history regarding war, slavery, or religion, this particular monument was unique in that it was built out of love.
We walked around the complex taking what photos that we could despite the crowds.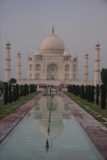 It seemed like the marbled building casted different colors and had different intensities of glow as the sun was setting. Set against the hazy blue and then orangish-pink backdrop, it was easy to see why other people were so enchanted by this that they voted it one of the seven new man-made wonders of the world.
Not bad for something built over 400 years ago that's still standing as a result of a labor of love and a dream that embodied that love.
And by 5:50pm after the sun had already set, we were back at the awaiting Subash.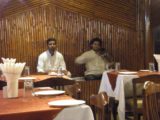 After making a brief stop at some of the marble works from people descended from the workers of the Taj Mahal itself, we then ate at the Only Restaurant, which seemed to consist of all foreign diners and no Indian ones. The only Indian people here were staffers and a pair of performers beating on traditional instruments.
Still, we had pretty filling food, though over $20 per meal seemed kind of on the high side, but perhaps that was a consequence of eating at a restaurant in a well-touristed spot like the Taj Mahal.
At 7:40pm, we made it back to the hotel, where it was time to wind down from the day's activities. Though this time, the rooms seemed to have a little better soundproofing so we don't expect another love making session to wake us up unexpectedly. Despite this, today truly did seem like it was all about love…
Visitor Comments:
Got something you'd like to share or say to keep the conversation going? Feel free to leave a comment below...
No users have replied to the content on this page