Day 6: IST
We awoke at 6:30am. The blowing horns and hectic traffic right outside our hotel kind of made it easy to get up this early.
Upon gazing outside our window, we could see that the Taj Mahal was shrouded in morning haze.
In any case, we wasted no time getting our stuff packed and trying to pack some essentials in our day gear knowing that we might not have our main luggages for the evening since Subhash was going to drive them to us while we were supposed to take a train ride from Bharatpur to somewhere near Ranthambore National Park.
While Julie was getting ready for the day, I was busy watching some Indian news on NDTV because some news regarding Maoists caught my attention. It was only through this news did I begin to fully understand the danger and seriousness of Maoist insurgencies, and I guess it was through this news did I better appreciate the move to not force the trip to Simlipal National Park (or even Chitrakote Falls in Chattisgarh state, which was nixed the moment our tour operator saw our original itinerary).
You definitely don't see this stuff on the news outside of India. And I guess this is the first time ever for us where parts of our waterfalling excursions were affected by insurgencies.
I'm sure there are two sides to every story, and I'm betting that the tribal communities supporting Maoist and Naxalite insurgencies among others were probably wronged or neglected in some way shape or form by the central government (and thus want to separate and become independent in much the same way Bangladesh [formerly Pakistan East] and Pakistan did).
Anyways, I guessed that the train ride was so the tour operators didn't want us to go along for the bumpy ride by road as we were told the road between Bharatpur (where the train station was) and Ranthambhore was in bad shape. From that standpoint, I guess they really wanted to make sure our journey to Ranthambore was comfortable.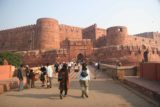 By 8:40am, we left the hotel and headed for the Agra Fort. And five minutes later, we were there.
Many of the same people we saw at the hotel for breakfast were also present at the Agra Fort.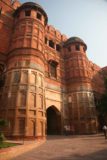 So we proceeded to walk past the touts and go through a grand entrance area that easily reminded me of an Indian version of a medieval castle. From there, Kavetha took us on a tour of the Agra Fort where its grandeur was immediately apparent.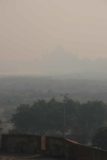 In fact, this place wasn't as militaristic as the name suggests or as the current occupancy by the Indian Army would indicate. It was full of ornate rooms and hallways many of which had the attention to detail that was apparent at the Taj Mahal.
There was also a large garden area as well as some marbled rooms with columns. From some of the views out towards the river, we could see the ghostly Taj Mahal appearing like an apparition out of the morning mist.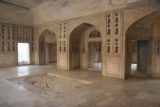 Now it was pretty easy to envision Shah Jahan staring towards the Taj Mahal for eight years straight while under house arrest in mourning of his third wife.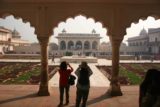 Given the grandeur of the Agra Fort, I often wondered how much resources were poured into this at the expense of commoners, and why royalty has a tendency to build grand things like this to keep to themselves and cut themselves off from the outside world. We saw cases of this in other monuments and castles around the world (e.g. the Forbidden City in Beijing) and it seems like this is a commonly occurring theme.
By 9:45am, we left the Agra Fort.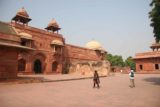 Given how packed our itinerary was along with the unpredictable traffic of Agra, Kavetha convinced us to skip the Baby Taj Mahal and head straight for the Fatehpur Sikri way on the outskirts of Agra.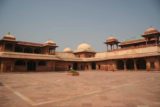 So by 10:40am, we made it to the Fatehpur Sikri, which was much faster than Kavetha expected. She thought Subash was a good driver because she expected this drive to take at least 90 minutes.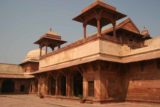 Fatehpur Sikri was another giant red fortress that seemed to have lots of courtyards, ornate rooms and buildings, and columnar corridors. It was known as the Ghost City, which Kavetha explained that this place was abandoned not long after it was built.
That was because the leader (Emperor Akhbar) had to attend to other issues in Ladakh (in what was now Pakistan) while spending time in Agra when times were more peaceful (all the while forgetting about Fatehpur Sikri).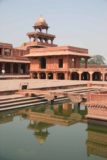 It was amazing how much infrastructure went into this complex only to be neglected over the years.
At 12:10pm, we were done seeing the Fatehpur Sikri and then headed over to some decked out heritage hotel for lunch at 12:45pm. It turned out that lots of other tourists ate over here, too, so I figured this place must've done the smart thing and have some deals with tour companies to bring their clients here.
Even though we were done eating at 1:30pm, our train wasn't supposed to leave until 3:40pm. So with all this time to kill, we spent the next hour checking up on email and trying to get reconnected with the rest of the world for the time being.
At 2:50pm, we left for the train station and about twenty minutes later, we arrived at the Bharatpur Junction Railway Station.
There, we got our necessities and bid Subash a safe journey as we were to rendezvous at our accommodation for the night. Whether he gets there this evening or tomorrow morning was uncertain.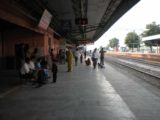 The train station was a humble place full of locals sitting around (some of them laying on the ground) either waiting for their train to show up or just loitering around. We met up with a local representative while engaged in some conversations with Julie and I to keep us busy.
He seemed to love to talk about Hollywood as well as Bollywood so this helped to pass the time.
At first, we conversed in an upper class waiting room for women. But when we learned that our train was a half-hour late, we slowly made our way to the open waiting area where we walked past the locals waiting area and joined the groups of tourists also scheduled to board this train. The local rep told us that Indian trains tend to operate on IST or Indian Stretchable Time.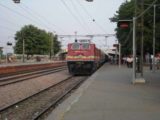 There, our rep conversed with us some more while some of the locals gravitated towards us and stared at us. We weren't sure if they had intentions to pickpocket or anything as we found it strange to be stared at like this while other tourists seemed to be left alone.
In any case, the train finally showed up at around 4:45pm. It was an hour late. Again, the rep reminded us about IST.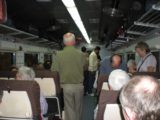 At that point, we thanked our rep for keeping us company and now we had to board the train and squeeze our way towards our assigned seats. This wasn't easy to do as the aisle was narrow and people with their bags were moving in both directions. It seemed like forever before I was finally able to make it to my seat. Since Julie wasn't carrying any bags, she made it there much earlier than I did.
Now for the next 2.5 hours, we'd be on our way to our next destination.
When we originally planned this trip, we were supposed to have made our way back to Delhi by now in anticipation of a flight to Calcutta (Kolkata) for an eventual visit to Simlipal National Park in Orissa State in Eastern India. Unfortunately, Maoist rebel activity put a halt to those plans and we ended up with this alternate plan to go to Ranthambore in the hopes of seeing tigers. I guess Bandhavgarh National Park wasn't going to happen due to the complications of rescheduling the front part of the trip.
So in any case, we were on this unexpected train ride. At least this train ride was considerably more comfortable and less chaotic than the Chinese ones. Plus, it gave me time to tend to some chores regarding dumping photos onto our portable devices as well as compose this blog entry.
We arrived at the train station shortly after 7pm. There, we met up with another tour operator representative, and he prompty whisked us away from the airport to the Khem Villas Cottages.
By about 7:45pm, we arrived at our very safari-like resort. Walking around this complex brought me back to our safariing in Africa last year.
From there, we wound down our day, had to take cold showers (hot water easily ran out), and had to deal with intermittent power outages since I believe they're on generator power. With our wake-up call at 5:45am, we had better get rested up so we could partake in some safariing tomorrow with some high hopes of seeing a tiger in the wild, at last!
Visitor Comments:
Got something you'd like to share or say to keep the conversation going? Feel free to leave a comment below...
No users have replied to the content on this page