Day 7: LADY OF THE LAKE
Anticipating a 6:45am departure for the early morning safari, we awoke at 5:45am. And with great anticipation (and hoping that I was proven wrong as I expressed to Julie that we probably wouldn't be seeing any tigers here), we awaited with dozens of other tourists at the reception area of the Khem Villas.
Groups at a time were being whisked away onto their safaris. But by 7:15am, Julie and I and a foursome of Brits were still waiting.
Finally at 7:25am, our jeep arrived.
At that point, the Brits introduced themselves to us as Andrew, Clive, Diana, and Judith. It was pretty cozy on the jeep, which seemed pretty low-lying and nothing like the behemoths we had ridden on in our Tanzanian safari with Salim.
So we proceeded along our bumpy ride into what was known as zone 4 of Ranthambore National Park. The Brits told us that they had already seen a tiger (C17 I believe) yesterday. So I was a bit worried that the karma would tell us that maybe we might not be so lucky on this time around.
At around 8:15am, we were rounding a corner then approaching an opening within an old wall. Up ahead were numerous jeeps and canters facing us.
As we approached, the folks facing us were frantically telling us to stop moving!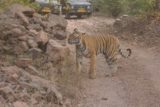 Apparently, there was something very big nearby and no one wanted it to be scared away by us.
So as our driver was backing up, a female royal bengal tiger was slowly making her way across the road!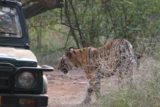 The moment was so big yet so fleeting, and I snapped as many photos as I could before she disappeared into the bush. Since I was the only one with a DSLR camera, I was able to get some shots of the tiger. The point-and-shoot cameras were simply too slow to capture the moment.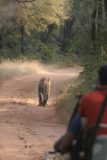 We soon joined the caravan of vehicles as the guides noticed the trajectory of the tiger. And it wasn't much longer before the tiger was spotted again. This time, they anticipated the tiger was going to cross the road again somewhere behind us!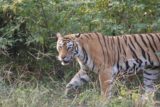 And just as the guide called it, the tiger showed up again. This time, she was very close to the jeep right behind us. And as the tiger slowly made her way past that jeep and followed the road past a fork, all the jeeps and canters quickly tried to follow the tiger.
Eventually, the tiger went back into the bush again, but as our jeep was in broadside view of a particular opening, that was when I probably got my best shots of the tiger.
And after a few more fleeting seconds, the tiger slowly made her way back into the bush and eventually sat somewhere that no one could see her.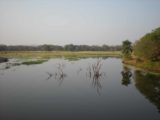 And with that, the whole jeep was in a happy mood. We got our tiger, the Brits got their second straight day of a tiger sighting, and our guide and driver were ecstatic that they got to see the largest tiger in the park so close. In fact, they said they had never seen this tiger this close up before, and it was a real special sighting because she was the oldest tiger in the park and she was dubbed the Lady of the Lake since she ruled most of zone 4, which had a little bit of a "lake."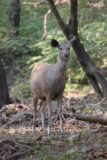 I guess given our extraordinary luck, we now felt that we had finally seen the best of the big cats in the world. The tiger was the lone big cat we didn't get to see, and those Siberian Tigers in Haerbin, China didn't count since they were in a caged enclosure and they weren't wild (at least they weren't allowed to be wild as they were routinely fed farm animals based on additional expenditures made by customers).
Still with that being said, the tiger was a little smaller than we had anticipated since we knew that tigers were the biggest of the big cats, and we had seen lions in Africa bigger than the Lady of the Lake. Who knows? Maybe there are larger ones in Bandhavgarh National Park or other tiger reserves in India.
The tiger commotion ended at around 8:35am. From this point forward, the safari was all icing on the cake. And it consisted of sightings of sambar deer, black spotted deer, wild peacocks, parrots, monkeys, wild boar, an owl, herrons, and cormorants.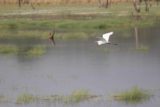 By 10am, we were done with the safari. And by 10:25am, we were finally back at the Khem Villas for our much-awaited breakfast. There, we met the daughter-in-law of the original founder of Ranthambore National Park, and upon hearing of our Lady of the Lake sighting, she echoed the guides' sentiment that we were very lucky indeed at having spotted the oldest tiger in the park.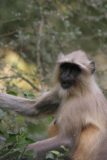 After the breakfast, we'd have another three hours to get caught up on sleep (for Julie at least). I used this time to continue blogging and labeling the photos we had just taken.
At 1:30pm, we went for lunch. I began to notice that all the food we'd been served had been vegetarian and probably organically grown right here on the premises. The sustainability principles being practiced were certainly being appreciated by myself as well as Julie. For it wasn't common to see wildlife game parks practicing what is being preached in terms of keeping the ecosystem healthy. But as far as we were concerned, these folks were certainly doing their part.
After we were done having the delicious lunch of pasta, potatoes, spinach and basil leaves, and some kind of cabbage with Indian beans, we were back out on another safari at 2:30pm. We ended up with the same guide but different driver and jeep. And we were once again touring with the friendly Brits who had joined us earlier this morning.
So with the pressure of tiger spotting off, we mentally tried to psyche ourselves up for other wildlife sightings like the sloth bear or leopard. If we saw any tigers, that'd be a bonus as well.
Initially, as we were about to re-enter the park, we noticed some turtles in a watering hole near a man-made dam. Further up the road, we saw the Ranthambore Fort in the distance, which was impressively perched high atop a mountain in the distance.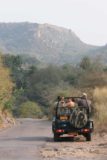 Then, we proceeded to go on a safari in zone 1. This particular zone was more hilly and more densely vegetated. It started off with a handful of banyan trees then passed by a few interesting rock formations.
Early on in the safari, there was a coordinated effort to try to anticipate a tiger's move to a watering hole after hearing distress calls from peacocks and other birds. But after going through a detour to a dead-end with a pool near another man-made dam, it appeared that the tiger had already came and left as evidenced by some paw prints near the pool and the dispersion of algae where the tiger probably had her drink.
The safari continued onwards through more hilly terrain and lots of rough sections. It was certainly a bumpier ride than this morning.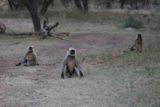 And after two hours of trying to spot sloth bears, leopards, and tigers to no avail, we ended up at some rest stop with a bunch of monkeys sitting around. It was around 4:30pm at the time and we had to relieve ourselves (of our bloated bladders) amongst the presence of these monkeys.
We had to get out of the park by 5:30pm or risk getting fined and/or closed in by gates. But upon hearing a distress call by a spotted deer, our guide had us take one more detour in search of a tiger sighting to salvage this afternoon safari.
But after 15 minutes of trying to spot the tiger, all we could see was that a trio of spotted deer were looking in a particular direction, but that direction was away from the road. So in the end, we had to bolt out of the area and make haste back towards the entrance before closure.
For the next hour, we bounced along the bumpy roads eventually getting to the gate at about 3 minutes past 5:30pm. I don't think any fines were in order, and the ranger there told us that zone 4 had performed once again with the Lady of the Lake making yet another appearance for the afternoon safaris in that area. This time, she was by a watering hole.
By 6pm, we were back at the Khem Villas. It was time to shower and try to get all that dust off of us. And even though our afternoon session came up dry in terms of any prized sightings, we at least got to see the Lady of the Lake this morning and knew that any other sightings was icing on the cake.
Visitor Comments:
Got something you'd like to share or say to keep the conversation going? Feel free to leave a comment below...
No users have replied to the content on this page