Day 8: THE UNEXPECTED
We awoke sometime around 4:30am as the wind apparently made something in the room move and make noise. Julie had trouble falling back asleep so for all intents and purposes, the day pretty much began at that point.
At around 6:30am, a Khem Villas staff member knocked on our door. And when we answered, he said our jeep was already here waiting for us. Considering that our jeep didn't show up until after 7:15am yesterday, this took us by surprise.
So we quickly got dressed and headed out to the lobby area. And by 6:45am, we were joined by the Brits sans Diana, who was already safaried out, and we were on our way.
We had a different guide and driver and we headed into zone 2 of Ranthambhore National Park.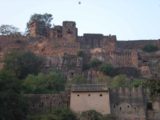 And for the next three hours or so, we were driving around this scenic zone which offered opportunities to look at the Ranthambhore Fort perched high up on the neighboring cliffs. This zone also featured a mixture of a canyon, grasslands, forests, and rocky hills.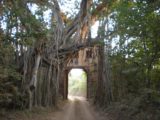 Early in the safari, there was a lot of anticipation for a tiger sighting as a sambar deer and some birds made consistent alarm calls (a natural way of telling if there's a tiger nearby). But unfortunately, the terrain in the ravine from which the sounds came from was very dense with vegetation. So we continued on with the safari.
And thus the rest of the safari went pretty much uneventfully.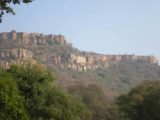 When we returned to the ravine area, it was reported that one jeep saw that tiger cross the road. But that was it. Based on that information, other jeeps (including ours) and canters tried to position ourselves for another tiger sighting, but it wasn't successful.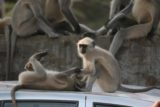 I guess based on this safari and yesterday afternoons, we could really appreciate the difficulty of even having a tiger sighting. We were really lucky to have the kind of sighting that we had yesterday morning! The locals weren't kidding when they said we were very lucky.
At 10am, we had left zone 2 and exited Ranthambhore National Park. But up ahead on the road out of the park, there were a few vehicles stopped and blocking traffic. And as we approached, we learned that there was a leopard that had just crossed the road!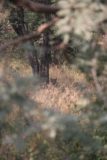 And sure enough, as we looked into the gaps in the foliage, we caught a glimpse of a well-camouflaged leopard within. My telephoto shot of its upper torso above the tall grass under a tree was the only evidence of our sighting. This of course prompted the other tour participants to exchange emails with me to send them photos.
So today's prized sighting didn't happen in the park itself. I guess sometimes you just don't know what to expect when it comes to these things.
At 10:25am, we were back at the Khem Villas. And after getting our stuff fully packed, we finally had our breakfast, and then we rejoined Subhash at 11:15am when we left the Khem Villas.
The drive was destined for Jaipur, which was supposed to be about 3.5 hours. I guess Julie and I were a bit tired from the early morning wake-up and consequent safari and food coma so we dozed off.
But suddenly at 12:15pm, Subhash slammed on the brakes, waking both of us up.
When the vehicle stopped, I noticed a little boy lying beside the road.
Subhash seemed like he was in shock as he sat silent, and then got out of the car. From that point, he was swarmed by villagers (one of them hitting him repeatedly). And it was then that I started to compute what had happened.
I could see Subhash was frantically trying to explain to the locals (in Hindi) that the boy dashed out in front of the road, and that this accident wasn't an act of neglect.
Eventually, a couple of villagers picked up the boy, bandaged his head (which had a pretty large and bloody open wound) and tried to wipe his bloody face as his nose was bleeding profusely. The boy was crying as the villagers crowded into the front passenger seat with the boy. And Subhash quickly drove us back to Ranthambhore in search of a hospital.
During the frantic drive back to Ranthambhore, the boy was coughing a little bit, but then he eventually stopped coughing, and we couldn't tell if he was conscious.
The next 35 minutes seemed much longer, but eventually we made it back to town at 12:50pm. The local clinic at this part of town couldn't help the boy so we all continued further into town.
After five more minutes, we were back at the main clinic, which also happened to be the clinic that the son of the conservationist who founded Ranthambhore National Park worked at. I thought this was a bit ironic considering that Judith told me during today's safari that they toured this clinic a few days ago.
Subhash was still distraught as I'm sure he was concerned about the demands of the villagers for compensation for the boy's health care and even after-health care. I felt bad for Subhash because driving in India is not easy (you have to be aggressive or else you won't be able to move) yet it could very well be that it wasn't Subhash's fault as the boy could've dashed out in front of the car. At least the boy was still alive, and perhaps it was Subhash's quick reaction that allowed the boy to live rather than become roadkill.
In any case, Subhash was going to remain at the hospital to see through this situation. Another driver ended up picking us up along with our belongings.
Before getting in the other car, Julie and I took a look at the front of the car and didn't see anything noticeable that suggested a collision.
So we thanked Subhash for driving us around for the last 6 or 7 days and by 1:15pm, we were off again.
Now, we were once again headed to Jaipur.
This driver took us on a different route than Subhash took. During this rather bumpy drive, it seemed that we took some narrow back roads through lots of agricultural lands, several humble rural towns, and within sight of a couple of historic looking forts.
I wondered how many tourists are driven out this way because we seemed to get consistently stared at by locals riding on the backs of trucks, lorries, rickshaws, or tractors. We were also getting stared at by villagers seeing us pass by.
Some of the kids even threw stuff (or at least gestured that way) at our vehicle. I wasn't sure what to make of it, but we could clearly see the hard life that folks out here must have as some people were bone thin while the lands out there looked very dry due to the weak monsoon this year.
Perhaps this detour told a story that most of us don't hear about regarding the pressures of just surviving in India in the face of overpopulation, a huge disparity between rich and poor, and climate change threatening to turn an already challenged majority into climate refugees.
Finally by 3pm, we were back on the major highway (I think it was called the Tonk Road) due north for Jaipur. And although the road was smoother, it wasn't any bit easier to drive as many cargo vehicles slowed traffic and even clogged it in many places.
It seemed we were driving into oncoming traffic just as often as we were on the left side of the road.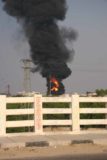 As we finally got close to the city of Jaipur, we noticed an out-of-control fire burning from an oil refinery. Who knows how much pollution the thick black smoke coming out from one of the tanks was pouring out?
Still, on a crazy day like today where the unexpected seems to find us someway somehow, it seemed rather fitting that this calamity was witnessed by us. There always seemed to be drama on our trips no matter where we go…
By 4:15pm we were at the Jaipur Airport. It turned out we were early as we met the rep from this area. He told us that if it weren't for the accident, we could've had time to see Jaipur's most famous sights within 2 hours. But as it turned out, we were an hour early for the 5:30pm check-in and 6:30pm departure.
So we just killed time talking to the rep and having a little bit of a snack while finishing off our bottled waters. And ultimately, we'd be on our flight on time (actually it took off early) though it seemed rather sparsely filled.
And on this 45-minute flight, we got some decent masala dosa and chocolate cake for the flight snack. That pretty much eliminated the need for a late dinner in Delhi.
By 7:15pm, we arrived at the airport, got our bags, met our reps, and loaded up the car (including help from a porter who imposed his help even though we never asked for it, and then he asked for a tip).
During the drive to our hotel, Akhilesh (the Delhi rep) called us and Julie spoke with him. From this, we learned that the boy was going to be ok. We weren't sure what's going to happen with Subhash, but we hoped he'd be ok from this too. Meanwhile, we had assurances that the tour company has a well-connected representative in the Ranthambhore area and will try to use his influence to work out a solution to the boy's health care without making Subhash or the travel company go broke over it.
By 8pm, we were at the Radisson Hotel by the airport. Security was tight at the hotel (no doubt as a result from the 26-11 attacks in Mumbai last year), but eventually we were checked into our room and could finally call it an end to this day that was full of the unexpected…
Visitor Comments:
Got something you'd like to share or say to keep the conversation going? Feel free to leave a comment below...
No users have replied to the content on this page