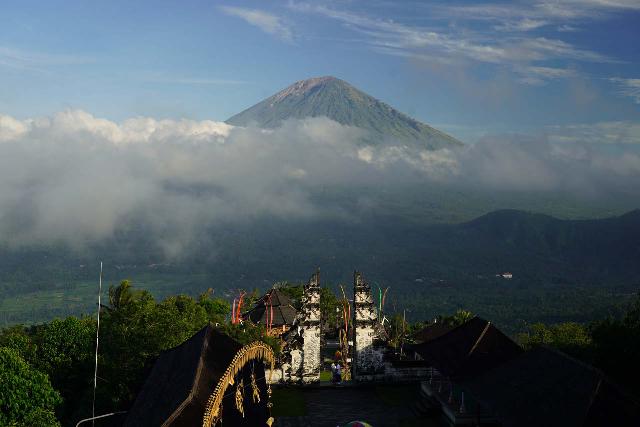 17-June 2022 to 27-June 2022:
In between using the restroom and taking pictures from the cliffs towards the setting sun, there were some monkeys out and about here.
While they made interesting photo subjects, we tried not to make eye contact with them and we tried to keep our distance as told by Adi.
However, in one sudden moment, Tahia's glasses were stolen by one monkey that came up from behind her and ran off with them.
That monkey was trying to bite on the glasses and the handles, and we tried to give something to get it to drop the glasses, but all it did was to hold onto the glasses and take the bottled water at the same time…
Day 9 (June 17, 2022 – Ubud, Bali, Indonesia): "Struggling To Establish Communications"
The flight from Darwin to Denpasar, Bali only took about 2.5 hours, and it actually landed right on the scheduled time of 10:45am (which was 90 minutes behind Darwin time).
Indeed, being on time was something we weren't expecting from a low budget carrier like Jetstar versus Qantas, where our past several flights through them had been delayed (even causing us to miss connecting flights like on day 1 in this case).
Nevertheless, when we de-planed, we then entered a very large open space that totally reminded me of a large conference room where we queued up, paid the temporary Visa fee, then went through passport control, before finally collecting our luggages and getting through customs.
As we made our way out of the airport, Julie and Mom wanted to withdraw cash, but I told them to just get enough money for emergencies but don't overcommit because I knew the airport rates would be a rip off.
Well, they didn't heed my warning as Julie cited "it's too much trouble" to go somewhere away from the airport to exchange money, and so they ate the terrible rate of 13,900 Rp per 1 USD (when the current exchange rate was more like 14.5k Rp).
Anyways, with that much cash committed to such a penalty rate, we then got to the waiting area where we looked for our driver at 11:35am.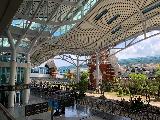 It was immediately more muggier in Bali as anticipated, and it definitely lacked the crispness of the Dry Season in the NT, so we knew we were going to get pretty drenched in sweat no matter which activity we were going to do here.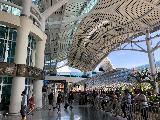 It took some time before we finally found our driver, and we also used that time to use the toilet, but eventually we met our driver who was named Adi, and then he proceeded to drive us towards Ubud.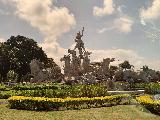 This drive took a bit of time, and in the process, we were passing through Sanur and getting a sense of the organized chaos of scooter traffic going this way and that as they weaved between all the vehicular traffic.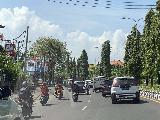 Most of them were locals in most of the roads we went to, but Adi warned us that when we get to Ubud, the place will be teeming with tourists.
That said, he also warned us that Kuta will be even crazier than Ubud in terms of 24/7 activities and in terms of tourists.
He also relayed a story to us about how Sanur used to be a happening tourist spot in Bali before one of the two civic leaders there started promoting Ubud and did so much more effectively than what was done in Sanuk.
The result was that Ubud was now one of the main tourism hubs while Sanur seemed to settle back into more of a locals town offering quite the contrast to Kuta.
We'll see how all that plays out, but in any case, we were basically just soaking in the sights and sounds as we passed through the traffic of South Bali and noticing the many temples and statues that we were passing by.
Adi tried to help us to get a sim card so we can easily communicate with each other should we be separated, but it turned out that that took a bit of time.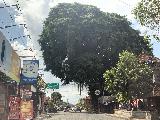 The first place we went to couldn't get our phones to work with the new sim cards, but the place in Ubud (while way more expensive) actually was effective.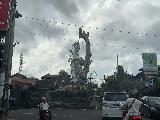 Unfortunately, that probably killed an hour or so, and so it wouldn't be until 2:20pm when we finally got sim cards working on our phones.
By this time, I think the family was getting hungry and tired since it was already becoming a long day, and yet we still had a couple of waterfalls scheduled to visit today.
Plus, we still hadn't even checked in yet.
By about 2:35pm, we had trouble finding the Suweta Homestay in Ubud, which was where we'd be staying for three nights, and so Adi parked in the Central Ubud car park where he then communicated with the owner.
That owner would then swing by on his scooter and lead us to the accommodation, which was kind of hidden in an alleyway.
It wouldn't be until about 3pm when we finally lugged our stuff into our rooms (which involved quite a few steps), and we ultimately got back in Adi's car to at least get to a place to eat.
The place was spacious and it seemed like we had our pick of which of the four rooms to sleep in, but due to time and lack of energy (as we didn't really want to go up another flight of steps with luggages for rooms 3 and 4), we settled on rooms 1 and 2.
Anyways, Adi then drove us to a local place to eat authentic Indonesian food, and we had ourselves a choice of beef rendang, chicken, green chili, casava leaves, and rice.
Adi also had us try some kind of local ginger ale, but it was very sweet and also reminded me of Inka Cola or something like that.
Julie had reservations about this local spot since the food was constantly heated but it had been out since this morning so she was concerned about food safety.
However, we ate quickly as we were famished, and we'd eventually be back in the car by 3:50pm to finally start the day's touring activities.
I had serious doubts about reaching both scheduled waterfalls today, but Adi suggested to just visit the Tegenungan Waterfall, which was a very popular spot for today and punt the second waterfall for tomorrow.
Adi ultimately got us to the car park and entrance for the Tegenungan Waterfall at around 4:15pm, where we then proceeded to go pay for the entrance, which then descended between a row of a bunch of shops and cafes.
Each place had people trying to get our attention and get us to go in (which reminded me of the kind of third world touring we had been familiar with in places like Egypt, Kenya, etc.), and in a way, this was the true character of Indonesia behind the glossy sheen of tourist spots.
You really have to learn how to say no when you're not ready though at the same time, I felt a bit guilty about it given how I recognize that being a local here selling wares is probably not the ideal life for them (as I'm sure they'd be doing other things if they could).
Shortly beyond the shops, we started to get our first looks at the Tegenungan Waterfall, which was down below from across the river where we were at, but we could see the walking paths leading all the way down to the bottom past a happening bar with dance music being played.
It was quite the contrast to waterfalling in Australia as in Asia, it's more about the monetization, and it's kind of like the European Waterfall experience on steroids where they took the monetization aspect of it to the next level.
As we went down the steps and stopped at each of the cute little lookouts or photo ops (including a nest-looking thing as well as a Shakespearean-like circle nest), we'd ultimately get towards the bottom past some springs as well as another temple.
Then, we went along the base of the restaurant or bar above us before getting more views of the Tegenungan Waterfall which descended towards the slippery and rocky base accessed by sketchy-looking bamboo bridges.
There were lots of people down here because you could feel the spray from the waterfall, and that kind of offset the humidity as by now we were pretty much drenched in sweat.
After having our fill of the bottom, we saw that there were steps going further up alongside the waterfall and we decided to check that out.
However, there was a separate ticket booth where apparently we had to pay more to get up there, and I guess for about 40kRp (Tahia was free though Julie stayed behind), we'd eventually get to where we saw signs for Blangsinga Waterfall.
I was under the impression that this was a separate waterfall but after talking with a guide at a seemingly empty resort at the top of the steps, I learned that it was nothing more than the Tegenungan Waterfall itself.
In fact, it might be the actual name of the main waterfall whereas Tegenungan was perhaps the name of the village here.
So after that bit of exploration (by which time Mom and Tahia already went back down to rejoin Julie), I then descended the steps and then crossed the bamboo bridge before heading back up the long series of steps to the row of shops.
We made a brief stop for some fresh dragon fruit juice that was freshly made while at the same time we had a "cold" cocunut as well.
The view was disappointing because we went to a spot that charged 50% less than the first place that probably did have a view, but we figured that we'd have better gelato near our accommodation in Ubud.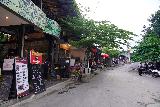 Eventually, we returned to Adi's car at 5:30pm as we were all pretty much a drenched and sweaty mess at this point.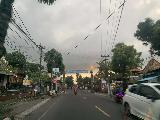 Adi then drove us to a Delta Dewata Supermarket, where we went nuts buying up local fruits and some breakfast foods of ham, croissants, brioches, water, etc.
It was about 6:55pm when we were finally back at the home stay where we then tried to get settled before walking around Ubud one last time before finally crashing for the night.
Upon dropping off our groceries in the refrigerators of our rooms, we then walked down into the streets of Ubud, where we went looking for a Massimo Gelato place.
But as we were walking near the Ubud Temple and Starbucks area, we couldn't find this Massimo Gelato place and eventually settled for this place called Gelato Secrets.
I think the rates were on the order of about $3 for a small, which was on par, but I'd imagine this was really more of tourist prices.
Regardless, we finally had our fill of a gelato and sorbets with local tropical fruits though Julie only noticed the durian flavor later on and will have to try that later.
Someone was smoking next door while we were enjoying the gelato so we quickly finished and then headed back to the home stay at 7:50pm.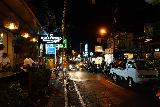 But as we were getting settled, Julie and I realized that the room we were staying in (Room 1 I believe) had a sliding door that was easy to unlock and defeat.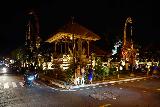 So from a safety standpoint, that was not good, and we had to move our stuff up to Rooms 3 and 4.
Once that was done, then we could finally get settled for the night, which was some time after about 8:25am when we realized the security flaw in the lower rooms of the Suweta Homestay.
It wouldn't be until well after about 11pm when we finally slept from this very long day, but we have a 7am start tomorrow so we'll see how that all turns out as we get adjusted to being in Bali for the next week-and-a-half…
Day 10 (June 18, 2022 – Ubud, Bali, Indonesia): "Packing In A Full Day"
It was 4:05am when I awoke, which was actually surprisingly on time considering how late we slept last night and how we knew we'd be a bit jetlagged since we went back in time another 90 minutes from Darwin time.
Nevertheless, we had a very packed day today as we had to make up for a waterfall that we didn't get to yesterday, and we also had three more waterfalls to hit as well as the rice fields of Tegallalang and some coffee plantation known for the Luwak, which poops out coffee seeds.
I had my doubts about whether we'd be able to fit it all in on a day, and in fact, Adi showed up at around 6:40am so I knew that he meant business in terms of the 7am start.
Sure enough, after having our short self-catered brekkie, we pretty much got into Adi's car and got going at precisely 7am as scheduled.
First up on the itinerary was to pursue the Tukad Cepung Waterfall, which was that Instafamous waterfall where people could photograph God beams cutting through the mist in the morning by a waterfall or at least within the narrows fronting it.
I wasn't sure we were going to stick around for that shot, but our early morning start pretty much ensured that we might be one of the first people at the falls.
Now during the drive to Tukad Cepung, we couldn't help but notice a lot of people seemingly dressed in ceremonial wear.
Adi told us that today was still part of a national holiday where people were on their last day of prayers and offerings (I guess it's kind of like the last day of the entire Easter Week if I had to put an analogy to this).
So a lot of people were dressed up and either tending to business to prepare offerings for the deities or already sitting before shrines, temples, and even on the sides of the streets to pray.
When it got to 7:50am, we arrived at the Tukad Cepung Waterfall car park, where there was one other car there, and Adi even expressed concerns that it might be too early to start.
But it turned out that they had been open since 7am, and so we wasted no time getting started on this walk.
The first thing that struck us about this walk was that there were a handful of people dressed in ceremonial clothing tending to some kind of preparation as there was a little shrine area adjacent to the walk leading down to the waterfall.
As we went just past the worshipping area, we then paid about 20k Rp per person to continue past the ticket window and continue on the concrete path that descended steps.
Along the way down, there were some stands that some people appeared to be setting up and a handful of locals were encouraging us to go in.
There was also an interesting ditch where it appeared that water was being funneled towards irrigating rice fields or something, and it was kind of reminiscent of the ditches that Mom and I saw while hiking to a waterfall in Alishan to the north of Taipei, Taiwan.
As we continued to descend more steps, it then became apparent that we'd have to get back all this elevation loss on the way back so it was likely that we'd be a hot and sweaty mess once again.
Eventually when the concrete steps had bottomed out, we then had to walk along what seemed to be another more voluminous irrigation ditch across some rice fields.
At that point, it made me wonder if the Tukad Cepung Waterfall was enhanced by the outflow of the water or if it was a legitimate natural waterfall.
The signed path eventually led us down a final flight of steps carved into the bedrock leading down into a narrow and somewhat spooky gorge where at the bottom, there was a sign pointing in both directions.
We first went right, which led us to a tall waterfall feeding the main stream though I suspected that this wasn't the main waterfall.
We spent a few minutes down here to document the experience, but at around this time, we also saw that there was already one other couple that went down and went the other way (which I suspected was the main waterfall).
So after having our fill of the first waterfall that we encountered, we then went downstream into the narrow chasm where we the path then proceeded to narrow the further we went.
There was some small shrine down here in a nook within the gorge, but it eventually got into a really atmospheric part where it narrowed to the point that getting wet was unavoidable.
Some of the morning light was already making things look quite scenic and interesting, and after getting around some of the large boulders at the bottom, we eventually got to the dead-end right at the main Tukad Cepung Waterfall.
It was about 8:30am when we arrived at the base of the waterfall, and it was a bit misty as well as hazy down there so taking pictures against the light was tricky.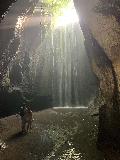 When we tried using the phone to take pictures, there always seemed to be glare in the photo, and when I tried to take pictures with the larger mirrorless Sony, there always seemed to be fog appearing on the polarizer.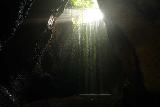 Nevertheless, we took some time to take what pictures we could though we weren't that particularly interested in shooting God beams right at the waterfall, which I knew would eventually get crowded.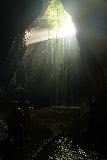 In fact, there were already people starting to show up the closer we got towards 9am, and by then the family already started heading up and I was slowly starting to do the same.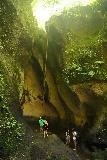 Although I suspected that the God beams showing up at the main waterfall would eventually happen within say a half-hour that I was down there, I also started to head back up.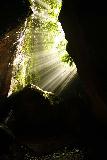 And in so doing, I noticed that there were actually really attractive God beams further downstream in the narrow gorge around the boulders.
So I took advantage of that spot by taking a few more pictures before heading back up the steps just as many more tourists were descending upon this spot, and it just goes to show you that the Instagram lemmings effect was in full force at this time.
As I continued further up the steps and then along the irrigation ditch, there were still more tourists making their way down to the main waterfall.
At the same time, some of the couples that had been down with us at the falls were also making their way up, and I caught up to them as they were stopped due to encountering some snake they saw, but I didn't see them by the time I showed up.
Finally, I joined the rest of the family near the continuation of the steps going up where there was some kind of angry-looking wolf statue or something, and then we continued further up the concrete steps to wrap up the hike.
By the time we got past the ditches and past the ticket booth, we then noticed that the grassy area before the praying area was now full of people dressed in white ceremonial clothing in sitting posture.
Clearly, the Balinese here took this last day of some 10-day worshipping period very seriously, and it seemed like even more people were heading in that direction while we were heading back to the car park.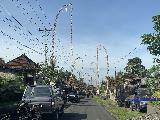 By 9:30am, we were back at the car, and then we proceeded to be taken to the Kanto Lampo Waterfall.
It only took us around 30 minutes of driving to get to the car park for the Kanto Lampo Waterfall, but the drive to get there was interesting as we noticed lots more Balinese people sitting on the streets in white or praying at temples.
It's true that people were really into their religion here, and Adi indicated that most of the locals have to finish their festivities by noon time, which is why there's so much ceremonial activities going on at this time.
At the Kanto Lampo car park, there was an interesting statue next to the entrance of the pathway down to the waterfall.
After having paid our admission fee, we then proceeded to walk down a flag-flanked concrete path going down a procession of steps and some flat sections as well.
The steps eventually arrived at some sloping road, where we then followed this road past a few shops and towards the ticket counter, where we then paid to continue going down.
This path involved going down even more steps as we passed by one three-way junction (where the path on the left looked like it headed towards some restrooms) while the path on the right continued down to the main waterfall.
We'd eventually make it down to the main waterfall, where we then had to carve out some space on the concrete steps while also trying to get some side views of the rather wide waterfall.
Lots of people were waiting to get their photo under the far right side of the waterfall, where there also seemed to be a slight rainbow going across it.
While the ladies were busy trying to capture the scene while also queueing up to take a shot to the far right side of the falls, I went ahead and descended to the bottom, where I then decided to wade across the stream for a more frontal view of the falls.
Keep in mind that I still had my gear on, so I gingerly made my way across with neither trekking poles nor visibility since the water was murky and I couldn't see what was beneath the surface (let alone the water's depth).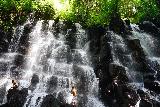 It was times like these that I wished I had a trekking pole to test the depth while also keeping my balance since the rocks conspired to be slippery.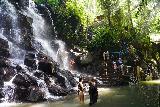 I ultimately got frontal views of the falls, but it was still tricky to photograph so I decided to wade a little further downstream though the rocks there was more slippery.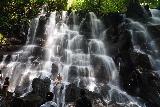 Just as I had placed my hand on one of the wet rocks for balance, I felt a very painful sting on my left index finger, and when I saw some kind of dark bug crawling away from my hand at that time, I was worried that I might have gotten poisoned by something.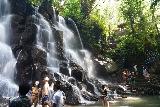 My mind was drifting towards thoughts of a scorpion sting or a centipede sting, but I couldn't quite tell what this bug was since it was blackish and kind of blended in with the dark rock.
Eventually after a couple of painful minutes, the effects of the sting went away, but from that point forward, I was now trying to watch really carefully where I'd be placing my hands while scrambling.
After getting my fill of the profile of the Kanto Lampo Waterfall from the other side, I then carefully scrambled back across the base of the waterfall and up to the steps where we got a couple of family shots before finally calling it at this waterfall as more people came down.
This place really seemed popular with tourists, and I was warned by some of the locals here that it's the afternoon where it gets even busier.
As the ladies had already gone up, I took the liberty of lingering around for a few minutes, and as I ascended to the three-way intersection, a local there told me that I could go down the other path for an alternate view of Kanto Lampo Waterfall.
When I took his advice and went down there, I noticed there were some fountains below the toilet building, and I had to go out onto the stream a little bit to look between a framing gorge towards the Kanto Lampo Waterfall in the distance.
There were also a handful of people out by this side so it wasnt like I ventured into an unknown spot, but it did seem like lots of people miss out on this alternate view.
Regardless, after having our fill of the falls, I then continued up the steps where I noticed the ladies were having drinks at the first stand near the ticket booth.
It turned out that they were having truly cold young coconut (unlike the one we had yesterday, which was deceiving since they pitched "cold" young cocount), and so they saved me a few sips which were real refreshing.
As we were about to leave the cafe we were at, we saw there was another procession headed down past the ticket booth and down the steps.
Only after the last of the procession participants had passed did we make our move and go back up to the car park, where we arrived at 11:25am.
Like the first waterfall at Tukad Cepung, this waterfall was also full of tourists, and perhaps it was good that we got the early start when we did.
After heading back out, we then proceeded to the Tibumana Waterfall, where we got to its car park at 11:35am.
By this time, Tahia was already getting tired of waterfalling, but at least this one was supposed to be another short walk from the car park down to the main waterfall itself.
When we got there, we saw quite a bit of visitors on scooters who were not Balinese so quite a few people seemed to be empowered to try their hand at the local traffic.
But it was as Adi says, they learn quickly how to pick up unpredictable habits and become traffic hazards.
Anyways, on the walk down to the falls, we passed by some temple with some rice fields across from it, then we went down to the ticket kiosk, where we paid the entrance fee (I believe it was 20k Rp, which seemed to be the going rate for waterfalls.
And like the other two waterfalls seen today (as well as the one from yesterday), we noticed more concrete steps leading down to the bottom, which meant we were getting a sweaty hike on the way back up.
On the way down, there were a few more shops lining the footpath before reaching a fork, where we kept left to go down to Tibumana Waterfall while I did wonder what was to the right (which I figured I'd find out later).
So the path continued descending to the bottom, where there was one washed out section forcing a short trail re-route.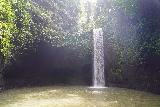 Then, the path reached some bridges with a pair of intermediate waterfalls opposite each other.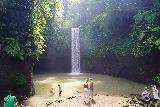 I wasn't sure if these side waterfalls were legitimately natural or if they were just manmade consequences of the rice fields above.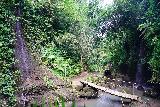 Nevertheless, shortly after the intermediate waterfalls, the trail ended at the plunge pool before the Tibumana Waterfall, which featured a satisfying plunge.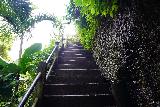 As far as photographing the falls, we were kind of looking against the very bright midday sun so we actually welcomed when the clouds moved right in front of the sun to more evenly distribute the lighting.
After having our fill of the Tibumana Waterfall, we then went back up just as more people were coming down to this apparently popular waterfall.
And as I intended, on the way back up, I took the other path just to see where it went, and it ultimately led to some kind of small shrine flanked by a twisting cascade.
At that point, there seemed to be a confluence of streams, but that was the end of the line for me, and I went back up to the Tibumana car park, where the ladies were having some kind of ice cream at the stand up there to offset the tropical heat.
By about 12:30pm, we were back into the air-conditioned car, and then we proceeded to drive to the Bebek Joni Restaurant, which was our lunch stop for the day.
This restaurant seemed to get quite a few tourists, but we managed to sit in one of the spots with a view towards the rice terraces (though little did we realize that there were other tables on the other side of the restaurant that also had more open views of the terraces as well).
Regardless, we had a pretty delicious (albeit pricey) lunch where the crispy smoked duck was their signature dish, and it was surprisingly good.
The duck had more of a stew-like consistency and wasn't as hard as typical smoked products you'd find at supermarkets or other restaurants.
Anyways, we also got an assortment of local Indonesian food including fried fish, ayam goreng special, chicken satay (which was interestingly presented in a charcoal holder keeping the skewers hot), and some vegetable curry.
The service was slow since there were quite a few people here, and it wouldn't be until about 2:30pm when we finally headed out.
The next waterfall for the day was the Sumampan Waterfall, and by this time, we were getting a bit waterfalled out, but we still had to hunt this one down since it was the one that we had missed yesterday.
We'd eventually get to the Sumampan Waterfall by 2:45pm, and this was one waterfall that Adi hadn't been to.
Nevertheless, we did notice a handful of foreign tourists here, and I guess no matter how off-the-beaten-path one place might seem in Bali, it seemed to still not be impervious to the Instagram lemmings effect.
And unlike the other waterfalls that we had visited to this point, this trail was mostly down a dirt path instead of all paved.
That said, we did encounter concrete steps towards the bottom, where the steps were steep and the final steps were also narrow as they skirted along some rippled concrete walls that looked like someone was mud floating the whole hillside.
So when we got down to the bottom, we found ourselves looking down at a mostly obstructed waterfall where vegetation covered up most of the upper part of the falls.
There was one guy who brought his kid across the turbulent stream so he was always in everyone's photos.
Nevertheless, we were fascinated by all the faces carved into the river rocks as well as the cliff faces across the river.
Once we had our fill of this waterfall, we then headed back up where Mom pointed out to me that there was yet another waterfall near this footpath, which we could partially see as we made our way back up the concrete steps.
Eventually by about 3:30pm, we made it back up to the car though I realized right then and there that Gaia GPS didn't really record much about the excursion, which was unusual because I had to turn off the recording.
Finally, with the waterfalls out of the way today (albeit with most of the day over), the original plan was to get to the rice terraces of Tegallalang first and then the coffee plantation tour.
But since the coffee plantation tour had closing time at 6pm, we decided to flip flop the order of visitation so Julie and Mom could at least get to experience the luwak coffee there.
So we got there at 4:10pm, which was plenty of time for us to catch a tour that also included letting us try out various munchies.
We first got a personal tour of the facility while being walked through the process of how the coffee is made.
Then, by about 4:35pm, we finally got to the end of the tour where we got to be seated and also getting to try out the munchos like ice cream as well as some snacks like a steamed banana slices with coconut shavings as well as some fried plantains or bananas.
There was also a five-cup coffee taster as well as Julie and Mom each having the famous luwak coffee.
As we were enjoying this little cuppa, it was starting to pour rain and it seemed to be getting worse the longer we were staying (though we definitely appreciated the water tightness of the pandanus-leafed thatched roof above).
We were given umbrellas when we were done with our cuppa and descended the slippery and wet wooden and stone steps to get to a viewing area of the rice terraces across the way (though this was not the famous Tegallalang terrace).
We didn't take too long to get our photos because it was basically an exercise in someone holding the umbrella so someone could take the pictures in this tropical downpour.
Ultimately, by about 5:30pm, we were back in the car, and the skies were noticeably getting a little darker with each passing minute.
Five minutes later, we had been driven to a lookout area of the Tegallalang Rice Terraces where I went part of the way down to get a look at the wide scene of the terraces (each with mini waterfalls probaby from the prolonged rains).
The ladies stayed up to watch me going down since it costed each person money but they managed to rig the situation such that I was the only person to pay and partake into a more intimate experience with the rice terraces.
But with thunder looming in the distance and getting closer, I decided to head back up but then the ladies decided to pay to go down and do the rope swing.
I guess this was on Julie's bucket list, and now she got to do it, especially since there wasn't much of a queue to do the swing.
This was basically as if it were a roller coaster ride or some amusement park ride where you get slung out towards the drop offs above the rice paddies, and you get swung around a half-dozen times before you get to swing back and forth without any assistance.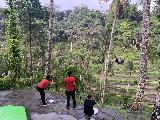 The seats had harness backs on them so as long as you're leaning backwards, there's no likelihood of falling off the swing (which could only happen if you lean too far forwards).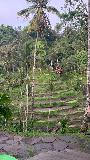 So Tahia started with the swinging, and she really enjoyed the experience since she was quite the thrill-seeker, and when it was Julie's turn, she also seemed to enjoy the thrill of doing this, especially since it was a check off her ever-evolving bucket list.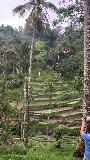 Eventually by about 6:15pm, we were back in the car, where we were then driven back to the Suweta Home Stay, where we got back by 6:45pm.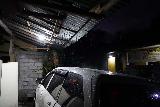 However, when we made it back, it was pouring buckets and so we had to grab our stuff and then go right through the downpour up to our rooms.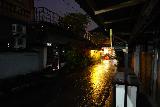 We noticed that the swimming pool was flooded, and so we figured that since we didn't really feel like dealing with the downpour in town, we mind as well eat up the fruits that we had bought from the supermarket yesterday.
So we kind of had a bit of a fruit eating party on the balconies of our respective adjacent rooms, and so we ate up the durian, mangostines, dragonfruit, part of a watermelon, and jack fruit.
And we were doing all this while it was pouring rain outside though it did manage to calm down somewhat by the end of our fruit eating party.
Eventually by around 8pm or so, we settled in for the night, took showers, tended to our oral hygiene, and also tried to get caught up on the blogging and photo naming to this point.
And finally, we crashed in bed some time after 10:30pm or so knowing that we'd have to do an early morning wake-up because we were headed to the Lempuyang Temple tomorrow, and we wanted to make sure we got there early to beat any kind of rush.
And we hoped that the weather might clear up considering how drenching the thunderstorm was this night…
Day 11 (June 19, 2022 – Ubud, Bali, Indonesia): "Smoke and Mirrors"
It was 3:50am when we awoke, and there was a lot of concern about how today was going to go because it had been pouring rain for most of the night.
Heck, it still seemed to be raining when I had awoken, but the weather seemed to have calmed down after Julie awoke and started getting the cold sandwiches together for breakfast.
Given today's early start, it was a pretty hectic morning, but Adi was already downstairs by the time we started to make our way downstairs into the darkness.
So by 5:05am, we were heading out as the back entrance was closed so we had to take the front entrance for the first time we had been staying here.
The drive out the east end of Ubud was familiar yet also an interesting one in that we were going east out of the Gianyar Region where we saw a whole heap of lights on the main road.
We had this discussion about corruption and how this was one example of one politician who had gone overboard with his responsibilities concerning what he did with the public funds.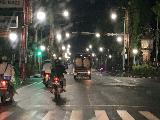 Anyways, the drive was refreshingly smooth even though there had been some activity concerning the morning, but considering we were out and about before sunrise, I'm sure Adi appreciated the ability to drive with better flow as opposed to the greater chaos when more scooters and cars are present.
I was able to stay awake the entire drive so Adi and I were making small talk about Indonesian politics and stuff.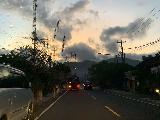 And as the day started to get more light, Adi pointed out that we could start to see Mt Agung, which was a good sign even though there were plenty of clouds around us.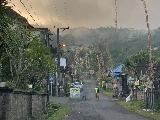 But the fact that after we had experienced a whole night of hard rain (as evidenced by still some remnants of street flooding), and that we could still start to see the top of Mt Agung this close to the Lempuyang Temple was a very good sign.
Eventually at 7:05am, we arrived at the car park area for the Lempuyang Temple, then we had to pay for a shuttle to go up to the temple itself.
Adi said that they used to be able to drive all the way up to the temple, but now that they had this shuttle system, it was a lot less congested in that area.
The shuttle then went up a series of narrow and steep switchbacks, and we arrived at the entrance area where we had to pick up a sarong (there were ladies there to help tie it for us), and then we walked past some shops up to the temple itself.
Looking back behind us, it still looked like there were clouds conspiring to conceal Mt Agung, but it did seem like the clouds were moving from south to north at the time so every once and a while, we could see Mt Agung's top.
As we got up to the Lempuyang Temple area, we could see that we were at the bottom of a steep stair structure, where I believe the temple was up at the top.
However, looking in the other direction, we could see a bunch of people waiting their turn for their photo in front of the famous Heaven's Gate.
Mt Agung was still coming in and out of hiding behind clouds that were moving.
But at least it seemed like there was a very real possibility that we'd be able to have our photos with the mountain behind it without any crazy green screening or whatever postprocessing effects to fake it.
Our number was actually #25 and they were on #19 when we showed up so it didn't seem like we had that bad of a wait.
So we used that time to explore around this area, and I even took some time to go up towards the entrance of the temple where I saw a handful of people standing there.
Actually, when I got up there, I saw that there was a praying area, but you couldn't go in unless you were genuinely there to pray.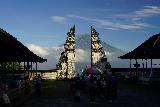 But when I turned around to look at Mt Agung and the context of the Heaven's Gate, I saw that the mountain did indeed show itself from time to time as the clouds rolled from left to right.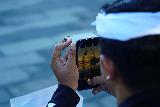 So I took some time to document this experience and the context of it all (though I had forgotten to take pictures with the phone), and then I went back down as the ladies told me that it was near our number (they were on #22 or #23 now).
Adi was with us and he showed us what the guy taking the pictures was doing…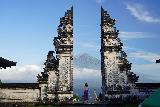 He actually had a mirror held above the smart phones when taking pictures, and we could see that there were reflections that faked as if there was a pool in front of the Heaven's Gate.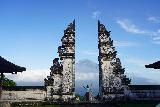 If there ever was a fraudshot to make something Instagrammable, then I think this one takes the cake though it was an ingenious way to get attention since no one really knows any better until they get there, right?
Anyways, when our time came around, we took time with Julie and Tahia and Mom making individual poses though I only did so with Julie as a couple, and then we did it as a family.
After having our fill of the photos being taken, I then spent a brief moment to shoot a photo back towards the temple as well as in the other direction at more temples down below from the Heaven's Gate.
Then, we walked down the steps towards the exit and out of the line of sight of the next people waiting to take their turn for taking pictures though the mountain seemed to be momentarily blocked by clouds again and then not hiding not long thereafter.
As we made our way back down the slope to the shuttle bus, we stopped to pick up some fruits, where we tried some snake skin fruit and decided to buy some while also picking up more mangostines, small bananas, and even a passion fruit.
By about 8:30am, we were back at the car, and it turned out to be quite the pleasant experience despite the bad rap this place had been getting in recent memory.
I think the main reason why this place had gotten such a bad rap in the past was that before the pandemic, Adi said that the numbers this early in the morning could be in the 200s!
Imagine how long of a queue you'd have to wait for such photos given that there really wasn't much else to do up there.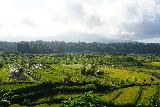 Anyways, we left pretty satisfied and now ready to head back to the west towards the next attraction which was the Tirta Gangga or the "Water Palace".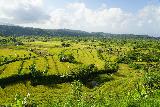 On the way back towards the Water Palace, we made a brief roadside stop in front of a stand where we could look across some rice terraces that still hadn't harvested their rice completely yet.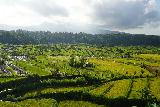 And so it was actually more scenically attractive than the Tegallalang Rice Terraces that we saw yesterday, and there was even the possibility of seeing the top of Mt Agung behind it all if it wasn't for clouds blocking this side of the mountain and looking against the morning sun.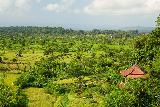 After this brief photo stop, it was only less than 5 minutes later when we arrived at the car park for the Tirta Gangga at 8:55am.
Once again, we had to walk between a bunch of shops and stalls before reaching the entrance of the Water Palace, and one in particular had interesting monitor lizards as well as some bats that were all live (obviously they were trained for the purposes of holding them and/or taking pictures for a fee).
Anyways, once inside the Water Temple complex, we could see that there were fountains and ponds throughout the place with lots of really big coy in the water, which must have gotten fat from all the people buying feed from one of the food stalls and feeding them.
Julie bought some so Tahia could do that from a couple of different stalls, and while they were occupied doing that, I was walking around the complex just to explore it for a bit and taking pictures as I went.
For the moment, it was actually nice and quiet as I was alone except for a few locals doing prayer, and it actually felt atmospheric (especially in one corner where there were statues all facing me as I stood in the middle amongst them).
As I continued to make my way in an anticlockwise direction across the bridges, I saw that the rest of the family were finally done doing fish feeding, and then they went towards the back of the property towards the swings and see-saws.
We also noticed some people were swimming in a pool that I didn't even know was a public pool until I saw some guys and then a handful of families doing it.
It was a nice relaxing way to experience such a sacred spot, which contrasted mightily with the long day that we had yesterday.
Anyways by about 10am, we had our fill of this spot and proceeded to go to a restaurant nearby for an early lunch.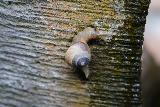 It turned out that the restaurant that we went to at the Tirta Gangga had a lot of authentic Indonesian cuisine, and so we tried some kind of specialty fish curry wrapped in banana leaves, a chicken curry, a beef rendang, a mee goreng for Tahia, and some water.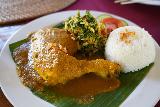 Well, when they brought out the food and we had a taste, it turned out that the fish curry was an instant hit as the curry was one of the best tasting ones that we've ever had when it came to Indonesian food.
In fact, it was so good that we tried to get every bit of curry that we could and clean the heck out of its plate as well as the banana leaves that it was served in.
Even the beef rendang was quite good as we've usually had tough or dry beef when it came to this dish all the other times we've tried Indonesian food, but in this go, it was actually quite moist and good.
Then, Julie's chicken curry was pretty good, and we also got some kind of water spinach curry dish, which was also quite good (and we were motivated to get it due to needing to eat some greens).
Finally, Tahia ate up her mee goreng, and by the end of the lunch, we were all very satisfied, plus the bill was something on the order of around 420k Rp, which amounted to something like $30 USD for the whole thing, including the waters!
We knew that we couldn't get used to these prices forever, but we were quickly learning why people love coming to Bali, and we were also figuring out why it was considered a budget destination.
Upon wrapping up with the lunch, we also tried a small little kiosk shop that sold Massimo Gelato though their flavors were limited.
So we each tried at least a scoop or two, and I had a tiramisu flavor which Julie seemed to actually like.
When all was said and done, we were back in the car by about 11:15am, and now it was time to go check out some off-the-beaten-path destinations.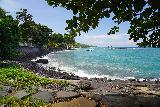 First up was the Candidasa Beach (which was actually pronounced like "chandidasa"), and we ended up getting there at around 12pm.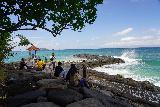 When we stopped there, we saw that it was busy with locals, but this place didn't really have a sandy beach.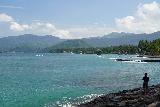 In fact, the water was pretty rough as it was surrounded by rocks, and it seemed like more of a fishing spot though there were local families here enjoying their day of rest.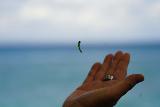 But it didn't take long before we got the flavor of this place, and we could see why it was really more of a locals hangout spot and not really a place for tourists.
So with that, we headed out and continued to pursue the Yeh Labuh Waterfall, which was also off-the-beaten-path.
We ultimately got up a narrow road surrounded by greenery in a jungle, where there was a road junction backed by some beat up part of a narrow road that made us wonder if we shouldn't proceed any further.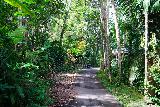 Well, after Adi talked to some locals that were passing by, they told us that we should continue further straight ahead on the road, where there was a narrow concrete driveway or something only suitable for scooters.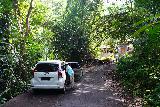 So Adi turned around at a neighboring shop at the dead-end, and then parked next to the trailhead.
We started our walk at about 12:45pm, and then we proceeded to walk down the concrete path as we made our way towards the Yeh Labuh Waterfall.
The road generally descended though it did undulate a few times as we went through the mostly jungle path flanked by a few homes.
Eventually, we got to the stream where there was a bridge spanning it, and at first we thought that the Yeh Labuh Waterfall was this disappointingly small waterfall just upstream from the bridge.
But it was clear that there was a continuation of a path that climbed alongside the creek, and then started approaching some kind of concrete structure backed by large letters saying "Yeh Labuh".
Just as I was about to descend past those letters and right towards the waterfall, I met some local blogger who was filming himself narrating something about this waterfall.
Indeed, this thing about blogging in Bali seemed to even inspire the locals to do it, and perhaps that's a good thing because this guy wanted to bring more awareness to the hidden spots like this one.
Finally at 1:10pm, I caught up with the ladies who were chilling out at the viewing area, which fronted some kind of shrine.
Upon looking at the waterfall, we could see that it was a very tall waterfall though it was also thin flowing.
The local blogger and his entourage went closer to the bottom of the waterfall, and some even scrambled up towards perhaps the base of the penultimate drop.
It still felt like this place was under construction as evidenced by the incomplete railings around the shrine as well as the water hoses and incomplete trails further back the way we came.
Anyways, at around 1:30pm, we made it back to the parked car, and when I finally made it back myself, I learned that Julie wanted us to check out the Bia Stugel Beach, which was totally unexpected.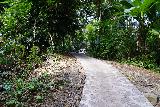 Julie told me that there were many tripAdvisor reviews about it, so I guess we mind as well salvage a quieter beach experience much to the chagrin of Tahia who really wanted to just spend time at the private pool back at the home stay in Ubud.
Adi was game to this unplanned excursion, and at 2pm, we ended up at the Bia Stugel entrance, which was at the end of a narrow road with limited parking.
We then proceed to pay the entrance fee and walk down to the beach via some path that was flanked by tall stone walls kind of reminiscent of exploring medieval castles in Europe or something.
Eventually, we got to a part of the trail where we had to leave the walled corridor and then follow a bush path leading down to the rather secluded beach complete with some food and drink stands with touting reps waiting to try to get peoples' attention to go into their business.
We ultimately didn't buy anything, but we were enjoying the beach and the colors of the water though it didn't take long before we realized that the tides were increasing as it was starting to become high tide.
So we spent some time just enjoying this beach experience though it was marred by Tahia chucking some sand ball at me and ended up hitting the camera and camera bag.
Since DSLR cameras and that pro-sumer Sony mirrorless camera weren't meant to tolerate sand, I wasn't too happy with what Tahia did and so I was concerned about whether sand might get into the expensive 24-105mm lens.
I spent some time trying to clean out the sand on the camera and the camera bag, and then I went ahead and proceeded to enjoy this place with the camera at risk, but nothing catastrophic seemed to have come from this careless action.
And then after having our fill of this place, it was time to walk all the way back to the waiting Adi at the Bias Stugel Trailhead.
We finally got back up to our driver Adi, who patiently waited for up when we got there at 2:40pm.
Our visit to the beach seemed to be right on the hairy edge of fair weather with the sun painting both the sky and the rocks around us.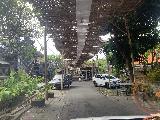 Nevertheless, we then resumed the drive back to Ubud though the traffic was way busier now than it was earlier in the day, and so it took some time before we finally got into the center of Ubud.
We first made a quick stop at the Delta Dewata Supermarket, where it was just Julie and I picking up some brekkie for our early start tomorrow, but we also got some Cleo water as well as some deli stuff in preparation for a picnic lunch should it come to that tomorrow.
Eventually at 4:15pm, we were done with the brief grocery run and headed back to the Suweta Homestay.
As we were back at our room and getting ready to go back down, Julie had this idea about celebrating Father's Day today with a proper dinner at a nearby joint to our accommodation.
We wound up having a dinner at 5:10pm at this place called Bu Rus, and it was kind of a hidden but quaint spot literally a couple minutes walk from our accommodation.
We would order things like crispy duck, mee goreng, BBQ ribs, and locally-raised chicken.
When we were done paying for the check and then heading back out into the streets of Ubud, it started to rain and so we briefly went back to the home stay to pick up some umbrellas.
But as we were making this move, the rain was coming down even harder, but we weren't going to be denied bgecause we wanted to see what the Ubud Palace as well as the other palace was all about.
Well, it took some time to find the Sura Surati Temple (sp?) by which time it was already starting to rain pretty hard and it was difficult to take pictures even under the shelter of our umbrellas.
And after having our fill of the Sari Surati Temple, we then walked back in the opposite direction towards the Ubud Temple, where we could go into the complex and take pictures, but by that time, it was now pouring buckets of rain!
Thus, we just took some hasty pictures and tried not to ruin our electronics in the downpour, and I'm sure our Ubud cultural experiences left a lot to be desired.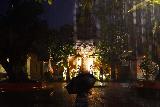 So we retreated to the Gourmet Gelato place and tried various flavors (where Julie and Tahia focused on sorbets) while I ended up with vanilla bean with ferrero rocher, and some kind of Oreo flavor that didn't even have Oreo cookies in them.
Compared to the Gelato Secrets, this place was more disappointing, but at least Julie got to try durian ice cream.
When we were done with our little gelato snack, we then had to back into the pouring rain to return to our room at the Suweta Homestay.
It seemed like the umbrellas were futile against the rain as my back was completely soaked as my attention was more on trying to ensure the camera wouldn't get wet to the point of being broken.
On one of the many steps leading up to our respective rooms, I managed to stub my big toe on one of the larger steps at the entrance gate.
This one hurt, and I was afraid to be losing a toenail similar to my opposite foot when I had kicked the ground at the Wave Pool in the Darwin Waterfront earlier on in this trip.
Anyways, when all was said and done, we were back in our room all dead tired from the full day of events.
Despite the somewhat random and unknown nature of the attractions in this afternoon, we still had to shower, I still had to blog or at least organize my photos and videos, and we also had to pack and get prepared for our early departure for the North of Bali tomorrow…
Day 12 (June 20, 2022 – Lovina Beach, Bali, Indonesia): "The Balinese Paradox"
It was 3:30am when I awoke, which was done without the aid of an alarm again, and I wondered how much longer are we going to benefit from the jetlag where we kept going back in time and therefore had earlier-than-normal wake-ups.
Yet even with the early morning wake-up, I tried to get all caught up on blogging and photo organizing as well as packing, and so I had to make do with what limited time I had knowing that we had to check out and leave for the day by 5am.
It actually took a little more time to do all the things we needed to do including have a basic brekkie, making multiple trips to clean out our rooms and load up the car, and so it wouldn't be until around 5:25am when we finally headed out.
I knew we had a full day of activities planned for today, but given how much drenching downpouring weather we'd been having for each of the last two afternoons, I wondered whether we would get through all our planned activities for this day.
By the way, Adi was off for today and so he had a friend of his fill in for this day, and his name I believe was Wayan.
He didn't speak much English compared to Adi, which made communications a bit trickier on this go, and this was kind of like our typical experiences when we had drivers who didn't have that command of the English language whether it was in India, Kenya, Thailand, etc.
Anyways, the drive through the pre-dawn darkness had a surprising amount of activity from other motorists and scooters as we were leaving Ubud to the west before finally catching onto the main road heading north.
However, given the language barrier, it was mostly a silent ride through the pre-dawn darkness before we started to get closer to the Nungnung Waterfall turnoff.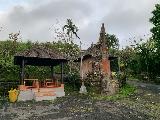 I swore that I had seen signs for the turnoff, but our driver managed to miss it, and so I told him that I think we had overshot the signed turnoff for that waterfall.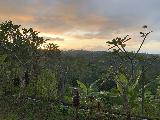 He ultimately backtracked, and then we took the correct narrow road down to a car park that was spacious.
During the approach on the small access road, we were getting a distant look at both Mt Agung and Mt Batur with both silhouettes clearly visible against the red skies of sunrise in the distance.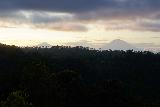 Once Wayan parked the car at the car park at 6:35am, it looked like this place wasn't open yet as there was no one at the ticket kiosk, and all the stands were closed.
So we just went to the far side of the long non-scooter car park for the morning view of both Mt Agung and Mt Batur, and then Mom and I geared up to go down to the bottom of the Nungnung Waterfall while Julie and Tahia stayed in the car to sleep.
Although we couldn't pay anyone to visit this waterfall at this time, Mom and I were encouraged to just go down and visit the waterfall before coming back to the trailhead to pay.
We started off by going down a sloping asphalt road before it flattened out and rounded a bend where we then saw an entrance that kind of concealed the first flight of steps to descend until we got around the obstruction.
And as we descended the first flight of steps, we immediately realized that the path was slippery.
Even though we were told that it was only about 15-20 minutes walk to reach the bottom of the Nungnung Waterfall, our experiences were that it was something way longer than that.
Heck, we noticed that throughout all the waterfalls we had been visiting to this point, the time commitment was typically 2x to 3x more than the original verbal estimates.
I wasn't sure why this seemed to be the case throughout Bali, but since I noticed how there were so many shops and stands that were starting to open up for the day, perhaps the gross underestimations of time commitment would make visitors complacent and do the walk unprepared.
Anyways, Mom and I went down one flight of steps after another, and I recalled the Wayan had said that he didn't recognize this path as there weren't any concrete steps some 26 years ago or so when he last did this hike.
He said that the trail was mostly steep dirt trail, but these days with the concrete steps, I guess that made the trail a bit more erosion-resistant and so we just had to take the good with the bad especially when wateralling in Asia.
The descent down steps continued with one flight after another interspersed with a handful of sketchy slopes since neither of us had good traction with Mom wearing her trail runners while I was wearing Chacos.
Eventually by about 7:25am, we made it down to the bottom of the Nungnung Waterfall, where we then proceeded to pose and document the experience, especially since we had this place all to ourselves.
That said, there was too much mist swirling in its enclosed cove surrounding its plunge pool, and so it didn't take long to have our fill of this spot before heading back up the many flights of steps.
At least with the return walk, even with the slippery footing, at least going uphill seemed to be a lot easier when footing was uncertain.
And so by about 8:15am, Mom and I made it back up to the car park as we were not surprisingly a sweaty mess.
And as anticipated, the ticket counter was open so we paid the entrance fee of 20k Rp per person that we weren't able to do at the outset of our excursion.
Next up, we then pursued the Bantu Lantang Waterfall, which was one of the more off-the-beaten-path spots in Bali.
The drive to get there was pretty short, and barely 25 minutes later, we wound up at the Pelaga Eco Park, which was apparently where the Bantu Lantang Waterfall was located.
That said, we kind of flew blind because there weren't signs specifically mentioning the Bantu Lantang Waterfall.
But at the car park for the Pelaga Eco Park, there was a guy offering a 4wd shuttle to get down to the warung at the bottom, which was where we were supposed to start the hike to the Bantu Lantang Waterfall.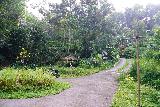 Since we were on a tight schedule, we ultimately decided to go ahead with the shuttle, though we were told that the shuttle was free if we wound up buying something at the warung below.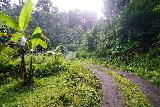 So we went ahead and did that with all the intention of buying something at the warung down there.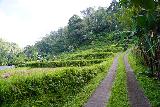 And immediately upon the 4wd going down the steep slope, we were glad of our decision to do this shuttle because walking this road (even if it was a modest 500m in each direction) and then back up the same way would have been another hot and sweaty affair.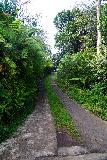 Plus, the road was quite steep, and it was the kind of the 4wd road that would really burn the thighs to make it back up.
Regardless, we eventually made it down to the warung at around 8:50am, and then we just followed the road down past the warung and towards the river, which sign had indicated.
However, as we were going down, Julie who was ahead of the pack, encountered a guy dressed in a yellow shirt saying that we were not going to the waterfall (if that was our intention, which it was).
So he ultimately became our impromptu guide for the Pelaga Eco Park, and he proceeded to walk us back towards the warung, and then up some steps alongside the left side of the warung.
It eventually went up to a trail with a waterfall sign pointing to our left (it was the first such sign indicating that there was indeed a waterfall here that we had encountered), and then we walked this narrow and muddy ledge path past some yurts for glamping towards the falls itself.
The guide's name was Janu and he seemed to really push for us to come back and see this place when a lot of the renovation workd would be done.
He indicated that there were hot springs here, and that he wanted to finish building out an alternate trail that was along the river to the Bantu Lantang Waterfall.
Anyways, I knew this place wasn't quite on the beaten path because its trail wasn't made of concrete like the other famous waterfalls in Bali, and that it seemed to lack overseas tourists in these parts unless they were staying in the yurts by the start of the hike.
We eventually made it to the base of the Bantu Lantang Waterfall, where getting a frontal view of the falls involved wading towards the middle of the river.
It was about 9:15am when we made it to the base of the waterfall, but we then followed Janu back to the warung after having our fill of the falls.
I learned while talking to Janu that this waterfall was also called the Goa Gong Waterfall, which suggested that it was situated in a cave-like alcove (which I couldn't quite see how so because we've seen other more enclosed waterfalls than this).
Nevertheless, I did recall noticing that there was a large boulder that looked like it might fall down eventually.
When we returned to the warung, we then ordered some drinks as well as a meal though this was more of a self-cooked meal ala Korean BBQ style.
Unfortunately, when the ladies made the decision to have a quick bite here, I didn't think they banked on how long it would take for the food and the drinks to come out.
Since we had a packed itinerary, there was a definite concern about not making it out to Aling Aling Falls before settling in on Lovina.
Nevertheless, we were committed to eating here since the order had already been placed, and so we ultimately decided to stick it out.
And the self-cooked food of chicken, fermented tofu, tofu, and some veggies definitely hit the spot considering that we had our brekkie at around 4am and now it was nearly 6 hours later which made some of us quite hungry.
We also had some delicious cold press juices while Tahia had some kind of milkshake and Mom had a coffee.
So when all was said and done at 10:40am, we were finally back in the 4wd shuttle to leave the warung and get back up to the car park about 10 minutes later.
Then, we continued with the day as we next headed to the Leke Leke Falls, which theoretically was pretty close but in reality wasn't easy to get to from where we were at because there were some water damaged spots to the road.
Indeed, with the low clearance passenger vehicle, Wayan had to be real careful about making it through the badly rutted and potholed spots of the road as we cut across towards Poyan and eventually the main road heading north.
Actually, he used Google Maps to navigate and it took us on a smaller road that avoided Petang, when it shouldn't have, but having used navigational software to drive before, I understood what that software did.
Regardless, we finally made it to the Lekeleke Falls trailhead by 11:30am, where it was along a narrow rural access road.
Once again, the whole family did this waterfall walk after paying the standard 20k Rp per person, and then we descended a trail that was actually not concrete for most of the way.
I actually preferred these kinds of trails because they were less jarring on our knees and ankles (especially with my swollen achilles troubles), and so we made it past a restaurant with a small sitting swing as well as a handful of more fruit and juice stands on the way down.
There was one guy in particular who was getting the sell on but he was a bit more slick about it by trying to engage us verbally knowing that we might just buy something from him so we could take a picture of his owl.
Actually, Mom tried to take a picture of the owl, but then she was told that it costed money to do that, and that kind of set up us buying something from him on the way back.
Anyways, this path continued its descent towards the river, where we saw a bamboo bridge going across it, and at first, I thought that we were following this main river downstream to the top of a waterfall.
But it turned out that the Lekeleke Waterfall's stream was on a tributary feeding this river, and so past the bridge, we deviated from the river and followed this smaller stream.
So the path descended more as we were now going upstream along this tributary and eventually after going past some returning foreigners heading back up, we finally arrived at the Lekeleke Waterfall at 12:05pm.
This waterfall was a little thinner than the other waterfalls seen to this point on the trip, but it still had good volume and it was actually quite refreshingly cool down here.
So we lingered here for a bit while also examining the cave-like alcoves nearby, which seemed to be a distinguishing feature of this waterfall though we didn't bother scrambling up to the misty plunge pool and that dark alcove.
We'd eventually have our fill of this waterfall, and then we made the sweaty climb back up while noticing that the weather quickly changed from hot and sunny to starting to see dark clouds overtaking overhead.
On the way back up, we saw the dude again who could see the whole action from his vantage point so he was already talking to us while we were still climbing.
When we got back up there, we spoke to him and asked to get one young cocunut though he was always actively trying to sell us on other things while up there.
It turned out that the single young coconut costed us 40k Rp, which was a rip off, and I learned right then and there that you never buy anything without a price written down.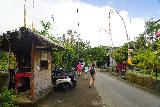 And if there isn't anything written down, then you always ask what the price is first before buying anything because then you have the ability to say no if you sense you're being ripped off.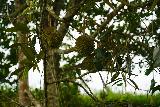 Regardless, by about 12:50pm, we finally made it back up to the car park after taking a restroom break at the restaurant just below the trailhead.
And then we were finally on our way to Julie's lakeside temple, which was called the Ulun Danu Beratan Temple.
Unfortunately, with the dark clouds overhead, we knew that it was going to be at least foggy if not rainy by the time we'd get to the temple, which was not ideal.
By about 1:30pm, we finally made it to the busy Ulun Danu Beratan Temple, which unsurprisingly was full of people (especially tourists).
And so we immediately got out of the car and proceeded to walk towards the temple area, where we went past a large open area full of pagoda-like towers and mini-temples.
Then, when we got past another one of the ubiquitous gates, we then saw that there were more attractive towers on small islands nearby the shores of the lake, which I'm sure would have been quite scenic under more benign weather.
But as we were taking pictures along the shores fronting the most attractive of the towers flanked by lillypads or lotus pads and fronted by colorful flowers, that was when it started raining.
And pretty much true to form, it started off as light rain, and then it quickly degenerated into heavier rain, and it eventually became a heavy squall where most of the tourists sought shelter.
We were only armed with an umbrella so our pants and probably back were getting wet, and I had to use a small broken umbrella where I prioritized keeping the Sony Mirrorless dry as well as the camera bag while allowing the rest of my body to get wet.
Eventually, the rain calmed down as we made our way back to the car, and we got there at 2:10pm where it seemed like the worst of the rains stopped momentarily and then the tourist behavior of running right to the choice photo spots happened.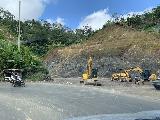 Next, we were driven to the Gitgit Waterfall as we went further north on the main road where Wayan pointed out some monkeys along the road that always were there.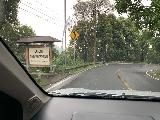 We also saw another lake as we continued climbing the road, which continued ascending then descending past some landslide areas as well as one spot where we saw the damaged bus that damaged other vehicles and killed one pedestrian a couple of days ago.
Then, the road descended past a handful of Gitgit Waterfall signs, but from tracking the progress on Gaia GPS, I saw that we were bypassing the other, smaller Gitgit Waterfalls each with their own names.
But we were targeting the main Gitgit Waterfall, and Wayan bypassed the main car park for it because he was taking us to the original trailhead by a bend in the road, which would cut the hike by at least 15 minutes (plus lots of steps) in each direction according to him.
By about 2:50pm, we got to the trailhead, where it was just Mom and I doing the walk as Julie and Tahia decided to stay in the car knowing that it might rain again.
And well, they weren't wrong because it was already starting to lightly rain when we got started, and then we went past some shops and a scooter parking area under a shelter before reaching a junction where we saw the many steps leading up to the official car park that we had bypassed.
Indeed, I understood what Wayan was talking about right then and there.
Next, we descended to a bridge where we then paid for the admission to continue to the Gitgit Waterfall, where we then paid our standard 20k Rp per person and walked a longer path that went around past some more shops (even though I noticed a shorter stepped path next to the ticket kiosk).
I kind of knew that the route was taking us past more touts along the way given the longer course, and I guess that shouldn't be surprising.
However, what was surprising was the persistence and annoyance factor of some of the touts, especially a couple of the kids who kept repeating the same thing over and over again but obviously not taking no for an answer.
Nevertheless, the silver lining behind these hawking stands were that there were tin roof shelters that we took advantage of when it was pouring rain during the walk (which was only 250m-300m or so from the ticket booth area).
Once again the weather finally started to calm down again as we made the descent to the Gitgit Waterfall, where there was another viewing shelter area as well as a shrine next to it.
We went as close to the waterfall as we could before the spray became too intense to document, and so we spent a few minutes down here at around 3:20pm before we finally headed back up just as there was another group of people coming down that was guided by a Balinese driver or guide.
On the way back up, we had to go through the same gauntlet of persistent touts, and it kind of made me realize that perhaps the North of Bali might be a bit poorer than the south, which I mentally thought about to justify the more aggressive behavior here.
I also wondered if some of this was organized crime that kind of forced the hand of some people to do this since there was no way a local would be able to manufacture and try to sell so many things populating their shops.
By about 3:55pm, we made it back to the car, and then the family talked me out of hitting the Aling Aling Waterfall, which was the last scheduled waterfall for the day.
However, with the unpredictable weather combined with the hungry mosquitoes being at their worst this late in the afternoon, I tried to think on my feet and consider doing the Aling Aling Waterfall on the day we would be leaving Lovina to go back to Kuta via the Blahmuntung Waterfall.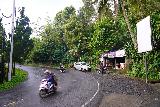 I also hoped that we'd hit the Tanah Lot Temple for sunset at around that time.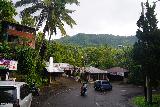 Anyways, we then were driven further down the mountain as the weather was rapidly improving the further down the mountain we went (even to the point of starting to see the mountains again), and we'd eventually get to the turnoff for The Lovina.
However, Julie realized right then and there that we needed to get some dramamine for the early morning dolphin sighting visit tomorrow morning, and so we stopped by the neighboring Swasti Medika Apotek to get the meds as well as itch-relief meds for the ladies who were struggling with mozzie bites.
Finally at 4:45pm, we made it to The Lovina, where we got checked in, let Wayan rest for the rest of the night, and then get shown to our villa, which was this gorgeous and spacious garden bungalow that was clearly next level compared to the humble home stay we were in at Ubud.
I swore this brought back Tahiti Garden Bungalow vibes as it had two outdoor showers, a large living room, two spacious bedrooms, and a fairly large private swimming pool.
That immediately brought the good vibes as I knew this was Julie and Tahia's thing, and I was glad that at least one of our accommodations was on the higher end of comfort given the cheaper cost of living here.
That said, I still had that underlying guilt of realizing that there was a good deal of poverty to enable such a disparity in cost of living, but at the same time, now I really understood why Bali was such a popular destination around the world (though especially for Aussies).
Anyways, after getting settled, we then went to the beach dining area for our dinner, but we happened to be there right when the sun was about to set.
So we enjoyed the sunset, but while we were taking pictures, we were being accosted by hawkers on the beach, which totally brought back Mexico and Jamaica vibes.
Anyways, we each got a different dish served up by the resort (I got mahi mahi, Tahia got satay, Mom got a soup noodle dish, and Julie got chicken), but the food was probably the worst of what we had on this part of the trip so far.
I always say that resort food is almost never good, and this proved that axiom so we didn't even linger around for dessert or other things.
By about 6:55pm, we were back at our villa, where Tahia and Mom were playing in the private pool while Julie was reading and I was busy trying to get caught up on all the blogging and photo organizing from the past few days of being behind.
The AC in the villa was quite chilly, and I was working probably until around 11pm when I still had stuff to wrap up on, but I just had to go to bed because I was fighting sleep.
And so I did that knowing that we had another early wake-up tomorrow in order to do the unplanned dolphin excursion…
Day 13 (June 21, 2022 – Lovina Beach, Bali, Indonesia): "Time Is Of The Essence"
It was about 4am when I awoke to the alarm, which turned out to be the first time in a while (that I can remember) that we actually woke up by the alarm instead of relying on our jetlagged state tow awake before the alarm!
But on this day, we were to do an early sunrise tour to see dolphins off the shore of the Lovina coastline so we had to get up as a family and I had limited time to get caught up on my backlog of work to do over the past few days of activities.
In any case, we met up with Adi again and were in his car by 5:35am, where he said that he had been up and driving since about 2:45am this morning!
It was only a few minutes drive to the beach where we were to meet up with the operator of the traditional outrigger boat (of course with the boats being motorized these days instead of manual rowing).
Once Adi introduced us to the operator, we then proceeded to put on life jackets and then boarded the boat from the front.
And it didn't take much time before both Adi and the boat driver pushed the boat into the water and the operator got on and started driving us out into the Java Sea.
Adi went back to his car to get caught up on sleep.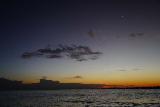 And so the boat took off and we were a little nervous about how close we were to the water as it was kind of bobbing as it was going further out to sea, but it was actually pretty calm water.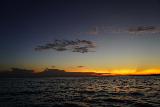 That said, every once in a long while, we did catch a wake in just the right way and we got a little splashed, but it was rare enough to make me confident to bring out both the Sony camera with the landscape lens and the Canon with the super telephoto lens.
Out in the distance, we could see organized thunderstorm clouds way in the distance flashing every so often with lightning, and we wondered if such clouds would come our way.
But other than that, it was turning out to be quite the beautifully clear day as the sun was coming up in the horizon and even showing us interesting radiant beams against the humidity in the distance.
Things started picking up when we saw more and more boats heading east along the Lovina coastline (probably about 30 minutes or so into our ride shortly after the sunrise), and then we started to notice dolphins coming up for breath before sinking back into the water.
It kind of got into this comical pattern where as soon as a dolphin pod was spotted surfacing for air, then the boats would flock to it, and then the dolphins would stay under water for a while before another pod would come up for air.
Some boats had participants that kept oohing and aahing, and I'd imagine that couldn't be good for spotting dolphins in peace as I suspected the dolphins probably didn't appreciate being stalked in this manner.
Anyways, without a fast camera, I know Mom and Julie had a hard time trying to get a proper photograph of the dolphins, and I even missed trying to capture any dolphins that were doing jumps (though not to the height of what we had seen in Kaikoura, New Zealand).
At some point, this whack-a-mole kind of pattern got pretty old as it seemed like the dolphins didn't feel like doing any more jumps or tricks (not that there were many that were doing this in the first place), and so by around after 7am or so, we then started heading back to our beach.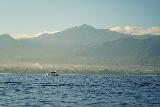 And by 7:40am, we were back though I think Tahia, Mom, and Julie were all drowsy from the dramamine though I it hadn't quite hit me just yet.
Once we met up with Adi again, we were then taken back to the Lovina where we could have our included breakfast, and only Mom and I would meet up with Adi afterwards while Julie and Tahia would stay behind at the resort.
So after the brekkie of some fried rice, fried veggies, stir fried veggies, some omelettes, and other usual western brekkie fare, we then got back to the room so Mom and I could get some stuff for our anticipated hikes, and then we'd be back with Adi by about 8:55am.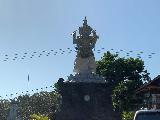 The next couple of hours was kind of a blur as I must have been in and out of consciousness as the dramamine finally kicked in to me, and so I couldn't stay awake the whole time.
But from what I was able to tell, Adi took the main highway back towards the temple before turning off and heading to the west towards a view of the twin lakes of Danau Buyan and Lake Tambligan.
By this time, I was now pretty much awake, and we stopped by some of the stands and tables here where some kid was showing off his pets of boa constrictors, monitor lizards, bats, and other exotic and local animals here.
But knowing that we'd have to pay to photo them, we just stuck to our guns and stood atop a platform for a regal view of both of the lakes (though not at the same time).
The skies at the time were nearly cloudless though we knew that once the afternoon rolled around, it was going to get cloudy and threaten rain, and it was already around 10am when we had gotten to this point.
Next, we continued the drive towards the Munduk Waterfalls, which I had anticipated would take a while, and upon descending the mountain road towards it, Adi and I were trying to figure out where would be the best place to get started.
After going down nearly as far as Melanting, we then went back up the road towards the Golden Valley Eco Cafe stop, which was a little before a larger car park by some Yoga Retreat.
But from looking at the dashed lines marking the trail on Gaia GPS, we opted to start at the one-car stop in front of a seemingly closed stand for the Golden Valley Eco Cafe at 10:50am, and then Mom and I finally got started on the hike.
It was already pretty hot, and we had descended some kind of narrow partially paved path that ultimately got down to the stream responsible for the Munduk Waterfalls, and we were dreading whether we'd have to go back up this way on the return.
You see, Adi and I couldn't communicate via cell in these parts so it was just safer to just come back to where we had started.
But given the terrain of this mountainside as it was sloping north, I started to understand that the Munduk Waterfalls were flowing downstream towards the north and west, and thus we were constantly descending.
When we got to the stream, I briefly explored upstream because Gaia said that the Golden Valley Waterfall was somewhere up there, but upon exploring that path, I got up to a set of steps by a yoga retreat, and I knew that this path didn't have a waterfall.
So I backtracked, and then Mom and I continued downstream where we got to the Golden Valley Cafe and then descended towards the first of the waterfalls, which I'd imagine was the actual Golden Valley Waterfall.
At first, I thought this was the Munduk Waterfall according to the markings on the Gaia GPS app, but then I realized that perhaps the placename "Munduk Waterfalls" really referred to the ensemble of waterfalls around the village of Munduk.
And so this was actually the Golden Valley Waterfall and we should really continue descending a ways to the Red Coral Waterfall, which according to my printout was actually the most impressive one of the lot.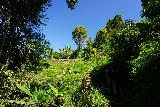 Knowing that the further down we went, the harder it was going to be to come back up to meet up with Adi, we continued going down at risk knowing that we were also running out of daylight as we were also hoping to hit two more waterfalls plus make up for the Aling Aling Waterfall not done yesterday.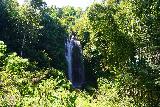 Nevertheless, we were already here, and Mom and I continued to make our way downhill as we encountered more signs pointing the way to the "next waterfall".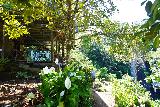 Eventually, after getting by another trail junction just past some bridge, we started to notice some interesting Luwak Coffee signs talking about the plight of the Luwak Cats.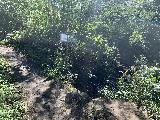 Apparently, with the rise in demand of the civet coffee, a lot of the cats are being captured against their will and being turned into "coffee bean" machines if you will.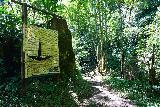 However, some local coffee joints here are trying to do the right thing by letting the Luwak go about freely as Nature had intended, and then collect the beans from the wild.
I dunno if this was propaganda trying to justify using the local growers in this region, but the premise did make sense if the aim was to not bastardize the "services" that Nature provides for perverse financial gains.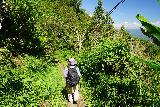 But given the level of poverty that I knew was presence throughout Indonesia, I figured that some people don't really have a choice on doing the right thing or not, especially with the way the financial systems are working worldwide by perpetuating perverse incentives to plunder earth.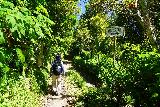 Anyways, we continued with the downward hike as we encountered a handful of motorized scooters mostly from locals using these trails as well as more foreigners doing the hikes.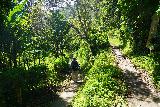 So indeed, this place wasn't as unknown as I had thought given the easy-to-miss car park situation as well as the apparent confusion of where to start the hike and how.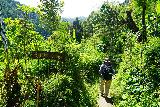 I guess most of the blogs that I encountered that did the whole thing advocated for going uphill from Melanting Cottages up to the Golden Valley area, but I'm thinking this hike would be much simpler going downhill and hitting all the waterfalls that way.
Anyways, by the time we got to the next junction, we then headed down for the final 800m stretch leading down to the Red Coral Waterfall, but along the way, we had to pay for a separate admission fee to get there.
That was when I knew that the Red Coral Waterfall was perhaps the best waterfall of the Munduk bunch because it was the one that required payment to access.
As we paid the 20k per person to go down, we eventually got down to the bottom of the steps and slopes to some interesting pair of bamboo contraptions that took water from some springs and then had enough collection of water to knock an adjacent bamboo to make noise.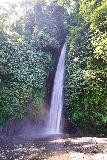 I guess that was the sounds that I had been hearing in the distance while descending, and it was kind of an interesting self-propelled contraption.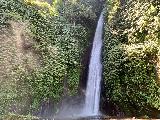 Anyways, Mom and I continued the final paces towards a man-modified lower tier waterfall followed by a very tall waterfall, which was the Red Coral Waterfall itself, and we got there right at high noon.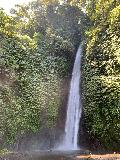 There were a handful of foreigners and locals who were guiding them, but for the most part, we were able to experience the falls even though the lighting wasn't the greatest.
I actually took advantage of the fact that I was wearing Chacos so I waded out to the middle of the stream and took a more direct look at the waterfall while filming the experience and trying to take advantage of what shadows there were as well.
Since it was already over an hour from when we had gotten started, we took some time to enjoy the cool mist from this spot.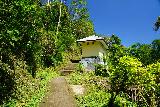 But when Mom and I had our fill of this place (as more foreigners were descending upon this spot), we had a decision to make.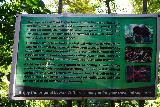 Should we extend the visit and try to hit up the remaining pair of waterfalls further downstream (including the Melanting Waterfall)?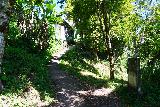 Or should we just try to trudge back up to the Golden Valley Eco Cafe starting point where Adi was waiting for us?
Or should we take a chance at trying to continue further downhill to the nearest exit point to the road and then try to catch a scooter back up to where Adi was waiting for us?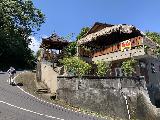 Mom and I ultimately decided on the last option since we didn't have time to pursue the rest of the Muduk Waterfalls, and we didn't want to hike all the way back up.
But the results weren't guaranteed concerning finding a scooter going back up, but we figured we mind as well try since the worst that can happen is that we'd lose over an hour walking back up along the road to where Adi was waiting.
Anyways, we'd eventually reach the road and we noticed that there was a warung across the street.
So we approached that local business and then asked if someone could give at least me or Mom to get a ride back up to Adi.
Eventually, we decided that Mom would stay behind and order something to drink while one of the ladies working here would scooter me up to Adi.
Riding the back of a scooter like this was a bit sketch, especially since I was carrying a lot of gear, but we did it, and the lady even had me hold her phone in selfie mode so I could film both of us riding the ride together.
Just minutes later, we got up to Adi, and then I joined Adi to follow the lady back down to the warung where we went ahead and bought another drink (I think it was like 80k total that Mom paid).
The people here were nice, and everyone had gotten a good laugh out of the experience.
Heck, even Mom was taking pictures of us pretending to ride the scooter together so she could forward the picture to Julie.
If ever there was a spontaneous and unexpected experience from an adventure, then this was it.
But seriously, if the local businesses here wanted to make serious money on the Munduk experience, they should consider offering a scooter service to the start of the track, and then do the whole hike one way downhill.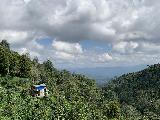 I wondered if we had parked down by the Melanting Cottages whether that would have been more of an option.
Regardless, I figured this would be a better way to make easy money for the locals instead of trying to hawk stuff that you don't need.
And with that, we continued onto the next waterfall at 12:50pm, and we definitely took less time than anticipated with this excursion (as I had expected to spend between 4-6 hours on the whole thing when I researched this hike).
And Adi drove us back uphill towards the Banyumala Twin Waterfalls, and this took us back up to the ridge where the views of the lake were but it didn't take long before we got to the signed turnoff that we were concerned with.
From there, we then descended a very narrow road that seemed more suitable to a high clearance 4wd vehicle, but Adi was able to navigate it slowly as there was grass growing up the middle while Adi kept his tyres on the concrete "rails".
Even though this drive was only 3km from the main road above, it took a bit of time especially when there were oncoming vehicles going up the other way.
Nevertheless, by about 1:20pm, we finally descended to the car park for the Banyumala Twin Waterfalls, and then Mom and I proceeded to walk down to the ticket booth, where by 1:30pm we now paid 30k per person to get down to the waterfall.
We also saw that they were charging 25k per person for a scooter ride back up, and since time was of the essence, we were quite receptive to that possibility since we still had another Banyumala Waterfall as well as possibly Aling Aling Waterfall.
Not only that, but we could already see that the clouds had rapidly organized and there were some threatening rain when doing at least this waterfall and possibly both just like it was yesterday at this time.
Anyways, Mom and I continued down the steep steps as we could see way down below that there was some infrastructure as well as part of the waterfall as seen through the forest.
The steps eventually got along the base of some cliffs where there appeared to be springs seeping alongside the trail to keep things cool a bit while also making the rocks a bit wet and slippery.
And the descent remained steep all the way down to the point that we were at the bottom at about 1:45pm, which was much faster than anticipated given how far things looked from the top.
That said, I'm sure the way back uphill will be a lot slower going.
Regardless, as we checked out the waterfall, we were pleasantly surprised at how big the falls was but we were also surprised that there were additional cascades all converging on the nice swimming hole at the base of the falls.
Indeed, there were way more than two waterfall segments (which the name of the falls would suggest), and it almost seemed like this spot was a convergence of waterfalls onto the attractive swimming hole.
There were a handful of foreigners here with their guides, and I guess we really understood what Adi meant about how some drivers were required to not only drive but to also do these hikes with their clients so they could get their social media shots.
That must be brutal for the locals who have to worry about the chaotic driving conditions (of which traffic lights were few and far between, and they routinely get ignored), and then have to continue to exert energy to do these hikes as well.
So Mom and I enjoyed this really scenic spot, and we definitely felt that the 30k they were charging per person was certainly reasonable.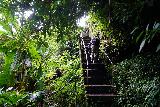 But once we had our fill of this spot, we then made the steep climb back up, where we made it up to the ticket booth at 2:10pm.
And then we went ahead and spent the cash (25k x 2 for 50k total) for each of us to get a ride back to the car park, which we got to by 2:15pm.
So that didn't take too much time, and we immediately headed back up the somewhat rough and narrow access road to get back on the main road, and then go 3km downhill to the Banyumala Amertha Waterfalls car park.
In this case, the road was way smoother, and so was by about 2:45pm when Mom and I started the walk to get down to what appeared to be a series of waterfalls here.
This place also charged 30k per person and we noticed that there were also a handful of foreigners here as well.
Moreover, we also learned that this place also had a scooter-back-up option, which Mom and I had all the intention of doing, especially since it was getting late in the afternoon.
And so we went ahead and went down a somewhat long semi-concrete path where there were blocks of concrete instead of a total continuous line of the stuff.
The walk went on for quite a while so I had a feeling it was going to be a brutal climb back up.
Nevertheless, we eventually descended down to a signed trail fork where going left led down to the first pair of Banyumala Amertha Waterfalls, and the fork on the right descended to the larger pair of waterfalls.
There were some locals there with scooters at the ready, and they helped to explain what our options were when we asked.
And so we decided to go down the left fork first, and it was but a couple of minutes or so when we descended upon an attractive wider waterfall while just opposite that one was a quaint thinner but taller one that you could actually go behind!
We got down here at about 3:45pm and explored the smaller back-of-the-falls one first, and then ten minutes later, we checked out the wider attractive falls, where we encountered some Indonesians visiting this falls though they didn't seem to be Balinese.
In fact, they were kind of an interesting young bunch where some were smoking and one lady seemed to be of the bossy demeanor, but regardless, they eventually headed back up and left Mom and I alone (though they did leave some litter at the shelter that they were chilling out at).
So Mom and I took some time to experience this spot, and we even noticed a continuation of the trail past the changing room here, but that degenerated into a bit of a muddy path that only went to some shrine and it wasn't a path to the remaining waterfalls.
Thus, we went back up to the junction and then proceeded down to the remaining pair of waterfalls where there was an undeveloped fork to our right that we punted for later while we continued down the main path towards perhaps the largest of the four (as evidenced by the concrete).
It seemed like this trail was still a work in progress as some of the concreted sections had new concrete while there seemed to be a new restroom facility being built while an old latrine shack was being demolished.
By about 4:15pm, we finally made it down to the bottom of the 4th or bottommost of the Banyumala Amertha Waterfalls, where we also got some views of the falls on the way down.
But down at the base, there was a little bit of a bridge where those locals we saw earlier were chilling out and having a swim, and I pretty much just got my shots long enough before a wave of foreigners also descended on this spot shortly after Mom showed up.
This particular waterfall was definitely more voluminous and wider as well as taller than each of the prior waterfalls we had encountered (though we still had yet to see the 3rd one that we punted for later), and it was hard to fit it all in one frame of the camera.
Nevertheless, there was also just enough sun showing up to produce a faint rainbow to the left side of the falls, and we were savoring our experience here before we knew we'd have to climb back up to at least the junction eventually.
Once we had our fill of this spot and let most of the foreigners and the locals be down below, Mom and I then went back up the steps and the yet-to-be-finished trail, and then got up to the unsigned junction where we then descended this steep path to the last waterfall.
This path was rootier and definitely muddier, and I'm sure it was still a work in progress, but when we got down to the bottom, we saw a four-segment waterfall that was quaint and intimate, especially since it seemed most people missed this one.
With the afternoon sun persisting now, the lighting also wasn't ideal here, but it was still a nice spot to chill out for a bit before finally heading back up.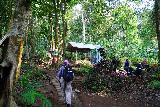 By about 4:30pm, we made it back up to the signed trail fork, where there were still a couple of guys in scooters available for the ride back up.
We paid the 60k for the both of us and Mom went back up with the first scooter while I sat in the scooter behind another guy next.
But in our case, we actually struggled in some spots since I was carrying gear so the scooter struggled on some of the uphills the guy actually had to do a bit of a motor-aided walk while I even got involved with the foot power as well.
So it took a bit of time to get all the way back up, and this ride was both longer and sketchier than the last.
Heck, the driver even told me to lean forward and hold onto him so I wouldn't fall backwards, which made for an interestingly awkward moment.
But hey, you gotta do what you gotta do in the name of safety, and eventually we'd make it back to the car park by about 4:35pm, which got a lot of reaction from the locals up there.
They were wondering what took us so long, and what I explained that we had to use some human power to help the scooter along, everyone got a good laugh.
Anyways, we then took off, felt good about helping the local economy here, and then made our way back down to The Lovina via a shortcut that Adi was more familiar with here.
Eventually by about 5:45pm, we were reunited with Julie and Tahia, and we all headed straight to dinner, where Adi picked a spot called Sunya, which was a local seafood joint that he'd take his family to.
Adi joined us for this dinner, and we briefly caught the sunset on the beach (glowing beneath some clouds in the distance) before Adi realized that there were a lot of birds overhead and worried we might get pooped on ourselves as well as our food.
And so we moved tables and sat closer to the kitchen, where we then had ourselves a helping of a large fish, some squid, some fried shrimp, and some sambal as well as some spicy veggies.
It was a filling and satisfying meal, and the kicker was that the whole thing costed like 367k, which was on the order of like $25 USD!
This was kind of reflective of the cost of living disparities in Indonesia compared to what we're used to, and I wondered at some point if local Indonesians might be resentful of these disparities.
That said, I know our driver seemed appreciative of his gig, and the locals working here seemed appreciative of the business we were giving them.
Anyways, with that, by about 7:20pm, we were back at the resort, and Adi could finally rest for the day.
He intended to take us to a different restaurant which was another local joint but fancier, and we'd get to do that tomorrow night.
But in the mean time, we got to spend the rest of the night in our respective accommodations (and Adi got to stay nearby on The Lovina property), and I even got to join Tahia and Mom in the private pool for a bit.
But by 8:30pm, we were back in our room to finally get cleaned up and to tend to some duties regarding getting stuff off the memory and into the hard drives as we wound down this day.
We hoped to be able to better enjoy this property tomorrow after another divide-and-conquer waterfalling day, especially since Julie and Tahia showed off their spa and manicure/pedicure job (especially Tahia), which got Mom to book a 6pm one tomorrow.
Day 14 (June 22, 2022 – Lovina Beach, Bali, Indonesia): "Better Understandings"
It was 4am when I awoke to the alarm for the second day in a row, which suggested that perhaps we were getting more adjusted to the Balinese time zone as opposed to relying on being jetlagged.
Well, at nearly two weeks into the trip, I guess our body clocks had better be adjusted though we're going to be getting back a couple hours of that time by the time we'd get to the east coast of Australia.
In any case, I felt like that as much as I wanted to sleep in, I still had some errands to do regarding getting caught up on the blogging and the photo organizing, and so it took a bit of time to tend to those duties.
And so when the ladies got up and did their thing to get ready, I pretty much used up all the three hours before it was time to go to breakfast at 7am.
There were a few twists to some of what was presented at today's brekkie, but since we were one of the first to show up, it was actually pretty quiet, which was nice.
I know Mom and I tried to load up on the brekkie knowing that we weren't going to stop for lunch on this day, especially given that Mom had a 6pm appointment and that we also wanted to fit in a dinner before her appointment.
Eventually after the breakfast was done, we headed back to the room to get ready for the day as well as to try to tend to any bathroom duties (since it's harder to do it while you're hiking, especially if you have to #2), and then by 8:10am, Mom and I met up with Adi and headed out.
Unlike yesterday where the dramamine apparently made everyone drowsy eventually (I succumbed during the long drive to Munduk), both Mom and I were pretty wide awake during our drive out to Sekumpul.
During the drive, it seemed that once we got past Singaraja, Adi took one of the roads going inland, but apparently the roads had gotten progressively narrower as his Google Maps must have taken him on some smaller roads due to shortest distance.
It culminated in one steep uphill section where his car couldn't quite make it and had to back up and then get some momentum before turning the opposite direction we had to go on the main road and then making a three-point turn to get back in the right direction.
Having seen that we had deviated from the main road on my Gaia GPS, I realized that he took a street from Kerobokan and up through Jineng Dalem before eventually making a turn to the very narrow street at Suwug and ultimately back on the main road at Bebetin.
In hindsight, he could have stuck to the main road all the way to Paken from Singaraja, and then gone up the main road through Giri Emas all the way through to Bebetin and ultimately to Sekumpul.
Having noted that, we knew to ultimately return back this way on the way out to make life easier.
Nevertheless, by about 9:15am, we finally made it to the car park for the Sekumpul Waterfall, and at this point, we had a choice of which trekking package to take.
Each of the packages involved hiring a guide and having a pick of visiting just the Sekumpul Waterfall in the short package, visiting both the Sekumpul Waterfall and Hidden Waterfall in the Medium Package, and all the prior waterfalls plus the Fiji Waterfall in the Long Package.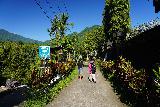 From looking at the pictures at the signs at the ticket booth, it didn't seem like the longer options were that attractive, especially when you consider the prices were like 100k per person for the medium package and 200k per person for the long package.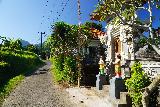 But since we were waterfallers and we had to go for the full experience, we made the executive decision to just go for the big package, and so this hike amounted to about 400k for both Mom and I (which was like the price of some of our dinners or roughly $28 USD).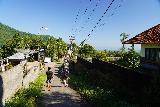 That actually made this excursion on par with some of the prices you'd have to pay at European and Canadian National Parks to enter though it was probably more expensive than some specific National Parks in the USA (which I think severely undervalues its natural treasures).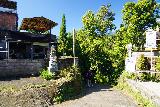 Nevertheless, we knew that the local communities had every right to charge what they feel was necessary especially given the cost-of-living and income disparities between the Western World and in developing countries like Indonesia.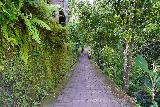 And so whinging about a handful of dollars (even if it was an order of magnitude more expensive than some other waterfalls) wasn't really a fair thing to do.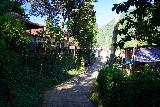 After all, the Balinese are people just like we are, and they have every right to live in relative freedom just like we do.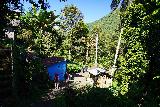 They're not servants serving the needs of people with money (even though many of them really appreciate the business we'd provide for them, especially given the levels of poverty that we know happen in these parts of the world), and we should respect that.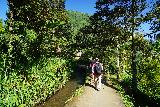 As much as I realize that Bali is a very popular destination mostly because you can do things very cheaply, and it seems like the world blogs about this place, it doesn't give you the right to be assholes to them.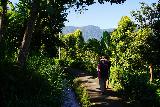 So Mom and I didn't mind paying what was asked for and we went for gusto.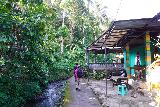 Thus, we were given wristbands, and then Mom and I followed our local guide Benny (sp?), who was a younger guy that spoke very limited English, but he was our "English-speaking" guide.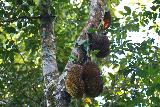 He knew just enough English that we could make simple questions and requests, but knowing this, we let him initiate the conversations and only if there were things I was real curious about did I make inquiries but tried to get them to be as easy for him to explain as possible.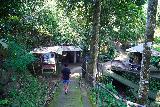 Anyways, we started off by walking along a side street that went by some ubiquitous warungs as well as some distant views towards the ocean (since we were higher up the slopes of the mountainous north) before veering to our left as it went downhill on a narrower scooter path.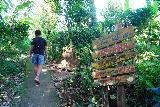 We then followed this narrower road past more warungs with people patiently there encouraging us to have something to eat or drink along the way though they weren't as pushy as say some of the touts at Gitgit.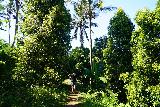 I have a feeling that the high entrance fee price that we paid at the outset kind of made these vendors less desperate and thus the walking experience was a lot more pleasant.
Anyways, we'd continued following the concrete path as it descended towards some irrigation ditches flanked by some farms (where they even had a cow) as well as some rice fields and even a jackfruit tree.
And then we descended to our first glimpse of the Sekumpul Waterfall from an overlook at 9:55am, where we could also see Fiji Falls to the far right, which looked significantly smaller than the main Sekumpul Falls.
From there, we then descended a series of steep steps (which was now quite par for the course of all the Bali Waterfalls we've encountered), and this happened for quite a while.
In one stretch, we made a turn at a landslide that seemed to have wiped out an older trail and so they re-routed the trail in a switchback that ultimately got us to a series of blue-painted metal steps.
From this vantage point, we got an even nicer view of the main Sekumpul Waterfall but from looking at its base, there was a lot of mist down there.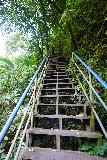 We also noticed that there were also some foreign tourists there, too, so we realized that we weren't the only people here.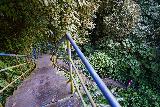 In fact, there was a couple guided by a local that caught up to us and passed us around this stretch.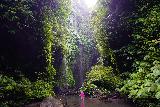 Anyways, we continued further down the steps and then got into a well-shaded jungle path, and just past some small shrine was an unsigned fork.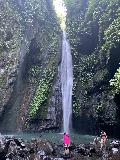 Benny took us on the deviation by veering left and heading towards the Hidden Waterfall first, and it didn't take long before the path reached a stream crossing as the scenery opened up and presented a gorge flanked by tall walls towering over us.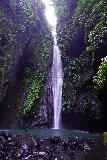 Right off the bat, we could see that there were thin waterfalls draping into this gorge, and as we continued scrambling on the slippery wet rocks upon going past the initial stream crossing, we started to notice more waterfalls coming down.
By the way, on that initial stream crossing, I noticed some frogs in this area, which was kind of cool to see.
Then, as we got to the dead-end at the end of this narrow gorge, we saw the much higher volume Hidden Waterfall after seeing maybe two or three thinner waterfalls fronting it along the wall to our left.
There was also another spring coming down the wall to our right.
And already Mom and I were quite impressed with this Hidden Waterfall, and I could totally see why they called it this way since we couldn't have seen this place from the overlooks above, and you couldn't even see the main hidden one until you went all the way to the end!
We got here at around 10:30am or so, I think, and there were just a handful of people down here, including that couple that passed us and went for a swim before the Hidden Falls.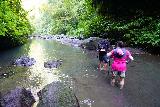 After having our fill of this spot, we then went back out the way we came (again trying to be careful not to slip and fall with all the wet rocks), and we also stopped to see and get a picture of one of the frogs that I had noticed earlier at the stream crossing.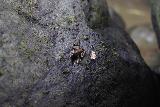 Then as we were back on the narrow path beyond the stream crossing, we encountered a pair of Caucasian ladies guided by a local going in the opposite direction, but they didn't seem terribly courteous about giving space to pass.
When I realized this, I just stopped and tried to let them through, but the latter lady had this disgusted look and said in a Russian accent, "Just go" when she didn't leave me much room herself.
It kind of brought to mind how Russians have this reputation of being some of the rudest tourists, and I guess that was my glimpse of how some can be this way (though you could also say the same thing about "ugly Americans" as well as pushy Chinese).
But with the way the invasion of Ukraine unfolded earlier this year, I'm pretty sure a lot of people are sour on Russians (whether fair or not), and this moment kind of seemed like they really were the "bad guys".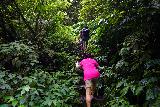 Anyways, we then made it to the much busier Sekumpul Waterfall at 10:55am.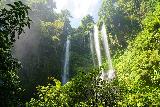 At this spot, the lighting was a bit harsh as the morning sun combined with the more intense mist from the waterfalls themselves really made taking pictures and videos here a bit of a challenge.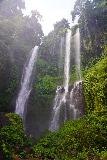 It was also getting pretty hot as the intense sun was beating down on us, but at least the swirling mist from the multi-segmented waterfall helped to offset the heat.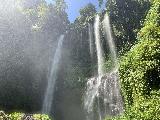 So after having our fill of this spot (as we weren't interested in getting wet directly underneath the waterfalls as this group of young Asian dudes were doing), we then embarked on a bit of a longer scramble and hike towards the Fiji Waterfalls.
We weren't sure why they called this waterfall Fiji, but when we asked Benny, he said that it was the name of the local village here, and it had nothing to do with the island nation in the South Pacific.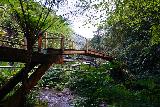 Anyways, this path to the Fiji Falls was definitely a bit more involved as we had to go through another stream crossing after traversing some more wet and slippery rocks, and then we approached a warung next to a bridge that seemed to have been damaged or destroyed.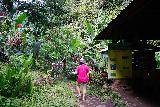 Upon noticing that there were steps on the opposite side of the stream seemingly leading back up, upon asking Benny, he said that the landslide that wiped out the trail going down would have ultimately led to these steps and the bridge.
So I guess, getting to the Fiji Waterfall might have been significantly easier had the landslide not have occurred.
Nevertheless, after getting past the bridge and warung, we then followed the rough path further upstream towards another wiped out bridge.
This time, we had to do a rope-assisted stream crossing that got to about shin-deep though I was a little concerned about getting my pockets wet (my phone was in it), but we got through that without issue.
The path then continued further upstream before crossing the stream once again, and then we followed a slippery rocky path up to a bridge that fronted the Fiji Waterfall, which looked much bigger up close than it did from the lookout way back up top.
But when we got to the bridge fronting the waterfall at about 11:30am, that was when we realized that there were two more hidden segments of the waterfall on either side of the visible one.
And that was when I realized that this excursion to the Fiji Waterfall was way more than just a waterfall add-on to the Sekumpul Waterfall.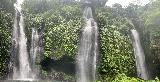 In fact, it was totally legit in its own right, and that ultimately planted the thoughts in my mind that Mom and I could very well have just experienced the best waterfall excursion to be had in Bali!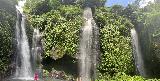 Of course, it was already pretty good to just do the Sekumpul Waterfall, but the unexpected surprises at the Hidden Waterfall and now the Fiji Waterfall just really made this excursion over the top next level great.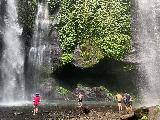 And now looking back at the seemingly expensive price (and I use this term in a relative sense since it was 10x more than the typical cost of most waterfalls), it was totally justified and worth the expense in my mind!
The same dudes that were getting wet underneath the waterfall at Sekumpul also showed up to here when we did, and they took time getting underneath the leftmost waterfall of the three segments.
In the meantime, Mom and I were savoring this experience, and Mom kept insisting that Julie and Tahia missed out as they were living it up at the Lovina.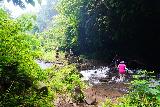 But knowing them, they might have been complaining about the steep steps and the fact that we had already spent over 2 hours down here (and we still had to make it back up).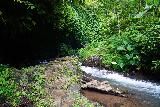 Nevertheless, the rewards to be had here was complete, and now it was time to head back up to the car park.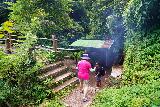 On the way back out, we had to go through all the same stream crossings again, and upon noticing remnants of a bridge in the stream that I hadn't noticed earlier, I asked Benny when this bridge got washed out.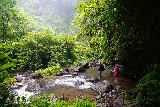 He said that it happened in 2020 (and I wondered whether that landslide that happened also happened around the same time because that would have been amazing that in such a short time they made a new concrete path with steel steps!).
Anyways, along the way back, we passed by the Sekumpul Waterfall again, but now the lighting was way better because the clouds suddenly overtook the clear blue skies by this time.
And so the sun was momentarily blocked for quite a while as I tried to document this spot one last time before heading back up with Benny and Mom.
As I approached the blue steps, I could see that it was going to be a long way back up, but with the sun continuing to be blocked, I saw that Mom and Benny were already at the bend with the nice elevated view of the falls.
And so I quickly made my way up there so I could document the waterfall under better lighting all over again.
But at the same time, I did wonder about whether we might get rained on at Aling Aling, which was the next waterfall for the day (and I was glad that we wouldn't pursue the Carat Waterfall as we simply didn't have the time).
Nevertheless, I lagged behind due to the photo taking, but I'd eventually catch up to Mom and Benny as we were pretty much back at one of the upper lookouts.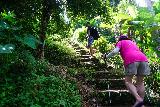 Upon noticing that there was fencing at the very top of the Sekumpul Waterfall, I asked Benny what was up there, and he said that it belonged to a neighboring community or village and was not part of this excursion.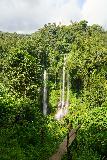 With a nodding of understanding, we then went up the last of the steps before we descended to a pretty busy shack where there were now more people and more motorized scooters.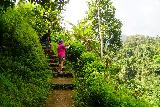 Benny said that our package included a ride on the scooter back up to the car park, and given the amount of climbing we did to this point, that was quite a welcome thing.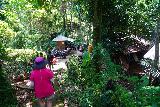 By the way, this was our fourth excursion in a row where we got to scooter back, and as much as I realized how this was kind of cheating and not exactly eco-friendly, time was still of the essence.
Speaking of cheating, as we made our way back, we were also zooming past some other tourists just making their way down (so this place was definitely quite well-visited though not nearly as busy as the waterfalls near Ubud).
And I'm sure they were giving us this "you gotta be kidding me" kind of look as we were zooming past while each party watched as they gave way.
So Benny and his driver along with Mom and her driver were way back at the car park, once again with me and my gear, it took a little longer because there were a couple of steep uphill stretches where some human propulsion aid was necessary.
I guess that kind of underscored how much heavier I was with all my gear (it must have been on the order of 220 pounds or more, I reckon), and perhaps how much more my knees and feet were taking abuse.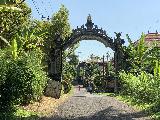 Regardless, by 12:30pm, we were finally back at the car park where Adi was patiently waiting for us, and now we could head towards the Aling Aling Waterfall.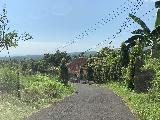 Throughout this part of the drive, Adi, Mom, and I were all making small talk, but at some point, we were talking about making websites, which was something that I knew a bit about.
And then we got into the psychology of the consumer as well as how Adi had a valuable skill with his command of English after seeing how most other Indonesians we encountered really struggled with the language.
So I was willing to offer him some coaching about the website stuff should he want it after our trip was over, but upon small talking about psychology, I mentioned to him how Google, YouTube, Facebook, etc. all had algorithms that served up individual search results and suggestions.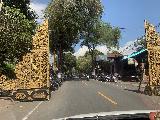 I mentioned the Social Dilemma to him if he has access to Netflix, and how that relates to how the search engines can be used to break down the ability to have reasonable conversations (even if there are differing opinions) to each other.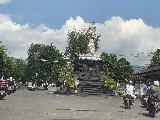 But it was also the same mechanism by which you can try to make money online, and it's why we noticed (as we as him) that there were so many bloggers blogging about Bali.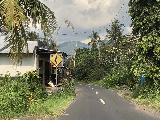 I also told him about Google Analytics and how you can get intel on what your audience is looking for, and how Wealthy Affiliate Training helps you to take advantage of this intel for your own business.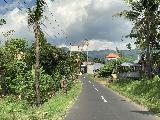 We'll see if he takes me up on my offer to coach him, but he sounded very receptive to this idea, but it really made the time go by quickly, and before we knew it, we were at the car park for the Aling Aling Waterfall at 1:30pm.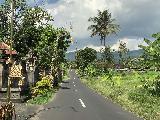 Along the way up the narrow and potholed road to get there, Adi noticed that Krishna seemed to own this waterfall as well as much of the surrounding area.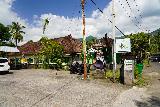 He told us that Krishna was a rags to riches kind of story where he started off doing small jobs and now has become one of the most influential Indonesians today.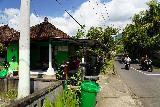 Anyways, upon looking at Gaia GPS, we saw that there was a shorter trail to the Aling Aling Waterfall, but apparently that shorter path was closed for some time.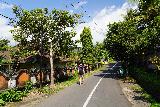 And so we were at the right spot, where we were actually closer to the Kroya and Kembar Waterfalls and we'd have to walk upstream to the Aling Aling Waterfall.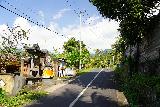 Nevertheless, we paid the entry fees, and since we had no interest in swimming, we paid 25k per person and not the 125k you'd have to pay if you're swimming.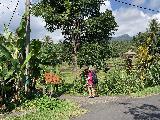 And so Mom and I got moving straight away and went up the road before we encountered a rice field.
Although there was a sign here before the rice field going towards the river, it didn't say anything about the waterfalls (saying something about "Pondok Kunang Kunang 50m) so we weren't sure whether to keep going or not.
But upon seeing how Mom went past the turnoff and kept going up the road, one local lady clapped her hands and said "Hey!" to get our attention, and she pointed to our left suggesting that this was indeed the correct way to go.
So given that we then took this path across an irrigation ditch and then up some residences and past a couple of warungs as well as a barking dog, and then we got up to another warung where there were more people chilling out there.
The locals here seemed to know that people tend to go into the Pondok Kunang Kunang and they quickly sensed our hesitation and said to go on the other path leading past that property.
I'm sure this place could use a few more signs so people wouldn't be as confused or miss turns here.
Nevertheless, we were then on another concrete lined path with attractively distant views towards the ocean as well as the jungle-fringed gorge below.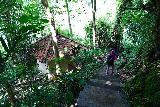 The path then got to a signed junction where going down led to Kroya, Kembar, and Pucuk ("puchook" as the "c" in Balinese has a "ch" sound) but curiously the path going upstream didn't have any signage.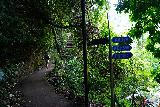 Well, I knew that it was going to the Aling Aling Waterfall, and I decided that we should pursue that waterfall first before coming back to these other three waterfalls seeing that we're running out of time for dinner and Mom's appointment back at the resort.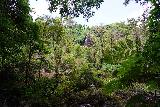 So we pursued the concrete path further upstream along the jungle beyond the brink of the Kroya Waterfall while also noticing another side waterfall dropping across the main river or stream.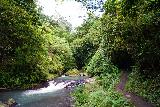 It didn't take long before we encountered a large group of people gathered before some side waterfall spring just past another trail junction where there was a steep path going back up (making me wonder where it went before I realized that that might be the old shorter trail to get down here).
Going where the large gathering of people were, both Mom and I got a lot of attention here, and it seemed kind of unusual for what I assumed was a large tour group or something.
But something seemed different about this group that I couldn't put my finger on, especially since some of the younger people here were smoking while others looked like either tour group leaders or officials or something.
Anyways, Mom and I squeezed our way past this gathering, and then we went to the Aling Aling Waterfall, which was a gushing tall waterfall with a rainbow at its base (so we timed our visit just right).
We got here at about 2:10pm, and we savored this experience for a bit though we didn't get too far out onto the wet and slippery dark rocks at the bottom of the steps.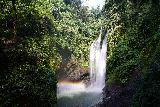 After having our fill of this spot, we went back up the steps and then went back through the large gathering of people again, but this time, some of them were gathered in circles with someone in each group explaining something.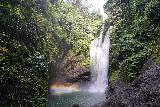 At this point, I knew that this couldn't be a tour group, and so I asked some of the people towards the end of the group by the old trail what this gathering was (since they were curious about where I came from and I returned the curiosity).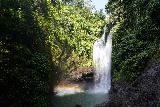 They said that this group was actually a research group studying the geology of this place.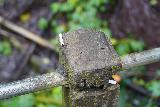 One guy said that the spring with a small waterfall going down rocks next to the trail was actually mineral spring water.
And so I confirmed with them that all of these people were government workers, and I guess that kind of made sense considering the somewhat official-looking dress code of some of the more senior people though the younger ones seemed just like any other local.
In my mind, I wondered if you really needed this many people (there had to have been at least 2 dozen or so of them) to study geology in this one spot, but maybe they're training up the next generation of researchers and local advocates of the community or something.
Or it could be bloated government kind of like what we've been seeing back at home in the US.
Regardless, Mom and I continued with our visit as we returned back the same way we came (almost thinking the steps above was the trail when in fact it was the old trail that was closed), and we ultimately got back to the signed junction again.
This time, we descended these steep steps and then encountered the first waterfall downstream of Aling Aling which was the Kroya Waterfall at 2:40pm.
There were some interesting signs flanking what seemed to be a concrete diving board or something as apparently it seemed like you could do a cliff jump from this platform in front of this waterfall.
There were also rope apparently helping you get back up to this platform though everything about this seemed sketchy for most tourists.
Anyways, this diving board provided a nice little photo op for Mom and I to take pictures and document this smarter but gushing waterfall, and then we continued our descent.
It didn't take long before we descended to a bridge over the stream leading to an "island" with a shrine on it as well as a downward view over the top of the Kembar Waterfall.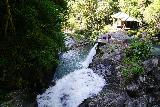 This waterfall looked to be segmented but from the bridge, we could also see the Kroya Waterfall again.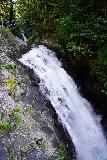 On the other side of the bridge, we had to scramble a little on some potentially slippery rocks before we then encountered a rather sketchy stream crossing with a submerged dark and very slippery rock to stand on.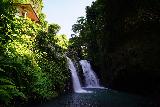 It looked way too dicey (especially with all our electronics) to try to cross this stream on our own by balance alone (using a dry bag here might have been easier), but then I realized that I had brought trekking poles too.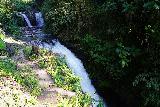 So I got it out of my pack, and then extended it so I was able to make myself be a four-legged animal and have better balance.
Once we got past that crossing, we then were able to descend further and get more frontal looks at the dual-segmented Kembar Waterfall.
Further downstream, we could see that there was the next waterfall's brink, which we knew must be the Pucuk Waterfall, and we wasted no time going down towards that one.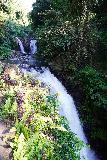 However, when Mom say how steep the steps were to descend to the base, she opted to stay up by another "diving board" while I made the scramble down towards the bottom.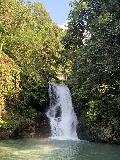 Once I got down there, I had to make another somewhat sketchy crossing of the stream, but at least it wasn't so deep and the water was clear enough that I was able to make my way across without trekking poles (Mom held mine up there).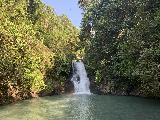 So finally I was able to experience the Pucuk Waterfall and then have my fill and head back up by 3:15pm.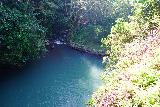 Upon getting up to the top of the steps, I saw that there was one guy doing a suicidal cliff jump down to the base of the falls in front of another couple that was there.
They informed me that there was a water slide up near the shrine that we encountered earlier (which I didn't realize was the case regarding the small waterfall there), and so I rejoined Mom and we briefly checked out the views from before the sketchy crossing.
Right then and there, we noticed that there was a monkey that climbed onto a pillar flanking the shrine though I was so concentrated on getting across this stream that I didn't get a chance to take a photo of it.
And when I got back across the stream to rejoin Mom, the monkey went back into the tree and could only get a less satisfying partial view of it in a photo.
Oh well, you win some and you lose some, but regardless, it was getting pretty late now, and we had to get back to Adi to ensure we'd have dinner soon enough before Mom's appointment.
So eventually by 3:45pm, we made it back to Adi and the car, and then we made our way back down the busy streets of Aling Aling to the even busier streets near Singaraja.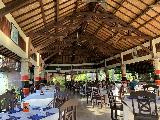 Eventually we were back at the Lovina at 4:15pm, where we got Julie and Tahia, and ten minutes later, we were all on our way to the Aditya Resort.
This was Adi's other restaurant suggestion, and we were looking forward to it.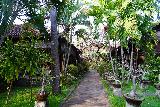 When we showed up at 4:45pm, it seemed a little early for the dinner, but they were able to accommodate us.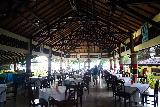 However, when we looked at the menu, it was rather limited in selection, and none of it was seafood.
Anyways, we just stuck it out with the meal here, and we each got some basic stuff like Nasi Goreng, Mee Goreng, Cap Cay, etc., but we forgot to get Gado Gado.
Regardless, the food here was probably the most disappointing that we've had on this trip (kind of perhaps being worse than our dinner last night at The Lovina), and I guess the silver lining was that this whole meal was barely around 220k (barely $16 USD).
Anyways, with that being done, we were back at the accommodation at 5:45pm, and it was just in time for Mom's pedicure and manicure appointment.
She also booked a massage at 7:30pm and so with that we pretty much wound down the day, where I even indulged Tahia at the large swimming pool at 6:30pm, and we all pretty much just chilled out and tried to enjoy the spacious villa at the Lovina for one more night.
Tomorrow, we're to hit our last Balinese Waterfall while heading towards Kuta for the final three nights of our Bali interlude before returning to Australia for the final long leg of our Summer trip.
Julie and I knew that we're going to miss this place as Kuta's going to be a bit tighter and much busier considering that we're all going to have to fit into a hotel room.
And so ended this our last full day of Northern Bali, where it was so full of pleasant surprises as well as a few not-so-pleasant ones, but it kind of comes with the territory as far as I'm concerned when you go on adventures like this…
Day 15 (June 23, 2022 – Kuta, Bali, Indonesia): "A Case Of Mistaken Identity"
It was 4am when I awoke to the alarm again, which made it the third day in a row that I got up from the iPhone.
I wasn't sure if this meant that now I was fully adjusted to Balinese time let alone the Australian time zone, but regardless, I had some work to tend to.
Thus, I spent the next few hours doing what I needed to get done from packing up my luggage to getting right on to getting caught up on the blogging and documentation organizing.
And thus the time flew by as the ladies got up with Mom getting up some time after 5am and Julie and Tahia finally getting up after 6am.
Then, we finally had brekkie at around 7:15am which was later than I would have liked because I knew that the dining area would be full of people, and sure enough, that was the case.
Anyways, there was nothing new with the brekkie, and then we were back in our room before 8am, where we then tried to make one last pit stop while also gathering all our belongings as we had to bid farewell to the Lovina, which was by far the best accommodation of Bali so far.
And we knew that when we went to Kuta, it was just going to be a typical hotel room without the space and amenities that we had been enjoying for the last three days.
Anyways, by 8:25am, we finally loaded up Adi's car with the help of the porters, and then we headed west in the direction of Seririt from Lovina.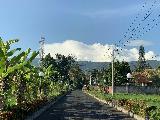 The first thing we noticed as we were driving in that direction was that there were some pretty menacing-looking clouds over the mountains to the south, which were as large as anything we had seen over the past three days this early in the morning.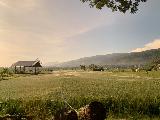 We were worried that we had to go into that weather though the saving grace for us was that we were a bit more west than the main north-south route via Gitgit.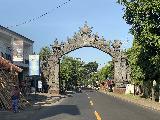 When we got closer to Seririt, Adi took a shortcut way to avoid some kind of morning market in the Seririt area, and then we continued back on the main road as expected.
During this part of the drive, Adi pointed out the village that his wife and in-laws lived at in which that family never visited the Blahmantung Waterfall all this time even though they were just down the mountain from it.
This kind of reminded Mom and I of the time we were circling around Taiwan and we went to waterfalls that the locals didn't even know were there!
Regardless, Adi was following GoogleMaps, and he eventually turned east towards the village of Tinggarisari, which Adi noticed that the signs indicated that this was a tourist village.
So we continued up this road, which became increasingly steeper and narrower, but it was still doable as there was plenty of scooter traffic from locals going the other way.
Eventually, we got to a point where we saw a sign pointing the way to "waterfall 1km" but there wasn't a place to park and Adi kept driving up the road.
However, he asked a villager on a scooter about whether there's a waterfall here, and he pointed back in the direction of the sign we had seen earlier.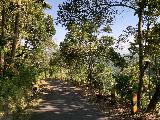 So Adi went up to a place where he could turn around a banyan tree in the middle of the road (where there was also a monkey there), and then we headed back down the mountain where we eventually parked next to some residence that seemed to have space to turn into a parking lot, but it wasn't.
There was also a view across a valley towards some attractive rice terraces in the distance.
Anyways, the sun was still up and it was pretty hot and sweaty already as the whole family took some time to gear up and get moving at around 9:25am.
We then proceeded to walk the narrow paved scooter route as there was plenty of local traffic going both up and down the main road as well as the smaller scooter road that the sign was pointing as the route to go to the waterfall.
So we followed this road where it passed by some residences as well as residents already out and about working who greeted us and had friendly smiles.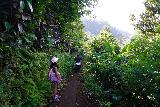 The thing that surprised us was that we didn't see any warungs and no pushy touts.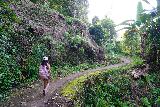 It just seemed like the local villagers here were tending to farming or whatever field work that they had to tend to, and as long as we were respectful and out of their way, everyone seemed to be happily going about their business.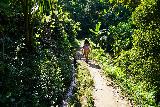 Another thing I noticed after an initial gentle downhill and passing by a three-way fork (in which a waterfall sign clearly marked the way), we then followed a fairly extensive stretch of flat hiking alongside an irrigation ditch.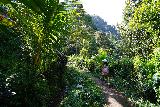 There was one guy on a scooter who seemed to be hauling some pretty long pieces of lumber on his scooter and so we definitely had to get out of the way for him.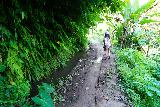 But other than that, this was a pretty straightforward flat walk by the ditch though the air was a bit muggy as the sun was out and it was definitely a warm day even though we were at higher elevation.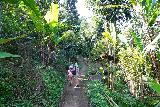 Nevertheless, the walk went by pretty uneventfully though I was hearing Tahia going on and on about Bedwars or something Roblox related.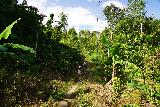 It was amazing how she can keep on talking about this subject even though I was trying to keep her in the moment and observe what has been going on around her.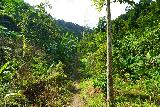 Like, I'd point out this ditch and how it was all gravity operated while the villagers here were kind of born into this life (as are other people around Indonesia let alone developing countries as a whole).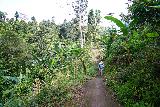 Indeed, people make the most of their situations, and that us in the "first world" really should be appreciative of what we have while also being more understanding of people as opposed to being entitled to behave like a**holes just because we have money relative to the locals.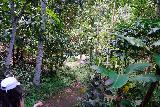 I also mentioned how people who made first dug this ditch must have thought long term that the labor and time involved to do this must have been worth it to help irrigate the farms here.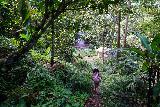 I was trying to get her to put herself in the situation of the villagers trying to carve out a living here in rural Bali.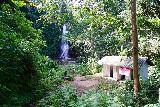 And yet she'd hear this and then go right back to talking about Roblox at which point I think I blurted out something like "First World Problems", which I think flew by her obliviously.
I guess that goes to show you how the mind of a developing child that's soon to be adolescent thinks.
Anyways, the hike seemed pretty long, but it eventually started climbing.
After the mild climb crested, it then made the final descent to the waterfall at 10:15am, which was fronted by a filthy unmaintained latrine restroom area as well as some kind of wall that channeled the water further to the rice fields.
This waterfall looked like something that I vaguely remembered seeing in my trip research, and it had a pretty good flow while also featuring a smaller companion waterfall to its left.
It was nice and refreshing here though all of us seemed to be getting bit by mosquitoes as we were taking pictures and just trying to savor what should be the last waterfall of our Bali part of the trip.
After having our fill, we then went back to the awaiting Adi, where we made it back at 11:10am.
We then continued driving towards a Reclining Buddha in the local area, which I believe was called the Vihara Dharma Giri.
This was an unplanned stop that Adi wanted to share with us, and so we were there by about 11:30am.
We then made a brief visit to the outdoor statue, where the adult ladies had to wear a sarong to cover up their legs (though Tahia didn't have to because she was a minor), and we also happened to meet the owner of the car that Adi was driving that he borrowed from.
I wasn't sure if that was just a random coincidence because he wasn't even from this area.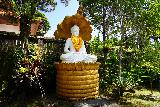 Regardless, we made our brief visit, took our photos, and then continued with the drive by 11:55am as we headed towards a lunch spot to break up this drive a bit.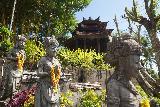 As we continued with the drive, I noticed on my Gaia GPS map that we were near a surveyed waypoint that said the Blahmantung Waterfall was near the village of Pujungan.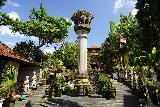 I mentioned it that I saw it on my phone, but Adi had to concentrate on the road, and I also didn't want to believe that whatever we went to wasn't the Blahmantung Waterfall.
Actually, Adi mentioned to me earlier that the locals called this the Blahmaning Waterfall, and that something didn't add up to him.
Nevertheless, we continued with the drive since it was long and we had a long way to go still to get all the way to Kuta as well as the lunch spot along the way.
However, on the way to the local lunch spot that specialized in some kind of local rice cake soup dish (which was a specialty of this part of Bali), Tahia was getting really carsick, and we eventually had to pull over the side of the road at 12:15pm.
Julie was already not feeling well from some kind of stomach ailment (likely food poisoning) and so Tahia was even making her nauseous as Tahia had to hurl into a plastic bag that we managed to find.
Unfortunately, that bag was leaking but at least the mess was contained except for a few drops, and then Tahia felt better.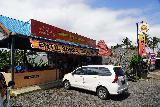 So we finally made it to this place called Entil Sanda, which was a local roadside restaurant in the village of Sanda at 12:25pm.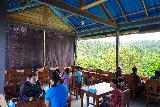 We then proceeded to have our lunch, where all of us got the same local dish that they specialize in.
If there ever was an authentic Balinese foodie experience, you couldn't get more local than this, and I highly doubt we'd ever have something like this again once we leave Bali.
I think for the rest of the family, it might have been too spicy (especially for Julie and Mom), but I managed to finish my bowl as well as help Tahia with hers along with a couple more rice cakes.
We also had Tahia take dramamine so she could knock herself out and not get carsick as we were to continue along the mountain roads until heading to the busy confines of southwestern and southern Bali.
So by about 12:55pm, we were done with the lunch and the whole meal costed around 200k Rp, which was less than $20 USD to feed all of us.
Next, we then drove further down the mountain as it eventually got to a main road near Bajera, where we then had to follow a main artery road that had "shortcuts" (as Adi called them), which were nothing more than wide bridges that bypassed winding roads going in and out of river gorges.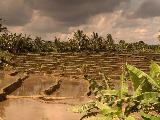 Then, we followed this busy road full of larger trucks (as it was a shipping route coming over ferry from Java Island where Jakarta was based), and eventually we'd get right into the very busy streets the closer to southern Bali we went.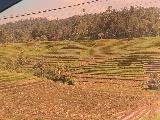 Eventually, we then took the road south from somewhere around Tabanan, where we'd then eventually get closer to Canggu but then turn towards the coast towards the Tanah Lot Temple.
The original itinerary called for seeing the sunset at Tanah Lot, but after having experienced Bali for these past 6-7 days, we came to realize that trying to force that issue while still trying to check into the resort before coming back was simply impractical.
Anyways, over these couple hours of driving, we were keeping Adi company (well, mostly me since I was riding shotgun with him), and we were talking about politics as well as dispelling myths.
At one time, he thought the recycling number on the bottom of bottles was the number of times something was recycled before we had to set him straight on that (it has to do with the type of plastic that the package was made of for sorting).
When he told me that his wife or other friends told him that as they learned that in school when some rep from Aqua went to the school, I told him about the Simpsons (which he was familiar with), and how there was an episode that depicted this exact situation.
It was where some corporation visited Lisa's school and spread their propaganda since kids don't know any better (except Lisa was too smart for that).
Regardless, with the time flying by and all the small talk helping divert some of monotony of patiently driving behind slow trucks and passing them on this busy (and dangerous) road, we finally arrived at Tanah Lot at 2:30pm.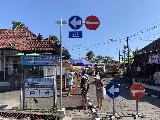 By this time, it was quite hot and sunny, and it was definitely a lot warmer than it was when we did the hike to the Blahmantung Waterfall.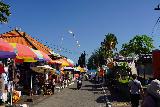 So I brought my day pack and stainless steel bottles full of what water I had left after Blahmantung, and Adi accompanied us between the streetside warungs towards the views of the coastline.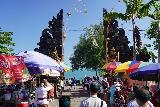 Surprising us, we noticed that there was an attractive sea arch with some kind of temple on top of it.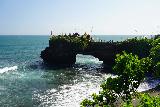 Even though it was kind of against the afternoon sun, it was still nice though I can envision that it would be ideal to see the sun set through the natural arch though I wondered when that might be since we're closer to the equator now.
In any case, this already made this place a naturally beautiful place, but we still hadn't even seen Tanah Lot yet.
So we kept following with Adi who then took us towards a small shrine with an overlook peering across a pretty turbulent bay towards the Tanah Lot Temple, which was perched on a small island that seemed to only be accessible during low tide.
It was right across from the Holy Snake Cave, where there were many people in white shirts as there was apparently another ceremony here that was going on.
But there were also locals or ceremony participants crossing the knee-deep seawater on a rope-assisted crossing to the island where there was another cave as well as steps leading up to the temple.
All while this was going on, I noticed there were waves causing a blowhole on the far side of the island with the temple as well as some natural shelves that had temporary waterfalls fed by the when the waves would wash over the shelf.
I don't know if this should count as a waterfall, but just the ambience and scenery of this place made it feel like we were somewhere special, and it was a nice introduction to the southern part of Bali, which we were to experience in the next three days.
And so Adi left us to return to the car while we recognized the route we took to get here, and then we just spent the next hour or so checking out the scene here while also using the toilet (at 4000 Rp) while also having ourselves a young coconut split between all of us.
I noticed that more foreigners were coming here as it was getting closer to sunset, but I was fine with us not having to inconvenience ourselves to be an Instagram lemming.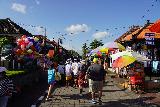 And so by 3:45pm, we were finally back with Adi at the car, and now he warned us that it would take about 90 minutes to get to our hotel in Kuta because there's a ton of gridlock in both Canggu and Kerobokan, which Adi said had the worst of the gridlock.
Sure enough, we saw loads of tourists on scooters learning quickly from the locals while also adopting their bad habits as well as unpredictability which made Adi even more vigilant about defensive driving.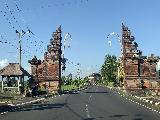 There were also a couple of bad traffic spots due to car break downs blocking traffic, but during this gridlock, I couldn't help but notice places that said Babi Guling, which was roast suckling pig.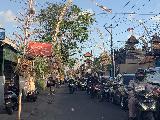 Just like there were a bunch of Ikan Bakar places in the north, it seemed like there were loads of Babi Guling places here though Adi said that the most known of such places were closer to Ubud.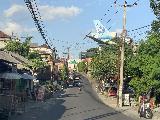 Nevertheless, when Adi mentioned that they put Indonesian spices on their version of the roast suckling pig, I suggested that maybe we should do this for dinner tonight after checking in.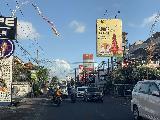 Anyways, by about 5pm, we stopped at some place to exchange money as Mom needed a little more cash to cover the remainder of this Bali part of the trip.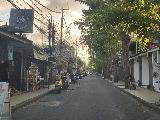 Then, after that, we made the final traffic crawl all the way into downtown Kuta where Adi pointed out the spots that we passed by where there were Bali bombings when ISIS targeted Americans abroad.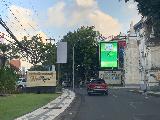 We also passed by the Waterbom, which really excited Tahia while Adi also pointed out the shopping areas that Julie and Mom were likely to check out during our stay here.
Heck, there was even Vegas-like animated LED big screens, so you know you're in a heavily commercialized spot.
Finally, at 5:25pm, we made it to the Bali Dynasty Resort, where we proceeded to past the security arm bar (and Adi noting that the security guard addressed me as sir in Indonesian because he assumed that I was Jakartan).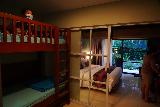 Then, we managed to get our luggages put into the room, and to get used to the idea that we weren't in a Lovina Villa anymore.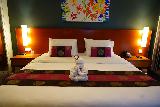 Now, it was a bit more foreigners and the place was more festive and a bit noisier just as advertised in TripAdvisor reviews, and well, this is now the real touristy part of Bali that we were about to experience for our remaining time in Bali.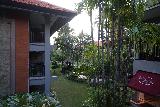 After getting our luggage dropoff duties done, we then went back to Adi's car at 6:05pm, where we then headed to Adi's recommended Babi Guling place.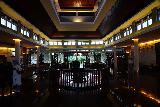 As we headed further south of Kuta towards the Denpasar Airport (which Adi pointed out wasn't even in the regency of Denpasar), we then headed further south to the town of Kedonganan (which truthfully you can't tell one town from the next as it's all continuous developments).
Anyways, we arrived at this place on a tricky roundabout or intersection called Karya Rebo, which was Adi's Babi Guling place of choice.
So we got there at about 6:25pm, and then we proceeded to order our dish (with Adi's help) at the counter.
Once we got seated and awaited our order, we could clearly see that this place was a total local's joint as we were the only foreigners there.
I knew that we probably weren't going to have Indonesian food like this back at home, and I was totally savoring and living up this moment.
Even though the food was spicy, our meal came with a pork soup, then pork in all sorts of forms (pork rind, pork skin, pork meat under some lemongrass curry, veggies, and rice).
We also got a lawan (some kind of Indonesian veggie) as well as another veggie of casava leaves while Tahia got a pork satay.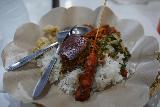 I think only Adi and I really enjoyed the meal as it was too spicy for Mom, Julie, and Tahia (so I got Julie and Tahia's leftovers), and thus we left fully sated at 7pm.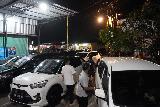 We had to wait to get out of the restaurant because there were cars blocking us in at the limited parking spaces, but once that passed, we then headed over to one of the Krisna shopping centers.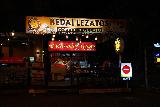 There, we had a gelato Massimo, where the thinking was that the ice cream will calm down the acids in the spices that the ladies were suffering from.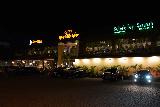 Once we had our fill of the gelati at 7:30pm, we then left and headed back to the Bali Dynasty Resort and got there at 7:45pm to finally wind down this long day.
With tomorrow being a free day (basically Tahia's much anticipated Waterbom day), we pretty much took turns showering and discussing what we're going to be doing tomorrow.
Now as I was trying to tend to my chores of organizing photos and stuff, I did a little follow up research to see what waterfall we really saw this morning.
Well, it turned out that upon looking at TripAdvisor and correlating the pictures with what we saw today, I knew that we didn't actually see the real Blahmantung Waterfall and we wound up seeing what the locals called Blahmaning Waterfall instead.
I could see why there was such a confusion because GoogleMaps was all over the place with where the Blahmantung Waterfall was supposed to be, and apparently it just picked one of at least two possibilities.
I guess that's the danger of relying too much on GoogleMaps, which was something I struggled with in the past until I used Gaia GPS as more of an accurate map to navigate and check with.
So my hunch was correct, and now that I have a better idea of where we should have gone, I wondered if this was something I had to live with or if we might still fix it while we still can.
Anyways, I recalled Adi said something about "blah" meaning something to the effect of "split" when glass splits or something like that, so I'd imagine that was probably how someone thought this was a fitting description of how the waterfall would behave.
I wondered this because it seemed like multiple waterfalls had a prefix or it started with the word "blah" in its place name.
Nevertheless, I texted Adi about my discovery, and then I thought we might have to live with this mistake and figure out how to rectify it, but overnight, I thought about maybe using the very last day (since we'd be idle for most of the day) to go back before resuming with Uluwatu.
I wasn't sure how Adi would take this suggestion and it was met with skepticism by Mom, but I just went to bed (since it was now past 11pm so it was late), and I figured I'd noodle on this until tomorrow morning when Julie's awake and see how this suggestion might fly upon further discussion…
Day 16 (June 24, 2022 – Kuta, Bali, Indonesia): "Here Comes The Bom"
It was 4:15am when I awoke without an alarm, which was kind of weird because I kind of hoped to be able to sleep in on this morning.
But now that I was awake, and that I was kind of sweaty when I got out of bed, I guess there was no going back at this point.
So I spent this time tending to blogging chores that I didn't get to yesterday, and that took quite a bit of time, especially since Tahia had eagerly gotten up as she had been waiting for this day for a very long time.
Indeed, she wanted to do the Waterbom (especially after getting a taste of water slides at Hurricane Harbor for the Girl Scouts function), and today was the day that it was finally going to happen.
By about 6:30am, we had the included breakfast, and it took a while to eat because this was quite possibly the best breakfast that we had in Bali so far.
The buffet breakfast included a very large variety of Balinesian, Indian, and of course Western things (even if some of the items weren't top notch but what do you expect from an all-you-can-eat buffet?).
In addition to the hot foods stations, there was also an omelette station as well as a dessert station with pancakes and banana bread as well as nutella spreads and even another opportunity at trying vegemite.
Fortunately, we got started with brekkie earlier rather than later because the dining hall filled up pretty quickly.
Eventually by 8am, we were back at the room, where Mom, Tahia, and I scoped out the beach access from the Bali Dynasty Resort, which actually wasn't that trivial to reach, but it wasn't far either.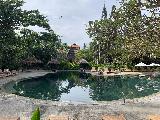 In any case, when we got back to the room, we prepared for the day, and then Mom and I decided to do a beach walk while Julie and Tahia would eventually take their time and we'd all meet at the Waterbom by 10am.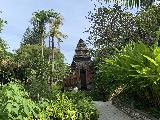 There was a security check at the gate before we were directed to go to the front office, where we were to deposit money into a wristband that had a chip.
Only one person (Julie) had to wear that wristband since she was the controller of the money, but there was a bit of a sticker shock when we had to pay a little over what amounted to $100 USD (over 1.5M Rp) for the three of us, which made this the most expensive thing we did in Bali so far.
Of course, that doesn't include the cost of hiring a driver for so many days as well as accommodation costs.
Nevertheless, we also had to additional funds into the wristband for other incidental expenses for eating and for the lockers, and apparently, you had to maintain a minimum balance in there.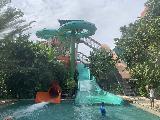 So after getting through those formalities, we then went to the lockers where we had to put stuff away in there while Julie had this crazy idea that we could wear reef shoes throughout our entire stay in the Waterbom.
Well, when we got to our first slide of the day, which involved rafts, we were told to take off our shoes before riding.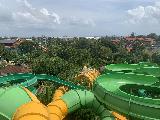 So there went that idea, and we had to return to the locker to switch back into sandals and flip flops while being barefoot most of the rest of the time when it got too inconvenient to retrieve our shoes.
In any case, the family had a real fun and memorable time going on pretty much all of the main slides at the Waterbom.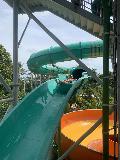 I knew this place didn't disappoint Tahia though she really needed coercing to do the slide called Smashdown 2.0, which was basically a plunging freefall slide.
It was a bummer that you couldn't get to film any of the "extreme" slides, which included the Smashdown 2.0 and any other body slide.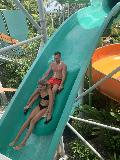 So for those situations, we had to capture the moments at the exit of the slide though it's nothing like actually doing the slide in real-time from the perspective of the slider.
But aside from that little setback, I did the other plunging body slide called Climax, which actually sent the rider into an oblique loop and therefore had a minimum weight restriction, which menat Tahia couldn't ride it because she wasn't 45kg yet.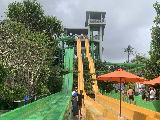 That said, we did pretty much everything else except the Lazy River, including a half-pipe "Boomerang" raft slide, the "Superbowl" circular drain raft slide, the three-person "Python" raft slide which was better than the "Tornado" at Hurricane Harbor, and the "Constrictor" raft slide.
Moreover, we also did body slides like Green Vipers (there was an open air one as well as enclosed one), Fast n Fierce, and Pipeline (another twisty body slide that I actually saw vibrate or shake when Tahia went before me).
Plus, we did the Twin Racers, which was had a pretty scary drop after some twists in a tube.
And finally, we did the escape hatch drop slides like the aforementioned Smashdown 2.0, Climax, as well as the more tamer Double Twist.
And it turned out that we managed to do all of this (plus a few of the above slides more than once) within a span of about three hours before it got too busy and became a bit COVID unsafe (we didn't do the "Python" a second time because of it).
Moreover, the staff at the Waterbom were so courteous and friendly that it really felt like we were welcome here.
In fact, when compared to our Hurricane Harbor experience over a month ago, the Waterbom was leagues above that experience, and it probably took out my need to do any more water parks as far as I'm concerned though Tahia might have one in the Gold Coast, Queensland to look forward to.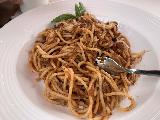 After having a surprisingly decent Italian lunch of pizza and spaghetti Bolognese, we finally left the Waterbom at 2:25pm or so, and then walked all the way back to our room getting there at 2:35pm.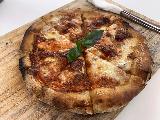 From there, we spent some time trying to figure out what to do for the rest of this afternoon before Julie had this idea about doing some kind of Upside-down House (which was the same thing we did in Hollywood before).
Personally neither Tahia nor I were keen on it, but Julie was set on taking a taxi to this place and then finding a place for dinner.
Well, when we got to the lobby at 3:05pm, it turned out that the last entry for that house had already passed.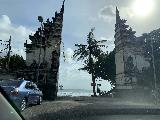 So we had to catch the taxi for a different reason, and we ultimately went to the Beachwalk Mall, where we eventually caught one of the Bluebird Taxis to get there at 3:30pm.
Even though the meter said it was 14.8k Rp, there was a minimum cost of 30k so that was what we paid (which was still around $2 USD).
With that, we then proceeded to spend the remainder of the afternoon essentially mall shopping (which I dreaded but the ladies loved it), and Mom was telling us how this experience was way better than the Discovery Mall, which she was at during our time at the Waterbom.
This happened for like the next 45 minutes or so where the Mall was teeming with people, but we also saw that it was right across the street from the Kuta Beach itself, where the waves seemed kind of big from what we could tell.