Day 17 (June 25, 2022 – Kuta, Bali, Indonesia): "Everything As Unusual"
It was 4am when I awoke to the alarm, which I had to set up to ensure that I could wrap up the blogging before breakfast knowing that we were to be picked up at 7am for a full day tour to Nusa Penida and back.
So by 6am, as anticipated, we went to the brekkie area while it was still dark outside and that there weren't many people around at the time.
Nevertheless, we probably overate as usual at this brekkie buffet which included an assortment of omelettes, eggs, Indonesian brekkie items, and some sweets from the pastry section.
Heck, we had so much food that I even didn't have time to get a helping of fruits for a little fiber.
Oh well, by about 7:05am, we had already returned to the room, gathered what we needed for today, and then got picked up by Adi.
For the next hour or so, he drove us to the east side of the southern part of Bali towards Sanur, where we were to catch a fast boat to Nusa Penida.
However, there were lots of cars here and we knew that it was going to be very crowded as a result of this development.
Indeed, it took a bit of time for Adi to finally get parking, and then we had to walk towards the speed boat for our 8:15am departure.
It was a zoo at this boat dock as there were numerous speed boat operators and numerous people waiting to get on.
We also paid another rep from the Golden Bali Tours, where we had to surrender nearly 2.3M Rp for the day.
Anyways, we were one of the last people to board the craft that was to take us to Nusa Penida, and unfortunately, there were no seats left.
The embarking process was dicey because the waves were strong and the water was very choppy.
Adi said that this harbor was undergoing some serious renovations to facilitate boat docking, but that wasn't going to help us on this day.
In fact, he also said that he had never experienced boarding craft in conditions as choppy as this though he did say he has boarded the craft in chest-deep water before.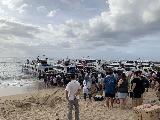 So it was everyone having to wade in the water to get onto the rocking boat while trying not to fall over in the process (good thing I had brought the dry bag).
Anyways, at first upon getting on the craft, I thought we had to stand up in the middle aisle throughout the boat ride, but then we managed to find some seating on the floor right behind the boat driver.
It was tight, and it totally reminded me of what it might be like for boat people to be fleeing bad situations as refugees (though they'd have to endure this for days or even weeks with no guarantee of arrival nor safety).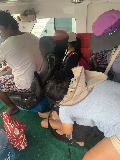 By keeping things in perspective that way, a little inconvenience wasn't going to put a damper on what we anticipated doing on this day, but it did feel a bit sketchy as this boat was clearly overcrowded and there wasn't even any safety procedures in place.
Julie just wanted for us to get to Nusa Penida and back in one piece as all these unexpected developments around us threw a wrench into how we might have envisioned this day was going to turn out.
Even though it was only supposed to be about 45-60 minutes of boat time, the uncomfortable seating arrangements made this ride seem longer.
Plus, it didn't help that some people took more than one seat, which made them totally selfish and inconsiderate a**holes, but then again, I figured that we're in a very touristed part of Bali, and I suppose that you also get more inconsiderate tourists as well.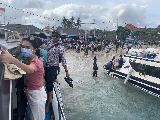 Mercifully, we finally landed at Nusa Penida, but the seas were still a bit on the choppy and turbulent side so when we disembarked, we had to jump right into the murky water.
Fortunately, it was only about knee-deep to thigh-deep so it wasn't too deep, but I was definitely glad that both the Dicapac for the iPhone and the dry bag I was wearing came in handy.
We wound up meeting our driver on Nusa Penida named Kadek, whom Adi said has the most positive reviews on TripAdvisor though I wondered if he's just trying to instill some confidence in him by talking him up this way or not.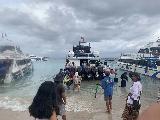 As we waited for Julie, Tahia, and Mom to get out of the boat, Tahia had this worried look about her, and it wasn't until she got onto land did she finally start to hurl onto the beach (as Julie's bag and napkins were too little too late).
Only after Tahia hurled up her breakfast did she finally feel better, but it kind of added to the whole unexpected crazy adventure vibe that permeated our morning so far.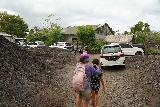 So we walked through what seemed to be some kind of work zone full of what looked like oil barrels and a lot of dirt, and it was apparently Kadek's other job working this industry of apparently paving the roads or from rock quarries or something like that.
We got into his van at 9:30am, and then we were finally off to start our Nusa Penida tour.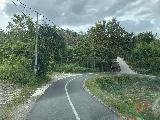 The first stop was Kelingking Beach, which was said to be some 40 minutes or so away, where the apparent long drives definitely concerned us about getting back in time for the ferry back to the main island.
We were told that kelingking meant "pinky", and I'd imagine that there must be some peninsula or rock that must have reminded someone of a pinky.
Well, the drive pretty much followed a bunch of other tour cars, and we ultimately got to the Kelingking Beach car park at about 10:10am.
Then, we geared up and proceeded to walk past some archway or gate and around some temple under construction towards a very busy lookout area peering right down towards a rugged coastline with the furthest protrusion apparently resembling someone's pinky.
There was a queue to take a picture where a guide or driver would climb onto a tree and then shoot down at the clients with their own mobile from that tree, which showed the subjects with the pinky rock behind them.
There was also another tree where another driver or guide did the same, but that one came with a little more risk for the guide.
That pretty much represented the extent of this visit though it was possible to go down steps all the way down to a beach at the base of the peninsula that reached out towards the Kelingking ("pinky") Rock, which was a sea stack at the far end of Kelingking Beach.
We didn't need to go all the way down there in the interest of time (we wanted to ensure we'd be back at the boat given the amount of stuff we were covering here), but there were quite a few energetic people that did.
So after getting our family photos with our Nusa Penida guide doing the tree thing, we then promptly walked back before the temple under renovations, and then proceeded to return to the car by 10:55am.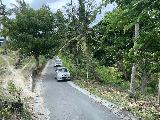 Next, Kadek told us that Diamond Beach was next, but that it would take about an hour to get there, which concerned us about whether we'd be cutting it close regarding our time in Nusa Penida before the ferry.
But given that we had taken dramamine for the choppy boat ride on the way in, I think the meds had definitely kicked in by now, and the next part of the drive was a blur as the silence in the car was reflective of the fact that everyone was knocked out except Kadek himself (poor guy).
That said, we made it to the Diamond Beach car park at the end of a pretty rough unpaved road to get there by 12pm, but yet it was quite crowded with people.
Even though it took quite a bit of effort to drive to the far southern tip of Nusa Penida, there were plenty of people here, and we essentially emulated some kind of Instagram Tour according to Julie who planned this part of the itinerary.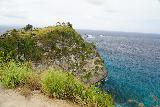 So in that sense, Tahia and I (well actually Tahia) came up wiith or reminded us of some kind of term called "Instavel", which turned out to be a combination of Instagram and Travel put together.
And seeing how people tended to imitate and follow what they read on the socials, that essentially made us and most of the tourists here "Instavel Lemmings".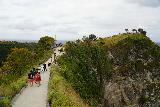 I personally despised travel that boiled down to a checklist or laundry list of sights to hit without any appreciation for learning the local culture and way of life of the local people themselves as well as the environment that sustains them.
Yet social media-influenced lemming behavior was exactly what was profitable and what the locals have to roll with (especially when tourists behave badly and disrespectfully, which we saw some Europeans do that came here on their own scooters).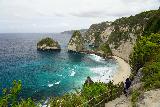 Nevertheless, we then proceeded to walk from the car past some warungs towards a ridge with a concrete pathway where on one side was the Atuh Beach, which featured warungs and a relatively calm beach.
On the other side was the Diamond Beach, which featured a diamond-shaped sea stack, and that was how it got its name.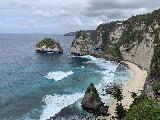 This side seemed to be wilder and undeveloped, and I'd imagine it was that was because during periods of high tide, it might be under water.
Aside from one tricky worn concrete spot that was real slippery on the downhill, which nearly tripped up both Kadek and myself (though everyone else seemed to be successful avoiding the "black ice" as Adi called it), we made it to the top of the ridge where a branch in the path led to Diamond Beach.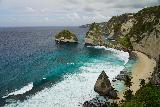 Adi also made it down to this spot as this was the first time he was here on Nusa Penida, and he told us that he was used to a more typical itinerary that merely focused on the western side of the island with sights like Broken Bay, Kelingking Beach, and something else on that side.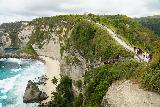 In fact, he told us that he had been to Nusa Penida at least 50 times over all the tours that he had been hired to do, and the fact that this was his first time here made him virtually a tourist with us so he was also learning about this place.
So we took photos from the steps leading down to Diamond Beach and we didn't really pay much attention to Atuh Beach.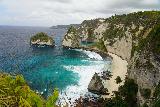 It seemed like most of the tourists wanted to linger by the steps leading down to Diamond Beach as well as to go up and down the steep steps there, and after having our fill of taking photos from this spot, we also checked out some of the cliff top views looking down at Diamond Beach.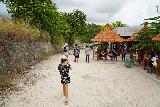 In fact, there was a "sitting ledge" where people were trying to imitate some photos that they saw on the Instas so they can have their own "look at me" moment, which was also another thing I wasn't real keen on about this Instavel Lemmings phenomenon that we were witnessing in real-time.
And yet Julie was kind of making us do it except we weren't those kinds of influencers that reduced their trip into this kind of self-absorbent narcissistic way of travel.
Anyways, after getting our photos, we then decided to head back to the car, especially after Kadek pointed to some huts seemingly clinging to cliffs on top of trees perched above the other side of Diamond Beach.
Julie identified them as the so-called treehouses, and those were what we were targeting next as apparently you could actually drive all the way there.
So we returned to the car by about 12:35pm as once again in the interest of time, we didn't want to spend more time than we had to in order to return to the ferry in time to get back to the main island.
Next, we were driven to another unpaved and even rougher road leading us down to another car park near what turned out to be the Thousand Island Viewpoint as well as the treehouses.
There turned out to be some villas already established here, and I'd imagine this road was mostly there to support that.
However, we also noticed that there were giant "steps" in a neighboring cliff that looked like a rock quarrying site, but it turned out to be the future site of another resort where they're flattening the ground there to allow for construction of new villas or rooms of a new resort.
Indeed, the Instafamous reputation of Diamond Beach appeared to be a major opportunity for the residents of Nusa Penida (of which Kadek was one such local), and quite possibly this place might turn out to be quite the gold mine as travel seems to be making a comeback COVID-19 or not.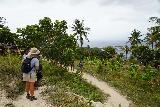 Anyways, given that we didn't spend that much time in either of the two stops that we did earlier on, we decided not to bring heavy packs and proceeded to follow a path that then steeply descended in a series of steps.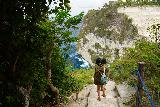 These steps were both busy and steep with people walking in both directions, and I noticed that there were lookouts along the way, which I made a mental note to check out on the way back up.
Eventually, the steep steps descended to at least a trio of treehouses where we could also see that there was a lookout up above at the end of this trail right on a ridge or protrusion.
I presumed that that was the Thousand Island Viewpoint, but we first wanted to see if we could take pictures of that famous treehouse with those islands in the background.
Well, it turned out that there was a queue of 36 groups for this spot, and so we decided not to wait around for that.
And instead, we were happy with just the general shots while also appreciating the precipitousness of these huts with the unmatched view of the other side of Diamond Beach below and the sea stacks around them.
We then went further by climbing up past the queueing area for the treehouse, and we then got to the Thousand Island Viewpoint which was busy with a handful of people trying to essentially take the end hostage with pictures before what appeared to be a small shrine there.
We were content to sit on a rock well before that shrine and have Kadek take family pictures for us.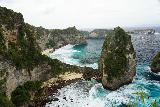 Mom and Adi stayed well behind as neither of them seemed interested in making the long steep descent down and then up to the ridge we were on.
And after having our fill of this spot and understanding why this place was becoming Instafamous (if it hadn't been already), we then made the steep climb back up to the top of the steps where Adi and Mom were at.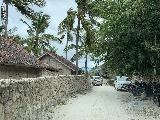 By about 1:25pm, we made it back to the car once again hot and sweaty just like we had been on waterfall hikes throughout this trip, but the difference here was that it was actually somewhat breezy so it dehumidified the air somewhat.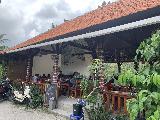 Anyways, Kadek then drove us about 10 minutes to the very busy Warung SORENT, where we then had a simple Indonesian lunch that was included with the 2.26M that we had spent for this entire day (making it the most expensive day of our trip in Bali so far).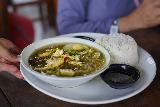 Julie and Mom each got some kind of Balinese chicken soup noodle dish while Tahia got some sandwich and fries while I got the Nasi Goreng Special, which included an assortment of side dishes like some kind of fermented tofu, eggs, sambal, and some spicy veggies.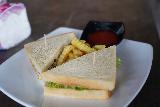 It was a satisfying meal even if there were lots of younger tourists seemingly after the more westernized stuff.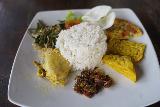 There was one huge young group that seemed to be an international bunch (where we heard both American and European accents as well as some Spanish in there), and we overheard some of them talking about boy troubles, which I was joking with Tahia about regarding how she might be like them later on.
Of course these days, she was more into playing Roblox or Plants versus Zombies, but she was already starting to have a boyfriend apparently (which was crazy since she wasn't even in the 6th grade yet).
All I knew was that all Julie and I could do was to level set her expectations at this age because the hormones are kicking in and yet they haven't lived life yet so they don't really know what they want yet.
Nevertheless, by about 2:25pm, we were done with our meal and then got back into the car where Kadek drove everyone back to the beach where we were to take the boat back to the main island.
Unlike earlier this morning, he took a more coastal road around the east of Nusa Penida, where I tried to stay awake as long as I could to take roadside photos as we went.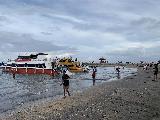 I'm sure we all conked out from food coma from time to time here, but once again, it seemed like Kadek was being the trooper for everyone (including Adi) as he stayed awake by necessity so he could drive us to where we needed to go safely.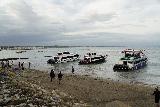 Eventually by 3:25pm, we made it to the boat beach, where we saw that there were already people lining up to take some kind of smaller craft leading towards the larger speed boats further out into the water.
At first, I thought those smaller boats were going direct to the main island, which would have been quite the "joyride", but it didn't take long for me to realize that these were merely shuttle boats to handle the shallower waters.
Speaking of the waters, they seemed to be relatively calmer than earlier this morning, but it wasn't the direct boarding and landing apparently that we had endured this morning probably because now it was low tide (Adi seemed to agree with my theory on that).
In any case, we thanked Kadek (who didn't say very much since I knew his English was limited even though Adi tried to talk him up as one of the best reviewed guides with Bali Golden Tours), and we then did the usual drill of loading up the dry bag (including our shoes and DSLR camera).
And then we hopped onto the smaller craft before hopping onto the larger craft which wasn't as dicey as I had anticipated given the choppy experience from earlier this morning.
In fact, when we got onto the speed boat, we claimed some seats inside the lower deck, where we made sure Tahia sat next to a window so she could get fresh air not be subject to hurling like she did earlier this morning.
And so eventually by a little after 4pm, this boat took off for the main island in a ride that was way smoother and less dramatic than this morning.
I had a feeling that the 4:30pm last ride would be way busier and crowded, but that didn't matter so much for us since we weren't going to wait for that, and thus we left about a half-hour earlier than anticipated.
Eventually by about 5:15pm, we ultimately made it back to Adi's car after having gotten off the boat pretty smoothly and then walking back to the car park along the slightly less-busier waiting area (at least compared to this morning).
Heck, even the weather seemed to be surprisingly more improved than the seemingly menacing skies from this morning though we were certain that further upslope of Bali like in Ubud and especially the mountains and the east that it would be pouring rain.
And then we were being driven back in the pretty thick traffic from Sanur to Kuta noting that there were signs for a marathon route that was happening tomorrow, which would make things very tricky in terms of how we were going to get to Blahmantung Waterfall tomorrow.
Again, the results won't be guaranteed for tomorrow, but we were going to take a punt regardless, and we'll see what happens with this bit of uncertainty.
But as far as the rest of the drive was concerned, we small talked more with Adi because somehow we got to talking about the similarity of this name with how the Taiwanese would address "little brother".
And that was when Adi told us that his actual family name was Agung (like how Taiwanese would informally address "grandpa"), which also drew a chuckle from us.
He relayed to us a story of why this was, which revealed a little more to us about his family as well as how the tourism operation occurred in Bali.
This gave me a greater appreciation of how the differing roles are executed out on a typical itinerary from the booking to the managing all the way to the drivers and guides on the field level.
Indeed, this reflected a similar hierarchy that I was familiar with in the corporate world where you have upper office people (primarily composed of bean counters and those who politicked their way up) andd then those on the ground floor actually doing the work.
I think it might also be why a lot of the guides and drivers seem to know each other as there's a sort of a cameraderie or at least an acknowledgment that these people are all in a similar situation.
In some cases it's across different companies, but with our tour, it seemed like the cameraderie was more with the individual drivers and guides within the Bali Golden Tour itself.
With that, by about 6pm, we were back at the Bali Dynasty Resort in Kuta, where we agreed with Adi that we were going to meet up with him at 7am again though I think he pushed for 6am (which would cause us to miss breakfast).
I think that kind of told us of the uncertain sense of urgency that we were facing tomorrow, but it was what it was, and we'll have to see how this is going to turn out tomorrow.
After getting back to our rooms to reapply insect repellent, at 6:30pm we then walked back along the main drag in Kuta in search for some Indian food.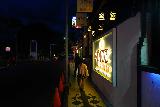 At first, we considered eating at Queen's of India, which was essentially next door to our accommodation, but when we learned that the indoors area was reserved for people with pre-bookings and that the air quality outside was bad with scooter exhaust and people smoking, we passed on this spot.
And so we kept walking in the direction of Waterbom until we found Spice's Mantra Indian Restaurant, and this place wasn't very busy when we showed up at 6:35pm.
We didn't hesitate to take an inside seat to not subject ourselves to the bad air quality and the inevitable smoking customers that we'd be subject to.
And from there, we ordered a seemingly humble assortment of curries from a lamb rogan josh to a prawn tikka masala to a chicken tikka masala (Tahia's typical favorite), and a fish tikka masala.
We also got a garlic naan, two mango lassis, two glass bottles of Aqua, and two rice.
It was a good thing that we got started on our dinner when we did because it got quite busy after 7:30pm or so.
And the food itself was quite good though it was a little spicy for Tahia.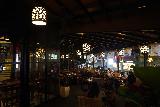 However, when it came time for the bill, we were in for the sticker shock as the entire meal costed us nearly 1.3M Rp, which easily made this the most expensive meal we had in Bali.
What got us were the rice, which costed 130k, which actually costed more than the naan and even the drinks, and plus there was a service charge.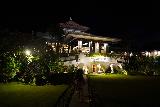 Oh well, I guess the Westernized prices extended beyond the Beachwalk sticker shock and it permeated the restaurants in Kuta as well.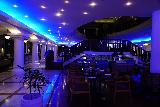 Clearly, locals wouldn't come here as they wouldn't be able to afford it, and when we left, we could clearly see there were no Balinese customers though they definitely worked the waiting tables and stuff.
Anyways, by about 8pm, we finally made it back to our room to wind down this eventful day where lots of unexpected things happened, but it still turned out to be a good day.
The rest of the night was a blur for me as after I showered and brushed and flossed, it was pretty much conked out some time before 10pm…
Visitor Comments:
Got something you'd like to share or say to keep the conversation going? Feel free to leave a comment below...
No users have replied to the content on this page