Day 18 (June 26, 2022 – Leaving Bali, Indonesia): "Monkey Business"
It was about 3:20am when I awoke without an alarm, and I couldn't go back to sleep so I decided to get right to work getting all packed as well as getting caught up on blogging about yesterday's activities.
I managed to get most of the stuff I wanted to get done with some time to spare, but my stomach was feeling a little on the shaky side as I had to use the toilet and try to let out what seemed to be very loose stools.
I guess it kind of followed a pattern where both Julie and Tahia had the runs yesterday, and it could very well have been the mango lassi we had yesterday, which might have had ice in it.
And who knows where the water that yielded the ice came from?
Nevertheless, by about 6am, Mom and I got to the breakfast area pretty early so we could try to get fed as quickly as we could so we could get picked up by Adi sooner rather than later.
We knew that our departure out of Kuta back towards Blahmantung Waterfall as a make-up for missing it the first time around might be a bit difficult due to road closures caused by the Indonesia International Marathon that was going on today.
It started as early as 4:30am, and apparently Adi's friends had warned him about how traffic was either going to be very difficult or very congested as a result of the road closures.
Julie and Tahia joined Mom and I some time at almost 6:30am, but that was around the time that Mom and I were already about to leave.
So Julie and Tahia were left to their own devices in terms of getting the luggages stored at the lobby while we'd be spending most of the day away from the hotel.
In the mean time, Mom and I got into Adi's car at 6:50am and we headed north of our accommodation to see if we could get out of the marathon on our way back to the Blahmantung Waterfall.
But aside from being unable to go directly towards Seminyak from Kuta due to a marathon route closure, we did manage to go on a different road that ultimately led to an alternate (more main way) of getting to another big intersection near Seminyak Beach.
In fact, we even passed by some water stations to help the marathoners hydrate, and we even saw some marathoners already pass the half-way point (we had driven past the 15-18km points out of 42km) as their route was shared with some limited public traffic.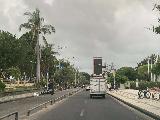 By about 7:10am, we had gotten out of the marathon area just north of Seminyak, and now we were pretty much home free in terms of getting to the Blahmantung Waterfall without at least the marathon route complications.
However, the skies were already a bit dark and gray, and we were concerned that we were going to do the Blahmantung Waterfall in some pretty bad weather.
Nevertheless, we had made some pretty good progress, and even the weather seemed to be improving the further north we were going.
By around 9am, we finally made it back to the town of Pujungan, but there was some ambiguity about which path we should take to reach the Blahmantung Waterfall.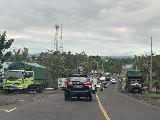 According to Gaia GPS, there was one route that went directly east of town before veering up a narrow rural road before finally being only 0.3-mile from the target waterfall.
However, Adi was under the impression that we should go to the Blemantung Waterfall, which was on a different rural road leaving from Pujungan towards a separate trailhead and longer trail leading to the Blemantung Waterfall.
It was all a bit confusing, and we had already been burned by bad information from Google Maps as well as TripAdvisor.
However, since Adi could speak Balinese, his intention was to ask around the old school way at a couple of the warungs in Pujungan.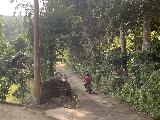 The first one was attended to by a local lady who warned that the route that Gaia GPS suggested would take us closer to the Blahmantung was actually questionable for a full-sized car like Adi's.
We were better off going down a rural road to the north of there signposted for the Blemantung Waterfall.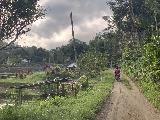 Adi decided to ask another warung about the same concerns we had that we had asked the first warung earlier (just to verify and get a second opinion), and we were in luck.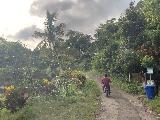 Apparently, this warung had a younger guy who also happened to be a tour guide, and he volunteered to be a tour guide for our search for the Blahmantung Waterfall.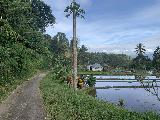 So he quickly got dressed, and then proceeded to ride his scooter and we had to follow him down a progressively narrow and sketchier road (almost similar to the Banyumala Twin Waterfall's access road) until we finally got to where our guide told us to park at 9:20am.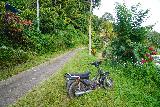 This starting point was next to some rice fields, and he identified himself as Dendi though he loaned Adi a scooter so he could go back to town to grab a bite and wait by the car.
Mom and I were pretty efficient about getting ready and we were pretty much following Dendi down the mostly concrete (but slippery) footpath as we pursued the Blahmantung Waterfall.
It didn't take long before the descending path went past a small waterfall near some infrastructure before reaching a fork where Dendi said we could have gone either way to reach the Blahmantung Waterfall.
Well, we actually took the lower path on the left fork, which descended towards some coffee plantation as well as an irrigation ditch that was used to feed the local crops in this immediate area.
Beyond the irrigation ditches, the path then followed a wall-lined stream before the walls led us to some kind of water diversion contraption at 9:45am.
This contraption was where water coming from a tall waterfall would ultimately start feeding the thirsty rice fields as well as other fruits here.
It turned out that this waterfall was what Gaia GPS had identified as the Blemantung Waterfall as opposed to the Blahmantang Waterfall.
We took some time checking out the falls though we were somewhat looking against the sun when the sun was shining brightly at us.
However, that sun was short-lived, and some of the locals working on the trail were going up to a shelter way up at the base of the uppermost drop of the Blemantung Waterfall.
I think they were also doing some more work around the top of the base of the uppermost drop of the falls, which looked a real steep climb.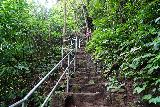 Well, since we were already here, we mind as well try to do the full experience to the Blahmantung Waterfall just to really understand what this place was like.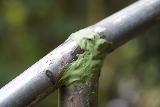 So we proceeded further on the trail beyond the water diversion sluice and then we reached an unsigned fork in the trail, where the steep ascending path on the left was our initial path to take, which was already quite steep.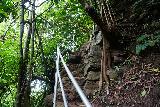 We actually followed two locals in addition to Dendi on the way up to somewhere near the top of the falls before descending back down a handful of flights for a more balanced perspective.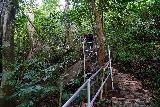 We ultimately got to the apex of the steep climb as a hot and sweaty mess before reaching the final flight of steps that actually descended towards some bridge or platform area.
Then, the path descended one final flight of steps towards a lookout bridge and lookout area with some small and simple shrine as well as a shelter where the two workers took advantage of a rather ingenious pully system to haul the logged trees or other materials up to this platform.
This allowed them to not have to go up and down the steps over and over again.
By about 10:15am, we found ourselves right in front of the uppermost tier of the Blemantung Waterfall.
However, Dendi told us that this waterfall was actually called the Rajapala Waterfall as opposed to the Blemantung Waterfall, and it had something to do with some king (since the Hindi word I think for "king" is raja or something like that).
As we were trying to take pictures and document the experience up here, the weather started to rain a bit hard and so we sought shelter at the local shelter here where we stayed relatively dry until we ultimately decided to just go even though it was raining.
And as we made our way up and back down the steep steps, the rain actually let up, and we found ourselves back down at the unsigned fork in the main trail, where we now made our way towards the next waterfall, which was called Bidadari or "Angel".
We got to that neighboring waterfall at 10:35am, where we then chilled out a little more over there and enjoyed the cool spray coming from that waterfall to offset the humidity.
Once we had our fill of the Bidadari Waterfall, we then climbed another steep series of steps that ultimately reached a more gradual and wider trail that skirted by more of the coffee plantation in the area.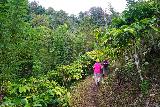 Apparently, growing coffee in this part of the Bali Mountains are a really big deal.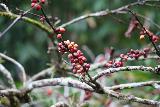 Anyways, we then followed this concrete-lined path leading further towards the end of the valley, where we finally witnessed the Blahmantung Waterfall just as we saw another pair of tourists leaving the waterfall.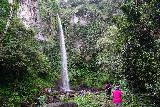 This surprised us since we never saw any other people on the way to the Blahmantung Waterfall, but then it dawned on me that we must have taken the more scenic route that encompassed all the other waterfalls while this couple just went directly to Blahmantung.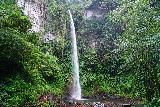 We got here at about 11am, and soon after we started taking pictures and documenting this place, it started to rain pretty hard so we retreated back to the nearest shelter.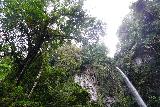 In order to protect my camera equipment, Dendi offered a couple of palm leaves or banana tree leaves (I wasn't sure what they were but they had broad leaves) to act as kind of a shingle to repel water away from my electronics.
Then, just as we were done filming me talking in front of the Blahmantung Waterfall, we then went back to the base of the Blahmantung Waterfall where the rocks around the plunge pool were very slippery.
I didn't linger for much longer at this waterfall as it was getting late and we promised to be back with Adi at 12pm so we could get back to Kuta at a reasonable time.
As I was wrapping up with visiting Blahmantung Waterfall, there was yet another couple that showed up with a guide here, and that kind of convinced me that this place definitely wasn't as unknown and off-the-beaten-path as I had expected.
And so after having our fill of the impressively tall Blamantung Waterfall, we then went down the direct trail, which was actually slippery in spots because it was mostly concrete and it had been raining.
Nevertheless, we made it back to the main trail in one piece at 11:50am, and then we walked back up the remainder of the trail to check out the small waterfall near the trailhead one last time before leaving.
By 12pm, we got back to Adi just as promised, and that was right around the time that the other couple that showed up after us had gotten back to their jeep and took off before we did.
Mom and I felt pretty satisfied with our visit, and just as soon as we were about to head out and look forward to our long drive back to Kuta, we saw that the jeep that should have left before us was clogging the single-lane road apparently stuck.
It turned out that the vehicle had run out of gas so we helped to push the jeep so it would get out of the way of the single-lane road, and then Adi could finally drive the vehicle past and we'd be on our way back to Kuta.
Even though this drive took a long time at around 2.5 hours in each direction, the time went by pretty fast because we easily made small talk and kept things interesting.
It was good that we headed back when we did because when we got back towards the Canggu ("changu") area, the traffic was much lighter than Adi had anticipated.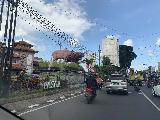 Anyways, after finally getting a hold of Julie through Whatsapp, we learned that they were still at the Beachwalk Mall, and so we went straight there to pick them up.
After a little bit of confusion because there was no place to stop or park by the taxi dropoff and pick-up at the Beachwalk Mall, we'd eventually go into the car park and then leave again only to stop near the exit where there was enough space to pause and let traffic go by.
During that time, Mom got out of the car to get Julie and Tahia, and finally by 2:55pm, we picked up Julie and Tahia, and now we could finally resume with the original intent of the itinerary, which was to go to Uluwatu Temple and then have one last dinner in Bali before going to the airport.
We had a 1am flight so we weren't particularly looking forward to the red-eye flight and subsequent day of visiting waterfalls around Cairns, but it was what it was.
Ultimately by about 3:25pm, we went back to the Bali Dynasty Resort to get our large luggages stored at their lobby, loaded up Adi's car, and then proceeded to go to the Uluwatu Temple for our last bit of sightseeing.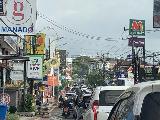 The drive south of the airport towards the Uluwatu Temple was very busy, and Adi pointed out some huge Vishnu Statue that looked quite impressive even though we weren't stopping for it.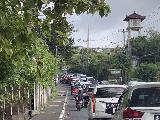 Eventually after getting past the worst of the congestion at some small intersection, the traffic then flowed pretty smoothly for the remaining distance to the Uluwatu Temple, which Adi taught me was the Pura Uluwatu ("the end of stone" or perhaps "land's end").
Also from reading the signs, I also learned that there were a bunch of pantai ("beach") in this part of Bali, which might explain its popularity.
Nevertheless, we finally were dropped off at the entrance ticket area at 4:40pm while Adi went to look for parking.
Right before dropping us off, Adi warned us to be vigilant about our loose items because the monkeys here are "really naughty".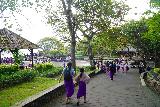 He also warned us not to make eye contact with them because then that would make them very angry.
And in an aside, he also noticed that Wayan Mo (the temporary driver that helped Adi out when we went from Ubud to Lovina) was also behind us, which was quite the coincidence.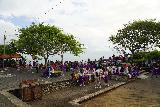 Anyways, after putting on a ribbon (I didn't need a sarong because I wore long pants) while the women each had to wear sarongs, we then proceeded to walk about the temple grounds of Uluwatu.
We also saw the light and dance show seating and entranceway, which weren't included in our tour package so we were just content to check out the cliffs and the temple perched atop the cliffs with the sun sinking in the horizon through the clouds in the distance.
In between using the restroom and taking pictures from the cliffs towards the setting sun, there were some monkeys out and about here.
While they made interesting photo subjects, we tried not to make eye contact with them and we tried to keep our distance as told by Adi.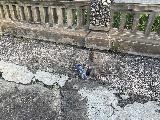 However, in one sudden moment, Tahia's glasses were stolen by one monkey that came up from behind her and ran off with them.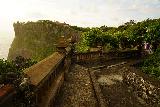 That monkey was trying to bite on the glasses and the handles, and we tried to give something to get it to drop the glasses, but all it did was to hold onto the glasses and take the bottled water at the same time.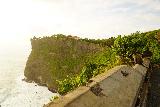 In fact, the monkey was so dextrous that it was able to open the bottle on its own, have a drink, and still hold onto Tahia's glasses.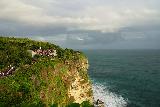 Tahia was genuinely traumatized, and there still wasn't a temple employee around to help out with this situation.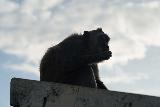 So I found a banana peel on the ground, and tried to do what Adi said that the locals would do which was to offer food such that the monkeys would drop whatever they had and go for that food.
Well, all this banana peel offering did was to get a bigger monkey to get right in front of the smaller one and hiss at me.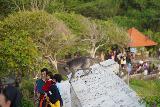 Some random person said, "You shouldn't be doing this. It's not a good idea", and he was probably right.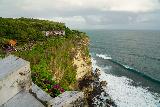 But I guess in the heat of the moment, I was just trying to get Tahia her glasses back as she was clearly distraught at what the monkey was doing with it.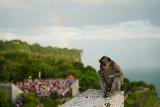 Eventually an employee showed up and offered some kind of food (more like throwing it in front of the monkey), and then it finally dropped Tahia's glasses at which time we took it as the monkey forgot about it.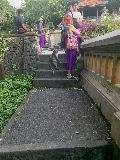 Even though Tahia got her glasses back, she was unhappy with how the monkey stripped off the padding that goes to the bridge of her nose while the ends of the glasses were chewed up.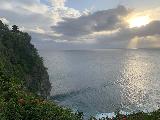 Fortunately, her lenses were fine and not scratched so the glasses were still serviceable, but that kind of soured the mood of our visit, and both Julie and Tahia wanted to go back to Adi and the car.
However, I thought Mom and I were going up to the temple to see what else the Uluwatu Temple had to offer, and so I went up while trying to be more vigilant about the monkey situation.
Truthfully, those monkeys are stealthy and there's always another monkey in the troop that seems to know how to sneak up the blind side of an unsuspecting tourist to take whatever was loose.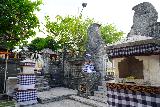 In one instance, a monkey went right past me from my blind side, but since I had nothing loose, it had nothing to take and kept going, and I only noticed it when it was in front of me!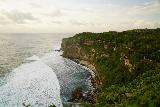 So that made me hesitant to want to get closer to the walls as much as I wanted to take pictures of the setting sun and the cliffs as well as the temple hugging these vertical cliffs.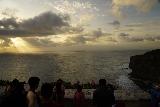 Nevertheless, I still explored the main parts of the Uluwatu Temple, and I even noticed a cliff-top walk that went way out towards some other outcrop or protrusion.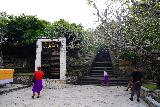 I didn't go all the way out there, but I tried to soak up the atmosphere as much as I could.
And eventually by about 5:50pm, I rejoined the ladies who were waiting for me, and we then got back to Adi's car while also saying good-bye to Wayan Moo one last time as well, who also happened to be there waiting for his clients.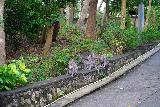 On the way out, we had to get across another line of monkeys, which made other visitors skittish, but we eventually got through that without incident, and then we headed out to our dinner spot.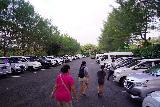 So we didn't wait around for the sunset, but with all the clouds around us, I didn't think it was such a big deal.
If anything, most of the guests were doing the Balinese song and dance, and Adi was happy with us leaving when we did so we could avoid the worst of the traffic situation.
I know he had a very long day, and any break he could get from not having to deal with more traffic than needed was welcome, I'm sure for him.
By about 6:40pm, we arrived at the Ganesha Cafe, which was Adi's choice for us to have dinner for our final meal in Bali.
This was a beachfront cafe in Jimbaran, which was just south of the airport, but this place served up fresh seafood that you get to pick, and then the restaurant would grill it for you.
We ultimately had ourselves a grupper, about 7x tiger prawns, an order of squid, two orders of chicken satay, and some rice.
From our dining spot, we were even able to see the huge Vishnu statue way in the distance being lit up, which my camera could barely pick up with the noisy high ISO to get enough light on it.
And as far as the meal was concerned, we enjoyed it while celebrating with Adi what turned out to be a successful time in Bali.
It was also one where Adi seemed to be very appreciative of having us as clients as he said repeatedly that he was going to miss us, and conversely, we really enjoyed his easy-going demeanor as well as his ability to hold a conversation with us thanks to his proficiency in English.
With the atmosphere of lights piercing the darkness with sounds of crashing waves in the background and a local band serenading clients, it was a nice way to splurge and end off the last experience of our 10 days in Bali.
Although the dinner was the most expensive that we've had on this trip at around 1.6M Rp, we knew that we had to live it up now and spend the rest of our cash because what was to come next was the 1am red-eye flight to Cairns.
When all was said and done, we were finally leaving the Ganesha Cafe and 8:30pm, and by about 8:45pm, we were at the Ngurah Rai International Airport, where we bid Adi a fond farewell while also trying to sort out all our belongings now that we had to get organized.
Eventually by about 9:45pm, we spent time brushing our teeth while also sweating it out while trying to do all the chores just so we'd be all sorted by the time it was time to check-in to our flight.
By about 10:45pm, we got through security and all the passport controls to get into the gate area, where we then tried to fight sleep as we used the limited charging stations to try to get as caught up as we could with the day's happenings.
Well, I didn't get finished with all the sorting out and getting caught up on the blogging, but it passed the time though I definitely needed some shut eye since I had been awake since about 3:20 this morning!
In any case, we were finally boarding the flight at 1:15am, which was delayed from the 12:45pm boarding time, but at least we could finally get settled and move onto the next part of the trip, which was back to Australia along its busy East Coast…
Visitor Comments:
Got something you'd like to share or say to keep the conversation going? Feel free to leave a comment below...
No users have replied to the content on this page