Day 9 (June 17, 2022 – Ubud, Bali, Indonesia): "Struggling To Establish Communications"
The flight from Darwin to Denpasar, Bali only took about 2.5 hours, and it actually landed right on the scheduled time of 10:45am (which was 90 minutes behind Darwin time).
Indeed, being on time was something we weren't expecting from a low budget carrier like Jetstar versus Qantas, where our past several flights through them had been delayed (even causing us to miss connecting flights like on day 1 in this case).
Nevertheless, when we de-planed, we then entered a very large open space that totally reminded me of a large conference room where we queued up, paid the temporary Visa fee, then went through passport control, before finally collecting our luggages and getting through customs.
As we made our way out of the airport, Julie and Mom wanted to withdraw cash, but I told them to just get enough money for emergencies but don't overcommit because I knew the airport rates would be a rip off.
Well, they didn't heed my warning as Julie cited "it's too much trouble" to go somewhere away from the airport to exchange money, and so they ate the terrible rate of 13,900 Rp per 1 USD (when the current exchange rate was more like 14.5k Rp).
Anyways, with that much cash committed to such a penalty rate, we then got to the waiting area where we looked for our driver at 11:35am.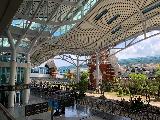 It was immediately more muggier in Bali as anticipated, and it definitely lacked the crispness of the Dry Season in the NT, so we knew we were going to get pretty drenched in sweat no matter which activity we were going to do here.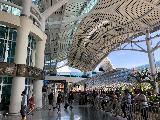 It took some time before we finally found our driver, and we also used that time to use the toilet, but eventually we met our driver who was named Adi, and then he proceeded to drive us towards Ubud.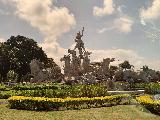 This drive took a bit of time, and in the process, we were passing through Sanur and getting a sense of the organized chaos of scooter traffic going this way and that as they weaved between all the vehicular traffic.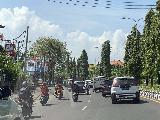 Most of them were locals in most of the roads we went to, but Adi warned us that when we get to Ubud, the place will be teeming with tourists.
That said, he also warned us that Kuta will be even crazier than Ubud in terms of 24/7 activities and in terms of tourists.
He also relayed a story to us about how Sanur used to be a happening tourist spot in Bali before one of the two civic leaders there started promoting Ubud and did so much more effectively than what was done in Sanuk.
The result was that Ubud was now one of the main tourism hubs while Sanur seemed to settle back into more of a locals town offering quite the contrast to Kuta.
We'll see how all that plays out, but in any case, we were basically just soaking in the sights and sounds as we passed through the traffic of South Bali and noticing the many temples and statues that we were passing by.
Adi tried to help us to get a sim card so we can easily communicate with each other should we be separated, but it turned out that that took a bit of time.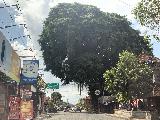 The first place we went to couldn't get our phones to work with the new sim cards, but the place in Ubud (while way more expensive) actually was effective.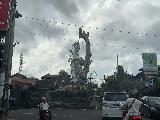 Unfortunately, that probably killed an hour or so, and so it wouldn't be until 2:20pm when we finally got sim cards working on our phones.
By this time, I think the family was getting hungry and tired since it was already becoming a long day, and yet we still had a couple of waterfalls scheduled to visit today.
Plus, we still hadn't even checked in yet.
By about 2:35pm, we had trouble finding the Suweta Homestay in Ubud, which was where we'd be staying for three nights, and so Adi parked in the Central Ubud car park where he then communicated with the owner.
That owner would then swing by on his scooter and lead us to the accommodation, which was kind of hidden in an alleyway.
It wouldn't be until about 3pm when we finally lugged our stuff into our rooms (which involved quite a few steps), and we ultimately got back in Adi's car to at least get to a place to eat.
The place was spacious and it seemed like we had our pick of which of the four rooms to sleep in, but due to time and lack of energy (as we didn't really want to go up another flight of steps with luggages for rooms 3 and 4), we settled on rooms 1 and 2.
Anyways, Adi then drove us to a local place to eat authentic Indonesian food, and we had ourselves a choice of beef rendang, chicken, green chili, casava leaves, and rice.
Adi also had us try some kind of local ginger ale, but it was very sweet and also reminded me of Inka Cola or something like that.
Julie had reservations about this local spot since the food was constantly heated but it had been out since this morning so she was concerned about food safety.
However, we ate quickly as we were famished, and we'd eventually be back in the car by 3:50pm to finally start the day's touring activities.
I had serious doubts about reaching both scheduled waterfalls today, but Adi suggested to just visit the Tegenungan Waterfall, which was a very popular spot for today and punt the second waterfall for tomorrow.
Adi ultimately got us to the car park and entrance for the Tegenungan Waterfall at around 4:15pm, where we then proceeded to go pay for the entrance, which then descended between a row of a bunch of shops and cafes.
Each place had people trying to get our attention and get us to go in (which reminded me of the kind of third world touring we had been familiar with in places like Egypt, Kenya, etc.), and in a way, this was the true character of Indonesia behind the glossy sheen of tourist spots.
You really have to learn how to say no when you're not ready though at the same time, I felt a bit guilty about it given how I recognize that being a local here selling wares is probably not the ideal life for them (as I'm sure they'd be doing other things if they could).
Shortly beyond the shops, we started to get our first looks at the Tegenungan Waterfall, which was down below from across the river where we were at, but we could see the walking paths leading all the way down to the bottom past a happening bar with dance music being played.
It was quite the contrast to waterfalling in Australia as in Asia, it's more about the monetization, and it's kind of like the European Waterfall experience on steroids where they took the monetization aspect of it to the next level.
As we went down the steps and stopped at each of the cute little lookouts or photo ops (including a nest-looking thing as well as a Shakespearean-like circle nest), we'd ultimately get towards the bottom past some springs as well as another temple.
Then, we went along the base of the restaurant or bar above us before getting more views of the Tegenungan Waterfall which descended towards the slippery and rocky base accessed by sketchy-looking bamboo bridges.
There were lots of people down here because you could feel the spray from the waterfall, and that kind of offset the humidity as by now we were pretty much drenched in sweat.
After having our fill of the bottom, we saw that there were steps going further up alongside the waterfall and we decided to check that out.
However, there was a separate ticket booth where apparently we had to pay more to get up there, and I guess for about 40kRp (Tahia was free though Julie stayed behind), we'd eventually get to where we saw signs for Blangsinga Waterfall.
I was under the impression that this was a separate waterfall but after talking with a guide at a seemingly empty resort at the top of the steps, I learned that it was nothing more than the Tegenungan Waterfall itself.
In fact, it might be the actual name of the main waterfall whereas Tegenungan was perhaps the name of the village here.
So after that bit of exploration (by which time Mom and Tahia already went back down to rejoin Julie), I then descended the steps and then crossed the bamboo bridge before heading back up the long series of steps to the row of shops.
We made a brief stop for some fresh dragon fruit juice that was freshly made while at the same time we had a "cold" cocunut as well.
The view was disappointing because we went to a spot that charged 50% less than the first place that probably did have a view, but we figured that we'd have better gelato near our accommodation in Ubud.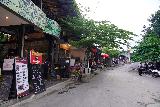 Eventually, we returned to Adi's car at 5:30pm as we were all pretty much a drenched and sweaty mess at this point.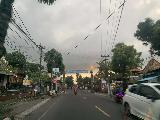 Adi then drove us to a Delta Dewata Supermarket, where we went nuts buying up local fruits and some breakfast foods of ham, croissants, brioches, water, etc.
It was about 6:55pm when we were finally back at the home stay where we then tried to get settled before walking around Ubud one last time before finally crashing for the night.
Upon dropping off our groceries in the refrigerators of our rooms, we then walked down into the streets of Ubud, where we went looking for a Massimo Gelato place.
But as we were walking near the Ubud Temple and Starbucks area, we couldn't find this Massimo Gelato place and eventually settled for this place called Gelato Secrets.
I think the rates were on the order of about $3 for a small, which was on par, but I'd imagine this was really more of tourist prices.
Regardless, we finally had our fill of a gelato and sorbets with local tropical fruits though Julie only noticed the durian flavor later on and will have to try that later.
Someone was smoking next door while we were enjoying the gelato so we quickly finished and then headed back to the home stay at 7:50pm.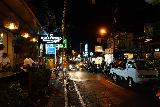 But as we were getting settled, Julie and I realized that the room we were staying in (Room 1 I believe) had a sliding door that was easy to unlock and defeat.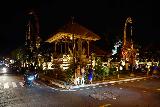 So from a safety standpoint, that was not good, and we had to move our stuff up to Rooms 3 and 4.
Once that was done, then we could finally get settled for the night, which was some time after about 8:25am when we realized the security flaw in the lower rooms of the Suweta Homestay.
It wouldn't be until well after about 11pm when we finally slept from this very long day, but we have a 7am start tomorrow so we'll see how that all turns out as we get adjusted to being in Bali for the next week-and-a-half…
Visitor Comments:
Got something you'd like to share or say to keep the conversation going? Feel free to leave a comment below...
No users have replied to the content on this page