Day 10 (June 18, 2022 – Ubud, Bali, Indonesia): "Packing In A Full Day"
It was 4:05am when I awoke, which was actually surprisingly on time considering how late we slept last night and how we knew we'd be a bit jetlagged since we went back in time another 90 minutes from Darwin time.
Nevertheless, we had a very packed day today as we had to make up for a waterfall that we didn't get to yesterday, and we also had three more waterfalls to hit as well as the rice fields of Tegallalang and some coffee plantation known for the Luwak, which poops out coffee seeds.
I had my doubts about whether we'd be able to fit it all in on a day, and in fact, Adi showed up at around 6:40am so I knew that he meant business in terms of the 7am start.
Sure enough, after having our short self-catered brekkie, we pretty much got into Adi's car and got going at precisely 7am as scheduled.
First up on the itinerary was to pursue the Tukad Cepung Waterfall, which was that Instafamous waterfall where people could photograph God beams cutting through the mist in the morning by a waterfall or at least within the narrows fronting it.
I wasn't sure we were going to stick around for that shot, but our early morning start pretty much ensured that we might be one of the first people at the falls.
Now during the drive to Tukad Cepung, we couldn't help but notice a lot of people seemingly dressed in ceremonial wear.
Adi told us that today was still part of a national holiday where people were on their last day of prayers and offerings (I guess it's kind of like the last day of the entire Easter Week if I had to put an analogy to this).
So a lot of people were dressed up and either tending to business to prepare offerings for the deities or already sitting before shrines, temples, and even on the sides of the streets to pray.
When it got to 7:50am, we arrived at the Tukad Cepung Waterfall car park, where there was one other car there, and Adi even expressed concerns that it might be too early to start.
But it turned out that they had been open since 7am, and so we wasted no time getting started on this walk.
The first thing that struck us about this walk was that there were a handful of people dressed in ceremonial clothing tending to some kind of preparation as there was a little shrine area adjacent to the walk leading down to the waterfall.
As we went just past the worshipping area, we then paid about 20k Rp per person to continue past the ticket window and continue on the concrete path that descended steps.
Along the way down, there were some stands that some people appeared to be setting up and a handful of locals were encouraging us to go in.
There was also an interesting ditch where it appeared that water was being funneled towards irrigating rice fields or something, and it was kind of reminiscent of the ditches that Mom and I saw while hiking to a waterfall in Alishan to the north of Taipei, Taiwan.
As we continued to descend more steps, it then became apparent that we'd have to get back all this elevation loss on the way back so it was likely that we'd be a hot and sweaty mess once again.
Eventually when the concrete steps had bottomed out, we then had to walk along what seemed to be another more voluminous irrigation ditch across some rice fields.
At that point, it made me wonder if the Tukad Cepung Waterfall was enhanced by the outflow of the water or if it was a legitimate natural waterfall.
The signed path eventually led us down a final flight of steps carved into the bedrock leading down into a narrow and somewhat spooky gorge where at the bottom, there was a sign pointing in both directions.
We first went right, which led us to a tall waterfall feeding the main stream though I suspected that this wasn't the main waterfall.
We spent a few minutes down here to document the experience, but at around this time, we also saw that there was already one other couple that went down and went the other way (which I suspected was the main waterfall).
So after having our fill of the first waterfall that we encountered, we then went downstream into the narrow chasm where we the path then proceeded to narrow the further we went.
There was some small shrine down here in a nook within the gorge, but it eventually got into a really atmospheric part where it narrowed to the point that getting wet was unavoidable.
Some of the morning light was already making things look quite scenic and interesting, and after getting around some of the large boulders at the bottom, we eventually got to the dead-end right at the main Tukad Cepung Waterfall.
It was about 8:30am when we arrived at the base of the waterfall, and it was a bit misty as well as hazy down there so taking pictures against the light was tricky.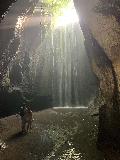 When we tried using the phone to take pictures, there always seemed to be glare in the photo, and when I tried to take pictures with the larger mirrorless Sony, there always seemed to be fog appearing on the polarizer.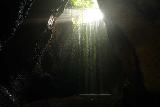 Nevertheless, we took some time to take what pictures we could though we weren't that particularly interested in shooting God beams right at the waterfall, which I knew would eventually get crowded.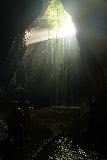 In fact, there were already people starting to show up the closer we got towards 9am, and by then the family already started heading up and I was slowly starting to do the same.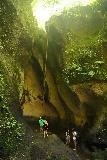 Although I suspected that the God beams showing up at the main waterfall would eventually happen within say a half-hour that I was down there, I also started to head back up.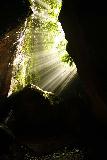 And in so doing, I noticed that there were actually really attractive God beams further downstream in the narrow gorge around the boulders.
So I took advantage of that spot by taking a few more pictures before heading back up the steps just as many more tourists were descending upon this spot, and it just goes to show you that the Instagram lemmings effect was in full force at this time.
As I continued further up the steps and then along the irrigation ditch, there were still more tourists making their way down to the main waterfall.
At the same time, some of the couples that had been down with us at the falls were also making their way up, and I caught up to them as they were stopped due to encountering some snake they saw, but I didn't see them by the time I showed up.
Finally, I joined the rest of the family near the continuation of the steps going up where there was some kind of angry-looking wolf statue or something, and then we continued further up the concrete steps to wrap up the hike.
By the time we got past the ditches and past the ticket booth, we then noticed that the grassy area before the praying area was now full of people dressed in white ceremonial clothing in sitting posture.
Clearly, the Balinese here took this last day of some 10-day worshipping period very seriously, and it seemed like even more people were heading in that direction while we were heading back to the car park.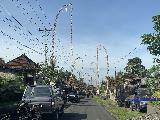 By 9:30am, we were back at the car, and then we proceeded to be taken to the Kanto Lampo Waterfall.
It only took us around 30 minutes of driving to get to the car park for the Kanto Lampo Waterfall, but the drive to get there was interesting as we noticed lots more Balinese people sitting on the streets in white or praying at temples.
It's true that people were really into their religion here, and Adi indicated that most of the locals have to finish their festivities by noon time, which is why there's so much ceremonial activities going on at this time.
At the Kanto Lampo car park, there was an interesting statue next to the entrance of the pathway down to the waterfall.
After having paid our admission fee, we then proceeded to walk down a flag-flanked concrete path going down a procession of steps and some flat sections as well.
The steps eventually arrived at some sloping road, where we then followed this road past a few shops and towards the ticket counter, where we then paid to continue going down.
This path involved going down even more steps as we passed by one three-way junction (where the path on the left looked like it headed towards some restrooms) while the path on the right continued down to the main waterfall.
We'd eventually make it down to the main waterfall, where we then had to carve out some space on the concrete steps while also trying to get some side views of the rather wide waterfall.
Lots of people were waiting to get their photo under the far right side of the waterfall, where there also seemed to be a slight rainbow going across it.
While the ladies were busy trying to capture the scene while also queueing up to take a shot to the far right side of the falls, I went ahead and descended to the bottom, where I then decided to wade across the stream for a more frontal view of the falls.
Keep in mind that I still had my gear on, so I gingerly made my way across with neither trekking poles nor visibility since the water was murky and I couldn't see what was beneath the surface (let alone the water's depth).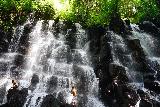 It was times like these that I wished I had a trekking pole to test the depth while also keeping my balance since the rocks conspired to be slippery.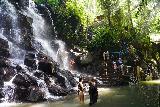 I ultimately got frontal views of the falls, but it was still tricky to photograph so I decided to wade a little further downstream though the rocks there was more slippery.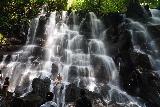 Just as I had placed my hand on one of the wet rocks for balance, I felt a very painful sting on my left index finger, and when I saw some kind of dark bug crawling away from my hand at that time, I was worried that I might have gotten poisoned by something.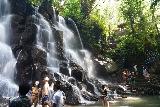 My mind was drifting towards thoughts of a scorpion sting or a centipede sting, but I couldn't quite tell what this bug was since it was blackish and kind of blended in with the dark rock.
Eventually after a couple of painful minutes, the effects of the sting went away, but from that point forward, I was now trying to watch really carefully where I'd be placing my hands while scrambling.
After getting my fill of the profile of the Kanto Lampo Waterfall from the other side, I then carefully scrambled back across the base of the waterfall and up to the steps where we got a couple of family shots before finally calling it at this waterfall as more people came down.
This place really seemed popular with tourists, and I was warned by some of the locals here that it's the afternoon where it gets even busier.
As the ladies had already gone up, I took the liberty of lingering around for a few minutes, and as I ascended to the three-way intersection, a local there told me that I could go down the other path for an alternate view of Kanto Lampo Waterfall.
When I took his advice and went down there, I noticed there were some fountains below the toilet building, and I had to go out onto the stream a little bit to look between a framing gorge towards the Kanto Lampo Waterfall in the distance.
There were also a handful of people out by this side so it wasnt like I ventured into an unknown spot, but it did seem like lots of people miss out on this alternate view.
Regardless, after having our fill of the falls, I then continued up the steps where I noticed the ladies were having drinks at the first stand near the ticket booth.
It turned out that they were having truly cold young coconut (unlike the one we had yesterday, which was deceiving since they pitched "cold" young cocount), and so they saved me a few sips which were real refreshing.
As we were about to leave the cafe we were at, we saw there was another procession headed down past the ticket booth and down the steps.
Only after the last of the procession participants had passed did we make our move and go back up to the car park, where we arrived at 11:25am.
Like the first waterfall at Tukad Cepung, this waterfall was also full of tourists, and perhaps it was good that we got the early start when we did.
After heading back out, we then proceeded to the Tibumana Waterfall, where we got to its car park at 11:35am.
By this time, Tahia was already getting tired of waterfalling, but at least this one was supposed to be another short walk from the car park down to the main waterfall itself.
When we got there, we saw quite a bit of visitors on scooters who were not Balinese so quite a few people seemed to be empowered to try their hand at the local traffic.
But it was as Adi says, they learn quickly how to pick up unpredictable habits and become traffic hazards.
Anyways, on the walk down to the falls, we passed by some temple with some rice fields across from it, then we went down to the ticket kiosk, where we paid the entrance fee (I believe it was 20k Rp, which seemed to be the going rate for waterfalls.
And like the other two waterfalls seen today (as well as the one from yesterday), we noticed more concrete steps leading down to the bottom, which meant we were getting a sweaty hike on the way back up.
On the way down, there were a few more shops lining the footpath before reaching a fork, where we kept left to go down to Tibumana Waterfall while I did wonder what was to the right (which I figured I'd find out later).
So the path continued descending to the bottom, where there was one washed out section forcing a short trail re-route.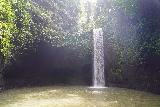 Then, the path reached some bridges with a pair of intermediate waterfalls opposite each other.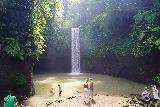 I wasn't sure if these side waterfalls were legitimately natural or if they were just manmade consequences of the rice fields above.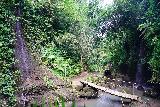 Nevertheless, shortly after the intermediate waterfalls, the trail ended at the plunge pool before the Tibumana Waterfall, which featured a satisfying plunge.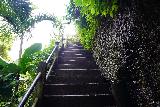 As far as photographing the falls, we were kind of looking against the very bright midday sun so we actually welcomed when the clouds moved right in front of the sun to more evenly distribute the lighting.
After having our fill of the Tibumana Waterfall, we then went back up just as more people were coming down to this apparently popular waterfall.
And as I intended, on the way back up, I took the other path just to see where it went, and it ultimately led to some kind of small shrine flanked by a twisting cascade.
At that point, there seemed to be a confluence of streams, but that was the end of the line for me, and I went back up to the Tibumana car park, where the ladies were having some kind of ice cream at the stand up there to offset the tropical heat.
By about 12:30pm, we were back into the air-conditioned car, and then we proceeded to drive to the Bebek Joni Restaurant, which was our lunch stop for the day.
This restaurant seemed to get quite a few tourists, but we managed to sit in one of the spots with a view towards the rice terraces (though little did we realize that there were other tables on the other side of the restaurant that also had more open views of the terraces as well).
Regardless, we had a pretty delicious (albeit pricey) lunch where the crispy smoked duck was their signature dish, and it was surprisingly good.
The duck had more of a stew-like consistency and wasn't as hard as typical smoked products you'd find at supermarkets or other restaurants.
Anyways, we also got an assortment of local Indonesian food including fried fish, ayam goreng special, chicken satay (which was interestingly presented in a charcoal holder keeping the skewers hot), and some vegetable curry.
The service was slow since there were quite a few people here, and it wouldn't be until about 2:30pm when we finally headed out.
The next waterfall for the day was the Sumampan Waterfall, and by this time, we were getting a bit waterfalled out, but we still had to hunt this one down since it was the one that we had missed yesterday.
We'd eventually get to the Sumampan Waterfall by 2:45pm, and this was one waterfall that Adi hadn't been to.
Nevertheless, we did notice a handful of foreign tourists here, and I guess no matter how off-the-beaten-path one place might seem in Bali, it seemed to still not be impervious to the Instagram lemmings effect.
And unlike the other waterfalls that we had visited to this point, this trail was mostly down a dirt path instead of all paved.
That said, we did encounter concrete steps towards the bottom, where the steps were steep and the final steps were also narrow as they skirted along some rippled concrete walls that looked like someone was mud floating the whole hillside.
So when we got down to the bottom, we found ourselves looking down at a mostly obstructed waterfall where vegetation covered up most of the upper part of the falls.
There was one guy who brought his kid across the turbulent stream so he was always in everyone's photos.
Nevertheless, we were fascinated by all the faces carved into the river rocks as well as the cliff faces across the river.
Once we had our fill of this waterfall, we then headed back up where Mom pointed out to me that there was yet another waterfall near this footpath, which we could partially see as we made our way back up the concrete steps.
Eventually by about 3:30pm, we made it back up to the car though I realized right then and there that Gaia GPS didn't really record much about the excursion, which was unusual because I had to turn off the recording.
Finally, with the waterfalls out of the way today (albeit with most of the day over), the original plan was to get to the rice terraces of Tegallalang first and then the coffee plantation tour.
But since the coffee plantation tour had closing time at 6pm, we decided to flip flop the order of visitation so Julie and Mom could at least get to experience the luwak coffee there.
So we got there at 4:10pm, which was plenty of time for us to catch a tour that also included letting us try out various munchies.
We first got a personal tour of the facility while being walked through the process of how the coffee is made.
Then, by about 4:35pm, we finally got to the end of the tour where we got to be seated and also getting to try out the munchos like ice cream as well as some snacks like a steamed banana slices with coconut shavings as well as some fried plantains or bananas.
There was also a five-cup coffee taster as well as Julie and Mom each having the famous luwak coffee.
As we were enjoying this little cuppa, it was starting to pour rain and it seemed to be getting worse the longer we were staying (though we definitely appreciated the water tightness of the pandanus-leafed thatched roof above).
We were given umbrellas when we were done with our cuppa and descended the slippery and wet wooden and stone steps to get to a viewing area of the rice terraces across the way (though this was not the famous Tegallalang terrace).
We didn't take too long to get our photos because it was basically an exercise in someone holding the umbrella so someone could take the pictures in this tropical downpour.
Ultimately, by about 5:30pm, we were back in the car, and the skies were noticeably getting a little darker with each passing minute.
Five minutes later, we had been driven to a lookout area of the Tegallalang Rice Terraces where I went part of the way down to get a look at the wide scene of the terraces (each with mini waterfalls probaby from the prolonged rains).
The ladies stayed up to watch me going down since it costed each person money but they managed to rig the situation such that I was the only person to pay and partake into a more intimate experience with the rice terraces.
But with thunder looming in the distance and getting closer, I decided to head back up but then the ladies decided to pay to go down and do the rope swing.
I guess this was on Julie's bucket list, and now she got to do it, especially since there wasn't much of a queue to do the swing.
This was basically as if it were a roller coaster ride or some amusement park ride where you get slung out towards the drop offs above the rice paddies, and you get swung around a half-dozen times before you get to swing back and forth without any assistance.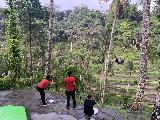 The seats had harness backs on them so as long as you're leaning backwards, there's no likelihood of falling off the swing (which could only happen if you lean too far forwards).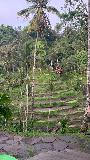 So Tahia started with the swinging, and she really enjoyed the experience since she was quite the thrill-seeker, and when it was Julie's turn, she also seemed to enjoy the thrill of doing this, especially since it was a check off her ever-evolving bucket list.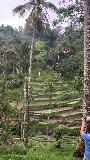 Eventually by about 6:15pm, we were back in the car, where we were then driven back to the Suweta Home Stay, where we got back by 6:45pm.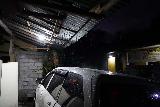 However, when we made it back, it was pouring buckets and so we had to grab our stuff and then go right through the downpour up to our rooms.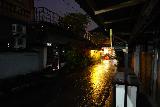 We noticed that the swimming pool was flooded, and so we figured that since we didn't really feel like dealing with the downpour in town, we mind as well eat up the fruits that we had bought from the supermarket yesterday.
So we kind of had a bit of a fruit eating party on the balconies of our respective adjacent rooms, and so we ate up the durian, mangostines, dragonfruit, part of a watermelon, and jack fruit.
And we were doing all this while it was pouring rain outside though it did manage to calm down somewhat by the end of our fruit eating party.
Eventually by around 8pm or so, we settled in for the night, took showers, tended to our oral hygiene, and also tried to get caught up on the blogging and photo naming to this point.
And finally, we crashed in bed some time after 10:30pm or so knowing that we'd have to do an early morning wake-up because we were headed to the Lempuyang Temple tomorrow, and we wanted to make sure we got there early to beat any kind of rush.
And we hoped that the weather might clear up considering how drenching the thunderstorm was this night…
Visitor Comments:
Got something you'd like to share or say to keep the conversation going? Feel free to leave a comment below...
No users have replied to the content on this page