Day 11 (June 19, 2022 – Ubud, Bali, Indonesia): "Smoke and Mirrors"
It was 3:50am when we awoke, and there was a lot of concern about how today was going to go because it had been pouring rain for most of the night.
Heck, it still seemed to be raining when I had awoken, but the weather seemed to have calmed down after Julie awoke and started getting the cold sandwiches together for breakfast.
Given today's early start, it was a pretty hectic morning, but Adi was already downstairs by the time we started to make our way downstairs into the darkness.
So by 5:05am, we were heading out as the back entrance was closed so we had to take the front entrance for the first time we had been staying here.
The drive out the east end of Ubud was familiar yet also an interesting one in that we were going east out of the Gianyar Region where we saw a whole heap of lights on the main road.
We had this discussion about corruption and how this was one example of one politician who had gone overboard with his responsibilities concerning what he did with the public funds.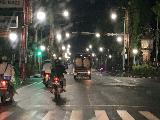 Anyways, the drive was refreshingly smooth even though there had been some activity concerning the morning, but considering we were out and about before sunrise, I'm sure Adi appreciated the ability to drive with better flow as opposed to the greater chaos when more scooters and cars are present.
I was able to stay awake the entire drive so Adi and I were making small talk about Indonesian politics and stuff.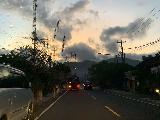 And as the day started to get more light, Adi pointed out that we could start to see Mt Agung, which was a good sign even though there were plenty of clouds around us.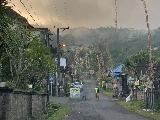 But the fact that after we had experienced a whole night of hard rain (as evidenced by still some remnants of street flooding), and that we could still start to see the top of Mt Agung this close to the Lempuyang Temple was a very good sign.
Eventually at 7:05am, we arrived at the car park area for the Lempuyang Temple, then we had to pay for a shuttle to go up to the temple itself.
Adi said that they used to be able to drive all the way up to the temple, but now that they had this shuttle system, it was a lot less congested in that area.
The shuttle then went up a series of narrow and steep switchbacks, and we arrived at the entrance area where we had to pick up a sarong (there were ladies there to help tie it for us), and then we walked past some shops up to the temple itself.
Looking back behind us, it still looked like there were clouds conspiring to conceal Mt Agung, but it did seem like the clouds were moving from south to north at the time so every once and a while, we could see Mt Agung's top.
As we got up to the Lempuyang Temple area, we could see that we were at the bottom of a steep stair structure, where I believe the temple was up at the top.
However, looking in the other direction, we could see a bunch of people waiting their turn for their photo in front of the famous Heaven's Gate.
Mt Agung was still coming in and out of hiding behind clouds that were moving.
But at least it seemed like there was a very real possibility that we'd be able to have our photos with the mountain behind it without any crazy green screening or whatever postprocessing effects to fake it.
Our number was actually #25 and they were on #19 when we showed up so it didn't seem like we had that bad of a wait.
So we used that time to explore around this area, and I even took some time to go up towards the entrance of the temple where I saw a handful of people standing there.
Actually, when I got up there, I saw that there was a praying area, but you couldn't go in unless you were genuinely there to pray.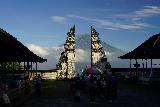 But when I turned around to look at Mt Agung and the context of the Heaven's Gate, I saw that the mountain did indeed show itself from time to time as the clouds rolled from left to right.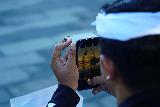 So I took some time to document this experience and the context of it all (though I had forgotten to take pictures with the phone), and then I went back down as the ladies told me that it was near our number (they were on #22 or #23 now).
Adi was with us and he showed us what the guy taking the pictures was doing…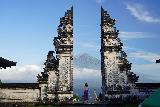 He actually had a mirror held above the smart phones when taking pictures, and we could see that there were reflections that faked as if there was a pool in front of the Heaven's Gate.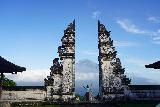 If there ever was a fraudshot to make something Instagrammable, then I think this one takes the cake though it was an ingenious way to get attention since no one really knows any better until they get there, right?
Anyways, when our time came around, we took time with Julie and Tahia and Mom making individual poses though I only did so with Julie as a couple, and then we did it as a family.
After having our fill of the photos being taken, I then spent a brief moment to shoot a photo back towards the temple as well as in the other direction at more temples down below from the Heaven's Gate.
Then, we walked down the steps towards the exit and out of the line of sight of the next people waiting to take their turn for taking pictures though the mountain seemed to be momentarily blocked by clouds again and then not hiding not long thereafter.
As we made our way back down the slope to the shuttle bus, we stopped to pick up some fruits, where we tried some snake skin fruit and decided to buy some while also picking up more mangostines, small bananas, and even a passion fruit.
By about 8:30am, we were back at the car, and it turned out to be quite the pleasant experience despite the bad rap this place had been getting in recent memory.
I think the main reason why this place had gotten such a bad rap in the past was that before the pandemic, Adi said that the numbers this early in the morning could be in the 200s!
Imagine how long of a queue you'd have to wait for such photos given that there really wasn't much else to do up there.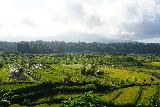 Anyways, we left pretty satisfied and now ready to head back to the west towards the next attraction which was the Tirta Gangga or the "Water Palace".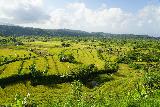 On the way back towards the Water Palace, we made a brief roadside stop in front of a stand where we could look across some rice terraces that still hadn't harvested their rice completely yet.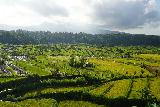 And so it was actually more scenically attractive than the Tegallalang Rice Terraces that we saw yesterday, and there was even the possibility of seeing the top of Mt Agung behind it all if it wasn't for clouds blocking this side of the mountain and looking against the morning sun.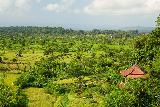 After this brief photo stop, it was only less than 5 minutes later when we arrived at the car park for the Tirta Gangga at 8:55am.
Once again, we had to walk between a bunch of shops and stalls before reaching the entrance of the Water Palace, and one in particular had interesting monitor lizards as well as some bats that were all live (obviously they were trained for the purposes of holding them and/or taking pictures for a fee).
Anyways, once inside the Water Temple complex, we could see that there were fountains and ponds throughout the place with lots of really big coy in the water, which must have gotten fat from all the people buying feed from one of the food stalls and feeding them.
Julie bought some so Tahia could do that from a couple of different stalls, and while they were occupied doing that, I was walking around the complex just to explore it for a bit and taking pictures as I went.
For the moment, it was actually nice and quiet as I was alone except for a few locals doing prayer, and it actually felt atmospheric (especially in one corner where there were statues all facing me as I stood in the middle amongst them).
As I continued to make my way in an anticlockwise direction across the bridges, I saw that the rest of the family were finally done doing fish feeding, and then they went towards the back of the property towards the swings and see-saws.
We also noticed some people were swimming in a pool that I didn't even know was a public pool until I saw some guys and then a handful of families doing it.
It was a nice relaxing way to experience such a sacred spot, which contrasted mightily with the long day that we had yesterday.
Anyways by about 10am, we had our fill of this spot and proceeded to go to a restaurant nearby for an early lunch.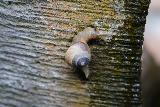 It turned out that the restaurant that we went to at the Tirta Gangga had a lot of authentic Indonesian cuisine, and so we tried some kind of specialty fish curry wrapped in banana leaves, a chicken curry, a beef rendang, a mee goreng for Tahia, and some water.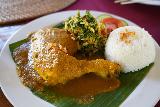 Well, when they brought out the food and we had a taste, it turned out that the fish curry was an instant hit as the curry was one of the best tasting ones that we've ever had when it came to Indonesian food.
In fact, it was so good that we tried to get every bit of curry that we could and clean the heck out of its plate as well as the banana leaves that it was served in.
Even the beef rendang was quite good as we've usually had tough or dry beef when it came to this dish all the other times we've tried Indonesian food, but in this go, it was actually quite moist and good.
Then, Julie's chicken curry was pretty good, and we also got some kind of water spinach curry dish, which was also quite good (and we were motivated to get it due to needing to eat some greens).
Finally, Tahia ate up her mee goreng, and by the end of the lunch, we were all very satisfied, plus the bill was something on the order of around 420k Rp, which amounted to something like $30 USD for the whole thing, including the waters!
We knew that we couldn't get used to these prices forever, but we were quickly learning why people love coming to Bali, and we were also figuring out why it was considered a budget destination.
Upon wrapping up with the lunch, we also tried a small little kiosk shop that sold Massimo Gelato though their flavors were limited.
So we each tried at least a scoop or two, and I had a tiramisu flavor which Julie seemed to actually like.
When all was said and done, we were back in the car by about 11:15am, and now it was time to go check out some off-the-beaten-path destinations.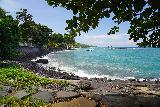 First up was the Candidasa Beach (which was actually pronounced like "chandidasa"), and we ended up getting there at around 12pm.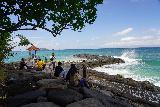 When we stopped there, we saw that it was busy with locals, but this place didn't really have a sandy beach.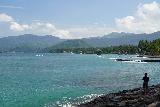 In fact, the water was pretty rough as it was surrounded by rocks, and it seemed like more of a fishing spot though there were local families here enjoying their day of rest.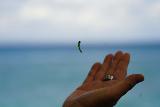 But it didn't take long before we got the flavor of this place, and we could see why it was really more of a locals hangout spot and not really a place for tourists.
So with that, we headed out and continued to pursue the Yeh Labuh Waterfall, which was also off-the-beaten-path.
We ultimately got up a narrow road surrounded by greenery in a jungle, where there was a road junction backed by some beat up part of a narrow road that made us wonder if we shouldn't proceed any further.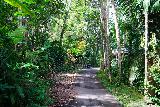 Well, after Adi talked to some locals that were passing by, they told us that we should continue further straight ahead on the road, where there was a narrow concrete driveway or something only suitable for scooters.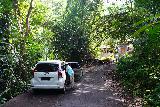 So Adi turned around at a neighboring shop at the dead-end, and then parked next to the trailhead.
We started our walk at about 12:45pm, and then we proceeded to walk down the concrete path as we made our way towards the Yeh Labuh Waterfall.
The road generally descended though it did undulate a few times as we went through the mostly jungle path flanked by a few homes.
Eventually, we got to the stream where there was a bridge spanning it, and at first we thought that the Yeh Labuh Waterfall was this disappointingly small waterfall just upstream from the bridge.
But it was clear that there was a continuation of a path that climbed alongside the creek, and then started approaching some kind of concrete structure backed by large letters saying "Yeh Labuh".
Just as I was about to descend past those letters and right towards the waterfall, I met some local blogger who was filming himself narrating something about this waterfall.
Indeed, this thing about blogging in Bali seemed to even inspire the locals to do it, and perhaps that's a good thing because this guy wanted to bring more awareness to the hidden spots like this one.
Finally at 1:10pm, I caught up with the ladies who were chilling out at the viewing area, which fronted some kind of shrine.
Upon looking at the waterfall, we could see that it was a very tall waterfall though it was also thin flowing.
The local blogger and his entourage went closer to the bottom of the waterfall, and some even scrambled up towards perhaps the base of the penultimate drop.
It still felt like this place was under construction as evidenced by the incomplete railings around the shrine as well as the water hoses and incomplete trails further back the way we came.
Anyways, at around 1:30pm, we made it back to the parked car, and when I finally made it back myself, I learned that Julie wanted us to check out the Bia Stugel Beach, which was totally unexpected.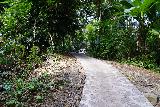 Julie told me that there were many tripAdvisor reviews about it, so I guess we mind as well salvage a quieter beach experience much to the chagrin of Tahia who really wanted to just spend time at the private pool back at the home stay in Ubud.
Adi was game to this unplanned excursion, and at 2pm, we ended up at the Bia Stugel entrance, which was at the end of a narrow road with limited parking.
We then proceed to pay the entrance fee and walk down to the beach via some path that was flanked by tall stone walls kind of reminiscent of exploring medieval castles in Europe or something.
Eventually, we got to a part of the trail where we had to leave the walled corridor and then follow a bush path leading down to the rather secluded beach complete with some food and drink stands with touting reps waiting to try to get peoples' attention to go into their business.
We ultimately didn't buy anything, but we were enjoying the beach and the colors of the water though it didn't take long before we realized that the tides were increasing as it was starting to become high tide.
So we spent some time just enjoying this beach experience though it was marred by Tahia chucking some sand ball at me and ended up hitting the camera and camera bag.
Since DSLR cameras and that pro-sumer Sony mirrorless camera weren't meant to tolerate sand, I wasn't too happy with what Tahia did and so I was concerned about whether sand might get into the expensive 24-105mm lens.
I spent some time trying to clean out the sand on the camera and the camera bag, and then I went ahead and proceeded to enjoy this place with the camera at risk, but nothing catastrophic seemed to have come from this careless action.
And then after having our fill of this place, it was time to walk all the way back to the waiting Adi at the Bias Stugel Trailhead.
We finally got back up to our driver Adi, who patiently waited for up when we got there at 2:40pm.
Our visit to the beach seemed to be right on the hairy edge of fair weather with the sun painting both the sky and the rocks around us.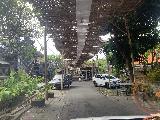 Nevertheless, we then resumed the drive back to Ubud though the traffic was way busier now than it was earlier in the day, and so it took some time before we finally got into the center of Ubud.
We first made a quick stop at the Delta Dewata Supermarket, where it was just Julie and I picking up some brekkie for our early start tomorrow, but we also got some Cleo water as well as some deli stuff in preparation for a picnic lunch should it come to that tomorrow.
Eventually at 4:15pm, we were done with the brief grocery run and headed back to the Suweta Homestay.
As we were back at our room and getting ready to go back down, Julie had this idea about celebrating Father's Day today with a proper dinner at a nearby joint to our accommodation.
We wound up having a dinner at 5:10pm at this place called Bu Rus, and it was kind of a hidden but quaint spot literally a couple minutes walk from our accommodation.
We would order things like crispy duck, mee goreng, BBQ ribs, and locally-raised chicken.
When we were done paying for the check and then heading back out into the streets of Ubud, it started to rain and so we briefly went back to the home stay to pick up some umbrellas.
But as we were making this move, the rain was coming down even harder, but we weren't going to be denied bgecause we wanted to see what the Ubud Palace as well as the other palace was all about.
Well, it took some time to find the Sura Surati Temple (sp?) by which time it was already starting to rain pretty hard and it was difficult to take pictures even under the shelter of our umbrellas.
And after having our fill of the Sari Surati Temple, we then walked back in the opposite direction towards the Ubud Temple, where we could go into the complex and take pictures, but by that time, it was now pouring buckets of rain!
Thus, we just took some hasty pictures and tried not to ruin our electronics in the downpour, and I'm sure our Ubud cultural experiences left a lot to be desired.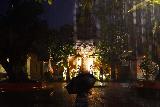 So we retreated to the Gourmet Gelato place and tried various flavors (where Julie and Tahia focused on sorbets) while I ended up with vanilla bean with ferrero rocher, and some kind of Oreo flavor that didn't even have Oreo cookies in them.
Compared to the Gelato Secrets, this place was more disappointing, but at least Julie got to try durian ice cream.
When we were done with our little gelato snack, we then had to back into the pouring rain to return to our room at the Suweta Homestay.
It seemed like the umbrellas were futile against the rain as my back was completely soaked as my attention was more on trying to ensure the camera wouldn't get wet to the point of being broken.
On one of the many steps leading up to our respective rooms, I managed to stub my big toe on one of the larger steps at the entrance gate.
This one hurt, and I was afraid to be losing a toenail similar to my opposite foot when I had kicked the ground at the Wave Pool in the Darwin Waterfront earlier on in this trip.
Anyways, when all was said and done, we were back in our room all dead tired from the full day of events.
Despite the somewhat random and unknown nature of the attractions in this afternoon, we still had to shower, I still had to blog or at least organize my photos and videos, and we also had to pack and get prepared for our early departure for the North of Bali tomorrow…
Visitor Comments:
Got something you'd like to share or say to keep the conversation going? Feel free to leave a comment below...
No users have replied to the content on this page