Day 12 (June 20, 2022 – Lovina Beach, Bali, Indonesia): "The Balinese Paradox"
It was 3:30am when I awoke, which was done without the aid of an alarm again, and I wondered how much longer are we going to benefit from the jetlag where we kept going back in time and therefore had earlier-than-normal wake-ups.
Yet even with the early morning wake-up, I tried to get all caught up on blogging and photo organizing as well as packing, and so I had to make do with what limited time I had knowing that we had to check out and leave for the day by 5am.
It actually took a little more time to do all the things we needed to do including have a basic brekkie, making multiple trips to clean out our rooms and load up the car, and so it wouldn't be until around 5:25am when we finally headed out.
I knew we had a full day of activities planned for today, but given how much drenching downpouring weather we'd been having for each of the last two afternoons, I wondered whether we would get through all our planned activities for this day.
By the way, Adi was off for today and so he had a friend of his fill in for this day, and his name I believe was Wayan.
He didn't speak much English compared to Adi, which made communications a bit trickier on this go, and this was kind of like our typical experiences when we had drivers who didn't have that command of the English language whether it was in India, Kenya, Thailand, etc.
Anyways, the drive through the pre-dawn darkness had a surprising amount of activity from other motorists and scooters as we were leaving Ubud to the west before finally catching onto the main road heading north.
However, given the language barrier, it was mostly a silent ride through the pre-dawn darkness before we started to get closer to the Nungnung Waterfall turnoff.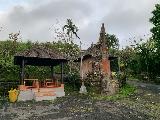 I swore that I had seen signs for the turnoff, but our driver managed to miss it, and so I told him that I think we had overshot the signed turnoff for that waterfall.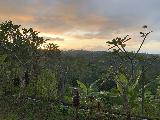 He ultimately backtracked, and then we took the correct narrow road down to a car park that was spacious.
During the approach on the small access road, we were getting a distant look at both Mt Agung and Mt Batur with both silhouettes clearly visible against the red skies of sunrise in the distance.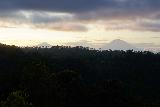 Once Wayan parked the car at the car park at 6:35am, it looked like this place wasn't open yet as there was no one at the ticket kiosk, and all the stands were closed.
So we just went to the far side of the long non-scooter car park for the morning view of both Mt Agung and Mt Batur, and then Mom and I geared up to go down to the bottom of the Nungnung Waterfall while Julie and Tahia stayed in the car to sleep.
Although we couldn't pay anyone to visit this waterfall at this time, Mom and I were encouraged to just go down and visit the waterfall before coming back to the trailhead to pay.
We started off by going down a sloping asphalt road before it flattened out and rounded a bend where we then saw an entrance that kind of concealed the first flight of steps to descend until we got around the obstruction.
And as we descended the first flight of steps, we immediately realized that the path was slippery.
Even though we were told that it was only about 15-20 minutes walk to reach the bottom of the Nungnung Waterfall, our experiences were that it was something way longer than that.
Heck, we noticed that throughout all the waterfalls we had been visiting to this point, the time commitment was typically 2x to 3x more than the original verbal estimates.
I wasn't sure why this seemed to be the case throughout Bali, but since I noticed how there were so many shops and stands that were starting to open up for the day, perhaps the gross underestimations of time commitment would make visitors complacent and do the walk unprepared.
Anyways, Mom and I went down one flight of steps after another, and I recalled the Wayan had said that he didn't recognize this path as there weren't any concrete steps some 26 years ago or so when he last did this hike.
He said that the trail was mostly steep dirt trail, but these days with the concrete steps, I guess that made the trail a bit more erosion-resistant and so we just had to take the good with the bad especially when wateralling in Asia.
The descent down steps continued with one flight after another interspersed with a handful of sketchy slopes since neither of us had good traction with Mom wearing her trail runners while I was wearing Chacos.
Eventually by about 7:25am, we made it down to the bottom of the Nungnung Waterfall, where we then proceeded to pose and document the experience, especially since we had this place all to ourselves.
That said, there was too much mist swirling in its enclosed cove surrounding its plunge pool, and so it didn't take long to have our fill of this spot before heading back up the many flights of steps.
At least with the return walk, even with the slippery footing, at least going uphill seemed to be a lot easier when footing was uncertain.
And so by about 8:15am, Mom and I made it back up to the car park as we were not surprisingly a sweaty mess.
And as anticipated, the ticket counter was open so we paid the entrance fee of 20k Rp per person that we weren't able to do at the outset of our excursion.
Next up, we then pursued the Bantu Lantang Waterfall, which was one of the more off-the-beaten-path spots in Bali.
The drive to get there was pretty short, and barely 25 minutes later, we wound up at the Pelaga Eco Park, which was apparently where the Bantu Lantang Waterfall was located.
That said, we kind of flew blind because there weren't signs specifically mentioning the Bantu Lantang Waterfall.
But at the car park for the Pelaga Eco Park, there was a guy offering a 4wd shuttle to get down to the warung at the bottom, which was where we were supposed to start the hike to the Bantu Lantang Waterfall.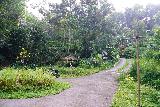 Since we were on a tight schedule, we ultimately decided to go ahead with the shuttle, though we were told that the shuttle was free if we wound up buying something at the warung below.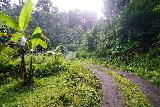 So we went ahead and did that with all the intention of buying something at the warung down there.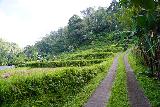 And immediately upon the 4wd going down the steep slope, we were glad of our decision to do this shuttle because walking this road (even if it was a modest 500m in each direction) and then back up the same way would have been another hot and sweaty affair.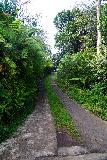 Plus, the road was quite steep, and it was the kind of the 4wd road that would really burn the thighs to make it back up.
Regardless, we eventually made it down to the warung at around 8:50am, and then we just followed the road down past the warung and towards the river, which sign had indicated.
However, as we were going down, Julie who was ahead of the pack, encountered a guy dressed in a yellow shirt saying that we were not going to the waterfall (if that was our intention, which it was).
So he ultimately became our impromptu guide for the Pelaga Eco Park, and he proceeded to walk us back towards the warung, and then up some steps alongside the left side of the warung.
It eventually went up to a trail with a waterfall sign pointing to our left (it was the first such sign indicating that there was indeed a waterfall here that we had encountered), and then we walked this narrow and muddy ledge path past some yurts for glamping towards the falls itself.
The guide's name was Janu and he seemed to really push for us to come back and see this place when a lot of the renovation workd would be done.
He indicated that there were hot springs here, and that he wanted to finish building out an alternate trail that was along the river to the Bantu Lantang Waterfall.
Anyways, I knew this place wasn't quite on the beaten path because its trail wasn't made of concrete like the other famous waterfalls in Bali, and that it seemed to lack overseas tourists in these parts unless they were staying in the yurts by the start of the hike.
We eventually made it to the base of the Bantu Lantang Waterfall, where getting a frontal view of the falls involved wading towards the middle of the river.
It was about 9:15am when we made it to the base of the waterfall, but we then followed Janu back to the warung after having our fill of the falls.
I learned while talking to Janu that this waterfall was also called the Goa Gong Waterfall, which suggested that it was situated in a cave-like alcove (which I couldn't quite see how so because we've seen other more enclosed waterfalls than this).
Nevertheless, I did recall noticing that there was a large boulder that looked like it might fall down eventually.
When we returned to the warung, we then ordered some drinks as well as a meal though this was more of a self-cooked meal ala Korean BBQ style.
Unfortunately, when the ladies made the decision to have a quick bite here, I didn't think they banked on how long it would take for the food and the drinks to come out.
Since we had a packed itinerary, there was a definite concern about not making it out to Aling Aling Falls before settling in on Lovina.
Nevertheless, we were committed to eating here since the order had already been placed, and so we ultimately decided to stick it out.
And the self-cooked food of chicken, fermented tofu, tofu, and some veggies definitely hit the spot considering that we had our brekkie at around 4am and now it was nearly 6 hours later which made some of us quite hungry.
We also had some delicious cold press juices while Tahia had some kind of milkshake and Mom had a coffee.
So when all was said and done at 10:40am, we were finally back in the 4wd shuttle to leave the warung and get back up to the car park about 10 minutes later.
Then, we continued with the day as we next headed to the Leke Leke Falls, which theoretically was pretty close but in reality wasn't easy to get to from where we were at because there were some water damaged spots to the road.
Indeed, with the low clearance passenger vehicle, Wayan had to be real careful about making it through the badly rutted and potholed spots of the road as we cut across towards Poyan and eventually the main road heading north.
Actually, he used Google Maps to navigate and it took us on a smaller road that avoided Petang, when it shouldn't have, but having used navigational software to drive before, I understood what that software did.
Regardless, we finally made it to the Lekeleke Falls trailhead by 11:30am, where it was along a narrow rural access road.
Once again, the whole family did this waterfall walk after paying the standard 20k Rp per person, and then we descended a trail that was actually not concrete for most of the way.
I actually preferred these kinds of trails because they were less jarring on our knees and ankles (especially with my swollen achilles troubles), and so we made it past a restaurant with a small sitting swing as well as a handful of more fruit and juice stands on the way down.
There was one guy in particular who was getting the sell on but he was a bit more slick about it by trying to engage us verbally knowing that we might just buy something from him so we could take a picture of his owl.
Actually, Mom tried to take a picture of the owl, but then she was told that it costed money to do that, and that kind of set up us buying something from him on the way back.
Anyways, this path continued its descent towards the river, where we saw a bamboo bridge going across it, and at first, I thought that we were following this main river downstream to the top of a waterfall.
But it turned out that the Lekeleke Waterfall's stream was on a tributary feeding this river, and so past the bridge, we deviated from the river and followed this smaller stream.
So the path descended more as we were now going upstream along this tributary and eventually after going past some returning foreigners heading back up, we finally arrived at the Lekeleke Waterfall at 12:05pm.
This waterfall was a little thinner than the other waterfalls seen to this point on the trip, but it still had good volume and it was actually quite refreshingly cool down here.
So we lingered here for a bit while also examining the cave-like alcoves nearby, which seemed to be a distinguishing feature of this waterfall though we didn't bother scrambling up to the misty plunge pool and that dark alcove.
We'd eventually have our fill of this waterfall, and then we made the sweaty climb back up while noticing that the weather quickly changed from hot and sunny to starting to see dark clouds overtaking overhead.
On the way back up, we saw the dude again who could see the whole action from his vantage point so he was already talking to us while we were still climbing.
When we got back up there, we spoke to him and asked to get one young cocunut though he was always actively trying to sell us on other things while up there.
It turned out that the single young coconut costed us 40k Rp, which was a rip off, and I learned right then and there that you never buy anything without a price written down.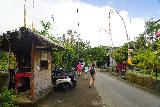 And if there isn't anything written down, then you always ask what the price is first before buying anything because then you have the ability to say no if you sense you're being ripped off.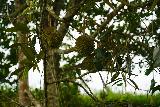 Regardless, by about 12:50pm, we finally made it back up to the car park after taking a restroom break at the restaurant just below the trailhead.
And then we were finally on our way to Julie's lakeside temple, which was called the Ulun Danu Beratan Temple.
Unfortunately, with the dark clouds overhead, we knew that it was going to be at least foggy if not rainy by the time we'd get to the temple, which was not ideal.
By about 1:30pm, we finally made it to the busy Ulun Danu Beratan Temple, which unsurprisingly was full of people (especially tourists).
And so we immediately got out of the car and proceeded to walk towards the temple area, where we went past a large open area full of pagoda-like towers and mini-temples.
Then, when we got past another one of the ubiquitous gates, we then saw that there were more attractive towers on small islands nearby the shores of the lake, which I'm sure would have been quite scenic under more benign weather.
But as we were taking pictures along the shores fronting the most attractive of the towers flanked by lillypads or lotus pads and fronted by colorful flowers, that was when it started raining.
And pretty much true to form, it started off as light rain, and then it quickly degenerated into heavier rain, and it eventually became a heavy squall where most of the tourists sought shelter.
We were only armed with an umbrella so our pants and probably back were getting wet, and I had to use a small broken umbrella where I prioritized keeping the Sony Mirrorless dry as well as the camera bag while allowing the rest of my body to get wet.
Eventually, the rain calmed down as we made our way back to the car, and we got there at 2:10pm where it seemed like the worst of the rains stopped momentarily and then the tourist behavior of running right to the choice photo spots happened.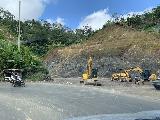 Next, we were driven to the Gitgit Waterfall as we went further north on the main road where Wayan pointed out some monkeys along the road that always were there.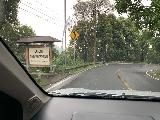 We also saw another lake as we continued climbing the road, which continued ascending then descending past some landslide areas as well as one spot where we saw the damaged bus that damaged other vehicles and killed one pedestrian a couple of days ago.
Then, the road descended past a handful of Gitgit Waterfall signs, but from tracking the progress on Gaia GPS, I saw that we were bypassing the other, smaller Gitgit Waterfalls each with their own names.
But we were targeting the main Gitgit Waterfall, and Wayan bypassed the main car park for it because he was taking us to the original trailhead by a bend in the road, which would cut the hike by at least 15 minutes (plus lots of steps) in each direction according to him.
By about 2:50pm, we got to the trailhead, where it was just Mom and I doing the walk as Julie and Tahia decided to stay in the car knowing that it might rain again.
And well, they weren't wrong because it was already starting to lightly rain when we got started, and then we went past some shops and a scooter parking area under a shelter before reaching a junction where we saw the many steps leading up to the official car park that we had bypassed.
Indeed, I understood what Wayan was talking about right then and there.
Next, we descended to a bridge where we then paid for the admission to continue to the Gitgit Waterfall, where we then paid our standard 20k Rp per person and walked a longer path that went around past some more shops (even though I noticed a shorter stepped path next to the ticket kiosk).
I kind of knew that the route was taking us past more touts along the way given the longer course, and I guess that shouldn't be surprising.
However, what was surprising was the persistence and annoyance factor of some of the touts, especially a couple of the kids who kept repeating the same thing over and over again but obviously not taking no for an answer.
Nevertheless, the silver lining behind these hawking stands were that there were tin roof shelters that we took advantage of when it was pouring rain during the walk (which was only 250m-300m or so from the ticket booth area).
Once again the weather finally started to calm down again as we made the descent to the Gitgit Waterfall, where there was another viewing shelter area as well as a shrine next to it.
We went as close to the waterfall as we could before the spray became too intense to document, and so we spent a few minutes down here at around 3:20pm before we finally headed back up just as there was another group of people coming down that was guided by a Balinese driver or guide.
On the way back up, we had to go through the same gauntlet of persistent touts, and it kind of made me realize that perhaps the North of Bali might be a bit poorer than the south, which I mentally thought about to justify the more aggressive behavior here.
I also wondered if some of this was organized crime that kind of forced the hand of some people to do this since there was no way a local would be able to manufacture and try to sell so many things populating their shops.
By about 3:55pm, we made it back to the car, and then the family talked me out of hitting the Aling Aling Waterfall, which was the last scheduled waterfall for the day.
However, with the unpredictable weather combined with the hungry mosquitoes being at their worst this late in the afternoon, I tried to think on my feet and consider doing the Aling Aling Waterfall on the day we would be leaving Lovina to go back to Kuta via the Blahmuntung Waterfall.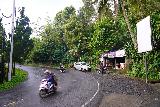 I also hoped that we'd hit the Tanah Lot Temple for sunset at around that time.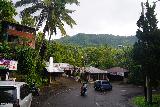 Anyways, we then were driven further down the mountain as the weather was rapidly improving the further down the mountain we went (even to the point of starting to see the mountains again), and we'd eventually get to the turnoff for The Lovina.
However, Julie realized right then and there that we needed to get some dramamine for the early morning dolphin sighting visit tomorrow morning, and so we stopped by the neighboring Swasti Medika Apotek to get the meds as well as itch-relief meds for the ladies who were struggling with mozzie bites.
Finally at 4:45pm, we made it to The Lovina, where we got checked in, let Wayan rest for the rest of the night, and then get shown to our villa, which was this gorgeous and spacious garden bungalow that was clearly next level compared to the humble home stay we were in at Ubud.
I swore this brought back Tahiti Garden Bungalow vibes as it had two outdoor showers, a large living room, two spacious bedrooms, and a fairly large private swimming pool.
That immediately brought the good vibes as I knew this was Julie and Tahia's thing, and I was glad that at least one of our accommodations was on the higher end of comfort given the cheaper cost of living here.
That said, I still had that underlying guilt of realizing that there was a good deal of poverty to enable such a disparity in cost of living, but at the same time, now I really understood why Bali was such a popular destination around the world (though especially for Aussies).
Anyways, after getting settled, we then went to the beach dining area for our dinner, but we happened to be there right when the sun was about to set.
So we enjoyed the sunset, but while we were taking pictures, we were being accosted by hawkers on the beach, which totally brought back Mexico and Jamaica vibes.
Anyways, we each got a different dish served up by the resort (I got mahi mahi, Tahia got satay, Mom got a soup noodle dish, and Julie got chicken), but the food was probably the worst of what we had on this part of the trip so far.
I always say that resort food is almost never good, and this proved that axiom so we didn't even linger around for dessert or other things.
By about 6:55pm, we were back at our villa, where Tahia and Mom were playing in the private pool while Julie was reading and I was busy trying to get caught up on all the blogging and photo organizing from the past few days of being behind.
The AC in the villa was quite chilly, and I was working probably until around 11pm when I still had stuff to wrap up on, but I just had to go to bed because I was fighting sleep.
And so I did that knowing that we had another early wake-up tomorrow in order to do the unplanned dolphin excursion…
Visitor Comments:
Got something you'd like to share or say to keep the conversation going? Feel free to leave a comment below...
No users have replied to the content on this page