Day 13 (June 21, 2022 – Lovina Beach, Bali, Indonesia): "Time Is Of The Essence"
It was about 4am when I awoke to the alarm, which turned out to be the first time in a while (that I can remember) that we actually woke up by the alarm instead of relying on our jetlagged state tow awake before the alarm!
But on this day, we were to do an early sunrise tour to see dolphins off the shore of the Lovina coastline so we had to get up as a family and I had limited time to get caught up on my backlog of work to do over the past few days of activities.
In any case, we met up with Adi again and were in his car by 5:35am, where he said that he had been up and driving since about 2:45am this morning!
It was only a few minutes drive to the beach where we were to meet up with the operator of the traditional outrigger boat (of course with the boats being motorized these days instead of manual rowing).
Once Adi introduced us to the operator, we then proceeded to put on life jackets and then boarded the boat from the front.
And it didn't take much time before both Adi and the boat driver pushed the boat into the water and the operator got on and started driving us out into the Java Sea.
Adi went back to his car to get caught up on sleep.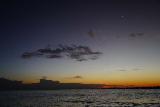 And so the boat took off and we were a little nervous about how close we were to the water as it was kind of bobbing as it was going further out to sea, but it was actually pretty calm water.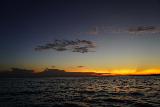 That said, every once in a long while, we did catch a wake in just the right way and we got a little splashed, but it was rare enough to make me confident to bring out both the Sony camera with the landscape lens and the Canon with the super telephoto lens.
Out in the distance, we could see organized thunderstorm clouds way in the distance flashing every so often with lightning, and we wondered if such clouds would come our way.
But other than that, it was turning out to be quite the beautifully clear day as the sun was coming up in the horizon and even showing us interesting radiant beams against the humidity in the distance.
Things started picking up when we saw more and more boats heading east along the Lovina coastline (probably about 30 minutes or so into our ride shortly after the sunrise), and then we started to notice dolphins coming up for breath before sinking back into the water.
It kind of got into this comical pattern where as soon as a dolphin pod was spotted surfacing for air, then the boats would flock to it, and then the dolphins would stay under water for a while before another pod would come up for air.
Some boats had participants that kept oohing and aahing, and I'd imagine that couldn't be good for spotting dolphins in peace as I suspected the dolphins probably didn't appreciate being stalked in this manner.
Anyways, without a fast camera, I know Mom and Julie had a hard time trying to get a proper photograph of the dolphins, and I even missed trying to capture any dolphins that were doing jumps (though not to the height of what we had seen in Kaikoura, New Zealand).
At some point, this whack-a-mole kind of pattern got pretty old as it seemed like the dolphins didn't feel like doing any more jumps or tricks (not that there were many that were doing this in the first place), and so by around after 7am or so, we then started heading back to our beach.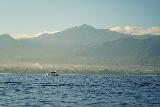 And by 7:40am, we were back though I think Tahia, Mom, and Julie were all drowsy from the dramamine though I it hadn't quite hit me just yet.
Once we met up with Adi again, we were then taken back to the Lovina where we could have our included breakfast, and only Mom and I would meet up with Adi afterwards while Julie and Tahia would stay behind at the resort.
So after the brekkie of some fried rice, fried veggies, stir fried veggies, some omelettes, and other usual western brekkie fare, we then got back to the room so Mom and I could get some stuff for our anticipated hikes, and then we'd be back with Adi by about 8:55am.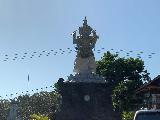 The next couple of hours was kind of a blur as I must have been in and out of consciousness as the dramamine finally kicked in to me, and so I couldn't stay awake the whole time.
But from what I was able to tell, Adi took the main highway back towards the temple before turning off and heading to the west towards a view of the twin lakes of Danau Buyan and Lake Tambligan.
By this time, I was now pretty much awake, and we stopped by some of the stands and tables here where some kid was showing off his pets of boa constrictors, monitor lizards, bats, and other exotic and local animals here.
But knowing that we'd have to pay to photo them, we just stuck to our guns and stood atop a platform for a regal view of both of the lakes (though not at the same time).
The skies at the time were nearly cloudless though we knew that once the afternoon rolled around, it was going to get cloudy and threaten rain, and it was already around 10am when we had gotten to this point.
Next, we continued the drive towards the Munduk Waterfalls, which I had anticipated would take a while, and upon descending the mountain road towards it, Adi and I were trying to figure out where would be the best place to get started.
After going down nearly as far as Melanting, we then went back up the road towards the Golden Valley Eco Cafe stop, which was a little before a larger car park by some Yoga Retreat.
But from looking at the dashed lines marking the trail on Gaia GPS, we opted to start at the one-car stop in front of a seemingly closed stand for the Golden Valley Eco Cafe at 10:50am, and then Mom and I finally got started on the hike.
It was already pretty hot, and we had descended some kind of narrow partially paved path that ultimately got down to the stream responsible for the Munduk Waterfalls, and we were dreading whether we'd have to go back up this way on the return.
You see, Adi and I couldn't communicate via cell in these parts so it was just safer to just come back to where we had started.
But given the terrain of this mountainside as it was sloping north, I started to understand that the Munduk Waterfalls were flowing downstream towards the north and west, and thus we were constantly descending.
When we got to the stream, I briefly explored upstream because Gaia said that the Golden Valley Waterfall was somewhere up there, but upon exploring that path, I got up to a set of steps by a yoga retreat, and I knew that this path didn't have a waterfall.
So I backtracked, and then Mom and I continued downstream where we got to the Golden Valley Cafe and then descended towards the first of the waterfalls, which I'd imagine was the actual Golden Valley Waterfall.
At first, I thought this was the Munduk Waterfall according to the markings on the Gaia GPS app, but then I realized that perhaps the placename "Munduk Waterfalls" really referred to the ensemble of waterfalls around the village of Munduk.
And so this was actually the Golden Valley Waterfall and we should really continue descending a ways to the Red Coral Waterfall, which according to my printout was actually the most impressive one of the lot.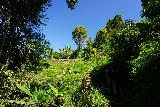 Knowing that the further down we went, the harder it was going to be to come back up to meet up with Adi, we continued going down at risk knowing that we were also running out of daylight as we were also hoping to hit two more waterfalls plus make up for the Aling Aling Waterfall not done yesterday.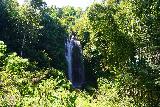 Nevertheless, we were already here, and Mom and I continued to make our way downhill as we encountered more signs pointing the way to the "next waterfall".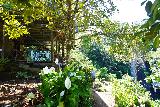 Eventually, after getting by another trail junction just past some bridge, we started to notice some interesting Luwak Coffee signs talking about the plight of the Luwak Cats.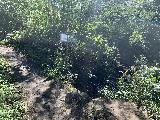 Apparently, with the rise in demand of the civet coffee, a lot of the cats are being captured against their will and being turned into "coffee bean" machines if you will.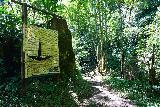 However, some local coffee joints here are trying to do the right thing by letting the Luwak go about freely as Nature had intended, and then collect the beans from the wild.
I dunno if this was propaganda trying to justify using the local growers in this region, but the premise did make sense if the aim was to not bastardize the "services" that Nature provides for perverse financial gains.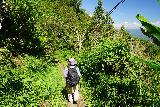 But given the level of poverty that I knew was presence throughout Indonesia, I figured that some people don't really have a choice on doing the right thing or not, especially with the way the financial systems are working worldwide by perpetuating perverse incentives to plunder earth.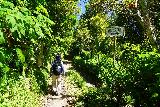 Anyways, we continued with the downward hike as we encountered a handful of motorized scooters mostly from locals using these trails as well as more foreigners doing the hikes.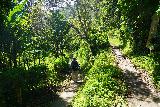 So indeed, this place wasn't as unknown as I had thought given the easy-to-miss car park situation as well as the apparent confusion of where to start the hike and how.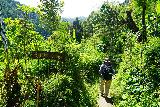 I guess most of the blogs that I encountered that did the whole thing advocated for going uphill from Melanting Cottages up to the Golden Valley area, but I'm thinking this hike would be much simpler going downhill and hitting all the waterfalls that way.
Anyways, by the time we got to the next junction, we then headed down for the final 800m stretch leading down to the Red Coral Waterfall, but along the way, we had to pay for a separate admission fee to get there.
That was when I knew that the Red Coral Waterfall was perhaps the best waterfall of the Munduk bunch because it was the one that required payment to access.
As we paid the 20k per person to go down, we eventually got down to the bottom of the steps and slopes to some interesting pair of bamboo contraptions that took water from some springs and then had enough collection of water to knock an adjacent bamboo to make noise.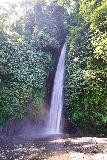 I guess that was the sounds that I had been hearing in the distance while descending, and it was kind of an interesting self-propelled contraption.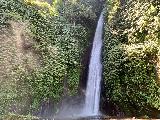 Anyways, Mom and I continued the final paces towards a man-modified lower tier waterfall followed by a very tall waterfall, which was the Red Coral Waterfall itself, and we got there right at high noon.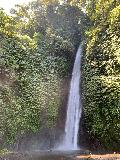 There were a handful of foreigners and locals who were guiding them, but for the most part, we were able to experience the falls even though the lighting wasn't the greatest.
I actually took advantage of the fact that I was wearing Chacos so I waded out to the middle of the stream and took a more direct look at the waterfall while filming the experience and trying to take advantage of what shadows there were as well.
Since it was already over an hour from when we had gotten started, we took some time to enjoy the cool mist from this spot.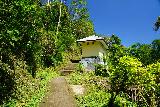 But when Mom and I had our fill of this place (as more foreigners were descending upon this spot), we had a decision to make.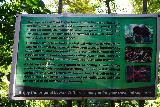 Should we extend the visit and try to hit up the remaining pair of waterfalls further downstream (including the Melanting Waterfall)?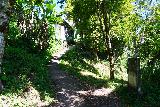 Or should we just try to trudge back up to the Golden Valley Eco Cafe starting point where Adi was waiting for us?
Or should we take a chance at trying to continue further downhill to the nearest exit point to the road and then try to catch a scooter back up to where Adi was waiting for us?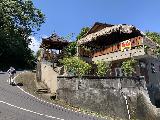 Mom and I ultimately decided on the last option since we didn't have time to pursue the rest of the Muduk Waterfalls, and we didn't want to hike all the way back up.
But the results weren't guaranteed concerning finding a scooter going back up, but we figured we mind as well try since the worst that can happen is that we'd lose over an hour walking back up along the road to where Adi was waiting.
Anyways, we'd eventually reach the road and we noticed that there was a warung across the street.
So we approached that local business and then asked if someone could give at least me or Mom to get a ride back up to Adi.
Eventually, we decided that Mom would stay behind and order something to drink while one of the ladies working here would scooter me up to Adi.
Riding the back of a scooter like this was a bit sketch, especially since I was carrying a lot of gear, but we did it, and the lady even had me hold her phone in selfie mode so I could film both of us riding the ride together.
Just minutes later, we got up to Adi, and then I joined Adi to follow the lady back down to the warung where we went ahead and bought another drink (I think it was like 80k total that Mom paid).
The people here were nice, and everyone had gotten a good laugh out of the experience.
Heck, even Mom was taking pictures of us pretending to ride the scooter together so she could forward the picture to Julie.
If ever there was a spontaneous and unexpected experience from an adventure, then this was it.
But seriously, if the local businesses here wanted to make serious money on the Munduk experience, they should consider offering a scooter service to the start of the track, and then do the whole hike one way downhill.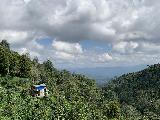 I wondered if we had parked down by the Melanting Cottages whether that would have been more of an option.
Regardless, I figured this would be a better way to make easy money for the locals instead of trying to hawk stuff that you don't need.
And with that, we continued onto the next waterfall at 12:50pm, and we definitely took less time than anticipated with this excursion (as I had expected to spend between 4-6 hours on the whole thing when I researched this hike).
And Adi drove us back uphill towards the Banyumala Twin Waterfalls, and this took us back up to the ridge where the views of the lake were but it didn't take long before we got to the signed turnoff that we were concerned with.
From there, we then descended a very narrow road that seemed more suitable to a high clearance 4wd vehicle, but Adi was able to navigate it slowly as there was grass growing up the middle while Adi kept his tyres on the concrete "rails".
Even though this drive was only 3km from the main road above, it took a bit of time especially when there were oncoming vehicles going up the other way.
Nevertheless, by about 1:20pm, we finally descended to the car park for the Banyumala Twin Waterfalls, and then Mom and I proceeded to walk down to the ticket booth, where by 1:30pm we now paid 30k per person to get down to the waterfall.
We also saw that they were charging 25k per person for a scooter ride back up, and since time was of the essence, we were quite receptive to that possibility since we still had another Banyumala Waterfall as well as possibly Aling Aling Waterfall.
Not only that, but we could already see that the clouds had rapidly organized and there were some threatening rain when doing at least this waterfall and possibly both just like it was yesterday at this time.
Anyways, Mom and I continued down the steep steps as we could see way down below that there was some infrastructure as well as part of the waterfall as seen through the forest.
The steps eventually got along the base of some cliffs where there appeared to be springs seeping alongside the trail to keep things cool a bit while also making the rocks a bit wet and slippery.
And the descent remained steep all the way down to the point that we were at the bottom at about 1:45pm, which was much faster than anticipated given how far things looked from the top.
That said, I'm sure the way back uphill will be a lot slower going.
Regardless, as we checked out the waterfall, we were pleasantly surprised at how big the falls was but we were also surprised that there were additional cascades all converging on the nice swimming hole at the base of the falls.
Indeed, there were way more than two waterfall segments (which the name of the falls would suggest), and it almost seemed like this spot was a convergence of waterfalls onto the attractive swimming hole.
There were a handful of foreigners here with their guides, and I guess we really understood what Adi meant about how some drivers were required to not only drive but to also do these hikes with their clients so they could get their social media shots.
That must be brutal for the locals who have to worry about the chaotic driving conditions (of which traffic lights were few and far between, and they routinely get ignored), and then have to continue to exert energy to do these hikes as well.
So Mom and I enjoyed this really scenic spot, and we definitely felt that the 30k they were charging per person was certainly reasonable.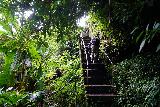 But once we had our fill of this spot, we then made the steep climb back up, where we made it up to the ticket booth at 2:10pm.
And then we went ahead and spent the cash (25k x 2 for 50k total) for each of us to get a ride back to the car park, which we got to by 2:15pm.
So that didn't take too much time, and we immediately headed back up the somewhat rough and narrow access road to get back on the main road, and then go 3km downhill to the Banyumala Amertha Waterfalls car park.
In this case, the road was way smoother, and so was by about 2:45pm when Mom and I started the walk to get down to what appeared to be a series of waterfalls here.
This place also charged 30k per person and we noticed that there were also a handful of foreigners here as well.
Moreover, we also learned that this place also had a scooter-back-up option, which Mom and I had all the intention of doing, especially since it was getting late in the afternoon.
And so we went ahead and went down a somewhat long semi-concrete path where there were blocks of concrete instead of a total continuous line of the stuff.
The walk went on for quite a while so I had a feeling it was going to be a brutal climb back up.
Nevertheless, we eventually descended down to a signed trail fork where going left led down to the first pair of Banyumala Amertha Waterfalls, and the fork on the right descended to the larger pair of waterfalls.
There were some locals there with scooters at the ready, and they helped to explain what our options were when we asked.
And so we decided to go down the left fork first, and it was but a couple of minutes or so when we descended upon an attractive wider waterfall while just opposite that one was a quaint thinner but taller one that you could actually go behind!
We got down here at about 3:45pm and explored the smaller back-of-the-falls one first, and then ten minutes later, we checked out the wider attractive falls, where we encountered some Indonesians visiting this falls though they didn't seem to be Balinese.
In fact, they were kind of an interesting young bunch where some were smoking and one lady seemed to be of the bossy demeanor, but regardless, they eventually headed back up and left Mom and I alone (though they did leave some litter at the shelter that they were chilling out at).
So Mom and I took some time to experience this spot, and we even noticed a continuation of the trail past the changing room here, but that degenerated into a bit of a muddy path that only went to some shrine and it wasn't a path to the remaining waterfalls.
Thus, we went back up to the junction and then proceeded down to the remaining pair of waterfalls where there was an undeveloped fork to our right that we punted for later while we continued down the main path towards perhaps the largest of the four (as evidenced by the concrete).
It seemed like this trail was still a work in progress as some of the concreted sections had new concrete while there seemed to be a new restroom facility being built while an old latrine shack was being demolished.
By about 4:15pm, we finally made it down to the bottom of the 4th or bottommost of the Banyumala Amertha Waterfalls, where we also got some views of the falls on the way down.
But down at the base, there was a little bit of a bridge where those locals we saw earlier were chilling out and having a swim, and I pretty much just got my shots long enough before a wave of foreigners also descended on this spot shortly after Mom showed up.
This particular waterfall was definitely more voluminous and wider as well as taller than each of the prior waterfalls we had encountered (though we still had yet to see the 3rd one that we punted for later), and it was hard to fit it all in one frame of the camera.
Nevertheless, there was also just enough sun showing up to produce a faint rainbow to the left side of the falls, and we were savoring our experience here before we knew we'd have to climb back up to at least the junction eventually.
Once we had our fill of this spot and let most of the foreigners and the locals be down below, Mom and I then went back up the steps and the yet-to-be-finished trail, and then got up to the unsigned junction where we then descended this steep path to the last waterfall.
This path was rootier and definitely muddier, and I'm sure it was still a work in progress, but when we got down to the bottom, we saw a four-segment waterfall that was quaint and intimate, especially since it seemed most people missed this one.
With the afternoon sun persisting now, the lighting also wasn't ideal here, but it was still a nice spot to chill out for a bit before finally heading back up.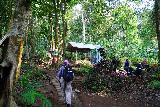 By about 4:30pm, we made it back up to the signed trail fork, where there were still a couple of guys in scooters available for the ride back up.
We paid the 60k for the both of us and Mom went back up with the first scooter while I sat in the scooter behind another guy next.
But in our case, we actually struggled in some spots since I was carrying gear so the scooter struggled on some of the uphills the guy actually had to do a bit of a motor-aided walk while I even got involved with the foot power as well.
So it took a bit of time to get all the way back up, and this ride was both longer and sketchier than the last.
Heck, the driver even told me to lean forward and hold onto him so I wouldn't fall backwards, which made for an interestingly awkward moment.
But hey, you gotta do what you gotta do in the name of safety, and eventually we'd make it back to the car park by about 4:35pm, which got a lot of reaction from the locals up there.
They were wondering what took us so long, and what I explained that we had to use some human power to help the scooter along, everyone got a good laugh.
Anyways, we then took off, felt good about helping the local economy here, and then made our way back down to The Lovina via a shortcut that Adi was more familiar with here.
Eventually by about 5:45pm, we were reunited with Julie and Tahia, and we all headed straight to dinner, where Adi picked a spot called Sunya, which was a local seafood joint that he'd take his family to.
Adi joined us for this dinner, and we briefly caught the sunset on the beach (glowing beneath some clouds in the distance) before Adi realized that there were a lot of birds overhead and worried we might get pooped on ourselves as well as our food.
And so we moved tables and sat closer to the kitchen, where we then had ourselves a helping of a large fish, some squid, some fried shrimp, and some sambal as well as some spicy veggies.
It was a filling and satisfying meal, and the kicker was that the whole thing costed like 367k, which was on the order of like $25 USD!
This was kind of reflective of the cost of living disparities in Indonesia compared to what we're used to, and I wondered at some point if local Indonesians might be resentful of these disparities.
That said, I know our driver seemed appreciative of his gig, and the locals working here seemed appreciative of the business we were giving them.
Anyways, with that, by about 7:20pm, we were back at the resort, and Adi could finally rest for the day.
He intended to take us to a different restaurant which was another local joint but fancier, and we'd get to do that tomorrow night.
But in the mean time, we got to spend the rest of the night in our respective accommodations (and Adi got to stay nearby on The Lovina property), and I even got to join Tahia and Mom in the private pool for a bit.
But by 8:30pm, we were back in our room to finally get cleaned up and to tend to some duties regarding getting stuff off the memory and into the hard drives as we wound down this day.
We hoped to be able to better enjoy this property tomorrow after another divide-and-conquer waterfalling day, especially since Julie and Tahia showed off their spa and manicure/pedicure job (especially Tahia), which got Mom to book a 6pm one tomorrow.
Visitor Comments:
Got something you'd like to share or say to keep the conversation going? Feel free to leave a comment below...
No users have replied to the content on this page