Day 14 (June 22, 2022 – Lovina Beach, Bali, Indonesia): "Better Understandings"
It was 4am when I awoke to the alarm for the second day in a row, which suggested that perhaps we were getting more adjusted to the Balinese time zone as opposed to relying on being jetlagged.
Well, at nearly two weeks into the trip, I guess our body clocks had better be adjusted though we're going to be getting back a couple hours of that time by the time we'd get to the east coast of Australia.
In any case, I felt like that as much as I wanted to sleep in, I still had some errands to do regarding getting caught up on the blogging and the photo organizing, and so it took a bit of time to tend to those duties.
And so when the ladies got up and did their thing to get ready, I pretty much used up all the three hours before it was time to go to breakfast at 7am.
There were a few twists to some of what was presented at today's brekkie, but since we were one of the first to show up, it was actually pretty quiet, which was nice.
I know Mom and I tried to load up on the brekkie knowing that we weren't going to stop for lunch on this day, especially given that Mom had a 6pm appointment and that we also wanted to fit in a dinner before her appointment.
Eventually after the breakfast was done, we headed back to the room to get ready for the day as well as to try to tend to any bathroom duties (since it's harder to do it while you're hiking, especially if you have to #2), and then by 8:10am, Mom and I met up with Adi and headed out.
Unlike yesterday where the dramamine apparently made everyone drowsy eventually (I succumbed during the long drive to Munduk), both Mom and I were pretty wide awake during our drive out to Sekumpul.
During the drive, it seemed that once we got past Singaraja, Adi took one of the roads going inland, but apparently the roads had gotten progressively narrower as his Google Maps must have taken him on some smaller roads due to shortest distance.
It culminated in one steep uphill section where his car couldn't quite make it and had to back up and then get some momentum before turning the opposite direction we had to go on the main road and then making a three-point turn to get back in the right direction.
Having seen that we had deviated from the main road on my Gaia GPS, I realized that he took a street from Kerobokan and up through Jineng Dalem before eventually making a turn to the very narrow street at Suwug and ultimately back on the main road at Bebetin.
In hindsight, he could have stuck to the main road all the way to Paken from Singaraja, and then gone up the main road through Giri Emas all the way through to Bebetin and ultimately to Sekumpul.
Having noted that, we knew to ultimately return back this way on the way out to make life easier.
Nevertheless, by about 9:15am, we finally made it to the car park for the Sekumpul Waterfall, and at this point, we had a choice of which trekking package to take.
Each of the packages involved hiring a guide and having a pick of visiting just the Sekumpul Waterfall in the short package, visiting both the Sekumpul Waterfall and Hidden Waterfall in the Medium Package, and all the prior waterfalls plus the Fiji Waterfall in the Long Package.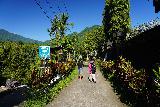 From looking at the pictures at the signs at the ticket booth, it didn't seem like the longer options were that attractive, especially when you consider the prices were like 100k per person for the medium package and 200k per person for the long package.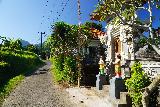 But since we were waterfallers and we had to go for the full experience, we made the executive decision to just go for the big package, and so this hike amounted to about 400k for both Mom and I (which was like the price of some of our dinners or roughly $28 USD).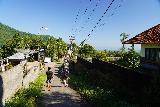 That actually made this excursion on par with some of the prices you'd have to pay at European and Canadian National Parks to enter though it was probably more expensive than some specific National Parks in the USA (which I think severely undervalues its natural treasures).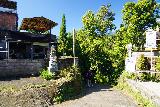 Nevertheless, we knew that the local communities had every right to charge what they feel was necessary especially given the cost-of-living and income disparities between the Western World and in developing countries like Indonesia.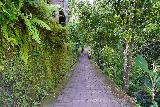 And so whinging about a handful of dollars (even if it was an order of magnitude more expensive than some other waterfalls) wasn't really a fair thing to do.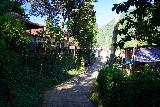 After all, the Balinese are people just like we are, and they have every right to live in relative freedom just like we do.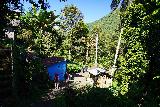 They're not servants serving the needs of people with money (even though many of them really appreciate the business we'd provide for them, especially given the levels of poverty that we know happen in these parts of the world), and we should respect that.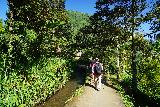 As much as I realize that Bali is a very popular destination mostly because you can do things very cheaply, and it seems like the world blogs about this place, it doesn't give you the right to be assholes to them.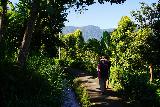 So Mom and I didn't mind paying what was asked for and we went for gusto.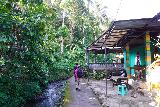 Thus, we were given wristbands, and then Mom and I followed our local guide Benny (sp?), who was a younger guy that spoke very limited English, but he was our "English-speaking" guide.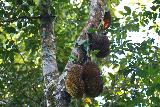 He knew just enough English that we could make simple questions and requests, but knowing this, we let him initiate the conversations and only if there were things I was real curious about did I make inquiries but tried to get them to be as easy for him to explain as possible.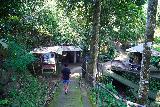 Anyways, we started off by walking along a side street that went by some ubiquitous warungs as well as some distant views towards the ocean (since we were higher up the slopes of the mountainous north) before veering to our left as it went downhill on a narrower scooter path.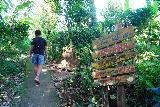 We then followed this narrower road past more warungs with people patiently there encouraging us to have something to eat or drink along the way though they weren't as pushy as say some of the touts at Gitgit.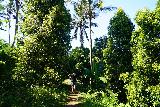 I have a feeling that the high entrance fee price that we paid at the outset kind of made these vendors less desperate and thus the walking experience was a lot more pleasant.
Anyways, we'd continued following the concrete path as it descended towards some irrigation ditches flanked by some farms (where they even had a cow) as well as some rice fields and even a jackfruit tree.
And then we descended to our first glimpse of the Sekumpul Waterfall from an overlook at 9:55am, where we could also see Fiji Falls to the far right, which looked significantly smaller than the main Sekumpul Falls.
From there, we then descended a series of steep steps (which was now quite par for the course of all the Bali Waterfalls we've encountered), and this happened for quite a while.
In one stretch, we made a turn at a landslide that seemed to have wiped out an older trail and so they re-routed the trail in a switchback that ultimately got us to a series of blue-painted metal steps.
From this vantage point, we got an even nicer view of the main Sekumpul Waterfall but from looking at its base, there was a lot of mist down there.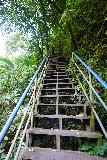 We also noticed that there were also some foreign tourists there, too, so we realized that we weren't the only people here.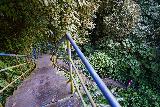 In fact, there was a couple guided by a local that caught up to us and passed us around this stretch.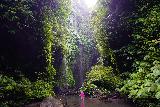 Anyways, we continued further down the steps and then got into a well-shaded jungle path, and just past some small shrine was an unsigned fork.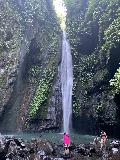 Benny took us on the deviation by veering left and heading towards the Hidden Waterfall first, and it didn't take long before the path reached a stream crossing as the scenery opened up and presented a gorge flanked by tall walls towering over us.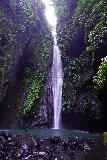 Right off the bat, we could see that there were thin waterfalls draping into this gorge, and as we continued scrambling on the slippery wet rocks upon going past the initial stream crossing, we started to notice more waterfalls coming down.
By the way, on that initial stream crossing, I noticed some frogs in this area, which was kind of cool to see.
Then, as we got to the dead-end at the end of this narrow gorge, we saw the much higher volume Hidden Waterfall after seeing maybe two or three thinner waterfalls fronting it along the wall to our left.
There was also another spring coming down the wall to our right.
And already Mom and I were quite impressed with this Hidden Waterfall, and I could totally see why they called it this way since we couldn't have seen this place from the overlooks above, and you couldn't even see the main hidden one until you went all the way to the end!
We got here at around 10:30am or so, I think, and there were just a handful of people down here, including that couple that passed us and went for a swim before the Hidden Falls.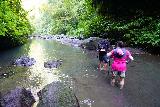 After having our fill of this spot, we then went back out the way we came (again trying to be careful not to slip and fall with all the wet rocks), and we also stopped to see and get a picture of one of the frogs that I had noticed earlier at the stream crossing.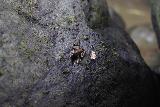 Then as we were back on the narrow path beyond the stream crossing, we encountered a pair of Caucasian ladies guided by a local going in the opposite direction, but they didn't seem terribly courteous about giving space to pass.
When I realized this, I just stopped and tried to let them through, but the latter lady had this disgusted look and said in a Russian accent, "Just go" when she didn't leave me much room herself.
It kind of brought to mind how Russians have this reputation of being some of the rudest tourists, and I guess that was my glimpse of how some can be this way (though you could also say the same thing about "ugly Americans" as well as pushy Chinese).
But with the way the invasion of Ukraine unfolded earlier this year, I'm pretty sure a lot of people are sour on Russians (whether fair or not), and this moment kind of seemed like they really were the "bad guys".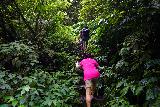 Anyways, we then made it to the much busier Sekumpul Waterfall at 10:55am.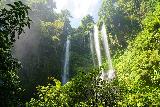 At this spot, the lighting was a bit harsh as the morning sun combined with the more intense mist from the waterfalls themselves really made taking pictures and videos here a bit of a challenge.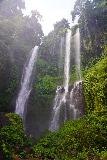 It was also getting pretty hot as the intense sun was beating down on us, but at least the swirling mist from the multi-segmented waterfall helped to offset the heat.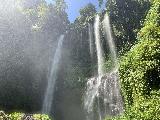 So after having our fill of this spot (as we weren't interested in getting wet directly underneath the waterfalls as this group of young Asian dudes were doing), we then embarked on a bit of a longer scramble and hike towards the Fiji Waterfalls.
We weren't sure why they called this waterfall Fiji, but when we asked Benny, he said that it was the name of the local village here, and it had nothing to do with the island nation in the South Pacific.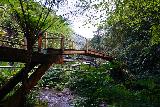 Anyways, this path to the Fiji Falls was definitely a bit more involved as we had to go through another stream crossing after traversing some more wet and slippery rocks, and then we approached a warung next to a bridge that seemed to have been damaged or destroyed.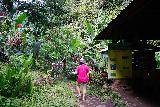 Upon noticing that there were steps on the opposite side of the stream seemingly leading back up, upon asking Benny, he said that the landslide that wiped out the trail going down would have ultimately led to these steps and the bridge.
So I guess, getting to the Fiji Waterfall might have been significantly easier had the landslide not have occurred.
Nevertheless, after getting past the bridge and warung, we then followed the rough path further upstream towards another wiped out bridge.
This time, we had to do a rope-assisted stream crossing that got to about shin-deep though I was a little concerned about getting my pockets wet (my phone was in it), but we got through that without issue.
The path then continued further upstream before crossing the stream once again, and then we followed a slippery rocky path up to a bridge that fronted the Fiji Waterfall, which looked much bigger up close than it did from the lookout way back up top.
But when we got to the bridge fronting the waterfall at about 11:30am, that was when we realized that there were two more hidden segments of the waterfall on either side of the visible one.
And that was when I realized that this excursion to the Fiji Waterfall was way more than just a waterfall add-on to the Sekumpul Waterfall.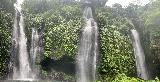 In fact, it was totally legit in its own right, and that ultimately planted the thoughts in my mind that Mom and I could very well have just experienced the best waterfall excursion to be had in Bali!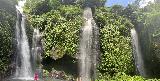 Of course, it was already pretty good to just do the Sekumpul Waterfall, but the unexpected surprises at the Hidden Waterfall and now the Fiji Waterfall just really made this excursion over the top next level great.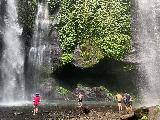 And now looking back at the seemingly expensive price (and I use this term in a relative sense since it was 10x more than the typical cost of most waterfalls), it was totally justified and worth the expense in my mind!
The same dudes that were getting wet underneath the waterfall at Sekumpul also showed up to here when we did, and they took time getting underneath the leftmost waterfall of the three segments.
In the meantime, Mom and I were savoring this experience, and Mom kept insisting that Julie and Tahia missed out as they were living it up at the Lovina.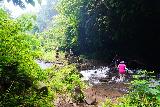 But knowing them, they might have been complaining about the steep steps and the fact that we had already spent over 2 hours down here (and we still had to make it back up).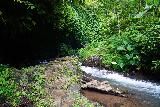 Nevertheless, the rewards to be had here was complete, and now it was time to head back up to the car park.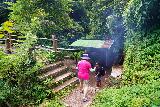 On the way back out, we had to go through all the same stream crossings again, and upon noticing remnants of a bridge in the stream that I hadn't noticed earlier, I asked Benny when this bridge got washed out.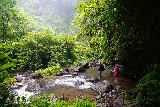 He said that it happened in 2020 (and I wondered whether that landslide that happened also happened around the same time because that would have been amazing that in such a short time they made a new concrete path with steel steps!).
Anyways, along the way back, we passed by the Sekumpul Waterfall again, but now the lighting was way better because the clouds suddenly overtook the clear blue skies by this time.
And so the sun was momentarily blocked for quite a while as I tried to document this spot one last time before heading back up with Benny and Mom.
As I approached the blue steps, I could see that it was going to be a long way back up, but with the sun continuing to be blocked, I saw that Mom and Benny were already at the bend with the nice elevated view of the falls.
And so I quickly made my way up there so I could document the waterfall under better lighting all over again.
But at the same time, I did wonder about whether we might get rained on at Aling Aling, which was the next waterfall for the day (and I was glad that we wouldn't pursue the Carat Waterfall as we simply didn't have the time).
Nevertheless, I lagged behind due to the photo taking, but I'd eventually catch up to Mom and Benny as we were pretty much back at one of the upper lookouts.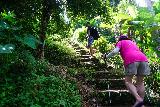 Upon noticing that there was fencing at the very top of the Sekumpul Waterfall, I asked Benny what was up there, and he said that it belonged to a neighboring community or village and was not part of this excursion.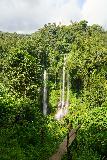 With a nodding of understanding, we then went up the last of the steps before we descended to a pretty busy shack where there were now more people and more motorized scooters.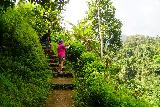 Benny said that our package included a ride on the scooter back up to the car park, and given the amount of climbing we did to this point, that was quite a welcome thing.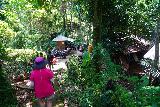 By the way, this was our fourth excursion in a row where we got to scooter back, and as much as I realized how this was kind of cheating and not exactly eco-friendly, time was still of the essence.
Speaking of cheating, as we made our way back, we were also zooming past some other tourists just making their way down (so this place was definitely quite well-visited though not nearly as busy as the waterfalls near Ubud).
And I'm sure they were giving us this "you gotta be kidding me" kind of look as we were zooming past while each party watched as they gave way.
So Benny and his driver along with Mom and her driver were way back at the car park, once again with me and my gear, it took a little longer because there were a couple of steep uphill stretches where some human propulsion aid was necessary.
I guess that kind of underscored how much heavier I was with all my gear (it must have been on the order of 220 pounds or more, I reckon), and perhaps how much more my knees and feet were taking abuse.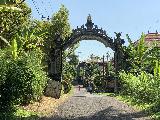 Regardless, by 12:30pm, we were finally back at the car park where Adi was patiently waiting for us, and now we could head towards the Aling Aling Waterfall.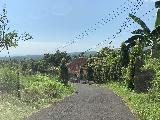 Throughout this part of the drive, Adi, Mom, and I were all making small talk, but at some point, we were talking about making websites, which was something that I knew a bit about.
And then we got into the psychology of the consumer as well as how Adi had a valuable skill with his command of English after seeing how most other Indonesians we encountered really struggled with the language.
So I was willing to offer him some coaching about the website stuff should he want it after our trip was over, but upon small talking about psychology, I mentioned to him how Google, YouTube, Facebook, etc. all had algorithms that served up individual search results and suggestions.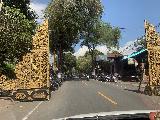 I mentioned the Social Dilemma to him if he has access to Netflix, and how that relates to how the search engines can be used to break down the ability to have reasonable conversations (even if there are differing opinions) to each other.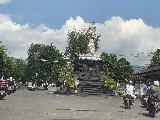 But it was also the same mechanism by which you can try to make money online, and it's why we noticed (as we as him) that there were so many bloggers blogging about Bali.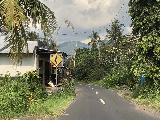 I also told him about Google Analytics and how you can get intel on what your audience is looking for, and how Wealthy Affiliate Training helps you to take advantage of this intel for your own business.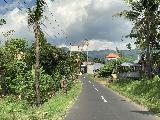 We'll see if he takes me up on my offer to coach him, but he sounded very receptive to this idea, but it really made the time go by quickly, and before we knew it, we were at the car park for the Aling Aling Waterfall at 1:30pm.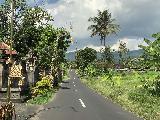 Along the way up the narrow and potholed road to get there, Adi noticed that Krishna seemed to own this waterfall as well as much of the surrounding area.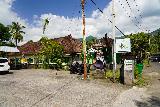 He told us that Krishna was a rags to riches kind of story where he started off doing small jobs and now has become one of the most influential Indonesians today.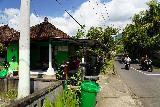 Anyways, upon looking at Gaia GPS, we saw that there was a shorter trail to the Aling Aling Waterfall, but apparently that shorter path was closed for some time.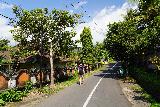 And so we were at the right spot, where we were actually closer to the Kroya and Kembar Waterfalls and we'd have to walk upstream to the Aling Aling Waterfall.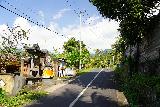 Nevertheless, we paid the entry fees, and since we had no interest in swimming, we paid 25k per person and not the 125k you'd have to pay if you're swimming.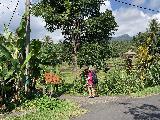 And so Mom and I got moving straight away and went up the road before we encountered a rice field.
Although there was a sign here before the rice field going towards the river, it didn't say anything about the waterfalls (saying something about "Pondok Kunang Kunang 50m) so we weren't sure whether to keep going or not.
But upon seeing how Mom went past the turnoff and kept going up the road, one local lady clapped her hands and said "Hey!" to get our attention, and she pointed to our left suggesting that this was indeed the correct way to go.
So given that we then took this path across an irrigation ditch and then up some residences and past a couple of warungs as well as a barking dog, and then we got up to another warung where there were more people chilling out there.
The locals here seemed to know that people tend to go into the Pondok Kunang Kunang and they quickly sensed our hesitation and said to go on the other path leading past that property.
I'm sure this place could use a few more signs so people wouldn't be as confused or miss turns here.
Nevertheless, we were then on another concrete lined path with attractively distant views towards the ocean as well as the jungle-fringed gorge below.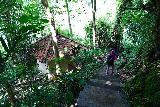 The path then got to a signed junction where going down led to Kroya, Kembar, and Pucuk ("puchook" as the "c" in Balinese has a "ch" sound) but curiously the path going upstream didn't have any signage.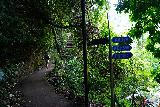 Well, I knew that it was going to the Aling Aling Waterfall, and I decided that we should pursue that waterfall first before coming back to these other three waterfalls seeing that we're running out of time for dinner and Mom's appointment back at the resort.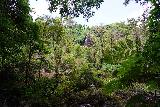 So we pursued the concrete path further upstream along the jungle beyond the brink of the Kroya Waterfall while also noticing another side waterfall dropping across the main river or stream.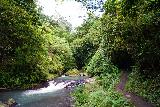 It didn't take long before we encountered a large group of people gathered before some side waterfall spring just past another trail junction where there was a steep path going back up (making me wonder where it went before I realized that that might be the old shorter trail to get down here).
Going where the large gathering of people were, both Mom and I got a lot of attention here, and it seemed kind of unusual for what I assumed was a large tour group or something.
But something seemed different about this group that I couldn't put my finger on, especially since some of the younger people here were smoking while others looked like either tour group leaders or officials or something.
Anyways, Mom and I squeezed our way past this gathering, and then we went to the Aling Aling Waterfall, which was a gushing tall waterfall with a rainbow at its base (so we timed our visit just right).
We got here at about 2:10pm, and we savored this experience for a bit though we didn't get too far out onto the wet and slippery dark rocks at the bottom of the steps.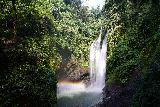 After having our fill of this spot, we went back up the steps and then went back through the large gathering of people again, but this time, some of them were gathered in circles with someone in each group explaining something.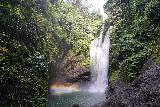 At this point, I knew that this couldn't be a tour group, and so I asked some of the people towards the end of the group by the old trail what this gathering was (since they were curious about where I came from and I returned the curiosity).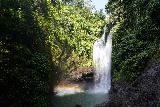 They said that this group was actually a research group studying the geology of this place.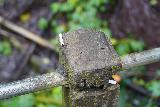 One guy said that the spring with a small waterfall going down rocks next to the trail was actually mineral spring water.
And so I confirmed with them that all of these people were government workers, and I guess that kind of made sense considering the somewhat official-looking dress code of some of the more senior people though the younger ones seemed just like any other local.
In my mind, I wondered if you really needed this many people (there had to have been at least 2 dozen or so of them) to study geology in this one spot, but maybe they're training up the next generation of researchers and local advocates of the community or something.
Or it could be bloated government kind of like what we've been seeing back at home in the US.
Regardless, Mom and I continued with our visit as we returned back the same way we came (almost thinking the steps above was the trail when in fact it was the old trail that was closed), and we ultimately got back to the signed junction again.
This time, we descended these steep steps and then encountered the first waterfall downstream of Aling Aling which was the Kroya Waterfall at 2:40pm.
There were some interesting signs flanking what seemed to be a concrete diving board or something as apparently it seemed like you could do a cliff jump from this platform in front of this waterfall.
There were also rope apparently helping you get back up to this platform though everything about this seemed sketchy for most tourists.
Anyways, this diving board provided a nice little photo op for Mom and I to take pictures and document this smarter but gushing waterfall, and then we continued our descent.
It didn't take long before we descended to a bridge over the stream leading to an "island" with a shrine on it as well as a downward view over the top of the Kembar Waterfall.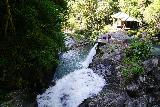 This waterfall looked to be segmented but from the bridge, we could also see the Kroya Waterfall again.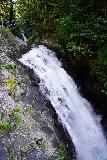 On the other side of the bridge, we had to scramble a little on some potentially slippery rocks before we then encountered a rather sketchy stream crossing with a submerged dark and very slippery rock to stand on.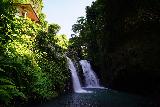 It looked way too dicey (especially with all our electronics) to try to cross this stream on our own by balance alone (using a dry bag here might have been easier), but then I realized that I had brought trekking poles too.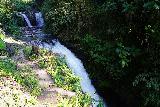 So I got it out of my pack, and then extended it so I was able to make myself be a four-legged animal and have better balance.
Once we got past that crossing, we then were able to descend further and get more frontal looks at the dual-segmented Kembar Waterfall.
Further downstream, we could see that there was the next waterfall's brink, which we knew must be the Pucuk Waterfall, and we wasted no time going down towards that one.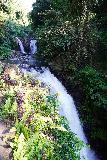 However, when Mom say how steep the steps were to descend to the base, she opted to stay up by another "diving board" while I made the scramble down towards the bottom.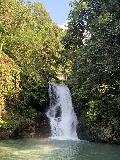 Once I got down there, I had to make another somewhat sketchy crossing of the stream, but at least it wasn't so deep and the water was clear enough that I was able to make my way across without trekking poles (Mom held mine up there).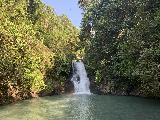 So finally I was able to experience the Pucuk Waterfall and then have my fill and head back up by 3:15pm.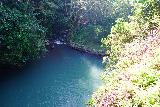 Upon getting up to the top of the steps, I saw that there was one guy doing a suicidal cliff jump down to the base of the falls in front of another couple that was there.
They informed me that there was a water slide up near the shrine that we encountered earlier (which I didn't realize was the case regarding the small waterfall there), and so I rejoined Mom and we briefly checked out the views from before the sketchy crossing.
Right then and there, we noticed that there was a monkey that climbed onto a pillar flanking the shrine though I was so concentrated on getting across this stream that I didn't get a chance to take a photo of it.
And when I got back across the stream to rejoin Mom, the monkey went back into the tree and could only get a less satisfying partial view of it in a photo.
Oh well, you win some and you lose some, but regardless, it was getting pretty late now, and we had to get back to Adi to ensure we'd have dinner soon enough before Mom's appointment.
So eventually by 3:45pm, we made it back to Adi and the car, and then we made our way back down the busy streets of Aling Aling to the even busier streets near Singaraja.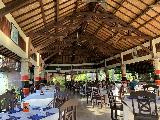 Eventually we were back at the Lovina at 4:15pm, where we got Julie and Tahia, and ten minutes later, we were all on our way to the Aditya Resort.
This was Adi's other restaurant suggestion, and we were looking forward to it.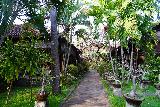 When we showed up at 4:45pm, it seemed a little early for the dinner, but they were able to accommodate us.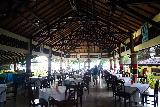 However, when we looked at the menu, it was rather limited in selection, and none of it was seafood.
Anyways, we just stuck it out with the meal here, and we each got some basic stuff like Nasi Goreng, Mee Goreng, Cap Cay, etc., but we forgot to get Gado Gado.
Regardless, the food here was probably the most disappointing that we've had on this trip (kind of perhaps being worse than our dinner last night at The Lovina), and I guess the silver lining was that this whole meal was barely around 220k (barely $16 USD).
Anyways, with that being done, we were back at the accommodation at 5:45pm, and it was just in time for Mom's pedicure and manicure appointment.
She also booked a massage at 7:30pm and so with that we pretty much wound down the day, where I even indulged Tahia at the large swimming pool at 6:30pm, and we all pretty much just chilled out and tried to enjoy the spacious villa at the Lovina for one more night.
Tomorrow, we're to hit our last Balinese Waterfall while heading towards Kuta for the final three nights of our Bali interlude before returning to Australia for the final long leg of our Summer trip.
Julie and I knew that we're going to miss this place as Kuta's going to be a bit tighter and much busier considering that we're all going to have to fit into a hotel room.
And so ended this our last full day of Northern Bali, where it was so full of pleasant surprises as well as a few not-so-pleasant ones, but it kind of comes with the territory as far as I'm concerned when you go on adventures like this…
Visitor Comments:
Got something you'd like to share or say to keep the conversation going? Feel free to leave a comment below...
No users have replied to the content on this page