Day 15 (June 23, 2022 – Kuta, Bali, Indonesia): "A Case Of Mistaken Identity"
It was 4am when I awoke to the alarm again, which made it the third day in a row that I got up from the iPhone.
I wasn't sure if this meant that now I was fully adjusted to Balinese time let alone the Australian time zone, but regardless, I had some work to tend to.
Thus, I spent the next few hours doing what I needed to get done from packing up my luggage to getting right on to getting caught up on the blogging and documentation organizing.
And thus the time flew by as the ladies got up with Mom getting up some time after 5am and Julie and Tahia finally getting up after 6am.
Then, we finally had brekkie at around 7:15am which was later than I would have liked because I knew that the dining area would be full of people, and sure enough, that was the case.
Anyways, there was nothing new with the brekkie, and then we were back in our room before 8am, where we then tried to make one last pit stop while also gathering all our belongings as we had to bid farewell to the Lovina, which was by far the best accommodation of Bali so far.
And we knew that when we went to Kuta, it was just going to be a typical hotel room without the space and amenities that we had been enjoying for the last three days.
Anyways, by 8:25am, we finally loaded up Adi's car with the help of the porters, and then we headed west in the direction of Seririt from Lovina.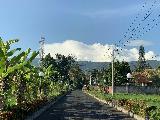 The first thing we noticed as we were driving in that direction was that there were some pretty menacing-looking clouds over the mountains to the south, which were as large as anything we had seen over the past three days this early in the morning.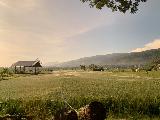 We were worried that we had to go into that weather though the saving grace for us was that we were a bit more west than the main north-south route via Gitgit.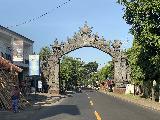 When we got closer to Seririt, Adi took a shortcut way to avoid some kind of morning market in the Seririt area, and then we continued back on the main road as expected.
During this part of the drive, Adi pointed out the village that his wife and in-laws lived at in which that family never visited the Blahmantung Waterfall all this time even though they were just down the mountain from it.
This kind of reminded Mom and I of the time we were circling around Taiwan and we went to waterfalls that the locals didn't even know were there!
Regardless, Adi was following GoogleMaps, and he eventually turned east towards the village of Tinggarisari, which Adi noticed that the signs indicated that this was a tourist village.
So we continued up this road, which became increasingly steeper and narrower, but it was still doable as there was plenty of scooter traffic from locals going the other way.
Eventually, we got to a point where we saw a sign pointing the way to "waterfall 1km" but there wasn't a place to park and Adi kept driving up the road.
However, he asked a villager on a scooter about whether there's a waterfall here, and he pointed back in the direction of the sign we had seen earlier.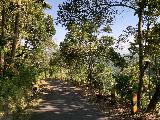 So Adi went up to a place where he could turn around a banyan tree in the middle of the road (where there was also a monkey there), and then we headed back down the mountain where we eventually parked next to some residence that seemed to have space to turn into a parking lot, but it wasn't.
There was also a view across a valley towards some attractive rice terraces in the distance.
Anyways, the sun was still up and it was pretty hot and sweaty already as the whole family took some time to gear up and get moving at around 9:25am.
We then proceeded to walk the narrow paved scooter route as there was plenty of local traffic going both up and down the main road as well as the smaller scooter road that the sign was pointing as the route to go to the waterfall.
So we followed this road where it passed by some residences as well as residents already out and about working who greeted us and had friendly smiles.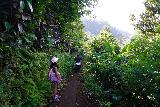 The thing that surprised us was that we didn't see any warungs and no pushy touts.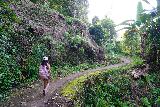 It just seemed like the local villagers here were tending to farming or whatever field work that they had to tend to, and as long as we were respectful and out of their way, everyone seemed to be happily going about their business.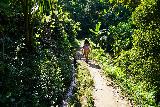 Another thing I noticed after an initial gentle downhill and passing by a three-way fork (in which a waterfall sign clearly marked the way), we then followed a fairly extensive stretch of flat hiking alongside an irrigation ditch.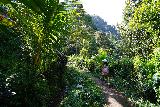 There was one guy on a scooter who seemed to be hauling some pretty long pieces of lumber on his scooter and so we definitely had to get out of the way for him.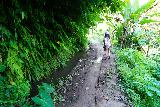 But other than that, this was a pretty straightforward flat walk by the ditch though the air was a bit muggy as the sun was out and it was definitely a warm day even though we were at higher elevation.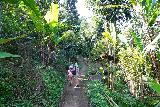 Nevertheless, the walk went by pretty uneventfully though I was hearing Tahia going on and on about Bedwars or something Roblox related.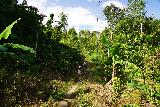 It was amazing how she can keep on talking about this subject even though I was trying to keep her in the moment and observe what has been going on around her.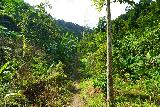 Like, I'd point out this ditch and how it was all gravity operated while the villagers here were kind of born into this life (as are other people around Indonesia let alone developing countries as a whole).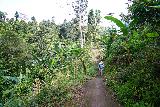 Indeed, people make the most of their situations, and that us in the "first world" really should be appreciative of what we have while also being more understanding of people as opposed to being entitled to behave like a**holes just because we have money relative to the locals.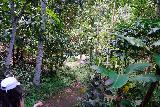 I also mentioned how people who made first dug this ditch must have thought long term that the labor and time involved to do this must have been worth it to help irrigate the farms here.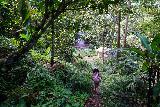 I was trying to get her to put herself in the situation of the villagers trying to carve out a living here in rural Bali.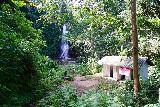 And yet she'd hear this and then go right back to talking about Roblox at which point I think I blurted out something like "First World Problems", which I think flew by her obliviously.
I guess that goes to show you how the mind of a developing child that's soon to be adolescent thinks.
Anyways, the hike seemed pretty long, but it eventually started climbing.
After the mild climb crested, it then made the final descent to the waterfall at 10:15am, which was fronted by a filthy unmaintained latrine restroom area as well as some kind of wall that channeled the water further to the rice fields.
This waterfall looked like something that I vaguely remembered seeing in my trip research, and it had a pretty good flow while also featuring a smaller companion waterfall to its left.
It was nice and refreshing here though all of us seemed to be getting bit by mosquitoes as we were taking pictures and just trying to savor what should be the last waterfall of our Bali part of the trip.
After having our fill, we then went back to the awaiting Adi, where we made it back at 11:10am.
We then continued driving towards a Reclining Buddha in the local area, which I believe was called the Vihara Dharma Giri.
This was an unplanned stop that Adi wanted to share with us, and so we were there by about 11:30am.
We then made a brief visit to the outdoor statue, where the adult ladies had to wear a sarong to cover up their legs (though Tahia didn't have to because she was a minor), and we also happened to meet the owner of the car that Adi was driving that he borrowed from.
I wasn't sure if that was just a random coincidence because he wasn't even from this area.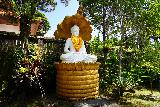 Regardless, we made our brief visit, took our photos, and then continued with the drive by 11:55am as we headed towards a lunch spot to break up this drive a bit.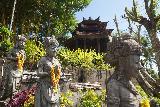 As we continued with the drive, I noticed on my Gaia GPS map that we were near a surveyed waypoint that said the Blahmantung Waterfall was near the village of Pujungan.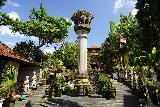 I mentioned it that I saw it on my phone, but Adi had to concentrate on the road, and I also didn't want to believe that whatever we went to wasn't the Blahmantung Waterfall.
Actually, Adi mentioned to me earlier that the locals called this the Blahmaning Waterfall, and that something didn't add up to him.
Nevertheless, we continued with the drive since it was long and we had a long way to go still to get all the way to Kuta as well as the lunch spot along the way.
However, on the way to the local lunch spot that specialized in some kind of local rice cake soup dish (which was a specialty of this part of Bali), Tahia was getting really carsick, and we eventually had to pull over the side of the road at 12:15pm.
Julie was already not feeling well from some kind of stomach ailment (likely food poisoning) and so Tahia was even making her nauseous as Tahia had to hurl into a plastic bag that we managed to find.
Unfortunately, that bag was leaking but at least the mess was contained except for a few drops, and then Tahia felt better.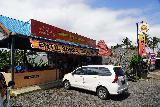 So we finally made it to this place called Entil Sanda, which was a local roadside restaurant in the village of Sanda at 12:25pm.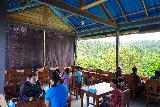 We then proceeded to have our lunch, where all of us got the same local dish that they specialize in.
If there ever was an authentic Balinese foodie experience, you couldn't get more local than this, and I highly doubt we'd ever have something like this again once we leave Bali.
I think for the rest of the family, it might have been too spicy (especially for Julie and Mom), but I managed to finish my bowl as well as help Tahia with hers along with a couple more rice cakes.
We also had Tahia take dramamine so she could knock herself out and not get carsick as we were to continue along the mountain roads until heading to the busy confines of southwestern and southern Bali.
So by about 12:55pm, we were done with the lunch and the whole meal costed around 200k Rp, which was less than $20 USD to feed all of us.
Next, we then drove further down the mountain as it eventually got to a main road near Bajera, where we then had to follow a main artery road that had "shortcuts" (as Adi called them), which were nothing more than wide bridges that bypassed winding roads going in and out of river gorges.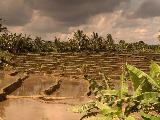 Then, we followed this busy road full of larger trucks (as it was a shipping route coming over ferry from Java Island where Jakarta was based), and eventually we'd get right into the very busy streets the closer to southern Bali we went.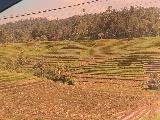 Eventually, we then took the road south from somewhere around Tabanan, where we'd then eventually get closer to Canggu but then turn towards the coast towards the Tanah Lot Temple.
The original itinerary called for seeing the sunset at Tanah Lot, but after having experienced Bali for these past 6-7 days, we came to realize that trying to force that issue while still trying to check into the resort before coming back was simply impractical.
Anyways, over these couple hours of driving, we were keeping Adi company (well, mostly me since I was riding shotgun with him), and we were talking about politics as well as dispelling myths.
At one time, he thought the recycling number on the bottom of bottles was the number of times something was recycled before we had to set him straight on that (it has to do with the type of plastic that the package was made of for sorting).
When he told me that his wife or other friends told him that as they learned that in school when some rep from Aqua went to the school, I told him about the Simpsons (which he was familiar with), and how there was an episode that depicted this exact situation.
It was where some corporation visited Lisa's school and spread their propaganda since kids don't know any better (except Lisa was too smart for that).
Regardless, with the time flying by and all the small talk helping divert some of monotony of patiently driving behind slow trucks and passing them on this busy (and dangerous) road, we finally arrived at Tanah Lot at 2:30pm.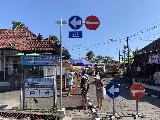 By this time, it was quite hot and sunny, and it was definitely a lot warmer than it was when we did the hike to the Blahmantung Waterfall.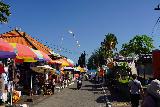 So I brought my day pack and stainless steel bottles full of what water I had left after Blahmantung, and Adi accompanied us between the streetside warungs towards the views of the coastline.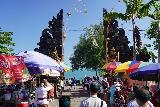 Surprising us, we noticed that there was an attractive sea arch with some kind of temple on top of it.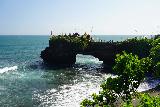 Even though it was kind of against the afternoon sun, it was still nice though I can envision that it would be ideal to see the sun set through the natural arch though I wondered when that might be since we're closer to the equator now.
In any case, this already made this place a naturally beautiful place, but we still hadn't even seen Tanah Lot yet.
So we kept following with Adi who then took us towards a small shrine with an overlook peering across a pretty turbulent bay towards the Tanah Lot Temple, which was perched on a small island that seemed to only be accessible during low tide.
It was right across from the Holy Snake Cave, where there were many people in white shirts as there was apparently another ceremony here that was going on.
But there were also locals or ceremony participants crossing the knee-deep seawater on a rope-assisted crossing to the island where there was another cave as well as steps leading up to the temple.
All while this was going on, I noticed there were waves causing a blowhole on the far side of the island with the temple as well as some natural shelves that had temporary waterfalls fed by the when the waves would wash over the shelf.
I don't know if this should count as a waterfall, but just the ambience and scenery of this place made it feel like we were somewhere special, and it was a nice introduction to the southern part of Bali, which we were to experience in the next three days.
And so Adi left us to return to the car while we recognized the route we took to get here, and then we just spent the next hour or so checking out the scene here while also using the toilet (at 4000 Rp) while also having ourselves a young coconut split between all of us.
I noticed that more foreigners were coming here as it was getting closer to sunset, but I was fine with us not having to inconvenience ourselves to be an Instagram lemming.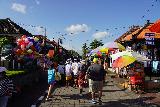 And so by 3:45pm, we were finally back with Adi at the car, and now he warned us that it would take about 90 minutes to get to our hotel in Kuta because there's a ton of gridlock in both Canggu and Kerobokan, which Adi said had the worst of the gridlock.
Sure enough, we saw loads of tourists on scooters learning quickly from the locals while also adopting their bad habits as well as unpredictability which made Adi even more vigilant about defensive driving.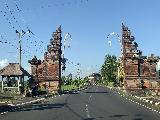 There were also a couple of bad traffic spots due to car break downs blocking traffic, but during this gridlock, I couldn't help but notice places that said Babi Guling, which was roast suckling pig.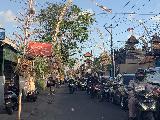 Just like there were a bunch of Ikan Bakar places in the north, it seemed like there were loads of Babi Guling places here though Adi said that the most known of such places were closer to Ubud.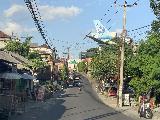 Nevertheless, when Adi mentioned that they put Indonesian spices on their version of the roast suckling pig, I suggested that maybe we should do this for dinner tonight after checking in.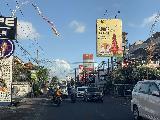 Anyways, by about 5pm, we stopped at some place to exchange money as Mom needed a little more cash to cover the remainder of this Bali part of the trip.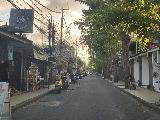 Then, after that, we made the final traffic crawl all the way into downtown Kuta where Adi pointed out the spots that we passed by where there were Bali bombings when ISIS targeted Americans abroad.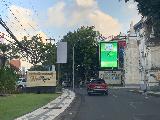 We also passed by the Waterbom, which really excited Tahia while Adi also pointed out the shopping areas that Julie and Mom were likely to check out during our stay here.
Heck, there was even Vegas-like animated LED big screens, so you know you're in a heavily commercialized spot.
Finally, at 5:25pm, we made it to the Bali Dynasty Resort, where we proceeded to past the security arm bar (and Adi noting that the security guard addressed me as sir in Indonesian because he assumed that I was Jakartan).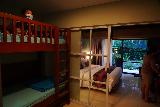 Then, we managed to get our luggages put into the room, and to get used to the idea that we weren't in a Lovina Villa anymore.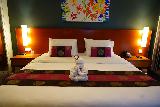 Now, it was a bit more foreigners and the place was more festive and a bit noisier just as advertised in TripAdvisor reviews, and well, this is now the real touristy part of Bali that we were about to experience for our remaining time in Bali.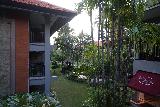 After getting our luggage dropoff duties done, we then went back to Adi's car at 6:05pm, where we then headed to Adi's recommended Babi Guling place.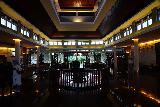 As we headed further south of Kuta towards the Denpasar Airport (which Adi pointed out wasn't even in the regency of Denpasar), we then headed further south to the town of Kedonganan (which truthfully you can't tell one town from the next as it's all continuous developments).
Anyways, we arrived at this place on a tricky roundabout or intersection called Karya Rebo, which was Adi's Babi Guling place of choice.
So we got there at about 6:25pm, and then we proceeded to order our dish (with Adi's help) at the counter.
Once we got seated and awaited our order, we could clearly see that this place was a total local's joint as we were the only foreigners there.
I knew that we probably weren't going to have Indonesian food like this back at home, and I was totally savoring and living up this moment.
Even though the food was spicy, our meal came with a pork soup, then pork in all sorts of forms (pork rind, pork skin, pork meat under some lemongrass curry, veggies, and rice).
We also got a lawan (some kind of Indonesian veggie) as well as another veggie of casava leaves while Tahia got a pork satay.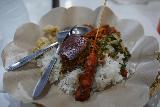 I think only Adi and I really enjoyed the meal as it was too spicy for Mom, Julie, and Tahia (so I got Julie and Tahia's leftovers), and thus we left fully sated at 7pm.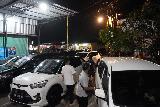 We had to wait to get out of the restaurant because there were cars blocking us in at the limited parking spaces, but once that passed, we then headed over to one of the Krisna shopping centers.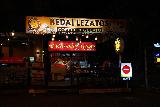 There, we had a gelato Massimo, where the thinking was that the ice cream will calm down the acids in the spices that the ladies were suffering from.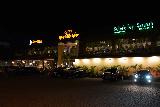 Once we had our fill of the gelati at 7:30pm, we then left and headed back to the Bali Dynasty Resort and got there at 7:45pm to finally wind down this long day.
With tomorrow being a free day (basically Tahia's much anticipated Waterbom day), we pretty much took turns showering and discussing what we're going to be doing tomorrow.
Now as I was trying to tend to my chores of organizing photos and stuff, I did a little follow up research to see what waterfall we really saw this morning.
Well, it turned out that upon looking at TripAdvisor and correlating the pictures with what we saw today, I knew that we didn't actually see the real Blahmantung Waterfall and we wound up seeing what the locals called Blahmaning Waterfall instead.
I could see why there was such a confusion because GoogleMaps was all over the place with where the Blahmantung Waterfall was supposed to be, and apparently it just picked one of at least two possibilities.
I guess that's the danger of relying too much on GoogleMaps, which was something I struggled with in the past until I used Gaia GPS as more of an accurate map to navigate and check with.
So my hunch was correct, and now that I have a better idea of where we should have gone, I wondered if this was something I had to live with or if we might still fix it while we still can.
Anyways, I recalled Adi said something about "blah" meaning something to the effect of "split" when glass splits or something like that, so I'd imagine that was probably how someone thought this was a fitting description of how the waterfall would behave.
I wondered this because it seemed like multiple waterfalls had a prefix or it started with the word "blah" in its place name.
Nevertheless, I texted Adi about my discovery, and then I thought we might have to live with this mistake and figure out how to rectify it, but overnight, I thought about maybe using the very last day (since we'd be idle for most of the day) to go back before resuming with Uluwatu.
I wasn't sure how Adi would take this suggestion and it was met with skepticism by Mom, but I just went to bed (since it was now past 11pm so it was late), and I figured I'd noodle on this until tomorrow morning when Julie's awake and see how this suggestion might fly upon further discussion…
Visitor Comments:
Got something you'd like to share or say to keep the conversation going? Feel free to leave a comment below...
No users have replied to the content on this page