Day 16 (June 24, 2022 – Kuta, Bali, Indonesia): "Here Comes The Bom"
It was 4:15am when I awoke without an alarm, which was kind of weird because I kind of hoped to be able to sleep in on this morning.
But now that I was awake, and that I was kind of sweaty when I got out of bed, I guess there was no going back at this point.
So I spent this time tending to blogging chores that I didn't get to yesterday, and that took quite a bit of time, especially since Tahia had eagerly gotten up as she had been waiting for this day for a very long time.
Indeed, she wanted to do the Waterbom (especially after getting a taste of water slides at Hurricane Harbor for the Girl Scouts function), and today was the day that it was finally going to happen.
By about 6:30am, we had the included breakfast, and it took a while to eat because this was quite possibly the best breakfast that we had in Bali so far.
The buffet breakfast included a very large variety of Balinesian, Indian, and of course Western things (even if some of the items weren't top notch but what do you expect from an all-you-can-eat buffet?).
In addition to the hot foods stations, there was also an omelette station as well as a dessert station with pancakes and banana bread as well as nutella spreads and even another opportunity at trying vegemite.
Fortunately, we got started with brekkie earlier rather than later because the dining hall filled up pretty quickly.
Eventually by 8am, we were back at the room, where Mom, Tahia, and I scoped out the beach access from the Bali Dynasty Resort, which actually wasn't that trivial to reach, but it wasn't far either.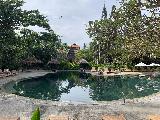 In any case, when we got back to the room, we prepared for the day, and then Mom and I decided to do a beach walk while Julie and Tahia would eventually take their time and we'd all meet at the Waterbom by 10am.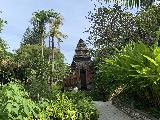 There was a security check at the gate before we were directed to go to the front office, where we were to deposit money into a wristband that had a chip.
Only one person (Julie) had to wear that wristband since she was the controller of the money, but there was a bit of a sticker shock when we had to pay a little over what amounted to $100 USD (over 1.5M Rp) for the three of us, which made this the most expensive thing we did in Bali so far.
Of course, that doesn't include the cost of hiring a driver for so many days as well as accommodation costs.
Nevertheless, we also had to additional funds into the wristband for other incidental expenses for eating and for the lockers, and apparently, you had to maintain a minimum balance in there.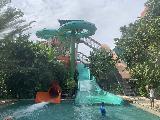 So after getting through those formalities, we then went to the lockers where we had to put stuff away in there while Julie had this crazy idea that we could wear reef shoes throughout our entire stay in the Waterbom.
Well, when we got to our first slide of the day, which involved rafts, we were told to take off our shoes before riding.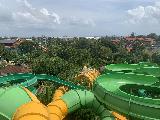 So there went that idea, and we had to return to the locker to switch back into sandals and flip flops while being barefoot most of the rest of the time when it got too inconvenient to retrieve our shoes.
In any case, the family had a real fun and memorable time going on pretty much all of the main slides at the Waterbom.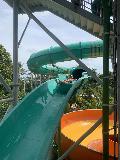 I knew this place didn't disappoint Tahia though she really needed coercing to do the slide called Smashdown 2.0, which was basically a plunging freefall slide.
It was a bummer that you couldn't get to film any of the "extreme" slides, which included the Smashdown 2.0 and any other body slide.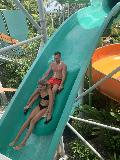 So for those situations, we had to capture the moments at the exit of the slide though it's nothing like actually doing the slide in real-time from the perspective of the slider.
But aside from that little setback, I did the other plunging body slide called Climax, which actually sent the rider into an oblique loop and therefore had a minimum weight restriction, which menat Tahia couldn't ride it because she wasn't 45kg yet.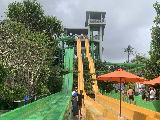 That said, we did pretty much everything else except the Lazy River, including a half-pipe "Boomerang" raft slide, the "Superbowl" circular drain raft slide, the three-person "Python" raft slide which was better than the "Tornado" at Hurricane Harbor, and the "Constrictor" raft slide.
Moreover, we also did body slides like Green Vipers (there was an open air one as well as enclosed one), Fast n Fierce, and Pipeline (another twisty body slide that I actually saw vibrate or shake when Tahia went before me).
Plus, we did the Twin Racers, which was had a pretty scary drop after some twists in a tube.
And finally, we did the escape hatch drop slides like the aforementioned Smashdown 2.0, Climax, as well as the more tamer Double Twist.
And it turned out that we managed to do all of this (plus a few of the above slides more than once) within a span of about three hours before it got too busy and became a bit COVID unsafe (we didn't do the "Python" a second time because of it).
Moreover, the staff at the Waterbom were so courteous and friendly that it really felt like we were welcome here.
In fact, when compared to our Hurricane Harbor experience over a month ago, the Waterbom was leagues above that experience, and it probably took out my need to do any more water parks as far as I'm concerned though Tahia might have one in the Gold Coast, Queensland to look forward to.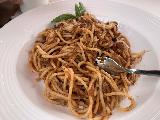 After having a surprisingly decent Italian lunch of pizza and spaghetti Bolognese, we finally left the Waterbom at 2:25pm or so, and then walked all the way back to our room getting there at 2:35pm.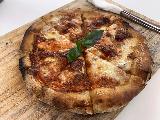 From there, we spent some time trying to figure out what to do for the rest of this afternoon before Julie had this idea about doing some kind of Upside-down House (which was the same thing we did in Hollywood before).
Personally neither Tahia nor I were keen on it, but Julie was set on taking a taxi to this place and then finding a place for dinner.
Well, when we got to the lobby at 3:05pm, it turned out that the last entry for that house had already passed.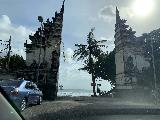 So we had to catch the taxi for a different reason, and we ultimately went to the Beachwalk Mall, where we eventually caught one of the Bluebird Taxis to get there at 3:30pm.
Even though the meter said it was 14.8k Rp, there was a minimum cost of 30k so that was what we paid (which was still around $2 USD).
With that, we then proceeded to spend the remainder of the afternoon essentially mall shopping (which I dreaded but the ladies loved it), and Mom was telling us how this experience was way better than the Discovery Mall, which she was at during our time at the Waterbom.
This happened for like the next 45 minutes or so where the Mall was teeming with people, but we also saw that it was right across the street from the Kuta Beach itself, where the waves seemed kind of big from what we could tell.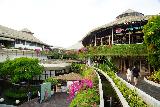 We also hoped to see the sunset while walking back to our room from here, but we'll see how that would play out because there were clouds everywhere (and dark ones at that) that seemed to be spreading in our direction.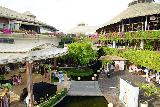 Regardless, going through this Mall that pretty much was like an American mall experience (with American-like prices) wasn't quite the bargain hunt that the ladies were looking for (though Tahia didn't care about that).
However, Mom didn't get her replacement hiking sandals that she was hoping to get so she'd have to wear hiking shoes or trail runners and switch to flip flops if at a water crossing.
I don't think there are many such hikes left and I definitely don't think the make-up hike to Blahmantung Waterfall on the last day will have that either.
Anyways, by 4:15pm, we ate at this place called Bebek Tapi Sawah, which served up similar foods to what we had gotten at the Tirta Gangga.
They had run out of the fish curry one that I had eyed on the menu, which was a bummer, but we did get both a crispy duck as well as a bebek betutu duck, and we also had a nice satay (though not as good as Bebek Joni's one according to Tahia), and a spicy tilapia fish dish.
This meal ended up being like 680k Rp, which included a 6% service fee, which was actually one of the more expensive meals we've had, and it was the first time we've had to pay a "tip" or that service fee.
But other than that, we left fully sated, and then we tried to offset the spiciness with a bit of a gelato run at this shop in the mall called Candylicious.
They had a bit of a confusing system there where you had to look at the flavors first to know what you want, and then go to the cashier, and then go back to the flavors side to actually get the gelato.
They would have been better off to just ask for the size at the cashier, pay for it, and then pick the flavors as you go on the way out.
But aside from that, we then left the mall and proceeded to cross the very busy street before the Beachwalk to get onto the famous Kuta Beach itself.
I guess it was good that we didn't stay in this part because as patient as Adi has been throughout our trip, I bet driving here would totally test his patience.
Plus, there was a bit more of a touristy as well as party vibe to this part of Kuta so I don't think it would have been a great place to stay from that perspective either.
And I guess it's no wonder why other people who have been to Bali knocked Kuta probably because they tried to stay close to the action and ended up something very un-Bali-like.
Anyways, we then got onto the beach at almost 6pm, which was pretty much around sunset or later, but there were so many dark clouds by now that there really wasn't much of a sunset.
However, we walked all the way back to the Bali Dynasty Resort, where we pretty much skirted the dry sand and the wet sand for easier walking but getting quite close to the broken waves that would wash up the sand.
In the distance were quite big Hawaii-like waves that attracted some pretty good surfers (though it was hard to capture it on camera without a telephoto).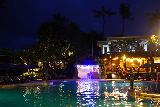 And it wound up being an atmospheric walk until we got to the familiar walk from the end of Kuta Beach to our accommodation, which was way quieter as it was well further south.
By that time, it was dark, and we finally got back to the room at 6:40pm to wind down the day.
I think Julie was watching Charlie's Angels with Tahia, but with the limited bandwidth, we didn't get to do the tandem Roblox like I had promised since she did the Smashdown 2.0 plunge a second time with me (so we could get it on camera from the bottom).
Nevertheless, this was a fun but exhausting family day, and I'm sure it will be an unforgettable day when all is said and done and we look back upon it.
Tomorrow, it's going to be a long Nusa Penida day so we'd have to sleep early and wake up early so we could get this long day ahead of us done…
Visitor Comments:
Got something you'd like to share or say to keep the conversation going? Feel free to leave a comment below...
No users have replied to the content on this page