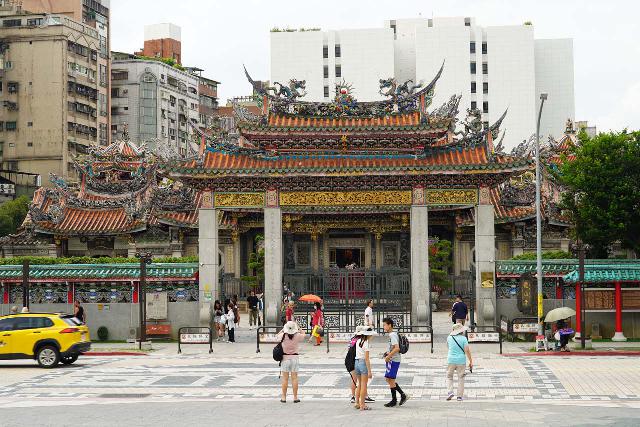 27-June 2023 to 3-July 2023:
…I noticed that at one hairpin turn, Dad's car had one wheel that was in the air!
I was actually concerned that their car was about to flip over, but then it bounced when it returned to the ground though the underside probably got scraped as it then landed from an apparent curb.
As the road momentarily straightened out, we immediately noticed that the front right tire was flat, and trying to fix it on these twisty mountain roads wasn't going to be easy…
Day 21 (June 27, 2023 – Taipei, Taiwan): "Festive And Melancholy"
(continued from "K-Journey")…
…It was about 11:25am when the plane landed at the Taoyuan International Airport, but I did have to make one trip to the restroom in the front of the plane so I could do another big D.
Upon getting out of the plane, we then proceeded to follow a sea of people towards passport control.
We didn't have any arrival cards to fill out during the flight so we wound up having to fill it out after the agricultural inspection.
And that passport control line took forever as it felt like it was close to an hour before we finally got through to the baggage claim.
In fact, we spent so much time getting through that passport control that by the time we got to the baggage claim carousel containing the bags from our flight at 12:40pm, ours were the only one left and it was all arranged next to the belt standing up.
We then took time to get a Taiwan SIM card and exchanged all our Korean won remaining (some 300k worth) into Taiwan dollars.
Unfortunately, the exchange rate was messing me up since I had gotten used to the Korean exchange rate for the past 2.5 weeks.
In hindsight, I probably miscalculated and wound up exchanging more NT than we needed, and we know you always lose on the exchange for every exchange you make.
I was surprised at how well my stomach was holding up to this point, but it still wasn't feeling great, and I knew that I'd have to deal with this for the rest of the day (and maybe beyond).
This was a royal bummer when it came to eating night market food or any other foods like tonight when the family are having a get together at some sit down place called Kiki (which was spicy Sichuan food – something I know an unsettled stomach can't have).
We then walked around to find where to buy the Citi Bus tickets, and we finally found that on the downstairs area, where we went ahead and bought some (at only 470 NT total), but we had to wait nearly another hour before we'd finally depart to Taipei City Hall.
At 1:55pm, we boarded the bus, and it actually didn't take that long to go to downtown Taipei, but once we were there, the bus made multiple stops before finally getting to the last one at the City Hall Terminal.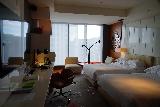 It was about 3:25pm when we were finally at The W, and by the time we settled into our room 5 minutes later, we were treated to a fairly spacious room with a partial view of some mountains and lots of high rises.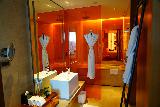 There would be no view of Taipei 101 from where we were at, but we weren't up for paying extra for that anyways, especially since we were staying here on points.
I recalled Julie wanted the Grand Hyatt but they didn't have rooms that accommodated a third person so we couldn't do that.
Well, the W seemed to have more of a party vibe to it, and I suspected it was really more for 20-somethings and 30-somethings, but it didn't seem all that kid friendly.
Regardless, we then explored the hotel a bit, where they had a nice outdoor pool area, but it was nothing in the class of the Grand Hyatt in Jeju-si that we stayed at yesterday.
This one felt more boxed in since we were pretty much surrounded by high-rises and we still couldn't even see the Taipei 101 from there.
The pool also didn't have anyone in it (especially the kids) so I wasn't sure if Tahia, Josh, and Soph could play in it.
Regardless, I still had to take care of my unsettled stomach issues where I sat multiple times on the bidet in the room to do more of the Big D.
But by about 5:10pm, we headed down to meet up with my parents along with niece and nephew.
At 5:30pm, we finally got to meet up with my folks, and we all walked nearby to the Kiki Restaurant, where we got our own little banquet room along with local Taiwan relatives – Cousin Katie, Cousin Caroline, their parents, their kid Joy, and Katie's husband John.
It was a festive dinner as the kids were doing their thing, the adults were all talking to each other (in between disciplining the kids when they get out of line), but I still couldn't have any of the food except for a chicken broth.
It was all torture for me as I knew I couldn't have any of the food (including the night market food that I was so looking forward to), and thus I had to sit there and watch people having stinky tofu, lots of Sichuan stuff, fish, etc.
But regardless of the food situation (and my desires of going to Raohe Night Market for the Hujiaobing), we'll just have to play it by ear on when my stomach is settled enough to finally eat some stuff that Taiwan is known for.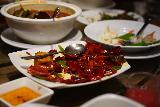 After dinner was done at 7:35pm, we then got a brief orientation of the city and public transportation points of interest as we were making our way to Raohe Night Market.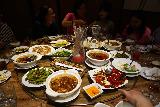 We first took the bus towards the Songsan Train Station (site of where we'd take the train ride to Hualien in a few days), and then we walked from there to the familiar Raohe Yeshi.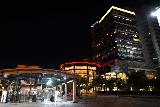 Before saying our goodbyes to Cousin Katie's family, her Mom did talk to me about their situation as we may not see her or her husband after this time (both are battling terminal cancer).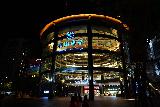 Given my brother's passing this time last year, there were definitely melancholy vibes of how fleeting life is, but at the same time, we're here as a family abroad for the first time, and that's certainly reason to celebrate.
This was the trip that we always wanted to do (with my brother and his wife included though they travel differently – think golf, snowboarding, luxury resorts in Hawaii or on a cruise, etc. – so it was unlikely to ever happen).
So this party of 7 trip starting today was that once-in-a-lifetime trip that we had to stay in the moment and make the most of our time while we still have it.
Anyways, when we were in the Raohe Night Market, we didn't get any of the famous hujiaobing near the arch at the entrance by the temple, and we didn't even go inside the bold temple at its doorstep (something I did before).
But it did dawn on Julie the difference between the more humble Buddhist temples in Korea versus this loud example of a temple in Taiwan.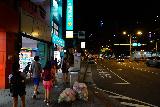 Indeed, after getting some shave ice and boba milk tea along with a fruit juice drink for Julie (I didn't get anything), we cut our visit short since my food poisoning bout still made it unpalatable to prolong our time here.
Thus, we bailed and then we hailed a taxi and returned to the W to end off the first night in Taiwan, and our first day abroad as a full party of 7!
Tomorrow, we were planning to visit some memorials starting with the National Museum (Gugong), which I'm not sure if I had ever visited that place before or not.
Day 22 (June 28, 2023 – Taipei, Taiwan): "The Cheng Army"
It was about 5am when I awoke to the alarm, and once again, I spent the better part of the morning trying to get caught up with the activities of the immediate past for blogging purposes.
Fortunately, my food poisoning bout seemed to have improved from yesterday because I didn't taste any toxic burp, but I still did have the runs which forced me to sit on the throne for a little while some time around 7am.
Julie and Tahia first went down to the bus stop while picking up something from the 7-11 downstairs.
Meanwhile, I was still trying to make sure my bout with the Big D didn't produce a mess where we don't want it to be.
Thus, it wasn't until some time after 7:15am when I rejoined Julie and Tahia down by the bus stop for the BL 7 line, which Mom told us would take us directly to the Gugong (or National Palace Museum).
The bus actually showed up a few minutes before the scheduled pick-up time of 7:30am, and it was a good thing that we were down there early so as to not miss this rather infrequent bus that only went once in an hour.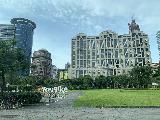 Anyways, we proceeded to ride this bus for quite a ways as many people were getting on in their need to get to work.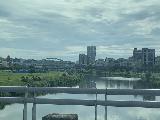 However, not long after we crossed the Keelung River, we saw that Mom, Dad, Josh, and Soph were also catching the same bus towards Gugong that we were on.
And so we were once again united and all headed in the same direction.
Eventually by about 8:40am, we arrived at the bus stop right in front of the main entrance to the National Palace Museum (Gugong), and we were amongst the first people to arrive.
So we promptly walked up the steps and underneath the arches before getting up to the impressively modern-looking building containing what's said to be one of the best collections of dynastic treasures of China (which in a rather haphazard accident was now here in Taiwan).
The thing with this museum, however, is that they never show all the collections at any one time.
They only show parts of the collection over a period of time, so I had read in LP that it's just one of those places you have to keep coming back to.
I guess that's viable if you've got the time and resources for repeated trips to Taiwan, but for people like us who don't come all that often, it's probably not realistic to do that.
Besides, we're neither history buffs nor museum buffs.
Anyways, we spent nearly the next couple of hours, exploring as many of the exhibits as we could.
Seeing how the kids were reacting to the experience (surprise, surprise, they were bored), Julie liked to quote a Samantha Brown saying where regarding plaque reading…
in your 20s, you walk by…
in your 30s, you walk by…
in your 40s, you read it…
and in your 50s, you try to get other people to read it.
That pretty much summarized how our museum visit went though for kids barely in their teens, it's an insurmountable task to their attention to be held.
So we started with the 2nd floor, where we were disappointed that some of the landscape watercolor paintings exhibitions were closed but we did see a bunch of pottery made of ceramics as well as some calligraphy.
Then, we then went up to the 3rd floor where they exhibited bronze workings as well as jade, and some interesting royal collections.
Then, we went down to the first floor (where we probably should have started as it got really crowded by the time we got down there), as we checked out furniture, more works, an animated landscape scroll of everyday life, and some Buddha exhibits as well as some interactive displays.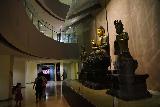 By about 10:50am, we had our fill of the museum, then we took the bus to the nearest MRT stop, which just so happened to be near some ferris wheel as well as some joint that offered the original pearl milk tea at some joint caled Chun Shui Tang (Spring Water Hall?).
Thus, at 11:10am, we were one of the few first customers who were there as the kids got their boba milk tea, Julie got some kind of Jasmine boba tea, and Tahia got a Passion Fruit Tea with a boba add-on off the side.
However, we were also able to have some Taiwanese dishes such as Beef Noodle Soup, some kid of spicy tofu side dish, a Chinese herbal soup, and some kind of chicken soup.
Some of the stuff we got had to do with trying to remain gentle on my still-agitated tummy (but at least I'm not toxic burping anymore but I'm still getting the Big D from time to time).
Anyways, we were glad that we did get an early start at the Chun Shui Tang, because when we left at 12:20pm, this place was quite busy and more people were piling in!
Next, we decided to go to the Chiang Kai Shek Memorial, and since we were near one of the MRT Stations, we took it to get there.
While yesterday we spent a lot of time on buses and taxis, it seemed like today we were spending more time on the MRT (with the exception of taking the Blue 7 bus to Gugong earlier this morning).
By about 1:15pm, we got up from the CKS Memorial stop, and we then walk towards the impressive monument fronted by an archway as well as a National Theater and Concert Hall (both of which had similar red-tiled buildings facing each other flanking Democracy Square).
The walk (very hot and humid as it was due exacerbated by the heat-island effect from the concrete surfacing) was quite reminiscent of how the Americans did the Abe Lincoln Monument without the fountains fronting it.
By the time we walked up to the 4th floor that contained a giant sitting likeness of Chiang Kai Shek, we were quite the hot and sweaty mess and appreciated the fan blowing down at either of the corners leading to elevators.
We also noticed that there were two guards facing each other not moving and with an unwavering stare similar to how the guards are watching Big Ben and the Tower of London in the UK.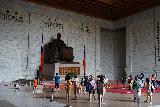 I wonder what kind of job that entailed to have to stand in this kind of humidity with no restroom breaks nor water breaks between hourly changing of the guard duties.
Anyways, we then went down into the lower floors just to see what was there, but they had closed classroom areas as well as exhibits that Mom said had nothing to do with CKS.
Instead, she was telling me that the current ruling party apparently threw in their own propaganda about their brand of Democracy instead of being faithful to CKS (even some of the signage on the exterior was changed).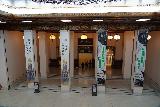 She further told me that it was kind of like what would happen in the US if Republicans replaced Abe Lincoln and George Washington exhibits and signage with say Robert E Lee or other confederate war generals and figures at the National Mall should they be in power.
And that kind of gives you a glimpse of the political situation in Taiwan and why there's actually a surprisingly fair bit of the population that actually want mainland China to have Taiwan be integrated.
Regardless, we were done with the CKS Memorial visit, some time at around 2pm, but not before I decided to go back to the 4th floor to get more photos while the rest of the crew stayed indoors and went down to the 1st floor.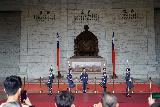 When I exited the elevator, I realized that I just showed up in time for the changing of the guard, where a lot of people were witnessing a rather elaborate slow-marching ceremony involving 5 different troops.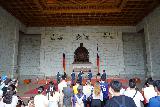 They were twirling some intimidating-looking bayonets while also chanting and saluting the CKS statue while also one guy was facing the audience with a pretty intimidating stare.
When a couple of the soldiers were starting to march away from the middle, I knew the ceremony was coming to an end, and that was when I started walking down into the heat and humidity of the Democracy Square.
It took the rest of the folks some time to get out of the 1st floor and meet me, but it wasn't until around 2:30pm or so when the rest of the family rejoined me.
We then took the MRT to the Longshan Temple stop, where at 3:05pm, we got up to some kind of public park fronting what was said to be one of the oldest temples in Taiwan.
There was a dancing fountain as well as a lot of locals witnessing others playing Chinese Chess, which kind of reminded me of what you might see people in New York's Central Park doing when they're playing or hustling on Chess.
It was kind of interesting to see how different cultures have this kind of thing (apparently in mainland China, you might see folks playing Mahjong), and I was brought back to that visual of Elliott Alderson playing chess against himself in Mr Robot.
We then walked into the Longshan Temple complex, which had another loudly-decorated building and inner praying areas with some chantings played over loud speaker (which I think were pre-recorded).
Compared to our Korean Buddhist Temple experience in the mountains through Korea, the boldness and central location of the Taiwanese temples were way gaudier than the more humble, quieter, and atmospheric (in a very different way) Buddhist temples of Korea.
I'd imagine the Japanese temples were probably on the more humble side as well from what I could recall from past visits.
Anyways, by about 3:35pm, we returned to the MRT and made our way back to the W so the kids could finally enjoy a swim at our hotel.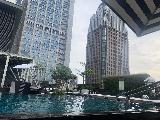 We got back to the W at 4pm where we could finally enjoy some AC (and I got to book the parents' ferry to Hokkaido and back in Japan – the last weak link on our upcoming 3.5 weeks there) while Julie and the parents could chill out for a bit.
Meanwhile, I went to the pool on the 10th floor with the kids so they could play in the pool while I just watched them at 4:35pm.
There were way more people in the pool on this day compared to yesterday, but that didn't stop them from enjoying themselves (instead of me trying to entertain Tahia in the pool).
Eventually, we were back in the room at 5:40pm, where the kids had to rinse off all that chlorine, and by about 6:15pm, we started to head down to pursue the Ningxia Night Market (as Julie was wavering between that and the Shilin Night Market).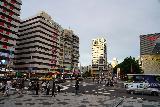 Anyways, after taking the very busy MRT towards the nearest stop on the red line, we ultimately walked a pretty sweaty 500m to the Ningxia Night Market right during twilight at 6:45pm.
Along the way, we saw an attractive rainbow in the twilight lighting, and it really seemed like Taiwan was really alive once again at this time of the day.
As far as the night market was concerned, it was very crowded (almost shoulder-to-shoulder) in the corridor between the many food stalls here.
There were also some side shops flanking the street that were quite busy (including one place that was Michelin-rated and only served oyster omelettes) that had quite a line for it.
Anyways, we pretty much stopped at some random food stalls starting with a stinky tofu one that was actually quite good (and it was a great start to the fare at this night market).
By this time, I was saying f-it to my stomach and just experiencing this place (Big D consequences and all), and so we'd be having some chicken skewers, scallion pancakes, fruit smoothies, boba milk tea, and Cantonese congee in the time we were in the busy food stall corridor.
After having our fill of this corridor, it was steaming hot and we were now craving for a sit-down spot or at least some shave-ice or some other cold drinks.
At this time, Julie decided to wait in line for the oyster omelette, Mom and Dad pursued some gua bao, and I tried to help Tahia find a place to sit so we picked some shave ice joint that did have seats.
Speaking of that shave ice spot, I got some mango shave ice that was legitimately delicious and kicks the arse of any snow cones in syrup that we got in Hawaii.
Fortunately, the folks at the shave ice joint told us that there were tables downstairs that was air-conditioned, and thus we decided that this would be the venue we're eating at – not just the shave ice, but also the outside foods we took away from other joints.
So we spent the better part of what seemed like an hour here trying out my mango shave ice, sampling dad's grass jelly and IC jelly shave ice, and Mom having her coffee-like shave ice looking very much like the stringy texture of the Green Tea bingsoo we got in Hwagae, Korea.
It wouldn't be until around 8:30pm when we left the Ningxia Night Market totally stuffed, but we were all thoroughly impressed by the food quality and selection on offer here, and we were quite glad we chose to come here over the other night markets.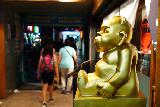 Once we were back on the MRT, we took the red to the blue line back while the parents and niece and nephew took the green line back to their accommodation.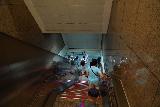 And by 9:20pm, we were back at the centrally-located W to wind down another day of living it up in Taipei as the Cheng army.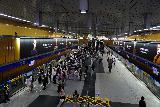 With today's successes, we're looking forward to taking the MRT all the way out to Tamsui since that was something a lot of us have never done before.
We're also trying to coordinate with one of Tahia's classmate's family on meeting up with them.
Definitely a lot of things going on in such limited time, and we'll see how it all plays out in the days ahead…
Day 23 (June 29, 2023 – Taipei, Taiwan): "Meetups"
I awoke to the alarm at 5am though I was actually awake pretty semi-consciously much earlier than that due to persistent heartburn that was hitting me overnight.
It's a feeling that I tend to get in my later years whenever I eat too much greasy food, and this was especially the case with scallion pancakes, which I did have among others last night at Ningxia Night Market.
Too bad I couldn't just go to the kitchen and drink a diluted shot of apple cider vinegar, which is said to remedy a bit of the effects of this (something Julie says is the result of insufficient stomach acid to digest everything consumed).
Nevertheless, I used this time to get caught up on happenings per usual routine, and when Julie eventually got up closer to 6am, we lifted the blinds and saw that there was actually sun easily visible towards the east.
That made things bright (and I'm sure quite warm) immediately, which was probably going to indicate that today was also going to be quite hot (though everyday seems to be that way in Taiwan to be quite honest).
Anyways, given that we were planning to visit Tamsui on this day, we had a bit of time on our hands since most of the places there don't open until around noon, but we did want to visit the Fort Domingo, which was to be open at 9:30am.
So that meant we ought to start catching the mass transit to get there some time around 8am.
Thus, Julie managed to get some breakfast at the 7-11 downstairs while Mom, Dad, Josh, and Soph were going to meet us at the lobby so we could all take the train together as the Cheng army again.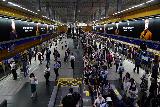 Eventually, we headed out at 8:10am, and we then proceeded to right to the MRT, which was conveniently located downstairs from the W Hotel right around the corner past a department store.
That was one great benefit about staying at the W despite its party vibes is that its location was definitely quite convenient.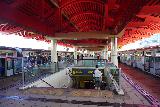 We then proceeded to take the Blue Line all the way to the Taipei Main Station, where we then proceeded to take the Red Line north all the way to the last station at Tamsui, arriving there at 9:05am.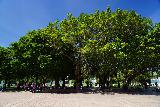 It was bright blue skies though quite steamy hot when we got to the station, where we took some time for a restroom break (allowing me to check out some locals doing a group danse by a banyan tree while another group of runners had just finished up their route).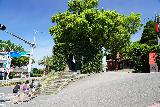 It definitely gave me China vibes when Julie and I witnessed many people doing morning taichi at the local park in unison as a massive group though this seemed to be a more Western Taiwanese take on group fitness.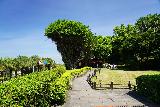 We next took a bus all the way to the Port Domingo, where we proceeded to walk right up to the ticket kiosk by about 9:30am just as there were already a few large groups of school children about to enter.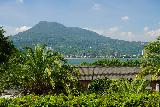 Like with Gugong yesterday, apparently school field trips like this were a thing, but this one seemed to be even more inundating since I sensed that we were dealing with a smaller facility by comparison.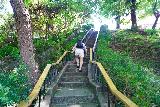 Now we also met up with one of Joshua's friends named Alexander and his Mom named Sammi.
And so we grew our crew by two more people as we toured the Port Domingo Historical Site.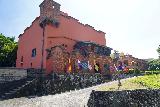 Anyways, we went ahead and went up the steps past the toilet and right to the first fort building where there was some kind of fun statue that kids could pose by before we got to the historical stuff.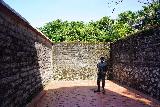 The thing with Port Domingo was that it was apparently established by the Dutch since it was one of two forts overlooking the mouth of the Tamsui River, which flowed north to the Taiwan Strait.
It was a strategic spot since the Tamsui River was a big river of which other rivers like the Keelung River and other systems flowed right into this one, and thus there was enough water to act as a major port on the island.
Thus, it was natural that foreign interests starting with the Dutch then the Portugese (which was probably how it got its current name) as well as the British and the Japanese all had some role of occupying this fort in Taiwan's recent history.
Most of the group started off by going right into the upper floors of the fort, but I noticed that there was another path to the left of the steps, which I went into and felt some AC at the door in addition to what appeared to be cells and some statues.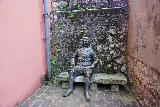 One statue reminded me of my immediate line manager at work, which I trolled him on a Facebook messenger (something I don't use often since I'm not really on FB anymore).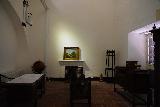 I don't know how he'll react to it, but it was some coincidence that I couldn't pass up since he had the same goatee and long hair as that statue, and there was definitely a facial resemblance.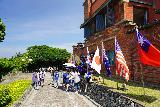 Anyways, we went from room to room throughout the Port Domingo, which none of the rooms had AC so all of us were sweating beads while embracing every fans flowing air.
Soph forgot to bring her Daiso fan so we loaned her my superfan that we got in Korea, and thus I was definitely sweating beads with no mobile relief.
After exploring the first building, we then went to the second building which showed some living quarters in two stories.
There was no roof access to any of the buildings so we couldn't get any shots that they showed on the brochures or in the literature showing a canon pointing in the direction of the Tamsui River.
Anyways, after touring the buildings, we got towards what appeared to be a church but it wasn't accessible from Port Domingo (so it must be a whole separate thing).
There was also a building about guided tours, but that was closed so we pretty much concluded our visit by about 10:30am.
I wasn't sure what the actual appeal was regarding Port Domingo other than its unusual presence of Western Europeans in Taiwan as a historical monument, but it really didn't have much to hold us here for long.
Thus, we then walked towards the banks of the river, where there was a developed walkway going past some closed restaurants right on the waterfront before reaching some Starbucks building that had really nice AC.
We got there at 10:55am which caused a lot of people to chill out for a bit, and we just killed time there before continuing on with the walk at 11:25am.
We then started to walk the Old Streets of Tamsui, which were full of hole-in-the-wall food joints, but Julie pretty much targeted highly-reviewed joints on the socials.
And thus, we checked out one small place servicing some kind of stuffed fish balls in a soup as well as local Tamsui Agei (which was like some kind of tofu skin in a soup wrapping up some japchae-like glass noodles inside).
We were about to overwhelm the small joint with our 9 but then our group split up into 4 people (Soph, Tahia, Julie, and me), and the rest of the party next door which seemed to be better for sitting down as they also had noodles and other stuff.
Anyways, we were done eating by about 12pm, and then we walked along some more shops along the waterfront as Julie and Tahia were all caught up in window shopping as well as going into shops.
I know I had to bow out of that kind of activity, and it also exhausted Mom and Dad, but I basically found a bench where I was getting shade plus a nice breeze to offset the humidity somewhat.
But as I was chilling out there alone, there was some random guy holding a bottle saying stuff to me (more like asking me stuff) in Taiwanese, which I don't understand.
So I just smiled at him and tried to minimally engage him, but it was pretty much a one-way conversation where he did most of the talking before he continued on his way.
The heat and humidity was really stifling by this time of day at Tamsui, but there were also a lot more action going on around the shops.
Ultimately, we got some more drinks before returning to the MRT at 1:35pm to pretty much conclude or visit of Tamsui.
We didn't have time to take the ferry across to Bali (no, not that one in Indonesia), and that was primarily because Tahia was going to meet up with her classmate Rosie, who was also in Taiwan on holiday.
That meetup was going to happen at 4pm, and thus we had to ensure that we got back to Taipei City in time for that meetup.
Anyways, the metro ride back was surprisingly busier than expected, but we started to separate as a group.
Alexander and Sammi got off not too far from Tamsui, while myself, Mom, Dad, Josh, and Soph were taking the Green Line towards their condo.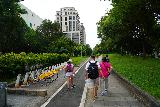 Finally, Julie and Tahia were returning to the W to get ready for their meetup with Rosie and Mei.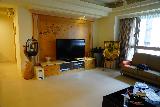 So we split up some time around 2:15pm, and then we finally got to my parents' condo, which was not conveniently located and thus we didn't get there until about 2:55pm.
Once there, I pretty much dozed off while Josh and Soph were having screen time.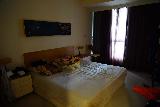 And it wouldn't be until about 4:55pm when we finally started to head out towards the Raohe Market again, but we did so just as it was raining after I heard a particularly loud clap of thunder.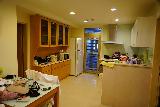 So we had to borrow umbrellas from their condo and get back into the steamy rain, and then we got right to exploring Raohe Market right by Songshan Station.
We got to ordering quite a bit of the hujiaobing (the famous pork-stuffed bread pretty much exclusive to Raohe Yeshi), and then we found a shave-ice place further back in the market with AC.
So we chilled out there for a bit and then eventually we did another separation where Josh wanted to practice basketball at a local school (which Mom went with him for) while the rest of us were going to meet up with Julie, Tahia, Rosie, and Mei.
Soph opted to chill out with us because I don't think she was enjoying herself grabbing rebounds and passing the ball to Joshua all the time, but I wondered how well she'd get along with Rosie and Tahia.
Anyways, after meeting up the rest of the group in Songshan Station, that was when we went our separate ways (while also getting things sorted out with our youyouka, which turned out that we drained our balances after our day out to Tamsui).
And after Mom and Josh went their way, we then went back to the Raohe Night Market.
But then Dad had other things on his mind and wanted to chill out at Dagugu's place so it was pretty much just the six of us going to some local spot that Mei suggested in Raohe that actually had some pretty good stinky tofu, oyster omelettes, and luroufan.
Afterwards, we went back to the same shave ice spot that we were at earlier, and then I had to help Julie finish a mango shave ice while Rosie and Tahia each got their own (Soph was already full and was busy in her own little world making little paper oragami).
By about 7:35pm, we were done with the dinner, and then hailed a taxi to get to Dagugu's place while Mei and Rosie went home.
There was a bit of uncertainty with that as Mom expressly wanted Dad to be with us so we would know how to get to Dagugu's place as apparently it was too far of a walk, but Mom eventually got me the cross-street address to give to the taxi driver, and then we were on our way.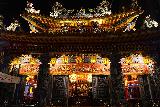 And by 8pm, we got to Dagugu's (Auntie Victoria's) place to chill out for a bit once more for a little family get together and having fruits while also taking pictures.
It may be the last time we see her and so we tried to soak up the festive family vibes while Cousin Katie and John along with Joy came back to join us (Cousin Caroline was busy with work and couldn't get back in time for us to do a Doppleganger shot of Tahia and Caroline).
Eventually at 9:40pm, we left Dagugu's place, and then by 9:55pm, we finally got back to the W to wind down this night and move on to the next phase of our brief week in Taiwan, where we start driving from Hualien.
And you know how I always say a trip doesn't begin until we see a waterfall?
Well, this Taiwan part of the trip is about to begin pending our successful visit of some waterfalls in the Taroko Gorge before making the long drive to Jiaoxi…
Day 24 (June 30, 2023 – Jiaoxi, Taiwan): "The Caravan"
It was 4am when we awoke as we had to get our stuff together and out the door to catch the train to get to Hualien.
I did manage to fit in some time to get caught up on yesterday's happenings, but by an large it was a hectic morning.
We still had a 30-minute wait for our train, and it was already pretty stuffy down here.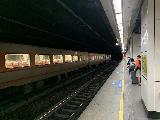 Anyways, Mom, Dad, Josh, and Soph also showed up as we were waiting, and then we got onto the train on time before the 6:20am departure.
Once on the train, it was pretty tight and it was practically a full train so that futher added to the tightness with all our belongings.
I did manage to catch some shut-eye during the train ride, but it wasn't exactly a smooth ride as I noticed the train did have a tendency to sway and bump quite often.
When we arrived at the Hualien Station and got to the exit at around 8:25am, Mom looked like she didn't get much rest as she didn't catch a wink due to the rough ride.
By about 9am, we finally went over to the rental car office that we had rented from (which cousin Katie helped us to book since she lives in Taipei), but then it took us some time to get through all the paperwork and formalities.
So it wasn't until about 9:40am when we finally started to fit our stuff into our two rental cars (both identical), but during this whole time, we kept hearing fighter jets overhead.
I couldn't tell whether these were from Taiwan or from China, but that was certainly a reminder that this whole tension about Xi Jing Ping wanting to get China back despite US opposition is definitely there.
Anyways, we then started driving off, where we proceeded to gingerly drive north towards the Taroko Gorge while getting used to the traffic flow, the rules and regulations, the cameras, and my Taiwan GPS talking to me in Mandarin.
That certainly took some getting used to again though GoogleMaps did talk to me in English.
As we drove into the Taroko Gorge with Dad and crew following behind, we were driving deeper into the gorge than when Mom and I were last here 7 years ago when landslides following typhoons made getting up to Tianxiang much harder with lots of delays.
That said, after getting past the Swallow Grotto Cave branch that we had walked back then, we continued to drive through vertical-walled sections and overhanging cliffs where it felt like this road was built where it shouldn't be.
I can totally see floods undermining the road surface while at the same time, I could see rocks chunking off and hitting the road and cars, which I'm surprised this doesn't happen more often than it does.
I recalled that we had to wear helmets when we walked the Swallow Grotto Cave, but it didn't seem like that was as enforced as much these days as we'd drive past random pedestrians along the road not wearing such gear.
Eventually at 10:50am, we finally got to the car park for the Baiyang Trail, where there's a major waterfall here that I hoped we might finally be able to see since we didn't do it 7 years ago.
In fact, this was one of the reasons why I wanted to do a return trip to Taiwan to get this done.
It took some time for my folks to get ready, but eventually we then went up the steps and along the sheltered tunnel road before crossing it into a tunnel.
The tunnel was around 300m-400m long, which was long enough to want to have a torch to see where you're going, but at the same time there was just enough light to not be in total pitch blackness.
Plus, the walkway was flat with a slight uphill slope.
There was some tour group that was here where the guide was pointing out some thing about this tunnel, including some bats that live in here, which was interesting.
Once we got out of the tunnel (which wasn't that much cooler than I would have expected), we then walked the remaining 650m beneath more overhangings before getting to the Observatory Point at 11:40am.
However, when we got there, we saw that the path dead-ended at a tunnel entrance, and that was when we realized that this trail was closed way too early to even see the Baiyang Waterfall.
In fact, this lookout area didn't really lookout to anything interesting aside from a waterfall in the gorge that we could hardly see due to all the foliage that were in the way below us.
And so this hike let alone drive to get up here really felt more like a waste of time, and on this second attempt, we still haven't witnessed the Baiyang Pubu.
The language on the signage about the premature closure of the Baiyang Trail kind of made me wonder whether the waterfall will ever be witnessed again, but I guess such is the Nature of vertical gorges like this.
Well, by about 12:05pm, we were back at the car, and 15 minutes later, we left.
But before we had momentum in heading back down towards the Eternal Spring Shrine on the way out of the Taroko Gorge, we did stop at Tianxiang Village, where we grabbed a quite takeaway lunch.
As much as we wanted to picnic here, there were some monkeys around, and given Tahia's traumatic experience in Bali, we really weren't feeling like eating amongst these guys.
Anyways, after Dad and I briefly ate in the car, we then drove down towards the Eternal Spring Shrine, but it was starting to rain just when we got to the familiar lookout and car park area that branched off from the tunnel.
We got to the car park at 1:15pm, but due to the pretty moderate rain that was definitely enough to quickly wet exposed clothes, only I went out of the car with an umbrella while Julie briefly did her thing before retreating to the car.
After briefly getting some cross-canyon views from a sheltered path and lookout leading to some toilets, I then noticed that some people were walking right to the Changchun (Eternal Spring) Shrine itself.
So unlike last time 7 years ago when that path was closed, it looked open this time.
So that's one thing that's improved and different upon the last experience (as a bit of a consolation prize for not seeing Baiyang Waterfall, again).
And as I got across the red bridge and towards the overhanging steps, sure enough we could go down to the viewing lookout down there as well as the tunnel beyond.
As I got down there, I also smelled some burning incense as well as some signs and a trio of gold-painted Buddhas commemorating the people who lost their lives (mostly ex-soldiers after the war with Japan) who built the first cross-island road through the mountainous interior of Taiwan.
The rain kept falling, but this walkway to the Eternal Spring Shrine was pretty much through overhangs and tunnels for the most part, and thus, I really didn't use the umbrella until I was right at the shrine area itself.
I had to be real careful with the footing because the marble flooring was very slippery, but I did manage to get some shots of parts of the cascade flowing beneath the bridges and tiled-roof shelters flanked by the namesake shrine itself.
Upstream from the sheltered bridge was the eternal spring itself where water was emerging from a well-vegetated base of the cliffs before flowing over as the visible cascade that we could clearly see from across the gorge at the car park.
So as much as it seemed like this place was not real, I think the spring was definitely natural, but then they built around the spring to give it that Buddhist mysticism.
By about 1:55pm, I made it back to the car (while it seemed like everyone was sleeping as I was exploring; they missed out), and then we finally started to make the long drive further north to Jiaoxi.
As we left the Taroko Gorge, it was continuing to rain, but eventually by 2:15pm, we got to the familiar roadside view and pullout for the Qingshui Cliffs, which was as far north of Hualien that I had driven 7 years ago.
We got some shots here, where even despite the rain and overcast skies, the waters still exhibited a bluish color that would have been really radiant had it been sunny.
I'm sure it would have looked that way in the morning when the sun was out.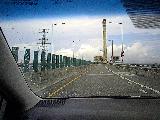 Anyways, after getting our Cheng army shots at this overlook, we returned to the car, and then we drove a long series of tunnels plus some twisty roads as I was definitely going through some parts of the road that I had never driven before.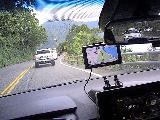 When I researched this trip, I had entertained thoughts of taking some of the slower roads to see if there were waterfalls going onto beaches here, but with the heat and humidity along with sudden downpours and mosquitoes, I could totally see why they're less touristed if they did exist.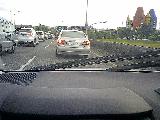 And so the next couple of hours of driving were pretty much uneventful other than there were some pockets of traffic jams and lots of car lines from slower drivers with no passing opportunities (or next to none).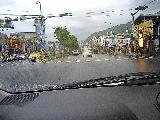 And thus it wouldn't be until about 4:25pm when we finally arrived at the town of Jiaoxi, where we momentarily illegally parked in front of the Wellspring by Silks Hotel so Julie could check-in.
Once that was done, Dad and I then drove to a neighboring car park by the No9 Hotel, where we then found legit parking, and then by 5:05pm, we were finally settled in the room momentarily.
Of course, it was now time for dinner, and so we decided that we could either eat at the Ong-yao-chicken place, or some duck place that Julie found on the socials with some 3000 reviews.
We eventually decided on the chicken place despite Julie's objections due to how far we had to walk there, but little did we realize that it was like a 1km walk, which seems surprisingly long when you account for the heat and humidity of Taiwan.
Sure enough it didn't take long before the complaining started, and Julie was wishing we had gone to the Duck restaurant that was barely 3 minutes walk away.
Moreover, they even wanted to stop at the first chicken restaurant they saw, but the emptiness of that place coupled with how small it was relative to how I remembered my last experience with Mom while Dad, Mom, and I kept walking signaled that we still had more to go!
Finally, it wasn't until about 5:40pm when we got the chicken restaurant (it's called Weng Yao) as we were pretty much all hot and sweaty messes by now.
Once in there, we proceeded to order their famous roasted chicken (which we could now see that they're roasted inside some kind of volcanic-looking mud cones with an opening on top.
We also got an assortment of side dishes, and it turned out that the whole meal was on the order of around 3000 NT.
That said, instead of 2 people (Mom and I) eating a whole chicken and some side dishes like 7 years ago, we now had 7 heads sharing this feast.
And like before, the roasted chicken was definitely quite good (though Julie wasn't too keen on what she thought was the dry white meat though I didn't feel that way).
Nevertheless, the best part was the chicken skin, which was definitely crispy but not burnt.
The meat was certainly most, and made even better when dipped in their sauce along with their pepper.
We also had gotten mushroom, crispy tofu, some kind of fish (that I thought the kids would love since it was closer to what you might expect at Panda Express), some veggies, a wet cabbage, and more.
Indeed, even with 7 people on this meal (where we totally devoured the chicken), we still left the place fully stuffed.
Since we weren't interested in doing the hot and muggy walk back to the Wellspring Hotel, we had to hail taxis, but they didn't really come around that often.
It actually took some time before Mom hailed one for Julie and the kids so they can get to the pool sooner, but when it came to Mom, Dad, and I, there wasn't another one around.
So Mom called Julie and got her to talk to the driver before leaving to come back and pick us up (and she did so in Taiwanese so that might have made it even more likely we'll get local treatment).
Plus, we were getting bit by some persistent mosquito as we were waiting, and the rain came back as we could clearly see just as the skies were darkening in the twilight.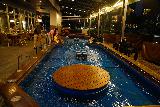 By 6:55pm, we were back at the hotel, where Josh and Tahia were content on screen time while Julie wanted to chill in the room.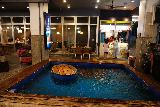 Meanwhile, Dad wanted to go for a walk, and so that left Mom, Sophia, and I to try out some kind of foot bath with fish in there ready to eat some dead skin or something.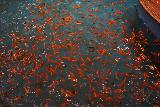 We proceeded to go down to that spa, which was in between our hotel and the parking garage.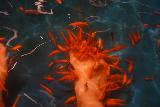 At first, we thought the bath had a bunch of shrimp or something, but that was for catching shrimp to be cooked fresh.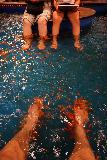 Actually, we were in the smaller, adjacent pool, where we paid like 200 NT total for the three of us to sit in there for as long as we pleased.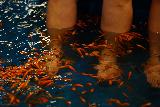 And sure enough, we got to fit in some relaxing time as the fish were pecking away at our feet and ankles.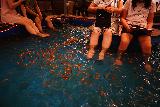 I managed to fit in a 2x Duolingo round, while Soph (who doesn't really show a lot of expression) was giggling with the ticklish feeling of the fish doing their thing.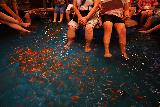 For some reason, the fish really liked my feet (maybe saying something about my skin condition) compared to Soph who was the youngest and maybe had the healthiest skin.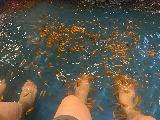 Mom was somewhere in between.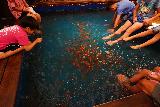 And so we enjoyed probably a solid 20-30 minutes of this relaxing time (and probably getting a mosquito bit or two) before some other people started showing up.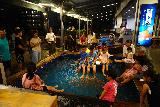 When a large group of kids showed up, that was when the peaceful ambience was over, and it was time for us to head up to the hotel room again.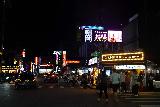 On the way up, I went looking for an umbrella that I had used in the Eternal Spring Shrine, but apparently I couldn't find it in the car, and I wondered if it was a deja vu situation like when I had lost the GoPro in Korea early on in the trip.
Whatever, at least the umbrella was cheap.
And so at 8:10pm, we were back in the room, and then we all went up to the roof for the kids to do some pool time, while Mom, Julie, and I were bathing in the hot onsen up there.
It was a nice view in three different directions from up at the onsen area, but it was also hot and humid so it wasn't like the heat was coming off of us from the spa.
Thus, once we had our fill of this spot, the kids kept playing, Mom was supervising the kids, and eventually Dad came back from his walk to also supervise the kids and let Mom rest (who hadn't slept for almost two days by now).
In the meantime, Julie and I went downstairs to do a little night walking, where we saw from the spa that there was some city action going on, and that was when it felt like we got into Jiaoxi's Night Market scene (if you could call it that).
There were some food stalls, and wine sampling stall, and a lot of brick-and-mortar shops in a line with some people out and about walking.
This reminded me of my last trip to Taiwan when every city had a night market or at least some kind of night market ambience.
Indeed, the Taiwanese know their Night Markets, and I'm betting the other ones you see in Asia were probably derived from this model, which made sense given how hot and stifling Taiwan can be so the night time can be the most tolerable time to have such markets.
Now, Julie did get us to stop in that duck restaurant, where we got some kind of cold duck cut instead of the duck soup (which was too hot for Julie's liking), and we ended up eating perhaps more than we should have since that was like a second dinner.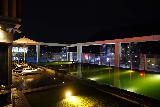 Regardless, we were finally back at the room at 10:10pm, where we found out that the kids were still in the pool area, and I was the one who had to go up there and get them back into the room since it was past their bed time.
And with that, we ended this very long day that saw its share of disappointments as well as nice family moments that you simply can't get at home.
Tomorrow, we've got a lighter day of touring in the Keelung area followed by an evening with Mom's side of the family, and so the family vibes will continue in our brief visit to Taiwan…
Day 25 (July 1, 2023 – Keelung, Taiwan): "The Other Jinguashi Incident"
It was 4:45am when I awoke without an alarm (as it was set to 5am).
Given how much stuff that went on yesterday (that began with an early train to Hualien and ended with a lot of night happenings in Jiaoxi), I had a lot of catchin up to do this morning.
Fortunately, we didn't really have much going on for this day (or so I thought) as we were only planning to visit the Huangjin Pubu, Jinguashi, and Jiufen, before visiting Keelung where we had a planned family dinner with some cousins who reside in that city.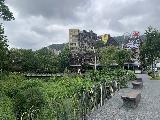 We also wanted to have the included breakfast, which we didn't get to until about 7:30am.
The breakfast itself was actually quite good as it seemed to have quite an air of Japanese influence with soba noodles, some stir frys, and some side pickled stuff.
However, there were some fresh fruits that included guava, globe grapes, kiwis, and bananas, in addition to lotus, an acai bowl, and pineapple.
Mom, Dad, Josh, and Soph joined us a few minutes later, and it was basically a bit of a festive early meal where it did seem like it was worth the delayed start.
So it wouldn't be until 8:40am when we were back in the room to wrap up the packing and blogging (I think the other group had more stuff to get organized).
And thus by 9:10am, we finally loaded up the car.
From there, we drove out of Jiaoxi and took the inland route right onto the freeway.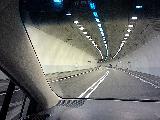 Along the way, we drove through some long tunnels (which allowed us to save at least 30 minutes from not having to take the coastal scenic route).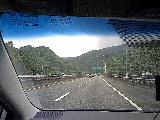 However, I did notice that the traffic going southbound towards Yilan was stacked with cars.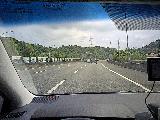 I guess this is what the holiday traffic looks like as Summer break had just started yesterday, and it seemed like all of Taipei couldn't wait to go down to the hot springs and beyond (which we were leaving).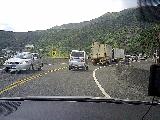 Call it a bit of fortunate timing on our part.
Anyways, by about 10:25am, we finally made it to the Huangjin Waterfall, which was familiar just like before though it seemed to have had a little less flow than I remembered from 7 years ago.
There was one bit of traffic that the GPS wanted us to do going east on the 1, but Julie's routing actually had us continue on the 3 before taking the 62 towards Jiufen.
That turned out to be a better move because transitioning from the 3 to the 1 was jammed with traffic.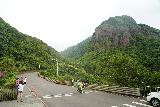 Anyways, we took some time checking out the waterfall and taking some Cheng Army shots before returning to the car a few minutes later.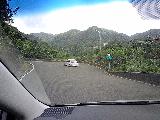 Then, Mom insisted that they lead the way to the Gold Museum, so we followed them up some mountain roads right up to Jinguashi.
Along the way, I saw some signs pointing the way to the museum, but they kept going, and eventually we ended up at some car park for a temple.
It didn't seem right, and eventually they turned back and decided to continue to the nearest car park for the Gold Museum, but unfortunately, that car park was closed.
In the end, we then went down the hill towards a different car park that costed us 150 yuan at around 11am, and then we had to walk up some steep steps to get up to the entrance of the Gold Museum.
From that point, we proceeded to do the familiar self-guided tour where we went into a Japanese-style residence quarters where we could see that the tatami-style accommodations were for the poorer Taiwanese while the Japanese quarters actually had beds.
It kind of gave us a different appreciation for the tatami-style accommodations we had in Japan, where we had to sleep on the floor (but we actually didn't mind it as much in our younger days).
Anyways, we then went up the steps eventually to the Gold Museum itself, where there was a display area with some AC showcasing some ores that culminated in a huge gold bar that was worth something like $15 million USD by today's standards.
Mom and I recalled that we were also supposed to do a tunnel and mine shaft tour while this gold exhibit was at the end.
So something changed.
Well, it turned out that we had to pay extra for the tunnel visit, which Mom went ahead and did, and then finally we got through the cool corridors of the mine shaft before concluding this part of the helmet-wearing tour.
Eventually, we followed the light cart rail tracks for a bit before going down to the cafe and convenience store area, and given the heat, we ultimately decided to have some shave ice as well as some soft serves.
Finally, at 12:50pm, we were back at the car, and now we could start heading towards the Jiufen Old Street, where I knew that parking would probably be a royal challenge by this time of day.
Once again, Mom and Dad were leading the way as Mom insisted that she knows the way (which I didn't doubt), but I wondered how Dad would be doing taking the lead on these narrow mountain roads.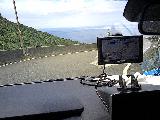 Well, at some time around 1pm, I noticed that at one hairpin turn, Dad's car had one wheel that was in the air!
I was actually concerned that their car was about to flip over, but then it bounced when it returned to the ground though the underside probably got scraped as then landed from an apparent curb.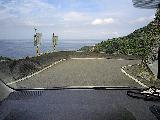 As the road momentarily straightened out, we immediately noticed that the front right tire was flat, and trying to fix it on these twisty mountain roads wasn't going to be easy.
Hoping that I could leverage my recent experience in Japan of having to change in to a spare, perhaps we could at least rectify this situation and at least get down to a tire shop further down the mountain.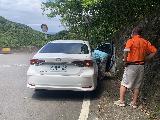 Well, as I opened their trunk to see if there was a kit and spare tire, we saw that they only had an inflation kit and I didn't see a spare tire.
In fact, I wasn't sure i saw the crowbar and jack, and I knew that we definitely needed help at this point.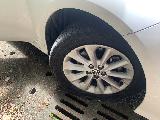 Mom, not wanting to deny the kids and Julie the opportunity to experience Jiufen suggested that we separate the group where just Mom and Dad stay behind with the car as they call for roadside assistance.
Meanwhile, we would re-distribute the packs to leave them with Mom and Dad while we made space for the kids and Julie to ride with me as we went to pursue Jiufen.
So the group split up at 1:15pm, and then we eventually got up to one of the closest car parks for Jiufen except the two that were here were all full, and there were people that made sure people don't clog up the roads waiting for a spot.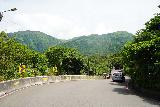 Thus, we backtracked perhaps 300m or so to an emptier car park, where they charged 200 yuan for the day, which we stopped for at 1:30pm.
From there, we got out of the car and proceeded to walk the narrow road (without shoulders and is shared by both cars and buses), and we'd eventually crest the hill where the two car parks were before going down the other side.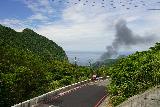 Along the way up, we saw that there was black smoke in the distance down the mountain, and we were concerned that maybe this had something to do with Mom and Dad.
However, the smoke was too far downhill for that to be the case, but the thought did cross my mind that the fire could spread and go up the mountain.
Anyways, it looked like there was an opportunity to summit Mt Keelung in 900m, but no one else was interested in doing that.
We continued to walk some mountain streets (almost Gamcheon Village-style in Busan, Korea) as we were enjoying some views past a temple towards Keelung.
Eventually, we got to the familiar busy entrance to the Jiufen Laojie, and we got right into the action that I knew Julie would enjoy.
Of course, there were different vibes without Mom and Dad in the action, and our thoughts were wondering how they'd get out of this situation as well as how long they'd have to wait.
At one point, Julie texted Mom what the current situation was (where a tow truck wouldn't show up until around 3pm), but Mom always looking at the bright side of things said it was an opportunity to reminisce about her childhood.
It was her way of making lemonade out of lemons, and it was actually a good lesson for the kids to appreciate how to handle adversity with grace and dignity.
Anyways, we ultimately decided to stop by some food joint serving some local Taiwanese fare as we were looking to have a lunch all the while having some AC (that was an important requirement).
We wound up having some kind of local chicken with some fried tofu, a couple steamed dumplings, some local Hualien veggies, some shrimp fried rice, and luroufan (braised pork over steamed rice).
It was pretty good and hit the spot momentarily though I'm sure the kids would have appreciated pizza or something more westernized.
Anyways, after leaving that joint, we then walked further down Jiufen Laojie looking for a dessert or drink spot with some AC, and we ultimately stopped by some place known for Almond Tofu Pudding or something like that.
We hoped that they had some grass jelly with Aiyu Jelly like what Dad would normally get, but they didn't seem to have it, and we ultimately stuck with a mango shave ice along with Sophia's chocolate waffle mochi cone, and a couple of Boba Milk Tea that Josh and Tahia each got.
This place was also quite crowded, and after having our indulgence here (which Julie and I thought wasn't as good as the Ningxia place we were at as far as the shave ice was concerned), we then were quite stuffed.
So we proceeded to walk further down the walking street thinking that perhaps it might circle back to where we started, but eventually we got to an opening where there was a nice view.
However, upon seeing where the old walking street went, which was further downhill it seemed and in a different direction that where we wanted to go, we opted to turn back here and then go back the way we came through the human conveyor chaos.
After squeezing our way through the atmospheric walking street and having one cream puff indulgence, we ultimately got out of the walking street and then back down to the car at around 4:05pm.
It really seemed like the energy and the crowdedness of Jiufen picked up even more as we left, and you could definitely tell that this place had a rep with the foreigners on the socials and on TripAdvisor, I'm sure.
So with that, we were now heading to Keelung to our hotel to check in and hopefully meet the parents down there though I could tell from Mom's responses that she might miss the dinner that cousin Nicole had set up at 6:30pm.
Anyways, once we got through the Jiufen traffic and back onto the freeway briefly, we then got into the really busy center of Keelung, where driving was a bit hectic.
After making one wrong turn around the happening harbor area, we eventually swung back around to the other side of the harbor where we then finally arrived at the Evergreen Hotel at 5pm.
Parking was rather tight in that underground garage, and we managed to parallel park in a tight spot while the people in front of us looked for something more legitimate.
And with that, we then went up one of the small elevators to the lobby where we then checked in though that took some time as there was a queue.
There was also a queue at one of only two tiny elevators to get up to the upper floors (ours was on the 15th floor), and thus we had to split up and wait a bit more before finally getting into our room at 5:35pm.
That gave us just enough time to enjoy the views out towards Keelung Harbor while the kids got right to some screen time (clearly they're all addicted and it was like an uphill battle to keep them in the moment).
Eventually by about 6:05pm, we headed downstairs and tried to hail a taxi towards the Bambino Restaurant on the opposite of the harbor.
As much as I wanted to walk there and soak in the ambience of people chilling out by the harbor, we ultimately hailed a taxi and got to the restaurant at around 6:25pm.
Once there we met up with Nicole and Regina as well as the older son of cousin Jennifer's old brother, and for the next couple of hours, we were socializing (well at least the adults were) in a combination of English and mostly Mandarin.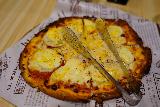 Nicole and Regina's Mom was also there as it was her birthday today, and so it was a bit of a whirlwind of trying to get caught up on life in Taiwan as well as some doppleganger moments where Nicole's son and Joshua looked quite alike.
It probably wasn't a coincidence since Nicole's face kind of resembled Tommy's, and it was a shame that he couldn't be here to celebrate the family moment.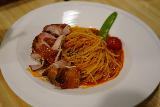 During dinner, Mom was in communication with us, and we learned some bad news that there was a bit of a delay with filing police reports so that they can support the claim that this Jinguashi Incident was not Dad's fault and that the insurance we bought would cover it (which required this report).
Indeed, I'm sure it must have been quite the misadventure for Mom and Dad, and we were hoping they'd be here to join us at this restaurant, but it was just the younger generation and Nicole's Mom at this point.
Eventually by about 8:50pm, we were done with dinner, and then we walked around the harbor area which had a bit of a happening ambience.
People were chilling out on artificial turf on one end of the harbor, and in the central part there was a busker with other people chilling out over there.
We then stopped by some department store so Julie could pick up some more bug spray as she was running out, and at that point, Regina's family headed home as it was getting late for them.
Next, Nicole and her Mom walked us over to the Miaokou Night Market, which was really busy and buzzing (more so than I remembered from 7 years ago), but I could tell that the kids' energies were running low at this time of the evening.
Thus, we probably wouldn't be totally soaking in the ambience (especially after the Jiufen experience), and so Nicole and her Mom guided us to this shave ice joint called Three Little Brothers (3 xiong di) and then they headed out at 9:35pm.
So we spent some time having another mango dessert, which was actually quite small and not as great as the other places we've had, but Josh's banana shave ice with chocolate drizzles was impressive (and shared with Soph).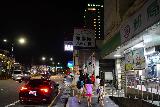 Ultimately, after having our fill of the dessert joint, we then walked over to the temple that gave the Miaokou Yeshi its name, where we took some shots of its facade (you couldn't go in as it was already closed at 9pm), and then we went back out through the chaos to leave.
We eventually walked back to our hotel (not needing a taxi for this stretch), and we ultimately arrived at the hotel at 10:25pm.
By that time, we got news that Mom and Dad finally checked in, and we went right up to their room where we were surprised to see Nicole and her Mom again chilling out in their room.
So we took a few more minutes to sing Nicole's Mom happy birthday over the mostly unconsumed (at the Bambino restaurant) cheesecake that they brought, and we did some more catching up to see what went on from Mom and Dad's perspective.
We learned that we suffered from an unfortunate circumstance where the incident happened in one county (Xinbei County near Jinguashi) but the tow truck brought them to a shop in Badu (in Keelung County).
And so they spent a lot of time going back and forth between the police station in Jinguashi and the rental car in Badu.
Fortunately, Jennifer's older brother was accompanying them though I'm sure if things were done differently, one of his sons works for one of the police departments and this whole ordeal would have been taken care of quickly instead of over a span of 9 hours or more!
It seems like on our trips, we always have crazy non-ideal incidents like this, and this was the first time that someone else other than us had to deal with it though it was technically on our trip so we were all affected by it.
Still, we got through this incident, and eventually Nicole and her Mom headed out while Mom and Dad went for a late night in Miaokou probably to grab a much-needed bite.
By about 11:05pm, I was back at the room to get cleaned up and stuff while also keeping tabs on Josh and Soph who were always on their screen and probably not doing what they needed to do in terms of cleaning up.
It was something Mom was texting me about that I make sure they do what they're supposed to do.
Anyways, that was the end of this drama-filled day, and we're probably going to have to get a later-than-expected start tomorrow though we're not quite sure what we're going to be doing because Julie had this idea to go to Din Tai Fung as well as Lin's Garden in Banqiao.
However, we were planning to do Shifen Waterfall, Yinhe Cave, maybe Shenkeng Village, Pingxi Old Street, and maybe grandpa's grave at Bitan.
Clearly something had to give as you can't do it all, and the forecast for tomorrow called for worsening weather compared to day (i.e. expect thunderstorms)…
Oh yeah, we also had to return the car at the Taoyuan Airport by 7pm so indeed, it was going to be yet another busy day…
Day 26 (July 2, 2023 – Taoyuan, Taiwan): "Last Excursions"
It was about 4:50am when I woke up to Tahia's alarm, which was quite a first since normally Tahia's the one who tends to sleep in.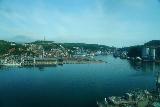 However, she has been eager to be chatting with her friends from school ever since Summer break started, and this was an instance where the time difference kind of worked in our favor (at least as far as her getting up without being dragged out of bed was concerned).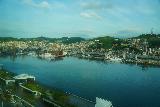 In any case, this was our last full day of sightseeing in Taiwan, but it was also the day that we had to return the rental car near the airport.
And as per usual, I took some time to get caught up on the blogging and photo/video organization tasks before we were loading up our respective cars at 8am.
The first order of business was to briefly head south to visit the Shifen Waterfall, which was something I actually wasn't planning on doing going into this trip.
But after having already visited Tamsui a few days ago, it actually worked out better for us because that waterfall was also something that neither Julie nor Tahia had visited before.
Moreover, we also had an opportunity to visit the Yinhe Cave, which would finally be a new waterfall that I myself haven't done before on this second go around of Taiwan waterfalling for me (especially given the Baiyang Waterfall disappointment).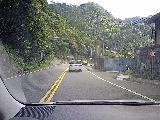 And so the drive south from Keelung involed a bit of a GoogleMaps adventure (making a couple of U-turns along the way) before we finally found the 62 at which point it was relatively smooth sailing.
Eventually, we got to the local Route 2, which went south past some initial congestion around Badushan before heading south along a caravan of cars, eventually passing through a tunnel, and then getting past a bridge over the Keelung River where we finally started seeing Shifen Pubu signs.
GoogleMaps kept insisting that we take some sketchy roads to eventually get to the Shifen Waterfall Park, but I trusted my gut on this one and followed the brown signs (the first one in all Chinese characters but thereafter had English).
By about 9am, we arrived at what appeared to be one of the nearest car parks for the waterfall, and there was a barricade forcing us to park at a lot opposite some restroom facility (not quite getting to the old starting point of Shifen Pubu that would have forced us to walk a longer loop).
Mom loaned me her Youyouka to get past the barricade and finally park the car, and from there, we sprayed on Julie's new bug repellent and proceeded to walk an unfamiliar path (at least one that we didn't take the first time we were here).
Indeed, after getting past the restrooms, we then walked over a bridge over a drier-looking river with a lot of exposed bedrock.
Then, we followed a rather muggy forested path before having to go up steps to a longer swinging bridge next to the Yanjingdong Waterfall.
There was definitely less water over this falls than the last time we were here 7 years ago, but in its current state, we could see that the water was flowing over some kind of calcified ridge or something, which was quite unusual for a waterfall.
The water typically finds a path of least resistance, which is why you hardly ever see one that prefers to go over a sloping ridge and not to its sides.
Anyways, we saw that there were big tour groups going onto that bridge, and it immediately went from a relatively calm experience to a rather hectic one.
I even overheard one daoyou (tour guide) say that the path that we came from was where the waiguoren (foreigners) would take.
So this hastened our pace to get past these mega groups that I knew would inundate the overlooks for the Shifen Waterfall, and so I forged ahead along with Mom, Dad, Josh, and Soph, and then let Julie and Tahia do the catching up.
Eventually, we got to the familiar first lookout for Shifen Waterfall, which confirmed my suspiscions about the lookouts being inundated with tour groups.
However, we then kept going along the Pingxi Railway, which led us to some steps and a partial-view of the Shifen Waterfall.
Going down the steps, we eventually got to the main frontal lookouts of the falls just as the sun started coming out, but we could tell that there'd be no rainbow this time of year as the sun was too high on the horizon.
Moreover, we were all sweating beads as we got here, but at least we beat the tour group rush and there were only a dozen people or so at any one time.
After having our fill of the Shifen Waterfall, which impressed Julie enough to say that it was probably her favorite waterfall in Taiwan (seeing how it was way bigger than the other ones we had seen on this trip), we then went up the steps to conclude a small loop walk and right up to the chaos.
As we got up there, we then bought some ice tea (one with aiyu jelly and passion fruit), which was very refreshing (though the citrus kind of added a little bitterness to the drink) albeit quite temporary.
By the time we got back to the car park at 10:20am, it appeared that we definitely beat the rush as scores of people were headed in the opposite direction.
Even the car park we were at was filling up fast, and it was with this realization that Mom decided we shouldn't stop by the Pingxi Old Street to launch red lanterns (perhaps as a way for Josh and Soph to communicate with their father).
I think she knew that if it was already this hectic at the Shifen Pubu, then Pingxi Laojie as well as Julie's desire for stinky tofu at Shenkeng Laojie would be just as muggy and hectic.
And so we opted to go straight to the Yinhe Cave, which would be the lone new waterfall on this Taiwan leg of the trip, and we won't even stop for grandpa's grave at Bitan given how tight parking would be.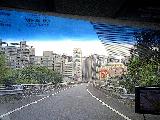 Indeed, this is kind of a taste of what the Summer season is like in Taiwan, especially as all the schools just got out this past Friday.
Thus, we returned back the same local roads to the 62, and then we eventually got onto the 3 Freeway headed towards Bitan before getting off.
From there, we followed more local roads along the Route 9 before deviating from it and going on some partially single-lane roads, which resulted in some tight spots when vehicles in the opposite direction had to squeeze past each other.
I'm sure this triggered some anxious moments with the parents given their misadventure between Jinguashi and Jiufen, but by about 11:25am, we found parallel parking spots near the trailhead for the Yinhe Cave hike.
There didn't seem to be any official signage letting us know we're in the right place, but given the amount of cars parked here, I kind of knew we were in the right spot.
As we got out of the car and sprayed on more repellent, I then took the lead walking up the road from the first temple we were at towards the foot of switchbacks leading up to an even grander temple way uphill.
At this point, I noticed signs pointing the way to the Yinhe Cave, and there was even one lady makig sure people were going to the right for the main attraction here.
Of course, she had some jelly ice tea ready to serve for those sweating bullets on the way back down so she was well-positioned to capitalize on this.
Anyways, the path didn't mess around as it promptly started going up steps.
And it kept going up steps alongside a smaller stream with intermediate cascades as we were all sweating bullets at this point (my shirt and pants were definitely drenched in my own sweat).
There were lots of people going back down at the same time so there was no question that we were going the right way.
Ultimately at around 12pm, we finally got to the impressive Yinhe Waterfall, but right next to it was a shrine pretty much built right into an alcove or cave (and hence why they call it a "dong" in the place name literature here).
To get up to that shrine, we had to go up more steps, and the rest of the crew just wasn't that up for it so they were content to take their photos near the base of the waterfall and then they were content to leave.
That said, I wanted to make sure that I had the full experience of this place even though by now I really had to do a #2 (and there were some really tight latrines near the shrine).
So I took the time to go up the steps, check out the incense-smelling interior of the shrine, and then continue up more steps going behind the waterfall and ultimately ending at a yellow statue where I saw a couple of waigroren speaking English to each other.
Once I had my fill of this spot, I then went back to the latrine toilets and realized that this wasn't going to work with my pack and camera as the facility was way too tight to go in there and do my business (especially without any tissue or toilet paper).
So I went back down the steep steps from the shrine and eventually back down to the temple near where we had parked where I finally got to do my business and Julie handed me some tissue to wipe.
With that relief out of the way, I was back into the car at 12:40pm a really hot sweaty mess and even the AC in the car that Julie had on idling while waiting for me felt a bit uncomfortable given the sudden chill of wet clothes in an AC environment.
From there, we drove towards the Taoyuan Airport as both Julie and Mom resigned themselves to let the kids play in the pool at our accommodation by the Taoyuan Airport.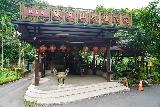 This was despite Julie's desire to have Din Tai Fung in Taiwan, but there simply wasn't enough time to pull that off on this short week as we had way too many meetups with family here.
And that includes tonight where Mom organized to have another get-together with other relatives at our hotel tonight.
Indeed, with that, we returned back to the 3 Freeway (where GoogleMaps took us on another misadventure to the on-ramp even though there was a more direct one that it ignored), and then we were pretty much home free on wide freeways on our way to the Taoyuan Airport.
By about 1:35pm, we made it to the Novotel, where we were spending the night, though we had to drive the horseshoe of the airport terminals before backtracking to the hotel itself.
Julie found out that we could check-in early, and so we promptly got settled by 2pm before all the adults went down to our respective rental cars to return it.
Thus, the kids got to be autonomous for this time at our hotel room since we knew they weren't going anywhere so long as they were having screen time.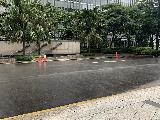 Once again, GoogleMaps took us on another adventure to get to the rental car office, but we eventually got there, returned the car, got through some paperwork and final bills to settle (as Mom did all the paying this time), and then we got back to the room at 3pm.
From there, Julie and I bought some takeaway food of popcorn chicken Taiwanese style as well as a takeaway beef noodle soup, which we all shared and held ourselves over with in anticipation for tonight's dinner.
Then, the kids spent the next couple of hours playing in the indoor pool here while the adults pretty much just relaxed and also looked for a laundry facility (they didn't have one).
Ultimately, our cousins showed up at our airport at 6pm, and by 6:30pm, we all had a nice dinner on the 2nd floor of the hotel, where we all had a duck feast (many ways) family style.
We got to meet a couple of my cousins from my Mom's side of the family that were the two eldest of Da Agu (Nicole and Regina whom we met yesterday were daughters of Er Agu on Mom's side of the family and two other guys were Cousin Jennifer's oldest brother's sons).
Both of the cousins at this dinner only had Chinese names and they were called Abing and Akun who seemed to have very successful careers as Civil Engineers.
Abing brought his wife and two daughters called Winnie and Annie, and it was a nice getting caught up while also forcing me to use my Mandarin more.
I was a little disappointed to see our kids not really wanting to interact with each other (as Josh, Soph, and Tahia kept to themselves instead of engaging with Annie and Winnie; where Winnie was only a year older than Josh and Tahia).
Indeed, there was a definite disparity in maturity between Winnie and her peers, but aside from that, we had a great time (and a lot of food), and Mom's intention of having our generation keep in touch was fulfilled as we were able to WhatsApp each other.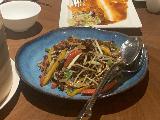 When all was said and done, it was about 9:20pm when we returned to the room, but then we learned at the last minute that we had to get our QR codes for customs and immigration, which we totally forgot to do regarding Japan.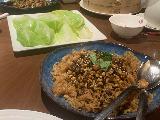 So we spent the next several minutes getting that all arranged (and doing it with Mom as I was getting sleepy) before we finally got that going.
And the rest of the night was a blur as we were getting ready for a hectic travel day tomorrow…
Day 27 (July 3, 2023 – Osaka, Japan): "Full Flight"
It was 4am when we all awoke though I actually got up a minute before it went off because my calves cramped up right at that moment (guess I was dehydrated).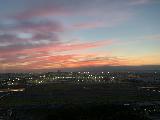 From that time, we then got right to packing up and getting right to the awaiting shuttle, which was totally packed right at its departure time at 5am.
And boy did we cut it quite close.
The shuttle then dropped us off at the airport, which was also pretty busy at this time though I'm sure it could be more hectic later in the day.
We dropped off our bags by 5:20pm, and then after getting through security (which they wanted to see some long objects in my day pack this time – a trekking pole pair and my SwitchPod instead of batteries).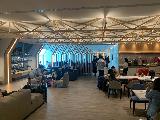 And then we got right to the Oriental Club Lounge using our Global Priority Pass at 6:20am.
We used this time to eat some pretty decent grub that included saumai (shumai), spaghetti bolognese, niuroumian (beef noodle soup), luroufan (braised pork over rice), and some fresh fruits as this was our last go at Taiwanese food before going to Japan.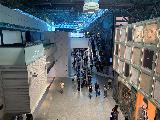 I also used this time to try to get caught up on my daily tasks of blogging and photo/video organizing, and ultimately by about 7:50am, we were waiting at our gate, which was quite crowded with people.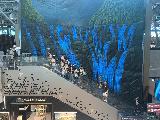 At 8:15am, we boarded the plane pretty much on time, and then the plane took off though we were all trying to get back some shuteye.
I think when the flight was half over, I finally got to finish the movie "Light Up The Stars", which not surprisingly was a tear jerker, but at least it had a happy ending, and even Tahia got into it.
Ultimately by about 11:30am (or some time thereabouts), the plane landed, and now we were officially in Japan on our own for today.
The rest of the group would be catching a later flight to Osaka at which point the Cheng Army would finally tour Japan as an entourage thereby beginning our last country of this epic Asian trip…
Visitor Comments:
Got something you'd like to share or say to keep the conversation going? Feel free to leave a comment below...
No users have replied to the content on this page