7-June 2023 to 27-June 2023:
As I was waiting out the storm in this cafe across from the temple with all this lightning and rumbling thunder all around me accompanied by pouring rain, I couldn't help but wonder how much longer the storm could go on like this before subsiding.
As I was checking the weather forecast for the current state of this storm, I then got a text from the T-mobile carrier saying that I used 80% of the international roaming for the month that we paid (and it was only in the first week).
It seemed like that calamity of errors that started with Tahia losing her water bottle and her Uno set on the day we arrived to pick up the car at the Gimpo Airport combined with my loss of the GoPro on the first day we left Seoul was all compounding.
Couple that with the realization that you can't make left turns on green lights (only green arrows) upon witnessing a Korean driver refusing to go left on a green light in front of us made me wonder if a hefty fine from a traffic light camera caught me turning left when I shouldn't have.
Moreover, I'm not sure what fines I'll have to pay upon not knowing about the HiPass blue-lined lanes at the toll stations on that first day I was waterfalling in a divide-and-conquer north of Seoul, which further compounded the ignorance is not bliss moments so far in Korea.
Now with this storm, I wondered what other calamity will befall us as things definitely weren't going as planned so far…
Days 0-2 (June 7-9, 2023 – Seoul, Korea): "The Waiting Game"
It was 8:25pm when we finally started to drive off towards LAX just as the skies had gotten dark.
We actually intended to leave nearly a half-hour earlier thinking that things would be a bit hectic at the airport since it was the start of Summer for a lot of people (though technically Tahia still had tomorrow as her last day of school, which she was ditching).
Better to miss a day of school than to eat the consequences of more crowds, higher prices, and overall just more anxiety when it comes to a long trip that we were about to go on.
Anyways, I did end up taking a half-day off from work today so I could get home by lunch time to wrap up paying bills, doing finances, wrapping up on the packing, and just trying to get whatever I could get done at home before disappearing for the next couple of months.
The drive out towards LAX was pretty smooth, and it only took about a half-hour to get to parking and then using Uber to get to the Tom Bradley Terminal.
However, when we got into the Uber at around 8:50pm, we saw that the traffic was crazy as it backed up to before the Sepulveda Tunnel.
I saw that the Uber driver took us past the tunnel and went towards a ramp in a different direction further to the north though the initial route he wanted to go on was closed.
We'd eventually get to the drop off area right in front of the Tom Bradley airport due to his skillful driving, but man it certainly seemed like tense moments at the terminal area of LAX as it seemed like everyone was going somewhere tonight.
In fact, it took about 30 minutes to go less than 5 miles from where we were at to the Tom Bradley Terminal!
When we got towards the Eva check-in counters at around 9:25pm, we saw Mom, Dad, Josh, and Soph waiting for us, and then we waited in the check-in line to wait to drop off our luggages.
In the meantime, the rest of the family went to the security line as we were doing our own business, but the line moved so slow that it took nearly another hour to finally check-in our larger luggages.
Things were a bit complicated because they actually wanted us to weight our hand carry bags, and Tahia's carry-on was too heavy so she had to check her bags in.
I had to remove my DSLR camera out of my day pack before weighing it so I considered my DSLR camera bag as Tahia's personal item before getting the green ticket on my day pack, which then opened the door for me to put my DSLR back in my day pack after getting our boarding passes.
Next, we got through the really chaotic security line before finally getting behind it by about 10:25pm, and by this point, we walked all the way to Gate 150 where we met up with Mom, Dad, Josh, and Soph again.
For the next couple of hours, we waited patiently for our red-eye flight to Taiwan, and I used this time to kill by playing Duolingo and watching Korean language lessons.
Meanwhile, Tahia was happily playing games or watching Josh and/or Soph playing games as I realized that this was the first time Tahia got to hang out with her cousins on an overseas trip.
Granted, Julie and I would rather her be more in the moment and off the screen, but I'd imagine this trip would be a little less lonelier for Tahia.
By about 12:20pm, we were finally seated on the full flight, and with all of us in 4 different boarding zones, it was like we were all spread out and boarding at different times.
Nevertheless, we were ultimately seated pretty close together in two different rows, where Dad giving up his aisle seat so Tahia could sit with the cousins and Mom.
Dad got the middle seat next to me on the aisle while Julie was across from me on the aisle, and I guess for non-guaranteed seats, we were in pretty good shape.
The flight went along pretty smoothly aside from a bit of turbulence (probably from the Guam typhoon missing Taiwan and just grazing Japan) as we were flying over Japan towards Taiwan, but I was actually surprised by how long I managed to sleep on this flight.
In fact, it was actually a bit more comfortable on this Eva flight compared to the ANA flight a couple of months ago, which was surprising considering how hard the seats were on that ANA flight.
When we were awake for good (around the time when there was 4 hours flight to go), Julie got me to watch some movie called Lighting The Stars, which was actually quite the tear jerker.
Unfortunately, I wasn't able to finish that movie when we landed at 5:20am (now it's June 9), and I'll have to pick it up on a different Eva flight (probably not until we fly to Japan from Taiwan in another month).
Anyways, we got through the next round of passport control and collected our luggages before getting to the arrival hall at 6:20am, where we then took some pictures and shared our last moments together before going our separate ways again.
Mom, Dad, Josh, and Soph would be spending the next month in Taiwan while Julie, Tahia, and I were headed to Korea.
In hindsight, we could have flown directly from LAX to Incheon at 11:30am June 7, but now we have to wait a long time for our TPE to ICH flight, and then have to take the train from ICH to Gimpo to pick up the rental car, and then finally drive to our hotel in Seoul.
Indeed, it was already quite the adventure, and a game of waiting, but this all came about because Mom wanted to join us on the Japan leg of the trip when she told me earlier that she couldn't join us.
Oh well, at least we had taken care of the expensive overseas flights when we did because any more waiting and we'd be looking at another $600 or more of flight tickets on top of the roughly $1400 per person (or $4200 total) we paid not counting the shorter flights involving Korea and Japan.
Anyways, we had to do a bit of a long hike to get from Terminal 2 to Terminal 1 when we learned that we still had another 3 hours before we could start checking into our Korean Airlines flight.
So we killed a lot of time going downstairs of Terminal 1 to have a Taiwanese brekkie while trying to take care of charging our phones and setting up this blog.
The downstairs area kind of reminded me of some of the food courts in Japan though we only had a morning selection.
By about 10:05am, we finally started to head up and check into our KAL flight, and after getting through security and looking for the Global Priority Pass-accepting lounge, we finally got there at 10:50am.
From there, we munched on more Taiwanese foods that included Pork clear soup with cilantro, lu rou fan, veggie (lotus root, jellyfish, cauliflower, broccoli, taro buns, and other stuff), and then chilled out while charging stuff again.
We mind as well since we had another 90 minutes in this lounge, and indeed, this certainly was the waiting game though we weren't looking forward to the hectic logistics we'd have to be dealing with once we land in Incheon and head towards Gimpo before finally driving to downtown Seoul.
After a pretty chill time in the lounge (and losing to Tahia at Uno five times), we then continued towards our gate at around 11:30am, where we would eventually get onto the plane at its scheduled boarding time of 12:10pm.
From there, we then took our pretty uneventful flight to the Incheon Airport, where I managed to squeeze in some time watching M3gan (mostly because Ronny Chieng is in it).
It was a predictable movie, but it also kind of was a cautionary tale of how sentient AI could have unintended consequences in a rather dramatic fashion.
Tahia actually watched the movie with me, and I guess she had to turn away and watch what Julie was doing for a few of the scenes.
Nevertheless, it was quite a contrast to the tear jerker that I didn't get to finish on the way to Taoyuan Airport.
In any case, the plan landed on time at around 4:50pm (though we had thought it was supposed to be 3:50pm until we realized that Korea was an hour ahead of Taiwan).
Anyways, we then proceeded to get our stuff, de-plane, and then head through the usual passport control, baggage claim, and customs before finally taking care of business with exchanging some money as well as getting a local SIM card for a month (even though we're here less than 3 weeks).
By this time, Tahia was complaining that her stomach was hurting, and both Julie and I immediately thought that it was the dairy from the milk tea that we had in the Taoyuan airport.
Tahia was gassy apparently (or at least based on her aggravated limited feedback to our inquiries), but based on my own personal experiences, I sensed that it was gassiness and the gas expanding while on the plane and now sticking with her as we were still trying to get stuff done.
Regardless, after getting our business done at the Incheon airport, we then went to buy tickets for the All Stop Train, and right off the bat, we needed to pay cash for this train.
That's what Julie's cousin's husband called Jihun (who's Korean) warned us about, and at least that part seemed to be true (and we weren't really keen on putting money into a T-money card, which can take credit card though we might be left with unused balances).
At 6:10pm, we caught the All Stop Train, which at first seemed pretty lightly occupied, but by the time the train got to Terminal 1 of the Incheon Airport, the train got really crowded.
And when it got to the next stop, it became a sardine line, which upped our anxiety levels a bit since we had quite a bit of luggage.
As we went stop after stop, I became a bit concerned that the train was so crowded that we might have a tough time getting off the train at the Gimpo Airport stop, which was where we were supposed to pick up our rental car.
We did this to be strategic because we knew we had to fly from Gimpo Airport to Jeju Island later on in the trip, and so if we got the painful part of the trip out of the way first, then we could have an easier time later on.
Regardless, we were kind of running on fumes and Tahia was having enough stomach pain to cause her to complain louder and louder while we were on the train.
But by the time we got off the train, some 30 minutes later or so, we then kind of squeezed our way off the train (still not easy since other people were also getting off at the same time as we had lots of luggage while wearing backpacks).
So we then walked through travelators and corridors kind of aimlessly looking for the Gimpo Airport as apparently we were merely at a train stop.
We even went outside before going down a different escalator towards a fork where going left went to the domestic airport while going right went to the international airport.
After a bit of indecision, Julie then found some random person in a T-luggage shop who then pointed her towards an information kiosk that finally helped guide us on the way to the SK rental car office kiosk in the domestic terminal.
She even helped Julie make a call though it sounded like there would be some additional delay over there since the clerk working there had some kind of "trouble" so it might be another half-hour wait.
And by this time, Tahia's pain was getting worse as she was crying and can't wait to not move around or even lay down.
Anyways, we would eventually find the SK kiosk at 7:25pm near Gate 6 in the domestic terminal, but no one was at our kiosk.
There was one guy working at an adjacent kiosk saying a guy is there but he was helping someone else, and there was a customer who also told us that he was being helped (so that was reassuring).
It wouldn't be until about 8:10pm when we finally got our rental car, but as we got inside and started to use the cigarette lighter charger, it turned out that it wasn't working.
When we pointed this out the clerk, he seemed to have this distressed reaction (like oh no not now kind of thing), and after some more waiting, he then got us another car where the lighter was working.
That wasn't until about 8:45pm, but we ultimately got going just when Mom facetimed us while we were trying to navigate our way out of the airport and towards the Lotte Hotel Seoul.
It was a case of bad timing because Mom was showing off Dagugu (the older auntie on Dad's side of the family) as well as the nice rental they got, but it was preventing me from listening to the Kakao Map navigation or at least looking at the map.
So we had to U-turn and tell them we had to hang up so we could get going back to downtown Seoul.
Anyways, the later night drive we were on was kind of a blessing in disguise because there didn't seem to be a terrible amount of cars so the stress level of doing this drive wasn't as bad as expected.
Had we come here earlier in the day, perhaps we would have been caught in the rush hour traffic (like we were on the train) and then we would have been crawling towards the center of Seoul.
Ultimately by about 9:30pm, we arrived at the Lotte Hotel Seoul, where there were a couple of tense moments around the hotel since there were lots of cars and some aggressive drivers, but other than that, we checked in and found out there were plenty of parking spaces underground for free at 9:50pm!
By about 10:05pm, we finally were in our room, and thus we could finally unwind, get cleaned up, let Tahia lay down to feel better (hoping this isn't an appendix issue), and finally crash for the night some time after 11pm.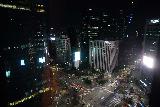 The forecast wasn't going to be kind to us tomorrow and the next day, but we'll have to see how things go as the city stuff was Julie's part of the trip to control, and that would be happening for the next two full days before we start chasing waterfalls…
Day 3 (June 10, 2023 – Seoul, Korea): "A Little Bit Of Seoul"
It was 5:55am when we awoke naturally without the aid of an alarm though it would have gone off in another 5 minutes.
Looking outside, the weather looked hazy though it didn't appear like the weather was going to be as rainy as what was in the forecast (which called for at least two consecutive days of rain as well as thunderstorms).
Regardless, we planned for the next two days of pretty much touring Seoul where Julie got to control what we were doing, and then we might finally chase waterfalls the following day in a possible divide-and-conquer if they still want a third day of touring within Seoul.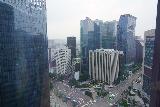 It took some time for us to get ready, especially since Mom Facetimed us about their place at the Grand Hyatt that they got off points and something about Executive Club so they got free food in addition to nice amenities.
That kind of got Julie in a swirl to see if she could get us a similar deal, but it ultimately didn't work out because it either wasn't available or they couldn't get us a rollaway bed for Tahia.
So in the end, we ultimately cancelled and got back the same accommodation as before concerning the W, which did include a bed for Tahia.
Thus, it wouldn't be until about 8:10am when we finally started to head downstairs and get going on our touring of the city, where we pretty much targeted the Gyeongbokgung Palace as the Bukchon Hanok Village for today.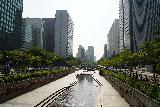 We initially went down some random streets where we were hoping to get some quick brekkie for the day (nixing the idea of paying for and eating the breakfast provided by the Lotte Hotel Seoul due to the late start).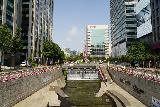 Since the places that Julie and Tahia preferred like Coffee Bean and Starbucks weren't open until something like 9am, we eventually settled on some random local coffee house as well as a McDonald's across the street.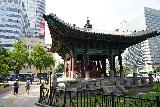 Afterwards, we got the takeaway breakfast and then tried to follow a combination of Google Maps and Kakao Maps both of which had their problems in Korea.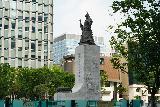 Kakao Maps only worked if we were navigating by car while GoogleMaps didn't allow navigation period so we had to pretty much use the map old school.
Eventually, we figured out that we had to walk towards a main boulevard (Sejongdae-ro) that went alongside the Gwanghwamun Square, which was a huge open space adjacent to the main boulevard while flanked by tall high rise buildings.
It was already an atmospheric start to the day before eventually getting to the Gyeongbokgung Palace by around 9:10am, which seemed to have quite a bit of construction work going on at its south facing side (i.e. the side we were approaching from).
Once we got through the entrance gates and towards the admission ticket office, Julie and I were immediately struck by how grand the initial courtyard was, which was very reminiscent of the Forbidden City in Beijing.
After getting our tickets, we then posed for pictures in front of the gate where they check for admission, but as we got up to the lady checking for the tickets, Julie realized that the tickets were no longer in her pocket!
So we had to backtrack until Julie finally found it starting to fly around, and at least with that close call out of the way, we then went up through the admission gate and finally into the main complex.
Just like the Forbidden City in China, we were dealing with huge palaces that were more sprawling single-story buildings that almost looked like temples as opposed to buildings where they did government business.
Meanwhile, there were other buildings that had spacious but empty interiors which was kind of reminiscent of how in Japan, we saw similar structures though sometimes the emptiness was intriguing in and of itself as you never were sure what was just out of sight around the next corner.
We continued to tour the grounds pretty much seeing the buildings seemingly getting smaller and smaller the further north we went, and it was really after the second or third building that we started to not pay too much attention to the palace interiors.
After going to the western end of the complex where there seemed to be an open-air palace within the Gyeonghoeji Pond, we then went all the way towards the back of the complex, where there was another attractive building surrounded by a pond.
This one was called the Hwangwonjeong Pavilion, and it was quite a nice little photogenic spot.
Even one of the staffers there offered to help us take a family photo from that spot, which was nice of him.
Anyways, once we had our fill of this spot, we then briefly backtracked to the Gyeonghoeji Pond's front where there was a more unobstructed view of it from its south-facing side as well as a cafe and a restroom facility.
Afterwards, we then backtracked to the National Folk Museum of Korea where we exited the paid area for the Gyeongbokgung Palace complex by about 10:45am to get there.
Next, we went checking out some of the exhibits within that folk museum on the inside (mainly the 2nd and 3rd permanent exhibit as the first one was closed).
The museum itself was free and we saw some displays primarily focusing on the seasons as well as rites of passage (i.e. going through life in Korea).
Julie was kind of bummed that she didn't get to see trinkets from the royals or any recreations of what life might have been like back then as far as the priviledged were concerned.
She wondered if that display was in the closed first exhibit (turned out that it wasn't).
After having our fill of the indoor part of the folk museum at 11:15am, we then went around the outdoor museum, which had interesting re-creations of what life might be like in the 80s with the pagoda backdrop.
It was just recent enough for Julie and I to remember what life was like growing up in the 80s (or maybe even the late 70s), but it was definitely out-of-reach of Tahia's experiences.
If anything, these outdoor exhibits were probably doubling as a movie set or something because there was a very Truman Show-esque quality about these buildings.
Once we had our fill of the outdoor museum part of the folk museum, we then went to some dumpling house that was apparently Michelin rated called Hwangsaengga Kalguksu.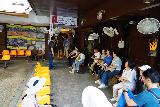 We wound up going out the east side of the huge Gyeongbokgung Complex, where we then got to the queue fronting the restaurant, which was a rather unique musical chairs kind of queue.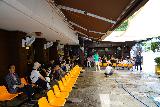 Here, they had a bunch of seats kind of arranged in a horseshoe with a couple more rows off to the side, and I guess when we showed up at around 11:45am, we were essentially at the bottom of the horseshoe with a few people in front of us.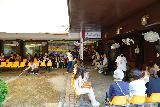 Whenever spots would open up, people would scoot over a few seats and wait for more spots to open up upon which we'd be doing the musical chairs again.
I don't think I had ever seen anything like this before, but I guess that keeps the guests waiting to be seated rather comfortable while they wait.
Once we got inside, we were seated on the floor, which was kind of Japanese style, and we wound up eating some Korean dumplings (which were quite big) as well as a dumpling soup, and a creamy cold noodle soup.
The dumplings pretty much hit the spot, and there was plenty of kimchee and just vinegared cabbage as the panchan (small dishes), but the cold noodle dish was a bit of a bland miss, and we probably should have gotten a cold noodle with a clearer broth or gotten something more dumpling focused.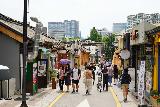 Anyways, we left the restaurant at around 12:25pm, and at that time, we saw that the queue grew considerably at this time.
Now, there were people seated on the pair of rows outside of the horseshoe part of the queue, and boy were we glad that we got to have our lunch as early as we did.
Next, we then pursued walking the Bukchon Hanok Folk Village, though we had a bit of trouble finding it by the time we were in the general vicinity somewhere further to the east of Gyeongbokgung closer to the Changdeokgung Palace.
After several minutes of trying to figure out if we had overshot the folk village, Julie eventually found some people in vests essentially helping tourists answer questions as well as helping to keep the peace apparently.
Julie ultimately got the answers she needed by having the "mobile ambassador" mark up a city map that he gave us, and then we pretty much followed the recommended route.
It turned out that there were actually three parts to the Bukchon Hanok Folk Village, and they all were apparently quite well hidden as these parts were also active residences with the traditional housing.
The first spot we went to at around 1pm was the Baekin-je House, which was said to be the helper's favorite spot in the Bukchon Village.
It was basically a nice traditional house that was open for visitation with free admission, and it was quite the hidden spot as we had to go up some alleyway to get there.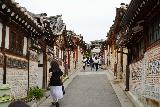 After having our fill of this little spot that definitely had a bit of a Japanese influence as well as Chinese influence it seemed, we then got to a steeply ascending street as we got to the second part of the Bukchon Folk Village area.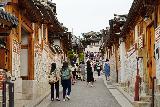 This one turned out to be the busiest one as it was also the most photogenic one.
And I was willing to bet that this was the spot where all those Instagram photos came from when it came to the folk villages here.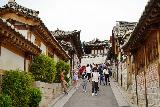 And indeed, as we got further up the alleyway, we then got to an intersection where one branch was a very photogenic straightshot street flanked by traditional wooden housing with the fancy tiled roofing that we were quite familiar with in both China and Japan.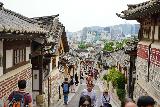 Yep, this was where most of the people were taking photos at, and I guess it made sense why this spot was so coveted for photos.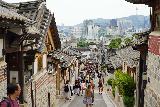 We also noticed that there were many foreigners dressed in hanbok gowns (kind of like how many foreigners were dressed in kimonos in Japan), and I guess that allows people to essentially create photo ops in such scenic spots on the spot.
I'm quite certain that if our friend Wendy learns about this place, she's totally going to come here and do the same thing, haha!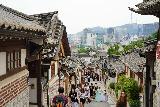 The thing with this street was that it was definitely steeply ascending so we were already a bit hot and sweaty by the time we got to the top of the street, but that was where the best photo ops were at.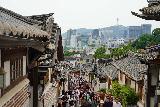 That's because you look down at this street lined with traditional housing with the Korea North Tower in the background.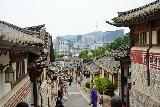 Of course we took the time to take some people shots here, but there were some pretty ugly behavior by some of the seemingly more entitled European visitors who were pushing me out of their way (me included), which definitely left a bit of a sour taste in my mouth.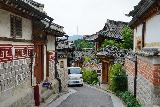 Besides that bit of unpleasantness, I guess I should spare a thought for the people living here, who have to deal with people making noise or talking loudly given that there are indeed active residences here.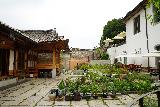 They must be pretty pissed off at how popular their homes have become, and I'm betting that they have to deal with ugly tourist behavior on a pretty regular basis.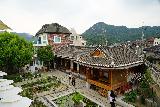 Anyways, after having our fill of this spot, we then explored a little more of this residential street where we met some family from Singapore where we took photos of each other as well as chatted about the screwed up politics in America (since it seems to be all we're being known for these days).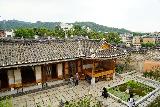 Then, as we started to head back towards the photogenic spot, we noticed that there was another sign that said something about the Best Observatory in Bukchon.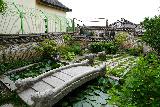 So we followed that sign, and it ultimately routed us to some kind of tea house where you had to buy some drinks in order to gain access to the lookouts there.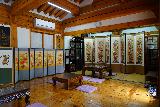 We ultimately did that because Tahia was already complaining about being hot and getting a headache, and so we chilled in the joint for a bit while paying 6k KRW for each tea.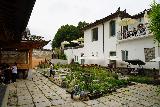 Then, we checked out the facility which had some interesting artifacts (almost like a museum) as well as a terrace for views towards some mountains in the distance as well as towards Seoul.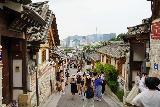 There was also a garden area that was kind of nice before the exit routed us down to some partner's shop or something before going back out onto the street at around 2pm.
From there, we then went back down to street level before going up the third and final part of the Bukchon Hanok Folk Village, which was a much quieter section still with some wooden traditional residences.
However, this one seemed to be a bit more on the modern side, and it was a bit less interesting than the previous section we were at, so I guess it was no wonder why.
By this time, we were pretty much done with the walking tour of the Bukchon Hanok Village and we were pretty much not going to extend the day going to the nearby Changdeokgung Palace as that would be a bit too much.
Along the way back, we stopped by one of the CU Convenience Stores, where I managed to see a Yakult drink in a big bottle that I had never before seen (they're usually in little shots).
So I just had to indulge much to the chagrin of both Julie and Tahia (but especially Julie who wanted me to keep my sugar highs controlled much like she wants Tahia to control hers).
Anyways, we then made the somewhat non-trivial walk back to the Lotte Hotel Seoul, but along the way back towards the Gwanghwamun Square, we saw that there were some lightning strikes in the distance towards the mountains by the north end of Seoul.
The lightning seemed to be happening with some alarming frequency and as we were walking in open spaces, we were definitely concerned that this thunderstorm would come over us while we were exposed.
By the time we got to the north end of the Gwanghwamun Square, the place was now bustling with lots of people as well as lots of demonstrators and police.
This was definitely not something you see every day, and it certainly seemed like there was more than one demonstration or parade.
In one part, there seemed to be some kind of demonstration about the environment (one that I totally sympathize with) while there was another one that was about getting the American troops out of Korea.
The heavy police presence for crowd control was definitely on display, and in some respects, it was kind of both scary as well as reassuring I guess.
There was even some kind of live street concert with a large seated audience that appeared to be veterans or something.
Eventually by about 3:55pm, we made it back to the room, which was just in time before the skies started to rain down in thick drops.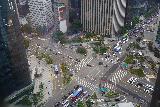 Once we were in the room, we then got settled again (my shoulders were probably relieved from carrying everyone's stuff, especially the water as well as all the cameras and stuff).
Then, Tahia and I went downstairs to the pool, which I know was one thing that Tahia wants to do whenever we go on trips.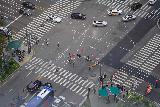 So we did that while Julie stayed in the room, and it turned out that it was not really a big pool plus it was pretty busy.
During our time playing in the pool (it was too busy to be doing laps or doing any wrestling moves), Tahia told me that there was one European guy that was chewing out staff while I was trying to shower before going in.
She said something like the guy was demanding that there should be staff that spoke English as well as he does, especially since this was a 5-star hotel.
And when I heard that Tahia had to hear that, I wondered to myself that while the ugly Americans get a bad rap when it comes to foreign tourists, there are just as many entitled Europeans giving foreign tourists in general a bad rap like this guy.
I guess it also goes to show you that the people being rewarded economically in this world as it stands now tend to be the a**holes because that's how you have to be (or be born into) in order to attain wealth.
So this ultimately comes back at us and manifests itself in how we vote or choose how we want our countries to be assuming it's a democracy.
That said, the cynic in my thinks only specific rich people call the shots and rig the politics to keep them in power and there's not much else anyone else can do.
By around 5:30pm, Tahia and I rinsed off the chrlorine and got back up to the room, where we then promptly changed so we could go back downstairs to experience the Myeongdong Night Market.
We got downstairs some time after 6:10pm, and then we promptly walked a couple blocks to the famed night market, which turned out to be quite the atmospheric blocks and blocks of street stalls all while surrounded by high rise buildings and bright neon lighted LED screens.
It was very crowded and we ultimately spent time picking and choosing the street food fare while actively meandering about (trying not to drop any food in the process while eating).
However, after a while, the food stalls seemed to be repeating, and it definitely seemed like the further we went, the less new stuff we were discovering.
So unlike the night markets in say Taiwan, where they had more compact blocks of street stalls, this sprawling one that went on for many blocks just seemed to be more about the volume and less about the quality.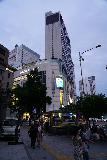 Thus, we started to have our fill of the Myeongdong Night Market especially after having been stuffed with all the different kinds of foods (none of which were healthy I'm sure), we eventually got back to our room by twilight at 8pm.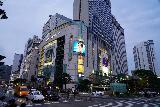 From there, we pretty much crashed for the night as we were pretty much beat as well as sore, and I'm sure most of us ultimately wound up getting shuteye by some time before 10pm…
Day 4 (June 11, 2023 – Seoul, Korea): "Weary Legs"
It was 4:30am when I awoke naturally without an alarm as the jetlag was actually benefitting me insofar as getting an early start.
It took us some time to get ready for the day mostly because Mom planted in Julie's mind that given the deal they were getting while staying at the Grand Hyatt in Taipei at the moment, perhaps we could score a similar deal with executive club included on points.
But that took time after we had hung up with Mom, and it ended up being a fruitless pursuit because they were all gone on points, and Julie had to re-book the original booking we had cancelled to attempt to make this happen with the W in Taipei.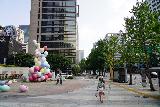 Thus, it wouldn't be until about 8:10am when we finally started to head downstairs and go for a second round of exploring the city center of Seoul.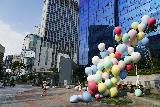 On this day, we targeted the Changdeokgung Palace because I recalled seeing a bunch of brown signs for it yesterday when we pursued the Bukchon Hanok Folk Villages yesterday.
And after Julie did a little Googling on it last night, she decided that we shouldn't give this place a miss, and so that was where we were headed though it did require quite a bit of a walk since it was further to the east of the Bukchon Folk Villages (which was already a bit of a walk).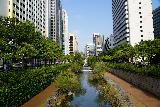 Along the way, we headed east through some modern streets and high rise buildings, and for a long while Julie and Tahia were eye-ing Starbucks or any coffee joint for a brekkie on the go.
However, they were on the other side of the street, which was not so palatable, but when we did see a Starbucks on our side of the street, it didn't open until 10am (since these coffee joints weren't the early morning places we were used to back at home).
We eventually found a Paris Baguette place, which we were quite familiar with back at home since there are many Korean Americans there, and so we went in for some takeaways.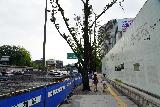 They definitely had a lot more variety than the sweets they're pretty known for back at home, and so we got ourselves a couple of japchae croquettes (something we'd never get at the Paris Baguette back hom), a croissant, and some other kind of pastry thing that Tahia coveted.
After leaving Paris Baguette, we walked a street where we thought we were heading north, but it turned out that we went roughly northwest and got back to the Gyeongbokgung Palace, which meant we had quite a ways to go east from there to get to Changdeokgung Palace.
Thus, we pretty much walked backwards from the open air "lightning zone" we saw yesterday before we finally got to the entrance of the Changdeokgung Palace at 9:10am, which was just 10 minutes after the place opened.
Once we got our tickets and went inside, just like with the Gyeongbokgung Palace, the place was huge, and we kind of knew that we'd have to do a bit of walking to really experience the place.
However, this place was a little less Forbidden City-esque (or at least it started off that way) because we had to walk a few corridors before we saw a couple of impressive gates to pass through.
Julie managed to QR code and download some free audio guide of the Changdeokgung Palace, which I'm sure kept her interested, but Tahia was already feeling tired and not up for this visit (kind of putting us off in a bad footing since we barely just started).
When we got through one of the north-south-facing gates, we then got to one giant courtyard that was kind of Forbidden City-esque and went up to the fairly empty interior of that palace.
Then, we went off to the side exit of that big courtyard where we then explored a few more smaller quarters (by this point, it was already becoming a blur which room or building was what), and that was when Mom Facetimed us.
Tahia jumped at the chance at talking with Mom though I'm sure it wasn't exactly the greatest manners to be on the phone chatting in Facetime at a UNESCO World Heritage site like this one, but fortunately there weren't many people around.
We then spent the next few minutes exploring a bit more of the Changdeokgung Palace complex before one of the side exits put us right at a separate gate or entrance area that required admission.
One of them was to the Secret Garden, but that costed about 5k KRW per person, and it had a 10:30am English speaking tour as that area was guided tour only.
Since it was only 9:40am, we had some 50 minutes to get whatever we wanted to get done, and so we opted to go for the neighboring Changgyeonggung Palace, which costed us 1k KRW per person.
So we promptly did that knowing we had a bit of a time limit, and that allowed us to check out some other smaller buildings until we got to an east-facing courtyard complex, which had its own Forbidden City-esque arena.
Knowing that we didn't want to exit the facility towards the entry gate there, we then backtracked back towards the start of the walk leading to Daeonsil Glass House.
It was already about 10am when we got to this spot so we had to make our visit to the glass house quickly (and forget about going indoors to one of the earlier shoes off buildings that was only open from 10am).
That walk to the glass house passed around the Chudangji Pond, which was actually surprisingly somewhat cooler on the west-side path that we took thanks to the combination of shade and the standing water.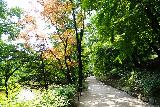 And pretty soon, we got to the glass house, which looked somewhat modern.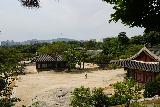 It was an intriguing photo subject nonetheless and we tried to get what photos we could though there was a group of Koreans doing some kind of ritual around a circular garden fronting the building.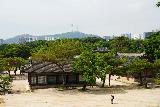 Given our tight time constraints, we couldn't linger inside this glass house.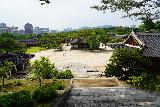 So we proceeded to just make one quick pass-through before exiting its other end, and then following a lot of people (probably a tour group) back towards the Secret Garden entrance as it was getting close to 10:30am.
Eventually by about 10:25am, we got right to the gate of the Secret Garden entrance.
Not much later, an announcement was made to line up so the proctor can scan tickets of paying patrons (I did notice a handful of people trying to get in with just the Changdeokgung ticket).
Once across, we then gathered before an English-speaking tour guide (well, she definitely could be understood since a lot of people didn't, which isn't surprising considering our experiences in Japan).
Then, we proceeded to follow her from stop to stop though it definitely felt a bit on the crowded side since it was a rather sizable English-speaking group (easily 50 people or so I bet).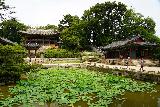 We pretty much went somewhat uphill along a walled tree-flanked corridor before descending towards the Buyongji Pond, which was quite impressive, and it was really the photo spot that Julie coveted anyways.
However, it was quite crowded here, and taking pictures during this tour wasn't exactly the greatest experience.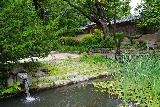 After the Buyongji Pond, we then went towards more smaller buildings nestled within a tree-rich forest before getting to another pond called the Aeryeonji Pond, which had lots of lillypads on it.
We then toured more interesting-looking buildings before getting to the Gwanramsi Pond, which had a small pagoda with some dragon thing on the underside.
At this point, Tahia was really not interested in continuing with the Secret Garden Tour since it was 11:20am at this point and there was still 40 more minutes to go.
Thus, we tapped out early and then headed back towards the entrance of the Secret Garden via a shorter path (as it was the "last chance" to exit early according to the guide).
And actually, we were the only people that did this (I guess people really wanted their 5k per person KRW cost work for them), but our tapping out actually allowed us to enjoy the sights we saw earlier without other people around.
This included the Buyongji Pond, which was the most photogenic of the ponds that we saw, and the fact that we had this all to ourselves allowed us to linger here for a few minutes and get as many decent shots as we could in peace!
Anyways, once we got out of the Secret Garden, we noticed that there was still another part of the Changdeokgung Palace that we didn't explore yet.
That was towards the south side of the complex that seemed to contain some smaller living quarters or something.
I had thought that like the Changgyeonggung Palace where there was a separate exit, there wasn't one for the Changdeokgung Palace so we had to leave the way we came.
Ultimately, it was about 11:50am when we finally left the Changdeokgung Palace.
We were quite hungry at this time so we opted to start walking towards the Gwangjang Market, which didn't seem all that far from the Changdeokgung Palace (at least from what Julie showed me on Google Maps).
However, as we went block after block, it turned out that the walk was a lot longer than expected.
It made me wonder if we were better off taking a taxi at this point, and it wouldn't be until about 12:20pm when we finally entered the bustling market.
At first, Julie targeted some joint inside the market for lunch (I don't the name of it), but when we saw the line for it, we said forget it.
Anyways, that part of the market was underneath rows of little penants or flags in an indoor warehouse setting with lots of alleyways that doubled as food stall corridors.
And, it was a very bustling and very crowded shoulder-to-shoulder experience much like the many blocks where we experienced the Myeongdong Market.
After soaking in the ambience of the market here, at 12:30pm we opted to just go into some random sit-down joint so we could at least eat and not have to wait forever just to get seated to eat.
By this time, we were already having weary legs (and once again, I was getting weary shoulders and hips thanks to the heavy pack where I was carrying everyone's waters and umbrellas), and so sitting down for some much-needed lunch was the way to go.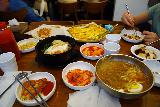 This joint pretty much had cold noodles as well as some interesting mung bean pancakes as well as a similar eggy version of seafood pancakes like that.
The people working there knew Mandarin Chinese, which they assumed that we spoke, and it was a good assumption.
Thus, it was nice that we could be understood as well as understanding them instead of struggling with Korean (which my learnings over the past month hasn't really paid off when speaking to people and marginally passed in moments when reading Hangeul).
Anyways, at this restaurant, we also got some pretty good bibimbap, which the lady working here just put in some sauce and mixed it for us when she saw that we still hadn't touched it yet (probably annoying her).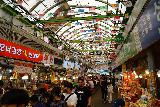 Regardless, by the end of the lunch, we were quite sated and satisfied with our lunching experience.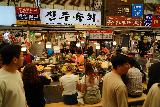 Next, we scooted ourselves around the Gwangjang Market a little more before leaving the chaos.
At that point, we then tried to hail a taxi knowing that it was too long of a walk to try to get back to the Gyeongbokgung Palace for the National Royal Museum that Julie realized after the fact that she wanted to do.
I really wished that we had done this yesterday, but I guess now that it was quite hot, perhaps the promise of an indoor AC at that museum would help us get through this hottest part of the day.
Unfortunately, we had difficulty hailing a cab (it seemed like forever), but we ultimately managed to catch one some time after 1:30pm (probably at least 15-20 minutes later), and by about 1:55pm, we were dropped off near the Folk Museum on the east side of the Gyeongbokgung Palace.
Although we wished the guy would drop us off at the main museum towards the southwest side of the complex, there was a language issue, and Julie wasn't getting anywhere with him when trying to say "National Museum of Korea" to him let alone showing him on a map.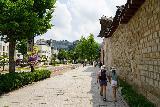 So it wasn't until I told him Gyeongbokgung that he knew where to go (or at least roughly as he ended up taking us to the folk museum instead of the desired museum).
Yet the taxi was only about 6k KRW so it wasn't a bad deal for what we got, and it saved us some time.
Anyways, we went south along the wall before cutting across to the west in the direction of the main gate and the ticketing area, but we showed up just in time of a changing of the guard.
Unlike the ceremony that happens at the Tower of London, the one here at the Gyeongbokgung Palace seemed to be a bit of an elaborate and gaudy affair.
It was an interesting procession as we heard some ominous war drums with rumbling base (kind of reminiscent of what you'd hear when the orcs were on the attack at Helm's Deep in the Lord of the Rings) with flag waving people in costume marching in some pattern.
Surrounding all this commotion were lots of people witnessing this, which further added to the ambience as it all took place in the large courtyard on the backside of the main gate.
Eventually we got into the main royal museum, where we then proceeded to go through all 3 floors of indoor displays showing the bling as well as some fancy furniture that were taken from the palaces and put on display in this facility.
There were even a couple of old school cars that I'm sure one of the royalty got to enjoy, which seemed somewhat out-of-place since we tended to think of royalty as ancient and way in the past.
But these cars from the turn of the 20th century seemed to put into focus how much closer these dynasties lasted until getting into World War I and II.
Ultimately, after watching some kind of astronomy presentation, we had our fill of this museum visit some time after 3pm.
Then we decided to walk back down the Gwanghwamun Square, which was less bustling than yesterday but still quite busy and atmospheric.
At first we debated on whether to go right back to our room to chillax before going for dinner, but by the time we got back to the Lotte Hotel at around 4pm, we ultimately decided to go back through the Myeongdong Market in pursuit of some Korean BBQ place.
Supposedly, this place was top notch of the traditional KBBQ places, and so we eventually got to the place, which was called Wangbijib at around 4:20pm.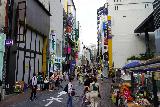 When we saw that it was only a 10-minute wait before they were open, we proceeded to wait by the stairs there until we were allowed in, and even though we were having an early dinner, I guess that would at least give us time to chillax back at the room to end the day afterwards.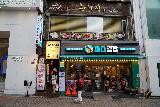 Anyways, this dinner spot wasn't the cheapest as we were used to lots of meat and lots of panchan side dishes at the KBBQ joints we'd get back at home (thanks to the large Korean American population), but this place was more sparse on the food and higher on the quality of the meats.
They actually had someone preparing the BBQ for us instead of us doing the cooking (like at home) and so we ended up with an order of kalbi as well as a pork galbi that hit the spot though I felt like I could have gotten more meat.
Tahia ordered some mushrooms (peoseot) since everyone had to get something at this place (like a minimum order), and thus we left the place pretty satisfied albeit with still more room for dessert.
After finally leaving the Wangbijib Restaurant at 5:15pm (which was suddenly crowded with a long queue at the steps leading to entrance now), we then went through the familiar Myeongdong Night Market.
As we went through the familiar chaos, we pretty much targeted a smoothie stand (where Julie liked the kiwi-pineapple one) and a soft serve churro stand, where Tahia and I shared the treat.
Ultimately at about 6pm, we got back to the room, where we could finally call it the end of a long day.
In fact, I was so beat that I ended up crashing and sleeping by 7:30pm, which was way early for my standards, and I'm not sure when Julie and Tahia slept.
But whatever the case, I was actually anxious about dividing and conquering tomorrow since I knew Julie and Tahia weren't interested in going waterfalling with me, and I'd have to give driving in Korea a go for the first time tomorrow.
Indeed, the moment of truth on my studying Korean for a month, getting used to the driving rules and etiquette, and of course getting the waterfalling in to essentially start off the trip…
Day 5 (June 12, 2023 – Seoul, Korea): "Speed Bumps"
It was 4:15am when I awoke without the need for an alarm (which I think I had set for 4:30am), but since I had slept at 7:30pm last night, I'm pretty sure that I had plenty of sleep for a change.
It took me some time to get ready for the day knowing that it was planned to be a divide-and-conquer day where Julie and Tahia wanted to just chill out in Seoul.
However, I wanted to get away from the crowds and get into Nature, and I always say that a trip doesn't begin until we see a waterfall, and today's that day.
Of course, I was also a little anxious about the driving situation since I'm not very good at Korean, and even though I've been heavily studying Hangeul, I can't read the characters nearly as fast to be proficient at reading signs quickly without any Romanizations.
So it wouldn't be until about 5:20am when I finally headed down to the underground car park to get the car, but I also needed some spare cash for some of the tolls and other incidentals just in case, especially since not everywhere takes foreign credit cards.
When I started driving out of Seoul, I realized that I forgot to bring a charger for my iPhone so now I really had to ration the charges, and the thing I sacrificed (unknowingly actually) was recording my driving routes via GaiaGPS.
That's OK because the Garmin Nuvi was also there to log the driving tracks to trace where we've been throughout the trip.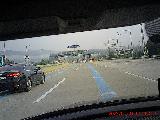 Now it took some time to follow the Kakao Map directions, and it also took a bit of getting used to its way of navigating compared to Google Maps or Apple Maps or even Garmin Nuvi (which is not in use for navigation on this trip).
Eventually, I'd get onto the expressway, but I also took a few wrong turns as apparently I exited too soon or something, or it wasn't clear why the routing made me leave the expressway onto to get back on.
In one instance, I went in the wrong direction, and I ended up going through a tunnel in the opposite direction I was supposed to go, and then I navigated through lots of surface streets and traffic lights before getting back on the expressway in the right direction.
After leaving the expressway as directed by Kakao Map, I then followed some surface streets for quite a ways while also experiencing numerous speed bumps in addition to speed and red light cameras.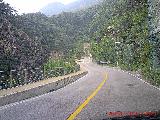 Along the way, since the car didn't come with a full tank of gas, I had to fill up at some random gas station, where I struggled with the self-service machine since it was all in Hangeul (no English option), and I had to trouble the attendant for some help.
It was a good thing because I almost put in diesel fuel into the car instead of unleaded gasoline, and at least this place took credit card.
So it wouldn't be until about 7:35am when I finally got to the Sambuyeon Pokpo car park, which was actually a well-signed and spacious lot right on the other side of a tunnel.
My phone was already down to under 50% charge, and now I was getting worried about running out of charge to navigate the road going back to Seoul at the end of the waterfalling.
Anyways, I geared up and did the short walk that pretty much went through a tunnel before going down a ramp to a lookout area against the sun at the impressively vertical Sambuyeon Waterfall.
There was a gate that was locked preventing me from going all the way down to the plunge pool so this was pretty much a short visit.
Julie was texting me at the time that apparently we were charged $155 for gas, but I have a receipt from a gas fill up that was 49k won, which was probably less than $40 USD.
So that was kind of on my mind regarding whether or not we were ripped off.
Nevertheless, I had my fill of the Sambuyeon Waterfall and went back up to the car at 8:10am.
It was a nice start to the day, and now it was time to pursue the next waterfall for the day (which was waterfall #2).
This time, I was heading towards the Jiktang Waterfall, which was said to be the Niagara Falls of Korea.
It didn't take long to drive over there as it was apparently in the Hantangang Geopark though there were still lots of local driving involved, which meant I had to get familiar with yet more speed bumps along the way.
By about 8:35am I made it to the quite visible Jiktang Falls.
I actually went on a narrow road where I wasn't sure if I was supposed to park in here or not (or up one of two car parks before the narrow part of the road).
But since it was pretty quiet on this day, I just parked behind some local ute, and then I proceeded to take pictures of the impressively wide waterfall from this side of the river.
Seeing that there was a bridge going across the Hantangang River, I proceeded to go to the other side and then check out the falls from the sunnier opposite side of the river.
After filming and having my fill of the falls, I then got back to the car at 9:10am, which pretty much meant that I was half-way through the four waterfalls that I had targeted on this day.
Next, I headed towards the Bidulginang Waterfall, where I remembered seeing brown signs pointing towards the Bidulginang Pokpo (in Romanization) earlier on.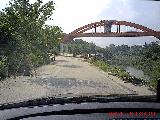 However, as I got closer to the destination, I only saw signs in Hangeul, and it was only because I studied the Korean language this year that I was at least able to read Bidulginang in Hangeul.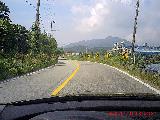 So my Korean language learning wasn't all for naught so far.
Eventually at 9:45am, I arrived at the Bidulginang Pokpo car park, which was quite large, and there was even a tour bus already parked here.
However, when I eventually geared up and started walking towards the falls, the experience certainly felt way less hectic and crowded than what the presence of the tour bus would have suggested.
Nevertheless, it didn't take long before I descended some steps towards an intermediate lookout area next to a door (that could be locked) where I witnessed the alcove backing some somewhat trickling waterfalls fronting it.
Going down the final bit of steps, which was beneath a tall wall that might have been there to try to block falling rocks from blasting the trail, I eventually got down to the lower lookout area where I could get a better appreciation of the size of this place.
I also noticed that there seemed to be quite a bit of water in the stream (even the sound of rushing water somewhere unseen) even though the waterfalls themselves seemed to have seen better days.
That led me to conclude that this stream must be fed by that plunge pool where water might be bubbling up in volume and the Bidulginang WAterfalls would be merely supplementing the main spring itself.
Regardless of what my theories were, I ultimately had my fill of the falls before going back up to the main path.
After a brief interlude at a sheltered display showing what the riverbed of the Hantangang River must be like, I then proceeded to the next lookout spot, which was further up the developed path and ultimately leading down to a secondary lookout.
This lookout essentially showed the stream downstream of the Bidulginang Falls, including a few smaller and modest-sized springs or cascades down at the bottom of the gorge.
It didn't take me too long to have my fill of the secondary lookout and so then I went to the last of the lookouts, which had a bit of a wide view down towards the Hantangang River while also revealing a suspension bridge going across the far right side of the river.
Once I had my fill of this spot, I then briefly entertained the thought of walking towards the suspension bridge just to see what it's like to go on there.
However, as I got closer, I could see that tour buses and larger crowds came in from a different car park, and from looking further ahead, I could see tents probably gatekeeping the suspension bridge and collecting payment from people to go on it.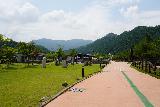 Thus, there was nothing more for me to do here, and I ultimately turned back and went right back to the car park by about 10:45am.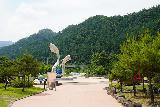 Now with three out of four targeted waterfalls on this day, I was now down to the last waterfall for the day, which was the Jaein Waterfall.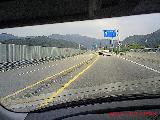 Fortunately for me, the drive to get over there wasn't very long, and I ultimately found myself getting to the fairly large car park for the Jaein Pokpo Falls at 11:25am.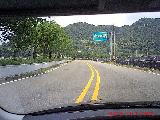 There was a spillover car park area that the signage was pointing towards before making the final approach, and that spillover car park had supporting signage to get you to park way out there (not sure why).
Nevertheless, I did notice some other vehicles going further down the narrower road, and I swore that there must be a closer car park over there.
So after initially leaving the P that the signs were pointing towards, I went through the lifted barricade bar, and then proceeded down a narrow road before getting to a fairly sizable unpaved car park where there were also tour buses!
After gearing up and starting the short walk, I then walked about 1.2km towards the Jaein Pokpo where along the way I saw that the falls was tall, plunging, and indeed flowing (putting on a better show than the Bidulginang Pokpo).
I could also see from the first lookout that there was an overhanging lookout in the distance as well as a suspension bridge allowing you to get to the other side and go down to another lookout at river level.
So I proceeded to keep on walking until I got to the start of the suspension bridge, where I then got on there and checked out a direct view of the falls from the middle of the bridge.
There, I noticed that there were a series of glass panels on the bottom of the suspension bridge for a little sense of vertigo as well as looking down at the canyon floor far below.
I didn't dare step onto the glass or see-through pane in the middle of the suspension bridge though there were some kids that did it (clearly oblivious to the danger should the bridge or the panels fail).
Once I got to the other side, I saw that there was a fork in the trail and some lady told me in Korean (or at least I think she told me this) that the path on the left looped back towards the overhanging viewing area while the path I was about to go on went to the botttom.
I then proceeded to descent the steps towards the lone switchback before making the final sloping descent down to the dead-end at a lookout nearly at river level.
While I patiently waited for people to be done with the lookout so I could take some shots, I met some people with some professional-looking camera gear apparently telling me that they were filming a guy who happened to be some kind of Korean movie producer.
That producer actually spoke pretty good English and they filmed me conversing with him, so I wondered if I'm going to show up on some random show or something.
They started to go back up with all their gear (including a drone) while I went ahead and took a few shots and videos of the falls from the bottom before going back up myself.
When I got up to the suspension bridge again, I saw that the filming folks were busy filming the producer saying something on the suspension bridge itself while another guy was flying a drone for the more dramatic aerial shots.
When they were done filming on the suspension bridge, I briefly engaged in a conversation with the folks again telling them about my website while one of the crew was showing me his phone of a road trip he did where he visited the US and road tripped from LA to New York City!
Now that's something I myself haven't done, and I wonder if I'll ever have the time and the funds to pull off that kind of trip.
Anyways, after parting ways, I then walked the remaining loop at the head of the gorge before swinging back around towards the overhanging lookout deck to check out the falls and the gorge from that different vantage point.
I also saw that there was another car park as well as a few food trucks here, and I wondered how you can actually get there (unless this spot was only for authorized vehicles only).
By about 12:45pm, I was back at the car ready to make the last bit of driving back to Seoul.
This was actually an earlier-than-expected end to the four waterfalls that I had targeted, and I was keen on rejoining Julie and Tahia for one last go at dinner in the city.
Anyways, I started routing back towards downtown Seoul, but it ultimately took a bit of time because there was a lot of traffic to get back to the Lotte Hotel Seoul, which was not all that surprising, but it certainly tested the patience.
In fact, it only took nearly an hour or so to get back to Seoul, but it took another hour to make it back to the Hotel Lotte Seoul's car park, which I promptly got there at 2:50pm.
By about 3pm, I made it back up to our room, where Julie and Tahia told me about their adventures from today, where apparently lots of palaces and folk villages were closed.
I think they targered the Namseong Folk Village, but that didn't work out today.
So eventually by about 4:30pm, we finally started heading back down for our last dinner in Seoul, and we ultimately decided to go back to Wangbijib for Korean BBQ.
Based on yesterday's experience, we were determined to just get marinated galbi.
By around 5pm, we made it to the Wangbijin Restaurant, and we also noticed that the Myeongdong Night Market wasn't as crazy as it was in each of the prior two days (probably because those were weekend days).
Even the person who took our order recognized us from yesterday, and when all was said and done, everyone had a pretty satisfying meal.
So once again, we walked through the Myeongdong Night Market to get more of the kiwi-pineapple drink as well as some soft serve ice cream.
And eventually at 6:30pm, we finally made it back to our room so we could finally crash for our last night in Seoul.
Tomorrow, we'll start our clockwise tour of the South Korean Peninsula, and we'll finally get to do some waterfalling excursions as a family…
Day 6 (June 13, 2023 – Gangneung, Korea): "Moments You Can't Get Back"
It was 3am when I awoke to some passing siren, and I couldn't get back to sleep.
I guess that was one of the things about staying in such a central location in the heart of Seoul as big city life is full of sights and sounds that remind you that you're in a city with millions of people around – even in the pre-dawn!
So I took some time to get ready for the day, but I didn't have time to try to get caught up on the blogging and photo tasks since we intended to get all packed up, dressed up, and then drive out of Seoul in an effort to beat the traffic.
Having driven yesterday, I knew that the longer we waited, the more we'd be stuck in traffic while also struggling with the navigation and trying to decipher the Hangeul while figuring out how to drive efficiently in Korea.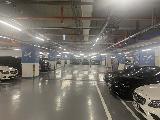 Eventually, we got our stuff together, packed up, did one more check of the room, and then headed out at 5am, and some fifteen minutes later (after returning the room keys and settling the bill and then going down into the parking structure through the mall entrance), we got to our car.
Next, we carefully drove out of the Lotte Hotel Seoul and faced the fairly light Seoul traffic as we made our way onto the expressway taking us east.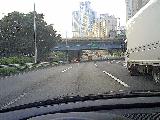 We were very appreciative of the free parking during our stay here, but I'm sure our over $400 a night room rate would have absorbed some of that parking fee we'd have to eat upwards of $40 or even $80 a night at other places around the world.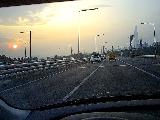 Anyways, when we got onto the expressway 60, we saw that there was a red globe sun rising above some impressive skyline across the Han River, which Julie tried to take pictures of across the driver side.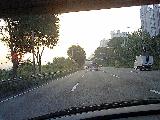 In the meantime, I was trying to capture what I could with the MingSung camera sunglasses as doing this was a lot more helpful than trying to take a picture through an iPhone while driving.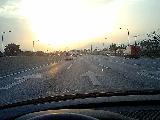 However, the image quality, resolution, and quirkiness of these glasses left a lot to be desired.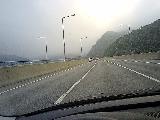 Regardless, compared to yesterday's driving misadventures, this drive was surprisingly smooth and we had no problems going east on this mostly 100km/h expressway (though there were still speed cameras everywhere).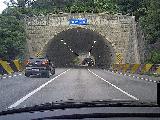 At least Kakao Map was warning me of these speed cameras (and speed bumps though some of them try to fake you out to keep you on your toes), and by this time I was getting quite used to driving with Kakao Map and interpreting what it wants me to do.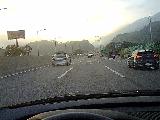 So I guess yesterday's misadventures was very necessary for me to get acclimated to driving in Korea, and it was yet another one of those nothing ventured nothing earned moments that you have to go through when you're in foreign lands.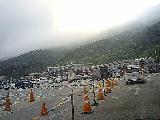 Imagine how many tourists don't get to experience this kind of freedom and only narrow down their experiences in Korea to just Seoul or some other city!
Anyways, we were going along pretty smoothly until Julie wanted me to stop, and she saw a rest stop with food amenities according to the signage, and we ultimately stopped at some spot called the Gapyeong Rest Area.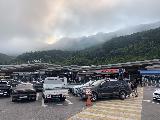 When we pulled up at 6:15am, it reminded me of how the Japanese did it with their fully stocked rest stop, and it totally kicks the US Trucker's Stop rest areas where you might get a single fast food joint and gas pumps, but nothing like a food court with many options like you get here.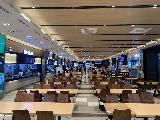 So we took some time to get a quick CU convenience store takeaway brekkie of Korean musubis (a triangular gimbap or kimbap, if you will), got some complementary water dispensers (the waters were very filtered and good tasting in Korea) and then we were on our way again at 6:55am.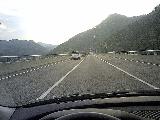 Next, we continued with the drive going east on the 60, but it didn't take long before we exited an IC somewhere near Chuncheon, where we paid 3600 won toll though it was apparent by now that all the toll booths required cash payment as foreign credit cards don't work.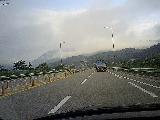 Then, we drove some local roads towards a train station before continuing to the west as we started to see Gugok Pokpo signs.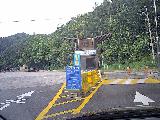 By about 7:20am, we got past an entrance kiosk and barricade, which was lifted as no one was manning it today, and we then promptly geared up and put on some DEET as apparently there seemed to be quite a few mosquitoes nearby.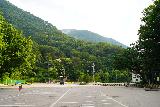 This place had a really big car park, and there seemed to be some big restroom facility as well as some shops that hadn't opened yet.
I also noticed that there was another entrance kiosk for individuals visiting the falls but since it was early today, perhaps no one was collecting payment yet (and we'd have to pay on the way out?).
So it took Tahia some time to get up from her slumber as she has pretty much gotten used to sleeping in the car (and Julie having to yell at her and pull her up), and so I got going initially with the hike while they were lagging behind.
I think Julie was also taking time communicating with her brother and her Mom who were checking up on something for us at home.
As I walked past the entrance kiosk and then some restaurants and cafes (all of which were closed this early in the morning), I continued going up the mostly paved walkway with only the sounds of Nature around and a running stream.
Pretty much the only thing keeping me from pausing for longer stretches was that there were definitely a combination of mosquitoes as well as what seemed to be some kind of gnats staying around me at all times.
There were a handful of people that I saw down by the entrance who I weren't sure if they were workers of just guests getting an even earlier start than us.
But whatever the case, I kept going up on the somewhat uphill but path flanked by numerous signs in Hangeul (there was definitely no English), and eventually I got to some kind of pavilion near a fork where apparently there was a campsite to the right and the trail continuing to the left.
By now, the trail continued to go more steeply uphill though I did see other trails branching to the right (which I think went up to some mountains), but I stayed focused on the path to the Gugok Waterfall, which was definitely well-signed along this path.
Eventually I got to some steps alongside the stream and I did notice through the foliage a fairly tall waterfall that for some reason reminded me of the Amicalola Falls experience in Northern Georgia.
By the time I started taking videos and photos at the falls at 8:10am, Julie and Tahia finally caught up to join me with the gawking at the falls while taking pictures and videos.
And so we chilled out as we pretty much had this place to ourselves, and it was essentially their introduction to waterfalls in Korea since they didn't join me yesterday.
After having our fill of the falls, we then went mostly downhill pretty quickly as we noticed more people on the trail now.
And when we got back to the car park at 8:50am, we saw that there were a handful more cars parked here as well as a few more cars pulling up as well.
So clearly, this place was quite popular.
I managed to converse with one couple who said they had a daughter who was studying in New York City at Hunter College (I was thinking Catskills when I heard the name Hunter), and I figured she must be talented to study out there and trying to make it.
Actually, this was one of the few times that the people I random spoke to knew enough English to be understood though it's always assumed that I know Korean until they realize how much I struggle to communicate (even despite how much time I spent studying the language before this trip).
Julie and Tahia were already in the car waiting for me to get the stuff into the car, which was a bit of a mess.
And I must have gotten distracted and changed whatever I was in the mind of doing as I was trying to change shoes and put stuff into the back seat of the car.
Because the next thing I remembered doing was to discuss with Julie what the next excursion should be as we had a choice of whether to go to the Jungwon Waterfall or go to Seoraksan for the Yongso Waterfall or go to Guryong Waterfall near where we were staying in Gangneung.
We ultimately decided to pursue the Yongso Waterfall, and so once that was settled, we drove off and we did notice that we didn't have to pay parking nor individual admission today.
Next, we returned to the 60 expressway while noticing how big Chuncheon City was in the distance as we were heading back south to the expressway.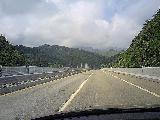 Then we drove for quite a ways until we exited this expressway at Yangyang IC where this time we got to a toll booth but didn't have a ticket to give to the lady at the kiosk.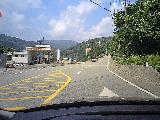 I guess that wasn't a big deal because then she went on the phone and talked to someone to determine when we got onto the expressway before charging us around 5000 won I think.
From there, we drove some local mountain roads eventually getting us to a car park right at a blind turn, which is always dangerous.
Once we parked the car at 10:50am, I geared up when I suddenly realized that the GoPro was nowhere to be found!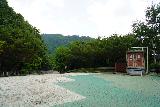 While all this was going on, Tahia also didn't want to get up, and that certainly didn't help our cause as we were trying to empty up the car in search of this missing GoPro!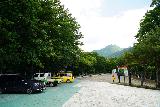 After about 15 minutes of fruitlessly and frantically searching, I had to accept the result that I must have left the GoPro and head strap (along with Enduro-battery and 256GB mini-SD card) back at the Gugok Waterfall.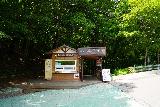 I still couldn't believe that this happened, and I kept replaying in my mind how on earth I didn't put the GoPro in the back seat of the car as one of the first things I did.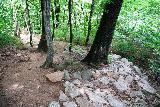 The only explanation I could think of was that I must have put the GoPro on top of the car, and before I had the mind to put it in the back seat, I must have been distracted and doing something else without finishing the task of putting the GoPro in the backseat of the car.
Heck, I normally would have put it in the mesh of my day pack before putting that day pack into the car (though it was so chaotic in the car that I must have moved stuff around, changed shoes, and completely forgot about the GoPro on top of the car?!?).
So that put me in a pretty bad mood as it's never a good feeling to lose camera equipment (let alone this early on in the trip), and so now I had to switch mindset from capturing everything I could on the trail to thinking back to how I was experiencing hikes old school.
Well, I also tried to use the Oho Sunglasses on this trail, but I knew that it had a very finite recording time, and it was also not good at letting me know how much battery life I had left let alone how much memory was left either!
So I tried to do what I could recording through the sunglasses and hoping for the best.
Anyways, we went down the trail past some kind of taxi kiosk, which descended steps before getting down by a stream and then continuing further to the southwest in the direction of the Yongso Waterfall.
It didn't take long before we started to notice a rushing waterfall kind of launching off a small shelf when viewed from the profile view we were getting from the trail.
But then we eventually got down to a bridge that got us a more frontal look at what turned out to be the Yongso Waterfall according to the signage here.
This waterfall had some nice color to it, and there was also a suspension bridge when looking further downstream.
That said, the real star of the show in these parts was the towering cliffs and knobby rocks that really reminded me of the Shosenkyo Gorge in Japan.
After having our fill of this falls, since it was such a short hike, we decided to go down to that suspension bridge and then further down the trail until we got to a signed fork.
There was a kiosk here, and we'd have to go past that kiosk to get to the Sipi Waterfall, but the guy there said that we couldn't go through.
He didn't speak English, but I guess we understood that the path was too difficult and that we needed a permit or a guide or something to go down that way.
The other way went towards some mountain, and with the thunderclouds looming above, we ultimately decided that this should be the end of the line for us, and that we'd then have to go back up to the parked car.
As we made it back to the car park, there was a large group of people going down this trail, and when we got back to the car, we saw that there was a bus parked next to us!
Apparently, this spot wasn't as unknown as we had thought.
Nevertheless, when we put the stuff back in the car, I also realized that the Oho Sunglasses had shut off somewhere during the excursion, and that it wasn't a viable way of recording trail footage (only short term camera recording perhaps on roller coasters or something).
So there went that experiment, and with that, we drove towards our accommodation in Gangneung at 12:15pm.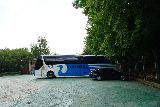 The drive south along the 65 expressway was pretty smooth going though we were now running into some stretches of rain (heavy at times) as we got closer to Gangneung.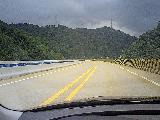 I was thinking in my head that maybe there's a camera shop to pick up a replacement GoPro.
But I kind of knew in the back of my mind that everything would be in Korean so it wouldn't be easy to find such a shop let alone navigate how to get there as well as how to buy and configure the gear for English.
The whole time, Julie and Tahia were trying to convince me not to bother with the GoPro since no one was watching my YouTube videos anyways, and she said we'd get better ROI investing in a drone, which was one thing I had resisted because it puts you out of being in the moment.
Anyways, we ultimately got to the St John's Hotel at 1:30pm, where we passed by some Sky Hotel (that had a large gap between its towers in it), and then we learned that it was too early to check in.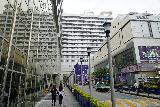 Nevertheless, we were hungry for a proper meal, and we ultimately decided to walk around to the other side of the hotel in search of a place to have lunch.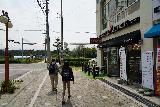 Unfortunately, a lot of places were closed while another one of the places that were open with people in it told us that apparently they were closing for end of lunch as it was about 1:55pm at the time.
So we ultimately settled for this pretty empty restaurant that did seafood, and we ultimately wound up ordering some dish with an assortment of seafood, including stingray, squid, and a bunch of other stuff.
Both Julie and I got one while Tahia got some kind of battered shrimp sticks or something like that, but when the food came out, we were shocked at how big the platter was and we knew that Julie and I should have shared our plates instead of ordering two things!
I also knew that this was going to be a very expensive meal, and that we probably weren't going to bother eating dinner because this was way too much food.
In fact, it took us quite some time to eat at least all the seafood stuff and leave the carbs (i.e. udon-like noodles) behind, and when all was said and done, we easily paid over $100 USD at this place.
Totally stuffed (except for Tahia who was being real picky about what she was eating), we eventually checked in at the St John's Hotel and got into our room at 3:45pm.
The room had a nice view of the ocean, and we could kind of see where the beaches were though there was a bit of a forest separating us from the beach from our elevated vantage point.
That said, the room was pretty basic compared to our fancier room in Seoul, but with the weather seeming like it was calming down momentarily, I decided that I should pursue the Guryong Waterfall since its trailhead wasn't far from Gangneung.
So by about 4:15pm, I got into the car and went for it since I wasn't going to waste the rest of the day sulking over the lost GoPro while also trying to work off the excess food that we ate for lunch.
Anyways, the drive was kind of along the beach initially as I must have missed a turn, but I didn't mind the scenic drive because I saw right away that this was a pretty scenic drive and that Julie and Tahia really should experience the beaches while they're here.
So it took a little longer to head back north on some surface streets and more speed bumps and speed cameras before I finally headed west towards Odaesan National Park.
Ultimately, I eventually got to some small town that I think is called Sogeumgang at 5:05pm, but I couldn't tell if the large lot was for the town as Kakao was telling me the trailhead was further up the road.
Eventually, I got to the end of the road at around 6:15pm, and this seemed like the right place to get started as I saw a handful of other cars and some hikers returning to their cars.
So with that, I finally geared up and started the walk in pursuit of the Guryong Waterfall though I wasn't really sure how long this hike was going to be, but at least the weather had calmed down enough to experience this place.
After going past some ranger station, I then followed a paved road that eventually got me to the first waterfall of this hike at around 5:30pm.
The signs here were both in Korean and English so surely at least it wasn't all in Korean like the Gugok Waterfall was earlier today, and becaues of it, I learned that the first waterfall was the Mureunggye Falls.
The lookout area for it was a bit slippery and rocky, and it was definitely not the kind of place you'd want to be when it's wet in the rain.
But it was an intriguing starter waterfall and things were already off to a good start on this hike.
Next, I continued going up the road before it eventually ended by some restroom facility, CCTV camera, and a parked vehicle along with a little memorial.
Then, I went into a more conventional trail where some recorded message was playing back to me in Korean, and I was wondering if it was saying something about when I should not do this hike if it's too late in the day (like it is today).
Regardless, the trail was pretty benign as there were some of those rug-like surfaces to maintain traction on this otherwise slippery and rocky path though it was quite thickly forested.
And then eventually after noticing some signs (mostly in Hangeul though some in English), I got to some named stops like the Yeonhwadam Plunge Pool, and then eventually I got to the Geumgangsa Temple at 6:15pm.
This place was quite nice, especially for how far I had to walk to get to this point, and it consisted of at least four buildings all with the traditional Buddhist fancy roofing as well as swastika and Hangja Chinese characters.
As much as I wanted to explore this spot more and possibly look inside some of the temple buildings, I knew time was running short, and I had to keep going to get all the way to the Guryong Waterfall.
So I kept going on the trail, which then got me past a bridge and then onto some really scenic exposed rock surfaces flanked by some really tall cliffs (again very Shosenkyo-like).
There seemed to be some clouds and fog starting to roll in and obscure some of the cliff tops, but I kept going along this scenic stretch before the path re-entered the forest.
In these forested parts, I could see that it was definitely getting a bit darker in here, and eventually after going through a caged stairway, I finally got to a split where there was a trail going up steps or a trail going to the right.
I ultimately decided to go right, and then finally see the Guryong Falls at 6:40pm, which seemed to have at least three drops to it.
There were two main drops above and a lower drop below that twisted away from the main drops.
So I took some time to document this place and capture all the signage before going to an adjacent bridge further along near another ranger station just to see what was around the corner (as there was another river there).
But it was just loud cascades, and so this was my turnaround point of the hike.
With it getting darker at this time, I had to jam my way back to the car park with minimal stops, and I'd eventually get back to the parked car at 7:40pm.
It was late enough that lights were starting to come on at this time, but it was also starting to sprinkle on me as I was putting stuff back into the car.
I even saw lightning in the distance, and that was when I knew that there must be another thunderstorm incoming so it was good that I was now in the car on my way out just as it was getting dark for sure.
The drive out back towards Gangneung was actually a bit of a fairly treacherous drive because it was pouring buckets and flash flooding in stretches.
And with a worried Julie, it was good that there was cell reception even on the trail where I gave her status on where I was at and what I was doing once I did manage to see her text as I was headed back to the trailhead and now driving back to Gangneung.
It wouldn't be until around 8:30pm when I finally made it back to the St John's Hotel but not before seeing that there was actually quite a happening night scene somewhere in the beach at the Sky Hotel area.
I'm sure Julie and Tahia stayed in the room the whole time and missed checking this out, but regardless, at least I was back in the room by 8:45pm finally able to call it a day.
Of course, I still had to copy photos and get some basic unwinding duties before going to bed, which didn't happen until some time after 11pm, which was rather late for this trip so far.
Upon looking at the weather forecast, I saw that the morning was supposed to be good weather, but some time after 10am, there is expected to be some rain so that meant I couldn't wait for breakfast tomorrow morning.
In fact, I needed another early start to the day, which means that I might not get a whole lot of sleep either.
Indeed, it always seems like we experience one of these days on the trip where something happens that goes south on us (like losing the GoPro today or the flat tire in Japan earlier this year), and I guess this was that day!
But the trip must go on, and I now have to adjust to the new reality that I just won't be recording hikes in real time with the GoPro anymore.
We'll have to see if it's even worth replacing that GoPro down the line but not for the purpose of filming hikes (perhaps use it more like a different blogging toy like what other YouTubers are doing or something).
You know, no one tells you these things, and you just have to figure out what works and what doesn't, and I guess I know now what isn't working.
And this GoPro incident is that forcing function that made me take a hard look at what I was doing and having to adjust accordingly…
Day 7 (June 14, 2023 – Gangneung, Korea): "Return To Seoraksan"
It was 3:45am when I awoke, and as I was getting ready for the day as well as trying to get caught up from happenings earlier on in this trip, I couldn't help but notice the skies starting to get brighter.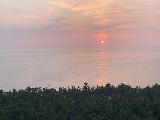 By around 5am, I started to look out at the horizon and there was a reddish globe starting to rise out of the horizon, which I had to assume was the sunrise!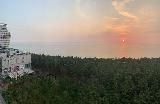 But this sun didn't seem to bright, and by this time, Julie started to wake up to take pictures with me.
It made me realize that our ocean-facing room here in Gangneung was facing the east, and that the weather was forecasted to be way more improved than the conditions that we had faced yesterday.
So that meant that I should get ready for doing a hike back at Seoraksan National Park and get going on yet another divide-and-conquer day.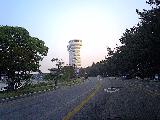 By about 5:25am, I was in the car with the gear I felt that I needed for the day, and I pretty much started heading out of the St John's Hotel and then up the familiar Gangneung North IC before getting right on the highway heading up towards Sokcho and towards Seoraksan National Park.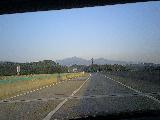 The drive was pretty smooth going as there weren't that many cars on the expressway, but I did recognize the lady at the toll booth when I had to pay (without the ticket since it wasn't dispensed, but no worries), used some of the spare cash I knew I needed, and then continued on my way.
By this time, the weather was beautiful as there was hardly a cloud in the sky, and it was far cry from the more turbulent thunderstorming weather we had experienced yesterday.
In any case, I eventually headed west and towards the parking lot where I expected to start the Biryong Waterfall hike.
I ultimately got to a dead-end in the road at 6:30am, where there was a large car park and I had to pay 6000 won to park here.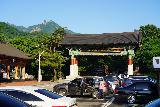 There was a rather fancy-looking archway or gate fronted by some shops and the large car park itself, but behind the shops, there was a very nice backdrop of impressive mountains that seem to be the signature look of Seoraksan National Park.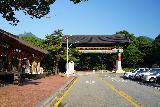 So I wasted no time to get all geared up with water and a little salty snack, and then I decided to lace up hiking boots this time (instead of trail runners).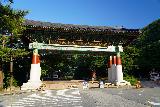 I also knew that it was going to be a hot and sweaty hike given that it was already starting to get a little on the warmer side this early in the morning.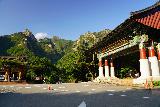 So I went ahead and walked through the archway and past some cafes and shops (there seemed to be no shortage of these at this park), and then I saw that there was a cable car station.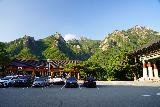 I wondered if that cable car would enable me to shortcut my way up to the waterfalls that I realized included Yukdam Falls, Biryong Falls, and Towangseong Falls so I could do the hike all downhill.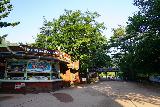 But the cable car station wasn't even open anyways so I knew that I was going to have to hoof it up and then back down (plus I don't even know if the cable car goes to the right part of the mountain).
When I saw the signs indicated that the waterfalls were towards the left while there was a Shinheungsa Temple that was only 600m away towards the right side.
So I ultimately decided to extend the excursion a bit by doing the 1.2km round trip to the temple and back before doing the waterfall hike.
The walk to the temple was pretty flat since it was pretty much all paved, and I even stumbled upon a large Buddha statue facing towards the nearest mountains of Seoraksan.
I kept going past the Buddha Statue eventually crossing a river backed by another series of bald mountains in the background before finally arriving at the Shinheungsa Temple at 7:15am.
Once there, I realized that this place was actually a multi-building complex complete with a main Dharma hall as well as some side buildings.
Some of these buildings had open doors that you can peer into.
Meanwhile, there were other buildings where you could take your shoes off and go inside perhaps to pray.
All the signs were in Hangeul when it came to instructions or commands, but the interpretive signs did have English which probably spoke to how many tourists actually come to this part of Korea.
That's saying something since the vast majority of foreign visitors to Korea only visit Seoul, but here we were in the far northeast of the country, and it was kind of nice to see signs you didn't need the Google Translate Lens to interpret.
Anyways, I took a few minutes check out some of the shrines and temple buildings before making my way back towards the paved part and past the Buddha statue again.
Along the way, I did notice one white person, which seemed kind of rare in these parts, but that again showed me that there are some intrepid foreign toursts willing to go out of their comfort zone for an experience that isn't just handed to them.
Anyways, by about 7:30am, I was done with the detour and finally heading towards the waterfalls.
The path initially followed more paved roads (I even noticed some service vehicles driving them) before I crossed a wide river continuing the trail.
Once on the other side, there was one path that seemed to head west while the waterfall path (which was well-signed) headed east along the river, which I promptly followed.
The path then entered a forested area, which provided some welcome shade since I was already starting to sweat (and I wasn't even climbing yet).
This path passed by a minor cascade before continuing down a fairly extensive stretch of forest flanked by interpretive signs (mostly in Hangeul) as well as a couple more restroom facilities.
With CCTV cameras all over the place, I don't think you'll want to be doing Nature calls at all lest you want to be seen in undesirable ways.
After the second of these facilites in the forested trail, the path then started to ascend in earnest as the surface of the trail became rockier and more uneven.
By this point, the Yukdam Waterfall was less than a kilometer away, and by about 8:10am, I finally got the waterfall.
This one was attractive because there was a suspension bridge over its twisting drop flanked by very tall vertical cliffs on both sides.
While I was up here taking videos and photos, there were a handful of hikers that came and went, and so apparently me being mostly alone up to this point was pretty much broken (or it was just a case of coincidental timing).
Next, I went up the steps and towards the suspension bridge, which was a little bouncy and offering a somewhat awkward look down at the Yukdam Falls.
Once on the other side, the trail continued ascending while also going on some elevated walks alongside the stream before crossing it and going past a few more cascades and supervising stations along the way.
Eventually by about 8:35am, I arrived at the lookout area fronting the Biryong Falls, which was a bit more straightforward to photograph since it had more of a vertical drop.
After documenting this falls, I then backtracked to the fork in the trail with a sign and steps leading up to the Towangseong Falls.
I knew from my pre-trip research that there was supposed to be some 800 steps or so (I wasn't sure if it was just this stretch or if it was all combined, but I suspected that it was the former).
And so I went up the steps in earnest, which was definitely a bit of a sweaty climb where the steps seemed to keep going up forever.
Even the notepad in my shirt pocket was getting wet from the sweat, which forced me to put the notepad in my camera bag to prevent it from getting even more drenched with my sweat.
After huffing and puffing my way up the steps, I ultimately made it up to the Towangseong Falls Observatory or lookout deck at 9:05am, where there were kind of three levels to it.
There were also a handful of people enjoying the views here, and I was trying to recover from the stairmaster session while also trying to let my sweat dry off for a bit (my hiking shirt was definitely drenched in my sweat).
Nevertheless, I could definitely see in the distance the Towangseong Falls, which was seemingly dropping out from the mountaintop though it was a bit stringy.
I suspected that it was the thunderstorms and downpours from yesterday that revived this falls today, and I suspected that it has a rather temperamental flow (I don't think it's permanent) considering the size of the drainage up there.
Regardless, I took what videos and photos I could to at least document this experience as people were coming and going.
But of course, the budding pop-up thunderstorm clouds were definitely growing, which started to conceal the blue skies and the morning sun that I had enjoyed earlier this morning.
After having my fill of the falls (and WhatApp Facetiming Julie of the achievement), I started going back down the steps by about 9:30am.
The overcast skies was actually becoming more of a welcome relief as it wasn't as hot anymore, but I was still sweaty and embracing the suck at this point.
That said, going down the steps wasn't as hard though I did have to watch my step so as to not trip and take a nasty tumble (which wouldn't be good given how many steps there were and how steep they were).
I didn't linger at the Biryong Falls nor the Yukdam Falls for long either as I did notice there were far more people around heading up at this time, which attested to this place's popularity.
Ultimately, I got down to the forested area once again, and I headed back towards the bridge spanning the river, I couldn't help but notice a huge mega hiking group (that consisted mostly of middle-aged Korean women it seemed) that had to be at least upwards of 50 or more people!
It was actually kind of intimidating-looking because I knew how narrow the trail was going up to Towangseong Falls, and I sure hoped that they'd make it up to the end without lightning strikes as I'm sure the T-storm will start having bite by then.
Once I got past the bridge and back to the entrance side, I then went back along the cafes and shops where now there were many more people on the paved walkways as the tour groups were definitely out and about.
By the time I got back to the car at about 10:35am, I saw that the parking lot was pretty much full, and there were even more people patroning the shops and restaurants at this time as it was definitely getting to lunch time by now.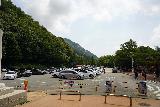 So I got back in the car and drove back south to Gangneung once again, which was a pretty smooth drive.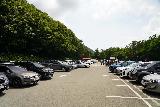 I was coordinating with Julie to meet with them at the beaches near our hotel, and Julie and Tahia ultimately found some burger joint called the Cafe Paul and Mary's.
After returning from the Gangneung Expressway, I then drove towards the Gangmun Beach (which I knew was scenic and happening), and I eventually found the public lot by the cafe that Julie texted me about.
So I parked the car at 12pm, and then I proceeded to take some pictures of the beach and the nice colorful water here since the sun was still somewhat out though it was playing peekablee with the continually budding pop-up thunderstorm clouds.
Once I got into the cafe and sitting with Julie and Tahia, I saw that I was just in time for having the burgers being served.
Since I didn't eat dinner last night and I didn't have breakfast this morning, I was pretty much starved.
So the mozarella bacon burger that they ordered for me definitely hit the spot.
I also shared some of Julie's fries while also eating a small sample of the burger that she got.
I guess after having four straight days of eating nothing but Korean food, perhaps this change of pace was needed to mix things up.
Once we were done with this lunch, we then took some more pictures around Gangmun Beach (on both sides of the bridge) before sampling some Korean garlic with sweet cream bread dessert or something, and then heading back to the St John's Hotel.
We got back to the room at 1:25pm, where we then decided to try the included afternoon tea with our stay at the St John's Hotel.
By the time we got up there, we realized that it was kind of dead up here, and that it was mostly the pastries and breads from the breakfast of this morning.
So that was kind of a dud though we at least got to spend some quality time up there in a chill setting.
By about 2:35pm, we were back at our room, and we then chilled out for a couple more hours or so as I was busy trying to fight sleep from the food coma while Julie was on her phone and Tahia was busy chatting with her school friends online despite the 16 hour time difference.
I did try to use the time to get caught up on the blogging and stuff, but I found that when the body wants to sleep, it takes over and so I probably wasn't terribly productive during those couple of hours.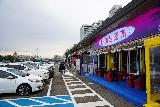 By about 5pm, we headed back downstairs and pursued a dinner spot on the other side of the St John's Hotel.
We eventually settled on this place called Haeyongga (sp?) which seemed to be like a pretty busy place, but we kind of knew that nothing was going to be in English and we'd have to use Google Translate to interpret the menu board.
Anyways, we got snow crab, which turned out to be a crazy amount of crab legs and body meat.
Unfortunately, Tahia didn't want to have any of the fresh stuff and so she didn't eat much, which left Julie and I to spend a lot of time trying to eat the food we had on the table.
In fact, this meal probably took us about two hours because of all that time spent trying to get crab meat out of the legs and the body, which was an intimidatingly large amount of food again (just like yesterday though at least this was more manageable).
Indeed, after eating most of the pretty good panchan (which also had more interesting seafood of abalone, clams, fried fish, some kind of stuffed crab or something along with kimchi and other spicy pickeled stuff) as well as some kimchi rice stuffed in crab's shell, Julie and I were stuffed!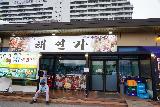 At least with this meal, we paid around 90k won, which was actually like around $72 USD, and that was easily cheaper than most meals that didn't come close to delivering this amount of food back in the US!
One thing Julie and I noticed with all this food was that no one takes away the excess food.
Moreover, we saw other tables that left an awful lot of food on the table or didn't come close to finishing what they bought.
So that was a little disheartening to see the amount of food waste as a result of this convention, but you definitely couldn't argue with the freshness of the food even if the quantities were insane here.
By about 7:05pm, we got back to the room, and finally we could wind down for the day.
Once again, I was trying to finish off whatever blogging I needed to do to catch up, but again, I was fighting sleep again, and ultimately, I had to give in to what my body was demanding some time after 10pm…
Day 8 (June 15, 2023 – Danyang, Korea): "Realizations And Reckonings"
It was 4am when I awoke to the alarm, and I used this time to wrap up with packing up my belongings, get freshened up, and work on getting caught up with the blogging and photo/video processing since I was behind by 2-3 days by this point.
So while I was busy trying to get caught up as best I could, I did notice that outside it was much cloudier than it was yesterday so there was definitely no sunrise after 5am.
And it wouldn't be until around 6:35am when we finally went downstairs with our stuff to load up the car before going back upstairs for the executive club breakfast that came with our booking.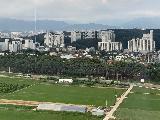 We were actually early by around 10 minutes so we used that time to let Tahia talk to her friends when we were finally allowed into the familiar dining area.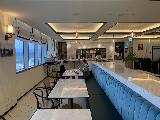 Once there, we pretty much had ourselves a mostly Korean brekkie that had kimchi, seaweed soup, bulgogi, and rice as well as some fruits like fresh pineapples and grapes.
There was also some western-style scrambled eggs and sausages, but we kind of avoided that while Tahia went right for the cereals, the breads, and the whatever sweets she could find.
As far as drinks, I actually decided to go for a cup of u-yu (milk) but Julie said that I was going to regret that decision.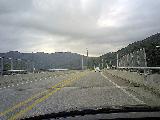 In any case, we got back to the car at 7:45am to start the drive further to the south in pursuit of the Miin Waterfall as well as the Yeoraesa Temple.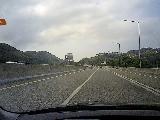 I had originally intended to do another series of waterfalls in Mureung Valley, but upon learning that it would take about 3 hours to do that hike, we ultimately opted to make a priority call and get to Danyang (our next town) sooner rather than later with two stops along the way.
Nevertheless, the drive going south was fairly drama free, and after driving a bit on the expressways (and missing an exit somewhere before the end of the expressway), we ultimately got off and headed into the mountains.
The drive was actually surprisingly not as twisty as I would have expected thanks to tunnels, and the weather did seem like it was starting to get partially sunny as we eventually got closer to the town of Taebaek.
However, when we got to the final signed turnoff for the waterfall, we saw that there was a partial barricade blocking the way and some other signage in Hangeul.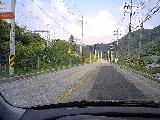 So we overshot the turnoff and drove towards Taebaek before stopping at a gas station for Julie and I to use the restroom at a gas station (after crossing a rather dangerous and unlighted intersection fronting it) at 9:40am.
We then turned back and headed back up the mountain road briefly before we saw some arrow pointing to the right (even though it was in Hangeul) and that was when I realized that parking for the Miin Waterfall was there (and the place wasn't closed).
Thus, we ultimately stopped the car at 10:05am just when a few more cars showed up at the same time, and then we geared up and headed down the ramping road to get to the Miin Pokpo and the Yeoraesa Temple.
Along the way, I was getting some pretty uncomfortable gassiness, and Julie was lecturing me about how both Tahia and I don't listen to her about having the milk, and in this case, Julie called it.
So I definitely was making another restroom break though it I knew my bladder wasn't completely empty (and got to listen to the music that was played in this restroom facility, which was an interesting feature of Korean restroom facilities in the bush as it wasn't the first one I saw that did this).
After getting past a building and parked car, we then went down a somewhat "carpeted" path that descended rapidly past a partial lookout and then past the Piano Pokpo (at least from what I could read from the Hangeul) which was nothing more than a trickle.
Then, we continued down more switchbacks and carpeted steps to a signed fork where it was only 25m to the Yeoraesa Temple to the right, but Julie wanted us to see the falls first so we did that.
As we got onto a bridge downstream from the creekbed that fed the Piano Falls and past the Yeoraesa Temple, we saw that there was a nice view down towards what seemed to be a train station or hotel or something below as well as the mouth of the Tongni Gorge.
This gorge was said to be Korea's version of the Grand Canyon, which might be a bit much in terms of equating superlatives to what's more known in the USA.
Nevertheless, it was still a nice view before we continued down the footpath ultimately arriving at the impressive Miin Pokpo where there was an elevated viewing area as well as a lower viewing area before a rocky scramble to the edge of its plunge pool.
This falls was nice in that we were surrounded by rocks and tall cliffs that almost had a purplish color to them while also looking at the tall falls having more of a pitchfork shape given its somewhat lower flow.
There were actually quite a few Koreans that would come down here and leave so apparently this place wasn't as unknown as I had anticipated (given the relative lack of literature of this spot on the interwebs).
Once we had our fill of this place, we then went all the way back up the steps and definitely sweated it out.
When we returned to the car at 11:35am, we then saw how many more cars were parked behind us, which further attested to this place's popularity.
Next, after driving in the wrong direction in pursuit of the Huibang Waterfall, which was the next stop for the day, we then headed back towards Taebaek where we stopped once again at the familiar gas station at 11:55am.
By this point, Julie decided to get some stuff at the convenience store here while I took the time to go check out a farmer's market next to the gas station.
It was actually a traditional market selling mostly herbs, spices, veggies, and fresh fruits all to some music playing something more akin to what you'd hear in China or Taiwan than in Korea.
So we had ourselves some Korean musubis (one was some kind of Kimchi-like rice stuffing), and then we finally continued with the drive at 12:15pm.
Next, the drive was pretty much uneventful and somewhat long (as I started to get a little bit of road fatigue during this drive).
We'd eventually get to a point where we had to turn left into a series of tunnels though there were some ominous dark clouds where we were headed.
That said, as we were behind a local driver, the light turned green and I was about to honk the horn to let the guy in front of us know before I stopped thinking that it was a local who must know something that I didn't.
Well, it turned out the guy in front of me only went when the left green arrow started to show in addition to the green light, and that gave me a revelation that all this time we had been turning left when we weren't supposed to even on a green light?!?
Damn, now I was wondering if I was going to get a fine for all those times I might have gone on those green lights (but not the green arrows) to this point.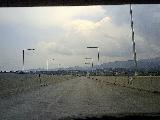 I also started to wonder how severe the fines would be for going through the HiPass at the toll booths when I first started driving in Korea (not knowing that it's the red-lined lanes I should have taken instead of the blue-lined lanes).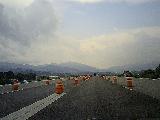 Anyways, as we drove through the tunnels, sure enough, we started getting into heavy rain as we went through some breaks in the tunnels, and it was definitely raining when we got out of the series of tunnels for good.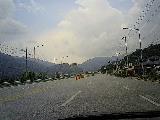 So that kind of dampened our hopes of doing the next waterfall, which was the Huibang Waterfall in addition to the Guinsa Temple closer to Danyang.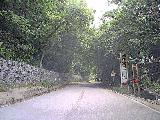 Thus, we continued on with the long drive as we were getting through the rain squalls, but eventually the rain subsided as we got past some turnoffs for the Buseoksa Temple (which was apparently UNESCO).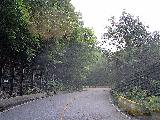 It kind of planted the seeds of whether we should stop there or not, but we had to stick to the plan and continue towards the Huibang Falls (so we wouldn't have to do it tomorrow).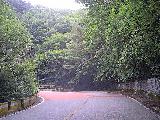 Ultimately, the skies became mostly overcast but calm as we finally got to the turnoff leading up to the Huibangsa Temple and Falls, and we then went up a somewhat narrow (but still two-lane) mountain road climbing steeply to a lot by the information center.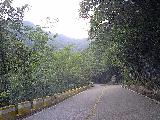 Not sure if we were supposed to stop there and pay or do something due to the partial barricade, we then continued going up as the Kakao Map told us to keep going.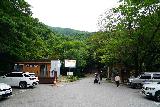 So we did that and ultimately we arrived at an upper lot with a handful of more cars that also parked here or came up here at around 1:55pm.
I wasn't sure how long of an excursion this would be, but we could see that there was infrastructure here in the form of a nice restroom as well as a kiosk though no one was paying any money today.
So we then promptly walked up the steeply ascending road before a sign was pointing the way to some mountain.
We had to go up some more steep and rocky steps before eventually arriving at the Huibang Waterfall, which had a nice little rest area just past a bridge while fronting the pleasant waterfall.
We quickly took some time to photograph and document this experience before I decided to continue another 200m (it had been a 200m walk to get to this point) before to the Huibangsa Temple while Julie and Tahia kept taking pictures then headed back to the car.
As I continued to go up more steps and then across a bridge above the Huibang Falls, I was getting very concerned that the sounds of thunder was getting more frequent and the skies were rapidly darkening.
Eventually, I got up to the Huibangsa Temple just as it was starting to rain at 2:40pm, and just like that, the skies were angrily dumping rain heavily while there were now frequent flashes of lightning and more thunder as I was standing in front of one of the temple buildings.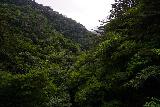 At some point, a person at the cafe insisted that I go inside and have a seat to wait out the storm, and I suspected that this might take a while because this storm showed no signs of letting up.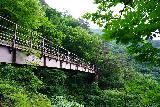 As I was waiting out the storm in this cafe across from the temple with all this lightning and rumbling thunder all around me accompanied by pouring rain, I couldn't help but wonder how much longer the storm could go on like this before subsiding.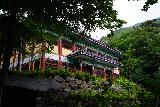 Then, I was checking the weather forecast for the current state of this storm when I got a text from the T-mobile carrier saying that I used 80% of the international roaming for the month that we paid before this trip (and it was only the first week).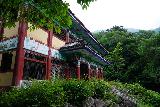 It seemed like that calamity of errors that started with Tahia losing her water bottle and her Uno set on the day we arrived to pick up the car at the Gimpo Airport combined with my loss of the GoPro on the first day we left Seoul was all compounding.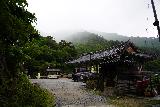 Couple that with the realization that you can't make left turns on green lights (only green arrows) upon witnessing a Korean driver refusing to go left on a green light in front of us made me wonder if a hefty fine from a traffic light camera caught me turning left when I shouldn't have.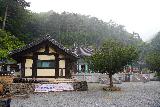 Moreover, I'm not sure what fines I'll have to pay upon not knowing about the HiPass blue-lined lanes at the toll stations on that first day I was waterfalling in a divide-and-conquer north of Seoul, which further compounded the ignorance is not bliss moments so far in Korea.
Now with this storm, I wondered what other calamity will befall us as things definitely weren't going as planned so far…
During this time, the folks inside the cafe were really hospitable to me, and they insisted that I had coffee with a cookie while waiting out this storm.
There were actually about 3 or 4 other people here though I couldn't tell if they were all staff or if there was another tourist caught in the storm.
When I asked in Korean (from reading the Hangeul in Google Translate) how much the stuff they gave me costed, the guy waved his hands in a gesture that it didn't need payment.
And with that act of hospitality, the storm finally subsided enough to let me out of the cafe.
There was still some lightning and the sounds of thunder nearby, but at least the downpour subsided into more of a sprinkle at this point.
So I took this time to take some pictures and briefly tour the temple's handful of buildings, including a lookout platform overlooking the buildings here.
And then I donned my rain poncho to at least protect the camera and other things I didn't want to get wet.
Finally, after having my fill of this place, I then decided to walk down the steep road before finally arriving at the car park at 3:35pm as I was kind of a hot and sweaty mess since the goretex in the poncho wasn't exactly breathable.
I was also getting lectured by Julie about whether the temple was worth having to wait out the storm for another half-hour or so, and I thought it was, especially with the kind acts of the staff when I had to shelter in place up there.
Thus, we were able to drive down to the main roads again, continue down the twisty mountain roads making me realize that we must have been quite high up the mountains.
Finally, we got to the town of Danyang where we eventually arrived at the Sono Moon hotel at 4:20pm, which was actually quite busy at this time.
When we got up to the room at 4:55pm, we saw that it actually had a kitchen and a fridge, but it only had a single twin bed where there was a separate room that was tatami-style (i.e. you had to sleep on the floor).
We also realized that this was an old place and that all the plugs were European-style, and that was when it dawned on us that we made a rookie mistake by not bringing an emergency universal adapter or at least falsely thinking the Korean plugs were like the Japanese ones.
So now we were left trying to figure out how to charge our phones while also trying to figure out how to charge the laptop as I knew it wouldn't last very long (two hours tops perhaps).
Nevertheless, we eventually went downstairs at around 5:15pm, and we promptly had to go down several steps before getting to the charming main part of town which faced the river.
It turned out that Julie's preferred dining spot was not far from our hotel, and we promptly went right there (to this place called Dawan), which looked closed when we got there.
However, it was actually just about to open for dinner (they were to open at 5:30pm and we were there just 5 minutes before), and once we were inside, we saw that we had to sit on the floor.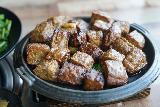 Indeed, this reminded me of the Japanese experience again, but it also possessed a certain charm while also having huge windows allowing us to look out towards the river.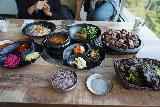 That said, this place was all in Korean and there was no pictures in the wall board that acted as the menu, and we ultimately got tteokgalbi, which came with panchan while we also got two bowls of rice and a suntobu soup tofu.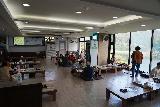 We weren't exactly sure what we were getting, but at least I could read enough Hangeul to figure out which was the galbi and which was the bap.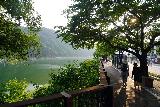 That said, it turned out that this place was quite good (the meat was like a grounded meat that was sizzling and quite tender).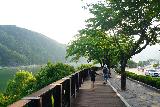 The rice we got was also purple while the tofu soup was like the kind of thing we got back at home in the Korean suntubu joints.
The meal was reasonably priced, and it was also quite popular (heck we even saw one Caucasian person here, which was quite rare in this area I thought).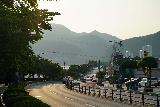 Indeed, we were done with dinner at 6:15pm, and after telling the lady that "mashiseoyo" (it was delicious), she gave me a nice smile as it probably wasn't expected from me and perhaps she appreciated the effort I was making in trying to speak Korean to her.
Anyways, we then went looking for a place to buy a SIM card and perhaps a travel adapter given the situation we found ourselves in at the hotel.
And during that time, we at least enjoyed the riverside walk as the sun was starting to set, and we eventually got to a convenience store where the clerk there pointed us to a place where there were SIM cards and some phone chargers.
However, we spent some time trying to test the SIM card before buying it, and it turned out that it didn't work, but we did at least get the iPhone chargers which allayed Julie's fears about the iPhones (which we used for navigation and stuff) being charged again.
But the laptop was going to have to go without charging, and now I not only regretted not bringing my backup emergency universal adapter, but I also regretted not bringing the heavy power brick to charge the laptop for this trip.
Not only that, but when we left the convenience store, I tried to get the original SIM card to work, and it kept clocking and not working the whole time we were walking back to the Sono Moon Hotel.
So when we got back at 7:30pm, I was now worried that my phone wasn't working while we also wondered if my laptop would be out of commission for the rest of the Korea part of the trip!
Thus, all these things were on my mind as we were definitely finding out the hard way why you don't make stupid assumptions, and now we'll have to hope that when we get to Daegu, there'll be a travel adapter to save the rest of the Korea trip…
In the mean time, I had the floor to look forward to, which was a precursor to what we'll be sleeping on in Daegu for the next three nights (as we're staying in a traditional accommodation there)…
Day 9 (June 16, 2023 – Daegu, Korea): "Operation Pig's Nose"
It was 4am when I awoke, but my body was a bit stiff even after putting multiple pads on the floor of my tatami-style bed.
Knowing this experience, I realized that we were spending the next three nights at the Hanok 1957 accommodation, which was also a traditional Korean stay.
And that meant another three nights of sleeping on the floor so I wasn't looking forward to more consecutive nights of stiff bodied wakeups.
Anyways, with the laptop running on fumes essentially (i.e. it didn't get charged yesterday and I desperately needed an adapter for Korea (or else risk not using the laptop anymore with bad consequences), I did manage to squeeze in a couple of days of catchup.
That was because I was just text editing and didn't do anything exotic like processing photos and videos as well as previewing videos.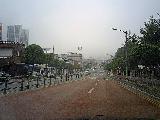 However, it took Julie and Tahia some time to get ready and so it wouldn't be until about 6:20am when we finally loaded up the car and started to drive off (but not before encountering a lot of mosquitoes all over the car when we were loading).
That compelled me to put on DEET even before driving off so I pretty much smelled like a toxic waste dump in the car.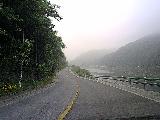 On this day, the plan was to visit the Guinsa Temple, which wasn't something we planned on doing, but Julie really wanted to check this place out after seeing it talked about as one of the top Korean experiences in Lonely Planet.
Geographically, the temple wasn't far from Danyang, but having been in Korea for over a week now, I knew that drive times took longer than whatever was planned on Kakao Map before the trip.
You just never know if you make a wrong turn or face lots of traffic or detours or bad weather or whatever that would conspire to slow you down from whatever you had planned.
Anyways, it was a foggy morning, and it was still pretty overcast when we arrived at the Guinsa at 7am.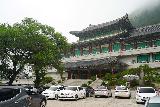 It wasn't all that busy where we parked the car, which was right before a barricade that only let authorized traffic through.
And when we got out of the car and geared up, we anticipated a short visit, but when we couldn't figure out where we needed to walk to tour the temple, the person manning the barricade told us to take the shuttle.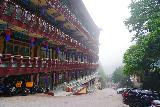 He confirmed that the shuttle was free, and so we hopped in a black van and then the driver took us up past a few archways and buildings with fancy roofing.
So it was a good thing we didn't try to walk this stretch because it was all uphill and it was quite long.
When we were dropped off, we were surrounded by huge temple buildings, and it immediately became apparent that the action was above us as well as the fact that this place may be a whole lot bigger than anticipated.
At first, we went up some steps that were sheltered and between some already impressive temple complex buildings.
We continued up the steps (forsaking the steep road that was meant for vehicles) and that was when there was a maze of bridges and steps between buildings.
By the time we climbed up to the first Main Dharma Hall of one of the temple buildings that was at least three stories tall, we heard some chanting coming out of the prayer area for that building.
No photos were allowed inside the praying area, where there seemed to be some kind of gold Buddha (or bronze one), and we just took pictures of the outside of that main Dharma Hall.
Julie suggested that Guinsa Temple was not really a singular temple, but it seemed more like a village of residents as well as workers devoted to the Buddhist practices.
Nevertheless, the sheer size of the complex let alone each of the mountainside buildings here made the experience rather overwhelming yet atmospheric.
This place was said to be a traditional Buddhist temple, and I could totally see how much of a throwback this place was compared to other Buddhist temples we had seen earlier on in this trip.
After having our fill of the main Dharma Hall, Julie and Tahia were content with their visit already, but I still wanted to fully experience this place by at least walking up to the very top of the complex.
Well, it turned out that there were still many more steps to go, and it wouldn't be until some time well after 8am when I got up to the very top of the temple building complex.
Up there, I saw that there was another temple with shoes off praying area where there was a bronze or gold statue of someone important (his picture was next to this statue).
Looking back in the other direction across a huge courtyard or something, I saw that there was some kind of pillar with a spinning ball at the very top.
Unfortunately, the fog was still low enough to make my shots across this courtyard a bit on the hazy side, and there was definitely no blue skies to contrast all the gray.
After having my fill of this part of the Guinsa Complex, I then walked down steps in a building flanking the spinning pillar, where each loor seemed to have studying dorms or huge shoes off prayer rooms.
By the time I got down to the first floor, I then pretty much made my way back down a different route than I had taken up earlier.
Ultimately, when I got back to where the shuttle drop off area was, I had apparently just missed it by seconds as I saw that bus start pulling away just as I arrived.
Knowing that Julie and Tahia were supposed to meet me back at the car, I decided to just do the all downhill walk all the way back to the car park.
Along the way, I paid more attention to one of the archways featuring four gods or demons or something both facing the walking path between them.
Then, I also noticed that there was a Guinsa Bus Terminal, which might have explained the primarily bus-tour visitors doing a day trip to Busan just like we were doing.
Ultimately by about 9am, I had made it back to the car, but it wouldn't be for another 10 minutes when Julie and Tahia finally rejoined me.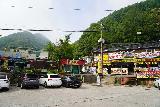 They were apparently chillaxing by a coffee shop that had just opened, and they must have missed me walking by them (as I was worried that they were still back at the Guinsa Temple complex).
Julie told me that at the cafe that they were at, the woman working there could speak Mandarin Chinese, which was way earlier for us to converse in than Korean was.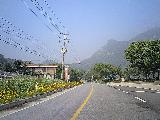 Anyways, we took off and then pursued the Hahoe Hanok Folk Village (or Hanok Maeul), which was quite a drive south from Danyang let alone starting from the Guinsa Temple where we added another 45 minutes or so to this drive.
We at first thought we were going to go back to Danyang and try visiting another convenience store with a travel adapter (or "duaeji-ko" which is Korean for pig's nose given its shape).
However, Kakao Map had other plans, and we ultimately took a more northerly approach to reach the Danyang IC so we weren't able to make a quick stop at a convenience store.
Once at the IC, we then took the mostly 110 km/h speed limit expressway where we had a mostly smooth drive towards Andong and the Hahoe Hanok Maeul.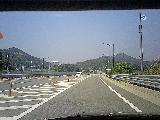 While the fog was burning off when we were leaving the Danyang area, by the time we drove the nearly 90 minutes or so to the Andong vicinity, it was bright and sunny.
By about 10:55am we made it to the Hahoe Maeul car park, where there seemed to be plenty of spaces after being able to follow the many signs to get there.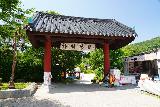 However, contrasting the somewhat cool morning at Guinsa, this area was very hot (probably about as hot as we've had all trip long).
Having read the reviews about needing an umbrella to shield yourself from the sun, both Julie and Tahia did that while we also slapped on a bit more sunscreen given the intensity of the sun.
It took us some time to get ready for this visit, and we first passed through what seemed to be like an area with lots of restaurants and cafes, and it seemed like most of them were serving the same thing.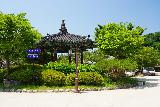 That thing was the Andong braised chicken, which was apparently a specialty here.
We anticipated a bit of a long visit, and so since it was pretty early for a lunch, we tried to be contrarians and ultimately decided to go for lunch right now at one of the local restaurants.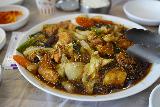 The place we picked at 11:20am was some place that actually had English menus and signage, which was welcome to us after having gone as long as we did of straight Hangeul.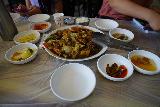 We ultimately got one order of the braised chicken, which was kind of like the Andong chicken in some kind of dark sauce mixed in with some glass noodles (like japchae style) along with veggies and a local type of Andong mushroom, which tasted unlike any other shroom we've had before.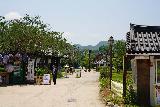 Along the panchan, we also got a couple bowls of rice, and having learned from our past experiences so far, we limited the ordering to just this stuff to not overdo it given the portions we knew they'd serve up.
I also noticed there was Andong soju offered as a beverage, but Julie talked me out of it since I was driving and we still had a ways to go to get to Daegu after this visit.
Thus, we got done with our lunch at around 12:10pm when we saw lots more people eating their lunches now so our contrarian approached worked out just fine.
Next, we then walked over to the ticket office, where we paid and then waited for a shuttle bus since we saw that it was a bit of a long (and not-so-flat) walk in this heat to get to the Hahoe Maeul proper.
Once we got in the pretty busy bus, we then got off and proceeded to start on our walking tour of the Hahoe Folk Village under some rather scorching hot temperatures.
After going to the left side of a pretty large rice paddy, we then went to the start of the village itself where we kept to the left of a large sign with a map.
We already started to notice quite a few buildings with like thatched roofing, which was already different from the more Asian tiled rooftops we had seen to this point.
But we also noticed many such buildings with the tiled roofs when we got more towards the innermost buildings in the village.
Our visit pretty much targeted whatever Julie's TripAdvisor or Instagram research yielded as suggestions, and we ultimately went to the largest of the homes with open doors so you could have a look around at least the courtyards.
There were also many other properties with doors closed, which suggested that they were active residences and not meant to be snooped into.
Given the hot temperatures, this visit kind of brought back memories of what it was like touring Megalohori in Oia, Greece, where it was also hot but quiet at the same time.
That made for a rather atmospheric visit though the heat certainly made us want to tap out and walk less sooner rather than later.