Day 3: FULL-ON CITY
We didn't arrive in the Guilin vicinity from Hong Kong until about 5:30pm. Contrasting the continuous rains and gloomy skies from Hong Kong, Guilin seemed to have fine weather.
But after meeting our tour guide Linda, we learned from her that this fine weather was preceded by several days of heavy rains even as late as noon today. I guess we could consider ourselves lucky that we happened to arrive when the storms had passed.
As we were making our way from the airport to Guilin city, we could see right away that this place was a far cry from the rural imagery we were led to believe prior to this trip. All those photographs and descriptions kind of built up our expectations that this place was somehow laid back and naturesque, and that it would be a blast from the past of old China. In fact, Julie even exclaimed that this wasn't what was "sold" to us in the literature prior to the trip.
But I guess what else could we have expected in a country that is the most populous in the world and developing at breakneck speed?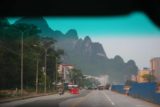 While we were coming to terms with the disconnect between our preconceptions versus the reality of what was right in front of us, the guide tried to sell us hard on the reflexology treatments. We were a little surprised by this, but we decided that instead of going for it right off the bat, we decided to make that decision after tomorrow.
After checking in and getting settled, it was night time and we were looking for something to eat for dinner. Since we were eager to try some authentic local Chinese food, we decided to stroll around the city when we stumbled upon some walking street that unassumingly began as some alleyway not far from our hotel.
As we walked deeper into the shopping district, the walkways resembled something more like what we might be familiar with at 3rd Street Promenade in Santa Monica, CA or the French Quarter in Siem Reap, Cambodia. Except this time, all the signs were in simplified Chinese characters and the vast majority of tourists seemed to be Chinese people. We certainly couldn't tell which ones were local to Guilin and which ones were from elsewhere in China.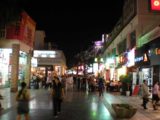 We had a little bit of trouble trying to figure out where to eat as there was no shortage of eating places. But we soon realized that there was a lack of english menus in a lot of these restaurants, and that got us a bit worried about where we were to eat. While I tried to study simplified Chinese characters prior to this trip, I was nowhere near the proficiency I needed to get anywhere with these menus.
Well, at least I knew enough simplified Chinese characters to identify that some places were selling horse meat.
We finally settled on some soup place. The menu was completely in Chinese so we pretty much asked the waitress what the most famous dish here was and just went with her recommendations.
"In Japan, we're going to be in trouble," said Julie. "At least here, we could get by with our Chinese, but in Japan, we can't speak or read Japanese."
Of course that thought did cross my mind, but I figured this was all part of the adventure, right?
Eventually at around 8:30am, we got back to the hotel. Sure it was getting busier and busier in this shopping plaza we stumbled upon, and we wanted to be part of the atmosphere here. But we were tired and decided to crash at the hotel. We'll see what tomorrow brings…
Visitor Comments:
Got something you'd like to share or say to keep the conversation going? Feel free to leave a comment below...
No users have replied to the content on this page