Day 5: ALL ABOUT SHANSUI ON THE LIJIANG
The morning started off uneventfully as we got packed and shared the breakfast dining hall with a large German tour group.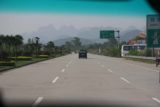 By 8:40am, we left the Universal Guilin Hotel, braved the morning rush hour traffic, and then finally got to the foreigners' wharf at 9:30am where we promptly walked through the diesel fumes (from the boats getting ready to leave) and boarded our cruise boat.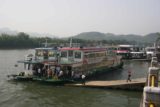 The seating was a bit cramped as we had to sit with strangers. There really wasn't a whole lot of room to maneuver or put our day packs away under the seat. The boat itself was pretty crowded with tourists that were of obvious non-Chinese descent as well as other Chinese people choosing to take this particular tour instead of the dedicated Chinese one.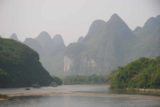 Right off the bat as the tour boat headed down the Li River (Lijiang), there was those classic karst peaks rising above the river and immediate surroundings. It was as if the Chinese landscape paintings on scrolls were brought to life on this sunny but hazy day.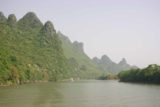 I spent most of my time at the very top deck of the boat along with hordes of other tourists. Julie spent most of her time reading her Stephenie Meyer books in the comfort of the air-conditioned dining area.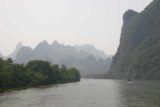 Clearly she was totally hooked as she was willing to bypass the karst scenery over these books that she could easily read back at home.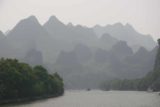 Yet I still couldn't understand how she was willing to miss out on some world class scenery over some fictional novels that she could read any time.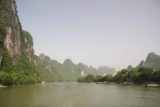 So the next few hours was pretty much spent in this manner. Every once in a while, Linda would come up to me and explain some of the things I was seeing around me.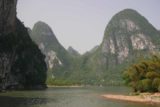 She also explained to me the Chinese word for landscape – "shan shui." It was literally "mountain water" but I knew with the Chinese language than literal translations seldomly work, and the metaphor of this word combination would surely stick.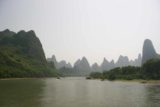 Eventually, at a little after 11:15am, we got to a point where Linda said was the landscape on the back of the 20 yuan note. It was strange that this was also the same time when people were summoned downstairs for the buffet lunch.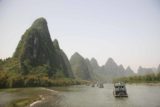 So I stubbornly stayed atop the boat and had the upper deck all to myself along with Linda. Eventually, Julie joined us as she wondered why I wasn't having lunch.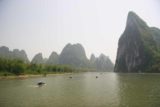 But in any case, we seized this moment and took what photos we could of the scene before us, which really reminded us of Milford Sound in New Zealand as there was a towering conical peak adjacent to the river in much the same way Mitre Peak towered over the fjord in Milford Sound.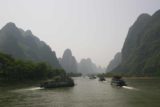 Afterwards, we went downstairs and joined the rest of the crowd for lunch.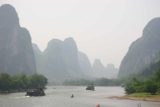 Unfortunately as we were eating, I couldn't help but notice as I was looking out the window that there were more photo opportunities.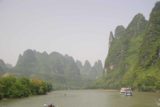 I thought it kinda sucked that we were stuck having lunch and weren't that free to move back up to the upper deck to photograph what turned out to be more of the best scenery on the cruise.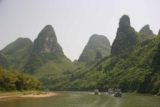 Eventually, we made it Yangshuo at around 1:20pm.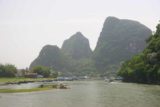 Just as I had thought the cool karst scenery was over as there was a stretch with fewer of those peaks and more farms, Yangshuo was surrounded by those shapely karst peaks.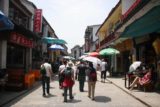 The exit went right into West Road, which was lined with shops and foot traffic from locals and foreigners alike.
It was quite hot and humid down here and Julie and I swore it must've muggier than it was back in Guilin.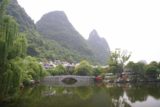 In any case, we walked the next 15 minutes to our hotel. At least this one seemd to have a functional air conditioner in our room and was pretty clean. I'm not sure we could say that about our last place we stayed at in downtown Guilin.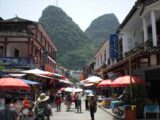 During the walk back, Julie was concerned with the amount of vehicular traffic on the main road. The original itinerary called for us to be self-renting a bicycle to go the next 10km or so to the arch at Moon Hill. But after seeing the chaotic traffic in this charming little "town," she talked Linda and I into just going for a car ride to Moon Hill (for an extra fee of course).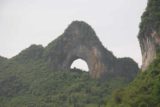 Once we were at Moon Hill, we took some photos of the impressive arch. But it was too bad some of the power lines kind of ruined the view.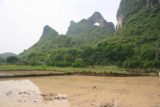 Linda exlained that as you look at this giant natural arch at different angles, you could actually see the opening in various "phases" just like the phases of the moon. No wonder why this was called Moon Hill.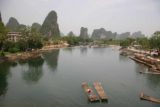 We didn't linger here for too long and decided to leave the area and head back to the city. But before we made it all the way there, we had the driver stop at a bridge letting us get some real attractive views of a town fronting karst peaks with the river cutting through all this.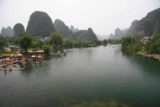 In a way, it seemed that this area was probably what Guilin was like. It definitely had less development, but we are concerned in the future whether Yangshuo will lose its charm and become the urban chaos like Guilin City was.
Nevertheless, we felt Yangshuo was indeed prettier than Guilin and we could only hope that this place can still retain that piece of romanticism communicated in the Chinese watercolor landscape paintings we had frequently seen while growing up.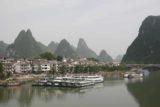 After this brief stop, we had Linda and Mr. Deng drop us off at the Green Lotus Hotel so we could snap a few photographs of the landscae behind the property. From there, we'd walk all the way back to our hotel. But in the mean time, we got to check out more of the attractive scenery and soak in some of the atmosphere of Yangshuo.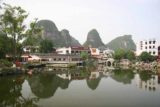 A particularly attractive part we noticed while revisiting West Road was a garden-like pond area in front of the Paradesa Hotel. Apparently, we were supposed to stay there, but they ran out of space when we booked so we ended up with a hotel another 10-15 minutes walk further.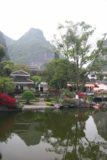 A particularly annoying (yet familiar) part of our wanderings in Yangshuo was the prevalence of hawkers (looking for someone willing to buy whatever was being presented and collect some commission on it) and beggars (lookin for handouts). Sure the aggressiveness was a bit more severe in places like Egypt and this really wasn't anything new to us so we just took it in stride and tried not to give any attention to them.
Certainly this was indicative of the amount of poverty in the area.
Eventually at around 3:30pm, we got some relief from the heat and humidity of high noon in a semi-tropical area. There, we had somewhat of a brief siesta before we went looking for a quick dinner before our booked 7am meeting to get whisked away on some kind of Li River light and dance show.
So at around 5:30pm, we headed back out and braved the maze of aggressive people trying to steer you into their restaurant or local shop.
We also had to be careful when crossing any street with vehicular traffic since no one yields to pedestrian traffic. It's basically cross with caution because the onus is on the pedestrian (not the driver) to get out of the way.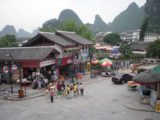 We ended up eating at this place called "Mei You Cafe" (literally "doesn't have" cafe). Funny name for a restaurant.
There we took a few photographs from their 2nd floor balcony while waiting for our food. From up at this level, we could see the bustling West Rd scene with both karst peaks in the background of this charming town with its mixture of chaotic traffic and bustling foot traffic.
The food was seemingly local stuff that we probably grew up on at one point or another though in this case, it was eggplant with some kind of spicy mabo sauce along with white rice.
Afterwards, we walked back to the hotel just in time to be picked up by our guide and driver to go to some kind of Li River Light and Dance Show.
It seemed like the entire town of Yangshuo was headed there as there was a ridiculous amount of traffic at the road leading to the theater. We eventually decided to leave Mr. Deng at the car and walk our way to the entrance.
Once at our outdoor seats, we could see the view was facing some kind of body of water backed by silhouettes of very shapely karst peaks. I'd swear that if this wasn't in a theater, this would've been a postcard landscape photo op during the day.
Anyways, my suspicions that the whole town of Yangshuo came here to see the show was founded as the nearly 2000-seat outdoor amphitheater was pretty full.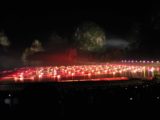 The show was supposedly directed and choreographed by the same guy who organized the opening ceremony of the 2008 Beijing Olympics at the Bird's Nest, which Julie and I only saw glimpses of after the fact. But my parents swore it was a moving and riveting show so when we learned about the correlation between that and this show, we expected something with lots of grandeur and dramatic music mixed with plenty of light fantastic moments.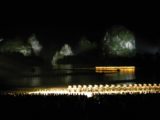 I'm sure it'd have more meaning to Chinese people since all of the lyrics and signs were in Chinese. And even though I could pick up bits and pieces of the words, I probably knew as much about what was going on as any other foreigner who didn't speak a word of Chinese.
But the show did lose its luster based on the inability of some people in the crowd to follow rules and exercise a little courtesy. Throughout the performance, there were people having side conversations, talking on their cellphones, and even smoking when the signs clearly indicated "No Burning."
After getting out of the crowded theater area, we had plenty of time to talk to Linda about the show as our vehicle was boxed in. That was when we learned quite a bit about the meaning of the show and how much we missed by not being able to follow some of the background and the Chinese.
That was also when we learned that the body of water in which the performance took place was actually on the Lijiang (Li River) itself! No wonder why this show would be so weather dependent because if the river was in flood, those performers would be in serious danger.
She further explained to us that the "li" in the name is derived from the word "li kai" which means to separate or leave. But in this case, this river is on the south fork of a larger body of water shared with another river that eventually feeds into the Yangzi River (the same one that is held up by the Three Gorges Dam).
Indeed, it seemed like the entire day was affiliated with the Lijiang in one way or another. But this pretty cool show was like the nightcap of what the river revealed.
We eventually got back to the hotel at around 9:30pm. There, I saw that West Rd was even busier than it was during the day. It must've been an electric scene possibly reminiscent of something we had experienced in Chiang Mai, Thailand, but we wouldn't take part in it as Julie was dead tired.
Visitor Comments:
Got something you'd like to share or say to keep the conversation going? Feel free to leave a comment below...
No users have replied to the content on this page