Day 6: BACK TO GUILIN
We had ourselves a Western style brekkie at our hotel in Yangshuo at 8am. We didn't think too highly of it, but it wasn't at all surprising considering the Chinese making Western food is like a guy from Oklahoma making Chinese food.
It wasn't until we saw Linda coming out and greeting us but not eating with us did we realize that she went into the Chinese breakfast side. So we followed her in and found a bounty of familiar Chinese foods from mantous to baozis to chao mien and more… Needless to say, we had a second breakfast before we checked out and left.
At 9:30am, we left Yangshuo and left for Guilin.
The roadside trip was quite scenic and different from the boat ride on the Lijiang. But much of the scenery was idyllic with rice paddies and other crop growing fields fronting the familiar rounded karst mountains crowding the backdrop like a thousand fingers pointing to the sky.
There wasn't really a decent place to stop and take photographs so I only had the memory of what was seen on this car ride.
As we passed through a few toll roads and returned to the familiar highway leading back into Guilin, we couldn't help but notice how much hazier it was today even though the sun was out.
Linda warned us that the South Wind arrived yesterday and continued today. So the visibility was quite reduced from say the first day we toured in Guilin when much of the landscape was quite clear.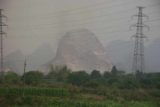 We even had trouble seeing that decimated karst mountain, which unfortunately was sacrificed for rock extraction supplying some raw materials for some buildings and roads.
At 11am, we were pretty much back in town.
We made a quick stop at the Bank of China to exchange some more money. We had expected this to be quick, but apparently this branch didn't seem to deal with foreign exchanges very much as it took forever (compared so say when you do the exchange at the airport).
In any case, it was done and we continued onwards to the Seven Stars Park. There, we joined hordes of tour groups with tour leaders yapping into loudspeakers.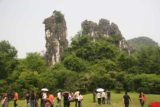 We checked out the Camel Hill before going to a more peaceful part of the park to get a quick gemology lesson by the local gemologist. After taking a look at some of the displays and learning a little bit about where they came from, we gradually got to a point where some of these gems started having price tags.
I knew where this was going.
Anyways, towards the end of this particular visit, we were getting the sell on put on us. At least it's not anything pushy like in Egypt or Southern Africa, but it could've been annoying had it not been at the very end of the sightseeing in Guilin after seeing all the important sights first.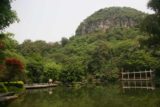 Before we knew it, we rushed to see a manmade waterfall (not) in a garden-like area before it was time to go. At that point, we headed back to the car and made a beeline for the busy Guilin Train Station to make it to our train ride to Nanning.
It was quite crowded and the train was quite packed. It wasn't easy trying to put our luggage in place without being a fire hazard since there really wasn't any room for them. And so we proceeded onwards to the next leg of our Chinese journey wondering how we'll deal with train rides later on in this trip…
Visitor Comments:
Got something you'd like to share or say to keep the conversation going? Feel free to leave a comment below...
No users have replied to the content on this page