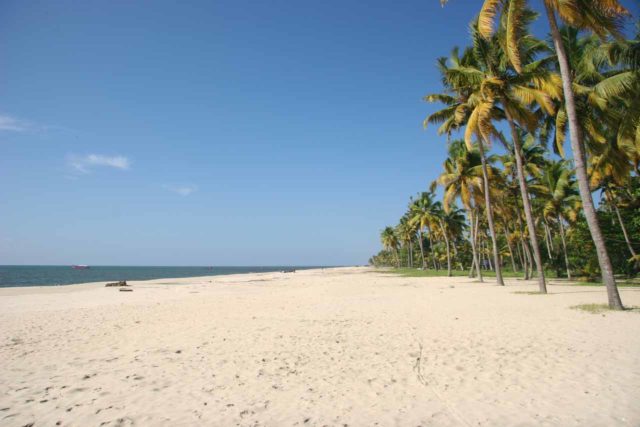 17-November 2009 to 20-November 2009:
We'd eventually walk in front of two other beach resorts. And well after the sun went down, we started to notice crabs coming out of their holes.
Just a few paces from our hotel, I felt something squishy on my left sandal.
I feared the worst as apparently I did it again…
Day 17: DID IT AGAIN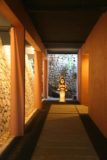 I awoke at 6:15am and saw Julie had already woken up and stared at the Athirappilly Waterfall right outside our room. The lighting on the falls was such that I knew I had to get myself out of bed and take advantage of the pre-dawn conditions where there was enough morning light but the sun had yet to breach the horizon. For the sun had risen above the horizon, we'd be looking against the sun while the falls would be in shadow.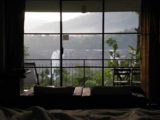 So I took something like 75 shots both from our room, and then from the dining area upstairs above the tree line. I have mixed feelings about exclusive views like this (belonging only to resorts and patrons willing to shell out money for them; kind of like Niagara Falls) because it's not fair for local Indian people who neither don't want nor can afford the views hijacked by the resort. Yet even with these thoughts, I still couldn't help but snap away photos knowing you don't get these views of this type of segmented waterfall very often.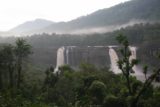 Julie contended that this was Asia's best waterfall due to flow. I disagree as Jog and Unchalli were better, IMHO.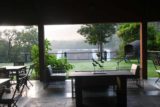 Anyways, Julie and I spent the next few hours trying to enjoy the fleeting moments of this "Rainforest Hotel," which is really more like a spa resort than a hotel. If anything, the Naveen Beach Resort we stayed at yesterday in Murudeshwar was more like a motel than a resort.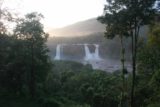 By 9:30am, we were all packed up and ready to go, and we had just finished our breakfast. Now, it was time to go for a walk to get closer to the waterfall. The falls were still in shadow and only the very top as well as the rising mist were catching the sun's rays.
When we made our move to get closer to the falls, we were following what seemed to be conflicting advice. Some workers encouraged us to go to some watchtower in the resort that promised to offer very nice views of the falls without foliage getting in the way. Unfortunately, that watchtower was closed as it was converted into a room apparently.
Meanwhile, we were also suggested to go past the swimming pool and walk closer to the falls that way. But the main person at the lobby told us that we had to go up to the main road to buy tickets and then walk some 100m towards the official gateway to the falls.
In any case, after buying our tickets and having an employee walk us towards where we were supposed to go, we finally realized that we hadn't walked far enough on the first go around (I guess either 100m was further than thought or we were given bad advice about how far the walk was to the entrance gate for the falls).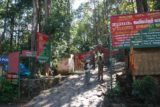 And at 10:10am, we showed our tickets plus paid the additional Rs 20 per camera (which we had grown accustomed to in India as these camera fees really seemed to be the norm no matter which attraction you're going to). Then, we quickly made our way to the base of the falls first knowing that we only had until 11am, which when we agreed with Dennis to leave Athirappilly.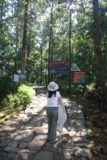 The park was full of macaques and locals (in lunghys or dotthys) taking shortcuts down a steep and slippery "trail" instead of the official one.
It didn't seem very trivial as the heat and humidity really soaked my shirt as well as Julie's, who wasn't too far behind.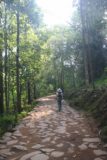 And once we got to the base, we were looking directly at the three falls, but it wasn't easy capturing the scene with the camera as we were pretty much looking directly against the sun. Plus, you really needed a wide angle lens (which I had fortunately) to capture all three segments in one landscape shot.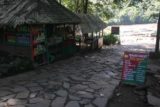 Once we took our photos down here, I quickly made my way back up and took a few more photos from the top of the waterfall.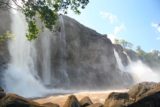 Normally, views from the top of a waterfall aren't up to par against looking at a waterfall from its base. But in this case, it was more of an exception as I was also able to capture the meandering river downstream of the falls as it headed towards some other mountainous valleys of the Western Ghats ahead.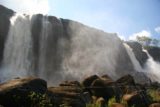 At 10:40am, we were on our way out of the falls area. And 15 minutes later, we were back at the Rainforest Hotel. Naturally, we were soaking wet when we got our stuff from the hotel and checked out. So the AC in Dennis' car was most welcome when we left at 11:10am.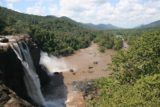 During the drive back to Cochin (or Kochi), we took a different way back down than last night as it seemed we took narrower and slightly bumpier roads. We passed by quite a few large homes, which led me to further believe that Keralans seem to be better off than other Indians from other states that we had seen on our trip so far.
I asked Dennis about a pair of other waterfalls (3km and 5km from Athirappilly Falls, respectively), but he said they were more like rapids. So I wasn't wishing we had seen other Keralan waterfalls.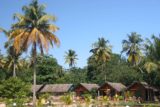 The drive went along like a blur as I was lulled into a nap. Perhaps I was getting caught up on sleep.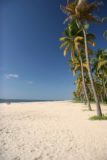 At 2:30pm, we arrived at Marari Beach, where we checked into this place called Fisherman's Village. It was a real nice and quiet here, and Julie and I both thought that this was what we expected Goa's beaches to be. In any case, this was yet another instance of Kerala exceeding our expectations.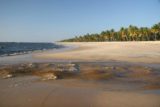 Throughout the afternoon, I pretty much reclined in one of the three hammocks overlooking the serene beach and Arabian Sea. It was relaxing to say the least, and perhaps it was great therapy. After all, who would've thought that India could be so quiet and relaxing (especially after what we had seen on our trip)?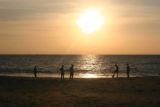 Towards 5pm, Julie and I did some brief walking northwards what was supposed to be some casino some 30 minutes from our resort. But we were stopped by a brownish stream that was the outflow of one of the Keralan Backwater channels into the ocean. The stream was running pretty deep and fast at the beach, and we didn't feel like crossing it thinking the stream might be polluted.
So we turned back, and I rested in the hammock some more while Julie was tending to other issues about our room (like getting the AC and hot shower to work).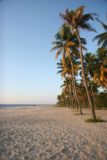 When it was getting closer to sunset, I was beckoned by some young Keralan locals playing soccer. And when I approached them, I was conversing with the group (mostly one guy who seemed to know the most english of the bunch) divulging things like I was from Los Angeles and the rules of baseball.
Meanwhile, I was being taught the idea behind cricket.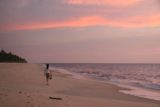 When Julie rejoined me at the beach, it was just about sunset. So I bid the group farewell and walked with Julie towards the south along the beach.
We'd eventually walk in front of two other beach resorts. And well after the sun went down, we started to notice crabs coming out of their holes.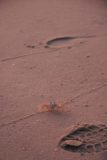 Just a few paces from our hotel, I felt something squishy on my left sandal.
I feared the worst as apparently I did it again.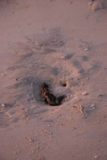 And sure enough, it turned out that I stepped into a pile of human dung, which were strewn throughout the beach. We actually witnessed one local take a dump directly on the beach so I guess some folks do the same thing here.
In any case, I stepped on doodoo again. And the next several minutes were spent trying to wash the nasty stuff off at our resort with coconut husks acting as a brush and lots of water. But the nasty stuff was stubbornly sticking to my Chacos so I eventually went to dinner with Julie probably with a few trace fragments of fecal matter on my sandal.
It turned out to be Julie's birthday so we had ourselves a little bit of a celebratory dinner. And with us being the only ones at the restaurant, we wondered if we were the only ones staying at this resort.
Anyways, we had a nice dinner, and by 7pm, we were back at our room to wind down and already laid back day.
Day 18: CRUISIN' KERALAN STYLE
Yesterday provided a taste of the slow life in India. Today was going to be even more of a do-nothing type day. After all the waterfalling and sightseeing while negotiating confronting poverty, touts, overcrowding, pollution, bumpy roads, etc., we figured there had to be at least one day where you don't do anything. And today was going to be that day.
So we slept in and at 8am, we woke up. And all we pretty much did was have a 9am breakfast then layed out on the hammocks at the beach from 10:30am for about an hour.
There was a gentle breeze accompanying the partly cloudy skies. And that breeze had a bit of a de-humidifying effect (I noticed this yesterday, too), which helped to make the beach more comfortable as opposed to hot and steamy.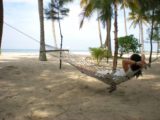 So while Julie was reading, I was thinking of those Corona beer commercials that always seem to take place at some secluded tropical beach. My thoughts were either on that or watching the birds flying around overhead hoping one of them doesn't dump any droppings on me. I've already had enough contact with dung (whether it be from humans, cows, or dogs), and I certainly don't care to make contact with the avian kind.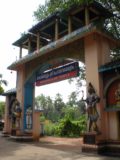 At 11:40am, we met up with George and Dennis. George, I guess, was the Keralan guide for the day. So as we left the Marari Beach area, he was explaining some of the Hindu mythology (since we passed right in front of one of the Hindu temples) as well as some tid bits about the Kerala state.
One particularly interesting thing he mentioned was that communism in Kerala started in 1957, and that the high literacy rate was attributed to a program started by the communist government where schools offered free lunches, which attracted the local poor population to attend the schools.
I kind of saw a parallel to this and how in corporations, meetings are usually called over lunch while bribing workers to attend with free lunch. Except the Keralan communists figured this out over 50 years ago, and their motives had beneficial results in the long term. Meanwhile, I'm sure I'll get pretty good agreement that many corporate meetings tend to be a waste of time and money.
Indeed, Kerala has one of the highest literacy rates in India, and is amongst the top three successful states in the country (with Punjab and Gujarat being the other two). And like I noted yesterday, I saw many big houses as well as an absence of large slums or people living under tents or straight up on the pavements.
I guess based on these observations, it kind of makes you wonder whether Republicans have any right to criticize communism when in fact capitalism tends to keep the rich rich and the poor poor while squeezing the middle class towards the poverty line (at least that's the capitalism America's been pushing and conned the world into buying into globalization).
George then went on to tell us that population control is practised in Kerala (with the Muslim population in the north being the exception as it goes against their religious beliefs), and that much of the products came from the local environment while minimizing waste. We saw that from the way coconut trees and fruits were completely used for many purposes. The same went for mango trees, cashew nut trees, and betel nut trees.
At around 1pm, we arrived at the docking station to begin our Kerala Backwater houseboat journey. There, we met the manager (who was also named Johnny), and he told us that Sir Paul McCartney actually stayed in the very boat we were about to go cruisin' in.
Our boat had a very traditional look and feel to it. Yet it had all the amenities of some of our landlocked accommodations (and even exceeded in some cases). Still, it was too bad we didn't have solar panels to make our cruising more sustainable.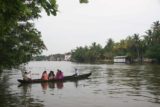 The tour pretty much proceeded as a leisurely cruise amongst the network of canals in the backwaters of Kerala. They're called the backwaters because at high tide the seawater comes into the backwaters while at low tide, the backwaters drain into the ocean. Thus the waters here are partially salty or brackish.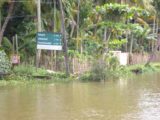 George would point out some birds or some other boats or ferries passing by as well as the many churches along the banks of the canal. I got the sense that Kerala was a very religious place, and George confirmed it by saying it's a very god-fearing place with some 50% Christians, 29% Hindu, and 21% Muslim.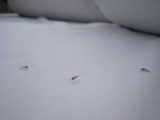 We had a very Keralan lunch, but the quantity of food was too much. It consisted of fish curries as well as prawn curries. Other dishes included ochra, some kind of carrot mixture (with what tasted like instant noodles), dal, and Keralan rice. After the food, came some very sweet pineapples.
Then, George and I shot the breeze while Julie was taking a siesta. George expressed concern about the dropoff in tourism the last couple of years. So the talk turned to politics, since we all knew it had lots to do with how our livelihoods and ways of life are affected.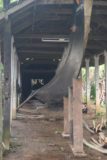 But I don't think my political theories offered much comfort in the way of American tourists coming to Kerala thanks to the financial crises, the misplaced priority on health care and Middle Eastern wars instead of a green economy and green jobs, and the chicken-and-egg syndrome of voters voting for corrupt candidates while those politicians (mostly the big party Republicans and Democrats) find new ways to siphon money from truly productive citizens under the false premise of measures to correct what ails the country.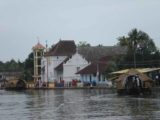 Anyways before we knew it, we arrived at a couple of places to stop the boat and go for short visits. The first visit was to some snake boat display. The folks running the display weren't there so we didn't get to see the 5 minute video. However, we did learn that their snake boats were quite similar to the Chinese dragon boats where it's basically nearly a hundred row boaters rowing synchronously with a person beating something to establish a rhythm.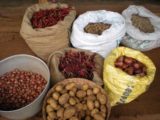 We also stopped a few minutes later at some Catholic church with a quick walk into some market. It happened to be a time when school was out so naturally we got lots of stares from local kids as well as some adults even though we weren't the only foreigners here (though we might be the only yellow-skinned ones).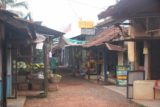 At 5pm, George got off the boat, and that left Julie and I to just chill out as the sun was setting. All the while, we heard sounds of the villages from cows mooing to locals beating wet clothes onto hard surfaces (for washing I suppose) to conversations, plus even music that sounded like either local folk music or religious music.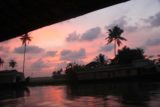 At around 6:20pm as the sun set and the skies became pink, they anchored the boat right in the middle of some wide area of water. So that allowed some mozzies to show up since there's no wind to blow them away. Time to put on more DEET. Sucks for me that I've already received a half-dozen bites, and boy are they itchy!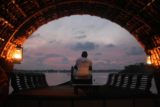 There we lots of warzone-like sounds in the distance piercing the calm of the night. We hope they're fireworks… (turns out they were and probably have to do with some Keralan religious thing going on where people are fasting for 40 days to be worthy enough to make a pilgrimage to some temple in the hills and pray)
Some additional singing and chanting started in the distance, which kind of gave an eerie feel to the night.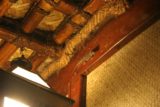 As the lights went on, the mosquitoes became attracted to the heat of one of the lights near the roof. So the army of no-see-ums that were giving me at least a half-dozen bites were now swarmed all over the light. A gecko saw the flurry of mozzie activity up there and decided to gorge himself of them. So as Julie and I were having another delicious dinner, the gecko was having himself a feast as well.
After having a dinner in which Julie and I were stuffed silly again (of pearl spot, eggplant, tomato curry, long beans, and rice), we took a cold bucket shower, and tended to some oral hygene (i.e. brushed and flossed).
When the lights outside our bedroom and bathroom were turned off, apparently the mozzies were attracted to the stuffiness of the bathroom area. So brushing our teeth was an exercise in going in for water and other toiletries, but doing our deeds of brushing and flossing in the cooler bedroom in the relative safety of the mosquito net.
And with that we wound the evening down with a relatively quiet evening in the middle of the Kerala Backwaters. Only one more evening left in our trip to India, and that will be in Courtallam Falls in the Tamil Nadu state. And knowing it's not a very well-touristed area as far as foreigners are concerned, we're kind of expecting a dumpy accommodation in much the same way we expected our Karnataka accommodations to be…
Hey, we knew India wasn't exactly a luxury trip, and that we had to earn our waterfalls. But waterfalls are what we're all about, and we couldn't say we've done the Asian waterfalls without exploring the subcontinent in depth (and learning more about the world in the process)…
Day 19: ATTRACTING A CROWD
We awoke at 7:30am. I didn't sleep terribly well because I made frequent visits to the mosquito-infested bathroom throughout the night to pee. Julie suspected it was the wine we drank last night complements of our tour operator (I'm guessing for our wedding anniversary a week ago).
It was a steamy morning as evidenced by my camera lens fogging up the moment I left our relatively drier bedroom (with minimal A/C).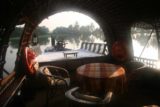 At a little after 8:15am, we had our breakfast. I had read from the guest book that some people had coconut pancakes so I was looking forward to it. But instead, we ended up with fruits and toast. Bummer. But then again, I guess we could've asked for the coconut pancakes.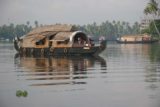 Not long after we were served breakfast, the boat started moving. And by 9am, it docked.
That concluded our Kerala Backwaters houseboat cruise. Now, we met up with Dennis again, loaded up the mini-van, and proceeded to go waterfalling as we were bound for Courtallam in Tamil Nadu state.
The drive was pretty long. It began by passing through the busy streets of Alleppey, and true to its claim as the "Venice of the East," there were some streets flanked with canals that had boats in them. Julie contended they're not like the ones you see in Venice, Italy because those canals are so narrow that only narrow rowboats or fancier gondolas could make it through. Here, they got state-run motorized ferries as well as houseboats in addition to the old-fashioned row boats and sportier snake boats.
At around 11:25am, we reached the Keralan town of Kollam. Unlike the rest of Kerala, this place was both big and crowded. It kind of typified the congested Indian streets and cities we had grown accustomed to in other states. I guess even Kerala was not immune to chaotic cities, but then again, the fact that it wasn't until our 4th day in the state that we encountered this was saying something. Even Cochin didn't seem as busy as this place (but then again, maybe we didn't pass through the heart of Cochin so perhaps it was an apples to oranges comparison).
Finally at some time after 12pm, we left the suburbs east of Kollam and starting driving into the winding forested roads of the Western Ghats. Along the way, we passed by quite a few rubber plantations. We also passed by a few small roadside waterfalls, which we didn't stop for – one of them had some locals bathing in it.
At 1:20pm, we finally reached a turnoff for the Palaruvi Waterfall where a signpost read, "The most beautiful falls in Kerala." Well, I don't know about that claim as the Athirappilly Falls seemed hard to beat, but I guess we're about to find out as Dennis made the turn to enter this falls and visit it. I didn't expect to see this falls (thinking it's not Courtallam Falls), but then again, it's on the way so why not?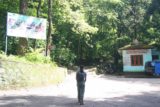 15 minutes later, after passing by a few rapids and some smaller falls beneath a concrete ford, we reached the car park for Palaruvi Falls.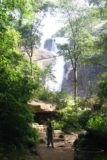 The 100m walk went quickly as we approached the falls. As we got closer, we could see it was pretty tall. Too bad it couldn't be photographed from this far away as the forest canopy kind of blocked views of its upper sections.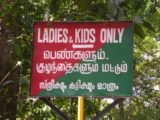 A few paces further, we reached a signed fork where a sign to our right said, "Ladies & Kids Only." So Julie took that path to take photos and movies of the falls. Meanwhile, Dennis and I continued onwards to climb higher up the stairs up to a sheltered viewing platform.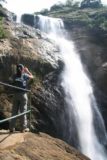 The view from the platform wasn't the greatest as you couldn't get the whole falls in one photograph. We were too close to the falls and the spray from the falls kept putting droplets on my lens. Also, the sun was kind of against us further complicating our ability to photograph the falls.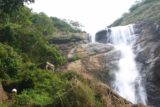 There looked to be a path that once went right in front of the falls. But apparently there was evidence of rockfalls that might have made the authorities reconsider letting people bath right beneath the falls. So there's no more of a bridge connecting the walking path with the railings right in front of the base of the falls. There were also barbed vines discouraging further progress from the official path.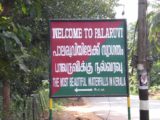 At 2pm, we had our fill of the falls and returned to the car. And given our experience with this falls, I think that sign saying this was the most beautiful falls in Kerala was probably stretching it a bit. Anyways 15 minutes later, Dennis had to pay the taxes for crossing into the Tamil Nadu state.
At 2:30pm after climbing a few more switchbacks, we could see the mountains here exhibited some scenic rock protrusions as well as lush v-shaped valleys. We didn't stop to take any photos as it was starting to get late in the afternoon, but I'm sure under a more laid back day, we'd gladly bask in this scenery that you don't hear a whole lot about outside of India, I'm sure.
Once the road crested and started to descend, we could see a tremendous plains below where windmills were spinning in the distance. As we got to the bottom of the descent, we could see the mountains of the Western Ghats backing the rice fields flanking the road.
The scene reminded me of Kauai, where taro fields were backed by jagged forested mountains of the interior.
Pretty soon, we entered some small somewhat busy towns with the familiar beat up buildings fronted by barefoot locals walking the streets. Not much longer, we reached a signed turnoff leading to the town of Courtallam.
And by 3pm, we arrived at the Saraal Hotel where we promptly checked in, left our bags, and then left 15 minutes later to spend the rest of the daylight hours checking out the falls in this area.
Upon first inspection of our room, it wasn't as dumpy as we expected. In fact, it exceeded our lowered expectations since we expected Tamil Nadu accommodations to be similar to the Karnataka accommodations. Perhaps it was the relatively good karma started by the mostly stellar accommodations in Kerala?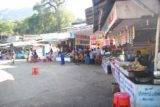 At 3:30pm, we arrived at the car park for Five Falls. The street vendors lining the car park were giving us stares while trying to get our attention to buy stuff. And some other locals were more forthcoming with smiles while shaking our hands and asking us, "What country?"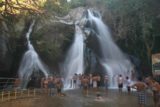 The Five Falls were really one waterfall segmented into roughly five strands (hence its name). There were railings and artificial barriers to keep the plunge pools filled with water so people can bathe. In fact, it seemed that this waterfall was all about the bathing experience and not so much about the scenic allure, though it certainly did have that if not for the man-made contraptions around it.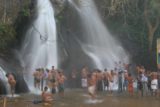 Naturally, being the only non-Indians here, we constantly got lots of stares as we were busy taking photos. Whenever Julie and I took photos off the tripod on timer, some kids would peek into the LCD after the shutter closed.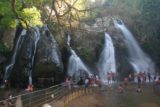 It's not exactly a peaceful experience when you have dozens of locals giving you strange looks, but all things considered, this was a pretty fun and happening interactive waterfall. Fortunately for us, the sun was on its way to hiding behind the background peaks of the Western Ghats this late in the day so we weren't totally looking against the sun.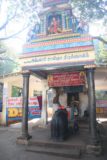 At 3:50pm, we got back to the car.
Dennis decided we still had some time in the day so he started driving us towards the Old Courtallam Falls. During the drive, I was getting a little confused as signs weren't consistent in their spelling of Courtallam (pronounced court-TAH-lam) as I'd also seen it spelled Courtralam as well as Kuttralam.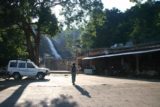 At 4:15pm, we arrived at the car park for the Old Courtallam Falls. During the drive, we went through rural roads flanked by swamps as well as rice paddies. Once again, the fields were backed by attractively jagged and forested peaks, and as I write this, I regret not having Dennis stop so we could take photos just to prove that this was reminiscent of something in my mental picture of Kauai.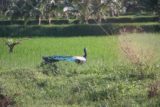 Unfortunately, the one thing that reminded us we were still in India were the stacks of litter flanking the road, especially near the car park for the falls.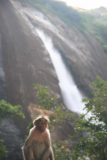 As we walked towards the falls, there were quite a few red-faced monkeys or macaques loitering around. Obviously, people feed them, which is why they're here instead of deeper in the forests.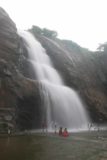 The Old Courtallam Falls was actually an attractive sloping main drop of perhaps 20-25m and then a man-modified drop of 5-10m below. The man-modification was due to a dam that traps much of the plunge pool from the main drop so locals could bathe. It seems like bathing by these waterfalls was a big deal in these parts because we had read that the streams meandered through naturally growing medicinal herbs further up the mountains. Thus, it's been said that these waters contain healing powers.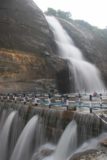 Dennis had told us earlier that November 14th was also the start of Hindu temple praying season, where people would fast for 40 days (i.e. eat only one meal a day, abstain from sex, and avoid foods like onions and garlics) so they'd be worthy enough to make the pilgrimage to specific Hindu temples further up the hills of the Western Ghats and pray. And that many of these males making the pilgrimage made it point to bathe at the falls near the town of Courtallam.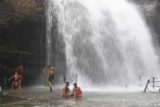 So far, both the Five Falls and the Old Courtallam Falls exhibited the bathing infrastructure. But this one wasn't as busy as the Five Falls so it was a little more peaceful, but we were still getting stares from the dozens of locals that were still here.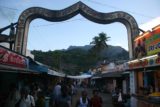 At 4:30pm, we were back at the car. By that time, the car park was littered with mounds of rice, which some local left there for the monkeys to gorge on. I doubt this is good for the monkeys, but I guess locals get a kick out of this.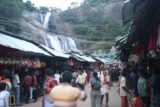 At 4:40pm, Dennis dropped us off near the Courtallam Falls. This was walking distance from the Saraal Hotel so Dennis drove off and called it a day.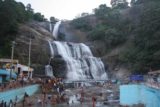 Meanwhile, Julie and I walked through what looked to be a bustling marketplace. Again, we were the only non-Indians here so many of the shopkeepers and touts tried to get our attention to buy stuff. Meanwhile, other bystanders were staring at us as we were bravely trying to walk straight to the falls.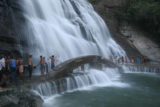 Some locals even took photos of us as if they hadn't seen foreigners like us in these parts.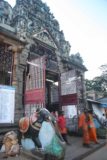 After passing by a temple blaring some loud folk Hindu music, we went through more of the crowded marketplace before we finally got to the main waterfall area, which was full of locals both bathing, washing clothes, and just being tourists themselves.
But since I came with a DSLR camera along with a tripod, I realized after snapping a handful of photos that we attracted a big crowd behind us. I was beginning to wonder if they think I was doing some kind of professional photo shoot for a magazine or if we were the only ones different from everyone that was causing this behavior.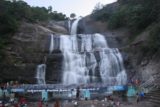 Julie felt a little uneasy having dozens (maybe hundreds) of eyes fixated on us. Even the security guards (both male and female) looked at us.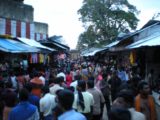 So once again, we bravely took photos from every imaginable angle (except for the region designated for ladies only).
After having my fill of the attractive two-tiered falls, Julie and I quickly went back through the crowded and noisy marketplace, and made a beeline for our hotel.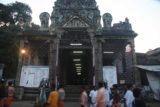 Even though it wasn't exactly the most peaceful experience at these falls and the jaunt through the marketplace was an exercise in self-consciousness as we were getting stared at by the thousands that were here, I had to admit that the scene here had the atmosphere that you probably couldn't find anywhere else in the world besides India.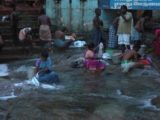 I mean, where else would you find crowds of people in both dhoties and lungies as well as modern clothing donned by males while the women wore saris or other kinds of colorful dresses and wraps crowding street markets surrounded by yelling proprietors? And all this is mixed with some blaring Hindu music from the local temple nearby!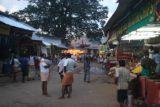 Indeed, I guess it was fitting that we'd end our sightseeing in India with this most atmospheric of waterfalls; one that was neither in LP nor DK, and was only made known to me by a contributor to our website from India. And I was sure glad we got to see this part of the country that few (if any) foreigners get to see and experience.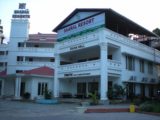 By 5:20pm, we arrived back at the hotel. We'd eventually have one last dinner in the country of chicken biriyani and butter chicken. Sure, they're Northern Indian foods and we're in the Southern Indian state of Tamil Nadu, but then again we mind as well have some foods we hadn't had since early on in our trip in Northern India. Not minding the temporary black out (not unusual in the country as there's a scarcity of power), we enjoyed the very reasonably priced meal.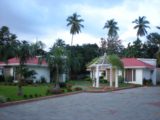 And as we walked by to our room to call it a day, Julie and I noticed frequent flashes of light up in the clouds over the silhouettes of the mountains this evening. They were flashes of lightning, but we didn't hear any thunder as I'm sure the monsoonal thunderstorm was too far from us. Still, it was interesting to see nonetheless.
And so ended our last full day in India.
And with hot water in the shower, Julie and I both concluded that this hotel exceeded our expectations (as we expected a dump). This further proved the notion that sometimes you have to manage expectations in order to avoid disappointment or to be pleasantly surprised. And that's not easy to do in India, because no matter what your expectations are going in, it's never quite like what you expected…
Tomorrow, we have to get up and leave Courtallam by 6:30am to get to the airport at Thiruvananthapuram (or Trivandrum for short) to catch an international flight to Male, Maldives. After sampling such a broad spectrum of experiences in the subcontinent, we really look forward to just chilling out and unwinding for the last three days of our adventure to the other side of the world…
Day 20: THANK YOU, INDIA
We weren't totally out of the woods yet as we still had to leave Courtallam and drive over three hours to Thiruvananthapuram. Sometimes I wonder which is the longer name for a city or town – Kirkjubaejarklaustur in Iceland or Thiruvananthapuram in India. I can totally understand why the British decided to name it to Trivandrum (tree VAN drum).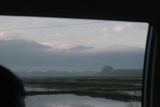 So the drive went mostly uneventfully as the Western Ghats looked ghostly against the remaining early morning clouds and the early morning sunlight. It rained pretty hard last night (apparently the monsoon is still not over) amidst some loud crackling and rumbling thunder along with consistently flashing lightning, which we witnessed somewhat on the way back to our room last night. I worried whether landslides might cause unforseen delays.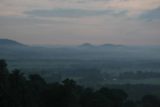 Still, we made it all the through to the city, which was pretty big and busy, but not nearly as haphazard and chaotic as some of India's other cities. It's further proof that Kerala really is more laid back as a state than the rest of the country.
The whole time I was looking out the window, I kept thinking of that Alanis Morrisette song called "Thank You" where she says, "Thank you, India…" and I'd have to echo that sentiment. After all, this was yet another trip that changed our perspective on the world while sampling the nature and culture of the subcontinent. It's amazing how a waterfall trip evolves into such a life-changing experience, and it further affirms why we go to such great lengths to travel (using waterfalls as the excuse to visit specific regions especially places off the beaten path).
At the airport, we passed by what looked to be Kovalam Beach, which was surprisingly peaceful and clean. Dennis claimed the Trivandrum Airport is the safest in the world since emergency landings could take place right off the coast.
We got to the airport a little before 10am, which was plenty of time for our 13:15 flight to Male, Maldives. Hopefully, we won't be delayed, but it's time to wind down and ease back into reality after three nights.
In any case, thank you, India…
Visitor Comments:
Got something you'd like to share or say to keep the conversation going? Feel free to leave a comment below...
No users have replied to the content on this page