Day 17: DID IT AGAIN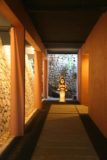 I awoke at 6:15am and saw Julie had already woken up and stared at the Athirappilly Waterfall right outside our room. The lighting on the falls was such that I knew I had to get myself out of bed and take advantage of the pre-dawn conditions where there was enough morning light but the sun had yet to breach the horizon. For the sun had risen above the horizon, we'd be looking against the sun while the falls would be in shadow.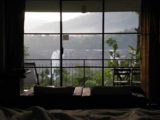 So I took something like 75 shots both from our room, and then from the dining area upstairs above the tree line. I have mixed feelings about exclusive views like this (belonging only to resorts and patrons willing to shell out money for them; kind of like Niagara Falls) because it's not fair for local Indian people who neither don't want nor can afford the views hijacked by the resort. Yet even with these thoughts, I still couldn't help but snap away photos knowing you don't get these views of this type of segmented waterfall very often.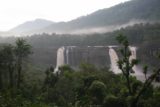 Julie contended that this was Asia's best waterfall due to flow. I disagree as Jog and Unchalli were better, IMHO.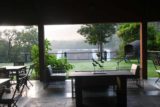 Anyways, Julie and I spent the next few hours trying to enjoy the fleeting moments of this "Rainforest Hotel," which is really more like a spa resort than a hotel. If anything, the Naveen Beach Resort we stayed at yesterday in Murudeshwar was more like a motel than a resort.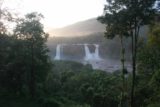 By 9:30am, we were all packed up and ready to go, and we had just finished our breakfast. Now, it was time to go for a walk to get closer to the waterfall. The falls were still in shadow and only the very top as well as the rising mist were catching the sun's rays.
When we made our move to get closer to the falls, we were following what seemed to be conflicting advice. Some workers encouraged us to go to some watchtower in the resort that promised to offer very nice views of the falls without foliage getting in the way. Unfortunately, that watchtower was closed as it was converted into a room apparently.
Meanwhile, we were also suggested to go past the swimming pool and walk closer to the falls that way. But the main person at the lobby told us that we had to go up to the main road to buy tickets and then walk some 100m towards the official gateway to the falls.
In any case, after buying our tickets and having an employee walk us towards where we were supposed to go, we finally realized that we hadn't walked far enough on the first go around (I guess either 100m was further than thought or we were given bad advice about how far the walk was to the entrance gate for the falls).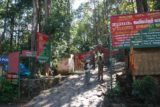 And at 10:10am, we showed our tickets plus paid the additional Rs 20 per camera (which we had grown accustomed to in India as these camera fees really seemed to be the norm no matter which attraction you're going to). Then, we quickly made our way to the base of the falls first knowing that we only had until 11am, which when we agreed with Dennis to leave Athirappilly.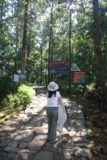 The park was full of macaques and locals (in lunghys or dotthys) taking shortcuts down a steep and slippery "trail" instead of the official one.
It didn't seem very trivial as the heat and humidity really soaked my shirt as well as Julie's, who wasn't too far behind.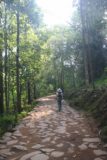 And once we got to the base, we were looking directly at the three falls, but it wasn't easy capturing the scene with the camera as we were pretty much looking directly against the sun. Plus, you really needed a wide angle lens (which I had fortunately) to capture all three segments in one landscape shot.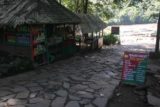 Once we took our photos down here, I quickly made my way back up and took a few more photos from the top of the waterfall.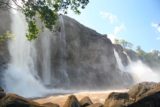 Normally, views from the top of a waterfall aren't up to par against looking at a waterfall from its base. But in this case, it was more of an exception as I was also able to capture the meandering river downstream of the falls as it headed towards some other mountainous valleys of the Western Ghats ahead.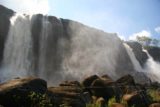 At 10:40am, we were on our way out of the falls area. And 15 minutes later, we were back at the Rainforest Hotel. Naturally, we were soaking wet when we got our stuff from the hotel and checked out. So the AC in Dennis' car was most welcome when we left at 11:10am.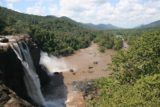 During the drive back to Cochin (or Kochi), we took a different way back down than last night as it seemed we took narrower and slightly bumpier roads. We passed by quite a few large homes, which led me to further believe that Keralans seem to be better off than other Indians from other states that we had seen on our trip so far.
I asked Dennis about a pair of other waterfalls (3km and 5km from Athirappilly Falls, respectively), but he said they were more like rapids. So I wasn't wishing we had seen other Keralan waterfalls.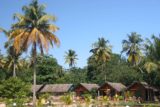 The drive went along like a blur as I was lulled into a nap. Perhaps I was getting caught up on sleep.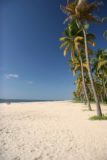 At 2:30pm, we arrived at Marari Beach, where we checked into this place called Fisherman's Village. It was a real nice and quiet here, and Julie and I both thought that this was what we expected Goa's beaches to be. In any case, this was yet another instance of Kerala exceeding our expectations.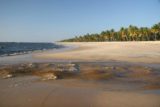 Throughout the afternoon, I pretty much reclined in one of the three hammocks overlooking the serene beach and Arabian Sea. It was relaxing to say the least, and perhaps it was great therapy. After all, who would've thought that India could be so quiet and relaxing (especially after what we had seen on our trip)?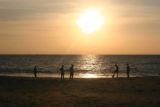 Towards 5pm, Julie and I did some brief walking northwards what was supposed to be some casino some 30 minutes from our resort. But we were stopped by a brownish stream that was the outflow of one of the Keralan Backwater channels into the ocean. The stream was running pretty deep and fast at the beach, and we didn't feel like crossing it thinking the stream might be polluted.
So we turned back, and I rested in the hammock some more while Julie was tending to other issues about our room (like getting the AC and hot shower to work).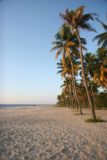 When it was getting closer to sunset, I was beckoned by some young Keralan locals playing soccer. And when I approached them, I was conversing with the group (mostly one guy who seemed to know the most english of the bunch) divulging things like I was from Los Angeles and the rules of baseball.
Meanwhile, I was being taught the idea behind cricket.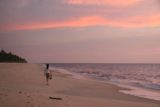 When Julie rejoined me at the beach, it was just about sunset. So I bid the group farewell and walked with Julie towards the south along the beach.
We'd eventually walk in front of two other beach resorts. And well after the sun went down, we started to notice crabs coming out of their holes.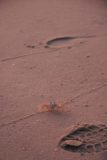 Just a few paces from our hotel, I felt something squishy on my left sandal.
I feared the worst as apparently I did it again.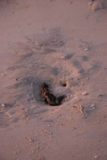 And sure enough, it turned out that I stepped into a pile of human dung, which were strewn throughout the beach. We actually witnessed one local take a dump directly on the beach so I guess some folks do the same thing here.
In any case, I stepped on doodoo again. And the next several minutes were spent trying to wash the nasty stuff off at our resort with coconut husks acting as a brush and lots of water. But the nasty stuff was stubbornly sticking to my Chacos so I eventually went to dinner with Julie probably with a few trace fragments of fecal matter on my sandal.
It turned out to be Julie's birthday so we had ourselves a little bit of a celebratory dinner. And with us being the only ones at the restaurant, we wondered if we were the only ones staying at this resort.
Anyways, we had a nice dinner, and by 7pm, we were back at our room to wind down and already laid back day.
Visitor Comments:
Got something you'd like to share or say to keep the conversation going? Feel free to leave a comment below...
No users have replied to the content on this page