Day 18: CRUISIN' KERALAN STYLE
Yesterday provided a taste of the slow life in India. Today was going to be even more of a do-nothing type day. After all the waterfalling and sightseeing while negotiating confronting poverty, touts, overcrowding, pollution, bumpy roads, etc., we figured there had to be at least one day where you don't do anything. And today was going to be that day.
So we slept in and at 8am, we woke up. And all we pretty much did was have a 9am breakfast then layed out on the hammocks at the beach from 10:30am for about an hour.
There was a gentle breeze accompanying the partly cloudy skies. And that breeze had a bit of a de-humidifying effect (I noticed this yesterday, too), which helped to make the beach more comfortable as opposed to hot and steamy.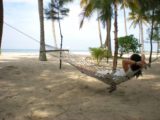 So while Julie was reading, I was thinking of those Corona beer commercials that always seem to take place at some secluded tropical beach. My thoughts were either on that or watching the birds flying around overhead hoping one of them doesn't dump any droppings on me. I've already had enough contact with dung (whether it be from humans, cows, or dogs), and I certainly don't care to make contact with the avian kind.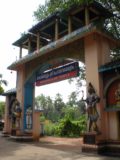 At 11:40am, we met up with George and Dennis. George, I guess, was the Keralan guide for the day. So as we left the Marari Beach area, he was explaining some of the Hindu mythology (since we passed right in front of one of the Hindu temples) as well as some tid bits about the Kerala state.
One particularly interesting thing he mentioned was that communism in Kerala started in 1957, and that the high literacy rate was attributed to a program started by the communist government where schools offered free lunches, which attracted the local poor population to attend the schools.
I kind of saw a parallel to this and how in corporations, meetings are usually called over lunch while bribing workers to attend with free lunch. Except the Keralan communists figured this out over 50 years ago, and their motives had beneficial results in the long term. Meanwhile, I'm sure I'll get pretty good agreement that many corporate meetings tend to be a waste of time and money.
Indeed, Kerala has one of the highest literacy rates in India, and is amongst the top three successful states in the country (with Punjab and Gujarat being the other two). And like I noted yesterday, I saw many big houses as well as an absence of large slums or people living under tents or straight up on the pavements.
I guess based on these observations, it kind of makes you wonder whether Republicans have any right to criticize communism when in fact capitalism tends to keep the rich rich and the poor poor while squeezing the middle class towards the poverty line (at least that's the capitalism America's been pushing and conned the world into buying into globalization).
George then went on to tell us that population control is practised in Kerala (with the Muslim population in the north being the exception as it goes against their religious beliefs), and that much of the products came from the local environment while minimizing waste. We saw that from the way coconut trees and fruits were completely used for many purposes. The same went for mango trees, cashew nut trees, and betel nut trees.
At around 1pm, we arrived at the docking station to begin our Kerala Backwater houseboat journey. There, we met the manager (who was also named Johnny), and he told us that Sir Paul McCartney actually stayed in the very boat we were about to go cruisin' in.
Our boat had a very traditional look and feel to it. Yet it had all the amenities of some of our landlocked accommodations (and even exceeded in some cases). Still, it was too bad we didn't have solar panels to make our cruising more sustainable.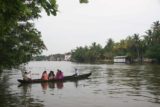 The tour pretty much proceeded as a leisurely cruise amongst the network of canals in the backwaters of Kerala. They're called the backwaters because at high tide the seawater comes into the backwaters while at low tide, the backwaters drain into the ocean. Thus the waters here are partially salty or brackish.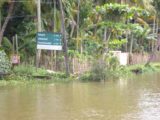 George would point out some birds or some other boats or ferries passing by as well as the many churches along the banks of the canal. I got the sense that Kerala was a very religious place, and George confirmed it by saying it's a very god-fearing place with some 50% Christians, 29% Hindu, and 21% Muslim.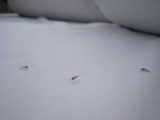 We had a very Keralan lunch, but the quantity of food was too much. It consisted of fish curries as well as prawn curries. Other dishes included ochra, some kind of carrot mixture (with what tasted like instant noodles), dal, and Keralan rice. After the food, came some very sweet pineapples.
Then, George and I shot the breeze while Julie was taking a siesta. George expressed concern about the dropoff in tourism the last couple of years. So the talk turned to politics, since we all knew it had lots to do with how our livelihoods and ways of life are affected.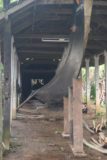 But I don't think my political theories offered much comfort in the way of American tourists coming to Kerala thanks to the financial crises, the misplaced priority on health care and Middle Eastern wars instead of a green economy and green jobs, and the chicken-and-egg syndrome of voters voting for corrupt candidates while those politicians (mostly the big party Republicans and Democrats) find new ways to siphon money from truly productive citizens under the false premise of measures to correct what ails the country.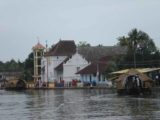 Anyways before we knew it, we arrived at a couple of places to stop the boat and go for short visits. The first visit was to some snake boat display. The folks running the display weren't there so we didn't get to see the 5 minute video. However, we did learn that their snake boats were quite similar to the Chinese dragon boats where it's basically nearly a hundred row boaters rowing synchronously with a person beating something to establish a rhythm.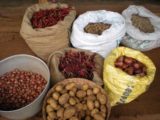 We also stopped a few minutes later at some Catholic church with a quick walk into some market. It happened to be a time when school was out so naturally we got lots of stares from local kids as well as some adults even though we weren't the only foreigners here (though we might be the only yellow-skinned ones).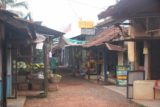 At 5pm, George got off the boat, and that left Julie and I to just chill out as the sun was setting. All the while, we heard sounds of the villages from cows mooing to locals beating wet clothes onto hard surfaces (for washing I suppose) to conversations, plus even music that sounded like either local folk music or religious music.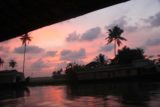 At around 6:20pm as the sun set and the skies became pink, they anchored the boat right in the middle of some wide area of water. So that allowed some mozzies to show up since there's no wind to blow them away. Time to put on more DEET. Sucks for me that I've already received a half-dozen bites, and boy are they itchy!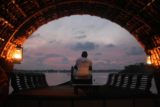 There we lots of warzone-like sounds in the distance piercing the calm of the night. We hope they're fireworks… (turns out they were and probably have to do with some Keralan religious thing going on where people are fasting for 40 days to be worthy enough to make a pilgrimage to some temple in the hills and pray)
Some additional singing and chanting started in the distance, which kind of gave an eerie feel to the night.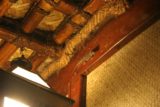 As the lights went on, the mosquitoes became attracted to the heat of one of the lights near the roof. So the army of no-see-ums that were giving me at least a half-dozen bites were now swarmed all over the light. A gecko saw the flurry of mozzie activity up there and decided to gorge himself of them. So as Julie and I were having another delicious dinner, the gecko was having himself a feast as well.
After having a dinner in which Julie and I were stuffed silly again (of pearl spot, eggplant, tomato curry, long beans, and rice), we took a cold bucket shower, and tended to some oral hygene (i.e. brushed and flossed).
When the lights outside our bedroom and bathroom were turned off, apparently the mozzies were attracted to the stuffiness of the bathroom area. So brushing our teeth was an exercise in going in for water and other toiletries, but doing our deeds of brushing and flossing in the cooler bedroom in the relative safety of the mosquito net.
And with that we wound the evening down with a relatively quiet evening in the middle of the Kerala Backwaters. Only one more evening left in our trip to India, and that will be in Courtallam Falls in the Tamil Nadu state. And knowing it's not a very well-touristed area as far as foreigners are concerned, we're kind of expecting a dumpy accommodation in much the same way we expected our Karnataka accommodations to be…
Hey, we knew India wasn't exactly a luxury trip, and that we had to earn our waterfalls. But waterfalls are what we're all about, and we couldn't say we've done the Asian waterfalls without exploring the subcontinent in depth (and learning more about the world in the process)…
Visitor Comments:
Got something you'd like to share or say to keep the conversation going? Feel free to leave a comment below...
No users have replied to the content on this page