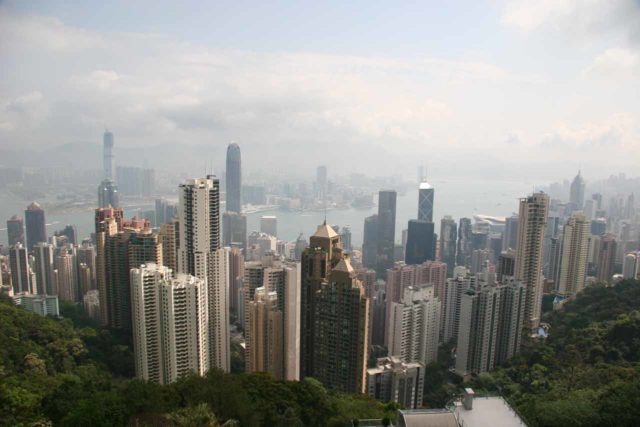 15-April 2009 to 19-April 2009:
…Afterwards, we headed for the cable car and made the scenic nearly half-hour ride. The clouds looked dark and threatening, but they hadn't delivered any precipitation. However, the winds were howling and that made the cable car ride a bit scary as we were swaying in it.
Day 0: ALREADY IN IMPROVISATION MODE
Since our flight wasn't until about midnight tonight, both Julie and I wanted to take the whole day to wrap up packing and getting ready for our marathon two-month trip to China and Japan.
Imagine our unpleasant shock when our newly bought Asus mobile laptop (to replace our old Dell laptop which had a broken soundcard and limited hard drive space) started to act funny and even ask us if we wanted to format the C: drive!
Keep in mind that we had already loaded our Mapsource Japan software along with other important things like MS Office, McAfee, and more.
So when the reality had sunk in that the hard drive was somehow dead (after less than a week of use), our relaxed day of getting ready all of the sudden turned into a mad scramble to get a replacement laptop, load all the necessary software, and still wrap up the packing and preparation duties.
Julie wasted no time in returning the defective product to Amazon
. Shortly thereafter, she headed out to Best Buy in search of a suitable replacement at the last minute.
Meanwhile, I was still trying to wrap up all the preparation work on the main computer so I could eventually transfer all my research files to the new laptop. But that was when I learned that the network also stopped working!
I suspected it was McAfee hijacking the machine again (even though their Firewall was disabled). Eventually, the problem was resolved but only after bugging tech support.
Next, I checked on the car and learned that the hydraulic that is supposed to hold up the hood was stuck!
It just seemed like everything I touched was breaking today.
Anyways, after nearly 12 hours of scrambling to get the replacement laptop, loading software, fixing the network, finish packing, finish preparations, and calling all the credit cards for travel notifications, we finally managed to get it all together and get on with the trip.
Even when I made a brief stop at work to get my out-of-office assistance up, I was greeted with the blue screen of death.
Indeed, it was just one of those days…
Day 1: BUSY DAY IN HONG KONG
The drama that took place on the day of flying out of Los Angeles did have a silver lining…
It was that I was tired and managed to sleep for 10 hours of the 14-hour flight to Hong Kong. Thus, the flight went along uneventfully and arrived at the very early time of 5:30am.
When we landed in the Hong Kong airport, we collected our bags, took a very convenient Airport Express train for 24 minutes into downtown (now why can't a place like LA overcome all the special interests and corruption and get a system like this?), and finally took a taxi to our hotel at the Lan Kwai Fong Hotel in downtown Hong Kong.
Fortunately, the hotel let us get a room early as it was still about 7:45am. That relieved us as we wouldn't worry about lugging our leavy luggage everywhere we went on this leg of the trip.
Julie's auntie actually called the hotel at around the same time we arrived. So within 20 minutes, she ultimately met up with us at the hotel and then proceeded to take us around (essentially acting as our tour guide).
First up was a local dim sum place. Julie and I had always wanted to try an authentic Hong Kong dim sum and now was the time. It was only around the corner from our hotel, and I wasn't sure if Julie's auntie was familiar with this place or not, or if she just knew about this place by name.
Nonetheless even on a weekday at 8am, this place was busy. We had trouble finding a seat and we ultimately shared a table with a stranger. After eating on our side of the table while the stranger was still reading his newspaper, eventually he left as he was apparently already done eating. That left us with the table, and it felt like a normal dining experience afterwards.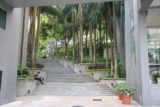 After the delicious dim sum, Julie's auntie hailed a cab and after a few minutes in the heavy traffic, we stopped at what would turn out to be the way to Victoria Peak.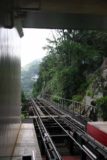 Once past the ticket booth, Julie's auntie handed us some prepaid Octobus cards, which apparently had enough in there to handle all of our public transportation needs throughout the Hong Kong leg of the trip. So we swiped our cards to get past the turnstiles and make it just in time for the next tram up to the summit.
As the tram proceeded to move uphill on the tracks, I had gotten the sense that this hill was quite steep. Yet the higher up we went, the steeper the ascent became. I swore we were close to a 45 degree angle, which is fairly difficult to walk up let alone tram up. It was impressive to say the least, but it was certainly no place for a brake failure or any sort of malfunction.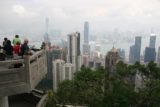 Eventually by 9:30am, we got to the end of the short tram ride and proceeded to walk around the already crowded and busy area shopping area immediately thereafter. Apparently the escalators to go further up weren't open yet so we walked onto some walkways that led to other outdoor overlooks.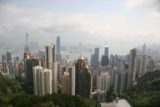 We could already see right away that the overlooks provided impressive top down views of Hong Kong and Kowloon. We took numerous photographs from these various lookouts despite the many people that were already here. I could only imagine how much crazier it'd get later on in the day.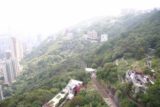 Although the view of Hong Kong was breathtaking, the haze (we suspect from pollution) did take a little away from the gorgeous view. Still, the weather was fine and the views were expansive.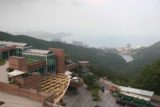 On the other side of the lookouts was a quieter harbor featuring power plants and some offshore tankers. I guess compared to the frontal views of the skyscrapers of the city, it's no wonder why it was quieter on the back side.
Eventually we lingered long enough at the lower overlooks for the escalator to the rooftop to be open. It required additional paid admission to get up here so it wasn't as crowded up there. But the views weren't all that different than the lower overlooks, I thought.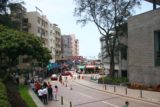 At around 11am, we walked towards a bus stop and eventually got on and headed towards Stanley Harbor. We passed through a fairly atmospheric arcade before we ultimately were on the waterfront that we believed to be Stanley Harbor.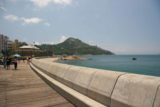 There, we spent a few more minutes walking around as the sun definitively broke out and caused us to sweat. It was pretty much random meandering on the boardwalks here (flanked by concrete barricades).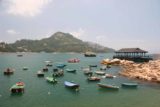 It was fairly clear that these touristed parts so far were primarily for foreigners as we could tell by the types of goods being hawked and the various non-Chinese restaurants. But with the plethora of boats all over the harbor, it made for an interesting photo op.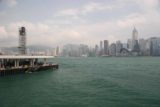 It didn't take too long before we got the flavor of this place and boarded another local bus that ultimately took us to Kowloon (Cantonese for "9 Dragons") after what seemed like a couple of hours.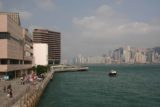 Once here (it was past 1:30pm at this point), we stopped by a pretty good lunch place serving soup dumplings and pulled noodles. Then, we walked around the Avenue of the Stars while getting pretty cool views across the harbor back towards Hong Kong.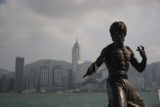 It was on the Avenue of the Stars that we did some star searching (literally) for Cantonese movie stars we were familiar with like Jackie Chan, Chow Yun Fat, and Li Xiaolong (better known as Bruce Lee). There was also Michelle Yeoh and others whose names slipped my mind.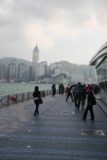 I don't recall how far we went along this Avenue of the Stars, but it felt like we went quite a ways. But then auntie took us away from the harbor and deeper into Kowloon, which was scruffier and less polished. Apparently, we were going to visit some other of Julie's relatives.
This was when Julie exclaimed, "So this is where the real Hong Kong is." It was an interesting comment since everything we had done on this busy day took place at touristed spots.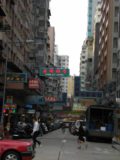 But this place had the narrow streets flanked by tall high rises and big neon Chinese signs with lots of people (mainly locals) and taxis moving about. It lacked the glitz and glamour of the more expensive parts of town, but it had character in its own right.
Ultimately, we arrived at Julie's auntie's apartment where we said hi to auntie's 90-year-old mother as well as other relatives cohabitating.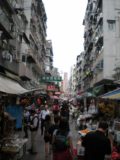 Julie's auntie was really going out of her way to make sure we were being taken care of. She insisted on treating us for all the food (the dim sum brekkie plus the lunch). Julie and I were wondering if we could somehow repay the favor for dinner, but I knew that it was going to be a fight to pay the next restaurant tab.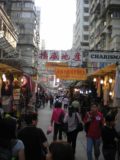 Next up, we then walked through some street markets between Julie's auntie's apartment and the place we were going to have dinner (as we were headed there). The street market was atmospheric as there were heaps of vendors all crowded on a particular street flanked by high rises.
With the crowds all about, I definitely had to keep an eye out for pickpockets. But other than that, it was a pretty neat experience to go through this. Though we were definitely in no mood to buy anything (no luggage space plus didn't feel like buying cheaply-made knock offs).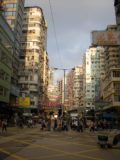 The dinner place that Julie's auntie took us to served up some more pretty decent stuff, and we were beginning to realize that Julie's auntie was treating us too well. She wouldn't even take no for an answer when we insisted that we had eaten enough and then she went on to order additional plates of stuff. We seriously needed to walk this stuff off.
Then when it came time to pay the restaurant tab, as expected, we fought to pay for the restaurant bill, but ultimately Julie's auntie won that one too. The best we could muster up was to treat her and her daughter the next time they come back to the States for a visit.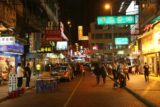 At this point in the day, I think jetlag was starting to creep up on us. It hit Julie particularly hard but even I was starting to feel some of the effects. Nonetheless, we still seized the moment and kept going with the touring not knowing what tomorrow would bring (especially with the weather).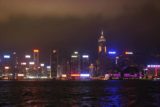 The nightcap was spent walking back to the Avenue of the Stars area where we saw the gorgeous skyline across the harbor at night. It was too bad I didn't have a tripod and the winds kind of made it difficult to hold still for such shots. But at least the wind kept it fairly cool and managed to keep the humidity at bay (come to think of it, the whole day wasn't humid at all).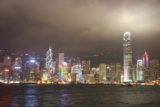 After a ferry back across the harbor towards downtown Hong Kong, we took a taxi back to our hotel. Julie was severely jet lagged at this point and couldn't wait to crash.
We arranged with Julie's auntie that we'd return to Kowloon on our own tomorrow. At some point, we had to figure out some things for ourselves to get better oriented and acquainted with the city. Experience is the best teacher, right?
So the saga continues…
Day 2: FINDING OUR WAY ON OUR OWN
With all the stuff we managed to do yesterday even as jetlagged as we were, today we expected to have a more laid back day in the city while seeing more of Julie's relatives (some of which haven't been seen for over a decade or more).
But first up was a visit to the Big Buddha at Tian Tan in Lantau not far from the Hong Kong airport.
The weather today was cloudy. It was a far cry from the great weather we had yesterday. And we were glad we fought through the jetlag in yesterday's good weather to do most of the sightseeing. Because who knows whether Victoria Peak would've been clouded over had we given into our jetlag and put it off for today?
Julie and I took the Metro on our own and met up with her auntie at 8am. It actually wasn't too difficult at all finding our way through the subway. And besides tepidly finding the subway stop near our hotel in the first place, this part of the morning went pretty uneventfully (except for one guy who ran into me and bounced backwards thinking I should've gotten out of the way somehow).
Auntie told us about the uncertainty of the weather situation regarding the cable car to get to the Tian Tan, but we pushed forward anyways after she had one of the Metro clerks call and see whether the cable car would be running at the Buddha site.
After spending the next hour riding the train all the way to the last stop on the Orange Line, we stopped by a nearby restaurant at 9am (pretty close to the cable car area) and had ourselves another dim sum brekkie.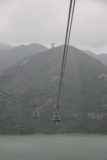 Again, we stuffed ourselves and really resisted Julie's auntie trying to feed us more dishes. Afterwards, we headed for the cable car and made the scenic nearly half-hour ride.
The clouds looked dark and threatening, but they hadn't delivered any precipitation. However, the winds were howling and that made the cable car ride a bit scary as we were swaying in it.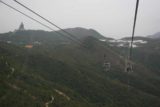 Normally long cable car rides would be enjoyable and relaxing, but with the swaying of the cable cars and the howling of the winds whistling through the crevaces in the cable car, Julie and I looked at each other hoping that nothing bad would happen.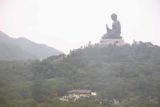 As we went from one pylon to the next, we eventually started to see the Big Buddha against the haze in the distance. That gave us some hope that the drama would be coming to an end soon.
We were actually a little relieved once we were off the cable car and proceeded to walk through the Ngong Ping Village towards the Big Buddha. That was when Julie's auntie told us that one of the cable cars fell shortly after it was opened not too long ago. No one died because the cable car was empty, but we appreciated her restraint in not telling us the story while we were on the cable car swaying in the howling winds.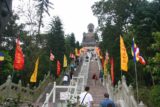 It was quite a bit of a walk even past the Ngong Ping Village to get to the base of the Big Buddha. Walking through the village felt like Disneyland in the sense that they always put shops at the ride exit, but in this case, you're forced to walk through this village of shops and people trying to talk you in at the end of the cable car ride. Beyond that, we could see there was a lot of construction going on, and you had to walk between fences with covers on them to keep you from seeing behind them.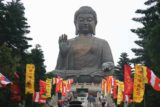 After turning a corner and then paying for admission, we passed through a turnstile and proceeded to walk up stairs with the Big Buddha looming above it with one hand up.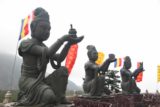 Once at the base of the Buddha, we walked a loop around the big statue trying to figure out ways to take photos of it. Clearly it was big and it was difficult to try to fit it in the photo in a meaningful way. So I was using some of the smaller statues in offering position towards the Big Buddha himself.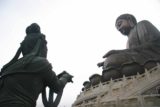 After getting our fill of the buddha attraction, we headed back down the steps and proceeded to wait for a bus. That bus would take us back to the Metro station. We opted not to go for the cable car ride back, and we were glad we didn't as we had noticed the transport was momentarily stopped and some of the cable car pylons were completely shrouded in dark clouds and heavy winds.
The nearly hour-long ride back in twisty mountain roads was a bit scary as the bus driver seemed to go awfully fast. Every time he made turns, I could feel my butt sliding back and forth on the seat.
Mercifully, we did return to the Metro in one piece at 11:45am. We took the subway ride back to Hong Kong and Julie's auntie returned home on one of the stops along the way. Once we got into downtown Hong Kong, we decided to risk getting lost trying to soak in the essence of the city while walking around the downtown area on the way back to our hotel.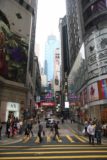 Sure we could've stopped at the very last stop, but we wanted to lose ourselves in the city – literally!
So at 12:45pm, we were scoping out Central Station before getting up to street level walking along Queen's Road towards our hotel.
It was clear that this was the happening part of Hong Kong with the high volume of people here. We were hoping we could come back here in the evening under the bright lights and crowds of people looking for a good time.
But we were due back to our hotel to meet up with more of Julie's relatives before 2pm. So onwards we went.
Eventually, we did get back to the hotel gaining more perspective and orientation on the way as the city pulsates with energy. We briefly rested before we met up with Julie's older cousin Michelle along with Michelle's mother and her mother's caretaker.
By now, it looked like it was raining pretty hard. So Michelle hailed a taxi and took us to a restaurant in the city. There, we had some more Chinese food (featured goose instead of duck) while talking and getting caught up about what was going on in our lives and even about the global financial crisis (GFC).
After the belated lunch, we taxied our way over to Causeway Bay where we spent time over at her place. We did some more talking, looking over photographs, met (or reacquainted in Julie's case) her husband Mario, and did some more catching up. With the rain unrelenting outside, we thought all this socializing might allow us to wait it out.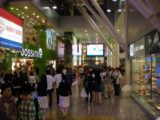 By around 4:30pm it was still pouring rain. Still, Michelle took us back out into the Sogo area where it looked like another happening place in the city. Lots of bright lights and people moving about in a display that was quite reminiscent of Times Square in New York.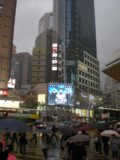 But with our dinky umbrella (since it had to fit in our limited size luggage), half our bodies were soaking wet. But even with all the sogginess, there were still lots of people out and about seemingly undeterred by the drenching. So the atmosphere in this so-called Sogo area was still electric.
When Michelle let us go and we said our good-byes, we ended up taking the Metro back to the vicinity of our hotel. I know she wanted us to go shopping and spend more time in the area, but after our rain- (and snow-) socked trip in Oregon, we had enough of the rain.
Eventually, we were back at the hotel at 7:15am as darkness took over. We decided to forget about the nightlife in Central Hong Kong and just call it a night. Given the rains, foremost on our minds was how the weather would be tomorrow. We especially wondered about the weather conditions in Guilin, which was the next leg of our trip…
Day 3: LAST BIT OF HONG KONG
After waking up and spending a good deal of time getting packed and ready to go for our next leg of the trip in Guilin (which wouldn't be until this afternoon), we left our luggage at the hotel lobby after checking out and then took the Metro back to see Julie's auntie.
Unlike the Summer thunderstorms in New York where the rains usually cleaned up the air and reduced the humidity, in Hong Kong, it seemed like the rain actually increased the humidity. Indeed it was a bit sticky.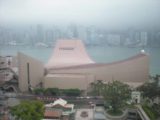 By around 9am, we met up with her and then walked around in the light drizzle towards another Dim Sum restaurant. This time, it was some restaurant with a nice view of the main Hong Kong area. The skyline looked mysterious as it was shrouded in dark clouds. And even as we socialized at the table, we saw moments when it was raining buckets outside.
We spent the next couple of hours catching up over another delicious yet different dim sum meal.
By around 11am, the place was busy as we left. We killed another half hour walking around town while paying a visit to the bookstore so Julie could pick up copies of sequels to "Twilight
." Obviously, she was seriously hooked at this point after seeing the movie a few days ago on DVD.
Back at the Metro station, we said our good-byes to Julie's auntie before taking the trains back to the hotel vicinity. There, we collected our bags, waited for the free airport shuttle, and then rode the Airport Express train back to Hong Kong Airport.
It was a rather pleasant and uneventful ride back, but our minds remained on the rainy weather and how that'd impact our Guilin experience coming up next as we awaited our domestic flight later this afternoon…
Visitor Comments:
Got something you'd like to share or say to keep the conversation going? Feel free to leave a comment below...
No users have replied to the content on this page