Day 1: BUSY DAY IN HONG KONG
The drama that took place on the day of flying out of Los Angeles did have a silver lining…
It was that I was tired and managed to sleep for 10 hours of the 14-hour flight to Hong Kong. Thus, the flight went along uneventfully and arrived at the very early time of 5:30am.
When we landed in the Hong Kong airport, we collected our bags, took a very convenient Airport Express train for 24 minutes into downtown (now why can't a place like LA overcome all the special interests and corruption and get a system like this?), and finally took a taxi to our hotel at the Lan Kwai Fong Hotel in downtown Hong Kong.
Fortunately, the hotel let us get a room early as it was still about 7:45am. That relieved us as we wouldn't worry about lugging our leavy luggage everywhere we went on this leg of the trip.
Julie's auntie actually called the hotel at around the same time we arrived. So within 20 minutes, she ultimately met up with us at the hotel and then proceeded to take us around (essentially acting as our tour guide).
First up was a local dim sum place. Julie and I had always wanted to try an authentic Hong Kong dim sum and now was the time. It was only around the corner from our hotel, and I wasn't sure if Julie's auntie was familiar with this place or not, or if she just knew about this place by name.
Nonetheless even on a weekday at 8am, this place was busy. We had trouble finding a seat and we ultimately shared a table with a stranger. After eating on our side of the table while the stranger was still reading his newspaper, eventually he left as he was apparently already done eating. That left us with the table, and it felt like a normal dining experience afterwards.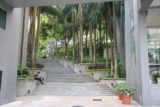 After the delicious dim sum, Julie's auntie hailed a cab and after a few minutes in the heavy traffic, we stopped at what would turn out to be the way to Victoria Peak.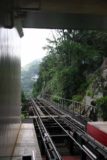 Once past the ticket booth, Julie's auntie handed us some prepaid Octobus cards, which apparently had enough in there to handle all of our public transportation needs throughout the Hong Kong leg of the trip. So we swiped our cards to get past the turnstiles and make it just in time for the next tram up to the summit.
As the tram proceeded to move uphill on the tracks, I had gotten the sense that this hill was quite steep. Yet the higher up we went, the steeper the ascent became. I swore we were close to a 45 degree angle, which is fairly difficult to walk up let alone tram up. It was impressive to say the least, but it was certainly no place for a brake failure or any sort of malfunction.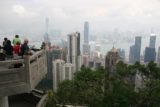 Eventually by 9:30am, we got to the end of the short tram ride and proceeded to walk around the already crowded and busy area shopping area immediately thereafter. Apparently the escalators to go further up weren't open yet so we walked onto some walkways that led to other outdoor overlooks.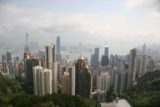 We could already see right away that the overlooks provided impressive top down views of Hong Kong and Kowloon. We took numerous photographs from these various lookouts despite the many people that were already here. I could only imagine how much crazier it'd get later on in the day.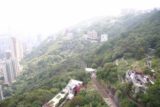 Although the view of Hong Kong was breathtaking, the haze (we suspect from pollution) did take a little away from the gorgeous view. Still, the weather was fine and the views were expansive.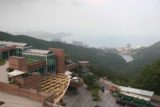 On the other side of the lookouts was a quieter harbor featuring power plants and some offshore tankers. I guess compared to the frontal views of the skyscrapers of the city, it's no wonder why it was quieter on the back side.
Eventually we lingered long enough at the lower overlooks for the escalator to the rooftop to be open. It required additional paid admission to get up here so it wasn't as crowded up there. But the views weren't all that different than the lower overlooks, I thought.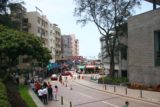 At around 11am, we walked towards a bus stop and eventually got on and headed towards Stanley Harbor. We passed through a fairly atmospheric arcade before we ultimately were on the waterfront that we believed to be Stanley Harbor.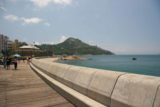 There, we spent a few more minutes walking around as the sun definitively broke out and caused us to sweat. It was pretty much random meandering on the boardwalks here (flanked by concrete barricades).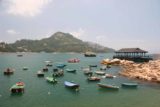 It was fairly clear that these touristed parts so far were primarily for foreigners as we could tell by the types of goods being hawked and the various non-Chinese restaurants. But with the plethora of boats all over the harbor, it made for an interesting photo op.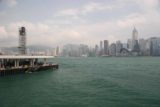 It didn't take too long before we got the flavor of this place and boarded another local bus that ultimately took us to Kowloon (Cantonese for "9 Dragons") after what seemed like a couple of hours.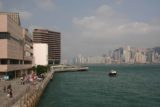 Once here (it was past 1:30pm at this point), we stopped by a pretty good lunch place serving soup dumplings and pulled noodles. Then, we walked around the Avenue of the Stars while getting pretty cool views across the harbor back towards Hong Kong.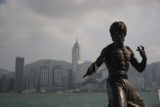 It was on the Avenue of the Stars that we did some star searching (literally) for Cantonese movie stars we were familiar with like Jackie Chan, Chow Yun Fat, and Li Xiaolong (better known as Bruce Lee). There was also Michelle Yeoh and others whose names slipped my mind.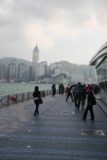 I don't recall how far we went along this Avenue of the Stars, but it felt like we went quite a ways. But then auntie took us away from the harbor and deeper into Kowloon, which was scruffier and less polished. Apparently, we were going to visit some other of Julie's relatives.
This was when Julie exclaimed, "So this is where the real Hong Kong is." It was an interesting comment since everything we had done on this busy day took place at touristed spots.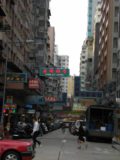 But this place had the narrow streets flanked by tall high rises and big neon Chinese signs with lots of people (mainly locals) and taxis moving about. It lacked the glitz and glamour of the more expensive parts of town, but it had character in its own right.
Ultimately, we arrived at Julie's auntie's apartment where we said hi to auntie's 90-year-old mother as well as other relatives cohabitating.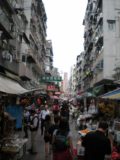 Julie's auntie was really going out of her way to make sure we were being taken care of. She insisted on treating us for all the food (the dim sum brekkie plus the lunch). Julie and I were wondering if we could somehow repay the favor for dinner, but I knew that it was going to be a fight to pay the next restaurant tab.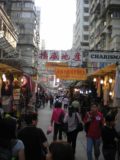 Next up, we then walked through some street markets between Julie's auntie's apartment and the place we were going to have dinner (as we were headed there). The street market was atmospheric as there were heaps of vendors all crowded on a particular street flanked by high rises.
With the crowds all about, I definitely had to keep an eye out for pickpockets. But other than that, it was a pretty neat experience to go through this. Though we were definitely in no mood to buy anything (no luggage space plus didn't feel like buying cheaply-made knock offs).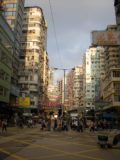 The dinner place that Julie's auntie took us to served up some more pretty decent stuff, and we were beginning to realize that Julie's auntie was treating us too well. She wouldn't even take no for an answer when we insisted that we had eaten enough and then she went on to order additional plates of stuff. We seriously needed to walk this stuff off.
Then when it came time to pay the restaurant tab, as expected, we fought to pay for the restaurant bill, but ultimately Julie's auntie won that one too. The best we could muster up was to treat her and her daughter the next time they come back to the States for a visit.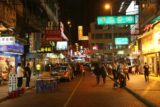 At this point in the day, I think jetlag was starting to creep up on us. It hit Julie particularly hard but even I was starting to feel some of the effects. Nonetheless, we still seized the moment and kept going with the touring not knowing what tomorrow would bring (especially with the weather).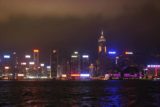 The nightcap was spent walking back to the Avenue of the Stars area where we saw the gorgeous skyline across the harbor at night. It was too bad I didn't have a tripod and the winds kind of made it difficult to hold still for such shots. But at least the wind kept it fairly cool and managed to keep the humidity at bay (come to think of it, the whole day wasn't humid at all).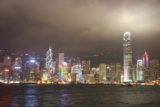 After a ferry back across the harbor towards downtown Hong Kong, we took a taxi back to our hotel. Julie was severely jet lagged at this point and couldn't wait to crash.
We arranged with Julie's auntie that we'd return to Kowloon on our own tomorrow. At some point, we had to figure out some things for ourselves to get better oriented and acquainted with the city. Experience is the best teacher, right?
So the saga continues…
Visitor Comments:
Got something you'd like to share or say to keep the conversation going? Feel free to leave a comment below...
No users have replied to the content on this page