Day 6: A MEMORABLE TRAIN RIDE
The train left Guilin Station some time around 1:30pm. We weren't looking forward to this train ride knowing how cramped it was especially with the luggage we were carrying around.
As I was trying to get our belongings in an agreeable configuration, I felt a bit nervous about taking so much space with two luggages underneath the table barely allowing any room for anyone else to sit across from us. And it turned out that a pair of young women were the unfortunate ones assigned a seat right across from us.
Based on their initial reaction, I figured they probably wondered how the heck they were going to sit in their seat? So I scrambled some more trying to figure out how to accommodate them while keeping our luggage in possession.
Eventually, we managed to figure out that one luggage was indeed able to fit underneath someone else's seat while the larger one had to stand up and be in the aisle.
I guess this little bit of drama actually was what broke the ice and somehow initiated some dialog between us and the young women across from us. Those ladies seemed to know the other young ladies sitting across the aisle so we got to converse with them as well. Considering the circumstances, things were certainly looking up.
The whole dialog took place in mostly Mandarin Chinese, but a couple of them were actually studying English for many years so that kind of made things a little bit easier when we had trouble communicating something in Chinese. But even with that said, there were still plenty of difficulties trying to get points across in either language.
I'm sure a third party observer might be laughing at me trying to get by with Chinglish while the ladies were sprinkling an English word or phrase between heaps of Chinese words and sentences.
Anyways, they knew we were from overseas, but they were impressed with how much Chinese we were able to use with them. On the flip side, we were impressed with their knowledge of English considering not many foreigners (specifically Westerners) come through this local train to Nanning, we reckoned.
I guess we piqued their interest tremendously because they always wondered what America was like, and it was the first time they've seen ethnically Chinese people from overseas come to these parts. So that really got them excited.
I tried to dispel their "grass is greener" mentality as they tended to think the US was somewhat of a paradise. We all got our own problems and it's not as rosy as they perhaps wanted to believe (especially considering how our country is going bankrupt and none of the real problems are addressed).
So we discussed all sorts of things during the next five hours from languages to travel to schools and professions, family, heritage, history (it's amazing how intertwined Chinese history seems to be with everyday life), and even boyfriends.
Julie thought they were flirting with me so she was marginally playing along. But she was mostly buried in her Stephanie Meyer books. I guess this kind of boosted my ego a little bit, but the pleasant chatter was totally an unexpected surprise making us forget all the drama and bad thoughts going into the train ride in the first place.
Most of them seemed to be headed from Guilin to Nanning so they could take some kind of exam on Friday. When the subject turned to what they wanted to do after they were done with school, the talk started turning towards the financial crisis and how it's difficult to find a job in China where it's already competitive even before the financial crisis occurred. That was kind of surprising since it seems like the World Markets were placing their bets on the Chinese economy.
Naturally, they didn't like Bush (seemed like a common opinion no matter where in the world we went with very few dissentors), but they did like the Clintons who visited these parts back in the late 90s. They also thought of Obama like the second coming of MLK (that's Martin Luther King, Jr. for those not in the know).
I also had some fun with them trying to improve both my spoken and even my written Chinese. I wasn't sure how much I'd retain, but it was all fun trying.
Even though their body clocks were used to taking a siesta in the early afternoon, they had fun chatting with us and tried to fight fatigue to keep the conversations going. Indeed, this had to have been one of the most fun train rides I had ever been on (well, actually, Julie was mostly entrenched in her Stephenie Meyer novels though she did participate in the chatter every once in a while).
One of the ladies said it was fate that they met us and got to have some fun chatting with us so they fought their body clocks to keep the fun. I, too, felt the enthusiasm and it was great that we got to pass time this way instead of trying to fight boredom with sleep in the relative discomfort of the train.
Before we knew it, we arrived at the Nanning Train Station at around 6:45pm.
We said our good-byes as we all tried to fight our way through the crowds as we left the train. I wasn't sure if we'd hear from them again, but the whole experience certainly put me in a good mood despite the chaos at the train station.
That was when we met up with our local guide Xiao Feng and were quickly escorted into the Nanning city center where our hotel was.
After a little bit of room malfunction drama (seems like the fancy electronics controlling the lights and the AC made it easier to break), we finally got settled in.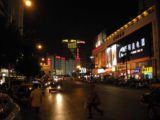 As darkness fell (though the humidity still remained), we entered the bustling scene of heaps of pedestrian traffic to go into an extremely busy Walmart. Seeing how crowded and bustling it was in here on a Wednesday night allowed us to figure out why American corporations are chomping at the bit to grab a chunk of the market share of the Chinese market. We can totally see how it's literally a gold mine here. Sometimes you just gotta see it in person to totally understand what's going on.
While in the megastore, we picked up some bottled water as well as some shrimp chips to consume while on the road.
Then, we had ourselves some Pizza Hut pizza (the Chinese version that is). Sick of Chinese food for the time being, we went with this artery-clogging oily solution. Unfortunately, we weren't impressed with the cheese as it's nowhere near the mozarella (or something like it) style we're used to back at home.
When the Chinese waitress (knowing we were from overseas) asked us how the pizza was compared to home, we tried to explain that the cheese was different. Unfortunately, we got hung up on trying to figure out the Chinese word for cheese. So I don't think we were able to communicate it to her.
By 9:30pm, we returned to the hotel to get a much-needed shower. Although the city center was bustling and busy (some of it in a Times Squarish sort of way), we opted to call it a day in anticipation of our long drive tomorrow.
Visitor Comments:
Got something you'd like to share or say to keep the conversation going? Feel free to leave a comment below...
No users have replied to the content on this page