Day 8: MORNING HELPING OF DETIAN PUBU
I awoke at about 6:30am and saw that there wasn't going to be any glowing scenery as the sun was well hidden behind some menacing looking misty clouds. Still, I was going to enjoy a bit of a morning walk and perhaps beat the rush to enjoy the falls one last time before leaving for Nanning.
At 7am, I started to go out with tripod and camera in hand. But just as I took a few steps up the stairs and then towards the first overlook, it started pouring. Fortunately, I was close enough to the hotel to retreat to our room for shelter.
But just 15 minutes later, it seemed that the rain subsided and I went for the walk in earnest.
It was noticeably muggier than it was yesterday afternoon.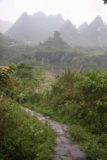 As I was trying to take photographs from the first couple of scenic viewpoints, condensation was wreaking havoc on my camera lens and my ability to take photographs.
I eventually reached the upper viewing pavilion at around 7:45am and the 15-20 minutes or so of climbing up the wet and slippery hard stairs made me sweat bullets as I was up there. That sweat probably washed off some of the DEET I had put on earlier in the morning resulting in some mosquito bites. Boy, I sure hope none of them gave me malaria or yellow fever since we failed to take Malarone earlier on in this trip.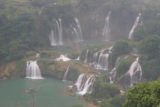 I probably spent the next half hour taking photos with the tripod seeing some of the mist rising above the falls as well as the clouds maneuvering through the shapely karst peaks in the background.
It was totally peaceful and quiet up there in contrast with the noisier walkways filled with loud Chinese tour groups and locals trying to sell motorized tram rides or horseback rides.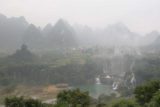 The only other person who went up here the whole time was some uniformed guard who gave me a look then kept walking further up.
By about 8:15am, I left the pavilion and joined the masses. By a little after 8:30am, I saw Julie and she told me to go eat breakfast as they're about to close shop at 9am. So that I did.
The breakfast was eaten mostly alone though I was joined briefly by Xiao Feng. He said he noticed me earlier in the morning making my way up to the pavilion. He then went on to the check-in area probably to let the staff know we were checking out or something.
The food was once again the usual Chinese brekkie of mantous (a white kind of bread that maybe you might have seen in Dim Sum restaurants or authentically Chinese brekkie places), shao bin you tiaos (closest thing I can think of that might relate is the Navajo Fry Bread without toppings), as well as spinach, stir fry noodles, and even yam.
The only drink on offer was milk. But given the whole malamine fiasco, I wasn't gonna touch that stuff. I did think it was unusual they didn't have dou jiang (soy milk) since that's usually a Chinese staple for brekkie.
Anyways, I quickly ate my breakfast, joined up with Julie, got our belongings and joined Xiao Feng along with our driver for an earlier-than-expected 8:50am departure.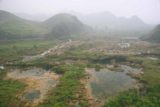 On our way out of the mountainous area, we made a brief stop at a signed pullout overlooking a wide riverbed. Xiao explained that this was supposed to be where we could've seen clouds "walking" in the river. But unfortunately, the water level was so low this time of year that it was mostly rocky riverbed.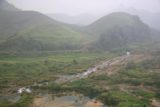 Once again, our driver zoomed by everyone. After a brief petrol and restroom stop in Daxin Town, our driver continued his hasty driving, and before we knew it, we were back in Nanning's downtown (zhong xin) at 12:20pm.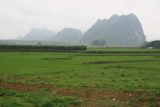 The rest of the day was free and it was for the better part spent internetting and watching TV while spending a few moments having a meal. We weren't really in the mood for doing another walk in the happening CBD here, though I'm sure it would've been fun. It's just that there were errands to do.
But at least we got to see what we came here to see. I'm sure it would've been even more impressive had the falls exhibited higher flow. But that's life sometimes. You can't always call the shots on timing especially on a trip like this where we're hitting different climate zones in one go.
But the one thing that seemed to be the recurring theme everywhere we've been so far (after talking with locals) is that Autumn seemed to be the time to visit these parts of China.
Oh well, there's always next time…
I'm just not sure when that'll be…
Visitor Comments:
Got something you'd like to share or say to keep the conversation going? Feel free to leave a comment below...
No users have replied to the content on this page